Tuesday, July 9, 2013
What to expect from Grant Green

---
By Eric Karabell



Entering Sunday, the Oakland Athletics hadn't received any home runs from their second base position, fueling speculation that a trade for someone like Philadelphia Phillies option Chase Utley was a possibility. While Eric Sogard finally hit one out while playing second base on Sunday, it didn't stop the organization from promoting 2009 first-round pick Grant Green for Monday's game. His debut in Pittsburgh was quiet, as the 25-year-old struck out twice in three hitless at-bats, but fantasy owners desperate for middle infield pop need to watch his progress, for there is upside.

[+]Enlarge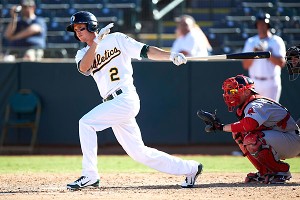 Mike Janes/Four Seam Images/AP ImagesGrant Green has a .305/.353/.468 slash line in his minor league career.



Green was hitting .318 with power at Triple-A Sacramento, including seven home runs and a 1.055 OPS in June, and while Pacific Coast League numbers often bear little resemblance to those in the majors, at least Green had made progress with his walk rate. He's going to swing and miss, but it's nice that Green, a right-handed hitter, was doing a fine job against right-handed pitching, with a .306/.362/.484 slash line. His OPS against lefty pitchers was .986, so there's really no issue there. It's possible the lefty-hitting Sogard could spell Green against the tougher right-handers, but Green should get the next few weeks to prove himself before the trade deadline, at the least.

Fantasy owners should expect occasional pop, but certainly less than a .300 batting average. The No. 8 Oakland prospect by colleague Keith Law from March, Green wasn't drafted as a second baseman, but from what I saw of him in the Arizona Fall League and media reports, it's clear he can handle the spot. It wouldn't be asking too much for Green to deliver double-digit home runs and a .250 batting average the rest of this season, and he's capable of stealing a handful of bases, even if he continues to bat at the bottom of what is a deep lineup.

While it's true I'm cautious when it comes to expecting rookies to thrive, I'm always willing to offer a bench spot for a promising option just in case he sticks; this isn't likely to be the next Anthony Rendon or Jedd Gyorko among young second basemen, but he's certainly worth a speculative own in AL-only formats and deep mixed leagues, as opposed to the slumping Kelly Johnson, scrappy Brian Dozier, brittle Brian Roberts (sorry, I want to believe, but can't), powerless Jeff Keppinger and -- based on what I've seen of late -- even the Pirates' Neil Walker, who just doesn't appear healthy.

Box score bits (AL): Speaking of the Athletics, the amazing Bartolo Colon won his 12th game and lowered his ERA to 2.69 at Pittsburgh Monday. Colon, a worthy All-Star, boasts a 1.11 WHIP. Still, with a low K rate and his age, he's an obvious sell-high choice. … Texas Rangers second baseman Ian Kinsler had two hits and four RBIs Monday, but also was caught stealing for the sixth time this season. In fact, since coming off the DL roughly three weeks ago, Kinsler is 1-for-5 in steal attempts. He's a terrific player, but if he's not successfully running, he's certainly less terrific. … Minnesota Twins outfielder Aaron Hicks went 4-for-4 Monday, with two doubles and a triple, raising his batting average from .190 to .205. Hicks seemed awfully overwhelmed in April and May, but since coming off the DL for a hamstring injury, he has three multihit games in a week. … Boston Red Sox lefty Jon Lester served up five runs to the Seattle Mariners in their pitcher-friendly stadium Monday. It's the fifth time in six outings he did not deliver a quality start. You bet I'm concerned and not buying low.

Box score bits (NL): Philadelphia Phillies center fielder Ben Revere continues to hit and run and be worth owning in all leagues. Revere had three more hits Monday and stole his 21st base; since his moribund April when he hit .200, Revere has hit .343. … Miami Marlins outfielder Justin Ruggiano stole two bases Monday, giving him 11 on the season. He also has 12 home runs. His .224 batting average is a drag, but only six players have more home runs and steals than he does. … I was thisclose to trading away Los Angeles Dodgers underachiever Zack Greinke in one league before his terrific Monday outing, when he permitted two hits in seven shutout frames. What worries me on selling low here is Greinke is clearly capable of carrying a pitching staff, acting like Kris Medlen did in 2012. Or Greinke could be Ryan Dempster. I'm waiting another outing or two for more evidence. … The Milwaukee Brewers activated Ryan Braun from the DL Monday, though he did not play. He's expected to start Tuesday. Braun admits his sore right thumb will remain a problem, but I'd still buy low. He's a top-10 fantasy option and capable of stealing bases. Aramis Ramirez will miss the next few weeks with a sore knee, but try to keep him owned in standard leagues. The last-place Brewers aren't expected to shut Ramirez down early.





---