Thursday, May 16, 2013
Manny Machado deserves high ranking

---
By Eric Karabell



While it seems as if everyone acknowledges Los Angeles Angels outfielder Mike Trout and Washington Nationals outfielder Bryce Harper as the best young players in baseball, it sure looks as though the Baltimore Orioles have themselves a special young talent as well in third baseman Manny Machado. The 20-year-old had four more hits Wednesday, the fourth time in a week he delivered three or more, and raised his season batting average to .343, right up there among the league leaders.

[+] Enlarge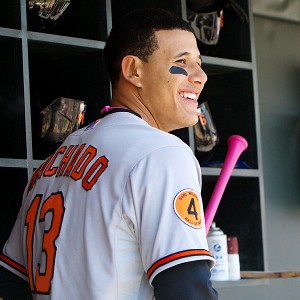 Brace Hemmelgarn/USA TODAY Sports Manny Machado has more than lived up to the hype so far this season.
I can't admit I expected Machado, only a few months older than Harper, to do quite this well, but after six weeks of standout play I'm certainly on the proverbial bandwagon, a fact shown by my generous mid-May ranking. (Click here for the staff rankings!) I admit to being surprised my colleagues aren't completely on board; after all, in addition to the lofty batting average, Machado is on pace for 20 home runs, 97 RBIs and 16 stolen bases. Orioles manager Buck Showalter, who knows a thing or two, clearly trusted Machado when he exalted him to the No. 2 lineup spot, and fantasy owners should trust him, too. He is now my No. 5 third baseman, and yes, his outstanding play has pushed him into the dynasty league discussion with Trout and Harper. We should stop discussing the fact he's not playing shortstop and realize he is a clear stud regardless.
Perhaps I'm jumping the gun a bit on Machado, but age doesn't seem to be a factor in how we analyze Trout or Harper. Those guys were considerably better at the plate last season, but Machado has made major strides. He's hitting more line drives and fewer fly balls, swinging at fewer pitches outside the strike zone, walking more and striking out less. His BABIP is a bit inflated, but I don't expect he's going to hit .343 when October comes, either. But can he hit .300 with 20 home runs and 16 steals? You betcha! If so, my No. 39 rank is actually too cautious. It's irrelevant that Machado was a 19th-rounder in ESPN average live drafts, projected to hit .261 with 19 home runs and 11 steals. He's better than that, perhaps a lot better.
When I first started ranking players for this project last week I didn't have Machado near my top 50, but he kept hitting, I kept thinking it over, and it all warranted a closer look. A right-handed hitter, he hasn't even begun to hit lefties yet; all of his home runs have come off right-handed pitching, and his OPS is a cool .949 there. And he will hit lefties. If someone in your league wants to sell high, go get Machado. This is a special player.
As for others I ranked better than my colleagues, well, it's kind of interesting, really. I'm generally partial to the older players, and for these rankings I was, but there are also quite a few younger fellows I seem to like more than most. Where's my middle class in terms of age? Here are a few of the young -- and old -- names in addition to Machado. I suppose this is mid-May version of "my guys!"
Starling Marte, OF, Pittsburgh Pirates: His lofty batting average is more unsustainable than Machado's but the power/speed package is legitimate. I doubt he finishes among the top 10 hitters (he's currently fifth on the Player Rater), but top 50 wouldn't surprise me. I haven't really been defending him in chats, on Twitter, any multimedia, but other than the batting average and the fact he strikes out a ton, what's the issue?
Lance Berkman, 1B, Texas Rangers: And here's the old. The plate discipline never left, as he has more walks than strikeouts, and I could see a 20-90-.300 season. The fact he'll be DH-only for 2014 isn't an issue yet. I admit his average second half of 2011, when he was unbelievable in the first half, has me thinking sell-high in July, but he's not in my top 100, either.
Matt Carpenter, 1B/2B/3B/OF, St. Louis Cardinals: You'll see that the players in this blog entry have been the focus of previous blogs! Carpenter is going to hit .300 and score considerably more than 100 runs. He's not a base stealer, and I'll take the under on 15 home runs, but his versatility does matter and again, how many players seem capable of scoring 120 runs? He certainly does.
Dee Gordon, SS, Los Angeles Dodgers: I blogged about him earlier in the week, and trusted colleague Tristan H. Cockcroft touched on the subject Wednesday, so I'll just add that Gordon will hit enough to stay in the bigs and steal 40 bases, which is really all that matters for fantasy owners.
Vernon Wells, OF, New York Yankees: I know what he did -- or didn't do -- the past few seasons. Again, I don't see it as particularly relevant. He homered again Wednesday, has new plate discipline and looks like a different player. It's not as though he was streaky his final seasons with the Los Angeles Angels; he was just bad. So expecting him to suddenly fail after this great six weeks, I don't see it.
Enjoy the rankings and share your thoughts in the comments section!
---