Tuesday, May 14, 2013
Bits: Segura now tops on Player Rater

---
By Eric Karabell



While rehabbing Los Angeles Dodgers right-hander Zack Greinke gets the headlines for the possibility he will come off the disabled list and pitch Wednesday, the relatively unknown shortstop prospect acquired by the Milwaukee Brewers from the Los Angeles Angels for Greinke's rights last summer had another big night Monday, and now boasts the honor of being fantasy's top player. That's right, Brewers speedster Jean Segura entered Monday as fantasy's No. 3 overall option on the Player Rater, then secured the top spot after producing three more hits, an RBI and three stolen bases Monday against the overwhelmed Pittsburgh Pirates.

Segura certainly doesn't have the name value Greinke does, but considering all the terrific performances in fantasy this season, the fact he's ahead of Miguel Cabrera, Justin Upton and Matt Harvey on the Rater is pretty impressive. This is a shortstop hitting .368 and on pace for 27 home runs, 72 RBIs, 59 stolen bases and 90 runs scored. Segura was never expected to be the next Alex Rodriguez (circa 1998), but those who took the chance to add him as a free agent a week or two into April love the results. Segura, 23, went undrafted in most leagues, despite being a middle infielder with the potential for major stolen base totals. He's being viewed as an obvious sell-high choice and yes, by definition he is, because it's awfully unlikely he remains ahead of the likes of Cabrera and the top pitchers, but he's not going to be Brendan Ryan the rest of the way, either.

[+]Enlarge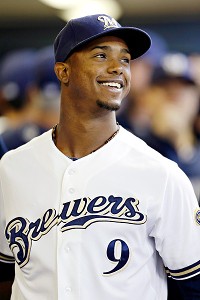 Mike McGinnis/Getty Images Jean Segura's .588 slugging percentage has been the largest surprise of all.
Some fantasy owners just cannot part with a player off to this type of start. I admit it's tough, but then again, who's attempting to acquire him expecting him to finish as a top-10 overall player? ESPN Fantasy projected a .245 batting average with five home runs and 26 steals, and while the batting average seemed a tad low, the overall value seemed reasonable based on his age, what he showed with the Brewers last season and how he had performed at Double-A, skipping a level upon big league promotion. Segura was always a base stealer through the minor leagues, tallying 50 steals in Class-A ball in 2010 and 37 in Double-A for the Brewers and Angels organizations in 2012, but he never hit for much power. However, while earning NL Player of the Week honors for the period that ended Sunday, Segura hit two home runs and added three doubles, hitting .500 with a .964 slugging percentage, and he stole two bases. Segura already has six home runs, three off right-handers (he hits right-handed).
The ESPN mid-May rankings will be posted later this week and I admit I never expected to rank Segura among the top 70 (let's not give everything away!), but the point is this amazing start seems fluky only for the batting average and power, and he shouldn't simply fall of the cliff in either statistic. Certainly a .393 BABIP is likely to fall -- it doesn't always, as proved in past seasons by Austin Jackson -- and he could hit around .250 the rest of the season, as originally expected. Teammate Carlos Gomez is also off to a monster start (he's sixth on the Rater) but brings more developed power skills, and batting average concerns. Regardless, I'm inclined to trust Segura and not move him for fourth-tier starting pitchers, as I ranked him ahead of noteworthy middle infielders Jose Altuve, Asdrubal Cabrera, Elvis Andrus, Jimmy Rollins, Alcides Escobar and Howard Kendrick, plus injured stars Hanley Ramirez, Jose Reyes and Aaron Hill. I'll project fewer than 10 home runs the rest of the way, but 30 more stolen bases, and a .260 batting average, meaning a very, very good season. We shouldn't all be selling high at once.
Box score bits (NL): Speaking of young phenoms, Washington Nationals outfielder Bryce Harper ran into the Dodger Stadium wall Monday night and left the game, needing stitches under his chin. Figure he'll miss a game or two, but a DL stint is not expected. … Pittsburgh Pirates second baseman Neil Walker (hand) came off the DL Monday and went hitless in four at-bats. Walker wasn't off to a great start this season, but remember, only seven second basemen were chosen before him in ESPN average live drafts. He's worth owning. … Well-traveled outfielder Rick Ankiel is not. After being discarded by the lowly Houston Astros, he signed with the lowly New York Mets Monday and started in center field later that day. Including Monday, Ankiel has 65 at-bats this season, and 37 strikeouts. Even in an NL-only format you're better off with Marlon Byrd. … You do want Chicago Cubs lefty Travis Wood, after yet another terrific outing Monday. Wood permitted two singles in seven shutout frames, lowering his already pristine ERA to 2.03. Wood isn't piling on the strikeouts and his xFIP is 4.46, making regression inevitable, but enjoy this hot streak.
Box score bits (AL): Houston Astros second baseman Jose Altuve suffered a subluxation (partial dislocation) of his right jaw in an ugly collision Monday night with right fielder Jimmy Paredes, but told the team he expects to play Tuesday. Altuve, hitting .333 and ranking fifth at his position on the Player Rater, isn't really a sell-high option. … The Cleveland Indians finally tired of waiting for third baseman Lonnie Chisenhall to hit, as they sent the 24-year-old to Triple-A Columbus. Chisenhall has 20-homer potential, but the plate discipline and power he showed in March didn't continue. Chisenhall has three walks and 22 strikeouts. Mark Reynolds, no Gold Glover, shared third base in Monday's doubleheader split with Mike Aviles. … Good news for the Tribe infield: Jason Kipnis homered again Monday, his fifth of the year. All five have come in the first inning, by the way. Kipnis is taking his time raising his batting average, but is on pace for more than 20 homers and 20 steals. … Minnesota Twins outfielder Aaron Hicks homered twice Monday. Contact issues remain here, but there's also power and speed potential if you've got great patience. … Anyone worried about Billy Butler is smiling today after his five-hit performance Monday, with five RBIs. Nothing that facing Joe Blanton can't cure, right? Blanton next faces the Chicago White Sox; maybe Blanton can help Adam Dunn next.
---