Monday, May 13, 2013
Dee Gordon improved, could stick

---
By Eric Karabell



Los Angeles Dodgers shortstop Dee Gordon got the call to replace injured Hanley Ramirez in the big leagues barely a week ago, and while it's a bit premature to call the lanky speedster a finished product or safe to keep his starting role the rest of the season, the early returns are promising. Gordon singled and stole his fourth base in eight games Sunday afternoon in a win over the Miami Marlins. He enters Monday hitting .269, which isn't particularly noteworthy or telling (it's only 30 at-bats), but the best sign of all are the walks, because for him it's a potential game-changer.

[+]
Enlarge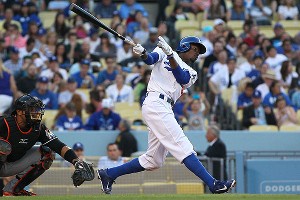 Victor Decolongon/Getty ImagesDee Gordon doubled his career home run total on Saturday against the Marlins.
Gordon has drawn five walks already, which continues a theme he featured at Triple-A Albuquerque, where he drew 14 walks in 25 games while striking out only 17 times. It's often tough to judge Pacific Coast League statistics, since most of the ballparks are somewhat equivalent to your neighborhood little league parks, but plate discipline doesn't depend on stadium. A season ago, Gordon wasn't taking free passes with the Dodgers, and it showed in his paltry .280 on-base percentage. Gordon doesn't project as a .300 hitter, and strength to drive the ball might always be an issue, but he should at least be getting on base. Fantasy owners want the stolen bases, but it's quite impossible to steal them when you're not on base.
Hopefully this new Gordon is legit, because let's face it, the speed is undeniable. It's not quite Billy Hamilton speed, but it's enough to eventually lead all of baseball in stolen bases. Gordon entered 2013 having stolen 56 bases in his first two seasons, over 143 games and 527 at-bats. That's basically a season. Gordon can steal 56 bases in a single season too, perhaps even this one, assuming he keeps his job and gets on base a little, which is more than reasonable. His weekend home run blast notwithstanding -- he's no power hitter -- Gordon needs to make contact, get on base however possible and run. Through parts of two seasons, he drew 27 walks against 89 strikeouts. He enters Monday with five walks and six strikeouts. Gordon should be owned in all leagues, and it's feasible he not only leads the majors in steals, but ends up a top-10 shortstop.
Ramirez doesn't figure to return from his hamstring injury until June, but when he does return it's certainly possible he'll be moving over to third base. The Dodgers are getting embarrassing production from the position. Nick Punto started there Sunday. Dodgers third basemen enter Monday hitting .183, with a .289 OBP and startling .238 slugging percentage. Pitchers are better than this. The overwhelmed Gordon from last season is a huge upgrade, but as long as this Gordon keeps getting on base and running -- and defense isn't a problem -- he's not going to be demoted. Ramirez will move to third base so Punto, Juan Uribe and Luis Cruz can return to utility infield duty.
It's also possible Ramirez balks at this move; why athletes even need to approve a team-mandated instruction is beyond me, but still, it could happen. Gordon is obviously capable of handling second base. Mark Ellis is Gold Glove caliber and he figures to return from his quad injury well before Ramirez returns. Ellis was off to a superficially strong start at the plate. The best Dodgers infield would include Ellis, Gordon and Ramirez playing regularly. There's little need for fantasy owners to stash Ellis. He's hitting .342, but let's be real: his .258 batting average last season is more like it.
The point here is I believe Gordon will keep the shortstop job and threaten to lead the major leagues in stolen bases this season, so add him and enjoy. I'm pleased I stashed him away over Hamilton in a few deeper leagues, sensing the opportunity to play in the majors would come first. Hey, when everyone zigs, it's often best to zag. Gordon has game, and as long as it includes patience at the plate, I'm all for it.
More Dodgers talk:
• Ramirez is no longer 100 percent owned (98.9 percent), which seems awfully shortsighted. He's a potential top-5 middle infielder and can still make a run at 20 home runs and 20 stolen bases the final four months. I'd trade for him before he returns.
• First baseman Adrian Gonzalez has been in and out of the lineup recently with a neck problem, which is annoying since he's off to a terrific start. Gonzalez homered Friday night and entered Sunday hitting .345 and on pace for 120 RBIs. Of course, Gonzalez did not play Sunday after aggravating the injury Saturday. I'd leave Gonzalez active this week. Perhaps he misses a game or two, but he's locked in at the plate. I don't see a 25-homer season pending, but 20-100-.310? Sure.
• Of course, it's also possible the Dodgers are forced to give Gonzalez a DL stint, looking at the long term. Hopefully the team doesn't do this Monday night -- for weekly leagues! -- and simply assume Scott Van Slyke can handle regular duty. Van Slyke was called up Friday and fanned as a pinch-hitter, then homered while starting Sunday. His Triple-A numbers were outstanding, with a .397 batting average, nine home runs and 30 RBIs in 34 games, but he's hit in the minors before. Now 26, Van Slyke should be good enough to keep a bench job, but he's not worth investing in for fantasy purposes.
• I see much hate around the fantasy community for outfielder Andre Ethier. You know, Ethier has posted a higher OBP and slugging percentage than Matt Kemp so far. I'm not selling low on either of them yet, but I also don't view Kemp as a top-10 guy the way he's playing. And as for the third outfielder, the rejuvenated Carl Crawford, he looks terrific. I wouldn't trade a top-10 outfielder to acquire him yet, though. Look for our mid-May rankings later this week; where the Dodgers outfield places should be interesting. I'll have Kemp over Crawford, but will my colleagues?
• By the way, right-hander Zack Greinke claims he is going to come off the disabled list to start Wednesday's game against the Washington Nationals. In daily leagues, I'd activate him right away. Greinke famously broke his collarbone in the Carlos Quentin brawl, and is well ahead of schedule. Yes, there are times when I'm cautious in activating pitchers right off the DL, but with top-20 options, I tend to trust. I also activated Greinke in weekly formats, where the risk is not of a pounding, but that he just doesn't pitch at all.
---