Assessing Manny Machado's value
June, 11, 2014
6/11/14
10:05
AM ET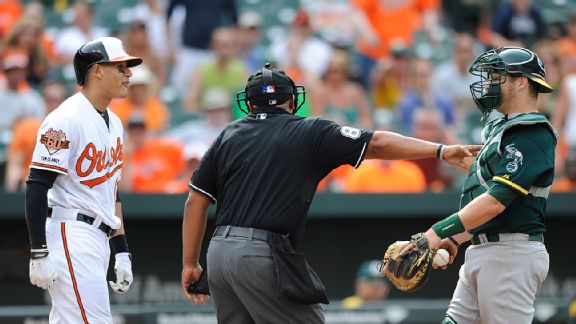 AP Photo/Gail BurtonManny Machado, left, has just seven extra-base hits and a .276 on-base percentage this season.
Baltimore Orioles
third baseman
Manny Machado
, once lauded for his maturity and ability to handle pressure at such a young age, now can't stay out of the news due to his childish and potentially dangerous behavior this past weekend against the
Oakland Athletics
. Moving past the
apologies and the suspensions
and all the noise leaves us with this undeniable fact for fantasy owners: He's really not worth owning in a standard league anymore, certainly not this version, and this version has been in play for what, 11 months now? However, a generally impatient group of fantasy owners still has Machado and his hollow .222 batting average owned in 100 percent of ESPN standard mixed leagues. Clearly there's some disconnect here.
I'm not saying Machado is an obvious drop; as always, it depends on the circumstances of your league, whether it's a keeper or not and who is available to replace him. You don't cut Machado for
Brock Holt
or
Eugenio Suarez
, after all. But for how much longer will Machado get what appears to be a free pass? He's the No. 37 third baseman on the
Player Rater
. His reputation has changed in the past week, that's for sure. At some point the statistics, if they stay on this path, will change his ownership, too. The soap opera continued Tuesday when Machado was suspended for five games, soon to be followed by his quickly and confidently appealing it, but I'm not sure fantasy owners should care whether the ultimate price is three games, four or five. The main thing dropping is Machado's batting average and short-term (2014) value. Put simply, Machado is showing no signs of being the dynamic player he was the
first half
of 2013, when he hit .310 with a record pace of 39 doubles. After the All-Star break, he hit .240 with 12 doubles. He wasn't hurt then and he really shouldn't have been fatigued that early, so yes, we can presume pitchers figured him out, and that's still the case.
Let's be fair here: Machado's left knee, torn up in a really unfortunate way late last season, still isn't right, no matter what he or the organization is telling you. Machado is no
Billy Hamilton
to start with, but watch him run and he's not all the way back. He missed April rehabilitating, but he just might need more time, perhaps in the minor leagues, as has been rumored lately. Or it might not matter because this just might be a lost season. It's not like he's hitting the baseball hard and into bad luck, though his BABIP is a bit depressed. That happens sometimes when you're not fast and hitting so many ground balls, as he is. More grounders, from 47 percent last season to an elevated 57 percent, is quite the jump. Not coincidentally, the fly ball rate is way down, too, and he's striking out more and not hitting the ball hard. He was never going to steal bases to make up for all this, either. It's an ugly combination.