Bits: Impact of Manny Machado injury
September, 24, 2013
9/24/13
10:25
AM ET
Fantasy owners have become used to seeing
Baltimore Orioles
third baseman
Manny Machado
play pretty much every inning of every game since his promotion to the major leagues last season, which is part of the reason he'll be so missed. Machado gruesomely hurt his left leg in Monday's 5-4 loss to the
Tampa Bay Rays
, and as of this writing the severity of the injury has not been determined. Regardless, fantasy owners should plan on finding another third baseman the rest of this week. The hope is that Machado, the No. 10 third baseman on the ESPN Player Rater and a strong keeper for 2014 and beyond -- the kid is 21, after all -- isn't hurt so seriously that it affects next year or hampers his development.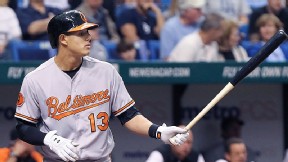 Kim Klement/USA TODAY SportsManny Machado slowed down in the second half, but is still just 21 years old and has tremendous potential.
Machado's real-life value is among the best in the game thanks to his magical defensive prowess and durability, placing him among the top 10 in Wins Above Replacement (WAR). For fantasy purposes, though, he's barely among the top 100 overall players, so not quite a superstar yet. Name value and the lure of upside can often send a player's value overboard, and that could happen with Machado. After all, while he's universally loved, his numbers don't warrant being a top-50 pick in most leagues in 2014. Assuming Machado's season is over, he hit .283 with 14 home runs, 71 RBIs and six stolen bases. The expectation is that Machado will continue to develop more power, with some of his many doubles turning into home runs, and he'll become a middle-of-the-order run producer.
Of course, while Machado's future seems limitless, it would be nice if he'd take a few more walks and work on plate discipline, as he has 112 strikeouts versus 29 walks. Machado's first-half value was predicated on his .310 batting average and 45 RBIs, and he hit 38 doubles before the All-Star break, putting him on pace to break the big league record. Then Machado hit one double in July to end that threat, but his struggles continued. Since the All-Star break, Machado has hit .236 with a lowly .273 on-base percentage. The doubles were starting to turn into home runs, but it was making Machado a lesser hitter overall. In addition, all six of Machado's stolen bases came before the break. Ultimately he profiles as a 30-homer, 100-RBI guy with perhaps 10 stolen bases, but again, let's hope he's healthy enough to attain the lofty expectations. If you're in an AL-only league and need the at-bats, look for
Danny Valencia
and
Ryan Flaherty
to play third base for Baltimore this week. Not quite the same, unfortunately.