My 'Do Not Draft' list: No thanks, Joe Mauer
March, 9, 2011
3/09/11
3:48
PM ET
As a
Philadelphia Phillies
fan, I'll spend far too much time, if there is such a thing, watching the Phils play baseball this season. But when it comes to selecting a few of their players in fantasy drafts, let's just say I'll be turning away from some of their signature names, led by middle infielders
Chase Utley
and
Jimmy Rollins
. Of course, at some point in a typical draft, I would love to select these guys, and of course I'll be rooting for them, but based on where they are going in current drafts, I can't make that commitment.
We call this annual blog my "Do Not Draft" list, but that's not entirely accurate. For instance, as it stands now, I would take Utley in Round 5 or 6. Alas, that's unlikely to be presented as an option for me, as someone in every league will be either unaware Utley is dealing with a painful knee problem, think he'll be back in the lineup any minute or just want to tempt fate. Utley, like most of the Phillies hitters, is on the wrong side of 30 years old, and I can't tell you for sure when he will actually play next in a major league game. He hasn't played in a spring game yet, which certainly is not a good sign. There's no chance I'll make Utley a top-20 pick, which is where he is currently being selected in
ESPN average live drafts
, without knowing for sure how long he will be on the sidelines, and whether this knee problem could linger all season.
[+] Enlarge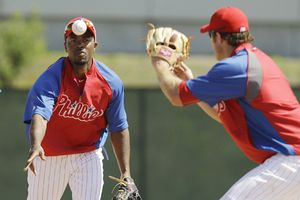 AP Photo/Eric GayJimmy Rollins, left, is being selected before such shortstops as Alexei Ramirez and Elvis Andrus, while teammate Chase Utley has been the No. 2 second baseman off the board (behind Robinson Cano).
I strive to minimize risk in the early rounds of a fantasy baseball draft. Under normal circumstances, I would choose Utley over, for example,
Cincinnati Reds
second baseman
Brandon Phillips
, though both are similarly productive. But with so much risk involved with Utley, I'd go ahead and put my focus a round or three later on Phillips, who is relatively safe and productive, one of the most underrated fantasy options around. Utley, as well as double-play partner Rollins, certainly appears to be in decline, and it seems to me they are living off name recognition for fantasy owners desperate to relive the past. I'm getting close to adding Phillies first baseman
Ryan Howard
to this crew, but hey, at least he's healthy right now. There's ample hope he can return to his past monster numbers.