Strategy: When to draft starting pitchers
February, 27, 2013
2/27/13
1:20
PM ET
We're still in February, but ESPN's
live draft results page
is up and running, and a few things jump out to me.
Detroit Tigers
third baseman
Miguel Cabrera
is going first overall, with
Milwaukee Brewers
outfielder
Ryan Braun
,
ESPN's pick for the top
, falling to third. There's a catcher busting the top-15 party, and apparently owners are not too concerned about a certain
Colorado Rockies
shortstop staying healthy (he's being taken 13th, on average). Oh, and there's a pitcher in the first round. A pitcher!?
[+] Enlarge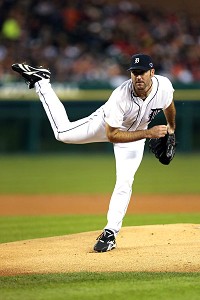 Jonathan Daniel/Getty ImagesEric is a fan of Justin Verlander ... he just isn't willing to draft him when most other owners are.
My take on when to draft starting pitchers is pretty consistent from year to year, and it usually doesn't include the likes of
Justin Verlander
or
Clayton Kershaw
ending up on my teams. I love those fellows; really, I do. Who wouldn't? Procuring awesome pitching early in drafts can make fantasy owners feel all warm and fuzzy ... until they check out what their offense looks like. This is ultimately why I avoid starting pitching early. I'd prefer to build up my offense, which isn't nearly as easy to do as in past seasons. Then I build it a bit more, and even more after that ... and I feel like I can fashion a nice pitching staff later or even "fake" it in April through free agency.
This isn't a decision I came across lightly, this approach that avoids the top starting pitchers and constructs offense-heavy standard-league teams, often with nine of my first 10 picks making their living hitting the baseball. Then again, I can't recall ever really wanting to build squads with pitching. Hey, this style isn't for everyone. Back in the day, there was so much offense -- when that
Barry Bonds
guy was all the rage -- a fantasy owner had to keep up and load up, so to speak. Now, since offense has dried up and pitching is king, it's supply versus demand, and still, you've gotta get the bats. I've tried it the other way in a mock draft or two, both this season and over the past several, stockpiling multiple aces -- or whatever an ace really is -- and by Round 15 I'm wondering why I'm seriously lacking offense and how to fix it.