Yankees hitters to buy and sell
July, 8, 2014
7/08/14
9:54
AM ET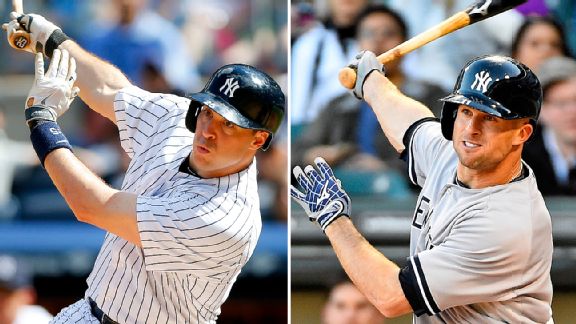 Getty ImagesMark Teixeira has surprised, while Brett Gardner may be the best value among Yankees hitters.
A mere five players hit more than the 34 home runs outfielder Alfonso Soriano blasted last season, and of the 14 players who reached the 30-home run mark, none registered more than the 18 stolen bases he did. So why did Soriano simply stop hitting and running the first three months of this season? Call it old age (he's 38) combining suddenly with a complete lack of plate discipline, if you will -- which I don't really buy -- but the 14th-round pick in ESPN ADP was truly awful to the point that the New York Yankees designated him for assignment over the weekend, basically handing the right field job to 40-year-old Ichiro Suzuki, who celebrated with a trio of singles in a 5-3 victory in Cleveland on Monday night.
I own Soriano in a really deep league with really different rules than most, and other than his being an embarrassingly poor draft pick, let's say the outfield pool there is pretty bereft of talent. I considered Suzuki as a replacement, but I couldn't find enough reasons to invest. Age is one factor, but there's not even a hint of power left and probably not enough in the base-stealing department to make a difference. Plus, I don't think he'll hit near .300 for much longer, which means it's downhill from here. Suzuki stole 20 bases last year in way too much playing time, and ultimately one would presume the contending (somehow) Yankees are going to upgrade at right field, since it's pretty clear Carlos Beltran is having trouble just standing up at this point, relegating him to designated hitter duties. I just cannot recommend Ichiro in a 10- or 12-team league. I actually think Soriano, presuming he lands a job soon (Texas Rangers? Boston Red Sox?), can still matter more the rest of the way.
Regardless, here are general thoughts on current Yankees hitters, for buy/sell purposes, I suppose: