What to do with struggling James Shields
July, 2, 2014
7/02/14
11:04
AM ET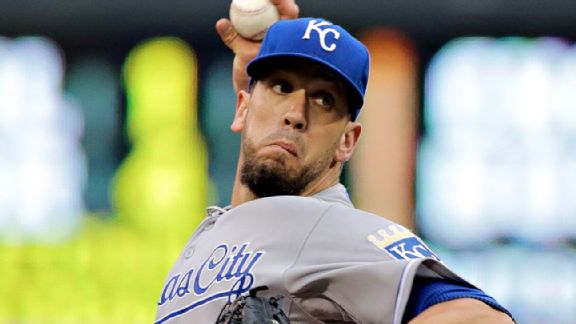 AP Photo/Jim MoneJames Shields was touched up for five runs in five innings, and has a 4.93 ERA since May.
Kansas City Royals right-hander James Shields is putting his fantasy owners in quite a spot, as Tuesday evening was the sixth time in eight outings the top-20 starting pitcher from draft day and long-time reliable had permitted four or more runs in game. Based on his track record and the preseason investment, nobody would cut him. But like Detroit Tigers right-hander Justin Verlander and Cincinnati Reds right-hander Homer Bailey, the frustration boils and owners are left to ponder how to react when there's little that can be done except show patience. This is, after all, the No. 63 starting pitcher on the Player Rater.
Shields threw 113 pitches over five innings in his shortest outing of 2014 Tuesday, allowing nine hits and two walks at Minnesota, not exactly a top offensive squad, especially with Eduardo Nunez leading off, Chris Parmelee hitting third and Trevor Plouffe fifth. But this is a theme with Shields, who claims he isn't hurt. A longtime workhorse on pace for his eighth consecutive season of considerably more than 200 innings pitched, Shields, as with Verlander, hasn't seen great change in his peripherals. In his case velocity isn't down. Shields posted a 2.03 April ERA with 41 strikeouts in 40 innings, but since then his ERA is 4.93. That's hardly an ace, and in a pitching-rich fantasy environment there are myriad options to replace him with.