Top surprises, disappointments thus far
May, 30, 2014
5/30/14
10:23
AM ET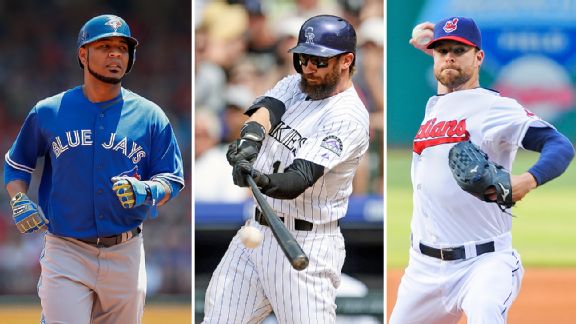 USA TODAY SportsEdwin Encarnacion, Charlie Blackmon and Corey Kluber have been surprises to varying degrees.
Surprise! We're finishing up the second full month of the fantasy baseball season and yes, it seems to have flown by. The overriding theme of the campaign has been the ulnar collateral ligament -- whose is torn and whose is not -- but there have been some wonderful performances and, well, others that fall a bit short. So why not go position by position, highlighting the biggest surprises so far on both the good and bad sides. We'll leave out the injured fellows, because it's assumed that what befell Jose Fernandez, Matt Moore and so many other hurlers was frustrating for all (as well as non-elbow maladies suffered by Prince Fielder, Bryce Harper, Joey Votto, etc.).
Catcher: St. Louis Cardinals backstop Yadier Molina tops the Player Rater at his spot, but that's no surprise. Buster Posey is fifth. Carlos Santana of the Cleveland Indians is hitting .159 and is 30th. Big surprise. What else? Oakland features the Nos. 3 and 11 catchers, though I don't expect either Derek Norris or John Jaso to finish there, but it's still pretty cool. Devin Mesoraco is hitting .360 with pop. Just be careful when Santana adds 100 points of batting average and Mesoraco, a few hours away in Ohio, drops that much.