Padilla worth a look in deep leagues
March, 29, 2010
3/29/10
2:25
PM ET
When
Vicente Padilla
signed with the
Los Angeles Dodgers
in August 2009, I immediately considered it a surprisingly good move, and one with the potential to aid fantasy baseball owners. No, Padilla had not pitched well for the
Texas Rangers
, and I saw way too much of the guy when he pitched for the
Philadelphia Phillies
, but I view pitchers calling Dodger Stadium home in a far more positive light. Padilla was an upgrade for the sliding yet playoff-bound Dodgers. At the time, the other big NL signing was
John Smoltz
heading to the
St. Louis Cardinals
, and since he possesses that Hall of Fame name, much of the fantasy baseball world praised the move. At the time, I noted (with fingers crossed) that Padilla would be the better fantasy option.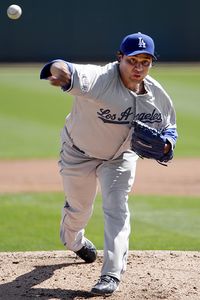 AP Photo/Mark DuncanVicente Padilla quietly finished with a 12-6 record in 2009 and has won 26 games over the past two seasons.
Alas, Padilla pitched reasonably well for the Dodgers and certainly helped fantasy owners, compiling a 4-0 record and 3.20 ERA in eight games (seven starts). Smoltz had similar but not quite as good numbers, winning just once. Padilla's 8.7-per-nine-inning strikeout rate, albeit in a small sample size, trumps anything he'd ever done in his career, and for those who needed a big outing on the final day of the season, Padilla fanned 10
Colorado Rockies
in five innings and won. Maybe he's one of those players you automatically avoid on first reaction, but that wasn't such a wise move in September 2009.
None of this ensures that Padilla will recapture this effectiveness over the course of an entire season, but the Dodgers have not only brought him back for 2010, but manager Joe Torre has named the right-hander his Opening Day starter. This honor doesn't mean Padilla will outperform
Clayton Kershaw
,
Chad Billingsley
or
Hiroki Kuroda
, but it does speak to the degree in which Torre trusts him. Maybe Torre, like myself,
read this weekend blog
from our ESPN.com TMI (The Max Info) pals, which paints Padilla in a different (positive) light from what most fantasy owners might believe.