March, 30, 2015
Mar 30
2:39
PM ET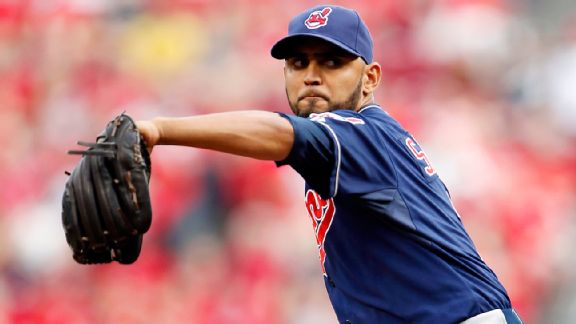 Frank Victores/USA TODAY SportsDanny Salazar still has great strikeout potential but he won't start the season with the Indians.
The plight of
Cleveland Indians
right-hander
Danny Salazar
is a reminder to us all that being able to throw a baseball harder than most everyone else isn't always a ticket to statistical stardom. Salazar, a flamethrower who shined in 2013 when he fanned 65 hitters over 52 innings in 10 starts, couldn't replicate the success in 2014 in the majors or minors and now he's again ticketed for Triple-A Columbus. Salazar's spring numbers were ugly with a 8.18 ERA and 1.72 WHIP over four starts, which won't make those that have already drafted him pleased. As of Monday morning, Salazar was still a top-75 pitcher in
ESPN ADP
, ahead of several notable options such as his teammate
Trevor Bauer
,
Milwaukee Brewers
right-hander
Matt Garza
and
Kansas City Royals
lefty
Danny Duffy
. While Salazar is every bit a strikeout guy, unlike the pitchers the Indians chose for the back of their rotation, something is clearly missing and at this point, he's not worth selecting in a 10- or 12-team standard league and I wouldn't rely on him in any format, really. He was already on my bust list, though depending on cost, sure, I would have saved a bench spot for him. Salazar fanned 120 hitters in 110 big league innings last season and was probably a bit unfortunate that the rest of his numbers didn't translate well. He permitted more hits than innings, a bit unusual for a guy who can hit 98 MPH regularly, but an inflated BABIP of .344 played a role there. I didn't see any of Salazar's spring outings but then again he had little trouble missing bats, whiffing 15 over 11 innings. Hitters also squared him up quite well, making five of their 14 hits go for home runs. It's also been suggested by those that cover the Indians that Salazar needs a bit of work on maturity and preparation, so we'll see how he reacts in April. What struck me about Salazar in big league games last year was just how straight his otherwise electric fastball generally looks, and there's not much that can be done about that. Of course Salazar throws hard. According to the Bill James Handbook, he threw 783 pitches at 95 MPH or harder last season, eighth in the circuit, and Salazar tossed only 110 big league innings! What's odd is all the other AL pitchers in that top 10 were successful in 2014, leading analysts and fantasy owners to really like Salazar's potential. Hey, I still do. It's why analysts are recommending
New York Yankees
right-hander
Nathan Eovaldi
as well. He throws hard. The issue with each of them is that when hitters can time a straight 95-to-98-MPH heater they can catch up to it, and Salazar doesn't throw other pitches consistently for strikes, namely his slider and changeup. When he does, watch out, but I also wouldn't be surprised if this is a future closer. With Eovaldi, he led the National League in hits allowed last year, despite throwing fewer than 200 innings and in a pitcher's park. He's not in a pitcher's park now.
[+] Enlarge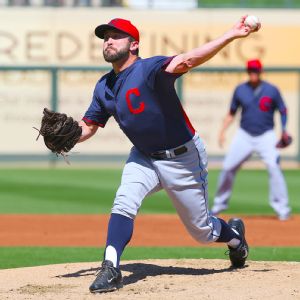 Atsushi Tomura/Getty ImagesCould T.J. House be this year's version of Corey Kluber?
As for Cleveland's rotation, which gets viewed now as being a special place to be due to pitching coach Mickey Calloway and the Cy Young-like emergence of right-hander
Corey Kluber
, I don't think right-hander
Zach McAllister
makes that next step up to dominance, but I could see lefty
T.J. House
becoming 10-team relevant. As discussed by myself and colleague Tristan H. Cockcroft on Monday's
Fantasy Focus Baseball #06010 podcast
, House is intriguing since as a rookie he made 18 starts and produced a 3.35 ERA that wasn't at all fluky; his xFIP was 3.10 and the team should be improved defensively, especially when shortstop prospect Francisco Lindor gets promoted. House was second among all pitchers with at least 100 innings pitched in ground ball percentage last year, at better than 60 percent, but he also gets enough strikeouts with his terrific slider. If I knew Salazar and House would make 30 starts this season in the majors, I'd take House for ERA and WHIP and reliability, and Salazar solely for the strikeouts. Now it looks like only one of them has a shot at 30 starts.
AL roundup:
Looks like I was wise to get
Texas Rangers
outfielder
Ryan Rua
on several deep-league teams. He appears to have won a starting nod with
Nate Schierholtz
and
Ryan Ludwick
released. … Don't get too excited about
Boston Red Sox
catching prospect Blake Swihart yet. Sure,
Christian Vazquez
might not play this year, but the team has defensive-minded veterans
Ryan Hanigan
and
Humberto Quintero
. I bet Swihart gets half a season in Triple-A, at least, and then perhaps a trip to Philadelphia in the
Cole Hamels
trade? Dare to dream! … I wasn't drafting overrated
Detroit Tigers
right-hander
Justin Verlander
before the triceps strain, I'm sure not doing it now. Look for a pending DL stint. … Need a sleeper power source with second-base eligibility? The
Houston Astros
demoted third baseman
Matt Dominguez
, freeing the position for former
Chicago Cubs
platoon option
Luis Valbuena
. … If choosing between rookie second baseman likely to have won starting jobs, I'll take the stolen base upside of Micah Johnson of the
Chicago White Sox
over the steady Devon Travis of the
Toronto Blue Jays
.
NL roundup:
The
Philadelphia Phillies
have apparently settled on Rule 5 pick
Odubel Herrera
as their center fielder and
Ben Revere
will handle left field, where his poor arm will better serve the team. It doesn't affect Revere's statistics. Since everyone seems to be asking, Herrera is indeed in ESPN's system as David Odubel Herrera, and with notable
shortstop eligibility
. With batting average and stolen base upside -- but neither close to Revere's level, for example -- he's a perfect NL-only middle infielder. As for who loses playing time, you didn't want
Grady Sizemore
anyway. … I'd like to see the
St. Louis Cardinals
give lefty Marco Gonzalez the last rotation spot now that lefty
Jaime Garcia
seems DL-bound, but word is
Carlos Martinez
will get it. If Martinez can get lefty hitters out, he'd be terrific. I'm a bit skeptical. … Even if the
New York Mets
place second baseman
Daniel Murphy
on the DL with his hamstring issue, don't let him slip far in drafts. Murphy is underrated and can still reach double-digit stolen bases.
To continue reading this article you must be an Insider