March, 27, 2015
Mar 27
12:12
PM ET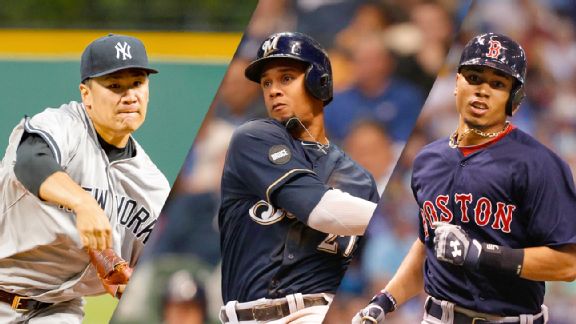 USA TODAY Sports, Getty ImagesMasahiro Tanaka, Carlos Gomez and Mookie Betts are all high on Eric's rankings lists.
I can't recall ever finishing a draft or auction and thinking, "Wow, that one was simply perfect." Perhaps that's pessimistic, and on occasion the projected statistics for the players add up wonderfully and you're the so-called leader in the clubhouse, but none of that really matters in March. Players will get hurt, performance will vary for good and bad for your teams and others, and work will need to be done to take this quality preseason team into September with a legitimate chance for victory. Still, it's tough to use the word
perfect
because there's always a player or two or three you would have rather ended up with. The purpose of this exercise, to create the perfect draft for ESPN standard formats (5x5 categories, 10 teams, 1 catcher, 3 bench spots), shouldn't be taken as gospel for your league. For one thing, my projections probably vary from yours. Two, while I use
ESPN average live draft position
to determine which players will be available at the spots I select, obviously nobody can say for sure that a certain player will or will not be chosen earlier in your league, whatever format it is. Finally, while I almost always prefer to draft first or last in the first round, regardless of sport, I've placed myself in the middle of each round. Let's say I have the fifth overall pick. OK, here we go!
Round 1: Carlos Gomez, OF, Milwaukee Brewers:
All credit to
Los Angeles Dodgers
lefty
Clayton Kershaw
, who is currently going fourth overall in ESPN ADP, but I've got Gomez in that spot. He's the only hitter with 20 home runs, 20 stolen bases and a .280 batting average in each of the past two seasons, and it should happen again. Plus, he gives you a lot more than 20 steals! Time to give credit to Gomez, too, and he's a nice building block for a standard fantasy roster (although not for points leagues)!
Round 2: Adam Jones, OF, Baltimore Orioles:
Oddly enough, I don't recall drafting the consistent Jones on any teams this season or last year. In fact, I've been rather negative in describing his fantasy value long-term, for someone with so little plate discipline just shouldn't be able to provide the stats he does every year. But he does! And as I eventually trusted Gomez, I shall with Jones. The truth is I don't like picking in the middle of each round. I'd certainly prefer getting
Mike Trout
first overall and then two big bats with picks 20 and 21. This will suffice and no, it doesn't matter that each of my first picks are outfielders.
Round 3: Ian Desmond, SS, Washington Nationals:
Again, this is not a very good points-league pick, since he strikes out a lot, but this is a standard format we're dealing with. Desmond and Gomez are the only players in baseball with consecutive 20/20 campaigns. The only ones! And Desmond has done this for three straight seasons and at shortstop, hardly a deep position. OK, I might not be winning batting average in this league, but with three players that run, I won't need to reach for a fellow who mainly provides stolen bases and little else.
Round 4: Zack Greinke, SP, Los Angeles Dodgers:
A problem will loom for this exercise in that starting pitching is being selected considerably earlier than I like to choose it, pretty much across the board. I've got Greinke going two rounds after this, but I do acknowledge it's nice to secure a safe, reliable ace so my No. 1 pitcher is someone I can count on for four-category production. So I'll reach a bit from my personal ranks for Greinke. I'm OK with this.
[+] Enlarge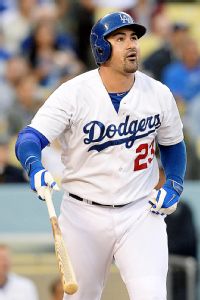 Jayne Kamin-Oncea/USA TODAY SportsAdrian Gonzalez is a stable option for batting average and run production.
Round 5: Adrian Gonzalez, 1B, Dodgers:
Not every pick needs to be an upside pick. Perhaps few of mine are. Regardless, I've got Gonzalez ranked two rounds better than this, but because his home run total is deemed
below average
by some, he slips in drafts. I'll take the safe batting average and power stats and remember he doesn't miss many games.
Round 6: Brian Dozier, 2B, Minnesota Twins:
This could have been predicted. I also rank Dozier greater than the ESPN crew does, and when it comes to those drafting, for ADP purposes, the batting average likely turns them off. Yes, Desmond/Dozier is not a batting title waiting to happen. But it's another 20/20 option and if Dozier hits third in the lineup, with
Joe Mauer
moving to second, I think Dozier produces more power, perhaps to the detriment of his stolen-base total.
Round 7: Todd Frazier, 1B/3B, Cincinnati Reds:
I've been saying for months I don't see his 2014 season all that unreachable again. So we welcome more power and speed to the Kara-squad!
Round 8: Masahiro Tanaka, SP, New York Yankees:
If I'm confident in my offense, and not seeing any pending available hitters I must have, of course I'll take a strikeout hurler with the potential to be a top-10 guy. Tanaka was on his way to such heights last season. I realize his elbow could implode whenever, but I also believe that can happen to any pitcher.
Jacob deGrom
of the
New York Mets
is the next pitcher in ESPN ADP. Is he totally safe from injury? None of them are. There's pitching depth, so if a potential ace slips a bit, why not act? There's always a deGrom emerging on free agency every May anyway.
Round 9: Mookie Betts, OF, Boston Red Sox:
Well, I just had to. He's going to play regularly and he's going to be special and by the way, I've got him ranked two rounds better than this. At least.
Round 10: Jay Bruce, OF, Reds:
This is the first example of choosing a player coming off a rough season and using my "forget about last year" corollary when seeking out a bargain, which Bruce surely is. All those years of production shouldn't be forgotten so quickly. Yes, Bruce was bad in 2014. Before that, he was a reliable power source. And we all need power.
Round 11: Garrett Richards, SP, Los Angeles Angels:
He's fine. Go ahead and miss a start or two. He made only 26 starts last year and the numbers were awesome. I remain perplexed why so many are so scared of him. It's not an elbow or shoulder problem.
[+] Enlarge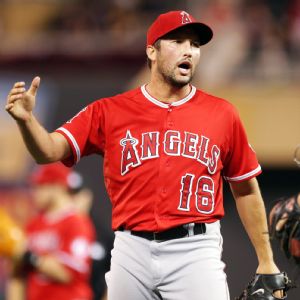 AP Photo/Jim MoneHuston Street is often a relatively cheap option for saves.
Round 12: Huston Street, RP, Angels:
I seem to be getting him on many teams, not because I really like him but because this is the part of the draft I'm prepared to get saves, and he always seems to be left.
Round 13: Steve Cishek, RP, Miami Marlins:
Same thing as Street, really, and as with the Angels, I project a playoff team, which for save purposes is certainly better than investing in a 65-win outfit.
Round 14: J.D. Martinez, OF, Detroit Tigers:
Tremendous value this late if you believe his 2014 was legit. Other than batting average, I believe it was.
Round 15: Lucas Duda, 1B, New York Mets:
He's ranked among my top 100. Why is
Houston Astros
DH
Chris Carter
going so many rounds earlier than Duda? Only 11 players hit 30 home runs. Duda was one of them and it wasn't a fluke.
Round 16: Ben Revere, OF, Philadelphia Phillies:
Another player in my top 100 being misjudged by most. The speed and batting average are real. I might have too many stolen bases, but I need the batting average, and what a great trade chip!
Round 17: Ian Kennedy, SP, San Diego Padres:
Time to fill the rotation, and the fact that there are potential 200-strikeout options available makes me pleased and proves the point about depth.
Round 18: Jose Quintana, SP, Chicago White Sox:
So underrated.
Round 19: Phil Hughes, SP, Twins:
When you don't walk hitters, good things happen. For him, it will be a good thing when his ERA drops even more.
Round 20: Neftali Feliz, RP, Texas Rangers:
Got my third closer and he's a bargain. Feliz wasn't great in 2014, but he's throwing better this spring and there is upside with a team getting so much offense back.
[+] Enlarge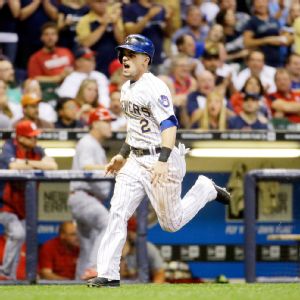 AP Photo/Morry GashScooter Gennett can provide decent power, speed and batting average at a reasonable price.
Round 21: Scooter Gennett, 2B, Brewers:
Reasonable minds can debate his actual statistical upside, but I expect double-digit home runs, at least 15 steals and a strong batting average. Not bad this late. If not Gennett, I would have taken Orioles bounce-back shortstop
J.J. Hardy
.
Round 22: Yasmani Grandal, C, Dodgers:
I need a catcher and this is my sleeper option. People draft catchers too early in ESPN formats. You need only one. This one has upside. If he's awful,
Wilson Ramos
of the Nationals or
Wilin Rosario
of the Rockies should be available on the waiver wire, so there's little risk.
Round 23: Steven Souza, OF, Tampa Bay Rays:
Perhaps I've been too aggressive in hyping this older prospect, but his minor league numbers were very, very enticing. He has a starting job. He's my only bench hitter, but by the way, I have plenty of power and speed on this offense. Batting average is another story, but I only need to be middle of the pack in the category.
Round 24: Kevin Gausman, SP, Orioles:
Upside! Potential ace! And he's on my bench, so I don't even have to use him in April.
Round 25: Carlos Martinez, SP, St. Louis Cardinals:
Same thing as Gausman. Total upside pick. If he's bad, there are going to be plenty of starting pitchers available, guys like the Dodgers'
Brandon McCarthy
, the Marlins'
Henderson Alvarez
and the Pirates'
A.J. Burnett
, who could strike out 200 hitters! So much depth!