November, 24, 2014
Nov 24
11:42
AM ET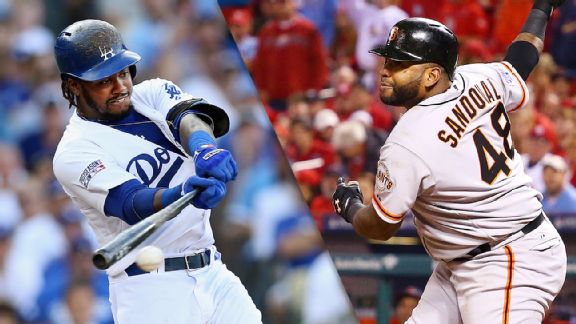 Getty ImagesHanley Ramirez and Pablo Sandoval move from pitcher-friendly parks to hitter-friendly Fenway.
The
Boston Red Sox
went from leading the major leagues in runs scored in 2013 to middle of the pack in 2014, from first place and a World Series championship to last place, so what better way to improve than to sign the top free-agent hitters available? In this case, infielders
Hanley Ramirez
and
Pablo Sandoval
are the prizes and there are certainly fantasy ramifications as well.
For Ramirez, the main complaints about him from a real-life standpoint are his lack of defensive prowess and the many missed games. This is only somewhat relevant for fantasy owners, however. Ramirez played in 128 games last season and still ended up a top-10 shortstop on the ESPN Fantasy Player Rater. Like the Colorado Rockies' Troy Tulowitzki, Ramirez always hits, so the fact there's an annual disabled-list stint or two to deal with really doesn't remove him from early-round draft consideration. He was the No. 13 overall pick according to ESPN ADP last season, and one could argue he's top-10 now. I'd argue it! And defensively, we just don't care. Ramirez is an awful shortstop, but with Sandoval joining him in Boston, he's clearly not handling third base. I could see left field, but the Red Sox have depth there, too. The point is Ramirez always hits, he'll hit more in the American League East and this is an even better overall option than usual for 2015 drafts.