March, 31, 2015
Mar 31
1:54
PM ET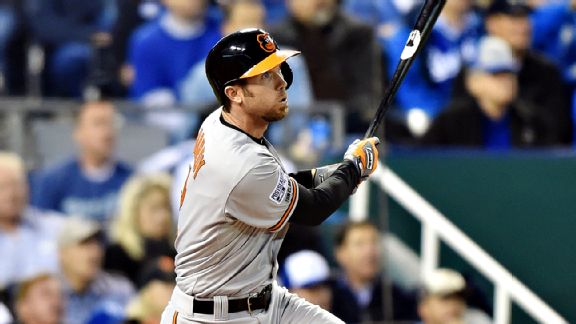 Peter G. Aiken/USA TODAY SportsJ.J. Hardy's shoulder injury leaves his future value in doubt, while Everth Cabrera's gets a boost.
Not to play the role of rushing to judgment too much, but I think the shoulder injury
Baltimore Orioles
shortstop
J.J. Hardy
is dealing with is yet another reason to believe the fellow we used to rely on for mid-20s power is not coming back anytime soon. In a way this is sad, right? Hardy is but a mere 32 years old and his best days are clearly behind him. Sure, a baseball player's career is hardly like that of a normal person's in its length, and the money they make in a short amount of time is extreme, but still, it's kind of sad. Anyway, even when Hardy was supposedly healthy a month ago I didn't really
expect
20 home runs, a number he's reached five times in a productive 10-year run. Now? After a season in which he couldn't reach double-digit home runs as he dealt with injuries and dropping contact rates, I wouldn't draft him at all in a standard 10-team league. The first question I've been seeing in relation to Hardy's future has generally been the wrong one to ask. No, I don't think third baseman
Manny Machado
, formerly a shortstop in his teenage years, moves back there. He's a really special defender at third base, and the last thing he needs, after missing half of the 2014 season with knee woes, is to deal with a position change. That's true even if he would, in theory for real life and fantasy, be more valuable at shortstop. Those in dynasty formats or even redraft ones looking for multieligibility aren't going to get it. Machado is worth a top-100 overall pick. I admit I've been a bit down on him overall, but I am hoping this great talent figures it out and most of all stays healthy. Hey, I'd take him in a draft today over Kris Bryant. Of course, I might not be the person to ask on that one. Actually, the question fantasy owners should be pondering with Hardy likely to miss April due to his latest ailment is about the bushels of stolen bases former
San Diego Padres
infielder
Everth Cabrera
is on his way to compiling, even if it's just in a short-term fill-in role. Say what you will about Cabrera, a former Rule 5 pick entering his seventh season: He's not much of a hitter, really, possesses no power and isn't nearly on Hardy's Gold Glove level defensively, either. But Cabrera can run. Thanks to injuries and poor decision-making off the field, Cabrera has averaged a paltry 100 games played the past three seasons, but in that span, he totaled 99 stolen bases. You know how many guys have 100 steals since the start of 2012? Only seven players achieved this. and most played quite a bit more than Cabrera. If you're in an AL-only format, I'd assume Cabrera was already chosen. He should have been, at the least. If you're in a deeper mixed league, he's probably out there. He is capable of swiping double-digit bases in April. Why can't this guy be one of the "steals" of the season and swipe 30-plus? He's done it before. It's problematic whether Cabrera gets to keep on playing after April ends, but I always thought this was the perfect place for him to land as a free agent. I don't think we can assume Hardy returns that soon and stays on the field. Plus, second baseman
Jonathan Schoop
was clearly rushed to the majors last season, and it showed as he hit .209. There's no imminent talk of him heading to the minors as with
Chicago Cubs
slugger
Javier Baez
, but the point is Schoop needs to improve to play, especially if Cabrera plays really well. And Machado at third, no matter how much we like him and root for him, he missed half of 2014. I think Cabrera is better -- and different -- than
Ryan Flaherty
, and the Orioles likely agree. Each could play.
[+] Enlarge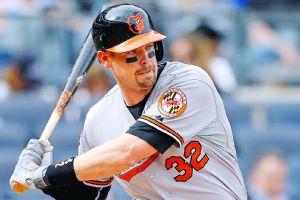 Jim McIsaac/Getty ImagesMatt Wieters will miss the start of the 2015 season, so he's worth selecting only in two-catcher leagues or one-catcher formats with a DL slot.
More Orioles:
I recently chose popular sleeper outfielder
Travis Snider
in a deep draft, hoping he'll play enough to finally have that true breakout season, but I'm thinking that's too eager. Snider, who bats left-handed, hit 13 home runs in 322 at-bats last year. The Orioles have
Delmon Young
to platoon with either Snider or potential leadoff hitter Alejandro de Aza, but Snider has been sitting against lefties in recent spring games. That's not a good sign. By the way, I'm all-in with
Steve Pearce
. I think he's legit and will play regularly. ... I would not draft
Matt Wieters
in an ESPN one-catcher format anymore. I think he's missing much of April and for
that format
, there's no need to roster multiple catchers. In two-catcher formats, I would make him a top-10 catcher pick, but we're talking Round 21 or later. ... If I compiled a list of the 10 most overlooked right-handed starting pitchers, I think
Bud Norris
is on it. He's better than you think. ... My new over/under for
Kevin Gausman
starts is less than last season's 20. Sorry. I really like him, but the Orioles are being patient, probably too much so.
AL notes:
Outfielder
Dayan Viciedo
did not make the
Toronto Blue Jays
' roster, so quite obviously, that late-round pick on him in fantasy is ill-advised. He's likely to find work elsewhere, but only after someone is injured, and I don't see much upside regardless. The Blue Jays will use
Kevin Pillar
in left field until
Michael Saunders
is ready. And by the way, Saunders shouldn't miss more than a few weeks. Good guy to stash on the DL. … If you're in a two-catcher AL-only league, it appears Monday acquisition
Sandy Leon
will back up
Ryan Hanigan
for the
Boston Red Sox
. Blake Swihart is headed to the minors. Leon can't hit, but in that deep a league, you might just need a body. … I'd really like to see what
Houston Astros
right-hander
Asher Wojciechowski
could do with a rotation spot, for deeper leagues. … The Seattle Times reports that
Nelson Cruz
will don an outfielder's glove two times a week during the season. I'm not saying I'd ignore
Felix Hernandez
in DFS on those days, of course not. Perhaps for
James Paxton
, though. But I guess it's a good thing for Cruz owners in dynasty formats, that he'll get outfield eligibility for 2016.
NL notes:
I think
Carlos Martinez
has big-time upside now that he's made the
St. Louis Cardinals
rotation, but he has to retire lefty hitters consistently. Marco Gonzalez can do this, and he waits. … I'm trying not to panic too much on
Washington Nationals
infielder
Anthony Rendon
, whose knee woes could cost him more than April, but even on Tuesday's
Fantasy Focus Baseball #06010 podcast
, Stephania Bell couldn't guarantee your third-round investment was wise.
Dan Uggla
for 20 home runs! OK, maybe not. … Those thinking right-hander
Vance Worley
is a sleeper pick can't like seeing lefty
Jeff Locke
beat him out for the final
Pittsburgh Pirates
rotation spot. In NL-only, I'd keep Worley on the roster, though. … I'm starting to think the Padres might kind of platoon first baseman
Yonder Alonso
with center fielder
Cameron Maybin
and
Wil Myers
, who can't really play first base or center field, would move back and forth depending on the pitcher. At least Maybin would get some at-bats and Padres pitchers would have a decent defender in the outfield those days. In DFS, that matters.