October, 31, 2014
Oct 31
1:21
PM ET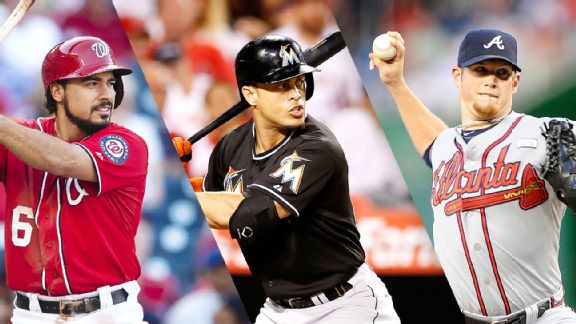 Getty ImagesAnthony Rendon, Giancarlo Stanton and Craig Kimbrel all scored high on the Player Rater.
The World Series is over, ending the 2014 season, but we started looking ahead -- and back -- weeks ago! We've already covered the
AL East
,
AL Central
and
AL West
, and now, without further ado, it's the NL East! Enjoy!
Atlanta Braves
Fantasy MVP: The actual team winner on the Player Rater was the closest of any team, with outfielder Justin Upton edging out closer Craig Kimbrel by the slimmest of margins, one at-bat, one inning. Each was solid and delivered on expectations, finishing just inside the top 40 overall, but neither was a value pick. That's precisely where they were drafted. Right-hander Julio Teheran, on the other hand, was a 13th-round pick who ended up the No. 13 starting pitcher on the Rater, a major strikeout guy with an outstanding ERA and WHIP. Lefty Alex Wood would also have been a reasonable pick; he finished 32nd among starter-eligible pitchers, with a better K rate than Teheran, and he went undrafted. But many of his owners likely moved on when he was demoted to the minors, one of the many reasons the Braves missed out on a playoff spot that they had no right missing.