March, 25, 2015
Mar 25
10:24
AM ET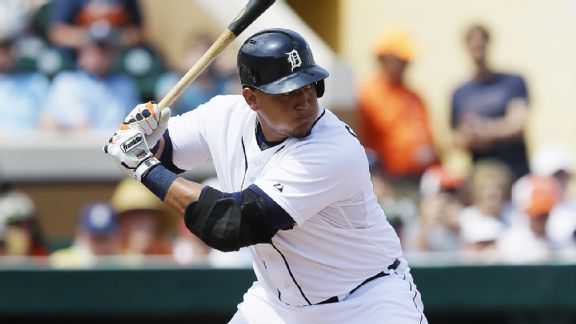 AP Photo/Carlos OsorioIt may be difficult for Miguel Cabrera to make it 12 straight seasons with at least 148 games played.
The main reason
Detroit Tigers
slugger
Victor Martinez
is not a huge risk, but his more celebrated teammate,
Miguel Cabrera
, is comes down to draft-day value and overall status. Each player, eligible at first base and no other position, is working his respective way back from injury. Martinez, who finished a stunning seventh among all options on last year's
Player Rater
, is going in the fifth round in
ESPN average live drafts
. Cabrera, who has been a fantasy stalwart and potential top pick for years, finished 15th on the Rater last year and is going sixth overall this season, despite the fact ESPN Fantasy ranks him outside the top 10. Only one of them is a risky early-round draft pick. While Cabrera isn't the only top-flight offensive player, according to ADP, dealing with a physical ailment and hoping to be recovered enough to play when the season opens in less than two weeks, the nature of his injury and his lofty draft status makes him by far the riskiest. Martinez, progressing nicely from knee surgery, can be regarded as an upside pick –- we saw the upside in 2014 –- in the fifth round. However, as trusted colleague Stephania Bell has noted in relation to Cabrera's offseason ankle surgery, it certainly wasn't an ordinary procedure without potential pitfalls. Cabrera still isn't able to run at his normal speed, which granted wasn't fast, and he's not playing the field yet. He might be ready to hit –- he likely is all the time -- and could play Opening Day, but my concern about Cabrera's risk isn't solely physical. What if he turns into
Albert Pujols
, at least statistically? When Pujols left the
St. Louis Cardinals
for the
Los Angeles Angels
a few years back, he wasn't regarded as a player in steep decline. Sure, Pujols wasn't his usual awesome self in 2011, his final season in the National League, as his OPS fell 100 points to a still-robust .907, but his statistics in the American League haven't even been at that level. Pujols is still formidable enough to warrant a top-50 pick in most leagues, because the overall baseline for available sluggers has lessened and it's far tougher to find a 30-homer, 100-RBI option, which he still is. Cabrera is several years younger, but this injury is a very big deal and could certainly help his statistics regress. Last season, Cabrera's OPS dropped to .895, still very good, but more than 100 points worse than any of his previous four seasons. Fantasy owners seem to be assuming Cabrera, at 32, will simply return to 40-plus homers and batting titles, which is a bit of a reach. The question can then be asked: Why is Cabrera still among my top-10 options? The answer is complicated. I really don't like any other hitters ranked later more than him, though I've considered
Seattle Mariners
second baseman
Robinson Cano
,
Baltimore Orioles
outfielder
Adam Jones
and even young
Chicago Cubs
first baseman
Anthony Rizzo
. I haven't chosen Cabrera in any drafts, mock or real. I'm probably over-ranking him, but can't find anyone else to push him out. Yet. But also, I feel like Cabrera's regression is more likely a year or two away. Even if he starts the season on the disabled list, it doesn't validate that Cabrera was ranked too generously. He clearly played through injury last year, yet he played nearly every day and still was a top-20 overall player. Pujols' fall was more precipitous. I just worry Cabrera is on a similar path, more so for 2016, for dynasty owners. Anyway, that's a long way of writing that Cabrera, projected fairly at a .318 batting average with 29 home runs and 109 RBIs, is risky, perhaps considerably more than a tad. I don't really buy into the old axiom that a draft isn't won in the early rounds, but it can sure be lost. There are always late-round picks or midseason pickups in baseball making significant contributions. But here are others going in the first five rounds according to ESPN ADP whom I'd certainly regard as risky, and the common theme is generally health.
Troy Tulowitzki, SS, Colorado Rockies:
Well, this is pretty obvious, no? Tulowitzki has played an average of 88 games the past three seasons, though I'd argue the .316 batting average, and average of 18 home runs and 54 RBIs he's produced on that span in roughly half a season of work -– thus permitting fantasy owners the rest of the time to garner more shortstop stats! –- is still worth a second-round pick. He could go back to playing 143 games, like 2011, and be the best player in the game. Anyway, he's risky but you'd much prefer your shortstop give these numbers in half a season, rather than dragging it out over six months. Oh, and no shortstop came remotely close to hitting .316 with 18 home runs in 2014.
Jose Altuve, 2B, Houston Astros:
This selection will surely anger many an Astros fan and fantasy owner, but when Altuve slips from .341 to .307 (our projection), and if the stolen bases revert to pre-2014 form (in the 30s), he won't be close to second-round worthy. His risk is in regression, because he won't hit for power.
[+] Enlarge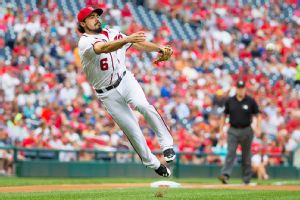 AP Images/Evan VucciKnee troubles pose a threat to Anthony Rendon's attempt at a repeat of his breakout 2014 season.
Anthony Rendon, 2B/3B, Washington Nationals:
Originally
thisclose
to my top 10 overall, recent knee woes have dropped Rendon quite a bit. Now a DL stint seems likely. What if your third-rounder misses more than a few weeks of April? Rendon has a history, after all, and last year was his first elite season.
Jacoby Ellsbury, OF, New York Yankees:
He also can't help you from the DL, and Ellsbury, who missed nearly all of 2010 and half of 2012, is dealing with an oblique strain. The team calls it mild, but with Ellsbury's history, that word has different context. He's a risk, especially if the 16 home runs are cut in half; look at this guy's power the past four years: 32 home runs, then 4, 9 and 16.
Bryce Harper, OF, Nationals:
The risk here is that the 22-year-old simply doesn't reach superstardom for yet another year. Obviously, many people believe he will do so in 2015.
Corey Kluber, SP, Cleveland Indians:
I'm not the least bit worried about him, but the fact is he went from undrafted in most leagues to the AL Cy Young award, and the track record isn't there. I believe.
Carlos Gonzalez, OF, Rockies:
Four consecutive seasons of 20-homer, 20-steal production went badly awry last season due to several injuries. Gonzalez brought ample risk with him into 2014, when he was a first-rounder, despite fancy stats, since he was missing many games even during the awesome stretch. And by the way, even if Tulo and CarGo are healthy, the Rockies could decide to send these fellows to another team that doesn't play its home games a million miles above sea level. That would be a significant problem.
Victor Martinez, 1B, Tigers:
OK, there's some risk here not only in health but performance. After all, the guy hadn't hit more than 20 home runs since 2009, so last year's 32 really stand out. And he's 36. Consider this: When Altuve, a second-rounder for many, drops 30 batting average points, it will hurt more than when Martinez, going in Round 5, does so. It's 30-homer versus 40-steal potential, too, and it's not easy to draft either of those numbers after Round 5.
Chris Davis, 1B/3B, Baltimore Orioles:
The risk here is that Davis hits .196 again. It could certainly happen. He went from .286 and 53 homers to .196 and 26 blasts. Most are expecting something right in the middle for each category and again, in Round 5 -- his ADP is currently 46th overall -- the risk is lessened as compared to last spring, when he was a first-rounder.
Joey Votto, 1B, Cincinnati Reds:
Votto went from 162 games to 62 thanks to a quad tear. Not only don't we know about his durability, but his power and potential lineup slot are factors. He could, in theory, hit second and knock in 60 runs, as opposed to 90. Perhaps you're drafting him needing the latter. I think if you've got the No. 47 pick and Votto is available, he's worth it. And by the way,
Texas Rangers
first baseman
Prince Fielder
is a risk as well, but he's being selected outside the top 50, which is where I drew the line for consideration. But I suppose we threw him in here anyway.