September, 19, 2014
Sep 19
11:05
AM ET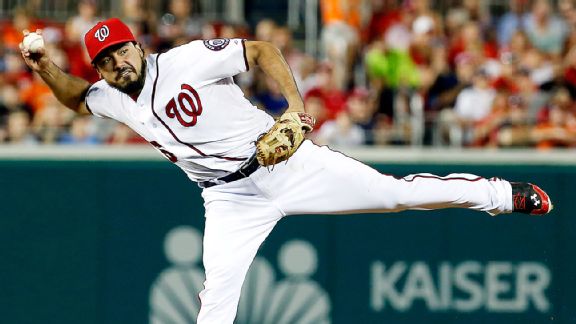 AP Photo/Alex BrandonAnthony Rendon, one of this year's top breakouts, will be eligible at second and third next year.
As we wind down another fantasy baseball regular season and look ahead to 2015, it seems worthwhile to give an update on eligibility situations that owners might not be aware of.
Boston Red Sox
designated hitter
David Ortiz
played first base in Pittsburgh (an NL ballpark) Thursday, without much incident offensively and defensively, but it was only the fifth time this season that occurred. Unless the baseline in your league for adding eligibility year over year is five games, it changes nothing. In ESPN leagues, the minimum is 20 games, so we'll focus on that. By the way, the way Ortiz hits as compared to others, it doesn't matter he's eligible only as a DH, but he's actually not the lone DH-only option worth drafting, which might be news itself.
Houston Astros slugger Chris Carter spent this season in the outfield and/or first base for fantasy owners, but that's ending soon. Carter won't play enough in the field to qualify anywhere and while I'd argue he's one of the few players with a legit shot at hitting 40 home runs, he'll have to do so in your utility/DH slot in 2015. That reduces his value somewhat. On the bright side, Detroit Tigers star Victor Martinez did play enough at first base, as did Billy Butler of the Kansas City Royals. The former is a potential third-rounder, really, someone with big power and batting average, while Butler is neither of those things and probably doesn't get drafted at all. Two others who are DH-only for '15 are Kennys Vargas of the Minnesota Twins and Zach Walters of the Cleveland Indians. Vargas, capable of playing first base but not exactly Keith Hernandez there, clearly has pop, but the four walks versus 51 strikeouts is a problem. You drafted Butler for years, and Vargas has that potential, in theory, even as a DH. Walters, generally a middle infielder, could be similar in terms of power and strikeouts.
To continue reading this article you must be an Insider