Eric Karabell Football:

Stock Watch
August, 14, 2014
8/14/14
11:32
AM ET
Only the Denver Broncos produced more yards from scrimmage than the surprising Philadelphia Eagles last season, but coach Chip Kelly's innovative offense lost a key piece in DeSean Jackson -- deliberately, by the way -- and expects to fill the void with several fellows, from wide receiver Jeremy Maclin to running back Darren Sproles to enticing tight end Zach Ertz. However, those guys aren't expected to be elite fantasy contributors, meaning it's running back LeSean McCoy and … well, who else? The Broncos feature three wide receivers and a tight end among the top 100 in ESPN ADP. Outside of McCoy, the Eagles have Maclin, and his stock is falling.
[+] Enlarge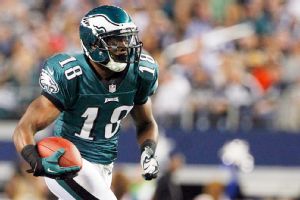 AP Photo/Tony GutierrezJeremy Maclin is a popular choice to have a career year, but there is injury risk involved.
August, 13, 2014
8/13/14
10:53
AM ET
Whether or not you're optimistic about Houston Texans running back Arian Foster, we can all agree he's no lock to return to his lofty place atop the running backs or even to play in all 16 games this season. I happen to be a fan, locking him in as a top-10 player. Others think that's crazy. Still, I'm paying close attention to what else occurs in the Houston backfield, because when we talk about potential handcuff situations, this team is near the top of the list. And the obvious handcuff was unceremoniously released on Monday.
That's right, if you're thinking about selecting former New York Giant Andre Brown, note that he's now also a former Texan. He's looking for work. It's certainly feasible that he'll find work relatively soon, perhaps in a place where there is fantasy relevance. A veteran like Brown would probably be welcomed by at least 10 teams right now, from the Giants to the Broncos, Jets, Falcons and Colts. The point here is that when taking stock of the running back position, there hasn't been a ton of news with the top-20 running backs so far. But Brown's release, when considered in context with Foster being used sparingly the past few weeks because of a sore hamstring and coming off a season truncated by back surgery, makes this a situation to watch. Foster is 27, and from 2010 to '12 he was arguably the busiest -- and most productive -- running back in the game. Today he's a risk.
To continue reading this article you must be an Insider
August, 12, 2014
8/12/14
11:18
AM ET
Fantasy owners sure aren't waiting on their quarterbacks in ESPN live drafts, so in a sense, the stock is up for pretty much everyone at the position. Not only is Denver Broncos stud Peyton Manning being selected in the middle of the first round -- which I believe is ill-advised for several reasons -- but of the 25 quarterbacks being chosen in these standard drafts, all but two of them have seen their stock rise in seven-day plus-minus over the past week. Think about how odd that is. Running backs and wide receivers are going in the other direction, but everyone apparently loves their passers.
So who are the only two relevant quarterbacks apparently held in lesser regard than this time a week ago? The fall of Nick Foles of the Philadelphia Eagles was predictable. After all, he threw two interceptions in the first quarter of the "critical" first preseason game at Soldier Field, which of course means everything he achieved during the amazing 2013 season was a complete hoax and he's doomed to lose his starting job to Mark Sanchez, Matt Barkley or Ron Jaworski (yes, he once played). The sad thing is some of you think I'm being serious. Nothing that Foles does -- or doesn't do -- in August has any bearing on September, in my opinion, but if he slips past Colin Kaepernick, Tom Brady and Russell Wilson outside the top 10 at his position, it's excellent value. Should Foles play well on his three drives this week, I wonder if his stock will rise again. Oh, why bother.
To continue reading this article you must be an Insider
May, 1, 2014
5/01/14
2:09
PM ET
Karabell's Stock Watch series: Quarterbacks | Running backs | Wide receivers
One of the lasting images of the
Seattle Seahawks'
Super Bowl victory over the
Denver Broncos
was seeing talented but brittle wide receiver
Percy Harvin
make an impact running, catching and returning, and it had to intrigue fantasy owners about this fall's possibilities. Personally, I'd be interested in seeing what a healthy Harvin could do in the Seattle offense, but it's pretty unlikely I'm going to be the one dealing with having him on my roster.
I've seen owners treating Harvin like a top-10 wide receiver the past few seasons despite the fact that his numbers don't support it. Perhaps this is the year Harvin finally catches 90 passes or reaches 1,000 receiving yards. But does that really seem likely?
Still, Harvin's healthy today, so it would be reasonable to include him on the "stock rising" side if you're feeling optimistic. I just didn't put him there. Just like with the critical running back position, it's already been a busy offseason when it comes to wide receivers, and we continue our march through fantasy's key spots with a spring/summer stock watch. The NFL draft will surely have a big effect, as experts claim they've never seen a deeper group of professional-bound wide receivers, but we can deal with that later.
To continue reading this article you must be an Insider
April, 24, 2014
4/24/14
2:14
PM ET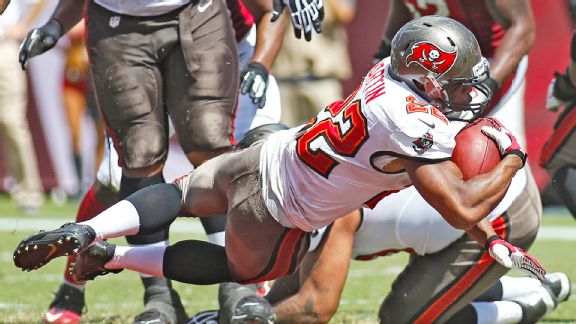 AP Photo/Reinhold MatayDoug Martin hopes to return to his 2012 form, when he totaled 1,926 yards from scrimmage and 12 TDs.
Karabell's Stock Watch series: Quarterbacks | Running backs | Wide receivers
More than a few free-agent running backs found new homes this offseason and figure to start with their new clubs, but is it enough to simply assume fantasy stock has risen for those fellows? As you'll see below, this week's version of the offseason stock watch looks at running backs -- last week
it was quarterbacks
, next week it's wide receivers! -- and features a large portion of transplanted veterans, but a few of those guys might be able to contribute to the level fantasy owners expect.
Of course, it should be noted that the offseason is far from over. The pending NFL draft could certainly alter stock, as well. Until we actually know where the intriguing college players will land -- and even the ones we might not find interesting today -- it's understandable to reserve some judgment. That's fine, as we'll just have to update the stock watch later in the summer!
Stock rising
To continue reading this article you must be an Insider