December, 24, 2014
12/24/14
2:37
PM ET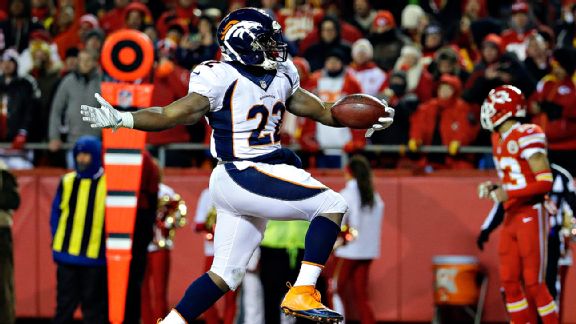 AP Photo/Charlie RiedelC.J. Anderson has at least 19 standard fantasy points in five of his past seven games.
Welcome to Week 17 and the final edition of this season's flex rankings. It's been an awesome ride! Don't worry, we'll have playoff rankings next week -- for the
actual
NFL playoffs in January -- but for now, for those still competing for a fantasy championship, we salute you and we combine the best of the running backs, wide receivers and tight ends into one nifty package, delivered by Santa Claus himself. Please keep up with the news this weekend and Sunday morning for updates on which players might not play as much as expected.
And as always, best of luck to all in Week 17 and beyond, and Happy Holidays!
1. Le'Veon Bell, RB, Steelers: What more can we say? Terrific season, and he's likely to end up as the highest-scoring nonquarterback in standard leagues, and surely in PPR formats.

2. Arian Foster, RB, Texans: It's almost unfair to the Jaguars, in a lost season, having to face this guy who routinely runs all over them.

3. C.J. Anderson, RB, Broncos: Nice ranking for him, but the numbers are there. And the Raiders get run on, of course.

4. Matt Forte, RB, Bears: Doesn't matter who the QB is. This guy is special.

5. Odell Beckham Jr., WR, Giants: Speaking of special, wow!!! He's fantasy's MVP.

6. Marshawn Lynch, RB, Seahawks: Skittles for everyone! Seattle needs to win, and Lynch needs to put on a show, as always.

7. Demaryius Thomas, WR, Broncos

8. Jamaal Charles, RB, Chiefs

9. Jordy Nelson, WR, Packers: The Lions can certainly be thrown on, and we should expect Aaron Rodgers to find his favorite target early and often.

10. Eddie Lacy, RB, Packers

11. Antonio Brown, WR, Steelers: I don't think enough people realize what Brown has achieved; he'll end up with the second-most receptions of anyone in any season. And he's consistent. Should finish as fantasy's top WR, too.

12. Calvin Johnson, WR, Lions

13. Julio Jones, WR, Falcons

14. LeSean McCoy, RB, Eagles: Yes, he has been a disappointment relative to draft status. But he's facing a defense he tends to do well against.

15. Alfred Morris, RB, Redskins

16. Randall Cobb, WR, Packers: Still hasn't scored since Week 10, but the yards are there. And the game matters.

17. Mark Ingram, RB, Saints: Maybe the Saints are better off in the standings without a 1,000-yard running back? No, that doesn't make any sense. Ingram needs 93 yards for the honor. I say he gets it.

18. Alshon Jeffery, WR, Bears: Should be targeted double-digit times by Jay Cutler, and most of them will be good passes. Don't panic here.

19. Jeremy Hill, RB, Bengals: Fantasy's top rookie running back has really helped down the stretch. This isn't really a time-share, people.

20. Joique Bell, RB, Lions

21. Dez Bryant, WR, Cowboys: Only concern is if he sits after halftime, as with quarterback Tony Romo. But the team could still, in theory, get a bye.

22. A.J. Green, WR, Bengals

23. Emmanuel Sanders, WR, Broncos


[+] Enlarge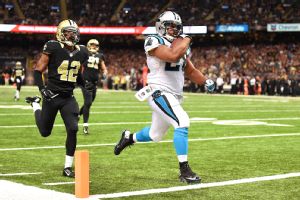 Stacy Revere/Getty ImagesJonathan Stewart has at least 20 carries in three straight games after doing so just five times in his first 86 career games.
24. Jonathan Stewart, RB, Panthers
: Playing his best football in years and has another tasty matchup. Hard to believe we're now relying on Stewart.
25. Lamar Miller, RB, Dolphins
: Hard to believe Miller might end up a top-10 running back. Remember
Knowshon Moreno
? Of course you do!
26. Kelvin Benjamin, WR, Panthers
27. Mike Evans, WR, Buccaneers
: So much for rookies getting fatigued as the long season goes on.
28. Justin Forsett, RB, Ravens
: He looks hurt, or fatigued, and that's why this ranking isn't quite proportionate with season achievements.
29. Mike Wallace, WR, Dolphins
: A magician and top-20 fantasy wide receiver.
30. DeSean Jackson, WR, Redskins
: DeSean, remind us how happy you were to beat your former team on Saturday. I don't think you made it clear enough. There's still motivation for Week 17, too.
31. Fred Jackson, RB, Bills
32. Matt Asiata, RB, Vikings
: Nice performance in Week 17 last season, if that matters to you. Not a time-share here, by the way. Ben Tate is no longer on the team.
33. Roddy White, WR, Falcons
34. Andre Williams, RB, Giants
: Doesn't appear special, but with volume and bad defenses on the other side, he can look that way statistically.
35. Jeremy Maclin, WR, Eagles
: Just hasn't been the same with
Mark Sanchez
at QB. Not that we're surprised.
36. Frank Gore, RB, 49ers
: Didn't look done in Week 16. Tougher matchup here, though.
37. Steven Jackson, RB, Falcons
38. DeAndre Hopkins, WR, Texans
39. Tre Mason, RB, Rams
: Kind of disappointing rookie season considering he pushed aside
Zac Stacy
so early on.
40. Jimmy Graham, TE, Saints
: Not the Jimmy Graham we drafted, but still the best at the position this week. Says something about the position, too.
41. Torrey Smith, WR, Ravens
42. Sammy Watkins, WR, Bills
43. Giovani Bernard, RB, Bengals
44. Latavius Murray, RB, Raiders
: Looks like a top-20 running back for next year. This matchup is a tad worrisome, though.
45. DeMarco Murray, RB, Cowboys
: I just don't know why the Cowboys would risk this. They shouldn't.
46. Josh Gordon, WR, Browns
: See, all would have been just fine if Brian Sipe was the quarterback.
47. Marques Colston, WR, Saints
48. Kenny Stills, WR, Saints
: A tad disappointed in his lack of consistency. He really should be a top-20 wide receiver every week, with his opportunities.
49. Daniel Herron, RB, Colts
[+] Enlarge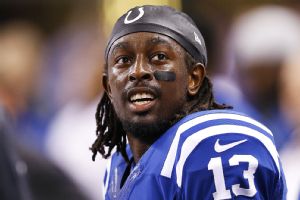 Joe Robbins/Getty ImagesT.Y. Hilton could return to action this week, but with the Colts' playoff seed already locked in there are no guarantees on how many snaps he'll see.
50. T.Y. Hilton, WR, Colts
: Doesn't make a ton of sense for the Colts to play him, either.
51. Branden Oliver, RB, Chargers
: If
Ryan Mathews
is active for Sunday, then obviously you don't want Oliver active in fantasy.
52. Rob Gronkowski, TE, Patriots
: The top seed is clinched! But couldn't you see Gronk play just one drive and score on it?
53. Brandon LaFell, WR, Patriots
54. Golden Tate, WR, Lions
55. Charles Johnson, WR, Vikings
: Sleeper pickup still out there in many leagues.
56. Isaiah Crowell, RB, Browns
: Not real impressive the past month.
57. Greg Olsen, TE, Panthers
58. Chris Ivory, RB, Jets
59. Antonio Gates, TE, Chargers
: Should play next year and the year after that, too. He's not aging like normal players. Remember when everyone loved
Ladarius Green
?
60. Anquan Boldin, WR, 49ers
: Sleeper pick for this week, if his erratic quarterback complies.
61. Steve Smith, WR, Ravens
62. Shane Vereen, RB, Patriots
63. Jonas Gray, RB, Patriots
: Could get 25 touches. Or zero. You never know with the Pats. Wouldn't surprise me if
James White
got 25 touches, either.
64. Vincent Jackson, WR, Buccaneers
: OK, so maybe
Josh McCown
is not the QB Jackson needed.
65. Andre Johnson, WR, Texans
66. Stepfan Taylor, RB, Cardinals
: When they run the ball, sure looks like he's the guy now, though it's not worth so much.
67. Eddie Royal, WR, Chargers
: Another somewhat forgotten sleeper pick this week. You know
Philip Rivers
is going to be throwing.
68. Marquess Wilson, WR, Bears
: As will Jay Cutler.
69. Mohamed Sanu, WR, Bengals
: As will
Andy Dalton
. Sanu just hasn't done much since Green returned.
70. Chris Johnson, RB, Jets
: And you thought he'd be a top-10 running back again, just because he did it last year. Silly!
71. Jordan Matthews, WR, Eagles
72. Jarvis Landry, WR, Dolphins
: Still makes catches, for those in PPR formats, but he doesn't go anywhere.
73. Doug Martin, RB, Buccaneers
: Still think he's good?
[+] Enlarge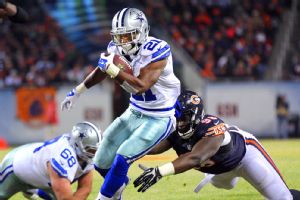 Dennis Wierzbicki/USA TODAY SportsHow the Cowboys approach Sunday's game will go a long way toward knowing what to expect from Joseph Randle.
74. Joseph Randle, RB, Cowboys
: I don't see a scenario, even if Murray sits, where Randle isn't sharing touches with the next fellow.
75. Lance Dunbar, RB, Cowboys
76. Eric Decker, WR, Jets
77. Toby Gerhart, RB, Jaguars
:
Denard Robinson
is the better keeper, as if you didn't know that already.
78. Martavis Bryant, WR, Steelers
: Considerable vertical threat just needs more consistency.
79. Greg Jennings, WR, Vikings
80. Terrance Williams, WR, Cowboys
81. Bishop Sankey, RB, Titans
: Have to think the Titans don't view him as a definite starter for next year. He had chances.
82. Doug Baldwin, WR, Seahawks
83. Pierre Garcon, WR, Redskins
84. Trent Richardson, RB, Colts
85. Shonn Greene, RB, Titans
86. Martellus Bennett, TE, Bears
87. Kenny Britt, WR, Rams
88. Malcom Floyd, WR, Chargers
89. Donald Brown, RB, Chargers
90. Rueben Randle, WR, Giants
: Last game without
Victor Cruz
. Or is it? Still, Randle was kind of disappointing this season.
91. Donte Moncrief, WR, Colts
: If
Andrew Luck
plays, this vertical threat could really matter.
92. Fitzgerald Toussaint, RB, Ravens
: Admit it, you have no clue who this is. But Forsett is hurt and this guy could see chances.
93. Kendall Wright, WR, Titans
94. James Jones, WR, Raiders
95. Travis Kelce, TE, Chiefs
96. Harry Douglas, WR, Falcons
97. Kerwynn Williams, RB, Cardinals
98. Delanie Walker, TE, Titans
99. Devonta Freeman, RB, Falcons
100. Larry Fitzgerald, WR, Cardinals
Others:
Pierre Thomas
, RB, Saints;
Coby Fleener
, TE, Colts;
Reggie Bush
, RB, Lions;
Robert Woods
, WR, Bills;
Charles Sims
, RB, Buccaneers;
Marqise Lee
, WR, Jaguars;
Darren Sproles
, RB, Eagles;
Dontrelle Inman
, WR, Chargers;
Danny Amendola
, WR, Patriots;
Alfred Blue
, RB, Texans;
Knile Davis
, RB, Chiefs;
Leon Washington
, RB, Titans;
C.J. Spiller
, RB, Bills