Eric Karabell Football:

breakouts
July, 23, 2014
7/23/14
12:50
PM ET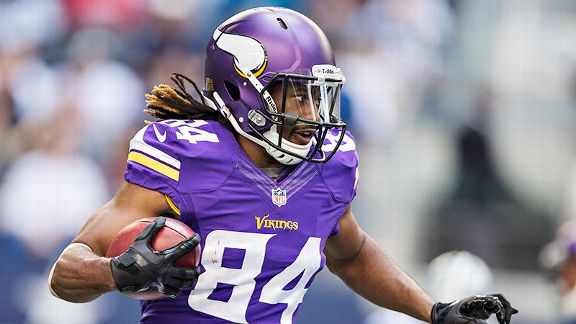 Wesley Hitt/Getty ImagesCordarrelle Patterson is poised to be the Vikings' top receiving threat, no matter the quarterback.
It's true that last summer
Cleveland Browns
wide receiver
Josh Gordon
was on my list of potential breakout performers, along with the
Pittsburgh Steelers
'
Antonio Brown
and the
Baltimore Ravens
'
Torrey Smith
. (Well, two outta three isn't too bad, though Smith wasn't necessarily bad.) One didn't need to be Nostradamus to realize the talent lurking in Gordon, but his second season provided the critical opportunity he needed to produce major numbers, as he ended up as
fantasy's highest-scoring wide receiver
. It doesn't appear he'll get the same chance to do that again in 2014, leaving opportunity for someone else on the Browns to step up.
With breakouts for fantasy having been analyzed at quarterback and running back, let's move on to the wide receivers. As with the other positions, we're excluding all rookies for these purposes and dividing the options into two sections. The goal is to identify players perhaps under the radar in terms of value -- regardless of their age and prior failed chances -- who could break out into true or truer fantasy relevance. Some of the choices are going to be selected in all leagues, like the Ravens' Smith was in 2013, for example, the obvious top-40 wide receivers that you might not have considered a team building block. Others are far more off the radar -- like the Chicago Bears' Alshon Jeffery was last summer! -- but perhaps shouldn't be. Time to break out the options, and you can share your thoughts in the comments section!

July, 22, 2014
7/22/14
9:20
AM ET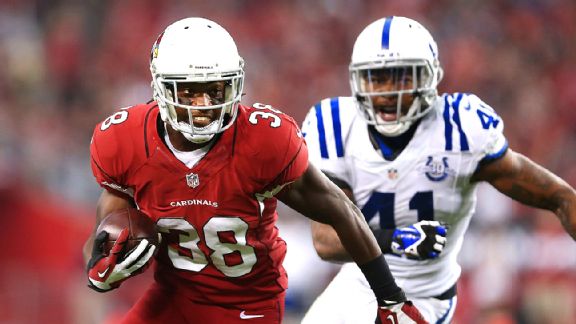 Christian Petersen/Getty ImagesAndre Ellington gained 10 or more yards on 24 of his 118 carries last season (20.3 percent).
The top running back for the Denver Broncos last season was supposed to be hotshot rookie Montee Ball, but instead, forgotten veteran Knowshon Moreno stepped up in August, showed he could block effectively and produced by far the greatest season of his NFL career, thanks in no small part to the presence and ability of quarterback Peyton Manning. Still, it was a major surprise. Moreno was a 14th-round selection in ESPN average live drafts, but he finished a stunning fifth at his position in standard scoring. Moreno, now on the Miami Dolphins and certainly not expected to achieve the same success, was a clear and surprising breakout, seemingly near the end of a disappointing career in his fifth season. Instead, he posted career bests across the board. So, who's next?
After focusing on the breakout quarterbacks, it's time to check out the most important of fantasy positions, the running backs. Whereas most fantasy teams aren't even looking for a breakout quarterback, because there are certainly more than 10 capable starters for 10-team formats, the running back depth is weak, and we're all looking for help. Several running backs will break out, and your job is to identify them in the middle to late rounds. As with quarterback, I'm leaving out all rookies. We're not so much concerned with age -- could be 22, could be 29 -- but we're searching for those who might have previously been incapable of earning opportunity or failed to seize it when it arrived. Perhaps you're not thinking about them much, and that's precisely the point, because past disappointments and complete unknowns do shock us on occasion.
To continue reading this article you must be an Insider
July, 21, 2014
7/21/14
11:32
AM ET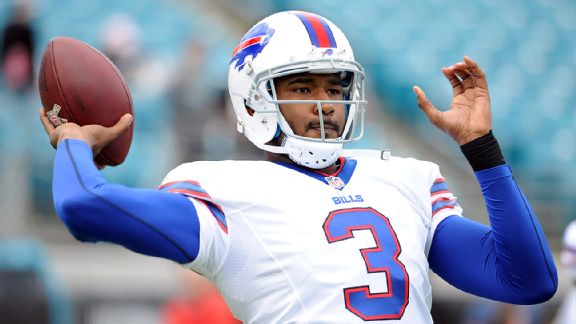 Melina Vastola/USA TODAY SportsEJ Manuel is ready to make a big leap in his second NFL season.
I admit that much of the time when asked about potential breakout fantasy performers -- and this is a perfect week, as August approaches, to discuss it -- I keep it to running backs and wide receivers. After all, to me those are the key positions at which depth is paramount and leagues are generally won and lost. There are so many top-notch quarterbacks to start with -- probably 15 or so capable of being a legitimate starter in a 10- or 12-team standard league -- why bother examining the likes of
Buffalo Bills
sophomore
EJ Manuel
, right?
Andy Dalton
of the
Cincinnati Bengals
and
Philip Rivers
of the
San Diego Chargers
finished sixth and seventh, respectively, among all players in
standard scoring last season
, and neither of them is regarded as close to that valuable this year. They're reserves. It's deep!
Still, there will be several quarterbacks who do "break out" and become far more relevant than most expected, so while it's a bit silly to predict the next Peyton Manning or Drew Brees, the standard we're looking at for these breakout purposes is pretty much precisely what Dalton and Rivers achieved during their tremendous 2013 campaigns. They weren't highly thought of prior to Week 1, it quickly changed, and now to some degree they've been cast aside again. Who replaces them? Good question! While some rookies will break out, I'm disregarding them from consideration. Talk about Johnny Manziel all you like -- and many have -- but what are these guys breaking out from, college? I'm looking for players of various ages who are finally healthy and earning a new opportunity, or something changed around them to affect value. Look for upside, but that doesn't mean disregarding someone who is 27. Basically, don't forget some of last season's popular sleepers, for the ability likely remains.
Let's separate the breakouts into two classes: First, we have the ones regarded as borderline fantasy starters or obvious backups, as Dalton was last summer. Perhaps one or two take that Dalton/Rivers leap. Then we have quarterbacks who aren't really regarded much at all, outside the top 20 at the position. For those in deeper formats -- like multi-quarterback ones -- the difference in winning and losing could be a fellow like this. Predicting breakouts at quarterback isn't like forecasts for the other positions, but we'll get to running back and wide receiver during the week.
To continue reading this article you must be an Insider