November, 26, 2014
Nov 26
3:37
PM ET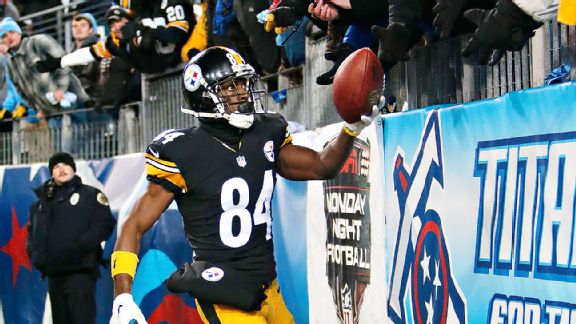 AP Photo/Wade PayneFantasy owners will be happy to have Antonio Brown back from his bye week.
For those who enjoy football and lots and lots of good food, it's tough to do much better than Thanksgiving. It's simply an awesome day, and we've got loads of fantasy relevant players performing in what should be competitive, fun games. As for the food, well, I'm just hoping to stay awake when
Russell Wilson
reaches 15 fantasy points. Here are the latest flex rankings, and I'm guessing by Week 13 you're aware of what comprises them, certain trends I stick to and, well, try not to each too much!
And as always, best of luck to all in Week 13 and beyond!
1. DeMarco Murray, RB, Cowboys: Still getting questions about his handcuff option and I'm thinking, it really isn't going to matter. This guy's playing all 16 games. But he won't make it to 2,000 rushing yards.

2. Le'Veon Bell, RB, Steelers: The Saints can be run on, passed on, you name it. As if anyone were worried.

3. Arian Foster, RB, Texans: Worry about his availability, but this rank is a sign of my trust in his ability to perform like a champ if he's active. If not, Alfred Blue would be in my top 30 here in flex, but he's not Foster. And as of Wednesday, I just don't know whether Foster will play.

4. Jamaal Charles, RB, Chiefs: Broncos generally don't get run on, but how many guys like Charles have they faced? Exactly.

5. LeSean McCoy, RB, Eagles: Not as bad as his owners think. Still elite.

6. Eddie Lacy, RB, Packers: Remember when people gave up on him in September? Yeah, that was funny.

7. Antonio Brown, WR, Steelers: You really miss this guy when he's on bye. Nobody is more reliable.

8. Demaryius Thomas, WR, Broncos

9. Dez Bryant, WR, Cowboys: The mind boggles at what he could do with 15 targets against Philly.

10. Matt Forte, RB, Bears: Tough matchup for sure, but the receptions and volume separate him from concern.

11. Alfred Morris, RB, Redskins: Doesn't matter who the quarterback is for this guy. I'm serious. What a dysfunctional mess around Morris. Their fans do deserve better.

12. A.J. Green, WR, Bengals


[+] Enlarge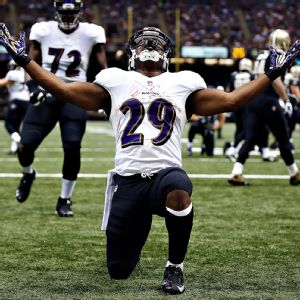 Wesley Hitt/Getty ImagesJustin Forsett's Monday night outburst further proves how legitimate of a fantasy threat he is.
13. Justin Forsett, RB, Ravens
: Don't laugh, he's third in the league in rushing. He probably deserves a better rank here, and it's already a rank nobody could have imagined back in September.
14. T.Y. Hilton, WR, Colts
15. Emmanuel Sanders, WR, Broncos
16. Josh Gordon, WR, Browns
: Pretty difficult for defenses to keep him in check. Imagine if he was on Denver!
17. Calvin Johnson, WR, Lions
: Facing the Bears tends to fix struggling offenses.
18. C.J. Anderson, RB, Broncos
: It's a week-to-week league, so while he was awesome in Week 12, if he's not in Week 13, it opens the door for
Ronnie Hillman
and
Montee Ball
. But who knows.
19. Jordy Nelson, WR, Packers
: The Patriots just seem to get it. Whatever it is.
20. Mark Ingram, RB, Saints
21. Marshawn Lynch, RB, Seahawks
: A bit hurt, a bit crazy and the schedule is more than a bit challenging.
22. Randall Cobb, WR, Packers
23. Odell Beckham Jr., WR, Giants
: Fabulous player, hard to have concerns at this point.
24. Denard Robinson, RB, Jaguars
: He should bounce back nicely in a better matchup.
25. Brandon Marshall, WR, Bears
: This is not the normal Lions defense he's feasted on in the past.
26. Alshon Jeffery, WR, Bears
27. Rashad Jennings, RB, Giants
: Seems to me like next week he'll either be close to top 10 or in the 30s. And the Jaguars really aren't that bad.
28. Mike Evans, WR, Buccaneers
29. Julio Jones, WR, Falcons
30. Rob Gronkowski, TE, Patriots
[+] Enlarge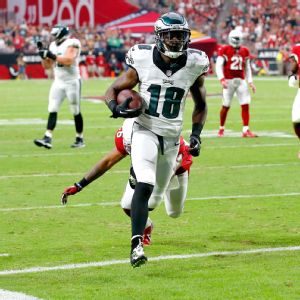 AP Photo/Ross D. FranklinIs Jeremy Maclin still a slam dunk option with Mark Sanchez at quarterback?
31. Jeremy Maclin, WR, Eagles
: Would be nice if
Mark Sanchez
could throw a decent deep pass. And, well, you know, stop throwing the ball to the other team, too.
32. Jimmy Graham, TE, Saints
33. Andre Ellington, RB, Cardinals
: Playing so miserably the past three weeks, for whatever reason (health, schedule,
Drew Stanton
), I don't know how you can feel great about him, even in a tasty matchup. Something's clearly amiss.
34. Golden Tate, WR, Lions
35. Jeremy Hill, RB, Bengals
: Yep, we've all pretty much decided if you have room for one Bengals running back, he's the one.
36. Giovani Bernard, RB, Bengals
37. Tre Mason, RB, Rams
38. Kelvin Benjamin, WR, Panthers
: Not so easy to throw on the Vikings, but it's not like the Panthers are going to run wild.
39. Roddy White, WR, Falcons
40. Ryan Mathews, RB, Chargers
: Has looked pretty good of late, actually. It's not a time share. His quarterback is a problem, though, and defenses have noticed.
41. Julian Edelman, WR, Patriots
42. Sammy Watkins, WR, Bills
43. Lamar Miller, RB, Dolphins
44. Isaiah Crowell, RB, Browns
: Is he safe? I wouldn't say that. But there is upside and he does find the end zone.
45. DeSean Jackson, WR, Redskins
: Better or worse with
Colt McCoy
? Sadly, this is better for all the Redskins weapons. And that's saying a lot because McCoy is not good, either.
46. Mike Wallace, WR, Dolphins
47. Frank Gore, RB, 49ers
: Had his chance against Washington last week. Now it's Seattle. Watch him run for 110 yards and a score. That's the NFL.
48. Delanie Walker, TE, Titans
: Destroyed the Philly defense, though he wasn't the first fellow to do so. But
Zach Mettenberger
does look legit.
49. Martavis Bryant, WR, Steelers
: Amazing how a simple bye week can make fantasy owners forget about a guy. He's really good!
50. Jordan Matthews, WR, Eagles
51. Joique Bell, RB, Lions
52. DeAndre Hopkins, WR, Texans
53. Trent Richardson, RB, Colts
: Still not a good player but can score on occasion and the team will keep using him. Even if the other guy clearly looks better.
54. Reggie Wayne, WR, Colts
55. Andre Johnson, WR, Texans
56. LeGarrette Blount, RB, Patriots
: May we all get booted without warning, wind up in a better place 48 hours later and score two touchdowns with seemingly minimal effort. I feel like we should've seen this coming since it's Bill Belichick.
57. Greg Olsen, TE, Panthers
58. Fred Jackson, RB, Bills
[+] Enlarge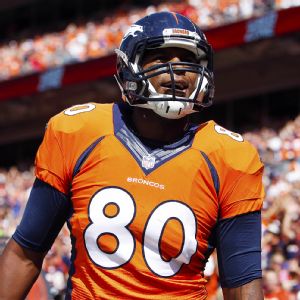 Chris Humphreys/USA TODAY SportsJulius Thomas' injury concerns make him a less desirable option this week.
59. Julius Thomas, TE, Broncos
: Not the normal rank for him, but he's neither healthy nor a high-volume catcher.
60. Vincent Jackson, WR, Buccaneers
: Just. Score. A. Touchdown.
61. Daniel Herron, RB, Colts
: Not that anyone should believe this would be a top-10 running back if he got the opportunity. He's kinda ordinary.
62. Steven Jackson, RB, Falcons
: Kinda like this guy.
63. Keenan Allen, WR, Chargers
: We want to believe so badly.
64. Torrey Smith, WR, Ravens
65. Brandon LaFell, WR, Patriots
66. Chris Ivory, RB, Jets
67. Anquan Boldin, WR, 49ers
: Clearly the team's top receiving weapon, but it doesn't matter much this week. And stop using
Vernon Davis
! Seriously, check his season. One point per week since Week 2!
68. Marques Colston, WR, Saints
: Got more attention with
Brandin Cooks
out of the lineup.
69. Latavius Murray, RB, Raiders
: I feel like he'll be forgotten in a week, but not in a
Jonas Gray
way. Tough matchup, dysfunctional team.
70. Mohamed Sanu, WR, Bengals
71. Jason Witten, TE, Cowboys
72. Steve Smith, WR, Ravens
73. Rueben Randle, WR, Giants
74. Jarvis Landry, WR, Dolphins
: Pretty productive lately, deserves more fantasy attention.
75. Jerick McKinnon, RB, Vikings
: Pretty unproductive all season, deserves less attention.
76. Bishop Sankey, RB, Titans
77. Terrance Williams, WR, Cowboys
78. Shane Vereen, RB, Patriots
79. Darren Sproles, RB, Eagles
80. Percy Harvin, WR, Jets
: Why not just play him at quarterback? Would it really matter?
81. Eric Decker, WR, Jets
82. Terrance West, RB, Browns
83. Michael Floyd, WR, Cardinals
: And just that quickly he became irrelevant again. And it had nothing to do with the absent
Larry Fitzgerald
, who is probably absent again.
84. Kenny Britt, WR, Rams
85. Pierre Garcon, WR, Redskins: His owners have probably given up by now. McCoy's ascension should help though, since the other guy was throwing everything short.

86. Antonio Gates, TE, Chargers

87. Jonas Gray, RB, Patriots: Comedian was dealt some unfunny news Sunday, as he didn't see a snap. Should see some this week.

88. Michael Crabtree, WR, 49ers

89. Jonathan Stewart, RB, Panthers

90. Andre Williams, RB, Giants: Has anyone seen an indication that he's a future star?

91. Martellus Bennett, TE, Bears: We still rank him well, but that's three consecutive duds.

92. John Brown, WR, Cardinals

93. Kenny Stills, WR, Saints: I think this could be a top-20 WR if the team gave it a chance.

94. Robert Woods, WR, Bills: Could say the same thing here, though the Bills already have such a fellow.

95. Charles Sims, RB, Buccaneers: The next guy starts. This guy still does better. But at No. 95, neither does well enough.

96. Doug Martin, RB, Buccaneers: Maybe the team needs 50 more carries to see he's average, at best.

97. Justin Hunter, WR, Titans: Time for Mettenberger to give him a 14-target game.

98. Pierre Thomas, RB, Saints

99. Andrew Hawkins, WR, Browns

100. Anthony Dixon, RB, Bills

Others: Alfred Blue, RB, Texans; Kendall Wright, WR, Titans; Larry Donnell, TE, Giants; Travis Kelce, TE, Chiefs; Dwayne Bowe, WR, Chiefs; Knile Davis, RB, Chiefs; Chris Johnson, RB, Jets; Charles Johnson, WR, Vikings; Greg Jennings, WR, Vikings; DeAngelo Williams, RB, Panthers; Reggie Bush, RB, Lions; Branden Oliver, RB, Chargers; Carlos Hyde, RB, 49ers; Darren McFadden, RB, Raiders