Camp notes: Cabrera a fine pickup for A's
March, 3, 2009
3/03/09
9:45
AM ET
By
Eric Karabell, ESPN.com
| ESPN Insider
While
Manny Ramirez
continues to play hard-to-get, the other high-profile unemployed baseball players are desperately seeking work and agreeing to stunning contracts they probably thought they never would have to face. It is, after all, March. Not much time left to haggle.
On Monday,
Orlando Cabrera
became the latest to take a one-year deal for less money than he wanted, as the useful fantasy shortstop
agreed to a one-year, $4 million deal
with the Oakland Athletics.
Cabrera certainly appears to be on the downside of his career, but statistically, he still has something to offer. Even sans an actual job, Cabrera was selected in the later rounds in our first two ESPN mock drafts, as well as in other industry drafts in which I participated. The shortstop position isn't particularly strong, so a fella who generally hits between eight and 10 home runs, steals about 20 bases and has batted no worse than .281 in the past three seasons becomes a de facto top-15 shortstop and decent middle infielder. When we at ESPN originally projected Cabrera, we didn't know where he'd end up, but a season pretty much like his 2008 campaign seemed fitting. Moving to Oakland for what might be a full season (or less, if he becomes trade bait) shouldn't change things much.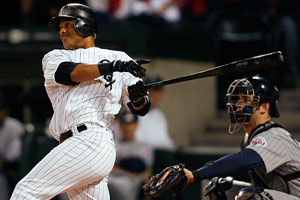 Tom Fluegge/US PresswireOrlando Cabrera's current average draft position is 195, which might go up now that he has a job.
The A's didn't have obvious choices for the top of their revamped lineup that sunk the team in 2008. However, it has received major upgrades this offseason. For example, Cabrera isn't a star hitter by any means, but compared to the below-average plate work of incumbent
Bobby Crosby
the past two seasons, he looks like a Hall of Famer. In fact, the shortstop could end up batting first; last season for the White Sox, Cabrera received 588 of his near-league-leading 730 plate appearances hitting leadoff. Cabrera's on-base percentage in that spot was only .341, but he scored runs. Cabrera is durable, so even if he doesn't raise that on-base percentage in Oakland, he's going to be a candidate to score 100 runs with
Matt Holliday
and
Jason Giambi
hitting after him.
Meanwhile, Crosby's once-promising career has hit a crossroads. The A's could use him in a utility role, but with a .239 career batting average and very little health or production since he was the rookie of the year in 2004, there's little reason to look at him in fantasy. Plus, the team reportedly is wooing another utility infielder,
Nomar Garciaparra
, which could make Crosby more expendable.
• Remember when
Homer Bailey
was supposed to be a fantasy ace? Well, let's not give up hope yet. With a career ERA of 6.72 in 17 starts, Bailey certainly has struggled, but it's premature to give up on him. The Reds haven't guaranteed Bailey a rotation spot, but with outings like Monday's, in which the 22-year-old permitted a mere two baserunners over three shutout innings against the Pirates, it will be tough to send him back to Triple-A Louisville.
• Phillies right fielder
Jayson Werth
made his spring debut Monday after missing time due to a strained right shoulder. The Phillies didn't seem particularly worried, and neither should fantasy owners be concerned, despite Werth's sketchy health track record. He finally has a starting role locked up in the spring and should remain a productive right fielder with the possibility for 20 home runs and 20 stolen bases. Another Philly people were beginning to worry about is closer
Brad Lidge
, who had a successful bullpen session Monday and might pitch in a game next week.
• Closer alert! Mariners manager Don Wakamatsu named three right-handed relief pitchers as having stood out in the competition for the saves, and ... drum roll, please ... they are:
Roy Corcoran
,
Mark Lowe
and
Miguel Batista
. This should excite everyone, notably Mariners fans. OK, so none of this is a surprise, although newcomer
Tyler Walker
has closing experience and wasn't mentioned. He still has a few weeks.
• More closer news! Those who own
Matt Capps
in keeper leagues need not worry, but nobody in spring training has more saves than Pittsburgh right-hander
Evan Meek
, who registered No. 2 Monday. While Capps' job is not in jeopardy and spring stats couldn't mean less when it comes to saves since the closers generally pitch around the fourth inning, Meek's strong spring -- he has allowed only one baserunner in three scoreless innings -- probably moves him to the top of the setup class and next in line for saves. After all, Capps did miss nearly two months of 2008 with a sore shoulder, and the Pirates don't have a top-heavy bullpen. Meek is probably the right-hander next in line for saves.