Playoff rankings: Wild card and beyond
January, 4, 2012
1/04/12
2:12
PM ET
The fantasy football season has ended, but if you're like me and are already a bit bored without lineups to set and injury reports to dissect, you'll compete in an NFL postseason pool. Why not try ESPN's
Gridiron Playoff Challenge
? Look, you're going to be watching the playoffs anyway, so why not have some fun on the side?
In Gridiron Playoff Challenge, entrants choose a pair of quarterbacks, running backs and wide receivers, plus a tight end, kicker and defense using mostly standard fantasy scoring in a salary cap-style format. The game is free, and you can change lineups after each of the first two playoff weekends. Or you might choose to compete in draft pools with pals, and what you draft is what you get; the statistics fall where they may. Either way is a blast, so below I have provided two sets of rankings, one for each format.
Happy New Year, good luck to all and
Go Eagles
... um, well, enjoy the playoffs!
Quarterbacks: Entire playoffs
1. Drew Brees, New Orleans Saints2. Aaron Rodgers, Green Bay Packers3. Tom Brady, New England Patriots4. Eli Manning, New York Giants5. Matt Ryan, Atlanta Falcons6. Ben Roethlisberger, Pittsburgh Steelers7. Matthew Stafford, Detroit Lions8. Alex Smith, San Francisco 49ers9. Joe Flacco, Baltimore Ravens10. Tim Tebow, Denver Broncos11. Andy Dalton, Cincinnati Bengals12. T.J. Yates/Jake Delhomme, Houston Texans
Quarterbacks: Weekend of Jan. 7-8 only
1. Drew Brees, Saints2. Matthew Stafford, Lions3. Eli Manning, Giants4. Matt Ryan, Falcons5. Ben Roethlisberger, Steelers6. Andy Dalton, Bengals7. Tim Tebow, Broncos8. T.J. Yates, Texans
[+] Enlarge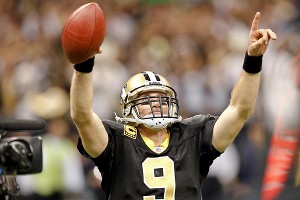 Derick E. Hingle/US PresswireDrew Brees is the best of many good quarterbacks to choose from this weekend and beyond.
Analysis:
Remember, the goal here is to accumulate the most points for the entirety of the postseason, not merely win the first weekend. Even in Gridiron Playoff Challenge, where salaries play a role, one can lock in salaries before they rise. If Tebow throws for 320 yards and three scores in a win Sunday, his salary will go up. Of course, he probably will not do this. Regardless, in GPC make sure you initially choose players in action
this weekend
. You can always add Packers, 49ers, Patriots and Ravens next week.
When choosing players for this week and the entire playoffs, you'll find the quantity of games is not always more important than quality. For example, is one game from Stafford -- and it should be a good one! -- better than two for the Bengals-Texans winner? It could be. Also note that in GPC, the scoring does not penalize for interceptions or fumbles. That could make a difference in your decision-making.
The main reason I'd go with Brees over Rodgers is not a reflection of one's skill over the other. Simply put, Brees plays this Saturday; Rodgers does not. I think Brees will win this Saturday. Those 20-25 fantasy points make for a great start. Get your points where you can, because Rodgers is no lock to advance, either. I can't help but think every NFC team is so vulnerable in the first place. Are the Packers really that much better than the Saints, or the 49ers, Lions, Falcons and Giants for that matter? Three of the past four top NFC seeds haven't even won a single playoff game! Go all in on Packers and you could very easily get only one game. Of course, the same is true with the Saints.
Eric's Gridiron Challenge roster