October, 23, 2014
Oct 23
11:25
AM ET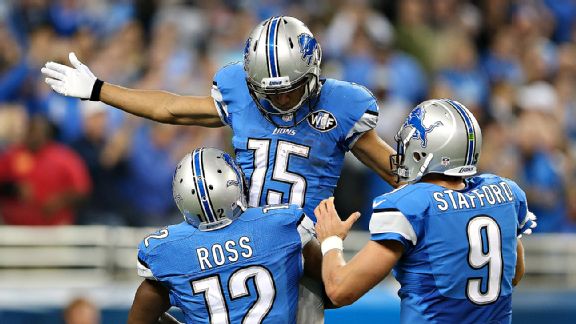 Leon Halip/Getty ImagesGolden Tate has risen to top-15 flex status this week, with Calvin Johnson hurting.
Welcome to Week 8 and another flex rankings with some new names and situations to evaluate, and not just in Buffalo. In general you'll see I trust the reliable names with a track record of excellent performance at the top, but acknowledge that some of the underperforming options from the past few weeks -- perhaps all of the 2014 weeks -- aren't worth using to the degree we once believed. Regardless, all fantasy teams are different so do the best you can with your decisions, whether choosing a running back, wide receiver or tight end. And don't choose any
San Francisco 49ers
or
New York Giants
, for those clubs are on a bye this weekend.
As always, best of luck to all in Week 8 and beyond!
1. DeMarco Murray, RB, Cowboys: When will this amazing streak end? And it is amazing, because no running back has ever started a season like this. Well, I think it continues.

2. Marshawn Lynch, RB, Seahawks: Don't be swayed by a couple of six-point fantasy outings. This remains a top option and Russell Wilson isn't likely to keep running at this pace.

3. Matt Forte, RB, Bears: That's three consecutive 20-point fantasy efforts. It doesn't matter who he's playing or where.

4. Arian Foster, RB, Texans

5. Jordy Nelson, WR, Packers

6. Demaryius Thomas, WR, Broncos

7. Jamaal Charles, RB, Chiefs: There's some concern that he suffered a concussion Sunday -- not that it will cost him this week, but that another one would do more damage. That said, I don't really sell high.

8. Dez Bryant, WR, Cowboys: He has achieved double digits in fantasy points in five of six weeks.

9. Le'Veon Bell, RB, Steelers: He has done it five consecutive weeks.

10. Antonio Brown, WR, Steelers: His worst game has featured 84 receiving yards, and now he faces the No. 1 defense in preventing fantasy points to wide receivers. And I ranked him 10th.

11. Lamar Miller, RB, Dolphins

12. Golden Tate, WR, Lions: Calvin Johnson could still play, and if he does, you bet I move Tate's rank down. It's not being mean, it's the right thing to do. Would still be a top-20 WR, though.

13. Randall Cobb, WR, Packers

14. Giovani Bernard, RB, Bengals: Tough matchup against a stingy Ravens defense, but they haven't faced a running back like this in a while.

15. LeSean McCoy, RB, Eagles: Cardinals do a nice job against the run. Eagles have to throw some passes McCoy's way.

16. Julio Jones, WR, Falcons

17. Andre Ellington, RB, Cardinals

18. A.J. Green, WR, Bengals: Figures to return to the lineup and yes, he's worth trusting. He's that good.

19. T.Y. Hilton, WR, Colts: Loss of Reggie Wayne helps him a bit, but he was going to have a big game regardless.

20. Ben Tate, RB, Browns: Figures to bounce back nicely against the Raiders. Most running backs do.

21. Eddie Lacy, RB, Packers: The fact he's sharing touches is only relevant if he's not producing. He is.

22. Jeremy Maclin, WR, Eagles

23. Emmanuel Sanders, WR, Broncos


[+] Enlarge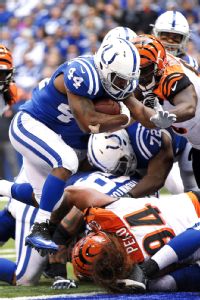 AP Photo/AJ MastAhmad Bradshaw has one rushing touchdown and six receiving scores this season.
24. Ahmad Bradshaw, RB, Colts
: One of the surprises of the season has scored in double digits in five of seven games.
25. Julian Edelman, WR, Patriots
26. Justin Forsett, RB, Ravens
27. Joique Bell, RB, Lions
: It's apparently his backfield now, though he's not catching many passes. His owners shouldn't complain.
28. Pierre Garcon, WR, Redskins
: People can't understand it, but it really doesn't matter to me so much which quarterback starts. Not in Garcon's case.
29. Mike Wallace, WR, Dolphins
30. Julius Thomas, TE, Broncos
: What!?! He didn't score two touchdowns in Week 7!?! He must be awful. (He's not awful.)
31. Jerick McKinnon, RB, Vikings
: Give credit where it's due. He's the man for now, though the upside of the offense remains muted because the quarterback hasn't a clue what he's doing. McKinnon will probably get overrated in fantasy circles.
32. Brandon Marshall, WR, Bears
33. Alfred Morris, RB, Redskins
: His owners want to punt, but that's a bad idea. It's not as if he suddenly got bad. Then again, I'm not trading a lot for him, either.
34. Kelvin Benjamin, WR, Panthers
: Solid rookie campaign continues with no end in sight.
35. Alshon Jeffery, WR, Bears
: Guy on Twitter asked me if he could drop Jeffery for McKinnon. Yeah, sure, go for it. (That's sarcasm.) The four consecutive weeks of double-digit fantasy numbers meant nothing. Seriously, it hasn't been a great season for Jeffery, but perspective is needed.
36. Chris Ivory, RB, Jets
: He's so much fun to watch when it's going well. Last week it went well.
37. Steve Smith, WR, Ravens
38. Jimmy Graham, TE, Saints
: I seem to be the one trusting him more than others, but let's not forget how great he is. And I think he's healthy enough.
39. Shane Vereen, RB, Patriots
: I'd sell high. If the Jets cover that opening touchdown, it's an ordinary fantasy outing. But they didn't.
40. Ronnie Hillman, RB, Broncos
:
Montee Ball
might have to wait until next year, folks.
41. Roddy White, WR, Falcons
: Just when his owners wanted to give up, he shines again.
42. Andre Johnson, WR, Texans
43. Rob Gronkowski, TE, Patriots
44. Mark Ingram, RB, Saints
: Not an inspiring return statistically, but the team will give him the rushing attempts.
45. DeSean Jackson, WR, Redskins
46. Vincent Jackson, WR, Buccaneers
: It's a wise time to buy low. He's talented.
Mike Glennon
is capable. The schedule gets better.
47. Branden Oliver, RB, Chargers
: No
Ryan Mathews
this week, but the time is coming. I bet Oliver sticks around as relevant.
48. Keenan Allen, WR, Chargers
: He has thrived in Denver before, with four touchdowns in two games there. Look it up.
49. Michael Floyd, WR, Cardinals
: I don't think the Eagles pitch a shutout this time.
50. Denard Robinson, RB, Jaguars
[+] Enlarge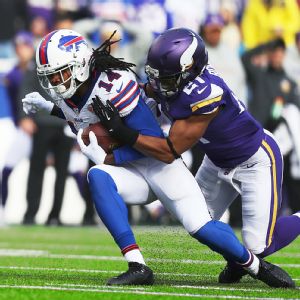 Brett Carlsen/Getty ImagesSammy Watkins is coming off the best game of his rookie season, catching nine passes for 122 yards and two TDs.
51. Sammy Watkins, WR, Bills
: Nobody said he wasn't talented. Quarterback change has helped, for sure.
52. Tre Mason, RB, Rams
: So much for the advertised time share. Ah, coaches. You can tell when they're not telling the truth because their lips are moving.
53. Doug Martin, RB, Buccaneers
54. Terrance Williams, WR, Cowboys
: Kind of light on the receptions lately, which is a concern moving ahead.
55. Marques Colston, WR, Saints
56. Trent Richardson, RB, Colts
57. Greg Olsen, TE, Panthers
58. Doug Baldwin, WR, Seahawks
: Celebrated the dumping of his teammate with a signature performance. Just don't expect it each week. Like when the Seahawks are winning.
59. Torrey Smith, WR, Ravens
: He and Steve Smith are sharing targets a lot more lately.
60. Bishop Sankey, RB, Titans
61. DeAndre Hopkins, WR, Texans
62. Larry Fitzgerald, WR, Cardinals
63. Anthony Dixon, RB, Bills
: It's easy to say he's not that good and can't put up numbers, but nobody really knows. He has never seen opportunity. It's just amazing how so many people are dismissing him as the stopgap.
64. Kendall Wright, WR, Titans
65. Wes Welker, WR, Broncos
: Well, at least he scored a touchdown. But you can see he's not a major factor.
66. Reggie Bush, RB, Lions
: Speaking of not being a major factor, wow.
67. Mohamed Sanu, WR, Bengals
: If A.J. Green sits, move him up 10 spots. Or 20.
68. Darren McFadden, RB, Raiders
: It's going to take a few more weeks for me to buy in. I'm serious. This isn't some rookie. His track record for causing us pain is immense.
69. Brandin Cooks, WR, Saints
70. Isaiah Crowell, RB, Browns
71. Percy Harvin, WR, Jets
: Sure, he's a great teammate until he sees a
Geno Smith
pass fly 10 feet over his head and out of bounds. Invest if you want, but this is not a great situation.
72. Allen Robinson, WR, Jaguars
73. Bernard Pierce, RB, Ravens
: Has carved out a decent role, and while it's a disappointment, he's got some value.
74. Martellus Bennett, TE, Bears
75. James Jones, WR, Raiders
76. Antonio Gates, TE, Chargers
: Kind of hard to believe he's on pace for the best numbers of his career, but it's true.
77. Hakeem Nicks, WR, Colts
: Never thought you'd see this name again, eh? But with Reggie Wayne on the shelf,
Andrew Luck
needs weapons. Watch
Donte Moncrief
get them instead!
78. Steven Jackson, RB, Falcons
: His season is going wonderfully. Let us know when he rushes for 60 yards in a game. Not likely this week.
79. Cecil Shorts III, WR, Jaguars
80. Eric Decker, WR, Jets
81. Khiry Robinson, RB, Saints
: The loss of
Pierre Thomas
shouldn't affect him much.
82. Bobby Rainey, RB, Buccaneers
: He just needs Doug Martin to keep underachieving. Chances are good.
83. Greg Jennings, WR, Vikings
84. James Starks, RB, Packers
: Sure, he's stealing touches from Lacy, but so what, if he doesn't do something with them?
[+] Enlarge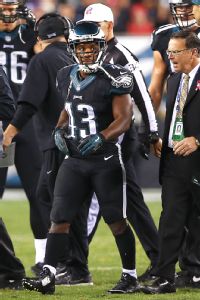 AP Photo/Michael PerezDarren Sproles may return this week from a knee injury.
85. Darren Sproles, RB, Eagles
: Perhaps he plays, but the bigger story is he hasn't done much statistically since Week 2. Not sure why his owners would activate him.
86. Andre Holmes, WR, Raiders
87. Cordarrelle Patterson, WR, Vikings
: Who would have thought the loss of
Matt Cassel
would matter so much?
88. Chris Johnson, RB, Jets
89. Dwayne Bowe, WR, Chiefs
90. Bryce Brown, RB, Bills
: I'd like to see what he could do with a legit chance at regular touches, but I don't see it happening this week. This guy could be forgotten in a month.
91. Travaris Cadet, RB, Saints
: This guy could matter, though, if he continues to catch passes and Thomas doesn't return healthy.
92. Jonas Gray, RB, Patriots
: Who? Well, he's big and Vereen isn't. Remember the name.
93. Jordan Reed, TE, Redskins
94. Brandon LaFell, WR, Patriots
95. Brian Quick, WR, Rams
96. Jonathan Stewart, RB, Panthers
: Not sure why I ever rank a Panthers running back.
97. Travis Kelce, TE, Chiefs
98. Mike Evans, WR, Buccaneers
99. Justin Hunter, WR, Titans
100. Stepfan Taylor, RB, Cardinals
Others:
Malcom Floyd
, WR, Chargers;
Delanie Walker
, TE, Titans;
Louis Murphy
, WR, Buccaneers;
Andrew Hawkins
, WR, Browns;
Matt Asiata
, RB, Vikings;
Jeremy Hill
, RB, Bengals;
Davante Adams
, WR, Packers;
Knile Davis
, RB, Chiefs;
Benjamin Cunningham
, RB, Rams;
Zac Stacy
, RB, Rams;
Corey Fuller
, WR, Lions;
LeGarrette Blount
, RB, Steelers;
Alfred Blue
, RB, Texans
To continue reading this article you must be an Insider