October, 2, 2014
Oct 2
10:57
AM ET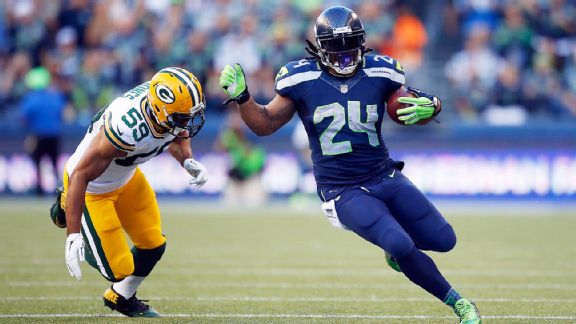 Otto Greule Jr/Getty ImagesMarshawn Lynch is back from bye and ready to produce big numbers on Monday night.
The flex rankings have their collective depth back after a wicked bye week that stole six teams. This week it's merely the
Miami Dolphins
and
Oakland Raiders
, not exactly bastions of glorious fantasy talent.
I'm often asked, "Which running back should I play at flex?" My answer generally focuses on "running back." Why is it necessarily from that position? This week, half of the top 20 overall flex options are not running backs. Play your best options, and don't worry about your Week 6 flex option yet. Worry about this week! And really, one shouldn't worry at all. Just make the best decisions you can, don't dwell on them and try to have fun!
Best of luck to all in Week 5 and beyond!
1. DeMarco Murray, RB, Cowboys: It takes some getting used to, but this is the best player in fantasy right now. I know, I know, a few quarterbacks have more fantasy points, but you wouldn't draft Andrew Luck first overall. It's a running back. It's Murray. It's all legit.

2. Le'Veon Bell, RB, Steelers: The Jaguars don't stop the run, usually. Bell is a lot better than what the Jaguars faced in San Diego last week.

3. Marshawn Lynch, RB, Seahawks: All rested from his bye week and ready to resume big numbers. I wonder, wouldn't players prefer bye weeks in November, when they're tired? Doesn't affect how we draft or overall value, though.

4. Giovani Bernard, RB, Bengals

5. Matt Forte, RB, Bears

6. Rashad Jennings, RB, Giants: Might seem a tad generous, but the Falcons really don't stop the run. The Giants should exploit it.

7. Jamaal Charles, RB, Chiefs: Looked awesome in embarrassing the Patriots on Monday. Just please stay healthy.

8. Antonio Brown, WR, Steelers

9. Jordy Nelson, WR, Packers

10. Julio Jones, WR, Falcons

11. LeSean McCoy, RB, Eagles: You might think the disappointing 1-point fantasy games will continue, but they won't. That said, don't assume he's a top-five flex option moving ahead either. The Eagles have things to adjust. They should fix this.

12. Calvin Johnson, WR, Lions: Terrific talent, but not at 100 percent health. Keep investing.

13. Eddie Lacy, RB, Packers: Forte looked really good in their Week 4 matchup, while Lacy didn't have as much fun, although he did score a touchdown.

14. Demaryius Thomas, WR, Broncos

15. Dez Bryant, WR, Cowboys

16. A.J. Green, WR, Bengals: It should be noted that the Patriots weren't gashed so much by Kansas City wide receivers. But Green will find a way.

17. Jimmy Graham, TE, Saints

18. Julius Thomas, TE, Broncos

19. Alfred Morris, RB, Redskins: Not the best matchup at all against Seattle, but he's a reliable option.

20. Steve Smith, WR, Ravens: No, he is not too old. Not even close, apparently.


[+] Enlarge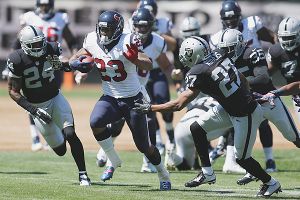 Ben Margot/Associated PressArian Foster appears to be in better health this week.
21. Arian Foster, RB, Texans:
Word is he's healthy, so running away seems unwise. But I'd move him for another top-10 running back, if I was able.
22. Zac Stacy, RB, Rams:
The Eagles certainly can be run on with linebacker
Mychal Kendricks
out.
23. Brandon Marshall, WR, Bears:
If the injury scares you, then look elsewhere. But he can still put up numbers.
24. Alshon Jeffery, WR, Bears
25. Frank Gore, RB, 49ers
26. Emmanuel Sanders, WR, Broncos
27. Randall Cobb, WR, Packers
28. Andre Ellington, RB, Cardinals:
Will be interesting to see how he's used at Denver. It's about time he gets into the end zone.
29. Victor Cruz, WR, Giants:
He's getting into the end zone against the Falcons.
30. Michael Floyd, WR, Cardinals
31. Montee Ball, RB, Broncos
32. Matt Asiata, RB, Vikings:
We've spent so much time discussing what appears to be a limited skill set that the volume of usage was lost. The Vikings love him.
33. Kelvin Benjamin, WR, Panthers
34. Jeremy Maclin, WR, Eagles
35. Chris Ivory, RB, Jets:
It's pretty clear he's tops on the depth chart. He's a decent play in Week 5, but remember the injury history for later.
36. Andre Johnson, WR, Texans:
I'm surprised how quickly people have jumped off his bandwagon. He caught 109 passes last season with lesser quarterbacks.
37. Keenan Allen, WR, Chargers
38. Doug Martin, RB, Buccaneers
39. DeAndre Hopkins, WR, Texans
40. Reggie Bush, RB, Lions:
Has fewer fantasy points over
four
games than the two fill-in Browns rookie running backs have in three games. Yet we keep using Bush. I'm reconsidering my decision to some degree, but we know he has game.
[+] Enlarge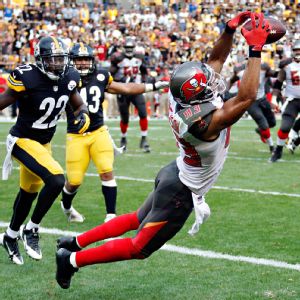 AP Photo/Gene PuskarMaybe Vincent Jackson's game-winning TD will get him more looks going forward.
41. Vincent Jackson, WR, Buccaneers:
Similar story. Not producing but should be.
42. Pierre Garcon, WR, Redskins
43. Steven Jackson, RB, Falcons:
Can't get too much more consistent (and average). I suppose there's something to be said about that. He doesn't have any 1-point fantasy games.
44. Marques Colston, WR, Saints
45. Rob Gronkowski, TE, Patriots:
You know, he's not getting open as much as he used to. That's a factor in this gigantic mess. Wonder if
Tom Brady
will ever say that to the media.
46. Percy Harvin, WR, Seahawks
47. Reggie Wayne, WR, Colts
48. Martellus Bennett, TE, Bears
49. Fred Jackson, RB, Bills:
He leads the team in receptions. With 19. Thus, the quarterback change. While we can laugh about
Kyle Orton
all we want, this should help Jackson and the next guy.
50. C.J. Spiller, RB, Bills
51. Ben Tate, RB, Browns:
Blogged about him Wednesday
, saying he should get most of the backfield touches. Until the next injury.
52. Julian Edelman, WR, Patriots:
Don't forget about this guy. He has posted three games of 81 or more yards. Most people just remember the most recent game, when nothing went right.
53. Ahmad Bradshaw, RB, Colts
54. Roddy White, WR, Falcons
55. Bishop Sankey, RB, Titans:
Speculative ranking that the Titans finally start giving him more touches. They have to, right?
56. Wes Welker, WR, Broncos
57. Michael Crabtree, WR, 49ers
58. Cordarrelle Patterson, WR, Vikings:
Criminally underused so far, but there's still time to fix this. Fast.
59. Khiry Robinson, RB, Saints:
Looks like he had an awesome Week 4, but most of the yards came on one carry. It just doesn't look like he'll be a star.
60. Brian Quick, WR, Rams:
Underrated and probably forgotten coming off the bye week.
61. Jeremy Hill, RB, Bengals:
Two Chiefs running backs had big games against the Patriots. Two Bengals ones can as well.
62. Golden Tate, WR, Lions
[+] Enlarge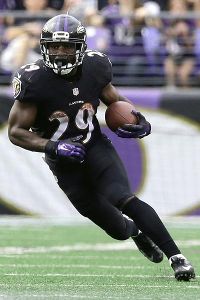 Patrick Semansky/AP PhotoJustin Forsett appears to be the safest option of the Ravens running backs.
63. Justin Forsett, RB, Ravens:
Catches passes, thus in a week when nobody knows which Ravens running back will get the most touches, he's the safest.
64. DeSean Jackson, WR, Redskins:
Good luck against
Richard Sherman
, fella!
65. Larry Fitzgerald, WR, Cardinals
66. Terrance Williams, WR, Cowboys
67. Darrin Reaves, RB, Panthers:
Last man standing in the backfield, maybe. It is possible
Jonathan Stewart
will suit up.
68. Brandin Cooks, WR, Saints
69. T.Y. Hilton, WR, Colts
70. Pierre Thomas, RB, Saints:
I'm surprised by the reaction to his usage. Yes, he barely played in Week 4. In Week 3 he scored a touchdown. Why does everyone assume he's out of the picture? He's not remotely out of the picture.
71. Anquan Boldin, WR, 49ers
72. Stevan Ridley, RB, Patriots:
He could be out of the picture soon, however. I'd be surprised if rookie
James White
doesn't get involved soon.
73. Jerick McKinnon, RB, Vikings:
Oh, he's in the picture. So why is he ranked poorly? The Vikings had a big lead last week. They love Asiata. I half-expect McKinnon to get eight touches this week.
74. Greg Jennings, WR, Vikings
75. Shonn Greene, RB, Titans
76. Sammy Watkins, WR, Bills
77. Trent Richardson, RB, Colts
78. Greg Olsen, TE, Panthers
79. Kendall Wright, WR, Titans:
This is a team that really could use some better quarterback play. Wright has 10 fantasy points in three weeks, but he's so much better than this.
80. Markus Wheaton, WR, Steelers
81. Chris Johnson, RB, Jets
82. Larry Donnell, TE, Giants:
Off to a terrific start. And it looks legit.
83. Darren Sproles, RB, Eagles:
Man, the narrative on him changed quickly. Don't drop him, though.
[+] Enlarge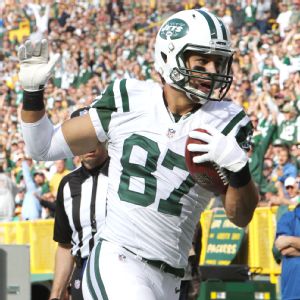 Al Pereira/New York Jets/Getty ImagesEric Decker has been dealing with injuries but does have a couple touchdowns.
84. Eric Decker, WR, Jets:
He's actually scored twice in four games. It hasn't been so bad.
85. Torrey Smith, WR, Ravens:
He finally scored, but it's been bad.
86. Eddie Royal, WR, Chargers:
Unstoppable! And overrated.
87. Delanie Walker, TE, Titans
88. Shane Vereen, RB, Patriots:
It's not the week to expect big things from him.
89. Knile Davis, RB, Chiefs:
If you told me Jamaal Charles was out for the season -- he's not! -- then I'd move Davis into the top 10.
90. Allen Hurns, WR, Jaguars
91. Donald Brown, RB, Chargers:
Still think he's good? They can't get
Ryan Mathews
back quickly enough.
92. Bernard Pierce, RB, Ravens:
He's not going to be shut out from touches this week.
93. Riley Cooper, WR, Eagles
94. Dwayne Bowe, WR, Chiefs
95. Rueben Randle, WR, Giants
96. Joique Bell, RB, Lions
97. Toby Gerhart, RB, Jaguars
98. Denard Robinson, RB, Jaguars
99. Vernon Davis, TE, 49ers
100. John Brown, WR, Cardinals
Others:
Andrew Hawkins
, WR, Browns;
Jordan Cameron
, TE, Browns;
LeGarrette Blount
, RB, Steelers;
Malcom Floyd
, WR, Chargers;
Terrance West
, RB, Browns;
Miles Austin
, WR, Browns;
Andre Williams
, RB, Giants;
Lorenzo Taliaferro
, RB, Ravens;
Allen Robinson
, WR, Jaguars;
Alfred Blue
, RB, Texans;
Isaiah Crowell
, RB, Browns;
Jordan Matthews
, WR, Eagles;
Carlos Hyde
, RB, 49ers
To continue reading this article you must be an Insider