December, 18, 2014
Dec 18
11:42
AM ET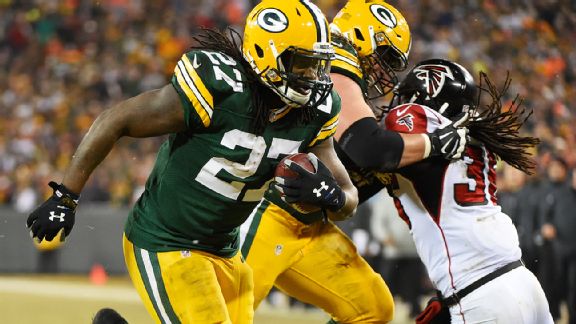 Benny Sieu/USA TODAY SportsEddie Lacy has picked the right time to play some of his best ball.
Well, the fantasy football season is nearly over, but don't say that to those still playing for something. It's all about what's ahead, and hopefully the players you choose for your flex position can contribute positively. Several of the players on the most championship-round rosters in ESPN leagues have been among the most productive players of late, and you'll find those names near the top of the rankings. Then again, some of the recent strugglers, such as a certain
Chicago Bears
running back and
Denver Broncos
wide receiver, also remain in high regard. Regardless, here are the latest flex rankings, combining the running backs, wide receivers and tight ends into one group.
And as always, best of luck to all in Week 16 and beyond, and happy holidays!
1. Le'Veon Bell, RB, Steelers: He's only three points behind the top spot for non-quarterbacks in standard scoring this season, and Bell didn't have surgery for a broken hand this week.

2. Eddie Lacy, RB, Packers: Remember back in September when so many wanted to flat-out cut the guy? Double digits in fantasy scoring 10 of 11 contests since then.

3. Jamaal Charles, RB, Chiefs: Had an eight-game streak of scoring in double digits broken in a tasty matchup against Oakland last week, but don't sit him now. This is another fine matchup.

4. DeMarco Murray, RB, Cowboys: I actually think he will play and won't be hampered much from the injury, but please make sure Sunday afternoon the team has him active.

5. Calvin Johnson, WR, Lions: Skewered the Bears the last time, and really ought to do so again. Not much is in the way.

6. Arian Foster, RB, Texans: Not the easiest matchup and it would help to have an actual NFL quarterback handing off to him, but still an elite option.

7. Joique Bell, RB, Lions: Surprise! And really, he's having a terrific season. The reason for his bump here is, well, it's the Bears.

8. Demaryius Thomas, WR, Broncos: His quarterback isn't doing so much lately, but Thomas had 18 fantasy points last week.

9. Antonio Brown, WR, Steelers: Probably the most reliable, consistent player in all of fantasy football, quarterbacks included. That counts for a lot.

10. Marshawn Lynch, RB, Seahawks

11. Jordy Nelson, WR, Packers: Man, imagine if he just catches that 94-yarder, so much would have been different! Maybe this week!

12. Dez Bryant, WR, Cowboys

13. Matt Forte, RB, Bears: Yes, he didn't have much success the last game versus Detroit, but I'm treating him as an elite player, because he is. Is more than capable of making a big play or two regardless of the team's quarterback play.

14. C.J. Anderson, RB, Broncos

15. A.J. Green, WR, Bengals

16. Mark Ingram, RB, Saints: He's likely going to rush for 1,000 yards this season. Admit it, that would have shocked you back in August!

17. Julio Jones, WR, Falcons: Contingent on him playing, of course, but his team really does need him. And he's really, really good.


[+] Enlarge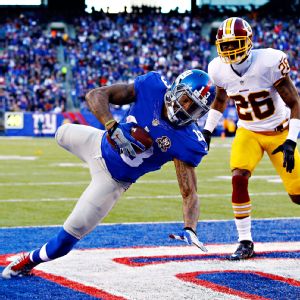 Al Bello/Getty ImagesOdell Beckham Jr. has carried many fantasy teams to the championship game.
18. Odell Beckham Jr., WR, Giants
: He's good, too. Matchups don't matter. Don't overthink it. No wide receiver is on more ESPN finalists than this fellow.
19. LeSean McCoy, RB, Eagles
: The disappointment continues, now we can't be sure he gets the goal-line looks.
20. Jeremy Maclin, WR, Eagles
21. Randall Cobb, WR, Packers
: Five-game drought since last touchdown, but nice matchup.
22. Alfred Morris, RB, Redskins
23. T.Y. Hilton, WR, Colts
: The Cowboys can be thrown on. This team has become reliant on Hilton, too.
24. Justin Forsett, RB, Ravens
25. Kelvin Benjamin, WR, Panthers
: Also doesn't matter which cornerback covers him. Or, as we saw Sunday, which quarterback throws to him.
26. Rob Gronkowski, TE, Patriots
: Kittens!
27. Lamar Miller, RB, Dolphins
28. Mike Evans, WR, Buccaneers
: Rookie could end up leading the league in touchdowns.
29. Jeremy Hill, RB, Bengals
: Rookie is ninth among all running backs in standard scoring. Wow!
30. Julian Edelman, WR, Patriots
31. Emmanuel Sanders, WR, Broncos
: If the statistical trend continues, he'll score only four points this week. I don't think the trend continues.
32. Fred Jackson, RB, Bills
33. Tre Mason, RB, Rams
34. DeSean Jackson, WR, Redskins
: He might not admit it, but you know he wants to score a touchdown against his former team and keep them from playing in January. Actually, he will admit it.
35. Brandon LaFell, WR, Patriots
36. Roddy White, WR, Falcons
: Don't worry about Julio Jones in White's case. He'll be OK regardless.
37. Alshon Jeffery, WR, Bears
: As long as some of the footballs Jay … um, I mean,
Jimmy
Clausen launches are in his general direction, he can produce enough numbers.
38. Jonathan Stewart, RB, Panthers
: This is his best three-game run of stats since 2010. It'd be surprising if the return of
DeAngelo Williams
messes that up. Stewart, on the other hand, can mess it up.
39. DeAndre Hopkins, WR, Texans
40. Mike Wallace, WR, Dolphins
: Coming off his best game of the season, though the Vikings do nice work against the pass.
41. Steven Jackson, RB, Falcons
42. Sammy Watkins, WR, Bills
43. Josh Gordon, WR, Browns
: We can all blame the team's excellent quarterback play, but some of this is clearly on Gordon, too.
44. Daniel Herron, RB, Colts
45. Golden Tate, WR, Lions
: It's the Bears, so Tate and Megatron can each thrive.
[+] Enlarge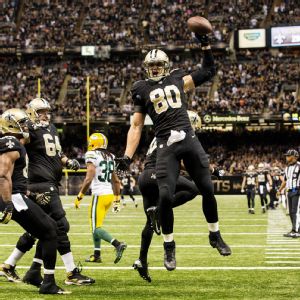 Derick E. Hingle/USA TODAY SportsJimmy Graham's numbers have declined at the wrong time for fantasy owners.
46. Jimmy Graham, TE, Saints
: We keep ranking him well, but he's not putting up the numbers. He's a good tight end, but at flex, you can do better.
47. Steve Smith, WR, Ravens
48. Latavius Murray, RB, Raiders
: I like him, but on this team, with that O-line, it's tough for him to reach his potential.
49. Doug Martin, RB, Buccaneers
: I'd call this a good rank for him. Imagine that back in August.
50. Andre Johnson, WR, Texans
51. Vincent Jackson, WR, Buccaneers
52. Greg Olsen, TE, Panthers
: Gronk is the only tight end with more fantasy points this season. This guy is good.
53. Giovani Bernard, RB, Bengals
: He and
Andre Ellington
will end up overdrafted in 2015. Sorry, but that's the likely scenario based on how their teams will use them.
54. Torrey Smith, WR, Ravens
55. Anquan Boldin, WR, 49ers
: So
Jay Cutler
, the No. 9 fantasy QB, loses his job, but
Colin Kaepernick
, the No. 18 QB, gets to keep flailing away. This week he gets Boldin back on track, though. Kind of.
56. Ryan Mathews, RB, Chargers
: He's probably too injured to really help anyone at this point, even if he's suited up.
57. Marques Colston, WR, Saints
58. Toby Gerhart, RB, Jaguars
: He's starting again, though it might be a bit tough to tell statistically.
59. Jordan Matthews, WR, Eagles
60. LeGarrette Blount, RB, Patriots
: Bill Belichick giveth, and taketh away.
61. Andre Williams, RB, Giants
: Should be in line for volume touches, but it's not a pleasant matchup.
62. Charles Johnson, WR, Vikings
63. Harry Douglas, WR, Falcons
: This rank assumes Julio Jones plays. If he does not, move Harry up 25 spots or so.
64. Chris Ivory, RB, Jets
65. Kerwynn Williams, RB, Cardinals
66. Martavis Bryant, WR, Steelers
67. Isaiah Crowell, RB, Browns
: Looked a lot more special a month ago.
68. Terrance West, RB, Browns
: Has never really looked special.
69. Kenny Stills, WR, Saints
: He should be doing more. I want to rank him better.
[+] Enlarge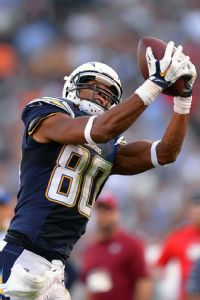 Jake Roth/USA TODAY SportsMalcom Floyd becomes the Chargers' No. 1 receiver this week with Keenan Allen out.
70. Malcom Floyd, WR, Chargers
: No more
Keenan Allen
, but it's dangerous to rely on Floyd.
71. Carlos Hyde, RB, 49ers
: This is assuming
Frank Gore
doesn't play, but hedging because Hyde could sit with injury, too. If he does, I'd put
Alfonso Smith
here.
72. Antonio Gates, TE, Chargers
73. Julius Thomas, TE, Broncos
: Not the second half of the season people expected.
74. Matt Asiata, RB, Vikings
: Here comes the three-touchdown game!
75. Eric Decker, WR, Jets
: Comes off his fifth double-digit fantasy effort. Hey, nobody thought he'd be great.
76. Jarvis Landry, WR, Dolphins
77. Pierre Thomas, RB, Saints
78. Travis Kelce, TE, Chiefs
: Honestly, who cares what this team's wide receivers are doing? The team could make the playoffs. That seems to matter more. And Kelce is good.
79. Larry Fitzgerald, WR, Cardinals
: Should be just fine with 70-year-old Jim Hart at QB. (Look him up.)
80. Shonn Greene, RB, Titans
: It's his job again. Nice work by the Titans this season!
81. Pierre Garcon, WR, Redskins
82. Doug Baldwin, WR, Seahawks
83. Shane Vereen, RB, Patriots
84. Trent Richardson, RB, Colts
85. Kendall Wright, WR, Titans
86. Nate Washington, WR, Titans
: Sneaky pickup for this week.
87. Jason Witten, TE, Cowboys
88. Knile Davis, RB, Chiefs
: We keep talking about Hyde and
Christine Michael
as dynasty stashes, but imagine if Davis had a line on a starting job. Wow.
89. Stedman Bailey, WR, Rams
90. Joseph Randle, RB, Cowboys
: Murray should play. If he doesn't, I'd rank Randle near where Doug Martin is.
91. Reggie Wayne, WR, Colts
: A little too hurt to put up numbers, but it's tough to rely on
Donte Moncrief
.
92. Reggie Bush, RB, Lions
93. James Jones, WR, Raiders
94. Eddie Royal, WR, Chargers
95. Darren Sproles, RB, Eagles
96. James Starks, RB, Packers
97. Allen Hurns, WR, Jaguars
98. Marquess Wilson, WR, Bears
99. Lance Dunbar, RB, Cowboys
100. Stepfan Taylor, RB, Cardinals
Others:
Jonas Gray
, RB, Patriots;
Davante Adams
, WR, Packers;
Dwayne Bowe
, WR, Chiefs;
Delanie Walker
, TE, Titans;
Martellus Bennett
, TE, Bears;
Robert Woods
, WR, Bills;
C.J. Spiller
, RB, Bills;
Branden Oliver
, RB, Chargers;
Michael Crabtree
, WR, 49ers;
Chris Johnson
, RB, Jets;
Bernard Pierce
, RB, Ravens;
Charles Sims
, RB, Buccaneers
To continue reading this article you must be an Insider