September, 17, 2014
Sep 17
1:39
PM ET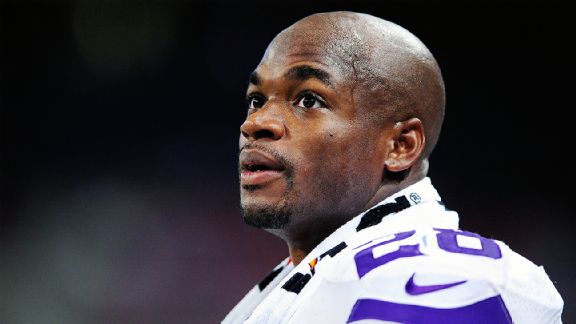 Jeff Curry/USA TODAY SportsIt is still unknown when or if Adrian Peterson will play again this season.
The obvious risk in cutting
Minnesota Vikings
running back
Adrian Peterson
in a fantasy league at this point is that he does suit up and play again this season, and based on the ridiculousness I've seen in the past few weeks, with constant altering of decisions based on reacting to external reactions, I say it's 50-50 he does play again. Fantasy owners need to separate their views on off-field situations -- real-life things that really matter -- and think about value and potential playing time and upside. On Monday, I was pretty skeptical that Peterson would play in Week 3. When I awoke Wednesday, that
decision was seemingly clarified
. Would it surprise me if Peterson plays in a month? Not one bit.
So it is that Tuesday's end-of-season rankings get the rare Wednesday update because Peterson's situation is so critical in every fantasy league, it warrants attention. Again, don't confuse matters. Separate all the legal and moral issues and focus on one thing: Will this person play again this season? Will it be soon? We know he's a special player on the field. I originally dropped Peterson from No. 3 overall to No. 13 for the Tuesday blog entry, a weekly staple, because I was concerned he would miss more time than the Vikings -- or the NFL, I suppose -- was originally letting on. These are hot button issues and everyone seems to have an opinion now, and as we've seen those external opinions drove the change in decision. There's a court hearing in early October and you bet this situation could change again by then.
Kansas City Chiefs running back Jamaal Charles was originally a top-three overall pick just like Peterson, and brings similar upside. And he has a high ankle sprain. My feeling is that Charles misses roughly a month of playing time, so I dropped him in the rankings to barely RB2 status. I was going to do this with Peterson. I'm not remotely comparing the reasons they are missing games, but to the point at hand for a fantasy column, I could see each playing in a month. However, I do think the situation with Peterson is more dire, and public perception and demand will force him to miss more time, perhaps all of it. I dropped Peterson to No. 40 for running backs. I suppose this is similar for ranking purposes to what's going on with Cleveland Browns wide receiver Josh Gordon. He should be playing in the second half of the season and he's an obvious difference-maker. For now I'm hedging on Peterson because as we've seen, no decision is really final, and this player could play at any point.
I did rank Peterson better than his teammates Matt Asiata and Jerick McKinnon, though, again not by much. I don't think Asiata is a great option and he's shown this, really. Sure, he caught a touchdown pass and if the Vikings get a goal-line run, he's the man, but his yards per carry show he's not special. McKinnon could be but at this time -- and I doubt anything changed for him this week -- the Vikings appear willing to go nearly exclusively with Asiata as the running back, mixing in McKinnon and awesome wide receiver Cordarrelle Patterson as well. I don't think Patterson becomes the main running back. I agree with most people that McKinnon has far more upside than Asiata should one of them get 20 touches per game, but there's little evidence that's pending. So add Asiata for this week, but he didn't approach my top-20 running backs. Good luck with your teams and more important with your lives.
Here are all of this week's end-of-season rankings, including the rest of the positions and their analysis from Tuesday.
To continue reading this article you must be an Insider