September, 25, 2014
Sep 25
10:48
AM ET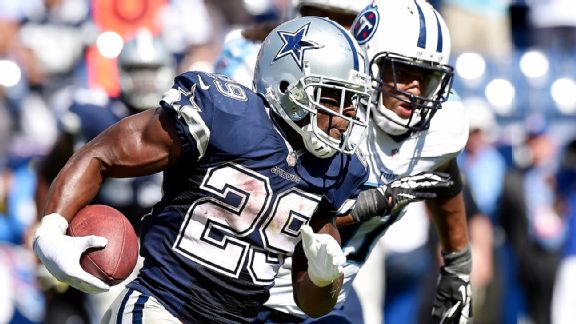 Don McPeak/USA TODAY SportsDeMarco Murray has opened the season with three straight games of 100 yards and a TD.
The flex rankings look a tad different this Week 4 because so many players are on their bye week, so before you complain that we missed
Marshawn Lynch
,
Michael Floyd
and
Julius Thomas
, remember that the
Seattle Seahawks
,
Denver Broncos
,
Cincinnati Bengals
,
Cleveland Browns
,
Arizona Cardinals
and
St. Louis Rams
are on bye this week. Now, back to your regularly scheduled complaining! As always, we do our best with the standard flex rankings but urge you to use all the wonderful material available at ESPN Fantasy -- from blogs and articles to rankings, video and podcasts -- as a guide to your decision-making, not the ultimate answer. And try to have fun!
Best of luck to all in Week 4 and beyond!
1. DeMarco Murray, RB, Cowboys: Can't really argue with the numbers, as only one flex option has more season fantasy points (Seattle's Lynch) and he's on a bye.

2. Le'Veon Bell, RB, Steelers: Impressive performance in embarrassing the Panthers at their place. And he gets the Bucs this week.

3. LeSean McCoy, RB, Eagles: Perhaps a tad too generous, but the running backs who follow have question marks, too.

4. Calvin Johnson, WR, Lions: Jets certainly look like they can be thrown on.

5. Matt Forte, RB, Bears: He's lit up the Packers before. Buy low on this guy.

6. Julio Jones, WR, Falcons

7. Dez Bryant, WR, Cowboys

8. Jamaal Charles, RB, Chiefs: Sounds like he came close to playing in Week 3, so I'll assume he's ready to put up numbers with a national audience watching.

9. Antonio Brown, WR, Steelers

10. Alfred Morris, RB, Redskins

11. Jordy Nelson, WR, Packers

12. Eddie Lacy, RB, Packers: Another buy-low option. He's too talented to be this average, and last season he thrived versus Chicago.

13. Rashad Jennings, RB, Giants: Seems a bit premature to get this ranking, but there really aren't enough options. And clearly he's not sharing with anyone else.

14. Jimmy Graham, TE, Saints

15. Brandon Marshall, WR, Bears: Really needs the bye week, but it's not coming for a while. Still, the three-touchdown game was proof you can't sit him.

16. Julian Edelman, WR, Patriots: Boy, he and Tom Brady could use some help on the outside.

17. Arian Foster, RB, Texans: No lock to play, so make sure his backup is owned. His backup shows up later. It's a bad sign that Foster can't even get through September unscathed.

18. Alshon Jeffery, WR, Bears

19. Pierre Garcon, WR, Redskins

20. Lamar Miller, RB, Dolphins: Just when you feel like you can trust him … finish that sentence. Be consistent with this opportunity, fella!

21. Andre Johnson, WR, Texans: Kind of a big game for his fantasy value. He's been quiet.

22. Randall Cobb, WR, Packers

23. Jeremy Maclin, WR, Eagles: His owners are really enjoying this. This week will be a test.

24. C.J. Spiller, RB, Bills

25. Fred Jackson, RB, Bills


[+] Enlarge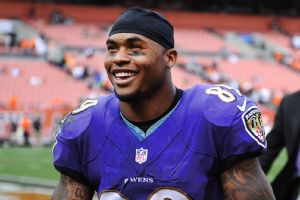 Maddie Meyer/Getty ImagesSteve Smith has started his Ravens' career with a bang and seems very motivated to face his old Panthers mates this week.
26. Steve Smith, WR, Ravens
: He circled this game when the Panthers let him walk. But how much better can Smith really play?
27. Antonio Gates, TE, Chargers
: Two words:
Jacksonville Jaguars
. There's a reason I made
Philip Rivers
my top QB for the week.
28. Donald Brown, RB, Chargers
: He'll definitely get work, but he needs to do a bit more with the touches.
29. Keenan Allen, WR, Chargers
: One more week, then you can worry. But you won't have to.
30. Michael Crabtree, WR, 49ers
31. Frank Gore, RB, 49ers
32. Rob Gronkowski, TE, Patriots
33. Ahmad Bradshaw, RB, Colts
: Looks healthy so far, and productive.
34. Darren Sproles, RB, Eagles
: We told you not every week was going to be a party for him statistically. You'll just never know in advance.
35. Victor Cruz, WR, Giants
36. Pierre Thomas, RB, Saints
37. Khiry Robinson, RB, Saints
38. Marques Colston, WR, Saints
: If he doesn't have a big game against the Cowboys, then I'll stop recommending him.
39. Roddy White, WR, Falcons
: Should play this week, and should play well.
40. Mike Wallace, WR, Dolphins
: Gets to show another country how great he is this week.
41. Greg Olsen, TE, Panthers
42. Vincent Jackson, WR, Buccaneers
: You probably don't care that he puts up numbers every season. And he will this season.
43. Cordarrelle Patterson, WR, Vikings
: Big sleeper isn't off to great start but again, three weeks and a quarterback change buys him more time.
44. Kelvin Benjamin, WR, Panthers
: He doesn't need more time. He's really good now.
45. Stevan Ridley, RB, Patriots
: Yes, I think he's the running back to own from this team. Man, the other guy was kind of overrated, no?
46. Martellus Bennett, TE, Bears
: Clearly a key cog in the offense. Feel free to trade for him confidently.
47. DeSean Jackson, WR, Redskins
: That might have been his best game of the season. Yeah, sorry, I'm not really a fan.
48. Reggie Wayne, WR, Colts
49. Kendall Wright, WR, Titans
50. Chris Ivory, RB, Jets
: He really looks good and he probably deserves more touches.
51. Brandin Cooks, WR, Saints
52. Terrance Williams, WR, Cowboys
53. Matt Asiata, RB, Vikings
: He gets plenty of touches but he really doesn't deserve more.
54. Doug Martin, RB, Buccaneers
: Good luck with this guy. But the Bucs like him and if he's healthy, they clearly intend to use him. Perhaps I shouldn't be so dismissive. He has ability. The team is just a mess.
55. Golden Tate, WR, Lions
[+] Enlarge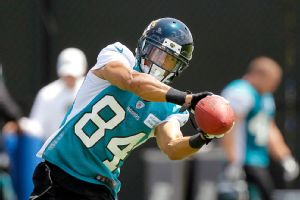 AP Photo/John RaouxCecil Shorts may be in a better position to shine now that he's healthy and has Blake Bortles at QB.
56. Cecil Shorts III, WR, Jaguars
: I bet the Jaguars, with rookie
Blake Bortles
at quarterback, start scoring enough points to matter for fantasy starting this week.
57. DeAndre Hopkins, WR, Texans
58. Steven Jackson, RB, Falcons
59. Reggie Bush, RB, Lions
60. Shane Vereen, RB, Patriots
61. Vernon Davis, TE, 49ers
: Make sure he plays before you play him, and it's not one of the early games.
Ladarius Green
and
Levine Toilolo
are also in late games and likely available if you need protection.
62. Greg Jennings, WR, Vikings
63. Shonn Greene, RB, Titans
: One of these weeks he'll get passed on the depth chart, but not yet.
64. Chris Johnson, RB, Jets
: He appears to have been passed.
65. Trent Richardson, RB, Colts
: He really needs to be passed.
66. Anquan Boldin, WR, 49ers
67. Joique Bell, RB, Lions
68. Delanie Walker, TE, Titans
69. Sammy Watkins, WR, Bills
70. T.Y. Hilton, WR, Colts
71. Darren McFadden, RB, Raiders
: Not getting much attention from fantasy owners, but he hasn't looked so bad since getting opportunity. And Miami has struggled against the run.
72. Mike Evans, WR, Buccaneers
73. Bernard Pierce, RB, Ravens
: I think if he's healthy he's the main guy. Teams are loyal.
74. Lorenzo Taliaferro, RB, Ravens
: But he'll probably do better than Pierce.
75. Markus Wheaton, WR, Steelers
[+] Enlarge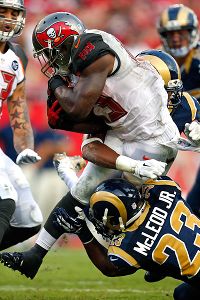 Jeff Haynes/AP Images for PaniniBobby Rainey has gone from underrated handcuff to potentially overrated time-share guy.
76. Bobby Rainey, RB, Buccaneers
: Went from underrated, productive and beloved to largely overrated real fast last Thursday night.
77. Toby Gerhart, RB, Jaguars
: I still think there's upside here if you can be patient.
78. Jordan Matthews, WR, Eagles
79. Eric Decker, WR, Jets
80. James Jones, WR, Raiders
81. DeAngelo Williams, RB, Panthers
: Not too many running backs left for this team. But you really shouldn't be using him anyway.
82. Torrey Smith, WR, Ravens
: Wow, who saw this happening? Averaging two receptions per game.
83. Bishop Sankey, RB, Titans
84. Rueben Randle, WR, Giants
85. Justin Hunter, WR, Titans
86. Eddie Royal, WR, Chargers
: If you think he's really good, look up what happened with his statistics last year.
87. Malcom Floyd, WR, Chargers
88. Zach Ertz, TE, Eagles
89. Niles Paul, TE, Redskins
90. Maurice Jones-Drew, RB, Raiders
91. Knile Davis, RB, Chiefs
: Moves into top-10 running back territory if Charles is deemed inactive. No, really.
92. Alfred Blue, RB, Texans
: Wouldn't make my top 10, but top 20. Looks like a solid player.
93. Riley Cooper, WR, Eagles
94. Branden Oliver, RB, Chargers
95. Dwayne Bowe, WR, Chiefs
96. LeGarrette Blount, RB, Steelers
97. Jeremy Kerley, WR, Jets
98. Allen Robinson, WR, Jaguars
: The Jacksonville rookie WR you want.
99. Allen Hurns, WR, Jaguars
100. Jason Witten, TE, Cowboys
: Finished as the No. 5 tight end last season, and he doesn't look done to me. He's going to get better.
Others:
Carlos Hyde
, RB, 49ers;
James Starks
, RB, Packers;
Justin Forsett
, RB, Ravens;
Hakeem Nicks
, WR, Colts;
Roy Helu
, RB, Redskins;
Denard Robinson
, RB, Jaguars;
Charles Clay
, TE, Dolphins;
Darrin Reaves
, RB, Panthers;
Jacquizz Rodgers
, RB, Falcons;
Andre Williams
, RB, Giants;
Daniel Thomas
, RB, Dolphins
To continue reading this article you must be an Insider