November, 20, 2014
Nov 20
11:23
AM ET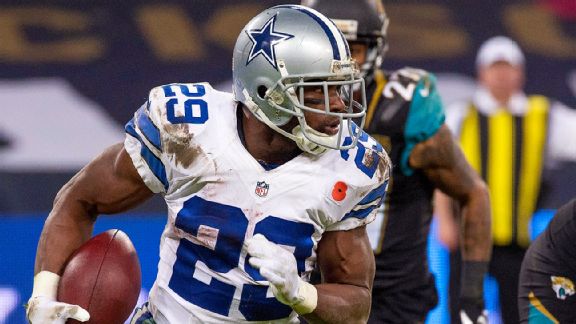 Steve Flynn/USA TODAY SportsDeMarco Murray is back on top of the flex rankings after taking his bye week.
By now you should be well aware that the ESPN trade deadline has passed, making it tougher to change the look of a fantasy roster. But guess what? You still have to put in a lineup for Week 12, and we're here to help with our flex rankings. We combine the best of the running backs, wide receivers and tight ends into one list and then it's up to you to decide your active roster. There's certainly plenty of information at ESPN Fantasy to aid you.
As always, best of luck to all in Week 12 and beyond!
1. DeMarco Murray, RB, Cowboys: For perspective, he's the top non-QB in ESPN fantasy scoring, ninth overall, and there's no reason to expect he'll fall apart. Look at the Dallas schedule!

2. Jamaal Charles, RB, Chiefs: Has scored a touchdown in five consecutive games, but the Chiefs seem to be underutilizing him. Only 22 catches all season? They still face the Raiders twice, which should help!

3. Matt Forte, RB, Bears: He has three times the receptions of Charles. Just seems odd. Forte could reach 100 catches.

4. Arian Foster, RB, Texans: Will he play or won't he? Foster has destroyed the Bengals' defense in the past, so we really, really want him to play, but be prepared.

5. Eddie Lacy, RB, Packers: Not a ton of rushing yards, but plenty of fantasy points. And a nice schedule as well.

6. Demaryius Thomas, WR, Broncos: Working on a streak with seven consecutive games of more than 100 receiving yards. He's matchup proof.

7. Jordy Nelson, WR, Packers

8. LeSean McCoy, RB, Eagles: Let's move past the fact he's been a rather large disappointment and enjoy what should be a friendly matchup.

9. Dez Bryant, WR, Cowboys

10. Marshawn Lynch, RB, Seahawks: Not a good matchup. Might be ranked too generously here, but he has been playing well lately.

11. Mark Ingram, RB, Saints

12. Calvin Johnson, WR, Lions: Welcome to Revis Island! Show him what he's won! It's a six-point fantasy game! Obviously we think he can do better.

13. Randall Cobb, WR, Packers

14. Justin Forsett, RB, Ravens: He's actually seventh in the league in rushing -- in case you keep thinking Bernard Pierce is relevant.

15. Brandon Marshall, WR, Bears

16. Denard Robinson, RB, Jaguars: He's probably not going for 201 yards and four touchdowns, which is what the Colts permitted last week, but dare to dream.

17. Jeremy Hill, RB, Bengals: Controversy! The rookie pushes aside the other young star! Well, it looks that way this week.


[+] Enlarge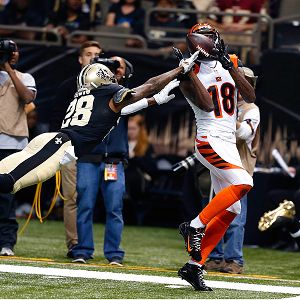 AP Photo/Rogelio SolisSurprisingly, A.J. Green isn't the highest-ranked Bengal in the flex rankings.
18. A.J. Green, WR, Bengals
: How about the fact Green isn't the top Bengal? We're full of controversy today. I still think Green is far from 100 percent.
19. Jeremy Maclin, WR, Eagles
: He and
Mark Sanchez
get along just fine. Not a worry. The Titans' secondary will fix everything.
20. Frank Gore, RB, 49ers
: Has averaged 88 rushing yards the past two games, for all who consider him too old to help.
21. Rob Gronkowski, TE, Patriots
: I admit, it sure looks like he's going to play in every regular-season game. I'm glad I was incorrect if, you know, that ends up occurring.
22. Alshon Jeffery, WR, Bears
23. T.Y. Hilton, WR, Colts
24. Mike Evans, WR, Buccaneers
: Has scored more fantasy points the past three weeks than his overrated, veteran teammate who was nearly a top-10 wide receiver last season.
25. Josh Gordon, WR, Browns
: Never heard of him. Oh, and please stay outta trouble, Josh.
26. C.J. Anderson, RB, Broncos
: A good play, not a sure thing.
27. Emmanuel Sanders, WR, Broncos
: A great play when he is a sure thing. Currently dealing with a concussion.
28. Rashad Jennings, RB, Giants
29. Ryan Mathews, RB, Chargers
30. Julio Jones, WR, Falcons
: His owners surely must have noticed his previous touchdown came in Week 3. And yet nobody would sit him.
31. Alfred Morris, RB, Redskins
32. Golden Tate, WR, Lions
33. Sammy Watkins, WR, Bills
: When and where they play the Bills-Jets game, if it's altered at all due to ridiculous snow amounts, isn't really a fantasy factor yet. The game will be played this weekend.
34. Roddy White, WR, Falcons
35. Jimmy Graham, TE, Saints
36. Andre Ellington, RB, Cardinals
: Certainly trending the wrong direction, and this is not a friendly matchup.
37. Odell Beckham Jr., WR, Giants
38. Mike Wallace, WR, Dolphins
39. Lamar Miller, RB, Dolphins
40. DeAndre Hopkins, WR, Texans
41. DeSean Jackson, WR, Redskins
: And you thought his first season with Washington would be completely smooth sailing. Statistically at least, it kind of has been.
42. Tre Mason, RB, Rams
: Ran all over the Broncos; now we just need to see consistency.
[+] Enlarge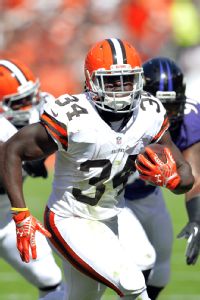 AP Photo/David RichardIsaiah Crowell looks to be the top Browns option at running back with Ben Tate gone.
43. Isaiah Crowell, RB, Browns
: The opportunity is there to be a safe RB2. But even with
Ben Tate
being released (and winding up with the Vikings), he needs to play well to keep the role.
44. Andre Johnson, WR, Texans
45. Julian Edelman, WR, Patriots
46. Vincent Jackson, WR, Buccaneers
: Not that it's terribly relevant, but only 12 wide receivers scored more fantasy points last season. I think the talent is still there. Something's missing.
47. Giovani Bernard, RB, Bengals
: Not a great play this weekend. Let's see how the time share progresses.
48. Jordan Matthews, WR, Eagles
: Hard to believe, but even he has outscored LeSean McCoy. Also has 51 points the past three games.
49. Reggie Wayne, WR, Colts
50. Trent Richardson, RB, Colts
: The extra volume will be nice, I suppose, but keep expectations in check now that
Ahmad Bradshaw
is done. The Colts could simply throw on literally every play now. Well, probably not.
51. Steven Jackson, RB, Falcons
52. Brandon LaFell, WR, Patriots
53. Torrey Smith, WR, Ravens
: Definitely the Baltimore wide receiver to own currently.
54. Anquan Boldin, WR, 49ers
: Definitely the San Francisco wide receiver to own currently.
55. Chris Ivory, RB, Jets
: Definitely the Jets running back to own currently.
56. Joique Bell, RB, Lions
: We can keep playing this game. This is the Lions WR to …
57. Mohamed Sanu, WR, Bengals
… and the game stops here.
58. Jonas Gray, RB, Patriots
: I like him, and blogged about him before his first snaps, but still, it's time to sell.
59. Bishop Sankey, RB, Titans
: Doesn't look he'll be the top offensive rookie this season. But you can count on him for five or six points per week.
60. Antonio Gates, TE, Chargers
61. Percy Harvin, WR, Jets
: One of these weeks he'll score, like, 30 fantasy points.
62. Michael Crabtree, WR, 49ers
63. Larry Donnell, TE, Giants
64. Fred Jackson, RB, Bills
: Important guy to watch if healthy. There's upside despite his age.
65. Darren Sproles, RB, Eagles
: Well, he's clearly not going to catch anywhere close to 70 passes. Or 50.
[+] Enlarge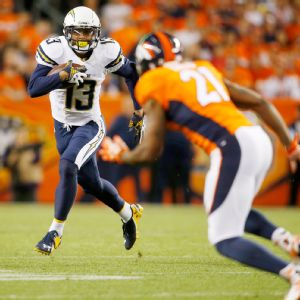 Chris Humphreys/USA TODAY SportsKeenan Allen has been a mild disappointment this season, scoring just one touchdown.
66. Keenan Allen, WR, Chargers
: First on team by a lot in targets and receptions, second in receiving yards, but one touchdown is a problem. A big problem. And there's little reason to think more are coming.
67. Jerick McKinnon, RB, Vikings
: The good news for him is
Adrian Peterson
is done. The bad news is they signed Ben Tate. McKinnon hasn't been bad, but he doesn't get in the end zone. Not that Tate is better. It's a shame McKinnon hasn't broken out.
68. Michael Floyd, WR, Cardinals
69. Martellus Bennett, TE, Bears
70. Julius Thomas, TE, Broncos
: Teammate Demaryius Thomas boasts more than twice the targets and a ton of yards. But this Thomas has twice as many touchdowns. Low rank this week due to the ankle sprain concerns. He might not even play.
71. Marques Colston, WR, Saints
: Really isn't all that good anymore. I think we're all overrating him.
72. Shane Vereen, RB, Patriots
: Speaking of the "o" word. Nice player, but not nearly as productive as his owners probably realize.
73. Doug Baldwin, WR, Seahawks
74. Cecil Shorts III, WR, Jaguars
: It's a good time to invest in him. The Jaguars have done well against the Colts, too.
75. Charles Sims, RB, Buccaneers
: The Bucs are in no hurry, but fantasy owners would like to see Sims do something positive.
76. Terrance West, RB, Browns
: A wise handcuff at this point.
77. Rueben Randle, WR, Giants
: Giants have a friendly schedule and this fellow sees many targets. Good time to invest here as well, though chances are you've got three better WR options.
78. Larry Fitzgerald, WR, Cardinals
: Tough injury and matchup this week. Try to avoid.
79. Bryce Brown, RB, Bills
80. Kenny Stills, WR, Saints
: This is the Saints WR who should really emerge with
Brandin Cooks
out.
81. Andrew Hawkins, WR, Browns
: Should still help PPR owners, despite Gordon's return.
82. Alfred Blue, RB, Texans
: Has proved himself in case Foster can't go. Instant RB2 Sunday if Foster sits.
83. Pierre Garcon, WR, Redskins
84. Jason Witten, TE, Cowboys
85. Reggie Bush, RB, Lions
: Last topped five fantasy points in Week 3. So why are you still thinking of playing him?
86. Matt Asiata, RB, Vikings
: Best time to use him is in a two-week playoff when you're down big and need a three-touchdown performance. He's currently questionable for Sunday with a concussion.
87. Steve Smith, WR, Ravens
88. Eric Decker, WR, Jets
89. Allen Hurns, WR, Jaguars
90. Daniel Herron, RB, Colts
: Ohio State product isn't special, but neither is Trent Richardson.
91. Terrance Williams, WR, Cowboys
92. Malcom Floyd, WR, Chargers
93. Kendall Wright, WR, Titans
94. Kenny Britt, WR, Rams
: Comes off best game in years, but he's burned a lot of fantasy bridges.
95. Travis Kelce, TE, Chiefs
: When
Alex Smith
is looking for a red zone target, here's where he looks. He just doesn't look too often.
96. Bobby Rainey, RB, Buccaneers
: Could've been a productive flex option for us, but the Bucs said no.
97. Juwan Thompson, RB, Broncos
: Easy to see a scenario in which he soon matters.
98. James Jones, WR, Raiders
99. Coby Fleener, TE, Colts
100. Darren McFadden, RB, Raiders
: He used to be good. And no, there's no guarantee
Latavius Murray
gets enough touches to matter.
Others:
Wes Welker
, WR, Broncos;
Jarvis Landry
, WR, Dolphins;
Branden Oliver
, RB, Chargers;
John Brown
, WR, Cardinals; Latavius Murray, RB, Raiders;
Justin Hunter
, WR, Titans;
Knile Davis
, RB, Chiefs;
Theo Riddick
, RB, Lions;
Dwayne Bowe
, WR, Chiefs;
Lorenzo Taliaferro
, RB, Ravens;
Chris Johnson
, RB, Jets;
Devonta Freeman
, RB, Falcons;
Roy Helu
, RB, Redskins;
Andre Williams
, RB, Giants
To continue reading this article you must be an Insider