December, 4, 2013
Dec 4
1:30
PM ET
Kansas City Chiefs
quarterback
Alex Smith
ranks
11th overall in standard fantasy scoring
this season, ninth among quarterbacks, and neither mark should be too surprising. After all, he finished the 2011 season just outside the top 10 in quarterback scoring and didn't exactly lose his job in San Francisco due to
his
performance. The biggest concern for the playoff-bound Chiefs certainly isn't quarterback play, but rather their defense, which was shredded by
Peyton Manning
and
Philip Rivers
for a combined 59 fantasy points over the past fortnight. Smith has performed well, topping 20 fantasy points each of the past three games and in four of five, and he's very much a reasonable starting option for playoff-bound fantasy owners in Week 14 as he faces the beleaguered
Washington Redskins
. That's why I ranked him among my top-10 quarterbacks.
I often find it surprising that many fantasy owners change their lineup decision-making process once December and the playoffs arrive. The tweets are rather hilarious all season, the "I really need a win!" ones -- which seems to imply that there are weeks when one does not need to win -- but now the decisions are "truly critical!" Obviously, a Week 14 matchup carries more weight than one in Week 4. Lose this week and your season could end. But the philosophy behind which fantasy options should be active isn't any different. Play your best options! Colleague Tristan H. Cockcroft and I discussed our respective thought processes for playoff time on Tuesday's Spreecast, and we're of a similar mind that it's a delicate cross between trusting the top players and examining matchups that perhaps favor the unreliable. Go with your gut. In Smith's case, my gut continues to tell me, in context with other quarterback options, that he should be trusted and the matchup is pretty sweet.


[+]Enlarge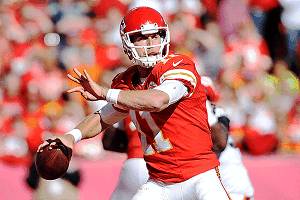 Denny Medley/USA TODAY SportsAlex Smith has scored more fantasy points than RG III, Tom Brady and Colin Kaepernick, among others.


That's not to say Smith will automatically produce. After all, he produced single digits for fantasy owners on three occasions this season, and a couple of them came in what seemed to be attractive matchups (versus Oakland, at Buffalo). But how many players are truly safe, especially at quarterback? I noted in Tuesday's end-of-season rankings update that as of today, there are seven quarterbacks I would leave active at all times, regardless of matchup, weather, whatever. Smith isn't in that class, but he's in the next tier, and this week the matchup -- and his recent play -- dictates a promotion to the top 10. After all, this guy is top 10 among quarterbacks for the season, so it's not exactly a stretch! This week I don't particularly like the San Francisco 49ers' Colin Kaepernick (versus Seattle), slumping Indianapolis Colts leader Andrew Luck (at Cincinnati) or inconsistent Redskins hobbler Robert Griffin III (versus Kansas City). The oft-used fantasy line about winning with your best options favors Smith in this case, actually: He has outscored Kaepernick and Griffin, and the way Luck has played of late, that's really no contest. This week Smith is one of the better options, and looking at the rest of December, I don't see a single worrisome matchup (at Oakland, versus Indianapolis, at San Diego). Yes, Alex Smith really can be the quarterback on a fantasy championship team. It's true!

As for Smith's teammates, running back Jamaal Charles is always a strong option, but wide receiver Dwayne Bowe still seems a bit overrated to me. I did not consider him among my top-20 options at the position, for Smith actually has been spreading the target love around quite a bit. Bowe hasn't topped 11 standard fantasy points in a game all season, so he's more flex choice than top choice, if you will. Remember, Charles leads the Chiefs in receiving targets. It's OK to trust a quarterback without also leaning toward his wide receiver options.

Quarterback: In addition to Smith seizing a top-10 spot, Chicago Bears journeyman Josh McCown was in the spot right after him. McCown has thrown for more than 700 passing yards over the past two weeks, and it seems difficult to imagine the Dallas Cowboys -- fantasy's second-easiest D for opposing quarterbacks to pile up the points against -- keeping Brandon Marshall and Alshon Jeffery under control. Go with McCown -- but if Jay Cutler is active, go with him. I really doubt Cutler will play, though. … There's a huge disparity on the fantasy staff about the Atlanta Falcons' Matt Ryan this week. I like the matchup at Green Bay, but I ranked him 14th. We have a No. 8 and a No. 24. Wow! … I guess, compared to others, the capable (at least to me) Ryan Fitzpatrick is my sleeper at Denver, considering he's my No. 15 option.


[+]Enlarge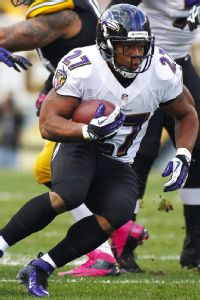 Justin K. Aller/Getty ImagesRay Rice has a favorable matchup this week, but it's tough to trust him, given his play this season.


Running back: Good to see nobody was concerned about the New York Giants' Andre Brown. Tens across the board! … My Le'Veon Bell rank is obviously predicated on his playing. If he's active, though, I have no major concerns. It's a concussion, not a balky knee or hamstring. If he's cleared, you're clear. … Sure, the last time Ray Rice faced a bad run defense, he did well. But I still don't trust him. He missed my top 20, and it wasn't close. I'd rather use Steven Jackson. … I do see Chris Ivory bouncing back this week. … I was the only analyst to rank Stevan Ridley, but obviously I'd like some assurance by Sunday that he's going to be active. He's not an RB2, and not a flex. But c'mon, the guy can play.

Wide receiver: It seems a lot of owners are concerned about Josh Gordon because the soap opera that is the Cleveland Browns continues to turn. Someone named Alex Tanney could be starting for them this week. Hey, where's Brian Sipe? He's only 64. My point here about trusting Gordon is that he's talented, and he's playing well, so why do we all assume Tanney (or Caleb Hanie) will be awful? What if Tanney can play? Brian Hoyer got similar treatment. Well, he played well! Don't get cute; stick with Gordon. … Stick with Alshon Jeffery, too. He's my No. 10 guy. Don't care who his quarterback will be. … I do have some concern about Antonio Brown, considering the Miami Dolphins have permitted just one touchdown to a wide receiver all season. But he's still my No. 15 guy. He should get his yards, and I think he will score, too. … I actually think Matt Flynn and the Packers will score points on Atlanta, which is why I ranked Jordy Nelson as a borderline WR2. Others ranked him higher. I'd rather have Harry Douglas. But not Roddy White. As awesome as White was on Sunday (14 fantasy points), forget about where you drafted him. Go with your best options. If you're playoff-bound, he's probably not one of them.

December, 3, 2013
Dec 3
3:08
PM ET
For those of you who made it and begin your postseason this week, I'd like to be the first to welcome you to the playoffs! It no doubt took plenty of hard work to get here and now is surely worth the time, but the journey is (hopefully) far from over. There's more on the line this week and the rest of December, so let's get right to the penultimate end-of-season rankings, as we sift out value from the positions and place overall perspective on the players who will help us win championships. There are many changes every week, and this one is no different.
Remember, these are not the Week 14 rankings; those will be posted Wednesday.
To continue reading this article you must be an Insider
December, 1, 2013
Dec 1
11:14
PM ET
This was
supposed
to be the season awesome
Buffalo Bills
running back
C.J. Spiller
emerged as a legitimate fantasy superstar, a worthy top-10 choice on draft day. After all, Spiller boasts ridiculous quickness, breakaway speed and elusiveness, and he had seemingly outgrown the annoying timeshare with the older
Fred Jackson
that so frustrated fantasy owners.
This
was the year. Well, perhaps next year will be the one? In fact, why can't it still happen next year?
To continue reading this article you must be an Insider
November, 27, 2013
Nov 27
3:35
PM ET
One might think the lineup decisions are tougher when bye weeks remove significant players from consideration, but now that there are
more
names, it gets more difficult for unsure owners. After all, look at the flex rankings. Some decent players didn't make the top 100 because there are so many options. One should continue to play the best ones, in some cases regardless of matchups and always taking into account injury. Perhaps weather will also rear its cold and windy head this weekend. Bottom line: Here are one man's thoughts on the best running backs, wide receivers and tight ends nestled into one tidy package.
Got questions? Sure you do! Well, we're here to help, and if the flex rankings below aren't enough or you want other opinions, check through the loads of information we provide in columns, blogs, chats, videos, Spreecasts, podcasts and more! As for my Wednesday chat session,
here is the link
! And here are the
staff rankings
!
Happy Thanksgiving to all and best of luck with your fantasy teams in Week 13 and beyond!
To continue reading this article you must be an Insider

November, 27, 2013
Nov 27
1:21
PM ET
The last time
Matt Flynn
started a game for the
Green Bay Packers
, it went fairly well. It was pretty much historic, actually. Flynn threw for 480 yards and six touchdowns in a Week 17 game against the
Detroit Lions
to end the 2011 regular season, setting himself up for wondrous future riches elsewhere. The journey has been a bumpy one since leaving Lambeau, but hey, his accountant isn't complaining. On Thursday, Flynn is slated to start again, with all the world watching in the first of the Thanksgiving Day games, and while I'll take the under --
way
under -- on another 39 fantasy points (nearly half his
career
total!) I do expect a fantasy-relevant performance.
Flynn's arm strength isn't really what scouts would call a strength, but it should be good enough to make at least two and perhaps all three of his main wide receivers relevant for our purposes. In the Week 13 rankings, Flynn barely made our consensus top-20 quarterbacks. I have him 18th. Yeah, I could definitely see 15 fantasy points pending. But the real key is relying on
Jordy Nelson
,
Jarrett Boykin
and
James Jones
. I ranked them 11th, 18th and 25th, respectively, with the latter two marks being the best of the group, signifying a bit more trust. Why not? The Lions have been brutal defensively for months; while the
Philadelphia Eagles
are permitting the
most fantasy points to wide receivers
for the season, the recent trends say the Lions are considerably worse. Wide receivers have accrued more than 30 points against Detroit in six of eight games, and 12 touchdown receptions over five outings.
[+]Enlarge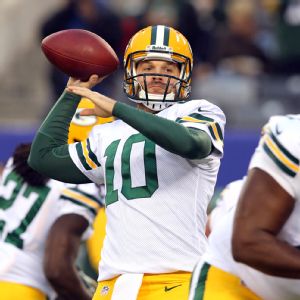 Brad Penner/USA TODAY SportsMatt Flynn helped spark a rally from a 16-point deficit early in the fourth quarter in the Packers' tie with the Vikings on Sunday.
The question can reasonably be asked whether Nelson is even the top Packers wide receiver at this point. After all, fantasy owners and analysts shouldn't simply trust something the statistics don't support. The awesome Aaron Rodgers last played a full game in Week 8 at Minnesota. Nelson hasn't caught a touchdown pass since, and topped 70 receiving yards in just one of the four games, totaling 27 fantasy points. Boykin, the most-dropped option in fantasy entering Week 10, has 33 fantasy points in that span, 32 of them the past three weeks. Boykin isn't being used exclusively out of the slot like the injured Randall Cobb was, but he's also not a pure deep threat, which is fine because Flynn doesn't air out 40-yard spirals too often. Boykin is simply productive. One could argue the difference in Nelson and Boykin in the rankings should be smaller. But I still trust Nelson. I trust Boykin, too. And Jones is more of a flex choice, in my mind. I'm expecting a good ol' fashioned shootout Thursday -- I made the Lions' Matthew Stafford my No. 1 quarterback for the week! -- so buckle up, get your Week 13 lineups set early and enjoy Thanksgiving Day!

In other Thursday action, watch the Oakland Raiders and Dallas Cowboys pile up the points as well. After all, who is going to stop them? Somehow the Cowboys boast a first-place team despite permitting the most fantasy points to quarterbacks and running backs through 12 weeks, which I can never recall seeing previously. And they're not good against wide receivers or tight ends, either. The Raiders' Matt McGloin continues to have that Nick Foles look about him. He also wasn't supposed to be special -- he wasn't even drafted in real life -- but he has replaced an electric running quarterback who wasn't healthy and has avoided turnovers. As of Tuesday morning, we don't know if wide receiver Denarius Moore will play through a shoulder injury, but if he does, he's a top-25 guy. I like Rod Streater, too. Oh, and Rashad Jennings! No, I'm not terribly concerned about Wally Pipp -- um, I mean Darren McFadden -- getting many touches, if he's even able to suit up. And by the way, the Cowboys will move the ball at will as well. Should be a blast!

Quarterback: The only somewhat odd name in my top 10 this week is the Chicago Bears' Josh McCown, but the Minnesota Vikings surely aren't playing solid defense. McCown edged out the San Diego Chargers' Philip Rivers for me based on matchup. And it might seem odd that the San Francisco 49ers' Colin Kaepernick, so productive Monday night, doesn't rank well here. Hey, he's not playing the Redskins defense this week. I also think Alex Smith and Ryan Fitzpatrick are better-than-normal plays this week.

Running back: The main theme here is the injuries. I ranked the Bears' Matt Forte, Broncos' Knowshon Moreno, Rams' Zac Stacy, New York Jets' Chris Ivory and Chargers' Ryan Mathews as if all are playing. Perhaps that's optimistic, but they're each varying levels of really productive. I will say that if any of them sits, I don't really like any of the backups. Michael Bush and his historic 1.6 yards-per-carry average make for a terrible option. Montee Ball and Stevan Ridley have more in common than most realize. Benny Cunningham ran for 100 yards in relief of Stacy last week, but let's just say many of us could run wild on that Bears defense. Cunningham is no star, and neither is Bilal Powell. But Danny Woodhead … yeah, if Mathews sits, Woodhead could force his way into the top 20. … As for Ridley, Scrooge Belichick could opt to bury him forever because of the fumbles, but I ranked Ridley 25th. The Patriots should handle the Texans, so why not give Ridley touches? There seems little risk even if he does cough up the football. I ranked Shane Vereen better but I doubt he gets 15 rushing attempts. … None of us ranked the Miami Dolphins' Lamar Miller as if Daniel Thomas was out. But don't drop Miller.


[+]Enlarge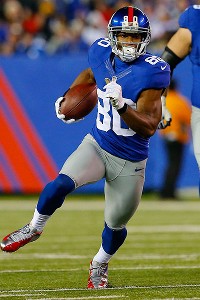 Jim O'Connor/USA TODAY SportsHe hasn't done much of late, but don't sit Victor Cruz this week.


Wide receiver: The temptation is there to sit the Giants' Victor Cruz because he did little against Dallas. But did you see what Anquan Boldin did against the Redskins, Cruz's next foe? Don't bury him, and deep leaguers should watch Rueben Randle. … I trust the Indianapolis Colts' T.Y. Hilton will be fine, actually. Those past two games were on the road, and with some dome teams, it really does matter. Now if Hilton and Andrew Luck lay another egg against the Tennessee Titans, all bets are off. … I continue to be perplexed at the trust everyone has in the Seattle Seahawks' Percy Harvin. I think there are far safer choices, and they have upside, too. … Detroit's Nate Burleson has become beloved, if Twitter and this week's SportsNation chat and Spreecast are any indication, which I find odd. He seems more like a "WR4" for me. By the way, if you didn't see my Tuesday Spreecast with colleague Tristan H. Cockcroft, in which Tristan mistakenly said his favorite food was Green Bay Casserole, I'd check it out!
November, 26, 2013
Nov 26
12:37
PM ET
Happy Thanksgiving week to all! With the trade deadline and bye weeks in the rearview mirror, turkey time and December is nearly here, and that means the fantasy playoffs are also near. We have a few more weeks of end-of-season rankings updates to entertain and inform the masses with, helping fantasy owners gauge the long-term value of free-agent pickups or simply compare options. Enjoy them, and feel free to comment below.
These are
not
the Week 13 rankings; those will be posted on Wednesday. Have thoughts? Hit me up on Twitter at @karabellespn.
To continue reading this article you must be an Insider
November, 24, 2013
Nov 24
10:59
PM ET
There certainly are times when quarterback play is so terrible that it can negatively affect a top-notch wide receiver to the point of statistical irrelevance.
Arizona Cardinals
stud
Larry Fitzgerald
's subpar 2012 is a strong example of that. Now that Fitzgerald has a capable quarterback, he's valuable again. With
Cleveland Browns
wide receiver
Josh Gordon
, it doesn't seem to matter who the quarterback is. On Sunday,
Jason Campbell
and
Brandon Weeden
, not exactly Pro Bowlers, combined for a mere 12 fantasy points, yet Gordon dominated against the
Pittsburgh Steelers
' secondary for 14 receptions, a franchise-record 237 yards and a short touchdown. Entering the Sunday night Broncos-Patriots game, no player had scored more than his
29 standard fantasy points
.
To continue reading this article you must be an Insider
November, 22, 2013
Nov 22
12:13
PM ET
At this point in the fantasy season, pending playoff teams should be taking a good look at rosters, both starters and bench players, and planning ahead for December. The teams fighting to make the playoffs are a bit more concerned with the next two weeks, but still, if your teams get to the dance, make sure they are prepared. ESPN colleague KC Joyner deftly wrote about the best players to acquire via trade earlier this week, but now it's time to dig a bit deeper than Nick Foles and A.J. Green. This is, after all, the weekly sneaky pickups blog entry, so here are players owned in less than 10 percent of ESPN standard leagues worth stashing. By the way, we'll be dealing with keeper pickups for 2014 in early December.
Quarterback: Two names jump out at me, and neither is Tampa Bay Buccaneers rookie Mike Glennon, whom I've praised for weeks. The Bucs, after this week's shootout with the Detroit Lions, still have the Carolina Panthers, San Francisco 49ers, St. Louis Rams and New Orleans Saints to play. But the Tennessee Titans' Ryan Fitzpatrick and Chicago Bears' Josh McCown are in a different situation. Fitzpatrick, a relatively safe, ignored veteran bidding for his fourth consecutive season of 23 or more touchdown passes (yes, really!), closes the season at the Jacksonville Jaguars and hosting the Houston Texans. Let's just say there will be little on the line. While everyone assumes starter Jay Cutler returns any week now, sometimes week-to-week becomes quite a bit more. McCown/Cutler has a home game with the shell of the Dallas Cowboys secondary in Week 14, and doesn't face a top passing defense after that. How could Fitzpatrick or McCown/Cutler matter? Well, Aaron Rodgers got hurt, didn't he? Anyone can. And what if the Denver Broncos lock everything up in the next few weeks? Peyton Manning could miss a game or two.
To continue reading this article you must be an Insider
November, 21, 2013
Nov 21
11:39
AM ET
The trade deadline in ESPN standard leagues has passed, and this is the final week of those annoying byes forcing players from our starting lineups. More importantly, you're running out of time to make your playoff run, considering the fantasy playoffs begin (in most leagues) in a few weeks. So make the best lineup decisions you can. We're here today to help you with that. Below you'll find the flex rankings for Week 12, combining the best of the running backs, wide receivers and tight ends into one tidy package.
Got questions? If so, we're here to help, and if the flex rankings below aren't enough or you want other opinions, check through the loads of information we provide in columns, blogs, chats, video, podcasts and more. As for my Wednesday chat session,
here's the link
. And here are the
Week 12 staff rankings
.
To continue reading this article you must be an Insider

November, 20, 2013
Nov 20
1:12
PM ET
It was around this time a year ago that fantasy owners were officially tired of running back
Rashad Jennings
. Then the starter for the
Jacksonville Jaguars
, Jennings replaced an injured
Maurice Jones-Drew
, but he did little with his opportunity despite getting enough touches and having decent matchups to succeed. Then Jennings' season ended because of a shoulder problem and most fantasy owners were happy to forget his name. Well,
that guy
is my No. 11 running back in the
Week 12 rankings
, one spot behind
Tennessee Titans
star
Chris Johnson
, whose team travels to the Bay Area to face Jennings'
Oakland Raiders
.
[+]Enlarge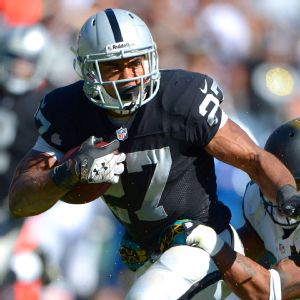 Kirby Lee/USA TODAY SportsRashad Jennings has rushed for 340 yards over his past three games.
If it sounds strange that Jennings could go from irrelevant to nearly an RB1 so quickly, well, you haven't been paying attention to the strange running back position this wacky season. Quarterback and wide receiver performance has been fairly predictable. Sure, there's the occasional shocker, the unsung youngster becoming reliable (
Mike Glennon
,
Alshon Jeffery
) and the safe veteran becoming unreliable (
Eli Manning
,
Mike Wallace
), but at running back, half of the original top 10 tortured fantasy owners, and new names -- or old names resurfacing -- became impact plays in minutes. Guys like Jennings,
Zac Stacy
,
Andre Brown
,
Ben Tate
and
Bobby Rainey
have become instant stars. Just look at the rankings! Rainey is our No. 21 running back, and two weeks ago he was unranked.
These guys are saving fantasy owners. Jennings, for all his underachieving in Jacksonville, has provided a pair of 20-plus-point (standard scoring) fantasy efforts this month. Johnson and the
Seattle Seahawks
'
Marshawn Lynch
are the only other running backs to do this in November. So if you're wondering how Rashad Jennings nearly made my top 10, well, that's how!
With the way the annoying running back position has gone this season, perhaps this sets us all up for Jennings to rush 13 times for 6 yards, like
C.J. Spiller
did in Week 11, or worse yet, to simply lose the touches to
Darren McFadden
, the brittle starter whose balky hamstring opened this opportunity for Jennings, an overlooked free-agent signing, in the first place. Wait, McFadden's hurt? No way! Yes, it's true, as shocking as that seems. And McFadden's history of returning slowly from injuries is well established. Raiders coach Dennis Allen told reporters Monday that Jennings "has earned the right to carry the ball … he's going to get his touches," which is awesome, but we should be conditioned by now to never believe a coach. Suuuuuure, and Andre Brown will be worked back in
slowly
. Regardless, I don't see McFadden playing this week, and Jennings, who has totaled 176, 107 and 148 yards the past three weeks, gets to face a Titans defense that allows nearly
20 points per game
to opposing running backs, fifth-most in the NFL, and has permitted two touchdowns to running backs in each of the past five games! What could go wrong?
Well, in the name of
Andre Ellington
,
Brian Leonard
,
Steven Jackson
,
Lamar Miller
and, of course,
Trent Richardson
, let's not answer that last question. Things go awry constantly. But based on the information we
do
know, Rashad Jennings, one of the
most added players
over the past seven days but still available in a good 40 percent of standard leagues, is a very nice play this week. Believe it!
Quarterback:
I liked the way Raiders quarterback and Penn State product
Matt McGloin
played in his starting debut, but the Titans are far more difficult to throw against. If McGloin keeps the job over
Terrelle Pryor
, I could see the occasional top-20 ranking for him in future weeks. Just not in Week 12. … I keep sounding the bell for
Tampa Bay Buccaneers
rookie Glennon, the guy with five 15-point fantasy performances in six weeks -- has your starting QB done this? -- and he reaches top-10 status for me this week as he heads to Detroit. The Lions can be thrown on, in case you haven't noticed.
Vincent Jackson
has to be licking his proverbial chops. …
Drew Brees
over
Peyton Manning
this week? Oh, Brees plays the Falcons. Ah, makes sense! I'd probably start
Shane Falco
against the Falcons. … I'm not off the
Colin Kaepernick
bandwagon, but the Redskins aren't the defensive sieve they were two months ago (when they faced a healthy
Michael Vick
,
Aaron Rodgers
and
Matthew Stafford
). I just like 10 other quarterbacks better than Kaepernick. … If
Case Keenum
was playing at Seattle, he wouldn't be my No. 13 QB. It's Jacksonville. And with the backlash on Keenum being yanked for
Matt Schaub
, I doubt that happens again. … Sorry, but I cannot trust the erratic
Carson Palmer
like my colleagues are. Don't we have sufficient evidence of his inconsistency?
[+]Enlarge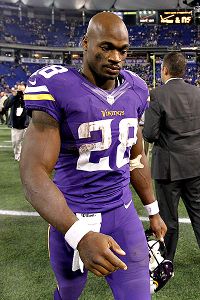 AP Photo/Ann HeisenfeltOf course you start Adrian Peterson this week (if he plays), but curb your expectations.
Running back:
You bet I'm hedging just a bit on the great
Adrian Peterson
and his groin injury that he claims has him at 65 percent. Of course, given his immense upside, I still had to rank him third. But I could see him sitting out half the game again when
Scott Tolzien
blows up the Vikings' sorry defense. By the way, I ranked
Toby Gerhart
, just in case, but if it's clear that Peterson is fine by Friday, I'll remove him. … Zac Stacy is our No. 6 running back. Could you have imagined that in September? … I'm sticking with
Reggie Bush
. He's obviously very sorry he fumbled the ball, but the Lions did nothing in the second half with him benched. He's still a top-10 RB to me. … The Ravens can be run on,
Chris Ivory
can run, and it's clear he's the lead ball carrier now.
Bilal Powell
better not get 25 touches! …
Shane Vereen
is essentially in a platoon with
LeGarrette Blount
. Vereen catches the ball, Blount runs it. But
Stevan Ridley
is safe. I think. … Is Steven Jackson a top-30 running back? How can he be considered one, given his body of work this season? Give me the emerging
Chris Ogbonnaya
instead.
Wide receiver:
There's so much depth here that it's tough to suddenly exalt an ordinary option over safe ones. The top 20 is typical. I like
Harry Douglas
,
Jarrett Boykin
,
James Jones
and
Hakeem Nicks
more than most. Tolzien, all jokes aside, has been fine throwing the football, but the Vikings haven't been fine defending it. And no, I don't think
Roddy White
is better than Douglas. As for Nicks, watch the Cowboys and Giants put up 30-plus points against each other. …
Dwayne Bowe
as a potential flex? Well, the matchup against the Chargers is kind. But I'm hesitant to consider him a flex option. …
Nate Burleson
and
Miles Austin
are both expected to play this week. Of course, I ranked them 49th and 50th, respectively. Let's just say you shouldn't tear up your roster to get them active.
November, 19, 2013
Nov 19
12:59
PM ET
Those of you who use the end-of-season rankings to help make trades are running out of time to do your wheelin' and dealin', at least in ESPN standard leagues; the trade deadline in those leagues is Wednesday at noon ET. So if you're pondering a deal and notice a player you want to sell high on is ranked below a player you're aiming to acquire, do it up! After all, the fantasy playoffs are approaching, and you want to be prepared. Hey, we're just here to help.
Remember, these are
not
the Week 12 rankings; those will be posted on Wednesday. Have thoughts? Hit me up on Twitter at @karabellespn. Enjoy!
To continue reading this article you must be an Insider
November, 17, 2013
Nov 17
11:07
PM ET
Let's be fair to
Seattle Seahawks
wide receiver
Percy Harvin
: He certainly looked healthy while making a pretty one-handed reception in the second quarter of Sunday's 41-20 win over the hapless
Minnesota Vikings
, and he impacted the game on a cool 58-yard kickoff return a few minutes later. Then again, the many fantasy owners who waited 10 weeks to activate the superstar were rewarded with one lonely fantasy point, barely impacting their matchups. Harvin's debut was statistically quiet, even against the brutal team that gave up on him earlier this year, but optimistic fantasy owners can probably be fooled. They're likely to buy in because Harvin's two awesome plays were "SportsCenter"-worthy, and the explosive Seahawks are 10-1 and cruising their way to January.
Of course, that's precisely why a player with one fantasy point this entire season can still be sold high. Perception is often more important than reality. The Seahawks have five games remaining this season after the Week 12 bye, and there isn't a terrible opposing defense among them. There's certainly nobody like the Vikings or last week's dreadful foe, the embarrassing
Atlanta Falcons
, looming. This is the time of year when potential fantasy playoff entrants should be looking at the December schedule -- for it surely
does
matter -- and check out recent trends, not season statistics. For example, the
New York Giants
defense that hosts the Seahawks across the country in Week 15 has played much better over the past month, with regular double-digit fantasy outings. With the ESPN standard-league trade deadline approaching this
Wednesday at noon ET
-- trades must be offered and accepted by then -- time's a wastin' on selling high. It's precisely time to do this with Seahawks like Harvin and potentially with quarterback
Russell Wilson
, running back
Marshawn Lynch
and frankly, the team's defense.
[+]Enlarge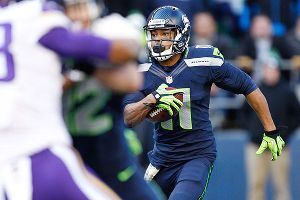 Joe Nicholson/USA TODAY SportsPercy Harvin is starting in just 7.8 percent of ESPN standard leagues this week.
To continue reading this article you must be an Insider
November, 15, 2013
Nov 15
10:39
AM ET
The Baltimore Ravens are clearly having trouble running the football, so it might seem odd to recommend any of their running backs at this point. Starter Ray Rice is averaging 2.5 yards per carry, and backup Bernard Pierce is at 2.8 yards per rush, and only two teams have fewer rushing yards (the Jacksonville Jaguars and Atlanta Falcons). Fantasy owners are mighty displeased with Rice, as the consensus top-5 pick entered Week 11 ranked in a tie for 47th in standard running back scoring, with fewer points than Jason Snelling and Chris Ogbonnaya. He's no longer even a realistic RB2 option, let alone top-10 choice. So, what does this have to do with our weekly Friday look at sneaky fantasy pickups?
[+] Enlarge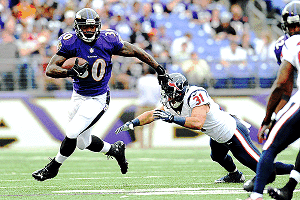 Evan Habeeb/USA TODAY SportsBernard Pierce still has a chance to be the Ravens' top back this season, given Ray Rice's struggles.
Well, Rice is showing little sign of improvement, and coach John Harbaugh seems to have finally acknowledged this fact, proclaiming this week that the running back who will play for him is the one playing better. That at least opens the door for Pierce, who looked pretty good in limited Week 10 work when he carried eight times for 31 yards against the Cincinnati Bengals. He still has a mere 12 standard fantasy points over six games, but Rice has been getting most of the touches and hasn't topped six fantasy points or 45 rushing yards since Week 5. It's painful but wise to sit Rice in a fantasy league. The fact he averaged 1,266 rushing yards -- and another 610 receiving -- the past four seasons is irrelevant today, as he's on pace for a mere 800 total yards. The point here is that if Rice and Pierce are seen as competing for touches, and one of these players is owned in roughly half of ESPN's standard leagues, then there's the value.
To continue reading this article you must be an Insider
November, 14, 2013
Nov 14
11:49
AM ET
Welcome to Thursday, that magical time of the week when a new set of football games begins and we gather up the top running backs, wide receivers and tight ends to form our flex rankings. Quite a bit changes from week to week. There are injuries, players not performing as expected, and more affecting the rankings below, but with only two teams on bye this week (
Dallas Cowboys
,
St. Louis Rams
), that should make things a bit easier.
Got questions? Sure you do! Well, we're here to help, and if the flex rankings below aren't enough or you want other opinions, check through the loads of information we provide in our columns, blogs, chats, video, podcasts and more. As for my Wednesday chat session,
here's the link
. And here are the
Week 11 staff rankings
.
To continue reading this article you must be an Insider

November, 13, 2013
Nov 13
12:51
PM ET
Fantasy analysts often cite small sample sizes as reasons to avoid believing in a certain player or team, but by Week 11, this is really no longer an issue. For example, we know which players aren't likely to turn things around -- such as
Ray Rice
and
Trent Richardson
-- and which teams can and can't stop opposing passing and running games. As such, my quarterback rankings might look a bit odd this week in relation to others, with some big names having been passed by, well, some "non-big" names.
Nick Foles
and
Case Keenum
are in my top 10,
Tom Brady
is not. Sometimes it really is all about the matchups, and I think the
Carolina Panthers
are a scary matchup.
[+]Enlarge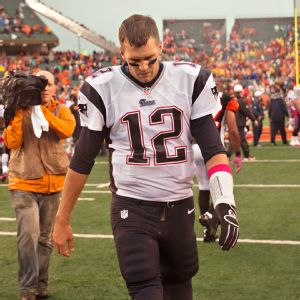 Matthew J. Lee/Getty ImagesFacts are facts: Tom Brady has scored in the single digits (standard fantasy scoring) in three of his past five games.
I'm actually a tad surprised in the confidence others have in Brady this week as his
New England Patriots
travel to face those defensive-minded Panthers on Monday night. The Panthers are good.
Really good
. No team has allowed
fewer fantasy points to opposing quarterbacks
and wide receivers, and only a handful allow fewer fantasy points to running backs. Sure, the Patriots scored 55 points at home against the
Pittsburgh Steelers
in their last game, and many a fantasy owner will blindly trust future Hall of Famer Brady, who threw for 432 yards and four touchdowns that fine day. But he's still not even close to a top-10 quarterback in fantasy scoring for the season, and he has the toughest matchup out there.
The
Kansas City Chiefs
and
Seattle Seahawks
play great defense, but check out the Panthers. Last week they went across the country to San Francisco and held
Colin Kaepernick
, who incidentally has only one fewer fantasy point than Brady this season, to 91 passing yards and just two fantasy points. In fact, the Panthers haven't allowed more than 15 fantasy points to any quarterback in a game this season! I grant you that they haven't played Drew Brees or the good Manning, but still. Meanwhile, Brady has
more than
15 points in a mere two of nine games. Sorry, give me
Tampa Bay Buccaneers
rookie
Mike Glennon
instead; before Monday night, he had four consecutive performances of 15 fantasy points or better, and now he faces the terrible
Atlanta Falcons
. Big, big matchup difference there. This isn't about historical achievements or loyalty. It's about Week 11 fantasy points.
It's certainly possible that Brady's performance in his last game translates to 20-plus fantasy points against the Panthers and the rest of the way, but I'm selling here. After all, comparing Kaepernick to Brady is apples to oranges. I just think by Week 11 -- and really, six weeks earlier -- we dispense with the deep past and the preseason rankings and trust the cold, hard facts. The Patriots, lest we forget, have struggled offensively this season, save for their last game. The Panthers, meanwhile, have dominated defensively. Perhaps
Stevan Ridley
breaks a long run or scores a touchdown to validate his performance. He did, after all, make my top 20 running backs, though somewhat due to the fact that I simply couldn't find 20 others I liked. But
Danny Amendola
or
Aaron Dobson
against this defense? I'll pass. I'll stick with
Rob Gronkowski
, since the Panthers haven't been as awesome against that position, and Gronk is, when he's on the field at least, special. But be wary of his teammates.
Quarterback:
Peyton Manning
scares me, I have to admit. I trust that he's healthy enough this week to produce worthy numbers against the awesome Chiefs, but you bet I'd make sure I had a strong backup for December. The way he's limping around, I think it's more than Manning's Week 17 that is in jeopardy. … Philly's Foles isn't in my top 10 because he's "hot." I don't buy the whole "hot quarterback" thing. Ask anyone who fell for the
Andy Dalton
act a few weeks ago about that. But I like Foles' matchup this week, and while he was awfully fortunate on a few of his passes at Green Bay, he's not turning the ball over, either. I also don't buy home/road splits. Playing well at home is not a skill. … Why Glennon? Well, look at the Falcons! Not to mention the Buccaneers aren't going to waste the awesome skills of
Vincent Jackson
. This doesn't mean Glennon is better than Tom Brady; it simply means he's a better option for Week 11. Matchups matter, folks. … I'm off the
Terrelle Pryor
bandwagon. He threw so poorly in Week 10 -- even by his standards -- that I'm wondering when
Matthew McGloin
will come in. It'd probably take an injury for that to happen.
[+]Enlarge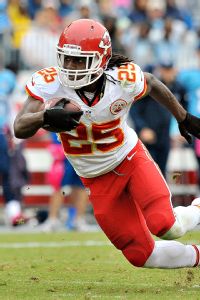 Jim Brown/USA TODAY SportsThere's no reason for concern that Jamaal Charles is facing the league's fourth-best run defense in terms of rushing yards allowed.
Running back:
I wouldn't go out of my way to sit
Knowshon Moreno
, but yeah, facing that Chiefs defense matters. You bet it does. Someone asked me about sitting
Jamaal Charles
, noting that the Broncos do well against the run. You know why that is? Because the Broncos score so much that other teams have to pass to keep up. This week, though, the Chiefs will run the ball. …
Andre Brown
,
Ben Tate
and
Chris Ivory
are top-20 running backs this week. Think about that. Hey, in their cases, opportunity meets matchup. … Don't shy away from Miami's
Lamar Miller
. Yeah, he was awful on Monday, but he's just inconsistent. He's not Trent Richardson. And the Dolphins have nice matchups the rest of the season. Miller will matter. Don't sit him because of one bad game. … I nearly ranked
Bernard Pierce
better than Ray Rice. What's the risk? Rice is doing very little. I actually think it'll be a more equal timeshare this week. … I don't care how good the matchup is for Richardson. Has anyone been watching him play? I felt dirty ranking him at all. He has 99 rushing yards in his past four games! … If the Patriots were playing an average defense, I'd like
Shane Vereen
as a potential top-35 guy. They're not, as previously detailed. … You're making a mistake if you're relying on
Mark Ingram
. Sell high. Quickly.
Wide receiver:
Percy Harvin
hasn't played a game
all season
. I see the upside and the revenge angle against his former
Minnesota Vikings
teammates, but top-20 receiver? No. I'm not confident he plays a lot. I'm not even confident he plays. Give me
Golden Tate
instead, definitely, and if I miss Harvin's
Tavon Austin
-like breakout performance, so be it. … I understand those arguing
this
is the week
Dwayne Bowe
does something good (on the field), because it could be a shootout in Denver. But I don't think it will be a shootout. … Part of the reason I like Josh McCown this week is because
Alshon Jeffery
is so good; he's such a great complement to
Brandon Marshall
. If Brady had those weapons, the opposing defense wouldn't matter as much. … Similarly, the Bears can't stop the passing game.
Torrey Smith
is scoring a touchdown this week. I should have ranked
Marlon Brown
in the top 40, too.