December, 11, 2014
Dec 11
11:47
AM ET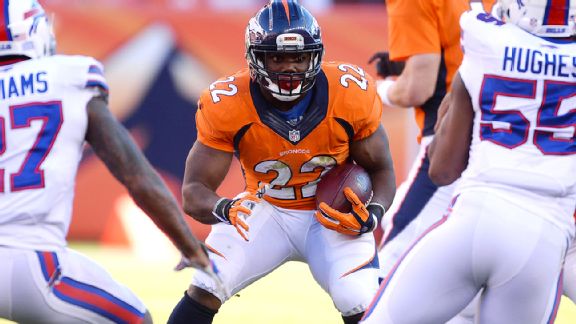 Ron Chenoy/USA TODAY SportsThe red-hot C.J. Anderson has emerged as a must-start player every week.
For many in ESPN leagues, this is going to be the final week of the fantasy season, as it's the playoff semifinals and, well, someone's going to win each matchup and someone's going to lose. Hopefully you're on the winning side, and these rankings, along with the multitude of information provided by me and my far smarter colleagues at ESPN Fantasy, worked to inform and entertain you along the way. So, here is the latest compilation of the top running backs, wide receivers and tight ends all in one tidy list. Whether you're trailing or leading, pick the best options.
And as always, best of luck to all in Week 15 and beyond!
1. Le'Veon Bell, RB, Steelers: He's certainly on his way to finishing as fantasy's top non-quarterback. Matchups no longer matter with him.

2. Arian Foster, RB, Texans: Regularly torches the Colts, and this weekend shouldn't be any different. Nice to see him healthy again.

3. Jamaal Charles, RB, Chiefs: Like Foster, he's achieved great success against this week's foe, the Raiders. Well really, who hasn't?

4. Matt Forte, RB, Bears: He might end up with more than 100 receptions. I'd like to see that, actually.

5. DeMarco Murray, RB, Cowboys: Still really, really good, and still really, really healthy. For those who thought it wasn't possible.

6. LeSean McCoy, RB, Eagles

7. C.J. Anderson, RB, Broncos: Tough to be too concerned about a player with 22 or more fantasy points in four of five games.

8. Antonio Brown, WR, Steelers: There's literally nobody else we can count on for this many receptions and yards every week. Brown is amazing. Only two running backs have outscored him.

9. Justin Forsett, RB, Ravens

10. Calvin Johnson, WR, Lions: With more than 300 receiving yards the past two weeks, there are clearly no concerns here.

11. Marshawn Lynch, RB, Seahawks: Topped 100 rushing yards against the 49ers a few weeks ago, and now he's meeting them at home.

12. Demaryius Thomas, WR, Broncos: Peyton Manning is going to be just fine.

13. Dez Bryant, WR, Cowboys

14. Jordy Nelson, WR, Packers

15. Eddie Lacy, RB, Packers: I think he would have played more had Monday's game been closer. Tough matchup this week, though.

16. Odell Beckham Jr., WR, Giants

17. Mark Ingram, RB, Saints: Assuming the Bears aren't up 28 in the first half, Ingram should get his touches.

18. Julio Jones, WR, Falcons: Well, that was quite the Monday night performance. Could have been better without the hip injury. I think he'll play this week.

19. Alshon Jeffery, WR, Bears: No more Brandon Marshall, so expect better statistics. And they were already really strong.

20. T.Y. Hilton, WR, Colts

21. Alfred Morris, RB, Redskins: We expected he'd struggle against the Rams. He shouldn't struggle against the Giants.

22. Emmanuel Sanders, WR, Broncos

23. Joique Bell, RB, Lions: Stop worrying about the other active Lions running backs! They don't matter!


[+] Enlarge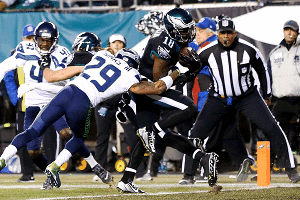 Bill Streicher/USA TODAY SportsJeremy Maclin's touchdown catch was one of the Eagles' few offensive bright spots on Sunday.
24. Jeremy Maclin, WR, Eagles
: Perhaps not as valuable with
Mark Sanchez
at quarterback, but still a legit threat.
25. Randall Cobb, WR, Packers
26. Josh Gordon, WR, Browns
: Hey, Johnny Football has a strong arm. He's going to be throwing and running.
27. Rob Gronkowski, TE, Patriots
: Can't say it matters much to me that he "
likes to snuggle,
" but good for him. Snuggle with the football twice in the end zone, OK?
28. LeGarrette Blount, RB, Patriots
: He saw 20 of the team's 23 rushes last week. Forget about
Jonas Gray
. Blount's the guy.
29. Chris Ivory, RB, Jets
: Wonderful matchup this week, even if he shares the carries. If he scares you, because he hasn't topped six fantasy points since Week 8, I understand. But it's the Titans!
30. A.J. Green, WR, Bengals
: Look, he's struggled statistically when
Joe Haden
covers him. It's a fact.
31. Kelvin Benjamin, WR, Panthers
: Did fine in Week 1 with
Derek Anderson
at quarterback. Will do fine again.
32. Mike Evans, WR, Buccaneers
33. Rashad Jennings, RB, Giants
34. DeAndre Hopkins, WR, Texans
: From 35 fantasy points to 4. Welcome to fantasy football.
35. Sammy Watkins, WR, Bills
36. Jimmy Graham, TE, Saints
37. Steven Jackson, RB, Falcons
: Double-digits for fantasy in five of six games. Are your starting running backs doing this?
38. Golden Tate, WR, Lions
: Has predictably slowed down since Calvin Johnson returned.
39. Daniel Herron, RB, Colts
: The boom and bust backfield. Herron is boom.
40. Isaiah Crowell, RB, Browns
41. Roddy White, WR, Falcons
: Would not go into Julio Jones' spot should Jones sit. But White would move up 10 spots or so.
42. Jordan Matthews, WR, Eagles
: Forget everything that happened to this offense in the Seattle loss. The Eagles can't beat elite teams. Dallas is not elite.
43. Keenan Allen, WR, Chargers
: Remember, he's done quite well in his career against the Broncos.
44. Latavius Murray, RB, Raiders
: At least the Raiders figured out their other running backs aren't any good.
45. Jonathan Stewart, RB, Panthers
: If he goes another four years before his next 100-yard rushing game, that's a really big problem.
46. Mike Wallace, WR, Dolphins
47. Lamar Miller, RB, Dolphins
48. Julian Edelman, WR, Patriots
: He has two 20-point games in his past five outings. But the next guy has been more consistent. I say use 'em both.
49. Brandon LaFell, WR, Patriots
50. Kenny Stills, WR, Saints
:
Drew Brees
will be more successful this week. It's the Bears.
51. Fred Jackson, RB, Bills
52. Steve Smith, WR, Ravens
[+] Enlarge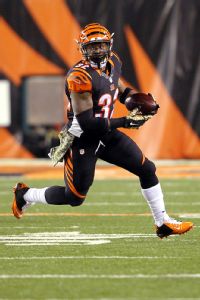 John Grieshop/Getty ImagesJeremy Hill has emerged as the Bengals' running back worth starting.
53. Jeremy Hill, RB, Bengals
: Yep, I'd prefer Hill in the Bengals' backfield.
54. Tre Mason, RB, Rams
55. Chris Johnson, RB, Jets
: Could be his second 100-yard rushing game of the disappointing season. But one shouldn't expect it.
56. DeSean Jackson, WR, Redskins
: No guarantee he plays this week, but his absence clearly affected the offense.
57. Andre Johnson, WR, Texans
58. Giovani Bernard, RB, Bengals
: I'm worried about
Andre Ellington
for next season, and Bernard is similar. It's why teams are reluctant to give too many touches to players like this.
59. Pierre Garcon, WR, Redskins
: Was finally heard from in Week 14.
60. Ryan Mathews, RB, Chargers
61. Terrance West, RB, Browns
: Getting plenty of touches and isn't really the backup here. Of course, it's not about the running game this week.
62. Vincent Jackson, WR, Buccaneers
: Odd season for him. Scored his most points in Week 14, but the two games in which he has touchdowns are his No. 3 and 4 games of the season. Bottom line is he's been disappointing.
63. Martellus Bennett, TE, Bears
64. Frank Gore, RB, 49ers
: Yeah, enough is enough. And this is the highest-ranked 49er.
65. Larry Fitzgerald, WR, Cardinals
66. Trent Richardson, RB, Colts
: Got sweet revenge in his return to Cleveland by rushing for 30 yards. Yawn.
67. Andre Williams, RB, Giants
: Breakout performance or merely a result of facing the Titans? Giants fans probably don't want to know the answer.
68. Torrey Smith, WR, Ravens
: Would have been better had he just not suited up for the game at all.
69. Marques Colston, WR, Saints
70. Martavis Bryant, WR, Steelers
71. Donte Moncrief, WR, Colts
:
Reggie Wayne
has not been shut down for the season due to his injury, so be careful in overrating Moncrief's chance.
72. Shane Vereen, RB, Patriots
73. Doug Martin, RB, Buccaneers
74. Greg Olsen, TE, Panthers
[+] Enlarge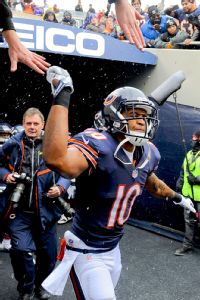 Matt Marton/USA TODAY SportsCan Marquess Wilson come close to matching Brandon Marshall's production?
75. Marquess Wilson, WR, Bears
: Figures to start and thrive with Marshall out, but he's no guarantee.
76. Eric Decker, WR, Jets
: Value goes up assuming
Percy Harvin
sits, but then again, he's still No. 76. Didn't go up too much.
77. Jarvis Landry, WR, Dolphins
78. Kerwynn Williams, RB, Cardinals
: I'm not betting on a repeat performance against the Rams.
79. Delanie Walker, TE, Titans
80. Ben Tate, RB, Vikings
: Someone has to run the ball, and the Vikings claim he'll get a chance.
81. Malcom Floyd, WR, Chargers
82. Antonio Gates, TE, Chargers
83. Julius Thomas, TE, Broncos
: His name seems way out of place in this spot, but are you really sure he'll play and see enough targets? Didn't you think that last week?
84. Toby Gerhart, RB, Jaguars
: Nice season for him. From starter to the bench to only relevant again because
Denard Robinson
is done for the season. Don't invest.
Jordan Todman
probably gets a chance, too.
85. Charles Johnson, WR, Vikings
86. Nate Washington, WR, Titans
87. Anquan Boldin, WR, 49ers
88. Reggie Bush, RB, Lions
: It doesn't matter what round you drafted him in. It's not happening.
89. Bishop Sankey, RB, Titans
: Yeah, same with him. Still think he's the best rookie running back?
90. Michael Floyd, WR, Cardinals
91. Kendall Wright, WR, Titans
92. Doug Baldwin, WR, Seahawks
93. Rueben Randle, WR, Giants
94. Darren Sproles, RB, Eagles
: A few months ago, everyone loved him. But he doesn't get rushing attempts or targets anymore.
95. Matt Asiata, RB, Vikings
: Three touchdowns or bust. Take the bust side.
96. Michael Crabtree, WR, 49ers
: Sure, blame it all on
Colin Kaepernick
if it makes you feel better.
97. Pierre Thomas, RB, Saints
98. James Jones, WR, Raiders
99. Stepfan Taylor, RB, Cardinals
100. Marqise Lee, WR, Jaguars
Others:
Alfred Blue
, RB, Texans;
Larry Donnell
, TE, Giants;
Travis Kelce
, TE, Chiefs;
Lorenzo Taliaferro
, RB, Ravens;
Robert Woods
, WR, Bills;
James Starks
, RB, Packers;
Knile Davis
, RB, Chiefs;
Kamar Aiken
, WR, Ravens;
Anthony Dixon
, RB, Bills;
Allen Hurns
, WR, Jaguars;
Juwan Thompson
, RB, Broncos;
Charles Sims
, RB, Buccaneers;
Jeremy Kerley
, WR, Jets;
Kenny Britt
, WR, Rams
To continue reading this article you must be an Insider