September, 18, 2014
Sep 18
12:34
PM ET
Well, this has been another fun week so far, eh? Injuries and suspensions and, oh my, all that depth you once had after the draft is suddenly not so special anymore. And here's some more good news: Bye weeks start in Week 4! So that's right, the decisions might become easier because you'll have fewer options at your disposal, but ultimately the bye weeks make roster decisions less satisfying, especially in the flex position, because there aren't enough strong options. Regardless, welcome to Week 3 as we combine the top running backs, wide receivers and tight ends and try to make sense of things. That might be the toughest part.
Best of luck to all in Week 3 and beyond!
1. LeSean McCoy, RB, Eagles: Some believe the emergence of his backup is hurting McCoy's value, but he's actually seeing more touches per game than he was last year. It's early. You certainly can't trust the other top-three running backs from draft day right now!

2. DeMarco Murray, RB, Cowboys: Surprise! Hey, nobody said he wasn't good at football. He's really good. We just worried about health and some foolishly believed this franchise's dreadful defense would mean no running game. Silly people!

3. Arian Foster, RB, Texans: So far, so good, but he's also seeing a ton of touches, so look for that to be kept in check in the coming weeks.


[+] Enlarge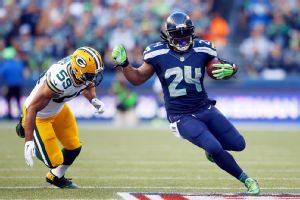 Otto Greule Jr/Getty ImagesMarshawn Lynch hopes to put up big numbers against a Broncos defense that allowed 133 yards rushing to the Chiefs in Week 2.
4. Marshawn Lynch, RB, Seahawks
: Don't fret about the measly six rushing attempts in Week 2. The back problem doesn't appear to be a big deal.
5. Giovani Bernard, RB, Bengals
: Yep, this is a list for standard formats. He's pretty good in PPR, too.
6. Calvin Johnson, WR, Lions
: Still dominant after all these years.
7. Matt Forte, RB, Bears
: Slow start, but a good time to trade for him.
8. Eddie Lacy, RB, Packers
: Also a slow start and a good time to acquire. Remember, last year Lacy did little the first two weeks, and he ended up fine.
9. Alfred Morris, RB, Redskins
: Doesn't matter to him who's playing quarterback.
10. Jordy Nelson, WR, Packers
: People are whining I haven't ranked him well enough. He's 10th!
11. Brandon Marshall, WR, Bears
: Too many people missed out on his three-touchdown game, but blame the Bears, not analysts. It was risky because it was a night game.
12. C.J. Spiller, RB, Bills
: Nobody said he couldn't thrive on returns. We're just worried it gets him hurt.
13. Dez Bryant, WR, Cowboys
14. Zac Stacy, RB, Rams
15. Le'Veon Bell, RB, Steelers
16. Antonio Brown, WR, Steelers
: Picking up where he left off last season. Who covers him is largely irrelevant.
17. Julio Jones, WR, Falcons
18. Jimmy Graham, TE, Saints
19. Montee Ball, RB, Broncos
: Has 40 touches in two weeks. No worries here. Not a great matchup this week, but you can't sit him.
20. Demaryius Thomas, WR, Broncos
21. Knile Davis, RB, Chiefs
: This obviously presumes
Jamaal Charles
can't suit up, which seemed a given a few days ago, but apparently isn't. Just make sure, because if Charles plays, you won't play Davis.
22. Andre Ellington, RB, Cardinals
: Has a new backup running back thanks to
Jonathan Dwyer
getting deactivated by the team, but it doesn't really matter to Ellington.
23. Julian Edelman, WR, Patriots
: I think another 100-reception season is pending.
24. Randall Cobb, WR, Packers
25. Stevan Ridley, RB, Patriots
: I think a 1,000-yard season is pending.
[+] Enlarge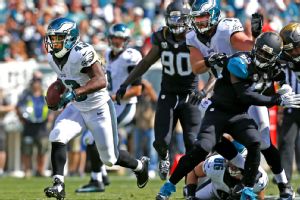 AP Photo/Michael PerezDarren Sproles' 37 standard fantasy points are the most he's ever scored in consecutive games in his career.
26. Darren Sproles, RB, Eagles
: Love the guy, but it's not a bad time to float his name out there in trade talks. He can't keep things up to this level.
27. Andre Johnson, WR, Texans
28. Alshon Jeffery, WR, Bears
29. Rashad Jennings, RB, Giants
: Will he be the lone bright spot on this offense? I think there's upside.
30. Vincent Jackson, WR, Buccaneers
: Don't give up on this talented guy. Big games coming.
31. Frank Gore, RB, 49ers
32. Roddy White, WR, Falcons
33. Julius Thomas, TE, Broncos
34. Jeremy Maclin, WR, Eagles
: Still healthy and on pace for big enough numbers.
35. Chris Johnson, RB, Jets
36. Joique Bell, RB, Lions
: Neither Lions running back did much last week. That should change.
37. Mike Wallace, WR, Dolphins
: There's little question this guy has game. Dolphins are enjoying this.
38. Pierre Garcon, WR, Redskins
39. Pierre Thomas, RB, Saints
40. Marques Colston, WR, Saints
: I'm surprised how people are giving up on him. Saints are headed home. It will get a lot better.
41. Reggie Wayne, WR, Colts
42. Keenan Allen, WR, Chargers
43. Cordarrelle Patterson, WR, Vikings
44. Reggie Bush, RB, Lions
45. Percy Harvin, WR, Seahawks
: One target in Week 2. One. I still think people are overrating him some.
46. Emmanuel Sanders, WR, Broncos
47. Lamar Miller, RB, Dolphins
: No
Knowshon Moreno
for a while, but something tells me Miller won't really emerge as special.
48. Sammy Watkins, WR, Bills
: The key for trusting rookies in fantasy is if they're consistent. It's still possible with Watkins.
49. Golden Tate, WR, Lions
50. Bernard Pierce, RB, Ravens
: His many carries and yards in Week 2 changed his narrative quickly.
51. Doug Martin, RB, Buccaneers
: He needs a game like Pierce had in Week 2. I'm skeptical.
[+] Enlarge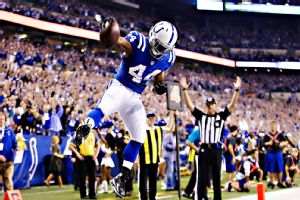 AP Photo/AJ MastAhmad Bradshaw not only has 10 catches already, but has more yards receiving (96) than rushing (85) thus far.
52. Ahmad Bradshaw, RB, Colts
: OK, I trust he can keep playing well more than I do his colleague, you know, the one the Colts traded a first-round pick for.
53. Eric Decker, WR, Jets
54. Michael Floyd, WR, Cardinals
55. Khiry Robinson, RB, Saints
:
Mark Ingram
is out a month and Robinson should get the touches. I think he's a must-own in this offense.
56. Greg Olsen, TE, Panthers
57. Michael Crabtree, WR, 49ers
58. Rob Gronkowski, TE, Patriots
59. Wes Welker, WR, Broncos
: Welcome back! Now go face the Seahawks.
60. Shane Vereen, RB, Patriots
: Way too much preseason love for him.
61. Larry Fitzgerald, WR, Cardinals
62. Kendall Wright, WR, Titans
63. Fred Jackson, RB, Bills
64. DeSean Jackson, WR, Redskins
: Couldn't have more motivation for this game. But the Eagles will be prepared for him.
65. Matt Asiata, RB, Vikings
: Well, it's his job now. I don't own
Adrian Peterson
in any leagues but man, what a drag, eh? Asiata isn't going to replace his numbers.
66. Chris Ivory, RB, Jets
67. Steve Smith, WR, Ravens
68. Brandin Cooks, WR, Saints
69. Victor Cruz, WR, Giants
: I dropped my laptop while typing his analysis.
70. Steven Jackson, RB, Falcons
: His owners want to cut him, but he's not struggling. He's just not getting a ton of touches. Be patient.
71. Bobby Rainey, RB, Buccaneers
: I like him better than Martin, but not sure the Bucs agree.
72. Anquan Boldin, WR, 49ers
73. Trent Richardson, RB, Colts
74. Kelvin Benjamin, WR, Panthers
75. Donald Brown, RB, Chargers
:
Ryan Mathews
is out a while and Brown should get 15 touches, at least.
76. Toby Gerhart, RB, Jaguars
: Hasn't shown much so far, but the Jaguars can't be this bad every game.
77. Terrance West, RB, Browns
78. Torrey Smith, WR, Ravens
79. Danny Woodhead, RB, Chargers
80. Darren McFadden, RB, Raiders
: Yes, he's still in the league. And he's the highest-ranking Raider, though I thought about putting Mark van Eeghen in.
81. DeAndre Hopkins, WR, Texans
82. T.Y. Hilton, WR, Colts
83. Terrance Williams, WR, Cowboys
84. Shonn Greene, RB, Titans
: OK, so he will not get the football when the Titans trail. We get it.
[+] Enlarge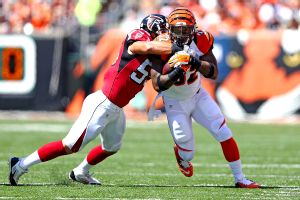 Photo by Andy Lyons/Getty ImagesJeremy Hill's touches may fluctuate each week, but he's shown he can be productive.
85. Jeremy Hill, RB, Bengals
: Can't be assured the Bengals will have a big lead every week, but what if Hill splits the touches in close games? Bernard owners won't be pleased.
86. Dennis Pitta, TE, Ravens
87. Justin Hunter, WR, Titans
: Everything you thought about him being a sleeper can still come true, so try to be patient.
88. Dwayne Bowe, WR, Chiefs
89. Greg Jennings, WR, Vikings
90. Zach Ertz, TE, Eagles
91. DeAngelo Williams, RB, Panthers
: Might not play again this week, but if you're relying on him, wow.
92. James Jones, WR, Raiders
93. Andrew Hawkins, WR, Browns
: Still think the Browns' offense is a joke?
94. Mohamed Sanu, WR, Bengals
: I did not rank
A.J. Green
because I think he will not play, but if he does, he'd be among my top-10 wide receivers. Just so you know.
95. Antonio Gates, TE, Chargers
96. Martellus Bennett, TE, Bears
97. Brian Quick, WR, Rams
98. Riley Cooper, WR, Eagles
99. Vernon Davis, TE, 49ers
100. Justin Forsett, RB, Ravens
Others:
Bishop Sankey
, RB, Titans;
Markus Wheaton
, WR, Steelers;
Jonathan Stewart
, RB, Panthers;
Stepfan Taylor
, RB, Cardinals;
Isaiah Crowell
, RB, Browns;
Jerick McKinnon
, RB, Vikings;
Miles Austin
, WR, Browns;
Rueben Randle
, WR, Giants;
Mike Evans
, WR, Buccaneers;
Maurice Jones-Drew
, RB, Raiders;
Carlos Hyde
, RB, 49ers;
LeGarrette Blount
, RB, Steelers.
To continue reading this article you must be an Insider