Dave Telep Blog:

Jajuan Johnson
January, 30, 2013
Jan 30
12:06
PM ET
History tells us that lurking somewhere at the bottom end of a top-100 prospects list or possibly even outside the list entirely are future college basketball stars. Current college standouts like
Trey Burke
, Doug McDermott and Seth Curry were all either back-end top-100 prospects or not in the top 100 at all.
In this business, there are few sure things. Players mature both physically and emotionally at different rates. Sometimes players aren't ready coming out of high school to be saddled with the expectations of a hyped recruit. In fact, that alone may have aided many of them in their progress.
Regardless, we know that stars will emerge from outside the top 50. So this week's Top 10 list is an attempt to identify those sleepers. That doesn't mean the following players are all going to be elevated either into the top 100 or inside the top 50, but there's reason to believe they have a chance to be more than just college starters down the road.
Here's the criteria: To qualify for this Top 10 list, a player has to be outside ESPN's top-50 prospects in the 2013 class. I'm not even including post-grad
Terry Rozier
because he was ranked as a senior last year and at this point his status as a future collegiate star is in good standing and almost public knowledge. With this list we're trying to pick out a few less-heralded guys and roll the dice. Most of these players you might not see coming.
To continue reading this article you must be an Insider
December, 23, 2012
12/23/12
11:25
AM ET
FORT MYERS, Fla. --
The City of Palms Classic
is the best pre-Christmas high school basketball event in the country. And just imagine if top-10 senior
Julius Randle
(Dallas/Prestonwood Christian) hadn't been injured and elite junior
Joel Berry
(Orlando/Lake Highland) hadn't hurt his knee? How many events could lose two stars and still stand tall?
Unfortunately, the theme of this season continues to be injuries. Regardless, they played the games and there were still plenty of
elite-level stars who stood out
. This year's event was capped Saturday night when
No. 1 Montverde Academy (Fla.)
, led by No. 1 senior center
Dakari Johnson
and No. 2 senior point guard
Kasey Hill
, defeated No. 4 Lone Peak (Utah) and its band of
BYU-bound stars
in the championship game.
Over the course of three and a half days in Florida, I was able to find the answer to some questions I had.
To continue reading this article you must be an Insider
December, 21, 2012
12/21/12
2:37
PM ET
FORT MYERS, Fla. --
ESPN 100
shooting guard and Marquette signee
JaJuan Johnson
(Memphis/Southwind), who's played well this week at the
City of Palms Classic
, strikes me as a guy who doesn't come into college with the headlining hype but quickly catches his peers.
To continue reading this article you must be an Insider
December, 20, 2012
12/20/12
11:23
AM ET
By
RecruitingNation staff
| ESPN.com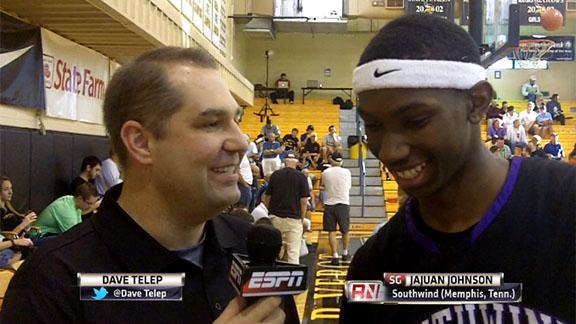 After his Southwind (Memphis, Tenn.) team thumped Prestonwood Christian (Plano, Texas) at the
City of Palms Classic
, No. 64 senior
JaJuan Johnson
discussed his future at Marquette with Dave Telep.
December, 17, 2012
12/17/12
12:00
PM ET
It wouldn't be Christmas without a pre-Santa serving of the
City of Palms Classic
. For 16 years I've packed short-sleeve shirts, hopped on a plane and settled into my seats at the friendly confines of Bishop Verot High School in Fort Myers, Fla.
During that time, I've watched Kevin Love pull down 32 rebounds in a game, witnessed
Michael Gilchrist
give St. Patrick's (N.J.) its first C.O.P. title and seen more future NBA draft picks in action than I can recall. This is a great tournament and its history cannot be understated. The two best high school basketball fields of the year are down south at City of Palms and up north in January for the HoopHall Invitational in Springfield, Mass.
This year's City of Palms -- which starts on Tuesday and runs through Saturday -- is littered with elite prospects and
ranked teams
. Even though
ESPN 60
guard
Joel Berry
(Apopka, Fla./Lake Highland) and
ESPN 100
power forward
Julius Randle
(Dallas/Prestonwood Christian) will miss the event due to injuries, there will be plenty of talent to hold our attention.
Some of the major storylines to watch include:
To continue reading this article you must be an Insider
November, 2, 2012
11/02/12
2:59
PM ET
JaJuan Johnson
(Memphis, Tenn./Southwind), the No. 63 prospect in the Class of 2013, committed to Marquette on Friday. Johnson, the nephew of current NBA shooting guard Louis Williams, had narrowed his choices to the Golden Eagles, Alabama and Miami (Fla.) before making a decision.
According to his mother, the act of eliminating schools was more difficult than the selection itself.
"We had some great schools and great relationships with schools," Frashanda Williams said. "Eventually we had to tell someone no."
To continue reading this article you must be an Insider
July, 10, 2012
7/10/12
9:32
AM ET
LAS VEGAS -- Here's a shocker: Kentucky is the lead choice of a top-10 prospect.
In May at the Spiece Run n' Slam,
James Young
(Troy, Mich./Troy) unabashedly sported a Kentucky T-shirt during warm-ups of a game. Fast-forward two months, and Young made no mistake about his leader.
"It's Kentucky," Young said. "[Coach John Calipari's] a great coach and he says he's very interested."
To continue reading this article you must be an Insider
May, 1, 2012
5/01/12
1:54
PM ET
There's what you see and what you hear and then there's what it all means. The EYBL and similar events, affords one the opportunity to interact with the prospects and get to know them. It's good old-fashioned communication, human interaction, talking not texting.
When you communicate with players at events, you put a face to the name and have a chance to add to your evaluation. It may be only a few minutes, but the conversation is a window into the life of the player, albeit only a peek. At this time of the year, much of the talk centers on recruiting and how the process is unfolding.
The spring is a dance. Players are constantly hearing from coaches and the coaches attempt to keep the players "warm" as they finish up their evaluations both on and off the court. Over the next few months, leading up to July, coaches and players alike will formulate and prioritize their lists. Here's a glimpse into what some of the players had to say last weekend.
To continue reading this article you must be an Insider
April, 30, 2012
4/30/12
4:15
PM ET
HAMPTON, Va. -- The second round of the Nike Elite Youth Basketball League is in the books. After skipping the first round, the EYBL Hampton was my initial foray into Nike's treasure chest of talent. Half of the top-10 players from the ESPN 60 were in attendance. Elite talents
Jabari Parker
(Chicago/Simeon) and
Aaron Gordon
(San Jose, Calif./Bishop Mitty) missed it because of commitments or injury. Their absence was ominous.
In their stead, we saw brand names like PF
Julius Randle
(Dallas/Prestonwood), 2014 C
Jahlil Okafor
(Chicago/Whitney Young) and 2014 SF
Andrew Wiggins
(Toronto/Huntington Prep) turn in standout performances. Okafor even broke a backboard, and that sent a buzz through the Boo Williams Sportsplex.
Wiggins, in particular, was the best overall player at the event and that's not anything worth debating. His talent, production and purposeful approach put him on strong ground in his class. If he continues to play with this hunger and unselfish dominance, his name will creep into the conversation for top overall prospect in the country. He's that talented.
Points
I've gotten into the habit of referencing 2014 PG
Tyus Jones
(Apple Valley, Minn./Apple Valley) as the best point guard in the country. The more accurate way of phrasing that is "best
pure
point guard" in the nation, which he is. Jones has few weapons, other than shooters on his travel team, but is contending for a Peach Jam berth.
Kasey Hill
(Montverde, Fla./Montverde) will challenge for the top spot in 2013 with
Andrew Harrison
(Houston/Travis). They are terrific in their own right, maybe better talents. However, neither has the command of a team that Jones has. Hill is charging fast and he's a top-5 player, in my opinion, who blends scoring with a revamped approach to the point. Jones, well, he's vanilla, but it's a flavor that works for everyone.
After Jones, the other point guard who had me captivated was
Joel Berry
(Orlando, Fla./Lake Highland Prep), who is also a 2014 member. He's taken a page from the Kasey Hill manual and his biggest improvement is his approach to the game. Through last spring and summer, the concern was that Berry was a score-first lead guard. That's not true. He's a complete point guard who is relentless as an on-the-ball defender. Each1Teach1 is one of the EYBL's best and Berry was fantastic at the helm.
Anthony Barber (Hampton, Va./Hampton) set his guys up but his teammates weren't making shots, otherwise his assist numbers would have been bigger. Now, he's got to take command of his team and help get BWSL heading in a better direction. The only kid who might be quicker is 2014 speed demon Lourawls Nairn (Wichita, Kan./Sunrise).
Tyler Ennis (Brampton, Ontario/St. Benedict's) was overshadowed by Wiggins and Xavier Rathan-Mayes (Scarborough, Ontario/Huntington Prep), which isn't his fault.
To continue reading this article you must be an Insider