March, 13, 2014
Mar 13
8:00
AM CT
I asked a couple of fantasy experts at ESPN.com to count down their top 5
Texas Rangers
in terms of fantasy value for the 2014 season. Perhaps this will help some of you in your upcoming drafts.
Tristan H. Cockcroft and Eric Karabell will give us their thoughts on some of the top players. We'll start with their No. 5s and work our way down.
Cockcroft No. 5:
Elvis Andrus
The Rangers' shortstop is coming off an interesting 2014. He began the season struggling and was hitting only .242 with 31 RBIs, 19 stolen bases and a .300 on-base percentage in 92 games before the All-Star break. That wasn't even close to his expectations -- fantasy or otherwise.
But after the break, things changed tremendously. Andrus batted .313 in the 69 games after the All-Star Game. He had 36 RBIs, 23 stolen bases and a .369 on-base percentage.
Judging by his career numbers, the second half of 2014 was more in line with what Andrus should project to do in the future.
So what does that mean for his fantasy value?
Cockcroft: "Andrus has plenty of speed. Baseball-Reference.com recorded him with a major league-leading 10 baserunning WAR last season, erasing the memory of his 21-steal 2012, which now looks like the clear outlier during his five-year big-league run to date."
Draft position: Fifth-round pick (in a 12-team, standard scoring league)
Andrus has the ability to get on base and make some things happen. And with
Prince Fielder
and
Adrian Beltre
now occupying the Nos. 3 and 4 spots in the order right behind him, his run scored total has a chance to go up too.
Karabell No. 5:
Shin-Soo Choo
The Rangers' new leadoff hitter is an on-base machine. The question is whether he can do something once he gets there to boost his fantasy value.
Karabell says he believes since Choo finds so many ways to get on base -- walks, hit-by-pitches -- that there's value there already.
Karabell: "This walk machine comes off the third 20-homer, 20-steal season of his career, and since there is no such thing as positional scarcity in fantasy anymore -- all offensive positions are kind of weak now -- I'll surely take Choo's numbers over what shortstop Andrus provides. Put simply, it's tougher to roster any hitter that does not provide power, especially using a top-10 pick to do so. Andrus is a nice fantasy option, but also stole 'only' 21 bases in 2012. Choo is simply more versatile for fantasy, brings a better batting average and I'd take him right after his teammate
Alex Rios
in round 5."
Don't forget that Choo, like Andrus, can add to his fantasy totals as Fielder and Beltre drive him in.
March, 12, 2014
Mar 12
6:24
PM CT
Associated Press
SURPRISE, Ariz. -- Joe Blanton allowed one infield single over five scoreless innings and Collin Cowgill hit a three-run homer and a Los Angeles Angels split-squad beat the Texas Rangers 12-1 Wednesday.
Blanton, who had a 14.29 ERA in his first two spring outings, struck out five and walked none. Michael Choice's grounder that shortstop Grant Green bobbled was the only hit Blanton allowed.
Cowgill homered on a 0-2 Alexi Ogando fastball in a five-run second when the Angels batted around.
John McDonald drove in three runs with a double in the second and a single in the fifth.
Jim Adduci doubled home the only Texas run in the seventh.
March, 12, 2014
Mar 12
7:45
AM CT
Walk into the
Texas Rangers
' clubhouse in Surprise, Ariz., and you're likely to hear
J.P. Arencibia
before you see him.
[+] Enlarge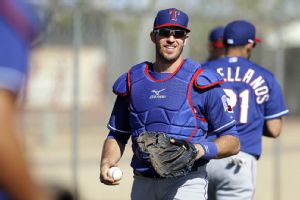 AP Photo/Tony GutierrezJ.P. Arencibia hasn't had any trouble adjusting to a new clubhouse.
It's not that the catcher is a loudmouth, particularly. But he has a knack for making teammates laugh and relaxing the mood when needed.
"I love doing my work, working hard and playing hard," Arencibia said. "But you have to understand there's still time to enjoy yourself. It's still a game."
Ask some of his teammates, and they'll tell you it's as if Arencibia has been with the Rangers for years. That's not an easy thing for a guy coming into a new team to achieve, but the 28-year-old backstop says he feels like he has adjusted more quickly than he had expected in his transition from Toronto.
"It's an easy clubhouse," Arencibia said. "I'm back to enjoying myself. I'm back to having fun. I'm back to waking up and being excited about coming to the field every day. And I think that has to do with this team. Not to take away anything from where I came from, but it's a different feeling around here.
"It's fun to come to work with guys that work hard and want to win. The culture around here is different. It's exciting to me. I have fun being a part of that. I've missed that the past couple of years, and it's exciting to get back to that."
March, 11, 2014
Mar 11
6:39
PM CT
Associated Press
GLENDALE, Ariz. -- John Danks pitched four-hit ball for five innings and Jose Abreu went 3 for 3 with two RBIs, leading the Chicago White Sox to a 7-6 win over the Texas Rangers on Tuesday.
Danks, making his second start of the spring, struck out one and walked three as he continued his buildup to the regular season. Gordon Beckham hit a solo home run in support of Danks.
Paul Konerko and Dayan Viciedo each had an RBI as the White Sox got 12 hits, six off Rangers starter Joe Saunders.
Saunders, signed last week to compete for a spot in the Texas starting rotation, gave up three runs and six hits in three innings, striking out four. Tommy Hanson, another starting rotation candidate, pitched the next four innings.
Adam Rosales drove in a run with a sacrifice fly off Sox reliever Mitchell Boggs in the eighth as the Rangers rallied for five runs to take the lead.
March, 11, 2014
Mar 11
5:32
PM CT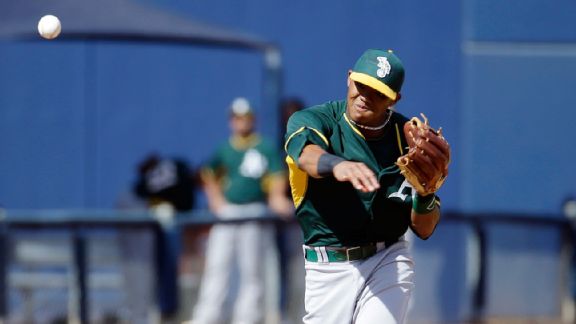 AP Photo/Morry GashAddison Russell, one of the game's best prospects, will be in Oakland sooner than you think.
PHOENIX -- When bouncing around the Cactus League you pick up a lot of good gossip.
It's a very relaxed atmosphere, and after talking to managers and coaches, players, and team executives and general managers here's some of the buzz I've collected while visiting three AL spring training camps: The
Oakland Athletics
,
Texas Rangers
and
Kansas City Royals
.
Tomorrow we'll touch on two NL West camps: The
Los Angeles Dodgers
and
San Francisco Giants
.
---
Oakland Athletics

• The A's are not going to let
Super Two
status stand in the way of promoting shortstop Addison Russell. Whenever he's ready, they'll do it. Though it won't be Opening Day, don't be surprised if he's promoted shortly after if he tears up Double-A. He is really standing out in spring training and as manager Bob Melvin told me, instead of looking like a 20-year-old kid, he got the poise of a 25-year-old veteran.
• Billy Beane made a lot of lopsided trades in his favor this offseason, but the one that scouts are talking about the most is the one that sent
Jerry Blevins
to the
Washington Nationals
for outfielder Billy Burns.
To continue reading this article you must be an Insider
March, 11, 2014
Mar 11
1:18
PM CT
Of the few closer situations that still have some degree of uncertainty, what's happening with the
Texas Rangers
should be of special interest. After all, the Rangers remain pretty good, having won 90 or more games four consecutive seasons, and similar success is expected in 2014. Right-hander
Joe Nathan
, now a member of the
Detroit Tigers
, saved 80 regular-season games the past two seasons, so whoever wins the job, well, we obviously want them in fantasy. The loser of the battle we're not so interested in.
It has been somewhat presumed that right-hander
Neftali Feliz
, who saved 72 games in 2010 and 2011 and is healthy again, would handle the ninth-inning duties this year, while former
Kansas City Royals
closer
Joakim Soria
also can throw hard and brings closing experience. Since Rangers manager Ron Washington appears to be more of the old-time, conventional-thinking type, what with his endless bunting, odd lineups and well, I could go on but won't, one would think naming his closer well in advance of Opening Day, whether it's the best guy for the job or not, would be a priority.
[+] Enlarge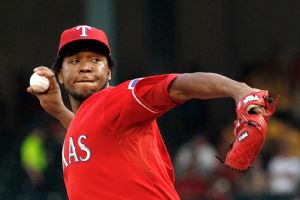 AP Photo/LM OteroNeftali Feliz is the current favorite to close in Texas, but the battle is far from over.
ESPNDallas.com writer Richard Durrett blogged last week about many relevant Rangers notes, including the fact
Feliz's fastball velocity has been lacking
, while Soria has looked solid, which is interesting if this really is a battle.
To continue reading this article you must be an Insider
March, 11, 2014
Mar 11
7:45
AM CT
When instant replay makes its debut at Globe Life Park on March 31, it will be the guy you don't see who could be most critical in how the
Texas Rangers
use it.
Sitting in front of a monitor with access to all the different camera angles -- the same that umpiring crews in New York will have as they decide any replay challenges -- is 31-year-old assistant advance scout Joey Prebynski.
He'll be quickly looking at any close play and communicating with the dugout as to whether he thinks it's worth a challenge.
"I think the way we're looking at it is to provide the most reliable information to our coaching staff that's clear, concise and consistent that allows them to make the best possible decision," Prebynski said.
Ultimately, whether to challenge a call rests with manager Ron Washington and bench coach
Tim Bogar
. But Prebynski's recommendation will clearly carry a ton of weight.
That's why Wednesday is so important. Prebynski said that's when MLB will provide the teams in Florida and Arizona -- with a few locations for each -- the opportunity to see the equipment used in the parks. Prebynski said it's being installed in Arlington this week.
"We'll be able to see it and that should give us a better idea of how to approach it," said Prebynski, who added that it will be used at a
Seattle Mariners
night game in Peoria, Ariz., on Wednesday. "There's a 5 p.m. classroom session beforehand, too."
Prebynski participated in the lone replay game the Rangers have had so far this spring and said the communication aspect was good for the first time. He'll get five more chances to do it this spring before March 31 rolls around.
Is he nervous?
"No," Prebynski said. "It's just one aspect of the job and something every organization is faced with -- and every club is faced with the same situation. It's up to use to create a situation that works."
March, 10, 2014
Mar 10
6:43
PM CT
ESPN.com news services
SURPRISE, Ariz. -- Yu Darvish pitched five positive innings and Jurickson Profar homered as the Texas Rangers beat the Cincinnati Reds 8-2 Monday.
Darvish allowed two runs and five hits, striking out one without a walk. Darvish retired the first nine batters he faced before yielding RBI doubles to Jay Bruce in the fourth and Ramon Santiago in the fifth.
"My game plan was to throw a lot of fastballs, two seamers, and let them hit the first pitch," Darvish said through an interpreter.
Profar homered off Reds starter Homer Bailey in the third and ranks second in the Cactus League with 11 RBIs.
Bailey, who signed to a six-year, $105 million contract this winter, gave up two runs on three hits, while striking out five and walking none.
"Probably a B-plus," Bailey said of his performance. "The one pitch to Profar he hit out, it was a 3-2 slider and I had to come with a lot of the plate. It's probably not something we would do a lot in the season, but it's a good time to do those kinds of things.
The Rangers seized the lead in the fifth on Elvis Andrus' two-out, two-run single.
March, 10, 2014
Mar 10
6:08
PM CT
Associated Press
SURPRISE, Ariz. -- Yu Darvish pitched five positive innings and Jurickson Profar homered as the Texas Rangers beat the Cincinnati Reds 8-2 Monday.
Darvish allowed two runs and five hits, striking out one without a walk. He yielded RBI doubles to Jay Bruce in the fourth and Ramon Santiago in the fifth.
Profar homered off Reds starter Homer Bailey in the third and ranks second in the Cactus League with 11 RBIs.
Bailey gave up two runs on three hits, while striking out five and walking none.
The Rangers seized the lead in the fifth on Elvis Andrus' two-out, two-run single.
Adam Rosales contributed a two-run single in the Rangers' four-run fourth off Curtis Patch.
March, 10, 2014
Mar 10
3:20
PM CT
We've once again asked three of our top baseball analysts -- Jim Bowden, Keith Law and Buster Olney -- to rank all 30 teams across five different categories (see table) in an attempt to measure how well each team is set up for sustained success over the next five years. When we last did these rankings, in August, the two teams who went on to meet in the World Series occupied the top two slots.
The better your rank in a given category, the more points you get, and the average point scores from the three voters are available in the bar graphs accompanying each team's section, rounded to the nearest integer. We weighted the categories and then gave each team a score on a scale of 1 to 100, with the score representing a team's percentage of total possible points. (For a detailed breakdown of the methodology used for the Future Power Rankings, click here.)
With each team's ranking, you'll also get a take from Buster, Jim and Keith. Buster will give an overview of the franchise's future, Jim will explain the biggest dilemma currently facing the team and Keith highlights a prospect facing a make-or-break season.
So who's No. 1? Which team did our team of experts think is best equipped for success over the next half-decade? It's time to find out.
1

The bar graphs reflect the average points given by the voters for each category.
The Overview
A year ago, even coming off of their disastrous 2012 season, the Red Sox came in 10th in these rankings, and then second in our August update, so it's not like they fell off the map completely even during a period of struggle. They have one of the best farm systems in baseball as well as incredible financial flexibility, with a little less than $14 million committed for the 2016 season, most of which is owed to face of the franchise Dustin Pedroia, who signed one of the most team-friendly deals in baseball last year. -- Buster Olney
The Dilemma
The Red Sox have tremendous depth on the mound and infield, but their long-term outfield picture is unclear beyond rookie center fielder Jackie Bradley Jr. They should be fine this year with Shane Victorino in right and Jonny Gomes and Daniel Nava once again platooning in left, but they need to find some youth in the outfield corners. -- Jim Bowden
Make-or-break year (Law's top 10 Red Sox prospects)
Brian Johnson was the Red Sox's second first-round pick in 2012, after Deven Marrero, as a low-ceiling, quick-to-the-majors starting pitcher, but he took a liner to the face that August and missed about half of 2013 with a shoulder ailment. He's now 23 years old with no projection and should already have been ready for Triple-A, making a healthy 2014 a critical step for him. -- Keith Law
To continue reading this article you must be an Insider
March, 10, 2014
Mar 10
1:07
PM CT
I'd like to officially welcome aboard three new members of the SweetSpot network:
West Coast Bias
,
One Strike Away
and
Rockies Zingers
.
Some introductions ...
West Coast Bias (San Francisco Giants)
West Coast Bias is run by Connor Grossman (@GiantsBaseball), a Giants fan from the Bay Area attending Syracuse University where he's majoring in broadcast and digital journalism, and Andrew Treedy (@nyy_baseball), a Yankees fan from San Francisco (what?) attending Southern Cal and also studying broadcast and digital journalism. Maybe we'll see them co-anchoring SportsCenter some day. For now, they enthusiastically write about the Giants.
Here's a recent piece from Connor and Andrew where they
analyze the Giants' offseason
. They write:
Connor: As touched upon in a previous piece, I think the Giants come into 2014 with more "lineup presence," than even the defending World Champions last year. Assuming (a grave assumption, at that) that there are no major injuries during Spring Training that would affect the Opening Day lineup, they do have a lineup of that of a contending team. The rotation was fortified by the Tim Hudson signing, effectively replacing Barry Zito. Ryan Vogelsong will look to bounce-back (story of the Giants for the last few years, huh?) from his injury-plagued 2013 to hold his own in presumably the fifth spot of the rotation.

Andrew: While the current Giants lineup appears to have the potential to contend in 2014, I still see some major issues with this team. As much as I am worried about how much stock San Francisco is putting into Michael Morse and Pablo Sandoval, my main concern with this team is depth. A quick look at the Giants projected bench for 2014 reads as follows: Joaquin Arias, Gregor Blanco, Hector Sanchez, and Tony Abreu.
One Strike Away (Texas Rangers)
Brandon Land runs One Strike Away. You can follow him on Twitter @one_strike_away). He just wrote a post on why the
pitching situation for the Rangers isn't all bad
even with the injury to Derek Holland and the likelihood that Matt Harrison won't be ready for Opening Day. Brandon writes:
More than anything, I believe that scheduling and the presence of Yu Darvish will allow the Rangers to succeed despite some holes in the rotation at the beginning of the season.

In Darvish, the Rangers are the favorite to win every fifth day. While we all know that doesn't directly translate to wins -- just ask Seattle how that translates with Felix Hernandez -- having an anchor at the front of the rotation is something every team in Major League Baseball wants.

After opening the season with a 3-game series at home against Philadelphia, the Rangers go on the road for 6 games against the Rays and Red Sox. Those games figure to be tougher, but following that, the Rangers will have a 10-game homestand in which they will host the Astros, Mariners, and White Sox. Those should all be winnable games no matter who is on the mound for Texas. By that point, it's expected that Matt Harrison will be ready to go, at which point the club will need to choose between Colby Lewis, Joe Saunders, Tommy Hanson, Nick Tepesch, Robbie Ross, Tanner Scheppers, Michael Kirkman, and Jose Contreras -- all to fill one spot in the rotation.
Rockies Zingers (Colorado Rockies)
Richard Bergstrom, a Rockies fan since 2004, has launched Rockies Zingers. He promises analysis, silliness and, yes, some compliments. Speaking of compliments, here's a recent piece on
four things Dan O'Dowd
does well. Richard writes:
#2 The Rockies value defense.

Unlike, say, Seattle, where they have shifted second basemen to the outfield to be flanked by two firstbasemen playing in the corners, the Rockies have generally placed a value on defense. Perhaps it was the emergence of Troy Tulowitzki and the many articles about the Rockies defense that came from the Rocktober run to the World Series in 2007, but the Rockies have kept to that mantra. Helton, Tulowitzki and Gonzalez were all signed to long contracts, in part, because they were seen as good with the glove. Maybe O'Dowd realized that it was one of the things at altitude that he could control. It does seem that, for the most part, any middle infielders that the Rockies call up can at least flash the leather. Sometimes, however, the Rockies love defense almost to a fault as certain players get demoted (Iannetta, Fowler) or discarded (Atkins, Hawpe, Smith, Young, Fowler?) for perceived faults in the field.
Welcome aboard to the new blogs!
March, 10, 2014
Mar 10
8:00
AM CT
Over the next few weeks, we'll take a look at some X factors for the club this season. A big one in 2014:
Jurickson Profar
.

Profar hit a grand slam in the Rangers' 8-4 win over the
San Diego Padres
in Thursday's Cactus League game. It was his third extra-base hit of the spring.
It's clear the Rangers want to get Profar as many at-bats as possible this spring. Because shoulder soreness slowed him down a bit, most of those at-bats have come at DH early in the spring before he transitions fully back to second base. Profar's bat has been solid. He's 9-for-29 with two doubles, a homer and 10 RBIs. Sure, some of those at-bats have been late in games against minor leaguers from other teams. But at this point, it's about getting plate appearances for Profar.
There's a reason Profar was the No. 1 prospect in baseball last season. But that was only on display in glimpses in 2013. He hit .234 with six homers and 26 RBIs in 85 games (286 at-bats) last season as he moved around to a variety of positions without a regular spot.
[+] Enlarge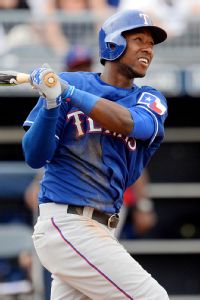 Joe Camporeale/USA TODAY SportsJurickson Profar is hoping to go from prospect to player this season, and playing at one position consistently should help.
The Rangers, and some scouts I've talked to, believe staying at second base and having a regular spot in the lineup should give Profar a better chance to show off his bat, which was consistent in the minors.
That, of course, is the big question. Can Profar prove that all of the things written about his future will materialize in the present? The Rangers clearly believe Profar can live up to at least some of those expectations, trading
Ian Kinsler
to Detroit for
Prince Fielder
, allowing Profar the opening to start at second.
Profar, for his part, has not used the fact that he bounced around to different spots last year as a reason for his struggles.
"I'm not a guy that makes excuses," Profar said earlier this offseason. He said his focus is on learning from 2013 and getting better in 2014.
Manager Ron Washington has been pleased with Profar's progress on defense this spring, as he has worked on his foot work and learning some of the intricacies of second base, including developing chemistry with
Elvis Andrus
. Profar is throwing again and the next few weeks will be big for him in the field as he and Andrus try to get as much time together in games as they can.
But for all the talk of the top five spots in the Rangers' order, how Profar does in that bottom group -- not to mention how he does defensively at second base -- will have an impact on how balanced this lineup can be. It's time for Profar to move from prospect to player.
March, 9, 2014
Mar 9
6:59
PM CT
Associated Press
PEORIA, Ariz. -- A shaky Felix Hernandez allowed four earned runs in 2 1/3 innings before the Seattle Mariners rallied late to beat the Texas Rangers 9-8 on Sunday.
Making his second Cactus League start, Hernandez (1-1) allowed four hits and walked one, while striking out four. Hernandez opened the game by issuing a leadoff walk to Jurickson Profar before sandwiching a pair of strikeouts around a flyout by Prince Fielder.
Fielder got the best of Hernandez in the third, though, when he lined a double that scored Elvis Andrus and sparked a four-run inning. Hernandez left the game one batter later after striking out Michael Choice, who reached on a wild pitch.
Texas starter Colby Lewis, also making his second spring appearance, held the Mariners scoreless over two innings.
Seattle's reserves scored six runs in the eighth, erasing Texas' five-run lead.
March, 8, 2014
Mar 8
6:11
PM CT
Associated Press
SURPRISE, Ariz. -- Paul Maholm pitched three steady innings and Mike Baxter went 2 for 2 with two RBIs for a split squad of Los Angeles Dodgers in their 5-5 tie with the Texas Rangers on Saturday.
The game was halted after nine innings.
Adrian Gonzalez walked with the bases loaded for the Dodgers. Maholm allowed one run on three hits with four strikeouts and no walks.
Gonzalez, who is hitting .353 in seven games, drew a five-pitch walk from Tanner Scheppers in the third to bring home Justin Turner.
Baxter, claimed off waivers from the New York Mets last fall, had a double and a sacrifice fly.
Shin-Soo Choo, who signed a $130 million, seven-year contract with the Rangers this offseason, went 0 for 2 with a strikeout, dropping his average to .176. Choo did drive in a run with a sacrifice fly in the fifth.