December, 20, 2014
Dec 20
2:08
PM CT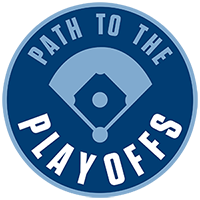 The American League West may be baseball's most entertaining division in 2015 -- following an entertaining 2014 when the A's blew a huge midseason lead. The up-and-coming Astros and a healthier Rangers squad should both be improved, turning this division into a potential five-team mad scramble.
Here is each team's path to the playoffs ...
Los Angeles Angels
2014:
98-64, +143 run differential, lost in ALDS
2015 projection from FanGraphs:
84-78, +26
After leading the majors in wins, it would be easy for the Angels just to stay the course and ride
Mike Trout
for another playoff season.
As you can see from the projection, however, the Angels don't project as anything close to a 98-win team. General manager Jerry Dipoto understands this and has added depth to a starting rotation that may have been over its head last year, acquiring
Andrew Heaney
for
Howie Kendrick
and
Nick Tropeano
from the Astros, two young pitchers who will compete for a starting job.

The path to the playoffs for the Angels:
•
Garrett Richards
and
Matt Shoemaker
have to be the real deal again. They were two of the biggest surprises in baseball last year, with Richards developing into one of the best starters in the league before his August knee injury and Shoemaker going 16-4 with a 3.04 ERA as a rookie (after a 4.64 ERA in Triple-A in 2013). The Steamer projection system has Richards with a 3.64 ERA -- a run higher than 2014's 2.61 -- and Shoemaker at 4.06.
• Mike Trout, back-to-back MVP winner.
• A healthy season from
Josh Hamilton
. He doesn't even have to be the Josh Hamilton of his Rangers days, but something better than .263/.331/.414 and 89 games would be helpful.
• Something from second base. Trading Kendrick (5.4 WAR) is a big blow. Former Rockies infielder
Josh Rutledge
is the favorite for the job right now.
• More consistency from
C.J. Wilson
. He went 13-10 but with a 4.54 ERA as he walked 85 in 175.2 innings and averaged fewer than six innings per start.
• The bullpen that was terrific from June 15 onward (3.08 ERA) to be terrific all season.
• Another 200-inning season from
Jered Weaver
. After dipping below 200 innings in 2012 and 2013, Weaver was back up to 213, as he tied for the league lead with 34 starts (and tied for the lead with 18 wins). He did allow a career-high 27 home runs and his 3.59 ERA was his highest since 2009, but he's still a solid No. 2-caliber starter.
The Angels beat up on the Astros and Rangers last year, going 26-11. They also went 11-0 against the Twins and Phillies. Can they count on going 37-11 against the bottom-feeders again in 2015?

Oakland Athletics
2014:
88-74, +157 run differential, lost wild-card game
2015 projection:
82-80, +11
Billy Beane has made so many moves this offseason, so let's take stock of where the club stands. The lineup would look something like this:
CF
Coco Crisp
3B
Brett Lawrie
DH
Billy Butler
/
John Jaso
1B
Ike Davis
/Butler
RF
Josh Reddick
C
Stephen Vogt
/
Josh Phegley
LF
Sam Fuld
/
Craig Gentry
SS
Marcus Semien
2B
Eric Sogard
SP
Sonny Gray
SP
Scott Kazmir
SP
Drew Pomeranz
SP
Jesse Hahn
SP
Jarrod Parker
/
A.J. Griffin
/
Chris Bassitt
/
Jesse Chavez
/
Sean Nolin
/
Kendall Graveman
Bullpen:
Sean Doolittle
,
Dan Otero
,
Eric O'Flaherty
,
Ryan Cook
,
Fernando Abad
It's difficult to get a good read here. The projections see a .500-ish team, but there are so many moving parts it's a difficult team to project proper playing time. Bob Melvin will be platooning throughout the lineup and the rotation has many options, depending on whether Parker and Griffin are back from their Tommy John surgeries and which of the young guys step up.
The lineup obviously has a big hole minus
Josh Donaldson
, but here are the positives: They're going to catch the ball; they have some hitters with on-base skills; they have a guy who looks he's ready to be a No. 1 in Sonny Gray; they have depth in the rotation; and the bullpen should be solid.
They're going to need the pitching staff to carry the team, but it looks like a rotation that could be sneaky good, with Pomeranz and Hahn, two young starters who looked good last year in limited action (Hahn came over from the Padres in the
Derek Norris
trade). They need Reddick to stay healthy and hit a few more home runs and Butler to hit better than he did in 2014 with the Royals and Semien to handle shortstop and display the on-base ability he showed in the minors.
Everyone's going to be counting out the A's, but in some ways this club resembles the 2012 team that came out of nowhere to win 94 games. I'm not saying they're going to win 94, but sometimes the sum of the parts add up.

Seattle Mariners
2014:
87-75, +80
2015 projection:
88-74, +65
The Steamer projection system that FanGraphs uses has the Mariners as the best team in the American League. But games aren't won via projection systems!
How the Mariners can make the postseason for the first time since 2001:
1.
Felix Hernandez
and
Hisashi Iwakuma
both have to stay healthy. There is little depth in the rotation, so a major injury to one of their workhorses could be catastrophic, especially considering young starters
James Paxton
and
Taijuan Walker
both had injury issues in 2014.
2. They need Paxton and Walker to deliver on their potential.
3.
Nelson Cruz
has to be worth the money. He doesn't have to hit 40 home runs like he did with Baltimore, but he needs to stay on the field and produce that right-handed power in Seattle's lefty-leaning lineup.
4. Production from the leadoff spot. That probably means
Austin Jackson
, who was terrible after coming over from Detroit.
5. Better offense and defense from
Brad Miller
. He's been in trade rumors all offseason and now there's the idea that he turns into a hybrid shortstop/right fielder (platooning with
Justin Ruggiano
). Miller hit .221/.288/.365 last year, but Steamer projects a .252/.314/.395 line and he has more potential than that if he can hit lefties better.
6. More of the same from lineup linchpins
Robinson Cano
and
Kyle Seager
.
7. More tightrope walking from
Fernando Rodney
. Seattle's bullpen had an MLB-best 2.52 ERA last season, and they are bringing back everyone except
Joe Beimel
. Some regression is likely. While the M's have depth behind Rodney, he's still a big key as the ninth-inning guy.
8.
Mike Zunino
has to improve his awful approach/OBP. Yes, he hit 22 home runs, but that came with a .199 average and .254 OBP (and that was helped because he got hit by a league-leading 17 pitches). Is he simply the new
J.P. Arencibia
or will he be something better?
The Mariners have core players in their prime years and excellent front-line talent in Felix, Cano, Seager and Iwakuma. I'd still like them to acquire another hitter to give them more depth, and they have a big problem in center field if Jackson doesn't hit. The strides made in 2014 appear legitimate, but can they go farther in 2015?

Houston Astros
2014:
70-92, -94 run differential
2015 projection:
76-86, -47
The Astros have made some free-agent signings -- relievers
Pat Neshek
and
Luke Gregerson
and shortstop
Jed Lowrie
-- that suggest general manager Jeff Luhnow expects the Astros to make a leap into contention.
Certainly, improving the bullpen will be a huge help. The Astros had an MLB-worst 4.80 bullpen ERA last season, but that doesn't tell the whole story. The Astros were just 61-8 when leading entering the ninth inning. The MLB average is barely over three games lost when leading in the ninth, so better ninth-inning work could be worth an additional four or five wins.
The Astros also had two positions where they got basically no production: first base (they ranked last in the majors in WAR as
Jon Singleton
hit .168 in 95 games) and third base (they ranked 29th in majors as
Matt Dominguez
hit .215 with a .256 OBP). Lowrie looks like he'll stay at shortstop in 2015, holding down the position until
Carlos Correa
is ready, so Dominguez may get one last chance to show he can hit at the major league level. Singleton will certainly be given another chance at first base. They need much better results from both players.
They can also expect big numbers from a full season of
George Springer
-- I like him to exceed the 2.6 WAR projection by quite a bit.
Jose Altuve
became a star in 2014 and
Chris Carter
tied for the MLB lead with 18 home runs after the All-Star break. The Astros were next-to-last in the AL in runs scored but all indications are that total will increase.
The rotation was much improved as
Dallas Keuchel
(2.93 ERA) and
Collin McHugh
(2.73 ERA) developed into a solid 1-2 combo. While nobody expected those numbers, their peripherals were solid, indicating they weren't fluke seasons.
Scott Feldman
was a solid No. 3, so they just need some improvement from the back end of the rotation. New catcher
Hank Conger
, one of the best pitch-framers in the business, could help here.
The Astros improved by 19 wins in 2014. If they improve by 19 wins again, that's 89 ... and maybe a postseason berth.

Texas Rangers
2014:
67-95, -136 run differential
2015 projection:
77-85, -34 runs
Obviously, it starts with getting
Prince Fielder
healthy. And
Shin-Soo Choo
. And
Yu Darvish
. And
Jurickson Profar
. And a full season from
Derek Holland
. Anyway ...
If we start the Rangers out at 77 wins, there are three areas where there is need for improvement:

--Corner outfield. Choo may end up in left or right, but the other position is projected at less than 1.0 WAR. This is why the Rangers were rumored to be in on
Justin Upton
.
• DH. The Rangers are projected at 0.6 WAR. So either
Mitch Moreland
outperforms or they find a better solution.
• The back of the rotation behind Darvish and Holland. Those two combined for 6.4 of the 8.8 projected WAR from the rotation. At least two from the group of
Ross Detwiler
,
Matt Harrison
,
Nick Tepesch
and
Nick Martinez
must have big seasons.
Fielder and Choo are huge keys. Both are capable of on-base percentages close to .400. Get them back and producing like they did in 2013 and a lineup of Choo,
Adrian Beltre
and Fielder suddenly has a lot more meat to it.
Still, the Rangers probably need to make a big move or two. Maybe they go after an outfielder/DH (
Seth Smith
or
Carlos Quentin
from the Padres?). Or maybe they sign
James Shields
or
Max Scherzer
. It's an organization with depth and some interesting young players like second baseman
Rougned Odor
and third baseman
Joey Gallo
. They won 90-plus games from 2010 to 2013. They won't lose 95 again.
December, 19, 2014
Dec 19
10:00
AM CT
DALLAS --
Jurickson Profar
, who turns 22 in February, doesn't want to miss another year of baseball. He just can't do it.
Profar missed the 2014 season with the
Texas Rangers
as the flexibility in his shoulders grew unstable. He tried rehab last season and was shut down three times and won't throw again until next month. There would be times you would see Profar early in the afternoon at the ballpark, before the ushers were in place, fielding ground balls, throwing lightly and talking about how he felt.
[+] Enlarge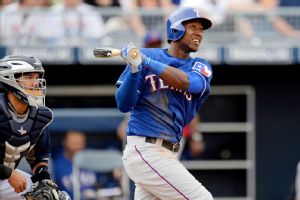 Joe Camporeale/USA TODAY SportsJurickson Profar is working hard to be able to play this season for the Rangers.
Rangers President/GM, Jon Daniels said the club rushed Profar back and that it was a mistake. Nobody is rushing him back now.
"We have more time," Profar said. "We don't have any baseball to play right now. I'm working hard everyday and I'm feeling good."
A doctor said surgery would help solve the problem quicker than lifting weights and doing flexibility training.
"I don't want to do that," Profar said of the surgery. "I don't want to lose another year of baseball."
The Rangers have a surplus of talent in the middle infield at the minor league and big league level. According to Baseball America, the Rangers have two middle infielders,
Josh Morgan
and
Luis Sardinas
, listed among the top 10 prospects in the organization.
On the big club, veteran shortstop
Elvis Andrus
, who has been the subject of trade rumors since the season ended, seems like a logical choice to trade. Though it also seems insane to trade such a talented player.
The Rangers are committed to Andrus playing everyday at short.
December, 17, 2014
Dec 17
5:40
PM CT
DALLAS -- At the annual Christmas luncheon on Wednesday,
Texas Rangers
president/GM Jon Daniels said the club is still searching to improve the roster via trade or free agency.
The team has made small moves, from trading for middle-of-the-rotation starter
Ross Detwiler
and drafting center fielder/second baseman
Delino DeShields Jr
. in the Rule 5 Draft.
When it comes to medical news,
Prince Fielder
(neck),
Yu Darvish
(elbow) and Shin-Soo Choo (ankle and elbow) are progressing well from injuries and should be ready for spring training with no limitations.
Matt Harrison
(back),
Jurickson Profar
(shoulder),
Martin Perez
(elbow) are doubtful for the start of the season. Perez, however, has started a throwing program and Profar and Harrison should begin one in January.
"I think there are a few areas where we'd like to add some depth, and we may," Daniels said. "I think a lot of our internal candidates for these spots there's been a lot of competition that's been created, both by some of the pieces that we've brought but maybe moreso some of the development of our young guys and the positive medical news were getting from the whole group that should be the best players on our team. I don't view it as an end date of putting a team together. There are moves (that) can be made, and we're going to take that approach. I do feel pretty good about the news we're getting on a lot of our guys and where that's gong to lead us."
Team awards:
Harrison, who missed the season with back surgery, was named the 2014 Harold McKinney Good Guy Award in voting by the Dallas-Fort Worth Chapter of the Baseball Writers Association of America.
Adrian Beltre
(Player of the Year), Darvish (Pitcher of the Year),
Rougned Odor
(Rookie of the Year) and
Robinson Chirinos
(Richard Durrett Hardest Working Man) will be honored along with Harrison at the team awards dinner Friday, Jan. 23 at the Dallas Omni Hotel. Tickets are
available
on the Rangers web site. Proceeds from the dinner benefit the Texas Rangers Baseball Foundation.
Atkins signs minor-league deal:
Right-handed starter
Mitch Atkins
signed a minor-league deal Wednesday. Atkins will be invited to minor league camp this spring. He went 7-4 with a 3.76 ERA in 28 games (22 starts) for Triple-A Gwinnett and Double-A Mississippi of the
Atlanta Braves
organization. Atkins, 29, is pitching winter ball in the Dominican League and has a 5.11 ERA in 10 starts.
Rangers toy drive:
The team collected 6,965 toys and 50 bicycles for deserving families from low-income areas in Tarrant County during the 2014 Cowboy Santas Toy Drive. Rangers reliever
Tanner Scheppers
and his wife Jessica were the honorary spokespersons for the toy drive.
December, 17, 2014
Dec 17
4:20
PM CT
Fox Sports' Ken Rosenthal
reported
the
Texas Rangers
and
San Diego Padres
have spoken to the
Los Angeles Angels
of Anaheim about trading for outfielder
Josh Hamilton
.
Rosenthal says the talks "were exploratory in nature and they did not gain traction."
A Rangers source said the Rangers did speak with the Angels but acquiring Hamilton is out of the question.
Several reasons are at play here:
Money:
Hamilton is owed $90.2 million through the 2017 season. If any team decides to trade for him, the Angels would have to take on a significant chunk of the remaining salary. The Rangers are not in the mood to pick up high-ticket items.
Declining play:
Hamilton was limited to 89 games last season due to thumb surgery, minor ailments and a self-imposed benching. Hamilton's numbers were .263/.331/.414 in 2014, and you could say those figures are related to his health poor mental state.
It could also be the end of Hamilton as an elite slugging outfielder. In 2008, Hamilton led all of baseball with 130 RBIs, and in his MVP season of 2010, Hamltion hit .359 had a slugging percentage of .633 and an OPS of 1.044. He achieved those numbers with the Rangers and has been on a decline ever since.
Drama:
There's never a dull moment with Hamilton, from his eye problems with the Rangers related to too much caffeine, his little bar episode, needing an escort for road games and quitting on the team toward the end of the 2012 season. To go there again would be difficult to handle. However, if a player such as Hamilton is producing big numbers on the field, teams can deal with all the drama because, well, he's a playmaker.
To say the Rangers are remotely interested is a polite way of saying the Angels wanted to give the Rangers a first shot at re-acquiring him because they know him.
When Rangers president/GM Jon Daniels was asked did his phone ring regarding Hamilton he said, ""A little bit, yeah a little bit."
December, 16, 2014
Dec 16
7:15
PM CT
The Rangers designated two relief pitchers for assignment Tuesday night to clear roster space for the free-agent signings of starter
Colby Lewis
and reliever
Kyuji Fujikawa
.
Left-hander
Scott Barnes
and right-hander
Ben Rowen
were designated for assignment. The club has 10 days to trade, release or outright Barnes and Rowen to the minor leagues.
The Rangers now have a full 40-man roster with the additions of Lewis and Fujikawa.
Barnes was picked up from Baltimore on a waiver claim during the winter meetings and Rowen spent the bulk of the season with Triple-A Round Rock.
December, 16, 2014
Dec 16
5:05
PM CT
With the signing of right-handed reliever
Kyuji Fujikawa
on Tuesday, the
Texas Rangers
made another small baseball statement, not a sexy one -- build the bullpen.
Neftali Feliz
is the closer, but given his velocity issues after returning from Tommy John surgery last season, there's nothing wrong with having a backup.
Fujikawa is backup.
He was mainly a setup man with the
Chicago Cubs
in two brief seasons but now recovered from Tommy John surgery, Fujikawa adds to a young bullpen.
"I think with Kyuji at the same token with his experience and ability he can pitch on the back end," Rangers president/GM Jon Daniels said on a conference call Tuesday. "You're going to need multiple guys over the course of the season that have the ability to pitch late in a game. We're just trying to pick up the bullpen a little bit."
The Rangers also have
Robbie Ross
Jr., who wrestled back and forth in the starting rotation, along with
Tanner Scheppers
, who just started to throw on flat ground recently as he recovers from arm troubles, as potential mainstays with Feliz.
Spencer Patton
,
Roman Mendez
,
Phil Klein
and Alex Claudio are other young pitchers who expect to give manager Jeff Banister an opportunity to mix and match in his bullpen, if they should make the roster.
Of course, the Rangers could return lefty
Neal Cotts
to the team, but as the offseason continues a reunion seems less likely.
This latest addition comes with risks because you just don't know about a pitcher once he recovers from Tommy John surgery. Some pitchers return fine, good as new. Other pitchers are never the same.
Feliz's velocity was great some days, so-so on other days. During the season he spoke of needing to pitch almost every day to build arm strength so that blazing fastball he once had regained its power.
Thanks to Brooks Baseball's charting of pitches, we can see that Fujikawa's velocity was higher before the surgery, which is natural. Last season, Fujikawa's fastball averaged 91.4 mph, lower than his pre-Tommy John surgery velocity of 93.3. The sinker and cutter were basically the same in terms of velocity.
"It's a lot better than it was before the surgery," Fujikawa said of his arm strength. "Earlier in the (2013) season when I joined the Chicago Cubs I hurt my arm and it lingered a little bit. But it feels a lot better now than before I had the surgery."
December, 16, 2014
Dec 16
2:38
PM CT
The Texas Rangers announced the signing of right-handed reliever Kyuji Fujikawa on Tuesday to a one-year deal with a club option for 2016.
Fujikawa will receive a base salary of $1.1 million with the opportunity to earn incentives. The deal will become official once the Rangers clear a spot on their 40-man roster.
Fujikawa, 34, spent two seasons with the Chicago Cubs, compiling a 5.04 ERA in 27 appearances. He underwent Tommy John surgery in the summer of 2013 and missed 14 months. He returned toward the end of the 2014 season and pitched in 15 games.
He was signed by the Cubs as a hard-throwing reliever out of Japan. He spent 12 seasons with the Hanshin Tigers of the Nippon Professional Baseball Central League, where he saved 220 games.
Fujikawa was expected to become the Cubs' closer, but that didn't happen mainly due to his injury. The Cubs had a team option for the 2015 season but declined to pick it up.
With the Rangers, Fujikawa is expected to become a one-inning setup man for closer Neftali Feliz.
The Rangers also signed infielder Tommy Field to a minor league contract with an invitation to spring training with the big club.
December, 16, 2014
Dec 16
8:00
AM CT
When you evaluate what the Rangers are looking for in terms of a starting pitcher this offseason, ground balls become a constant theme.
With the Rangers trading for left-handed starter
Ross Detwiler
, they get a man who had fairly decent ground ball-to-fly ball and groundout-to-air out ratios.
GM Jon Daniels said Detwiler uses a sinking fastball designed to give the left side of the infield plenty of work. Detwiler also throws a four-seam fastball, changeup, curveball and has worked on a cutter.
In 2013, Detwiler's last year as a starter, he threw first pitch strikes 55.7 percent of the time and had a GB/FB radio of 0.88 and GO/AO ratio of 1.33. In comparison,
Yu Darvish
had a GB/FB ratio of 0.72 and a GO/AO of 0.91 in the 2013 season.
And this offseason the Rangers have sought after pitchers who keep the ball down.
Justin Masterson
, who signed a free-agent contract with Boston, was on the Rangers' radar. In 2013, Masterson led the majors in GB/FB (1.45) and GO/AO (2.10).
Tyson Ross
, another pitcher the Rangers had interest in trading for, was second in the big leagues in GB/FB (1.39) and GO/AO (2.07).
Colby Lewis
led the Rangers' starting rotation in GB/FB (0.50) and GO/AO (0.60) because he pitched more innings than Darvish.
December, 16, 2014
Dec 16
10:46
AM CT
Associated Press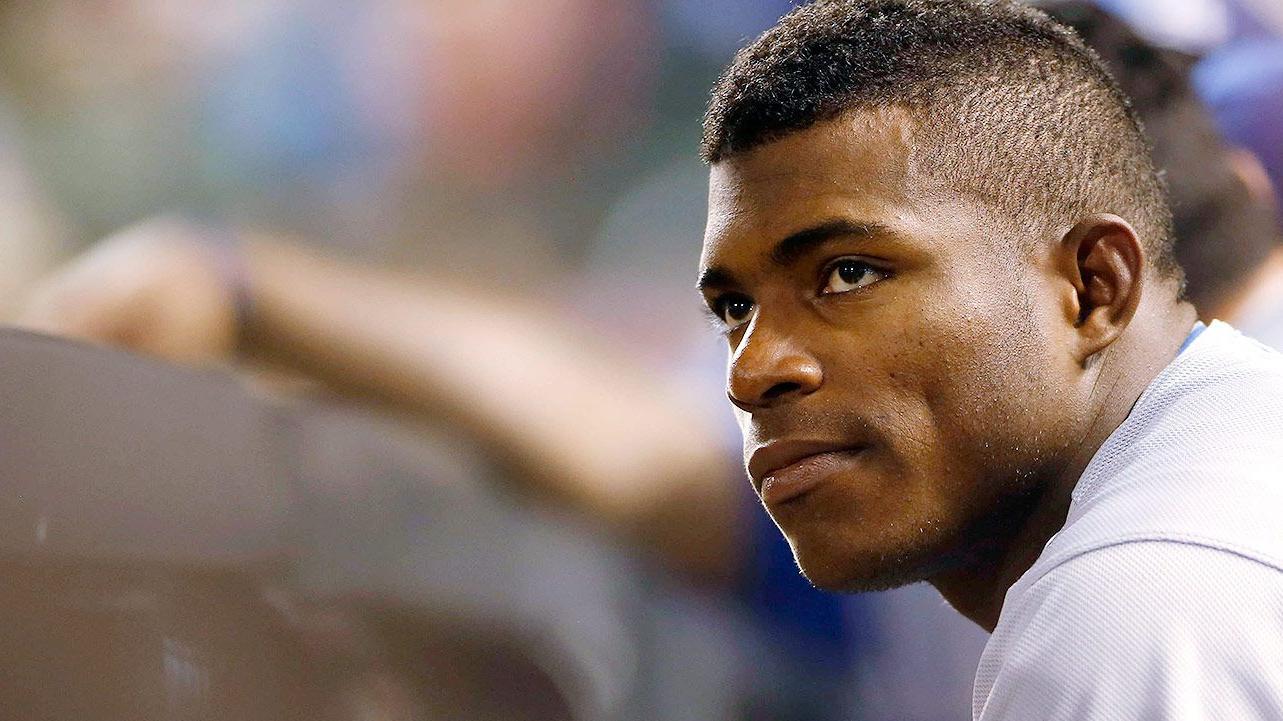 MIAMI -- A South Florida businessman pleaded guilty Tuesday to taking part in a conspiracy to smuggle Los Angeles Dodgers star Yasiel Puig out of Cuba in return for a sizable cut of the outfielder's multimillion-dollar salary.
Gilberto Suarez, 40, entered the plea Tuesday before U.S. District Judge Robert Scola, who set a March 6 sentencing date. The alien smuggling conspiracy charge carries a maximum of 10 years in prison, although Suarez is likely to get a more lenient sentence under his plea deal with prosecutors.
Investigators and court documents say Suarez was one of the Miami-based financiers of the 2012 smuggling venture in which Puig was taken by boat from Cuba to a fishing village near Cancun, Mexico, eventually crossing into the U.S. at Brownsville, Texas, on July 3 of that year. In return, the financiers were getting a percentage of the seven-year, $42 million contract Puig signed with the Dodgers.
Court documents show that Suarez got $2.5 million from Puig's contract. He agreed with prosecutors to forfeit to the government a house, a condominium and a Mercedes-Benz that are traceable to the money from Puig. Suarez also is forfeiting several guns.
The plea deal requires Suarez to give up any interest in another Cuban player's contract, shortstop Aledmys Diaz, a minor leaguer in the St. Louis Cardinals' system. The court documents do not provide any details on Diaz's defection or whether Suarez played a role in it.
December, 15, 2014
Dec 15
12:50
PM CT
ESPN's Jerry Crasnick reports the
Texas Rangers
have signed left fielder/DH Kyle Blanks to a minor league contract. It's a split contract where he'll receive a $1 million base salary with the potential to earn $600,000 in performance bonuses if he's on the big league roster.
Rangers GM Jon Daniels is determined to create competition and depth on a roster that needs it behind established veterans
Adrian Beltre
,
Elvis Andrus
,
Prince Fielder
and Shin-Soo Choo.
Blanks played in just 26 games last season between Oakland and San Diego batting .309/.409/.436 while also dealing with injuries.
He's a power hitter and someone who could give DH
Mitch Moreland
some competition at that position in spring training.
The Rangers are also in the final stages of signing reliever
Kyuji Fujikawa
. Fujikawa has to pass a physical and the club needs to make a move before adding him to the 40-man roster.
December, 15, 2014
Dec 15
7:50
PM CT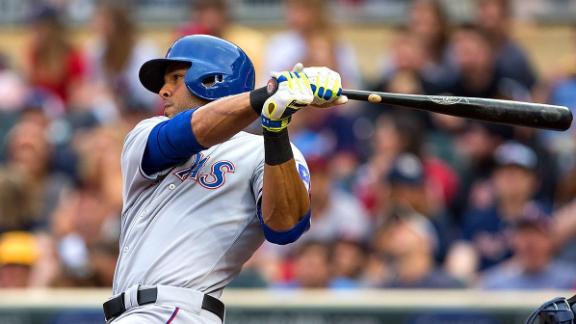 The Kansas City Royals have reached agreement with free-agent outfielder Alex Rios on a one-year, $11 million contract, two league sources confirmed to ESPN.com.
Rios, 33, is a .278 career hitter with 165 home runs in 11 big-league seasons with Toronto, the Chicago White Sox and Texas. He batted .280 for the Rangers last season, but produced only four home runs and 54 RBIs in 131 games.
Rios will fill the right-field void in Kansas City created by the departure of Norichika Aoki to free agency. He joins Kendrys Morales, who agreed to a two-year, $17 million deal last week, as the second free-agent hitter to sign with the Royals this month.
Billy Butler, Kansas City's long-time designated hitter, left the American League champs to sign a three-year, $30 million deal with Oakland in November.
CBSSports.com was first to report Rios' deal with Kansas City.
December, 15, 2014
Dec 15
12:08
PM CT
December, 12, 2014
Dec 12
7:40
PM CT
The
Texas Rangers
are finalizing a deal to sign right-handed reliever
Kyuji Fujikawa
, according to a source.
At the just-completed winter meetings in San Diego, Rangers general manager Jon Daniels said the team was going to sign a right-handed reliever but the deal wouldn't be finished until next week.
Fujikawa must pass a physical, and the club must clear a spot on the 40-man roster before the deal can be final.
Fujikawa pitched for the
Chicago Cubs
the past two seasons, appearing in 27 games; Chicago declined a $5.5 million club option this offseason. The 34-year-old underwent Tommy John surgery in 2013.
Fujikawa pitched in the final two months of the 2014 season for the Cubs, appearing in 15 games. He finished with a 4.85 ERA and 17 strikeouts to 6 walks.
December, 12, 2014
Dec 12
4:05
PM CT
This offseason seems to be about fresh starts.
We start with Joe Maddon leaving the small market
Tampa Bay Rays
and moving to the now big-budgeted
Chicago Cubs
to manage.
There's
Jimmy Rollins
getting traded from the rebuilding
Philadelphia Phillies
to have a shot at another ring with the
Los Angeles Dodgers
.
Matt Kemp
leaves the world of the Dodgers and the temperamental
Yasiel Puig
for the calmness of the
San Diego Padres
.
On a smaller scale, depending on your perspective, the
Texas Rangers
were also involved in these fresh starts. The team traded two minor leaguers to the
Washington Nationals
for left-handed starter
Ross Detwiler
on the last day of the winter meetings.
Detwiler needs a fresh start.
He wants to start, but in the middle of spring training last season the Nats decided to place him in the bullpen. He participated in 47 games and compiled a 4.00 ERA. He finished tied for fifth in the NL in pitches per game in relief (22) and fifth overall in average outs per game in relief (4.0).
But Detwiler has a yearning to become a starter, and this trade allows him to do that.
"I think it's a fresh start and a chance to start over and be a starter again," Detwiler said. "Washington had a ton of great arms and a lot of them had success, and I felt like I was the odd man out there. Now I get to move to a team that traded for me, which means they wanted me and they can put some runs on the board and they can play defense."
In 69 career starts, Detwiler is 17-29 with a 4.02 ERA. The most innings he's ever pitched was 151 in 2012. The next season he was limited to just 13 starts because he endured back problems in the second half of the season.
Washington does have a boatload of talented starters and it was easy to push Detwiler to the pen. He was left off the postseason roster too, and while he didn't request a trade, it's pretty easy to assume he wanted to do something else.
"I don't look at it as if (Washington) was giving me up," Detwiler said. "I looked at it as if the Rangers really wanted me and they were willing to give up some of their prospects for me, so I'm very appreciative for both sides. I think this will be a better fit for me."
He's part of a group of starters looking to become the No. 3 or No. 4 man in the rotation that also fields
Colby Lewis
, another middle-of-the-rotation type of pitcher.
Detwiler said he's not motivated to prove people in Washington they were wrong for letting him go, understanding it's more about the business side of baseball. If you have somebody better than the other guy, use him. The other guy gets traded, demoted or is given his unconditional release.
In Detwiler's case, he was traded and now is presented with an opportunity to help a team looking for starting pitching in the second and third tiers of the trade and free-agent marketplace.
"It's well-documented that he wants to start," GM Jon Daniels said. "He's motivated and he has internal drive, and internal motivation is usually a good thing."