January, 29, 2015
Jan 29
7:09
PM CT
Associated Press
For more than eight years, the San Jose Sharks have been shuttling young players to and from Worcester, Massachusetts, for depth on their NHL roster or development at the AHL level.
Soon, the Sharks will be able to shed the cross-country flights from their budget and make those moves within their own building.
The NHL's feeder league will undergo a sizable westward shift, designed to bring five farm teams closer to their parent clubs in a long-anticipated announcement finalized Thursday by the American Hockey League. The 30-team AHL will create a Pacific Division next season, the product of nearly three years of discussions with the NHL.
"This will make the franchise even more competitive on the ice," Sharks chief operating officer John Tortora said at a news conference at the SAP Center, which also will be home starting this summer for their yet-to-be-named AHL affiliate. The team won't be called the Sharks, for obvious reasons, as it was in Worcester.
The Toronto Maple Leafs already have a same-city AHL affiliate, the Marlies, but they play in a different arena.
All of the new sites will be in California, home to three of the NHL's 30 teams. Here are the other farm club shifts:
• Anaheim Ducks: Norfolk, Virginia, to San Diego.
• Calgary Flames: Glens Falls, New York, to Stockton.
• Edmonton Oilers: Oklahoma City to Bakersfield.
• Los Angeles Kings: Manchester, New Hampshire, to Ontario.
January, 27, 2015
Jan 27
9:46
PM CT
Associated Press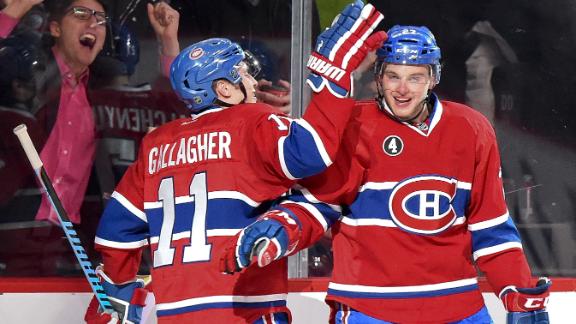 MONTREAL -- Carey Price stopped 40 saves for his 25th victory of the season as the Montreal Canadiens held off the Dallas Stars, 3-2 on Tuesday night.
Alexei Emelin, Alex Galchenyuk and Brendan Gallagher scored for Montreal.
Jamie Benn and Patrick Eaves had the goals for Dallas, which is four points out of the final wild-card spot in the Western Conference. Kari Lehtonen finished with 23 saves.
Gallagher's power-play goal at 4:37 of the second period gave the Canadiens a 3-1 lead. Eaves scored with the man-advantage at 10:05 to pull the Stars within one, and neither team scored again.
Dallas squandered an opportunity to tie the score late in the third period with another 5-on-3 power play, this time for 1:03.
January, 27, 2015
Jan 27
8:23
AM CT
By
Matthew Coller
| Hockey Prospectus
The difference between a ninth-place team and a playoff team can be a single player who shores up the club's one glaring weakness at the trade deadline. The same goes for the gap between a first-round loss and Stanley Cup run. For example, the Los Angeles Kings could not have won the Stanley Cup in 2014 without offensive dynamo Marian Gaborik, acquired in a deadline deal.
At this point in the season, NHL teams are beginning to assess their playoff chances, including whether they should be buyers at the deadline. Can they fill holes by trading for upcoming free agents? Would they sacrifice taking on a bad contract from another team to take a shot at the Cup? As we begin the unofficial second half of the season, we look at the 10 teams contending for four wild-card spots. What are their weaknesses? How can they solve them?
---
Eastern Conference
Weakness: Lack of goal scoring up the middle
Trade fix: Third-line center
Key stat: 18 total 5-on-5 goals from Derek Stepan, Derick Brassard, Kevin Hayes and Dominic Moore
January, 25, 2015
Jan 25
9:19
PM CT
Associated Press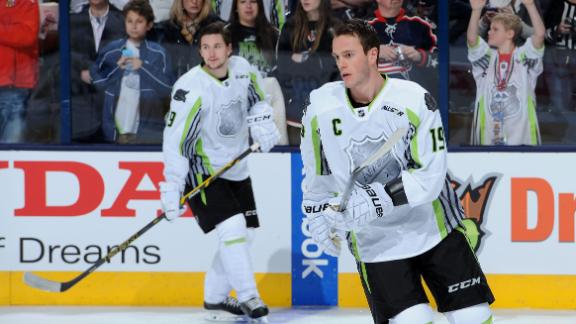 COLUMBUS, Ohio -- Blue Jackets forward Ryan Johansen spent the past few days showing off Columbus to his fellow NHL All-Stars.
On Sunday, Johansen did some showing off of his own by winning an online fan vote to be named the game's MVP.
"It's been really cool. It hasn't hit me yet for sure," he said. "This is something I'll remember for a very long time."
The fourth-year forward, and first-time All-Star won despite being on the short end of Team Foligno's 17-12 loss to Team Toews. Johansen led the team captained by Blue Jackets teammate Nick Foligno with four points (two goals and two assists) and won a new car to go with the honor.
He beat out two Team Toews players -- New York Islanders forward John Tavares and Boston's Patrice Bergeron. The three were announced as the MVP finalists early in the third period, when the vote on Twitter began in the first time fans have determined the winner.
Though the vote amounted to a popularity contest, Johansen's fellow All-Stars called the honor deserving.
"Ryan played great," said Bergeron, who had a goal and four assists. "There were a lot of guys who had great nights."
That included Philadelphia's Jakub Voracek, who had a game-leading six points (three goals, three assists) to tie the All-Star record set by Mario Lemieux in 1988.
"Joey deserved it, the way he handled the weekend overall," Voracek said, referring to Johansen. "Him and Nick Foligno, I'm sure, have been under a lot of the spotlight. They did a great job. It was well deserved."
Tavares, meanwhile, matched an All-Star record in becoming the sixth player to score four goals.
Johansen has emerged as a fan favorite in Columbus after getting off to an uncertain start to the season. As a restricted free agent, he held out the first two-plus weeks of training camp before signing a three-year, $12 million contract in October.
The 2010 first-round draft pick has since delivered on that potential by leading the Blue Jackets with 43 points (17 goals, 26 assists) in 45 games.
On Sunday, Johansen's first goal tied the game at 2 at 11:05 of the first period, when he skated out of the left corner and snapped a shot in off the far post. Johansen scored his second goal 5 minutes later, when he one-timed in a pass from Alex Ovechkin
January, 24, 2015
Jan 24
8:51
PM CT
Associated Press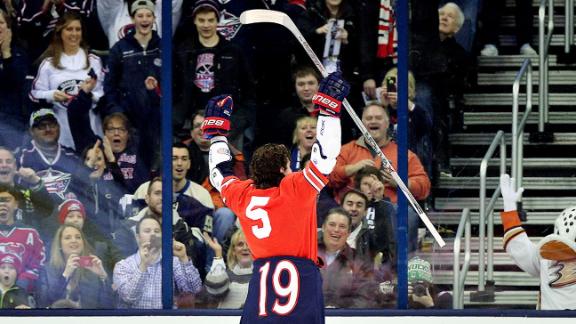 COLUMBUS, Ohio -- Not that they did before, but it's official now: No one wants to get in front of Shea Weber's shot.
The Nashville Predators defenseman fired the hardest shot, at 108.5 mph, at the NHL All-Stars skills competition Saturday night and took advantage of five-time champion Zdeno Chara's absence.
"I knew I got it," Weber said. "But it's tough. You never know how hard it is until it registers on the gun. But it felt like I got pretty much all I could into it, and [you] just kind of hope for the best."
Fighting his nerves (he doesn't practice high-velocity shots), Weber missed the entire net on a 101.8 mph drive with his first attempt. That nullified that try.
Washington Capitals star Alexander Ovechkin, who stole the show at Friday night's draft by pleading to be picked last so he would win a new car, had led the competition with a pair of 101.4 mph drives.
But then Weber stepped into his final shot to win the event.
He said it felt strange with the 6-foot-9 Chara -- who holds the record of 108.8 mph set in 2012 -- not participating.
"Obviously, he's the guy to beat all the time," Weber said. "He's got the big shot. Honestly, I was nervous because there's some guys out there that can rip it."
January, 23, 2015
Jan 23
10:44
PM CT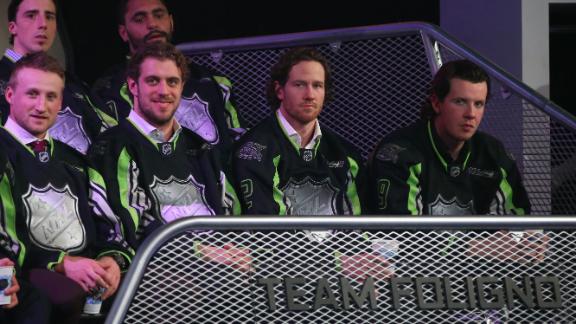 COLUMBUS, Ohio --
Phil Kessel
traded for
Tyler Seguin
, again?
Well that was certainly the capper of an entertaining All-Star draft Friday night.
"Well fellas, I've been there before," Kessel said after the draft. "I got traded for the same person and I think it worked out OK for everyone."
In 2009, the
Boston Bruins
traded Kessel to the
Toronto Maple Leafs
for three draft picks. The Bruins used one of those picks to select Seguin second overall in the 2010 draft.
[+] Enlarge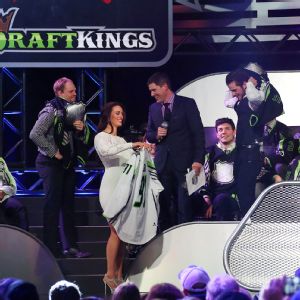 Dave Sandford/NHLI/Getty ImagesPhil Kessel and Tyler Seguin swapped sweaters after being traded for each other on Friday night.
GM
Jonathan Toews
said it was a tough but necessary trade.
"I was heartbroken about that one," said Toews. "I didn't think it was going to come to that point and it happened so quick. Just kind of had to go with it."
Toews made Kessel his team's first pick, wasting no time in making sure the Maple Leafs winger didn't go through the embarrassment of going last overall as he did in the first All-Star draft, in 2011.
"He's a heck of player, no doubt about that," Toews said of Kessel. "I think everyone out there tonight, there's a reason why they're here. For Phil, I was here [watching] his situation a couple years ago and no one wants to go last. There's one great player out there that kind of has to, and tonight there was two guys. I think that was a little bit better in that sense. I think Phil deserved to be our first pick tonight. I think for the most part, the six of us up on stage just wanted to have the most fun with it, make light of things, and we enjoy every minute."
Oh, there were lots of jokes on this night. It seems like some of the players might have had something special in those drinking cups. But the event also allowed for players to relax and show their personalities.
"I think this league's different than any other league," Kessel said. "I don't think you would see that in any league around and that's why this league's special."
January, 23, 2015
Jan 23
8:34
PM CT
Associated Press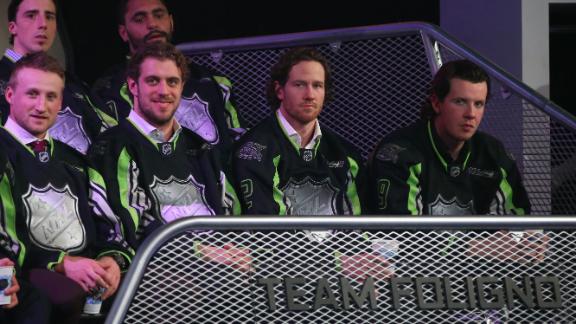 COLUMBUS, Ohio -- Phil Kessel was once again dealt for Tyler Seguin, Columbus Blue Jackets center Ryan Johansen was the No. 1 overall pick and superstar Alex Ovechkin did not get his new car.
In a wild and comic NHL All-Star draft to set the lineups for Sunday's game, almost nothing went the way anyone might have guessed.
The highlight of the evening was Ovechkin, the Washington Capitals' $10 million-a-year goal-scoring superstar, pleading to be taken last in the 17-round draft. Why? To compensate for the embarrassment of being the player no one wanted, the NHL gives the last player standing a new car.
At one point during the evening, a TV interviewer approached Ovechkin backstage and he hid behind a white piece of paper on which he had printed: "I want to be last. Need a car."
Ovechkin, the league's leading goal-scorer last year, came close to getting his wish. He lasted until there were just three players remaining, but then captain Nick Foligno selected him.
Ovechkin slumped in mock dejection in his chair, looked at the ceiling and sighed loudly. Then he looked into the camera and mouthed one word: "WHY?"
Foligno watched Ovechkin slowly walk onto the stage before despondently putting on a black Team Foligno jersey.
"Hey, Ovie, buy a car!" Foligno called out.
As it turned out, Ovechkin barely missed out on a new set of wheels. The two players who went last -- Edmonton's Ryan Nugent-Hopkins
January, 21, 2015
Jan 21
1:00
PM CT
[+] Enlarge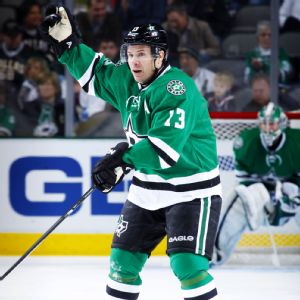 Glenn James/NHLI/Getty ImagesRay Whitney announced his retirement Wednesday, having most recently played for Dallas last season.
The Wizard is hanging them up.
Ray Whitney, 42, announced his retirement as an NHL player Wednesday, capping a career in which he produced 1,064 points (385 goals, 679 assists) in 1,330 regular-season games.
Whitney entered the league in 1991 with San Jose and also played for Edmonton, Florida, Columbus, Detroit, Carolina, Phoenix and Dallas.
He put up consistent production thanks to soft hands, great passing and playmaking ability and great heart.
January, 21, 2015
Jan 21
1:53
PM CT
The Wizard is hanging them up.
Ray Whitney
, 42, announced his retirement as an NHL player Wednesday, capping a terrific career which produced 1,064 points (385-679) in 1,330 regular-season games.
Not bad for a guy who was once waived.
[+] Enlarge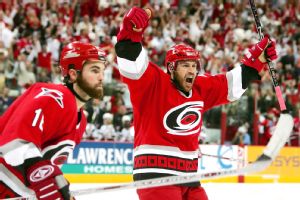 Jim McIsaac/Getty ImagesRay Whitney won the Stanley Cup with the Hurricanes in 2006.
He put up consistent production thanks to soft hands, great passing and playmaking ability, and the heart the size of a mountain.
"For the past 23 years, I have had the privilege of earning my living playing hockey in the National Hockey League," Whitney said in a statement released by his agency, CAA Sports. "Along the way, I have made countless memories and friendships, which I will always cherish. Every city I played in, the fans welcomed my family and me with open arms, and I couldn't be more thankful for that.
"I also wanted to take this opportunity to thank all of my teammates and coaches, especially the 2006 Stanley Cup team in Carolina. I was lucky to have great agents at CAA Sports, who stood by me through the good times and the tough times. I want to say a special thank you to my parents, who gave me the chance to do what I loved.
"Finally, I want to thank my wife Brijet, and our three beautiful children, who have been incredibly supportive of me throughout my career. Without them, I wouldn't have been able to live my dream."
Whitney stood out during his career also because he had something to say. He was a great interview who wasn't shy to speak his mind and provide insightful thoughts on the game.
He also found success on the ice during the dead puck era despite his 5-foot-10, 180-pound frame, fighting through the clutching and grabbing to produce several seasons of 60-plus and 70-plus points before the rules were changed to open up the game in 2005.
He continued to thrive post-2005, putting up a career-high 83 points (32-51) with the
Carolina Hurricanes
in 2006-07. He also had 77 points (24-53) in 2011-12 with the Coyotes at the age of 39.
"Terrific career," Penguins general manager Jim Rutherford told ESPN.com Wednesday. "He was a key player on our Cup team in Carolina from his leadership to keeping the guys loose to scoring big goals for us. He was just a lot of fun to be around.
"He knows the game and he worked really hard," added Rutherford. "He wasn't a big guy. To have the career he had is pretty special."
January, 20, 2015
Jan 20
10:37
PM CT
Associated Press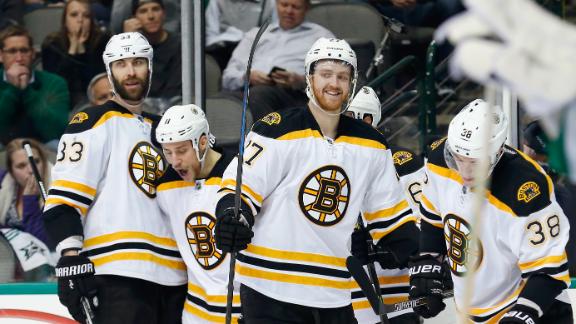 DALLAS -- Tuukka Rask made 36 saves, and Dougie Hamilton had a goal and an assist to lead the Boston Bruins past the Dallas Stars 3-1 on Tuesday night.
Hamilton assisted on Gregory Campbell's second-period goal that broke a 1-all tie, then scored on a third-period power play.
Rask allowed the game's first goal by Vernon Fiddler at 6:46 of the second. Loui Eriksson tied it at 14:17 of the second before Campbell gave the Bruins the lead at 18:27.
Kari Lehtonen made 24 saves for Dallas.
The Stars failed to score on any of their six power plays. They are 3 for 37 over the last nine games.
During the same period, Boston has killed off all but two of 35 penalties.