December, 4, 2013
Dec 4
2:14
PM CT
By
Victoria Matiash
| ESPNDallas.com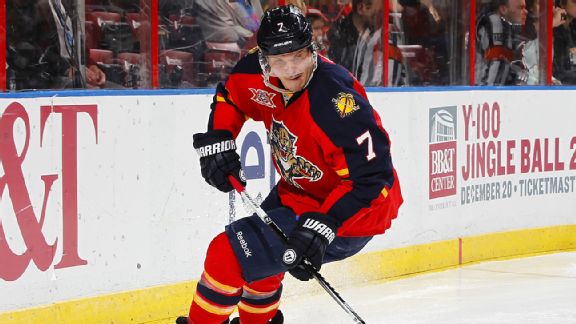 Joel Auerbach/Getty ImagesFormer first-rounder Dmitry Kulikov may be on the move soon.
A former first-round draft pick with the
Florida Panthers
joins
Michael Del Zotto
of the
New York Rangers
,
Dmitry Orlov
of the
Washington Capitals
and
Jake Gardiner
of the
Toronto Maple Leafs
on a short list of promising, young defensemen rumored to be on the NHL trade block.
A healthy scratch this week,
Dmitry Kulikov
is currently a
popular subject of trade talks
, according to TSN's Bob McKenzie:
"Kulikov has been available for most of this year but the Panthers are kicking it up, very aggressively shopping him, and trying to get an auction going for a 23-year-old defenceman who was picked 14th overall in the 2008 draft. Kulikov though has two knocks against him. One, he hasn't been developing and playing particularly well for Florida and two, he's a restricted free agent at the end of the year and there are fears that because he has the KHL option as a Russian, he might go back there instead of playing in the NHL."
That being said, the feeling is that he
is
worth the risk for many. ESPN.com's Pierre LeBrun
believes Kulikov is "certainly worth a gamble"
, and other rumblings indicate teams are talking to Florida GM Dale Tallon about the talented, puck-moving D-man.
With a look to recent history, Elliotte Friedman of the CBC proposes the
Maple Leafs might be in the mix
:
"The details are hard to pin down, but, at some point last season, the Florida Panthers came pretty close to pulling off a deal that would have sent Dmitry Kulikov to Toronto. One of the teams backed away. But it would come as no surprise to see this conversation rekindled. Kulikov certainly has talent yet is inconsistent. Could he benefit from a change?"
There is no doubt Kulikov would reap great advantage from a fresh start -- in reality
and
in fantasy play. Not only is he saddled with competing for one of the worst teams in the league, but the young Russian is also
apparently not working well
with new Panthers coach Peter Horachek. Like most developing D-men, Kulikov has hit rough patches in the past, but not to
this
extent (three points in 27 games).
Hooking up with the Maple Leafs -- or the
New York Islanders
,
Philadelphia Flyers
,
Ottawa Senators
,
Carolina Hurricanes
,
Colorado Avalanche
, etc. -- would go a long way in getting Kulikov back on the right, previously forecast, track. This lad has the tools and talent to earn a point every couple of games in the NHL. If a transaction seems imminent, you may want to take a gamble on him in your fantasy league.
To continue reading this article you must be an Insider
December, 3, 2013
Dec 3
10:08
PM CT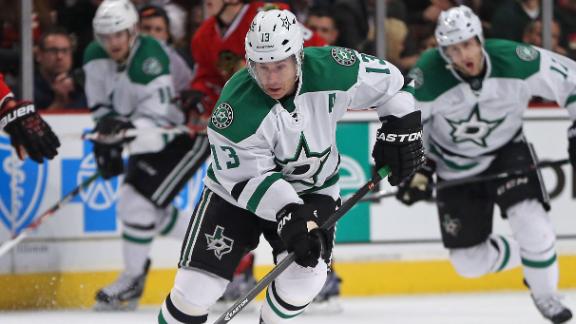 CHICAGO -- Here's a quick look at the
Dallas Stars
' 4-3 win over the
Chicago Blackhawks
at the United Center on Tuesday.

How it happened:
The Blackhawks outshot the Stars 50-18 on net, but the Stars made the most of their opportunities. The Stars'
Antoine Roussel
broke a 3-3 tie at 3:01 of the third period on a penalty shot. The Stars built a 2-0 lead after the first period, behind goals by
Valeri Nichushkin
and
Alex Chiasson
. They went ahead 3-0 when
Erik Cole
scored at 3:07 of the second period. The Blackhawks battled back with three consecutive goals.
Patrick Sharp
put the Blackhawks on the board with a power-play goal at 9:39 of the second period.
Nick Leddy
cut the Stars' lead to one with a goal at 16:08, and
Johnny Oduya
tied the game with a goal 65 seconds later.
What it means:
The Blackhawks had their six-game winning streak snapped. It was the Blackhawks' first contest at home after a seven-game road trip, during which they went 6-1-0. Blackhawks defenseman
Duncan Keith
had an assist on Sharp's goal and extended his assists streak to eight games. He has 23 assists on the season.
Patrick Kane
kept pace with the league's points leaders and pushed his total to 32 with two assists on Tuesday. Blackhawks goaltender
Corey Crawford
hadn't allowed more than one goal in his previous three starts. The Blackhawks defeated the Stars 2-1 in an 11-round shootout in their last meeting on Nov. 29. The Blackhawks are now 20-5-4 on the season.
Player of the game:
Stars goaltender
Kari Lehtonen
was on top of his game and made 47 saves.
Stat of the game:
The Stars scored their first three goals off nine shots on net.
What's next:
The Blackhawks return to the road and play the
Minnesota Wild
on Thursday. The Blackhawks will then host the
Anaheim Ducks
on Friday.
December, 3, 2013
Dec 3
9:57
PM CT
Associated Press
CHICAGO -- Kari Lehtonen had a season-high 47 saves, Antoine Roussel converted a penalty shot in the third period and the Dallas Stars snapped the Chicago Blackhawks' six-game winning streak with a 4-3 victory on Tuesday night.
Valeri Nichushkin had a goal and an assist for the Stars, who had dropped four of five, including consecutive shootout losses at home in their previous two games. Alex Chiasson and Erik Cole also scored.
Patrick Sharp scored his 200th goal with Chicago in the Blackhawks' first home game since a 5-1 victory over San Jose on Nov. 17. The defending Stanley Cup champions hit the road while the circus took over the United Center and responded with an impressive 6-1-0 trip, including an 11-round shootout win in Dallas on Friday night.
December, 3, 2013
Dec 3
8:32
AM CT

Perhaps it's nothing, but perhaps it's something. That sounds pretty cryptic, but we're talking about the latest saga affecting the
New York Rangers
hockey club; namely, Alain Vigneault's decision to bench a healthy
Henrik Lundqvist
for backup
Cam Talbot
in two straight games.
To continue reading this article you must be an Insider
December, 2, 2013
Dec 2
9:25
AM CT
By
ESPN Stats & Information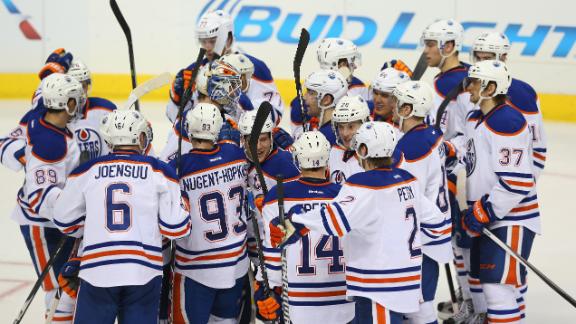 Oilers 3, Stars 2 (SO)
*
David Perron
(EDM): go-ahead shootout goal
*
Ryan Garbutt
(DAL): two goals; first career multigoal game
Red Wings 4, Senators 2
*
Daniel Alfredsson
(DET): Goal, assist; first game as visitor in Ottawa (played first 17 seasons with Senators)
*
Drew Miller
(DET): two goals; entered game with two goals this season
* Red Wings: won four straight
Canucks 3, Hurricanes 2
*
Ryan Kesler
(VAN): two goals (12); third multigoal game of season
*
Jason Garrison
(VAN): two assists; third multipoint game of season
December, 2, 2013
Dec 2
7:59
AM CT

It was a disastrous holiday weekend for the
New York Islanders
, who lost three home games in four days and are 2-10-1 in their last 13.
To continue reading this article you must be an Insider
December, 1, 2013
Dec 1
8:10
PM CT
Associated Press
DALLAS -- Jordan Eberle and David Perron scored in the shootout, and Devan Dubnyk come on in relief of injured goalie Ilya Bryzgalov and earned a 3-2 win over the Dallas Stars on Sunday night.
Dubnyk stopped two of three shots in the tiebreaker. Dallas' Kari Lehtonen failed to make a save in the shootout.
Edmonton's Ales Hemsky scored 5 seconds before the second period ended, and Andrew Ference fired in a slap shot with 5:07 remaining in regulation to tie it again.
Ryan Garbutt scored two goals, including a short-handed tally that gave Dallas a 1-0 lead in the second period. He also put the Stars ahead in the third.
Garbutt nearly had a hat trick but he was stopped on a breakaway attempt by Bryzgalov with 3:41 left in the second. Garbutt collided with Bryzgalov, who left with an upper-body injury and didn't return.
Bryzgalov, who made 28 saves, trailed 1-0 when he came out.
December, 1, 2013
Dec 1
7:16
PM CT
Associated Press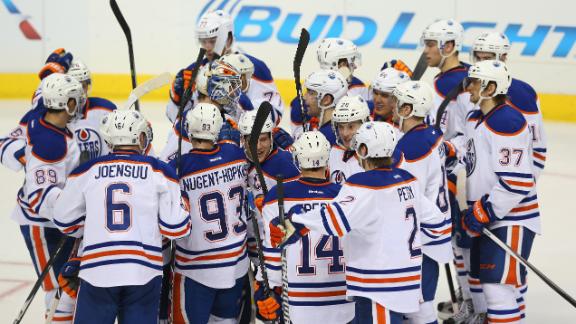 DALLAS -- Edmonton Oilers goalie Ilya Bryzgalov left Sunday's game after colliding with Dallas Stars forward Ryan Garbutt during a breakaway attempt.
Bryzgalov made the save with 3:41 left in the second period Sunday but then was replaced by Devan Dubnyk. The Oilers announced on Twitter that Bryzgalov had sustained an upper-body injury and wouldn't return to the game. The Oilers eventually topped Dallas 3-2.
Bryzgalov stopped a forehand shot by Garbutt, but as the puck slid away to the left, Bryzgalov fell face forward onto the ice next to the net and appeared to hold his head.
After a visit from a trainer, he was helped off the ice.
Playing in just his fourth game this season, Bryzgalov made 28 saves and trailed 1-0 when he left the game.
November, 30, 2013
Nov 30
1:26
PM CT
Associated Press
DALLAS -- The Dallas Stars have placed defenseman Stephane Robidas on injured reserve with a broken right leg and recalled Jamie Oleksiak from their AHL affiliate.
The team said Saturday that the 36-year-old Robidas is expected to miss four to six months, jeopardizing his return this season. He was injured when he slid hard into the boards in the second period of a 2-1 shootout loss to Chicago on Friday.
Robidas ranks fourth among Dallas defensemen in games (704), assists (165) and points (211). The Stars signed him as a free agent in 2005. He has five points in 24 games this season.
Oleksiak leads all Texas Stars defensemen with three goals in 22 games. The 20-year-old made his debut for Dallas last season.
November, 30, 2013
Nov 30
9:06
AM CT
By
ESPN Stats & Information
Blackhawks 2, Stars 1 (F/SO)
*
Ben Smith
(CHI): scored game-winning goal in 11th round of shootout; 1st career shootout attempt
* Blackhawks: won 5 straight games (all on road); allowed 8 goals in those 5 games
* Blackhawks: 6th straight win vs Stars (5 road wins in span)
FROM ELIAS:
Corey Crawford
allowed only one goal in an 11-round shootout that earned him and the Blackhawks a 2–1 win at Dallas. It was the longest shootout in an NHL game since Dec. 23, 2010, when the Lightning prevailed over the Rangers in the 11th round. Crawford has not registered a shutout this season but he's allowed only one goal in a total of 10 games and won them all. That ties him with the Bruins'
Tuukka Rask
for the most wins with no more than one goal allowed this season by an NHL goaltender.
Avalanche 3, Wild 1
*
Gabriel Landeskog
(COL): 1 G, 2 A; team-high 6th multi-point game this season
* Avalanche: Won 4 of last 5 games after losing 3 straight
* Wild: lost 3 straight games (combined 0-7 on power play); had won 6 of previous 7
FROM ELIAS: Gabriel Landeskog assisted on each of Colorado's first two goals and then scored the empty-net goal which clinched the Avalanche's 3–1 win at Minnesota. It was the second three-point game and 20th multiple-point game of Landeskog's three-season NHL career. (He scored one goal and two assists against Calgary on February 28 last season.) Landeskog has recorded more multi-point games versus the Wild (three) than he has against any other team.
Capitals 3, Canadiens 2 (WSH wins shootout 3-2)
* Capitals: lead NHL with 6 shootout wins this season
*
Mikhail Grabovski
: Goal (8), assist (4th multi-point game this season); scored deciding goal in shootout
* Canadiens: loss ends 4-game win streak; 1-3 in shootouts this season
FROM ELIAS: Capitals goaltender
Braden Holtby
earned a first-star selection by making 35 saves in his shootout win against the Canadiens. Holtby has won four of his five shootouts this season, after winning all three of tiebreakers last season. Holtby's 7–1 (.875) shootout record over the last two seasons is the best among NHL netminders who've had at least six shootout decisions since the beginning of the 2012–13 season.
Ben Bishop
is a close second with a 6–1 (.857) shootout record.
Sharks 6, Blues 3
* Sharks: Won 4 straight and 7 of last 8
*
Brent Burns
: 1st career hat trick (had 1 multi-goal game in previous 575 career games)
*
Logan Couture
: matches career-high with 3 assists (also had 3 assists on Nov. 21)
FROM ELIAS: San Jose's Brent Burns notched the first three-goal game of his NHL career when he scored on each of his three shots on goal in the Sharks' 6–3 win over the Blues. It was the second hat trick in the NHL this season in which the player had a perfect shooting percentage; the first one was by the Kings'
Dwight King
against Phoenix on October 24. Burns was the first Sharks player with three goals in a game in which he had only three shots on goal since
Joe Thornton
on March 25, 2008 at Phoenix.
Penguins 3, Lightning 0
*
Sidney Crosby
(PIT) 3 assists (Penguins are 17-3-1 when he has a point this season; 0-6-0 when he fails to record a point)
*
Chris Kunitz
(PIT): 2 goals (Penguins are 10-1-0 when he scores a goal this season)
* Marc Andre-Fleury (PIT): 21 saves, 3rd shutout this season (had allowed 10 goals in previous 3 games combined)
* Penguins: won 8 straight games vs Lightning
FROM ELIAS: Sidney Crosby reached the 700-point mark in his NHL career when he recorded the second of his three assists in the Penguins' 3–0 win over the Lightning. Crosby hit that milestone in his 497th game, making him the sixth player in NHL history to do so in fewer than 500 games, after Wayne Gretzky (317),
Mario Lemieux
(363),
Peter Stastny
(457), Mike Bossy (469) and
Jari Kurri
(483). Only three active players besides Crosby got to the 700-point plateau in fewer than 600 games:
Teemu Selanne
(541),
Jaromir Jagr
(557) and
Alex Ovechkin
(579).
Bruins 3, Rangers 2
*
Zdeno Chara
(BOS): go-ahead goal (6) with 8:55 left in 3rd period; recorded "Gordie Howe Hat Trick" (a goal, an assist & a fight - 5th of career, 2nd vs Rangers)
*
Brad Marchand
(BOS): goal (4), assist
* Bruins: 3-1-0 in last 4 games overall; 8-0-2 in last 10 home games
* Rangers: only 2nd loss in last 9 road games (7-2-0)
FROM ELIAS: Zdeno Chara's goal with 8:55 remaining in the third period broke a 2–2 tie and provided the winning margin for the Bruins in their 3–2 victory over the Rangers in Boston. Chara has scored six goals this season and they've all come on home ice, including one in each of the Bruins' last three home games. He's the first Boston defenseman to score goals in each of three consecutive team home games in one season since
Bryan Berard
in November 2002. The last to do it before Berard was
Ray Bourque
in March 1999.
Flyers 2, Jets 1
* Flyers: both goals in game are unassisted goals (
Scott Hartnell
at 0:48 of 1st and
Sean Couturier
at 5:36 of 2nd)
* Flyers: won last 5 home games (last home loss: Nov. 7 vs Devils)
* Jets: now 2-1-0 on current 6-game road trip (next game on trip: Monday at Rangers)
FROM ELIAS: The Flyers edged the Jets, 2–1, in game that started before noon on Friday and the Philadelphia goals, by Scott Hartnell and Sean Couturier, were both unassisted. It was the first time in Flyers history that they won a regular-season game in which every goal they scored was unassisted. Excluding games decided by a shootout, the last NHL team before the Flyers to win a game in which it scored at least two goals, all unassisted, was the Rangers in their 3–1 win at Anaheim on Dec. 16, 2008. New York's solo scorers in that game were
Chris Drury
,
Nigel Dawes
and
Nikolay Zherdev
.
Red Wings 5, Islanders 0
FROM ELIAS:
Daniel Alfredsson
, in the 1200th game of his NHL career, scored two goals for the Red Wings as they beat the Islanders, 5–0. It was the 62nd multiple-goal game of his NHL career and first for a team other than the
Ottawa Senators
. Alfredsson, who will turn 41 years old in less than two weeks (December 11), is the sixth player in Red Wings franchise history to score two or more goals in a regular-season game at age 40 or older. The other 40-something Detroit players with multiple-goal games were Gordie Howe (16 times),
Nicklas Lidstrom
(twice), Alex Delvecchio,
Steve Thomas
and
Steve Yzerman
.
Ducks 5, Flames 2
FROM ELIAS:
Dustin Penner
scored a pair of goals for the Ducks in their 5–2 win against the Flames, after scoring twice at Phoenix on Saturday and once at Dallas on Tuesday. This is the first time that Penner has tallied five goals over a three-game span in his NHL career, and in each of those games he scored a power play goal. Over the last five seasons the only other Ducks player to score power play goals in each of three consecutive team games was defenseman
Cam Fowler
in January/February 2011.
Devils 5, Hurricanes 2
FROM ELIAS: The Devils outscored the Hurricanes, 4–0, in the third period to turn a 2–1 deficit into a 5–2 victory at Carolina. It was only the second time in the last 16 seasons that New Jersey won a game by a three-goal or bigger margin after trailing entering the third period. The Devils' other such win since 1997 was a 6–3 home-ice victory against the Lightning on Jan. 9, 2011. Before Friday's win, the last time New Jersey had a comeback victory of that kind in a road game was at Pittsburgh on January 7, 1984 (7–4).
Blue Jackets 4, Oilers 2
FROM ELIAS:
Ryan Johansen
scored one goal and assisted on another as the Blue Jackets jumped out to a 4–0 lead over the Oilers and then held off a third-period Edmonton rally to post a 4–2 win. It was the team-high sixth time this season that Johansen registered both goals and assists in the same game. The only other Columbus player with more than two such games this season is
Brandon Dubinsky
with four.
Sabres 3, Maple Leafs 2 (F/OT)
FROM ELIAS: The Sabres ended their season-worst five-game losing streak with a 3–2 overtime victory against the Maple Leafs, after trailing by scores of 1–0 and 2–1 in regulation time. The losing streak is over but another Buffalo streak was extended on Friday: The Sabres have trailed for at least some part of the playing time in each of their last 23 games. That's a Buffalo franchise record and the longest single-season streak of its kind by an NHL team since 2003–04, when Pittsburgh trailed in 23 consecutive games.
November, 29, 2013
Nov 29
11:48
PM CT
By
Todd Wills
| ESPNDallas.com
DALLAS -- There's a reason the defending Stanley Cup champion
Chicago Blackhawks
persevered for their NHL-best 19th victory of the season Friday night with a 2-1 win in a shootout over the
Dallas Stars
.
The Blackhawks can handle being at the back end of a seven-game road trip, even against one of the fastest opponents in the league. They can change the momentum of a game with their determination and talent, and they can survive 11 rounds of a shootout, too.
[+] Enlarge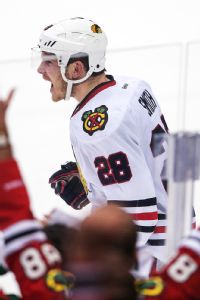 Jerome Miron/USA TODAY SportsBen Smith scored in the 11th round of the shootout to push the Blackhawks to victory.
Blackhawks coach Joel Quenneville had to know his group would rally for a win behind the first shootout goal of
Ben Smith
's career. Or at least hope so.
"I had a lot of confidence in Ben," Quenneville said with a smile.
Quenneville has a lot of confidence in his team. The Blackhawks are at a league-best 42 points after grabbing their fifth win in six games on a 12-day trip that will conclude Saturday in Phoenix.
Chicago is a blistering 10-3-1 on the road. The Blackhawks have built that record by overcoming three 1-0 third-period deficits on this trip, the latest Friday night.
Patrick Sharp
scored the equalizer at 7:21 of the third period to give the Blackhawks a lift after the well-rested Stars, in the second game of a three-game homestand, outplayed Chicago for the first two periods. The Stars were all over the place, and goalie
Corey Crawford
had to be perfect after gift-wrapping a goal to
Rich Peverley
late in the first period.
"The pace was incredible," Quenneville said. "That first period was a tremendous pace. [The Stars] work hard, and they have a lot of speed on you. They keep pressure on you. I thought we hung in there well. Crawford was rock-solid and great in the shootout as well. It was one of those games. It was tight and we had to do things quickly, and it's pretty remarkable that we've had three games in the last four where it was 1-0 going into the third and we found a way to win. We showed great character tonight."
Crawford kept the Blackhawks in the game by stopping
Alex Chiasson
on a penalty shot just more than two minutes into the second period with Chicago already down 1-0. Chiasson hit the left post, making Crawford a perfect 8-for-8 on penalty shots for his career.
"We work on it sometimes in practice," Crawford said. "It's a key situation in the game. It's important if we go down by two goals. I was just trying to come up with a save and keep our team in it."
Crawford again had to be perfect in the shootout after Peverley kept the Stars alive with a wrist shot that got past the Blackhawks goalie in the third round.
Crawford and Stars goalie
Kari Lehtonen
stopped every shot for the next seven rounds, and when Dallas rookie
Valeri Nichushkin
missed to start the 11th round, that gave Smith a chance to be the hero and get the Blackhawks to Phoenix with a shootout win.
Smith had watched how his teammates tried to beat Lehtonen low during the shootout, playing to the Dallas goalie's strength. So Smith decided to go up high, and he was able to get a wrist shot up over Lehtonen's glove and shoulder for the game winner.
"I was watching the guys," Smith said. "I was hoping I didn't have to go, but I wanted to go. I was hoping it didn't get to that point. To get the opportunity and Crawford came up with the big save, many big saves. To be able to bury that was nice."
November, 29, 2013
Nov 29
10:54
PM CT
Associated Press
nullnull
DALLAS -- Ben Smith scored in the 11th round of a wild shootout and the Chicago Blackhawks finally beat the Dallas Stars 2-1 Friday night for their fifth straight victory.
Chicago's Patrick Sharp and Dallas' Rich Peverley had the only goals through the first 10 rounds of the tiebreaker. Each of them scored in regulation, too.
Sharp tied it 1-all at 7:21 of the third period. Peverley scored at 16:40 of the first.
Stars defenseman Stephane Robidas broke his right leg in the second period and was taken to the hospital.
While helping to kill off a Dallas penalty, the 36-year-old Robidas slid hard into the boards beyond the goal line. He stayed down on the ice holding his leg just below the knee.