November, 27, 2014
Nov 27
3:20
PM CT
Associated Press
NEW YORK -- Dallas Stars forward Ryan Garbutt has been suspended for two games by the NHL while Winnipeg Jets forward Adam Lowry received a one-game ban for separate incidents this week.
Garbutt was disciplined for kneeing Edmonton Oilers forward Taylor Hall in the Stars' 3-2 victory Tuesday.
Garbutt was assessed a minor penalty for tripping on the play. He's considered a repeat offender and will forfeit $43,902.44 in salary.
Lowry was suspended for boarding Sabres forward Patrick Kaleta in Wednesday's 2-1 victory in Buffalo. Lowry will forfeit $4,453.41. He was assessed a major penalty for boarding and a game misconduct on the play.
November, 25, 2014
Nov 25
10:47
PM CT
Associated Press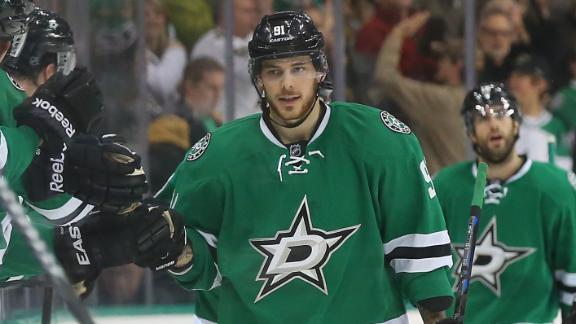 DALLAS -- Tyler Seguin scored two goals to give him an NHL-leading 17, and rookie defenseman John Klingberg added a goal from center ice and an assist to lead the Dallas Stars to a 3-2 victory over the struggling Edmonton Oilers on Tuesday night.
The Stars won their third straight for the first time this season in the fourth game of a season-high, five-game homestand.
Edmonton, last in the Western Conference, is 0-6-1 in its last seven games. The Oilers haven't led since a win over the New York Rangers on Nov. 9. The Oilers fell to 0-11-1 against Western Conference opponents as they began a three-game trip against Central Division teams.
November, 25, 2014
Nov 25
10:28
AM CT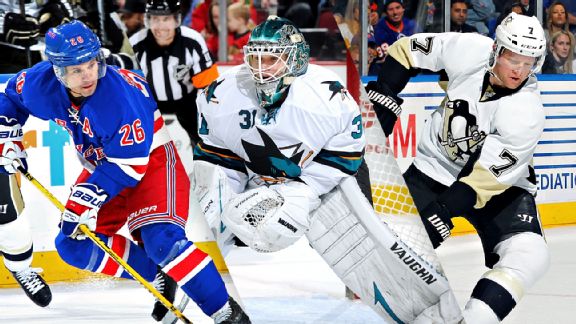 Getty Images Martin St. Louis, Antti Niemi and Paul Martin are the top impending free agents at their positions.
When
Jason Spezza
signed his four-year contract extension with the
Dallas Stars
worth $7.5 million per season, the initial thought was that it seemed high for a player on the downside of his career.
All it took was a quick glance at the 2015 free-agent center options, and suddenly that money didn't look so bad.
The free-agent market seems to get thinner each year, making signing your current players a smart priority. That's one reason why Spezza likely isn't the last to get a deal done here in the next month or so.
"You're going to see teams try to get deals done. There might be more of an urgency to get deals done," said one agent with a couple of high-end players in contract years. "The cap isn't going to go up significantly, so the prominent guys are being locked in."
Spezza would have been one of the top three players available. What does the UFA list look like without him? Here's an early look at the Top 20, with updates on where some of negotiations currently stand:
---
1. Martin St. Louis, F, New York Rangers
The Rangers were St. Louis' preferred destination when he was leaving Tampa Bay, so there's no reason to believe he's going anywhere. He's been a great fit with the Rangers, was their spiritual leader during their trip to the Stanley Cup finals and has 17 points through 20 games so far this season. At 39, he might be at the point where he's willing to do one-year deals that come with bonuses that can be rolled over.
November, 24, 2014
Nov 24
12:47
PM CT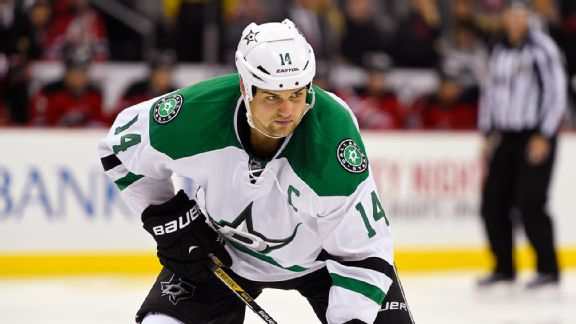 Rich Kane/Icon SportswireJamie Benn found himself among the league's best three players last week.
From the official NHL release:
HANSEN, TATAR AND BENN NAMED NHL 'THREE STARS' OF THE WEEK
NEW YORK (Nov. 24, 2014) –
Vancouver Canucks
right wing
Jannik Hansen
,
Detroit Red Wings
left wing
Tomas Tatar
and
Dallas Stars
left wing
Jamie Benn
have been named the NHL's "Three Stars" for the week ending Nov. 23.
FIRST STAR – JANNIK HANSEN, RW, VANCOUVER CANUCKS
Hansen led the NHL with five goals, converting on 71.4% of his shots (5-of-7) to power the Canucks (14-6-1, 29 points) to five of a possible six standings points. He recorded his fourth career shorthanded goal in a 5-4 win over the
Edmonton Oilers
Nov. 19. Hansen then scored the game-tying goal for the Canucks in a 4-3 shootout loss to the
Anaheim Ducks
Nov. 20. He capped the week by posting his first career hat trick, including the game-winning goal, in a 4-1 victory over the
Chicago Blackhawks
Nov. 23. The 28-year-old Herlev, Denmark, native has found the back of the net in three consecutive games for the third time in his career and first time since March 2-5, 2013 (3-2—5). His eight goals in 21 games rank second on the Canucks and are eight shy of his single-season high set in 2011-12 (82 GP).
SECOND STAR – TOMAS TATAR, LW, DETROIT RED WINGS
Tatar tied for second in the League with 4-1—5, including two game-winning goals, to lead the Red Wings (10-5-5, 25 points) to two victories in three starts. He opened the week with a pair of game-winning goals and multi-point performances: 1-1—2 in 5-0 triumph over the
Columbus Blue Jackets
Nov. 18 and 2-0—2 in a 4-3 victory over the
Winnipeg Jets
Nov. 20. Tatar then added his ninth goal of the season in a 4-1 loss to the
Toronto Maple Leafs
Nov. 22, stretching his point streak to a career-long five games (5-2—7). The 23-year-old Ilava, Slovakia, native has found the back of the net in three consecutive games for the second time in his NHL career (also Jan. 4-11, 2014: 3-1—4). He is tied for the team lead in goals this season and also is tied for fourth with 12 points (20 GP).
THIRD STAR – JAMIE BENN, LW, DALLAS STARS
Benn led the NHL with 3-3—6, including a pair of multi-point games, to propel the Stars (8-9-4, 20 points) to two wins in three outings. He posted 1-1—2 in a 6-4 loss to the
Carolina Hurricanes
Nov. 18 and then collected the secondary assist on Cody Eakin's game-winning goal in a 3-1 comeback victory over the
Arizona Coyotes
Nov. 20. Benn capped the week with 2-1—3, his first multi-goal game and second three-point performance of the season (also Oct. 14 at CBJ: 1-3—4), in a 5-4 win over the
Los Angeles Kings
Nov. 22. The 25-year-old Victoria, B.C., native ranks second on the Stars in goals (8), assists (11-tied) and points (19) this season (21 GP). He also has 42-56—98 in his last 102 appearances dating to the start of the 2013-14 campaign.
November, 24, 2014
Nov 24
10:39
AM CT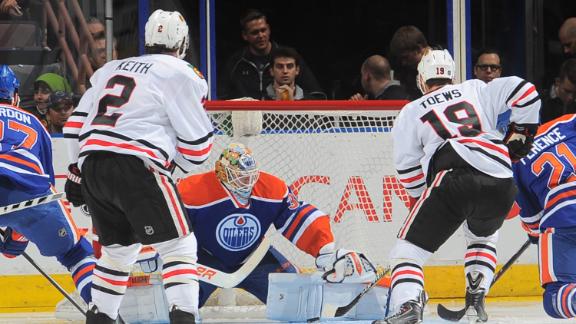 Trending up
Trending down
Dallas Eakins' job security: Twitter was abuzz Sunday with speculation over whether Eakins would be the latest casualty of the Edmonton Oilers' train wreck. Although star player Taylor Hall went to bat for his coach over the weekend, telling reporters it would be "so unfair" to give Eakins the ax, it's hard to imagine he'll survive the team's current nose dive. The club has dropped six straight, most recently a humiliating 7-1 drubbing courtesy of the Chicago Blackhawks. Dan Bylsma had better get his passport ready.
San Jose Sharks: Eakins may not be the only coach on the chopping block out West, with the Sharks continuing to stumble and Todd McLellan's seat growing hotter by the day. The Sharks surrendered their third straight in Saturday's 4-3 shootout defeat to the Arizona Coyotes. That's three losses to some of the weakest teams in the league; before Saturday's loss, the Sharks had dropped games to the Buffalo Sabres and Florida Panthers.
Injury report
St. Louis' Jay Bouwmeester saw his ironman streak end Sunday when he missed the Blues' game against the Winnipeg Jets with a lower-body injury. The veteran defenseman had played 737 consecutive games.
It is not immediately clear whether Canucks defenseman Dan Hamhuis will require surgery, but he is expected to miss extended time after suffering a lower-body injury in Thursday's game against Anaheim.
What to watch for
Unrest in Edmonton: If Eakins does not get fired this week, one would imagine the Oilers may go the trade route to try to shake things up and provide the club with a much-needed jolt heading into this week's three-game road trip. Will Oilers GM Craig MacTavish begin shopping Jordan Eberle, as many have long wondered, or put a guy like David Perron on the trading block? Don't rule out anything when it comes to floundering club.
Who steps up for Blues? The "STL Line" remains the hottest line in hockey at the moment, but we've all seen what can happen with lopsided production. Alexander Steen tallied his fourth goal of the season in the Blues' 3-2 win over Ottawa on Saturday and followed up with a pair of assists in the Blues' 4-2 win against Winnipeg on Sunday. In addition to a power-play marker from Jaden Schwartz, the Blues also got goals from David Backes, Ryan Reaves and Paul Stastny. Can they sustain such offensive balance? Also, does coach Ken Hitchcock continue to alternate with Jake Allen and Brian Elliott in goal or does he give one netminder the chance to run with it?
November, 22, 2014
Nov 22
10:14
PM CT
Associated Press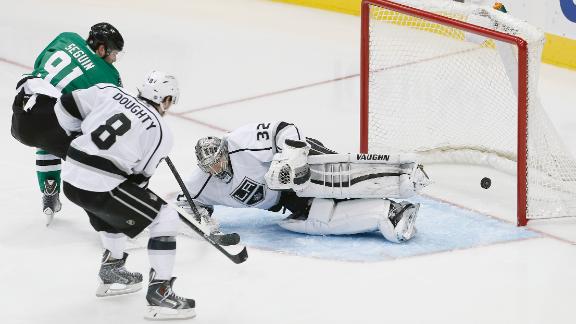 November, 21, 2014
Nov 21
2:58
PM CT
Associated Press
SAN JOSE, Calif. -- The San Jose Sharks have traded defenseman Jason Demers and a future draft pick to the Dallas Stars for defenseman Brenden Dillon.
The Stars will get a third-round pick in the 2016 draft in Friday's deal.
The 24-year-old Dillon has nine goals and 17 assists in 149 career games with Dallas. He had one assist in 20 games this season, along with 26 penalty minutes, 27 hits and 29 blocked shots.
Sharks general manager Doug Wilson calls Dillon a "late-blooming" player whose game is trending up and who will help San Jose for the present and future.
The 26-year-old Demers has 16 goals and 82 assists in 300 career games. He has three assists in 20 games this season.
November, 21, 2014
Nov 21
11:36
AM CT
Here are some thoughts and observations about the
Chicago Blackhawks
after their 4-3 win over the
Calgary Flames
on Thursday:
1.
The Blackhawks might want to think about just trading
Jeremy Morin
. Blackhawks coach Joel Quenneville obviously isn't fond of his game, and Morin deserves a chance somewhere. He's 23 and has been in professional hockey since the 2010-11 season. He's put in his time with the organization. Blackhawks general manager Stan Bowman basically gave Brandon Pirri and
Jimmy Hayes
opportunities elsewhere by trading them when it was evident they weren't going to be utilized much. He could do the same for Morin. Morin's ice time was limited again Thursday. Quenneville played him nine shifts and 6:50. He has averaged 7:48 in 14 games and has been scratched four times this season. He doesn't have any production to show for it this year, but he has shown plenty of offensive ability in the past. He also continues to be among the league's leaders in Corsi. It may not click for him in Chicago, but it may still click elsewhere. He is represented by Pat Brisson, who is also the agent for Kane,
Jonathan Toews
,
Andrew Shaw
and
Marcus Kruger
, so it's likely Bowman would listen if a trade was what was asked of him. Brisson and Morin likely thought Morin would get more of an NHL opportunity this season when he signed a two-year deal in June.
2.
Someone familiar with Patrick Kane's game described it as a mess just a few weeks ago. I was told Kane was making decisions too quickly and not forcing defenders into difficult situations. You could see him begin making some adjustments recently against the
Tampa Bay Lightning
and starting to dictate the play and controlling the puck more. He wasn't rewarded that game, but it was only a matter of time. With a goal and assist Thursday, he's scored in three consecutive games and has six points over the last three games. He has also recorded consecutive multi-point games for the first time this season. Usually when Kane gets going, he stays going for a bit.
3.
Kane's success the last two games has something to do with
Kris Versteeg
and
Brad Richards
being on his line. Quenneville was reluctant to combine Kane and Richards even though that appeared to be the plan when Richards was signed. Anyway, they're together now, and they're flourishing. That line was a plus-3 against the
Dallas Stars
on Sunday and should have been a plus-2 on Thursday. The Blackhawks' top line had a horrendous line change which created a Flames' odd-man rush and goal in the second period, and it ended up being on the second line's tab. Even with that, the line has been a plus-4 and has helped create five goals in the last two games.
November, 21, 2014
Nov 21
9:08
AM CT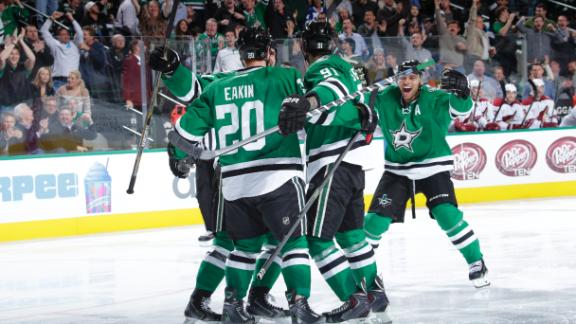 The Dallas Stars have signed center Jason Spezza to a four-year contract extension worth $30 million, the team announced Friday.
The deal also includes a no-trade clause, a source told ESPN.com on Friday.
"Jason is a world-class player and his commitment to the organization is a reflection of what we are building in Dallas," general manager Jim Nill said in a statement. "The professionalism and production he brings to our group is key for our success moving forward and we value the leadership he brings to our team."
Spezza, 31, was slated to be an unrestricted free agent July 1.
Spezza is coming off a seven-year, $49 million deal he signed in Ottawa. The Senators met his trade demand request last summer and dealt him to the Stars.
November, 20, 2014
Nov 20
10:23
PM CT
Associated Press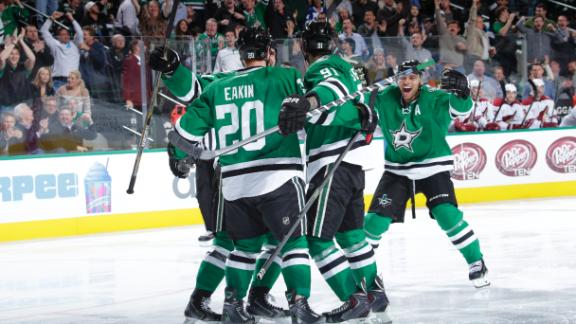 DALLAS -- John Klingberg, Cody Eakin and Jason Spezza all scored in the third period, rallying the Dallas Stars to a 3-1 victory over the Arizona Coyotes on Thursday night.
Dallas ended a seven-game home losing streak (0-5-2), winning for just the second time in 11 home games (2-5-4).
Klingberg and Eakin scored 33 seconds apart in the opening minute of the third period. Klingberg's goal from the slot was his first in the NHL, in his sixth game, and tied the score 19 seconds into the period. Eakin tipped Trevor Daley's shot from the blue line over Arizona goalie Mike Smith at 52 seconds.
Spezza made it 3-1 with 4:18 remaining as he skated behind the net, came out on the left side and shot into the net.
Lauri Korpikoski scored for the Coyotes with 5:39 left in the first period.
Smith and Dallas' Kari Lehtonen both had 24 saves.