What's changed for surging Flyers?
January, 6, 2014
1/06/14
9:37
AM ET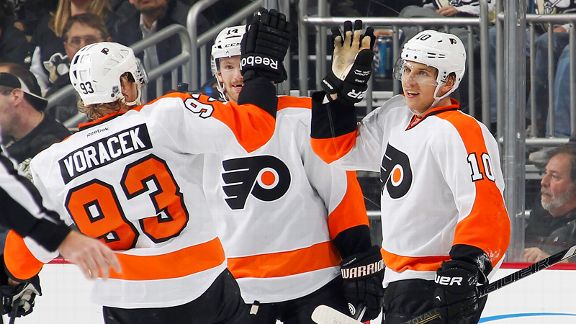 Gregory Shamus/NHLI/Getty ImagesThe Flyers have been celebrating a lot more lately.
The Flyers' recent West Coast tour was successful in part because of two meetings that bookended the trip. In Edmonton, coach Craig Berube gathered his team before hitting the ice for practice. The Flyers were embarking on a six-game road trip with five of the games out West, where Eastern Conference teams have struggled all season. They wrap it up on Tuesday in New Jersey.
Making it worse, the Flyers' recent road performance before that meeting in Edmonton hadn't pleased Berube. They were blown out by the Blue Jackets in Columbus on the Saturday before Christmas. The Capitals and Blackhawks also had impressive home wins at the Flyers' expense in December.
"We refocused," Berube said of the meeting when we chatted Sunday afternoon, the same day the Flyers arrived home around 4 a.m. from Arizona. "We discussed about just making sure you're playing smart and doing the little things, battling and playing good defense. The guys, they did that."
It wasn't just Berube who did the talking. Forward
Claude Giroux
, who has already overseen some tumultuous times in Philadelphia since earning the C in January 2013, spoke and shared specifics on what he wanted to see from the team.
"And guys have been doing it," Berube said.
For most of the trip, anyway. The Flyers beat the Oilers in a shootout. They beat the Canucks in a shootout. They steamrolled the Flames, then dropped their only game of the trip in a 2-1 loss to the Avalanche on Thursday.
Then came Saturday night's game in Glendale, Ariz. The Coyotes jumped out to an early lead, with Lauri Korpikoski's backhand goal giving the Coyotes a 2-0 lead in the second period. That's when Berube called a timeout and produced the second important team meeting of the trip. It was brief, public and abundantly clear. The Flyers still had work to do before they got on the team plane headed for home.
"We had one more game to win here," Berube said, explaining his message. "We just looked sloppy. Not direct and not playing with a lot of passion. I just woke them up a little bit."
The Flyers rallied to win Saturday's game 5-3, displaying a gift for resurrection that this team is beginning to unwrap. If they trailed earlier in the season, games were over, and the Flyers were toast. More recently, they have shown more resiliency and an ability to battle back in games. On this trip, they trailed against the Coyotes, Oilers and Canucks before recovering to win.
That comes with confidence.
"Two years ago, this team did a lot of that stuff -- coming from behind and winning hockey games," Berube said. "I think they've got that swagger back. You've got to stay with it. You've got to keep working. Got to get better and better."
Which takes us to this Monday's first Next Question:
With the Flyers back in a playoff spot (No. 2 in the Metropolitan), will they remain in the top eight when the regular season ends?
First, let's check a couple of things to figure out whether the Flyers are playing over their heads. The advanced stat PDO, which measures shooting and save percentage, is a solid indicator in assessing how much luck has factored into a team's success. The Flyers' even-strength PDO is currently at 100 percent, which suggests they are at an appropriate level of the standings.