Top 10 draft classes of the past 10 years
June, 26, 2014
6/26/14
11:48
AM ET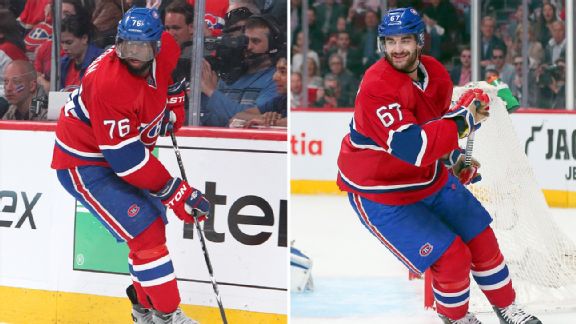 Getty ImagesMontreal landed P.K. Subban and Max Pacioretty in 2007. Oh, and there was that other player, too.
There's a theory in hockey when it comes to the draft. Get two NHL players out of a draft class and you're doing pretty well. Hit on three and you're ahead of the game. Four? You could be building a dynasty if they're impact players.
Teams that miss completely on a draft class, however, set their franchise back years. It's devastating.
That's what's on the line this weekend when the NHL teams gather for the 2014 NHL draft in Philadelphia.
In the early days of the George McPhee era, the former
Washington Capitals
general manager didn't like the results he was getting from his drafts. The draft is the lifeblood of a franchise, and there were just too many misses in Washington.
So they reviewed everything about the process -- a crucial exercise for any franchise.
"We didn't change people, we changed the way we did it," McPhee said when we chatted Wednesday afternoon. "Without giving ammunition away, we changed the way we did everything. The way we did our meetings. The way we put our list together. The way we did interviews, how we interviewed players. How we cross-pollinated with scouts and crosscheckers. And it worked."
The McPhee era didn't result in a Stanley Cup, but there's no denying the effectiveness of drafts under his watch. There was and continues to be a pipeline of young talent in D.C.
In looking back at the best draft classes by team from the past 10 years, the Capitals have one in the top five. And it's not even the one in which they landed
Alex Ovechkin
and
Mike Green
in the same year.
As they honed their strategy, they became more confident in it and how to execute it. For example, last year the Capitals identified 12 players they expected to be really good NHL players without holes in their game. After that, they had another five players they expected to be NHL players with just a few flaws that dropped them to a second tier.
That's 17 players. The Capitals were drafting No. 23 overall.
So McPhee lined up a trade to move back if one of those 17 players weren't available. It's about pick management as much as it is getting the right players.
When they were on the clock in Newark, however, one of those 17 players remained. They called off the trade and took the last guy in their group: Austrian
Andre Burakovsky
.
He put up 41 goals this past season for the Erie Otters in the OHL.
"We saw an elite talent, an exceptional hockey mind, exceptional hockey skill," McPhee said. "It's one of the things I liked most about the job was figuring out the draft and coming up with ways to operate so that you could be a good drafting team."
Who are some of the best drafting teams? Here's a look back at the 10 most impressive performances by teams in the last 10 years, weighing heavier on teams that hit on players outside the No. 1 overall pick.
1. Montreal Canadiens, Class of 2007
The Eastern Conference finals was a showcase as to just how impressive this draft was for the Canadiens, even if it might have been painful at times for Canadiens fans. On one side you had
Ryan McDonagh
anchoring the Rangers defense. On the other,
P.K. Subban
. Both picked by the Canadiens in this draft, with McDonagh going at No. 12 and Subban at No. 43.