For Bruins, third line's the charm
June, 19, 2013
6/19/13
10:40
AM ET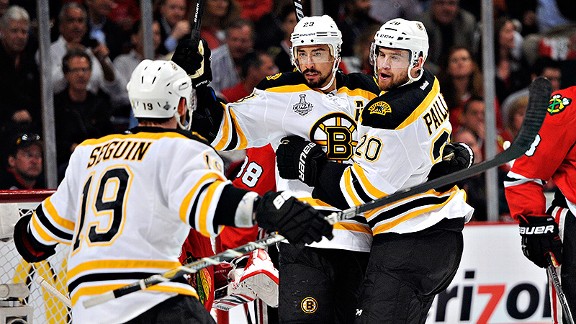 Rob Grabowski/USA TODAY SportsTyler Seguin, Chris Kelly and Daniel Paille have been crucial for the Bruins in the Stanley Cup finals.
BOSTON -- When
Jonathan Toews
won the Conn Smythe Trophy in 2010, it wasn't an easy vote. He had been a force during much of the Blackhawks' title run, but his goal scoring tailed off in the Stanley Cup finals, and
Chris Pronger
was so good for the Flyers that he was in consideration, too.
If there were a way to give the award to an entire line, it might have been a no-brainer. The trio of
Dave Bolland
,
Andrew Ladd
and
Kris Versteeg
shifted every series in Chicago's favor. They terrorized
Joe Thornton
and
Patrick Marleau
during the Western Conference finals and always seemed to change the course of games with a big hit, goal or defensively dominant performance.
Talking about that line brought a smile to Bolland's face on Tuesday.
"We clicked. We had a little bit of everything. Steeger had that skill and that shot and he was always just around the net," Bolland said. "Me and Laddy would battle down low, we were always in the corners getting those pucks. Those kinds of lines always come around. Those are the lines that help you win."
This year, the Blackhawks are seeing it on the other side of the ice. Ever since Bruins coach Claude Julien put the trio of
Chris Kelly
,
Tyler Seguin
and
Daniel Paille
together in Game 2, the series has shifted in Boston's favor.
"They're well-built. They've done a good job there," an Eastern Conference scout said. "[Julien] has done a tremendous job putting guys in roles where they can succeed."
Here are five reasons why that Bruins line has been so successful.
---
1. They spend significant time in the offensive zone
This isn't your traditional third line that is focused on shutting down opposing forwards. These three use speed and a forecheck to force the Blackhawks to play defense, which is more physically and mentally taxing than going on the attack.
"You end up playing in your own zone a lot more than you wanted. In our series that was a huge thing," said an Eastern Conference defenseman who competed against the Bruins this spring. "When they're getting that forecheck going, affecting their transition game ... it's so much harder playing defense than playing offense. It really wears on you. It takes the wind out of your sails. By the end of the second period, your bench is dead when they get that forecheck and zone time."
And they're capable of getting that zone time against anyone. "You can play them against any line and they're never going to hurt you," the scout said. "You talk about a third line, it's not only shutting down teams, it's puck possession. The more puck possession you have, the better."