Will the Blackhawks repeat as champions?
September, 3, 2013
9/03/13
11:17
AM ET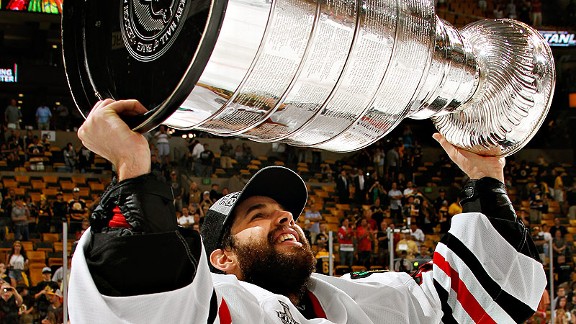 Dave Sandford/Getty ImagesBlackhawks goalie Corey Crawford signed a six-year, $36 million contract this offseason.
The 2013-14 Blackhawks will be an absolutely fascinating team. Because if there's one thing we know with a near certainty, it's that championship teams don't repeat during the salary cap era. It's just too hard.
Sometimes it's because you have to purge half your roster because of the salary cap, as Chicago did after winning it all in 2010. Or you get away from the consistent style of play that made you great, as the Bruins occasionally did after winning the Cup in 2011. Or you run into a gauntlet of a playoff road like the Kings hit last year against the Blues, Sharks and Blackhawks.
A summer of celebrating, mixed in with incredible parity and the likelihood that the fortunate bounces that are a requirement of a Stanley Cup championship won't happen in consecutive seasons means we haven't seen back-to-back champs since the Red Wings in 1996-97 and 1997-98. But this Blackhawks team may just be the one best poised to do it in recent memory.
---
Why Chicago will repeat as champions
1. Crawford back in net
In awarding
Corey Crawford
with a six-year, $36 million contract after he led the Blackhawks to a Stanley Cup, GM Stan Bowman erased one of the potential distractions from the coming season and was able to do something he couldn't the last time his team won it all: bring back the starting goalie. "The one thing we do know is we're going to have a great goaltender," Bowman said while talking about some of the uncertainties moving forward. "That's why this was an easy decision for us."
2. Returning stars
Without discounting the loss of
Dave Bolland
,
Michael Frolik
and
Viktor Stalberg
, the Blackhawks brought back nearly every critical player who contributed to the Cup win. They have high-end skill up front rivaled only by the Penguins and the kind of depth on defense needed to succeed in the playoffs. Bowman found the cap room to give
Bryan Bickell
a raise and structured this team in a way that didn't require an immediate dismantling like last time. "You have to plan this out three years in advance to be able to orchestrate it," Bowman explained during Monday's conference call. "We kept a majority of this group together."
3. Weak division
Not that they needed it, but the Blackhawks got a break in realignment with the move of their rival Red Wings to the Atlantic Division and the new playoff structure. Of the teams in the Central, only the Blues can really be classified as legitimate Stanley Cup contenders. The Wild are getting closer. The Predators, Stars, Jets and Avalanche are all improving teams capable of making the playoffs. But Chicago remains the clear class of that division, an advantage that becomes bigger with the new divisional playoff format. The new playoff format also eliminates early grueling travel possibilities in the playoffs that might have tripped up a centrally located Western Conference team such as Chicago.
It all doesn't guarantee anything. Recent history suggests that even those positives won't be enough.