Growing pains necessary for Yakupov
October, 15, 2013
10/15/13
9:41
AM ET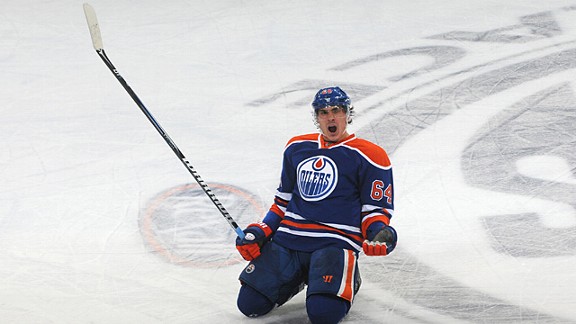 Andy Devlin/NHLI via Getty ImagesThere's no doubt about Nail Yakupov's offensive skills, but he needs to round out his game.
It hasn't even been a year, which feels strange because so much is different now. Last November, the NHL lockout was in full force and
Nail Yakupov
took a break from his KHL schedule to tour Canada in the Subway Super Series, playing games with his Russian teammates against the best Canadian prospects.
One of the games took place in Sarnia, Ont., where Capitals prospect
Tom Wilson
targeted Yakupov all night, from talking trash before the game to a crushing hit on the blue line that flattened Yakupov. On Monday night, a year later, when Yakupov's Oilers were taking on Wilson's Capitals in Washington, Wilson skated eight minutes, registering three hits. Yakupov was in the press box, a healthy scratch for the second consecutive game.
And not happy about it.
It was a long way from the tour through Canada that became all about showcasing Yakupov's skills, another sign that the transition from junior star to NHL star is rarely seamless. For anyone.
Yakupov is a player passionate about scoring goals, about becoming one of the best players in the league. He's driven to represent his small Russian hometown of Nizhnekamsk and to live up to the expectations that came with being the No. 1 overall pick in 2012. Especially when there were whispers behind the scenes from scouts and opposing GMs saying they wouldn't have made that same pick.
"He has that real pride," Oilers head amateur scout Stu MacGregor once said about Yakupov when we chatted about him last year. "He wants to prove things. He's a guy who wants to step out there and prove that he can be good. The best. That drives him, and drives him on a continuous basis."
And now, that opportunity has come to a sudden stop. You can't prove anything from a press box. There's a bit of a tug-of-war going on between a prideful, talented player and a first-year NHL coach trying to get every guy on his team headed in the same direction. The coach is going to win this round, and that's probably a good thing for the Oilers.