March, 6, 2015
Mar 6
11:08
AM ET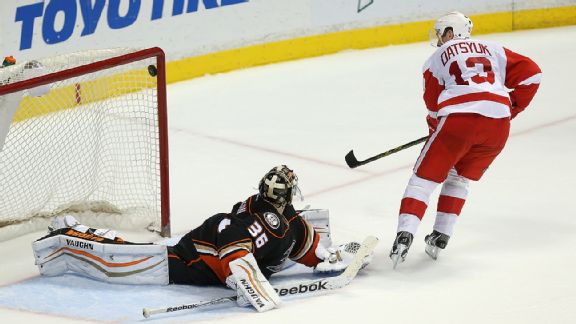 Stephen Dunn/Getty ImagesIf overtime reforms succeed, we may see fewer games go to the shootout in the future.
There was a time when the NHL's general managers met before the trade deadline. It was great for the media because it gave them access to every GM to try to pry info on potential trades. It was not so great for GMs actually trying to improve the game.
Now, with the deadline passed, the general managers will get ready to meet starting March 16 in Boca Raton, Florida.
The expanded March meeting is what every GM refers to during the shorter fall meeting when you ask whether or not there was progress made on a league issue. The answer, about 90 percent of the time, is this: We'll talk about it in the March meeting. Unless it's the dry scrape -- but that's another story.
One of those issues that got the March answer in November was 3-on-3 overtime. General managers were intrigued by the early results in the AHL, where overtime starts 4-on-4 until the first whistle following three minutes of play, then the overtime concludes with 3-on-3.
They just wanted more time to see how it has played out in the AHL. The data is quite conclusive.
Through March 3, just 5.6 percent of the AHL's games have been decided in the shootout. That's down from 15.6 percent last season when the AHL mirrored the NHL's rules, according to data provided by the AHL's Jason Chaimovitch.
The number of games decided in overtime this season is at 18.6 percent, compared to 8.5 percent last season. More goals (29) have been scored in the final minute of overtime than any other minute in overtime. Just 11 goals have been scored in the first minute of 4-on-4. If cutting down on shootouts is the goal, mission accomplished in the AHL.
Now, armed with more data, it's expected to be debated again in Florida.
"I think there are some members of the NHL family who would like to see fewer shootouts," said commissioner Gary Bettman when I asked him about it earlier this week. "We're not hearing that from fans. Fans like the way the game is. That's something we're going to discuss. I'm not sure anybody is ready to make a change."
It's a discussion the NHLPA will watch closely.