September, 29, 2014
Sep 29
10:54
AM ET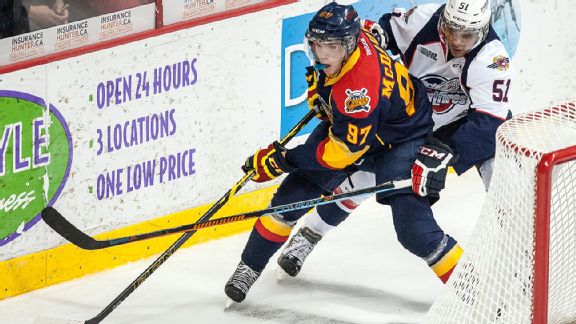 Dennis Pajot/Getty ImagesConnor McDavid's vision and thinking on the ice are on par with his incredible physical talents.
His is a quiet game, but not quiet in production.
Erie's Connor McDavid scored his first goal of the OHL season against Windsor on Friday night, then followed it with two more against Plymouth on Saturday. The consensus No. 1 overall prospect in the 2015 NHL draft has eight points in three games.
It's a solid start.
McDavid's game is quiet in the sense that he's not banging his stick on the ice when he gets open. It's quiet in the sense that he's not responding to post-whistle shoving or any attempts to muscle him off his game. It's quiet in the sense that he just calmly finds an opening on the ice, then remarkably the puck finds him.
"He doesn't chase after the puck, the puck chases after him," said one NHL scout sitting in the stands and watching him play over the weekend. "The puck wants to be on his stick."
McDavid has all the physical tools. Now in his draft year, he's even stronger and his skating is more explosive, which you notice particularly in the neutral zone.
That's half of it. What makes McDavid the kind of generational prospect who will transform a franchise is his hockey sense. The best players aren't just guys with the physical tools, they're the guys who somehow instinctively know exactly where to go on the ice and what to do with the puck when they get there.
McDavid has that sixth sense, and following his game against Windsor on Friday, he graciously attempted to explain what he sees on the ice that allows him to do what he does. It's one thing to simply play and react, but the smartest players can tell you exactly why they made the pass when they did, or why they chose that particular spot on the ice to make a play.
Through the lens of three plays he made Friday night against the Spitfires, we asked McDavid to share his thought process and what he saw