November, 21, 2014
Nov 21
11:27
AM ET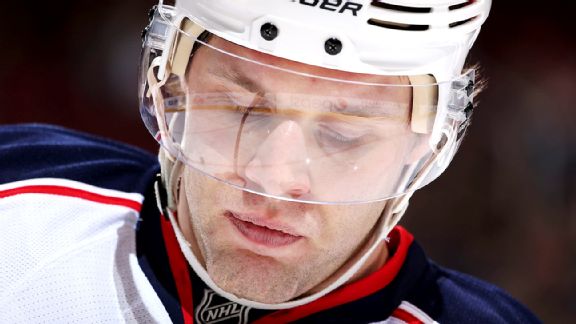 Christian Petersen/Getty ImagesColumbus Blue Jackets defenseman Jack Johnson has filed for Chapter 11 bankruptcy.
It was a strange question, not asked often in the confines of a hockey locker room. For a project that will appear in an upcoming issue of ESPN The Magazine, I asked an NHL player how much money he currently had in his bank account.
He thought for a moment, graciously answered a seven-digit number, and then we both laughed at the absurdity of it all. He's a millionaire, but inside, just a kid from Canada playing hockey.
"It's ridiculous," he said.
For the most part, hockey players come from modest backgrounds. They remain down-to-earth even when the modest beginnings evolve into something that puts them in the highest tax brackets.
When I used to cover the Atlanta Thrashers, we were allowed to park in the players' lot for practice. Yes, there were Mercedes Benzes and BMWs, but I always knew I could find a well-used pickup truck to park next to as well, so I didn't feel so bad about my hand-me-down Chevy Malibu.
Many of the players are able to keep the money separated from the day-to-day hockey life, and part of the reason is they have the mentality
Columbus Blue Jackets defenseman
Jack Johnson
had -- find someone you trust to handle the finances and focus on doing what you do best on the ice.
Johnson's bankruptcy story,
broken by great reporting from the Columbus Dispatch
, is heartbreaking. During a conversation about managing the finances of a family member in hockey with John Thornton, that's what it kept coming back to.
John and his brother Joe, the
San Jose Sharks
' star center, have never had a big conversation about keeping family and money separate. They didn't have to. There's a trust there when you hire family to represent you, as Joe did with his agent brother. So, what happened to Johnson was hard for John Thornton to accept and wrap his head around.
"Jack loves his family and his little brother," John Thornton said when we chatted Thursday afternoon. "I feel so bad for this kid, that's the thing. He's still a kid."
Reading the court documents in the Johnson case lifted the curtain into the world these players deal with that the public doesn't see. Johnson owes millions to a company called Pro Player Funding -- a company that former NFL quarterback Vince Young called a predatory lender in a New York lawsuit. Young was one of several NFL players to get loans from the company at high interest rates during the NFL lockout,
according to ThePostGame.com
.
Thornton recognized the name of the company but couldn't say for sure whether or not the lender ever approached any of his clients for loans, mostly because he's lost track of how many times individuals and companies have tried to pry money away from the NHL players he works with.
It's nonstop.
"These players are alone on the road. When they're alone on the road, they get guys in these cities who are nice to them, impressive, seem important, buy nice meals, seem wealthy and educated, and they start trusting them," Thornton said.
Unpaid loans and investments gone bad aren't necessarily an uncommon thing in NHL dressing rooms.
When Thornton started working with his brother, he had to start unraveling some of it.
"The first thing I did was get him out of a video game deal there was nothing behind," he said.
Then there's the barrage of financial advisers trying to get at the players' money through the agents or families, offering kickbacks as motivation.
"I get e-mails from financial advisers all the time. They've offered to take me out, fly me places. They offer to give me a kickback off the players' fee. If they charge the player 3 percent, they'll give me 1 percent," Thornton said. "There's a lot of hounds."
It can be relentless if there's not a system in place to contain it for some of the more high-profile players, especially the ones who don't want to come off like a jerk. And that's a lot of players.
"These players are too polite. I tell them to talk to me. Let me be the [a—hole]," he said. "They're trustworthy people to begin with who aren't quite jaded yet when they get in the league."
It's why you need someone you can trust. It's why it's hard to fault Jack Johnson for what happened, because that's exactly what he thought he had.
On to the Friday mailbag:
Hey now, Craig. Big fan. As a non-Oilers fan living in Edmonton, I'm curious if you feel the Oilers will ever be good, or am I going to have to listen to the crying and complaining until the end of time?


To continue reading this article you must be an Insider