January, 30, 2015
Jan 30
12:03
PM ET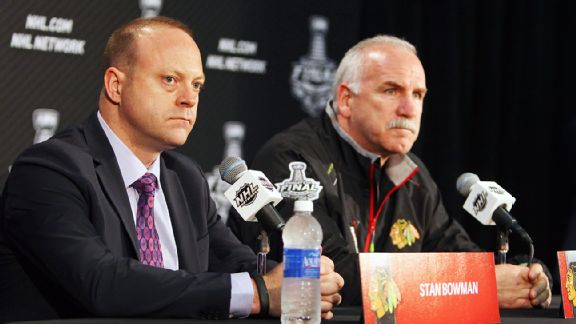 Chase Agnello-Dean/NHLI/Getty ImagesBlackhawks GM Stan Bowman has been building a collection of young talent in Chicago.
Chicago Blackhawks
GM Stan Bowman was chatting about the franchise's use of analytics for ESPN The Magazine's coming analytics issue when the topic of using advanced stats for trade analysis came up.
Bowman is always careful about revealing too much in these conversations, quite simply because he feels what he's doing right now with the Blackhawks is a competitive advantage.
As another GM said about his analytics use, if he believes he's found a diamond mine, why would he share the map?
Fair enough. The meat of this conversation with Bowman will be rolled out with the analytics issue, but his insight on trades and analytics became very timely with a deal the Blackhawks made late Thursday.
The Blackhawks sent defenseman
Adam Clendening
to the
Vancouver Canucks
for 18-year-old defenseman prospect Gustav Forsling.
Clendening was a player the Blackhawks liked. He produced points in the AHL. He's a right-shot defenseman, no small consideration in today's NHL. He makes a nice first pass, he's a guy who will contribute to the Canucks fairly soon in the NHL. Let's not forget, Vancouver GM Jim Benning is well-versed in the skill sets of the prospects around the league. That's what he was brought in for.
But the collection of young talent Bowman has been building under the keen eye of chief scout Mark Kelley sometimes forces the Blackhawks' hand.