September, 23, 2014
Sep 23
10:06
AM ET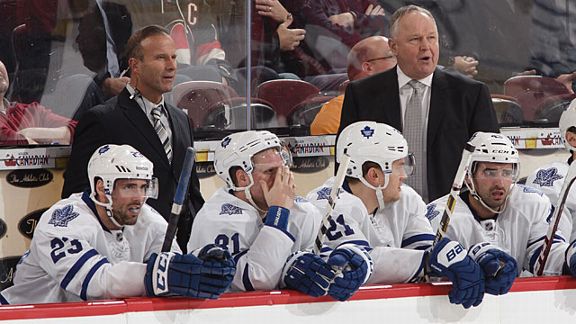 Jana Chytilova/Freestyle Photography/Getty ImagesWill an investment in analytics by Toronto result in a change in Randy Carlyle's coaching?
William Boll turned his laptop to the side to share what he was tracking. On the screen was a list of hockey players competing live on a rink a few feet away. A group of players would be highlighted green, and then the highlight would go away, moving to another player. It was constant action of green highlights appearing and disappearing.
It was a computer program tracking ice time as it happened.
Every time a player hopped the boards, his timer started calculating whom he was playing with and against and for how long. Slowly a database of information, even in its simplest form, was being automatically tracked thanks to the willingness of each player to wear a Band-Aid-sized tracking device during one of the NHL prospect games in Traverse City, Michigan.
"It's all real time, based on the chip," Boll said while describing each function on the screen. "The only people we manually control are the goalies because goalies are superstitious. In Europe they don't care; in North America they care."
The automated information collection is currently just doing the basics. Ice time. Shift charts. Data that is already readily available each night in NHL rinks.
It's the
next
generation, likely available next season, that Boll, the CEO of Quantum Pro Hockey, is most excited about.