September, 3, 2014
Sep 3
10:56
AM ET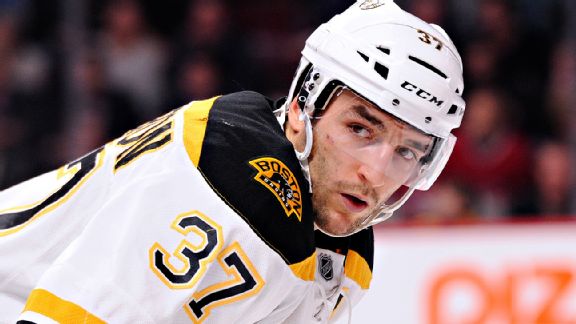 Richard Wolowicz/Getty ImagesPatrice Bergeron checks the "franchise center" box for the Boston Bruins.
The
Los Angeles Kings
have become the gold standard. They've won two Stanley Cups in the past three seasons, and Dean Lombardi has built a roster that is nearly flawless.
On Tuesday, we identified the five characteristics that make the Kings' roster championship caliber and then
compared the rest of the Pacific division to see how they stacked up.
We also checked in with Lombardi to see if he felt the five characteristics were an accurate assessment of what is needed to win in today's NHL. It is his team, after all.
The five characteristics: a franchise center, a strong top four on defense with a legitimate No. 1, a playoff-tested goalie, a skilled fourth line and players contributing on entry-level contracts.
His thoughts?
"What you have identified is your micro-core," Lombardi said Tuesday afternoon. "The only debate is the order of the top three. There's always been a hypothetical question in hockey: Who would you take -- Gretzky, Orr or Dryden? Most of the argument would be the goalie or the D. A goalie can make five guys better, a defenseman can make four guys better and a center two."
The final two qualities are especially important in today's NHL, where teams are so evenly matched.
"The fourth one [skilled fourth line] is dead-on. You saw this in the playoffs," Lombardi said. "That's what happened against Chicago. Toews and Kopitar -- nobody beat the other one; they just neutralize each other."
It's up to the players further down the lineup to make the difference. It becomes even more important as Western Conference teams stock second lines to try to get an edge, with the best teams potentially neutralizing each other's entire top six.
The final characteristic -- players contributing on entry-level contracts -- is one he said hasn't always been a necessity but is now.
"That's very new to our sport," he said. "We were fortunate in [2012] when [Jordan] Nolan and [Dwight] King broke through, and this year the other two guys [
Tyler Toffoli
and
Tanner Pearson
] ... quite frankly, you might have to move that up to No. 1."
As the season closes in, determining whether or not your team has a legitimate shot at a Stanley Cup can be done in comparing just how closely they're constructed to Lombardi's Kings. We started with the Pacific and continue with the Atlantic, where one team especially stands out as a franchise that is close
To continue reading this article you must be an Insider