February, 24, 2015
Feb 24
10:20
AM ET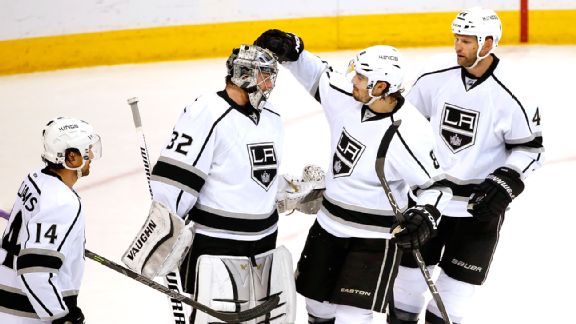 Doug Pensinger/Getty ImagesThe Kings' seven-game win streak has put them in third place in the Pacific Division.
It's so easy from the outside not to stress about the
Los Angeles Kings
. It's so easy to look at that team, excuse their annual early-season issues and just wait for them to pull it together and make their spring run.
Kings GM Dean Lombardi doesn't have that luxury. He couldn't assume anything. When his team was sitting outside a playoff spot as the calendar flipped to 2015, he couldn't laugh it off like the rest of us and just assume it would work itself out.
He stressed. He didn't even like the suggestion that the Kings would eventually work things out. He'd point out deficiencies, how this team was different from those in the past. As he tends to do, he analyzed it every possible way.
At one point, he seriously considered making a trade that would shake things up, send a message. But he couldn't. Those aren't the type of trades he's made in his career. He makes trades to improve the team, and the thought of making one when that wasn't the singular goal didn't sit well. So he waited.
When you win as much as the Kings have in recent seasons, there's a trust that builds between the general manager and the players. Lombardi watched his team closely, and at no point during their struggles was there any finger-pointing in the dressing room. He saw the opposite. He saw a team that understood its issues well.
"There was never any blaming of the coach, blaming other players," Lombardi said when we chatted Monday. "The one thing this group has always been good at is critiquing themselves. I don't think there was any doubt we all knew we weren't being ourselves."
That especially hit home following a loss to the Panthers on Feb. 5. Lombardi meant no disrespect to the Panthers when he said it, but that's the game that looked like rock bottom for the Kings.
To continue reading this article you must be an Insider