October, 2, 2014
Oct 2
11:04
AM ET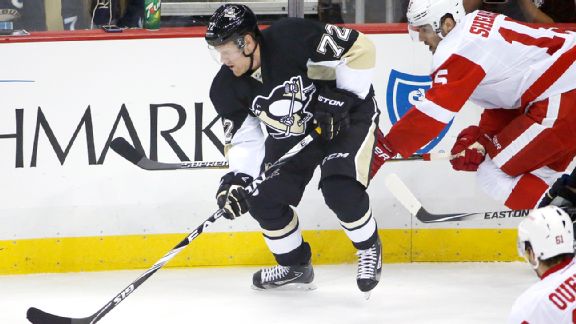 AP Photo/Gene J. PuskarAfter 387 games with the Predators, Patric Hornqvist was traded to the Penguins this summer.
Anyone with a newborn can relate: A new baby changes just about everything. It means less sleep, different habits and finding ways to entertain both you and the baby when you're stuck at home or up at all hours.
In a normal offseason, Penguins forward
Patric Hornqvist
doesn't watch a lot of hockey when he's done. Put in a training camp, 82 games plus the playoffs and there's not a lot of motivation to watch rivals in the postseason reach for the goal that you already missed.
This offseason was different. Hornqvist and his wife, Malin, had their first child, Isabella.
"We were home a lot," Hornqvist said on Wednesday. "The TV was always on."
As a result, he watched a lot of Stanley Cup playoff games, and in particular, those played by the
Pittsburgh Penguins
. It never occurred to him for a moment to think he might be watching future teammates, not when he'd spent the past six seasons with the
Nashville Predators
, the team that drafted him with the last pick of the 2005 draft.
Instead, he simply admired the play of
Evgeni Malkin
and
Sidney Crosby
, even when the two fell short of their Stanley Cup hopes.
"Now, to play with them," Hornqvist said, smiling, "it's even better."
Eventually, it will be.
Malkin is expected to return to the ice at some point in the near future, but his availability for the season opener against the
Anaheim Ducks
remains in doubt. Crosby made his preseason debut on Wednesday in Detroit.
When Hornqvist was acquired by the Penguins, the assumption was that he would play with Malkin, and that's still a distinct possibility. But in Crosby's only preseason game, Hornqvist was on Pittsburgh's top line with Crosby and
Chris Kunitz
. Penguins coach Mike Johnston assured us all that he was just getting different looks in the preseason, but if this offseason proved anything in Pittsburgh, it's that nothing is sacred.
That includes the spots on the wing next to Crosby