October, 21, 2014
Oct 21
10:55
AM ET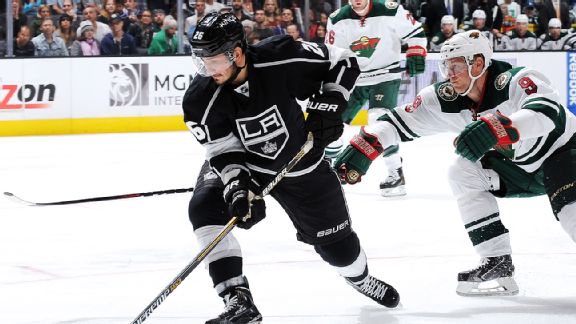 Juan Ocampo/NHLI/Getty ImagesKings defenseman Slava Voynov has been suspended indefinitely by the NHL following his arrest.
Terry O'Neill wanted to make something very clear: The NHL's
indefinite suspension
of
Slava Voynov
following his arrest on domestic violence charges is a positive first step. That's it.
O'Neill, the president of the National Organization for Women, believes it can't be the final step the league takes in cases like this.
"I suppose it is progress provided that it's not temporary. That they're responding quickly and decidedly in their view is a good sign," O'Neill told ESPN.com on Monday. "I want to sound a huge alarm and raise a huge red flag about their response. I don't know if the suspension would keep her safe."
The safety of the victim, O'Neill suggests, should be the league's priority. Then comes a larger examination of how the league treats domestic abuse.
"The woman's safety and economic security must be the paramount concern of the NHL," she said. "The acceptable response first of all is: Get evidence. Do they have information? Ask about her safety. What is she doing to stay safe? What does she need in order to stay safe? Ask about her financial security. What does she need to stay secure? Then the next thing they should be asking is what do we do next?"
The counter to this argument is that the league is a business, that asking it do to anything more gives it responsibility and power it shouldn't have. That this debate is being held at all is another indication that the landscape in sports has changed since the Ray Rice case. It's brought domestic violence to the forefront of discussion in sports, a debate that is now shifting to the NHL following Voynov's arrest.
"Ray Rice has changed everything," said sports lawyer Eric Macramalla, a partner at Gowlings, a Canadian law firm, and legal analyst for TSN.
The NHL deserves credit for its quick action in the Voynov case, but what it does next is just as important.
NHL commissioner Gary Bettman was asked recently about the potential need for a domestic abuse policy, and he said the league takes it on a case-by-case basis. The different handling of the Voynov case as opposed to the
Semyon Varlamov
case is evidence of this. It's also clear that the league is well aware of how public perception and awareness has changed on this front over the past year.
The CBA, specifically the second portion of Section 18-A.5, currently gives the NHL all kinds of leeway when it comes to suspending a player following an arrest:
The League may suspend the Player pending the League's formal review and disposition of the matter where the failure to suspend the Player during this period would create a substantial risk of material harm to the legitimate interests and/or reputation of the League.
That it's so subjective could open the NHL up to the possibility of a grievance by the NHLPA. The second potential risk is that Voynov is ultimately exonerated and sues the league because the mere suspension by the NHL following the arrest suggests guilt and harmed his earning ability.
The NHL knows this, and the fact that Voynov was still suspended is an indication that it has enough information to make this call so quickly and decisively.
Following the Ray Rice case, the NFL toughened its domestic violence policy with automatic penalties for violators, including a six-week unpaid suspension for any player who violates the domestic violence policy. A second incident would lead to a lifetime ban.
This may be a path that the NHL ultimately follows.
"I think it's inevitable that they're going to have a domestic abuse policy in place," Macramalla told ESPN.com. "What might help the NHL is a sound and reasonable decision based on the facts and circumstances on this specific case."
If there is going to be a change in policy, the key is finding one that is collectively bargained for between the NHL and the NHLPA, unlike the NFL did with its new policy. The more specific and objective the policy, where clear punishments are identified depending on the situation, the less the league opens itself up to criticism of fairness.
The more attention these cases get on the sporting landscape, the more O'Neill says she'd love to have the power to require answers to questions she now has of professional sports leagues. Because she still has many.
"For instance, what is the nature of the relationship between the security personnel of the leagues and the police and the prosecutor's office? Who calls whom? How often do they speak? I want details," she said.
That's just the start. She wants to know how many women have gone to the players' associations or the leagues' human resource departments asking for help because of abuse. What was the response?
She wants to know whether or not the leagues are conducting studies that might link traumatic brain injuries to violence at home. If so, what are the leagues doing about it? She wants to know what the leagues are doing to keep family members safe from violence.
"Those are the kinds of questions I would like all these athletic leagues to be considering," O'Neill said.
As much as the NHL and its players deserve credit for avoiding trouble a majority of the time -- as the commissioner pointed out recently -- the Voynov arrest is further proof that hockey isn't isolated from the real problems that impact other sports, that impact those who follow the sport.
The reality is that professional sports -- and how those who run them react to these problems -- help shape the culture in the U.S. It probably shouldn't be that way, but it is.
That's why it can't be business as usual. O'Neill believes those making the decisions at the top should take a serious, hard look at how domestic violence is handled as a league, to take a moment of self-reflection to see how their decisions impact others.
"I wish leagues would start doing this," she said.
October, 20, 2014
Oct 20
10:43
AM ET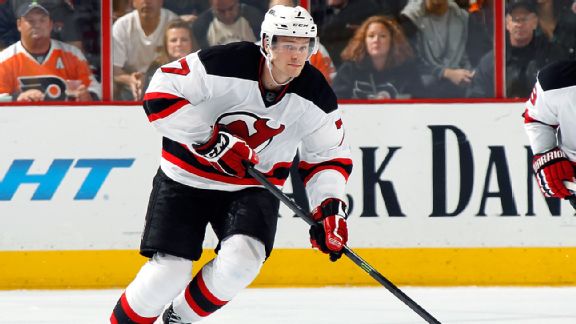 Bruce Bennett/Getty ImagesJon Merrill, age 22, is skating 20:25 per game for the Devils this season.
It was suggested to
New Jersey Devils
coach Pete DeBoer that perhaps his team was built in a less-than-ideal fashion. He has a veteran group of forwards led by
Jaromir Jagr
,
Mike Cammalleri
and
Patrik Elias
. The youth is on defense, where 22-year-old
Jon Merrill
, 23-year-old
Eric Gelinas
and 20-year-old
Damon Severson
are all getting significant minutes.
Typically, coaches like the youth at forward -- where the inevitable mistakes that come with inexperience are a little easier to hide -- and veterans on defense.
"I've never been of that school," DeBoer said when we chatted over the weekend. "I think coaches want guys who can play. There's no doubt there's more subtleties to playing defense at the NHL level you have to learn. Stick positioning, when to be patient -- things that forwards can get away with. If you have young defensemen with hockey sense, those things get picked up pretty quickly."
The Devils seem to have that. The reshaping of the Devils' defense has helped improve New Jersey's transition game, something that should be of great benefit to a team that was already a good possession club.
Still, the early returns are mixed.
October, 17, 2014
Oct 17
10:52
AM ET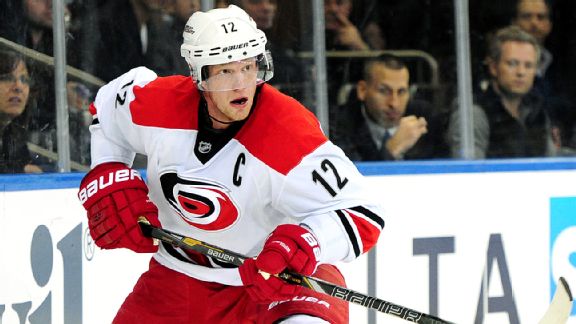 Christopher Pasatieri/Getty ImagesA rebuild for the Carolina Hurricanes may mean dealing the face of the franchise.
Let's start here: It's premature. Talk of a possible
Eric Staal
trade has already started and another loss by the
Carolina Hurricanes
on Thursday night won't slow it down. The Hurricanes' season is only four games old -- long enough to indicate that they're not going to be particularly good, but not so long that it's time to pack it up and deal the face of the franchise.
The trade talk is also inevitable. Staal has one season remaining on his contract after this year that comes with a salary-cap charge of $8.25 million. If the Hurricanes want to maximize value on Staal, this is the time to start considering a deal. Especially if they're going into full-on rebuilding mode.
They can learn from the
Ottawa Senators
and
Vancouver Canucks
, who waited too long to trade
Jason Spezza
and
Ryan Kesler
. The offer the
Anaheim Ducks
made at the trade deadline for Kesler was stronger than what the Canucks ultimately received, in part because the Ducks would have been getting an additional postseason out of Kesler.
It's also complicated.
For one, Staal has a complete no-move, no-trade clause.
"It's going to be up to him," said one NHL source.
To continue reading this article you must be an Insider
October, 16, 2014
Oct 16
11:26
AM ET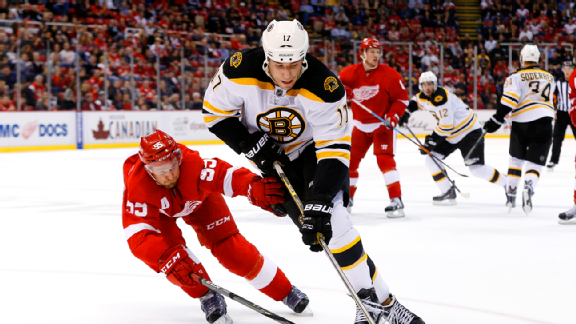 AP Photo/Paul SancyaWhile Boston played their most complete game in the win over Detroit, they still have work to do.
After one period of play Wednesday night in Detroit,
Boston Bruins
coach Claude Julien came to a conclusion: It was the best his team had played all season.
At this time of the season, the smartest coaches are more concerned with process rather than result, so it didn't bother him that the game was tied after Boston's most impressive period of hockey of 2014-15.
He saw exactly what he'd been stressing at practice the previous day. Bodies going to the net, getting shots on goal and making life as hard as possible for
Detroit Red Wings
goalie
Jimmy Howard
.
The Bruins outshot the Red Wings 12-3 at even strength, and graphs that chart shot attempts showed the gap growing as the period progressed.
"That's the kind of team we have to be," coach Claude Julien said afterward. "I like the fact that we had chances. Guys went in front of the net; we were bringing pucks to the net."
In the big picture that is the Eastern Conference, it's easy to lose track of the Bruins right now.
Tampa Bay is the hot team with young talent and high expectations that is looking every bit as good as the preseason hype. The
New York Islanders
have taken the talent added by GM
Garth Snow
and developed into an early offensive powerhouse, averaging five goals per contest through three games. The
New Jersey Devils
haven't lost a game yet, with
Mike Cammalleri
turning a summer signing that was met with a lukewarm reception into one that is paying off in a big way early on for Lou Lamoriello's group.
The Bruins were only developing into a story for the wrong reasons.
To continue reading this article you must be an Insider
October, 15, 2014
Oct 15
10:45
AM ET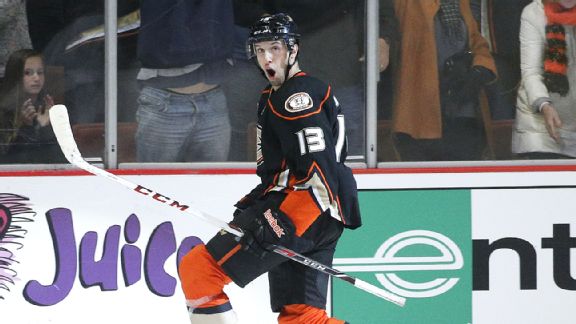 AP Photo/Jae C. HongWhich players need to click for their team to succeed? Ryan Kesler headlines the All-Hinge team.
Shortly after
Ryan Kesler
was traded to the
Anaheim Ducks
, he received a phone call from new teammate
Ryan Getzlaf
. It's what you'd expect out of a captain. Call the new guy, make him comfortable, congratulate him on his taste in teams on the no-trade list, and we'll see you in camp.
Getzlaf did a little more than that. He also passed along his wife's phone number to make sure that Kesler's wife had a local contact. Anything Kesler needed, the Getzlafs were prepared to offer up help with the transition to Anaheim.
"It's part of our job to make sure he's comfortable, make sure his family is comfortable, those kind of things that make things easier," Getzlaf said when we chatted recently.
The extra effort is paying off.
"He seems much happier than I heard about him in the past," Getzlaf said. "There were things we were looking to do when he came here to make sure he was comfortable and get back to being a happy hockey player and being satisfied where he is."
A general manager can only do so much. He can address holes in the roster and make changes to fix weaknesses. But once the big moves are done, it's on the players to make sure they work.
Ducks GM Bob Murray bet big on Kesler, and if it pays off, it could come with a championship ring. That's how high the stakes are with this move.
To continue reading this article you must be an Insider
October, 14, 2014
Oct 14
12:09
PM ET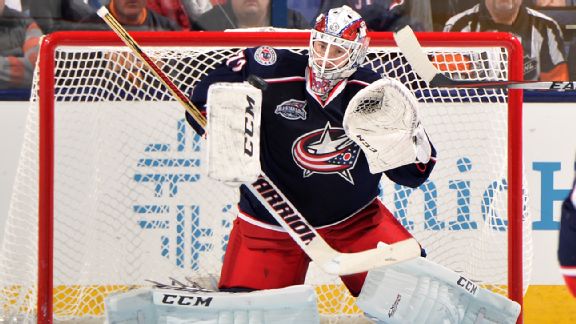 Jamie Sabau/NHLI/Getty ImagesFor now, Sergei Bobrovsky is focused on stopping pucks. But contract negotiations loom.
There are really two schools of thought when it comes to signing your restricted free agents early, like the
Minnesota Wild
did over the weekend with
Jonas Brodin
. Once you're confident you know what you have in a player, like the Wild are with their talented young defenseman, get the deal done. Avoid future hassles that can come with an attempted bridge contract (like we saw this offseason) and get your franchise cost certainty moving forward. In a few years, the contract will look like a value.
If Brodin continues on the trajectory he is right now, there's no doubt that the $4.2 million he'll be averaging per season will look great.
Still, there are reasons other general managers are in the other school of thought, and aren't rushing out to do the same thing. One situation that is often brought up by executives around the league is what has befallen the
Edmonton Oilers
. They see the long-term deals the young players were given almost immediately, and wonder if it made those players a little too comfortable at an early age.
"I don't want to gift wrap a big contract," said one general manager this week.
They want their young players driven. They want to know exactly what they're getting in a player rather than trying to project what they might get. And if they sign one player, they don't want their next two or three young players calling with their hands out.
That's a challenge GM Chuck Fletcher faces right now in Minnesota. The Brodin deal is a smart one but now the other Minnesota RFAs, and there are plenty, will want theirs.
Charlie Coyle
,
Mikael Granlund
,
Erik Haula
and
Marco Scandella
are all restricted free agents after this season.
Here's a look at a few other high-profile restricted free agents and where they stand right now
To continue reading this article you must be an Insider
October, 13, 2014
Oct 13
11:17
AM ET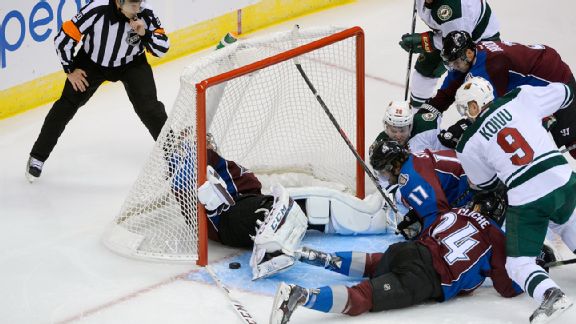 Andy Cross/The Denver PostThings have been a bit of a mess for the Colorado Avalanche thus far this season.
Anaheim Ducks
coach Bruce Boudreau understood the sentiment, but quickly shot down the suggestion. It's October. The most meaningful games aren't played until the spring. Teams that are coming off a long playoff run or have huge postseason aspirations might find these mid-October games a little uninspiring.
It has to be hard to get up for Game No. 3 when the intensity of a playoff Game 7 playoff isn't too far removed from memory.
"If you think in those terms, that 'Yeah, you can just turn it on when you want,' it doesn't happen," Boudreau warned. "That's why you have to come out of the gate. I put a lot of emphasis on coming out of the gate."
His Ducks bounced back from an ugly opener against the
Pittsburgh Penguins
to register their first win of the season Saturday. The
Los Angeles Kings
got their first win last night against the
Winnipeg Jets
. The
Chicago Blackhawks
, who don't seem to have any trouble getting going, are taking care of business early.
"You need those games because you're going to go through bad times," Boudreau said. "If you don't have that buffer, you're going to be in trouble."
Which takes us to the first team in our Ten Takeaways from the weekend, one whose buffer is disappearing quickly:
1. It's early, but Colorado needs to be concerned.
The Avalanche travel to Boston for a Monday afternoon Columbus Day game that looms large for the visitors. It's not a huge deal that Colorado dropped the first two games of its season to the
Minnesota Wild
, it's the manner in which the Avalanche did it.
To continue reading this article you must be an Insider
October, 10, 2014
Oct 10
11:39
AM ET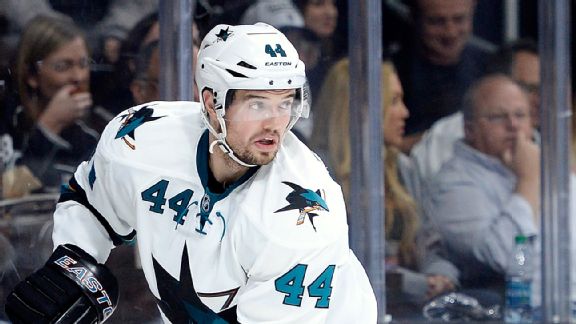 Harry How/Getty ImagesInjured at the end of last season's playoffs, Marc-Edouard Vlasic is ready for bigger impact this year.
With his teammates on the road in Game 6 of the first round against the
Los Angeles Kings
and
Marc-Edouard Vlasic
injured, he stayed back in San Jose. He got some treatment during the day and decided to quietly sit at the bar of a place called Dry Creek Grill to watch the game.
This was the game, you'll remember, where things really turned in that series.
Justin Williams
scored a controversial goal, and the
San Jose Sharks
never recovered.
And the Sharks most important defenseman was hundreds of miles away, sitting alone, watching helplessly.
While spending time in San Jose this week, I pitched two ideas to Vlasic. The first: I think the Sharks beat the Kings if he stays healthy.
"I would personally like to think so," Vlasic said, although he was quick to say it can't be used as an excuse. "Guys have injuries all year. … We had to find a way to battle through adversity, and we didn't do it."
The second theory? I think Vlasic should play a ton this season.
To continue reading this article you must be an Insider
October, 8, 2014
Oct 8
10:35
AM ET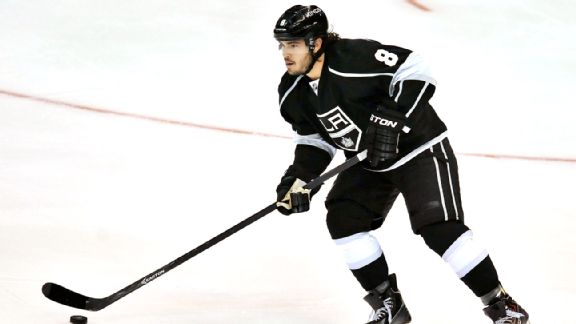 Cal Sport Media via AP ImagesJust 24 years old, Drew Doughty is already one of the NHL's elite defensemen.
The ideal defense no longer is about matching a puck mover with a stay-at-home defenseman on each pairing. The best teams still have a physical, defensive defenseman around to take care of business when necessary, but the league is skewing toward defensemen who can speed up the transition game with their skating and puckhandling -- guys who can get pucks out of the defensive zone as quickly as possible.
The
Los Angeles Kings
are as good as anyone in the league at this, in large part because of
Drew Doughty
, a guy who doesn't make many mistakes in the defensive zone mostly because he doesn't spend much time there.
In ranking the top 10 defenses heading into the 2014-15 season, with help from an NHL scout, that's where we start:
1. Los Angeles Kings
As a team, the Kings' possession numbers were the best in the league last season, and that starts with the defensemen. They were especially good at forcing teams to dump the puck in and quickly retrieving it to go on the offensive attack. Doughty has that ability and is the best defenseman in the game right now.
"Doughty tips the scales because of his solo abilities," the NHL scout said.
Jake Muzzin
,
Alec Martinez
and
Slava Voynov
provide the youth and skating,
Matt Greene
and
Robyn Regehr
the veteran stability. We might not have brought Greene back, but general manager Dean Lombardi has more than earned the benefit of the doubt.
2. Chicago Blackhawks
Nick Leddy
is going to have a strong season with the Islanders, the team he recently got traded to, playing a ton of minutes and growing his game offensively. The fact that he couldn't crack Chicago's top four shows just how good its defense is right now.
To continue reading this article you must be an Insider
October, 8, 2014
Oct 8
10:25
AM ET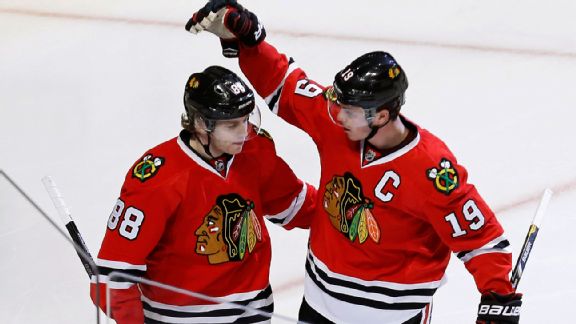 AP Photo/Charles Rex ArbogastLed by Patrick Kane and Jonathan Toews, the Blackhawks have the NHL's top forward group.
The final opening-night rosters turned in by NHL teams Tuesday showed a continued evolution at forward. The notion of a top six and bottom six is starting to disappear. The best teams have three skilled lines that are almost interchangeable and a fourth line capable of playing a good 10 minutes a game.
Nobody embodies that better than the
Chicago Blackhawks
, the No. 1 forward group in the NHL.
For the second straight year, we're ranking the forward groups, this year with the help of an NHL scout who was influential in making sure the Islanders were included in the top 10 after an initial exclusion and also in warning against ranking the Penguins too high even with two of the top centers in the game.
"I get that," he said or
Sidney Crosby
and
Evgeni Malkin
. "We have to go deeper than that nowadays."
1. Chicago Blackhawks
For as much as we know that you have to be strong down the middle, the Blackhawks have managed to be highly successful without the traditional strength at center throughout the lineup. If you're going to have a rotation of second-line centers through the years, you'd better have
Jonathan Toews
anchoring the No. 1 center spot and wingers as talented as
Marian Hossa
,
Patrick Kane
,
Patrick Sharp
and
Brandon Saad
.
The NHL scout is firmly in the camp that Saad is in for a big season in Year 3. "Absolutely," he said. Saad's big postseason (16 points in 19 games) is a good sign that there's more growth to his game after registering 47 points last year, although his six playoff goals came with a 17.1 shooting percentage.
Brad Richards
gives this group even more talent and skill without the pressure of big money and expectations that weighed him down in New York.
2. Los Angeles Kings
Yes, we know the Kings finished No. 26 in scoring during the regular season at just 2.42 goals per game, but that number should jump this season.
To continue reading this article you must be an Insider
October, 3, 2014
Oct 3
11:16
AM ET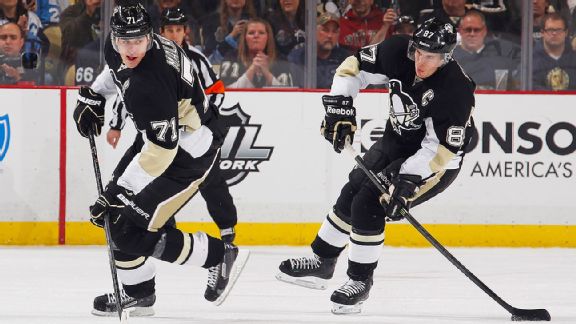 Gregory Shamus/NHLI/Getty ImagesPittsburgh must capitalize on the star power of centers Evgeni Malkin and Sidney Crosby.
The Friday mailbag is back -- the surest sign that the hockey season is nearly upon us. As always, your participation in making this one of the most enjoyable parts of my week is greatly appreciated. The questions are often better than the answers, which is a credit to you guys.
This season, however, the Friday mailbag is bulking up. Before diving into the questions, I want to spend time sharing news and notes gathered over the course of the week, during conversations at the rink or on the phone, that didn't fit one of the blogs and was simply too long to share on Twitter.
Let start there:
• One of the interesting things to watch at the start of the season will be the free-agent goalie market.
To continue reading this article you must be an Insider
October, 2, 2014
Oct 2
11:04
AM ET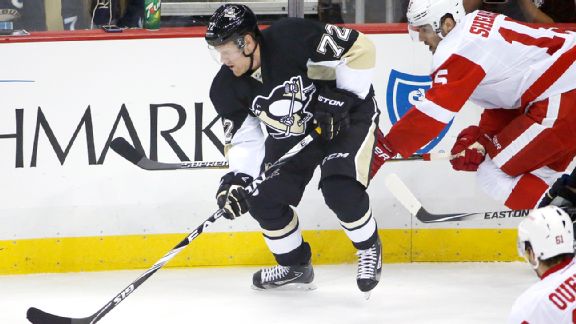 AP Photo/Gene J. PuskarAfter 387 games with the Predators, Patric Hornqvist was traded to the Penguins this summer.
Anyone with a newborn can relate: A new baby changes just about everything. It means less sleep, different habits and finding ways to entertain both you and the baby when you're stuck at home or up at all hours.
In a normal offseason, Penguins forward
Patric Hornqvist
doesn't watch a lot of hockey when he's done. Put in a training camp, 82 games plus the playoffs and there's not a lot of motivation to watch rivals in the postseason reach for the goal that you already missed.
This offseason was different. Hornqvist and his wife, Malin, had their first child, Isabella.
"We were home a lot," Hornqvist said on Wednesday. "The TV was always on."
As a result, he watched a lot of Stanley Cup playoff games, and in particular, those played by the
Pittsburgh Penguins
. It never occurred to him for a moment to think he might be watching future teammates, not when he'd spent the past six seasons with the
Nashville Predators
, the team that drafted him with the last pick of the 2005 draft.
Instead, he simply admired the play of
Evgeni Malkin
and
Sidney Crosby
, even when the two fell short of their Stanley Cup hopes.
"Now, to play with them," Hornqvist said, smiling, "it's even better."
Eventually, it will be.
Malkin is expected to return to the ice at some point in the near future, but his availability for the season opener against the
Anaheim Ducks
remains in doubt. Crosby made his preseason debut on Wednesday in Detroit.
When Hornqvist was acquired by the Penguins, the assumption was that he would play with Malkin, and that's still a distinct possibility. But in Crosby's only preseason game, Hornqvist was on Pittsburgh's top line with Crosby and
Chris Kunitz
. Penguins coach Mike Johnston assured us all that he was just getting different looks in the preseason, but if this offseason proved anything in Pittsburgh, it's that nothing is sacred.
That includes the spots on the wing next to Crosby
To continue reading this article you must be an Insider
October, 1, 2014
Oct 1
12:15
PM ET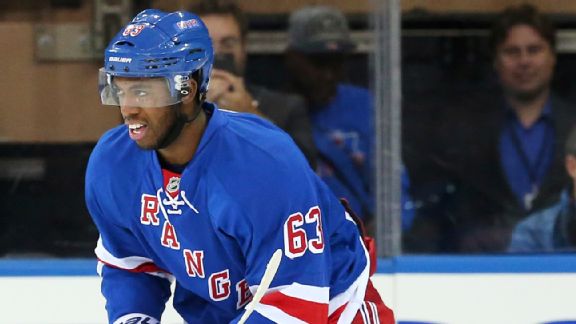 Anthony Gruppuso/USA TODAY SportsAnthony Duclair has his sights set on a roster spot with the New York Rangers.
It happened quickly, just a flick of the wrists on a pass from
Dominic Moore
, and
Anthony Duclair
had another one. It was his third goal of the preseason, building momentum and his case to make the New York Rangers as a 19-year-old rookie.
Heading into training camp, coaches and general managers around the league say they want to give a look to their kids first before making any decisions on older players. Then, typically, when camp is ready to break, the safety and consistency of the veteran player is too hard to resist. The kids head back to junior or the AHL for further development. What was an intriguing preseason story gets lost in the grind of the regular season.
Duclair is doing everything he can to make sure that doesn't happen. At the end of the business day on Tuesday, teams must submit their opening night rosters and be salary-cap compliant. It makes this week fascinating because there are big questions on high-profile teams as training camp ticks down to its final moments.
Let's start in New York, where the next generation of Rangers is making us reconsider concerns about the loss of depth this summer.
Big question: Has Anthony Duclair done enough to make the Rangers?
Let's explore why a player with so much skill could slip to the third round of the 2013 draft.
To continue reading this article you must be an Insider
September, 30, 2014
Sep 30
10:07
AM ET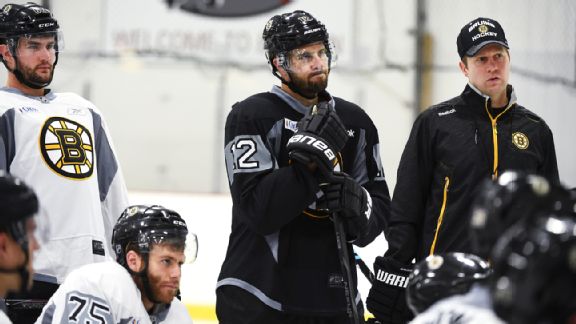 Eric Canha/CSM/AP ImagesSimon Gagne, center, is hopeful that he can slot in to a top-six role for Boston in 2014-15.
It started with a conversation this summer between
Patrice Bergeron
and
Simon Gagne
. The two played in a charity game together, and Bergeron liked what he saw from Gagne. He saw the smarts and some of the speed that led to 288 regular-season goals in nearly 800 games.
Sure, it was only an exhibition, but it was enough to spark an idea.
"I'd seen him a few times over the summer. We're from the same town. On the ice, he looked the same to me," Bergeron said. "It's hard to tell sometimes in the summer."
So, they chatted. Bergeron asked Gagne how he felt. He asked him what his plans were, if he definitely wanted to play, if he had any other offers. He was gathering information, information he'd eventually pass on to
Boston Bruins
general manager Peter Chiarelli.
Bergeron, as it turns out, is a good guy to know.
"I don't do that often, but Peter is the kind of guy who is open; if it can help, why not?" Bergeron said. "I just kind of mentioned that he was skating, looked good, kept in shape and was looking for something."
As were the Bruins.
Boston remains the team to beat in the Eastern Conference, but it's not without question marks, most notably down the right side of its forward group. A little more clarity came on Monday when the team released
Ville Leino
from his tryout, and convinced
Reilly Smith
to take a one-year deal below market value to squeeze under the salary cap.
Signing Smith and
Torey Krug
at such reasonable numbers means the Bruins don't necessarily have to trade
Johnny Boychuk
, a player who might have netted help at right wing in a deal, if they don't want to.
It means the most likely course of action is that those currently in camp will fill the opening at right wing, created by the departures of
Jarome Iginla
and
Shawn Thornton
.
To continue reading this article you must be an Insider
September, 29, 2014
Sep 29
10:54
AM ET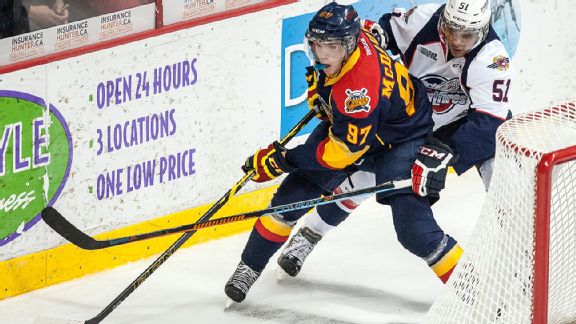 Dennis Pajot/Getty ImagesConnor McDavid's vision and thinking on the ice are on par with his incredible physical talents.
His is a quiet game, but not quiet in production.
Erie's Connor McDavid scored his first goal of the OHL season against Windsor on Friday night, then followed it with two more against Plymouth on Saturday. The consensus No. 1 overall prospect in the 2015 NHL draft has eight points in three games.
It's a solid start.
McDavid's game is quiet in the sense that he's not banging his stick on the ice when he gets open. It's quiet in the sense that he's not responding to post-whistle shoving or any attempts to muscle him off his game. It's quiet in the sense that he just calmly finds an opening on the ice, then remarkably the puck finds him.
"He doesn't chase after the puck, the puck chases after him," said one NHL scout sitting in the stands and watching him play over the weekend. "The puck wants to be on his stick."
McDavid has all the physical tools. Now in his draft year, he's even stronger and his skating is more explosive, which you notice particularly in the neutral zone.
That's half of it. What makes McDavid the kind of generational prospect who will transform a franchise is his hockey sense. The best players aren't just guys with the physical tools, they're the guys who somehow instinctively know exactly where to go on the ice and what to do with the puck when they get there.
McDavid has that sixth sense, and following his game against Windsor on Friday, he graciously attempted to explain what he sees on the ice that allows him to do what he does. It's one thing to simply play and react, but the smartest players can tell you exactly why they made the pass when they did, or why they chose that particular spot on the ice to make a play.
Through the lens of three plays he made Friday night against the Spitfires, we asked McDavid to share his thought process and what he saw
To continue reading this article you must be an Insider