January, 23, 2015
Jan 23
11:12
AM ET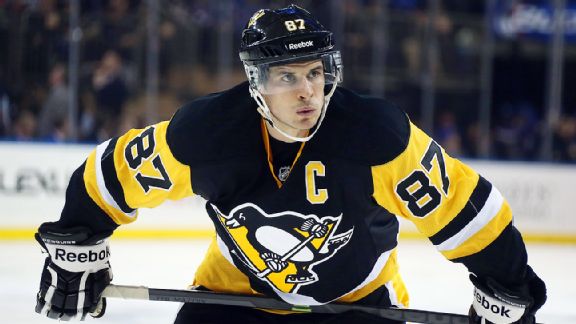 Bruce Bennett/Getty ImagesCrosby will miss the 2015 All-Star Game because of a lower-body injury.
COLUMBUS, Ohio -- The decision to miss an All-Star Game because of injury or otherwise is rarely made by one person. Hall of Famer
Mike Modano
was a seven-time All-Star but remembers one year in which he was banged up and debating whether to take part in the game.
"I talked through it with Bob Gainey and [Ken Hitchcock]," Modano said when we chatted Thursday evening. "Those were things I wanted to go and be a part of. They felt long term, it was probably good to take advantage of the break. At that point, we had three or four years in a row of playing a lot of hockey. It catches up to you."
Winning games for the
Dallas Stars
was the utmost priority for everyone involved in that conversation, as it is when these conversations take place with every team in the league right now.
Sidney Crosby
has an additional burden as the NHL's biggest star. On Thursday, the
Pittsburgh Penguins
announced that their captain wouldn't play because of a lower-body injury -- a late subtraction to a game the city of Columbus has waited a long time to host.
Some years you attend an All-Star Game and once you're a few blocks from the arena, you have no idea the game is even being held in that city. That's not the case in Columbus. This is a city that has been anticipating the game for some time. Evidence of the All-Star Game is everywhere; from lights to All-Star signs to the friendly conversations with locals who immediately ask if you're in town for the game once they find out you're visiting.
If there was letdown that Crosby won't be playing, it was hard to detect Thursday night around Columbus -- the city is understanding. It's difficult not to feel bad for the city's hockey fans, who have seen lower-body injuries cause Blue Jackets goalie
Sergei Bobrovsky
, along with a Hart Trophy candidate in
Evgeni Malkin
and the league's biggest star to pull out of the game.
"I know it's tough for Sid; he's such a draw," Modano said. "The All-Star Game is going to hurt without him. It's the Gretzky factor for him. He's the one guy that families and people go just to see."
Crosby's absence is going to raise questions.