January, 29, 2015
Jan 29
11:01
AM ET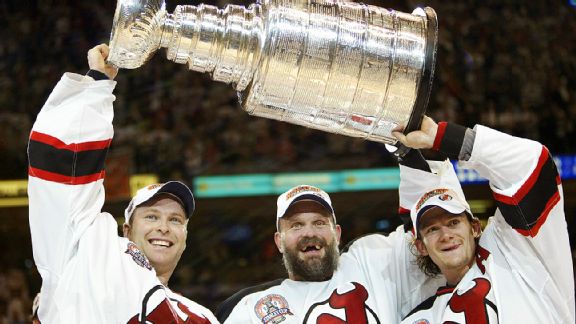 Elsa/Getty Images/NHLIIn addition to impressive individual stats, Patrik Elias was a member of two Stanley Cup winners.
While the rest of the All-Stars sat on elevated seats on media day, with their own podiums projecting their voices through speakers on either side of where they were sitting,
Patrik Elias
' setup was much more casual.
He had his own spot set up, with his name and his own speakers. Instead, he chose just to stand in front of it, casually chatting with the few reporters who opted to talk to him instead of guys such as
Steven Stamkos
,
Patrick Kane
and
Tyler Seguin
.
At one point, a rush of media started forming in the area, pushing Elias and his few conversationalists even further to the side. A worker slid an
Alex Ovechkin
sign above the podium and that explained the rush. The cameramen and those holding the microphones were preparing to get the best spot in front of the
Washington Capitals
superstar.
Elias -- wearing distinguished-looking glasses, keeping his usual low profile -- could have been anyone, not a potential Hall of Famer playing in what could be his last All-Star Game. He politely answered questions about his age and place in the game right now.
"I'm the oldest guy here," the 38-year-old Elias said. "The older you get, you appreciate everything more. Whatever you go through -- the life of a hockey player, the accomplishments, these things, playing different games, the outdoor games, the Olympics, World Cup, being part of the All-Star -- it's great. There could be probably another 50 guys, 100 players, who should be here in this position."
Perhaps he's right. Elias was there to represent the
New Jersey Devils
. His point totals this season are more ordinary than All-Star. Through 38 games, he had just six goals and was a minus-13, more of a reflection of the pedestrian team he plays with than his own shortcomings.
But his presence with the next generation of All-Stars was a chance to examine his legacy and take a hard look at whether he's done enough to gain entrance into the Hall of Fame when he decides to hang it up.