December, 9, 2013
Dec 9
10:23
AM ET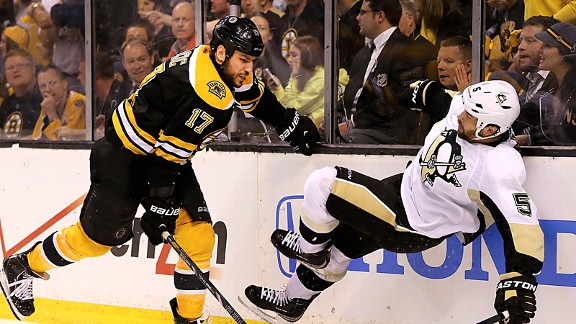 John Tlumacki/The Boston Globe/Getty ImagesPhysical play has marked Bruins-Penguins games since last postseason.
MONTEREY, Calif. -- The Bruins are often cited as the NHL's ideal mix of skill and toughness. Boston GM Peter Chiarelli has built a team that typically doesn't depend on one guy to do its policing. With the gradual elimination of the traditional enforcer, Boston's roster is elevated as the example of where the league should be evolving, with a premium on guys who can play as well as fight, if needed.
And the Penguins - there haven't been many franchises more public about concussion-prevention than Pittsburgh since
Sidney Crosby
was sidelined with his first one in the 2011 Winter Classic. GM Ray Shero has taken the public stance that fighting needs to be critically examined by those running the league, even if that opinion may not be popular among the players.
Yet, it was these two teams that brought out hockey's ugliest side on Saturday. From
Shawn Thornton
driving Brooks Orpik's head into the ice in a nauseating scene to James Neal's "accidental" knee to
Brad Marchand
-- two the Eastern Conference's highest profile teams set hockey back over the weekend. Again. It's just the latest example that too often when players discuss things like a code or respect for one other, it's meaningless talk completely abandoned the moment a teammate is perceived as slighted in any way, real or imagined.
Teams that should be celebrated for their high-end skill dragged themselves down to a level of entertainment many casual sports fans in the United States have little to no stomach to watch, relegating hockey to punchline status.
Incidences like these, when they occur so close to a gathering like the GM meetings or Board of Governor meetings, can often spark change, which brings us to our first "Next Question" of the week:
Are enough owners fed up with the dangerous product on the ice to speak out at the Board of Governors meetings today and tomorrow?
Unlike last time this group met in Pebble Beach, when a dramatic league realignment was proposed, this meeting is primarily supposed to be informational. Approval of the huge Canadian television deal. A projection of the next salary cap. Reports from
Brendan Shanahan
on league discipline and another on the recent concussion lawsuit. And perhaps those last two segments is where the one-sided reporting can became a legitimate debate. Considering the mix of legal action and on-ice ugliness, the tone of the gathering of NHL owners this week in Monterey could be completely different than was planned a few weeks ago. At least, let's hope.
To continue reading this article you must be an Insider