January, 26, 2015
Jan 26
10:27
AM ET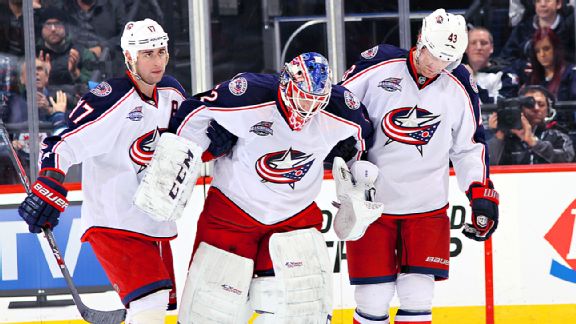 Jonathan Kozub/NHLI/Getty Images)The Blue Jackets will be without franchise netminder Sergei Bobrovsky as the All-Star break ends.
COLUMBUS, Ohio -- Blue Jackets president John Davidson was standing outside the Hilton in downtown Columbus when a couple of young fans wearing hockey jerseys walked toward him.
He pointed at them, smiling with their dad, and said that's what the All-Star weekend was about. Not the half-effort on-ice product that concluded All-Star weekend on Sunday evening.
"It's more just [about] the little ones, all smiling," Davidson said when we chatted earlier in the weekend.
As far as vibes go, Columbus had a great one all weekend long. The sport was celebrated and in turn it reflected extremely well on a city that's not necessarily known as a prominent professional sports town.
It supported a theory that players who have gone through Columbus have suggested for years: If the Blue Jackets ever got consistently good, this would become a destination city for NHL players.
Davidson has seen it happen already.
"
[Ryan] Johansen
wants to stay.
[Sergei] Bobrovsky
,
[Nick] Foligno
,
[Brandon] Dubinsky
-- some of them could have hit the market," Davidson said. "They all want to stay. Every one of them, whether they're single or married with families or not. It's a really good spot."
Now that the All-Star party is over in Columbus, the players and their fans may have to deal with the hangover. The Blue Jackets were crushed by injuries during the first half of the season, and coming out of the All-Star break they have to play without starting goalie Bobrovsky, who is out with a groin injury. According to one source, the Blue Jackets aren't expecting him back anytime soon.
As much as we admire the Blue Jackets' work ethic and pluck, it could be a disastrous second half for the team in the standings.