July, 28, 2014
Jul 28
8:53
AM ET
July, 26, 2014
Jul 26
4:15
PM ET
Friday, Texas A&M coach Kevin Sumlin fired back at Oklahoma coach Bob Stoops, who mocked the Aggies' nonconference schedule while at the ESPN car wash this past week.
"They have Lamar, Rice, SMU and Louisiana-Monroe," Stoops said. "Boy, those are all a bunch of toughies, right?"
According to AggieSports.com, Sumlin was asked about Stoops' comments at a fan event in Houston:
Sumlin - "Coach Stoops has the right to say whatever he wants, but if he wants to play us again we'll take him up on that."

— Aggie Sports (@Aggie_Sports) July 26, 2014
Behind Heisman winner Johnny Manziel, the Aggies hammered the Sooners in the 2012 Cotton Bowl 41-13. Sumlin actually coached under Stoops at Oklahoma until 2008.
During his Houston appearance, Sumlin also had this to say:
Sumlin said it's easy to kick a guy off the team. But in the "business of developing men."

— Aggie Sports (@Aggie_Sports) July 26, 2014
It's unclear if that was a veiled jab at the Longhorns. But this week, Texas coach Charlie Strong did dismiss six players from his team. Of course, Sumlin could have been exclusively referencing his own program. Seven Aggies players have been arrested since December.
July, 25, 2014
Jul 25
5:30
PM ET
We continue with our series looking at each Pac-12 team's nonconference opponents in 2014.
UCLA Bruins
At Virginia Cavaliers, Saturday, Aug. 30
Coach: Mike London (18-31), fifth year
2013 record: 2-10, 0-8, ACC
Returning starters: Seven offense, nine defense
Offensive headliner: Running back Kevin Parks became the first Cavalier player to rush for more than 1,000 yards in almost a decade, posting 1,031 yards and 11 touchdowns. He ranked second in the conference with 85.9 yards per game on the ground.
Defensive headliner: Middle linebacker Henry Coley led Virginia with 91 stops last year, including 8.5 tackles for a loss and a sack. He ranked eighth in the ACC with 7.6 tackles per game.
The skinny: Virginia is coming off its worst season under London, who has had a pair of 4-8 seasons with one winning season (2011, 8-5) in between. They are currently riding a nine-game losing streak and a 10-game losing streak against FBS teams (which started with a 59-10 loss last season to Oregon). After opening the year with a surprising win over BYU, it was all downhill, save for a win over VMI in between.
Memphis Tigers, Saturday, Sept. 6
Coach: Justin Fuente (7-17), third season
2013 record: 3-9, 1-7 American
Returning starters: Nine offense, eight defense
Offensive headliner: Quarterback Paxton Lynch threw for 2,056 yards and nine touchdowns last year, while adding 127 yards and two scores on the ground. It was just the 10th 2,000-yard passing season in school history and he was just the second freshman in school history to break the 2K passing mark.
Defensive headliner: Defensive lineman Martin Ifedi has been getting a lot of preseason love, landing on the Bednarik, Bronko Nagurski and Rotary Lombardi watch lists. He has 20 career sacks, one shy of matching the school record.
The skinny: Though there were a lot of losses last season, the Tigers were still pretty competitive in games against Duke, Louisville and BCS darlings UCF. But they ended the year on a low note with blowout losses to Temple and Connecticut. Lynch returns with some experience and a pretty good receiving corps, headlined by fourth-year player Keiwone Malone. The defense should be steady with a good line and a trio of returning linebackers.
Texas Longhorns (in Arlington, Texas), Saturday, Sept. 13
Coach: Charlie Strong, first year
2013 record: 8-5, 7-2 Big 12
Returning starters: Five offense, seven defense
Offensive headliner: Running back Malcom Brown rushed for 904 yards and nine touchdowns. He posted five 100-yard rushing performances last year, including 120 yards in the Red River Rivalry win over Oklahoma.
Defensive headliner: Defensive end Cedric Reed was third on the team last season with 79 tackles. He also led the team with five forced fumbles and is on the All-Big 12 preseason team and several watch lists.
The skinny: The Longhorns are starting anew with the Charlie Strong era. The last time we saw them, the Ducks were escorting Mack Brown into retirement following a 30-7 win in the Alamo Bowl. Texas has some rebuilding to do on the offensive line, with three starters departed. The quarterback spot is also, well, shaky. They also lose their top two tacklers from last season. But there is enough talent at the skill spots and across the defensive line to make this a potentially dangerous game.
Thoughts
: For the Bruins to get to where Jim Mora wants them, anything less than 3-0 won't do. Memphis and Virginia are struggling FBS teams -- but FBS teams nonetheless, which will help the Bruins resume. But the Texas game is the one that could bring some national attention to Westwood. A lot of eyes will be on Texas to see what Strong can do with the brand-name program in his first year. A lot of eyes will also be on the Bruins, who will likely be a top 10 team to start the season with Heisman hopeful
Brett Hundley
at the helm. Things only get tougher for the Bruins, as they leave their nonconference schedule and jump right into a showdown at Arizona State. Then home dates with Oregon, USC and Stanford loom. The Bruins have the DNA to be one of the top teams in the country and possibly advance to the College Football Playoff. A 3-0 nonconference mark puts them on the right path. Anything less knocks them off that path.
July, 25, 2014
Jul 25
3:00
PM ET
Our series of preseason picks for every single Big 12 game of 2014 concludes today with Week 15. The past two Big 12 champions face off, and Bedlam is always fun.
More Big 12 predictions for 2014.
at Baylor 41, Kansas State 24:
With the final weekend mirroring 2013, the Bears know this game could gain added importance if the Sooners slip up in Bedlam. Taking the field with that mindset, Baylor takes a two-touchdown lead in the first quarter and never really looks back.
Bryce Petty
is efficient and effective, and Baylor's defense uses the experience gained in the first 11 games to help slow Bill Snyder's Wildcats in a comfortable win to end Year 1 at McLane Stadium.
at Oklahoma 38, Oklahoma State 35:
Another Bedlam, another close game, another late-game win for the Sooners. This time it's true freshman running back
Joe Mixon
who turns a swing pass into a late fourth-quarter touchdown, giving the Sooners a late lead and, for the second straight Bedlam game, Oklahoma linebacker
Eric Striker
seals the win with a big play on the Cowboys' final drive. The Sooners win the Big 12, and their campaign to be included in the College Football Playoff begins immediately with Bob Stoops saying the Sooners "absolutely" deserve to be one of the four teams included during his postgame comments.
at TCU 42, Iowa State 20:
The Horned Frogs end a solid eight-win season in style with a blowout win against the Cyclones. TCU's offense gives Horned Frogs fans plenty of hope with a six-touchdown performance to end the season, including a touchdown pass and touchdown reception from "Mr. Versatility"
Trevone Boykin
.
Final Big 12 standings
1. Oklahoma
-- 11-1, 8-1
2. Baylor
-- 10-2, 7-2
3. Kansas State
-- 9-3, 7-2
4. Texas
-- 8-4, 6-3
5. TCU
-- 8-4, 5-4
6. Texas Tech
-- 7-5, 4-5
7. West Virginia
-- 5-7, 4-5
8. Oklahoma State
-- 5-7, 3-6
9. Kansas
-- 3-9, 1-8
10. Iowa State
-- 2-10, 0-9
July, 25, 2014
Jul 25
12:00
PM ET
July, 25, 2014
Jul 25
11:21
AM ET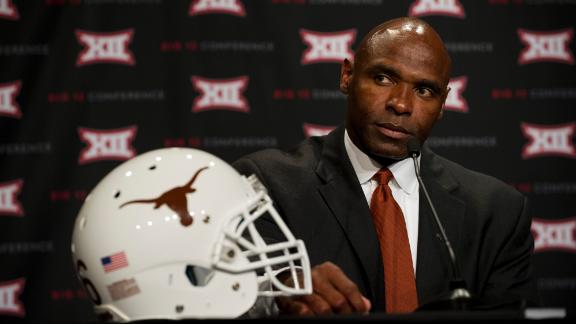 Texas football coach Charlie Strong has kicked at least six players off the team since becoming coach, in addition to suspending two Longhorns players Thursday after they were arrested on charges of sexual assault.
Safety Josh Turner, running back Jalen Overstreet and defensive back Chevoski Collins have been dismissed from the program for violating team rules, multiple sources told ESPN.com on Friday.
Senior running back Joe Bergeron was also dismissed from the program, according to Orangebloods.com and multiple media outlets Friday.
Texas has yet to officially acknowledge any of the dismissals.
Turner was a projected starter, a senior safety who played in 37 games and started five, including three in 2013. He had an interception in Texas' first spring game under Strong.
Overstreet, a sophomore, rushed for 102 yards and two touchdowns as a reserve last season after moving from quarterback to running back. Collins redshirted as a freshman and was a backup at safety. Orangebloods.com initially reported the dismissal of Overstreet and Collins.
Overstreet previously had academic issues and was ruled ineligible last December for Texas' Valero Alamo Bowl loss to Oregon.
July, 24, 2014
Jul 24
1:21
PM ET
ESPN.com news services
BRISTOL, Conn. -- Former Texas coach Mack Brown will serve as a studio analyst for college football games on ABC.
Brown stepped down in December after 16 years with the Longhorns, winning the national title after the 2005 season.
"I'm so excited and grateful to be joining ESPN's college football coverage team," Brown said in a news release. "We've been talking about it for a few months, and I think it's a great opportunity to continue to be an active part of a game I love so much. People who know me know I'm a football junkie, so I'm really looking forward to watching and studying teams, sharing thoughts, and talking football with all of the passionate college football fans across the country each and every week."
Brown will appear on "College Football Countdown" and offer pregame, halftime and postgame commentary for the games on ABC, including "Saturday Night Football." He will work with host John Saunders and former Florida State quarterback Danny Kanell.
ESPN also said Thursday that former Miami and North Carolina coach Butch Davis will serve as an analyst for ESPN2's studio coverage on Saturdays.
"I'm thrilled with the opportunity to be an analyst on a sport that has been a part of my coaching life at every level," Davis said in the release.
Davis was fired by the Tar Heels in 2011 during an NCAA investigation. He led the Hurricanes back to national prominence while coaching them from 1995-2000. In between, there was a mostly unsuccessful NFL stint with the Cleveland Browns.
The Associated Press contributed to this report.
July, 24, 2014
Jul 24
12:00
PM ET
July, 24, 2014
Jul 24
11:22
AM ET
ESPN.com news services
AUSTIN, Texas -- Two University of Texas football players were arrested and charged Thursday with felony sexual assault after a female student said she was raped in a campus dorm room last month.
Wide receivers Kendall Sanders and Montrel Meander were in custody at the university police station. According to an arrest affidavit, Sanders and Meander texted each other during earlier interviews with police to "get their story straight," and Sanders also faces a charge of improper photography tied to the alleged assault on June 21.
First-year Longhorns coach Charlie Strong, who will welcome his team to preseason training camp in two weeks, said he has suspended both players.
"We've been monitoring and addressing the situation with Kendall and Montrel since it was brought to our attention," Strong said in a statement released by the school. "It's been made clear to everyone on our team that treating women with respect is one of our core values, and I'm extremely disappointed that two young men in our program have been accused of not doing that."
The sexual assault charges carry prison terms of two to 20 years.
"It's a shame that a mere allegation can affect a young man's life to the extent this will," said Sanders' attorney, Brian Roark. "Kendall Sanders is innocent, though, and eventually, that will be proven."
According to arrest affidavits, the alleged victim knew both men for more than a year.
July, 24, 2014
Jul 24
9:00
AM ET
Our series of preseason picks for every single Big 12 game of 2014 continues today with Week 14, which features a Thanksgiving night showdown in Austin and another high-profile game at AT&T Stadium.
More Big 12 predictions for 2014
.
at Texas Longhorns 24, TCU Horned Frogs 14:
Charlie Strong's first season in the Big 12 ends on a high note with a victory over the always-tricky Horned Frogs. A pick-six from
Quandre Diggs
on his senior night is the highlight of a dominant night for the Longhorn defense, and a fitting finish for Texas' solid turnaround on that side of the ball in 2014.
West Virginia Mountaineers 37, at Iowa State Cyclones 34:
Dana Holgorsen ensures his job safety for another season with a good, tough win over an Iowa State team that isn't nearly as bad as its record suggests.
Mario Alford
and
Kevin White
both surpass 1,000 receiving yards on the season after big showings against the Cyclone secondary.
at Kansas State Wildcats 35, Kansas Jayhawks 13:
Kansas State sets up an intense, high-stakes final week for the Big 12 with an easy win over the Jayhawks, whose frustrating season has finally come to an end.
Jake Waters
has never looked sharper, throwing for three touchdowns and rushing for another himself.
Ben Heeney
somehow finishes the year with a school-record 207 tackles.
Baylor Bears 56, Texas Tech Red Raiders 52 (in Arlington, Texas):
Last year, Texas Tech blew up Baylor in the first quarter but quickly ran out of gas. This time,
Davis Webb
gets his chance and keeps the Bears sweating for four quarters. A defensive bust and a 45-yard touchdown run for BU's
Johnny Jefferson
midway through the fourth is the difference-maker in an extremely even ballgame.
Current Big 12 standings
1. Oklahoma
-- 10-1, 7-1
2. Kansas State
-- 9-2, 7-1
3. Baylor
-- 9-2, 6-2
4. Texas
-- 8-4, 6-3
5. TCU
-- 7-4, 4-4
6. Texas Tech
-- 7-5, 4-5
7. West Virginia
-- 5-7, 4-5
8. Oklahoma State
-- 5-6, 3-5
9. Kansas
-- 3-9, 1-8
10. Iowa State
-- 2-9, 0-8
July, 23, 2014
Jul 23
5:18
PM ET
By
ESPN.com staff
| ESPN.com
BRISTOL, Conn. --
Texas
and
Texas A&M
have played 118 times, and their in-state rivalry was a longtime holiday tradition in the Lone Star State, with the teams meeting 64 times on Thanksgiving Day.
But one of the sport's most storied rivalries was a victim of conference realignment, as the Longhorns and Aggies stopped playing each other when Texas A&M left the Big 12 for the SEC before the 2012 season.
While Texas and Texas A&M administrators have repeatedly said renewing the rivalry isn't on their front burners, new Longhorns coach Charlie Strong said he wants the rivalry to resume.
To read more,
click here
.
Strong Stops By Numbers Never Lie Show
BIG 12 SCOREBOARD
Saturday, 8/30
Sunday, 8/31