March, 6, 2015
Mar 6
2:30
PM ET
COLLEGE STATION, Texas — John Chavis' arrival at Texas A&M was met by much fervor among the Aggie faithful, who've long yearned for a defense reminiscent of the 1990s Wrecking Crew units but haven't found someone to provide one worthy of the throwback nickname.
Aggies everywhere hope Chavis, with his two decades-plus experience of coaching SEC defenses, most recently at LSU, can be the one who does it and rectifies the most glaring weakness on this Texas A&M squad, which has become more synonymous with high-scoring offensive football in recent years. Chavis' track record suggests he can.
On Thursday night, the former LSU defensive coordinator met with the media for the first time since he was hired to be the Aggies' new defensive boss and discussed his new home, his early impressions of Texas A&M's defense through three spring practices, his new colleagues and the emotions involved with leaving LSU, where he spent the past six seasons.
[+] Enlarge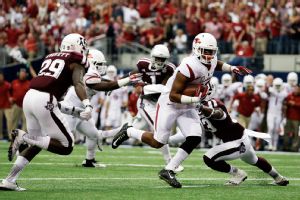 AP Photo/Tony GutierrezNew defensive coordinator John Chavis says the Texas A&M defense has talent but lacks confidence.
What drew "The Chief" to Aggieland? In a word: resources.
"What wouldn't be appealing?" Chavis said. "I mean, we're talking about a university, look what's going on — look at what's going on with the facilities. This is a university that's wanting to invest, not just wanting, but
has
invested in its program. If you look at that stadium it's a place where you can recruit, there's no doubt about that; there's a wealth of talent in Texas, so why wouldn't you want to be a part of this program at Texas A&M?
"To be quite honest with you we're building to win championships. That's what it's all about. I want to be a part of a championship program. There's no question you can win them here at Texas A&M and that's what we're looking forward to."
Chavis, who retained all three Texas A&M full-time defensive assistants that were on staff prior to his arrival – Terry Price, Mark Hagen and Terry Joseph – said the chemistry with his new staff is "really good" and that they're "excellent football coaches." The talent needed on the roster to succeed exists in Chavis' mind; the biggest thing he said he will work on is the unit's confidence. The Aggies ranked last in the SEC in yards per game allowed and rushing defense each of the last two seasons.
"We've got talent, there's no question about that," Chavis said. "The first thing we need to do is get our guys confident that they're good enough to play and good enough to win in the SEC. Once they feel that way — and I think we're well on the road to being there — they're going to be able to compete. Sure, they had some struggles. That was last year and we're not going to talk about last year. We've got some core principles that we believe in and we're going to apply those and have applied them and we think it'll get us to the situation where we're going to be very, very competitive.
"Now we've got a lot of work to do, don't kid yourself. I'm not kidding myself. But the talent is here and we're going to put the work in."
Leaving LSU wasn't an easy decision, and Chavis acknowledged that difficulty considering the relationships built in his time in Baton Rouge.
"The emotions are with those kids," Chavis said of the Tigers. "I love those kids. But there came a time when you have to make a decision and you have do what's best for you. And I've coached this game for 38 years or so and to be quite honest with you, I haven't always made decisions solely based on what was best for me. But this was a great opportunity that I couldn't turn down. It's a great situation, certainly it's one where I hope I can finish my career. If I get eight or 10 good years here, if I can go that long, it would be great."
Chavis also had positive things to say about LSU coach Les Miles.
"Listen, I love Coach Miles too," Chavis said. "He was a great guy to work for. We have a great relationship and it'll always be that kind of relationship. But the toughest thing was leaving those kids. The good thing is, I have a great group of young men [at Texas A&M]. And we're learning to love and care about each other. We're learning to trust each other. That's how it has to happen. They've got to trust me. I've got to trust them. And that happens over time and we're learning that now and Texas A&M feels like home."
There is
a legal battle going on between Chavis and LSU over a $400,000 buyout
the Tigers claim he owes for terminating his contract. Chavis declined to elaborate on the topic, noting that "There's not anything I can say that will help the matter. Got a great law team handling it. They'll get it worked out. My focus is on coaching football." He said it hasn't been a distraction and his focus is on his current task: improving the Aggies' defense.
"Obviously, there is SEC talent here — there's no question about that," he said. "We've got to help them get better and that's what coaching is all about. You can take young talent and make it better and I'm excited about coaching a young football team."
ESPN Junior 300 Updated For 2016 Class
SEC SCOREBOARD
Thursday, 9/3
Saturday, 9/5