July, 31, 2014
Jul 31
6:00
AM ET
Our list of the
Top 25 players in the Pac-12
continues.
10. Oregon C Hroniss Grasu
Why he's ranked here:
Grasu is one of three players in the conference -- all from Oregon -- to have been named first-team All-Pac-12 the last two seasons. As a junior in 2013, he was a finalist for the Rimington Trophy, given to the nation's best center, and the undoubted leader of the Ducks' offensive line that blocked for the conference's No. 1 rushing attack. Grasu enters his final year in Eugene having started all 40 games of his career with a chance to leave his mark as one of the Ducks' all-time greats. And as good as Grasu and the line were a year ago, they should be better this year with all five starters back and some talented players behind them who could push for playing time in training camp.
9. Stanford WR Ty Montgomery
2013 stats:
Caught 61 passes for 958 yards and 10 touchdowns, and ranked second nationally averaging 30.3 yards per kickoff return.
Why he's ranked here:
When Montgomery is on the field for Stanford, he's the team's best player. Whether that's as a receiver or kick returner, he's the one guy who has consistently proven he can change a game on any given snap. There's minimal concern he won't be 100 percent for the start of the season due to an arm injury, but Montgomery said Wednesday he's not limited when it comes to running, catching or lifting weights. At 6-foot-2, 220 pounds with just 4 percent body fat, Montgomery certainly didn't look injured. "When he comes back, he might be the most explosive player in college football, and he's going to touch the ball in every single way possible," Stanford coach David Shaw said at Pac-12 Media Days. It remains to be seen if we should take Shaw literally and add punt return duties to Montgomery's other responsibilities, but there has been discussion about that as well. When comparing Montgomery as a receiver to the other two receivers listed below, there's really not much separation -- a solid case can be made to have each of them in front of the other.
8. Arizona State WR Jaelen Strong
2013 stats:
Caught 75 passes for 1,122 yards and seven touchdowns in his first year with ASU.
Why he's ranked here:
Perhaps no one in the conference made as strong an immediate impact as Strong did last year after arriving at ASU from Pierce College in Los Angeles. He eclipsed the 100-yard receiving mark in five of his first six games and finished fourth in the Pac-12 with 1,122 receiving yards. The three players who finished ahead of him -- Oregon State's
Brandin Cooks
, Colorado's
Paul Richardson
and Oregon's
Josh Huff
-- are all off to the NFL. Like Montgomery, Strong is physically imposing and at 6-foot-4, 212 pounds makes a dangerous red-zone target for quarterback
Taylor Kelly
. Of the 25 players the Pac-12 blog has deemed the conference's best, Kelly-Strong is the only quarterback-recevier tandem to be included together on the list (you'll see where Kelly lands Friday morning). They're the main reason ASU coach Todd Graham proclaimed at Pac-12 Media Days that, "This will be the best offensive football team that I've ever coached." If Strong makes the kind of jump Cooks made from 2012 to 2013, it shouldn't surprise anyone.
7. USC WR Nelson Agholor
2013 stats:
Caught 56 passes for 918 yards and six touchdowns and also returned kicks (17.5 avg) and punts (19.1 avg)
Why he's ranked here:
On a team that featured 2012 Biletnikoff winner
Marqise Lee
, Agholor was simply the better receiver in 2013 and his value to the Trojans stretched further than that because of how he could impact games as a return man. What Montgomery was to Stanford on kickoff returns, Agholor was for the Trojans on punt returns. He returned two for touchdowns and his 19.1 average was a new school record and ranked second nationally. With Lee off to the NFL, a second-round pick of the
Jacksonville Jaguars
, Agholor figures to see his receiving numbers improve -- even if that means more attention from opposing defenses. Agholor has developed a reputation for being an NFL-caliber route runner and is among the nation's most dangerous receivers after the catch. ESPN draft analyst Mel Kiper Jr. ranks Agholor as the
No. 3 receiver on his Way-Too-Early Big Board
(one spot behind Strong).
6. Oregon State QB Sean Mannion
2013 stats:
Threw for a Pac-12 record 4,662 yards with 35 touchdowns and 15 interceptions.
Why he's ranked here:
By the time the NFL draft rolls around, Mannion might just end up being the top quarterback on some teams' boards. He's that talented. With 10,436 career passing yards, Mannion already sits at No. 10 on the conference's all-time passing list and, assuming he stays healthy, should have no problem passing
Matt Barkley
's record of 12,327. Mannion admits he had a great relationship with former offensive coordinator Danny Langsdorf, who left to become the quarterbacks coach for the
New York Giants
, but he has already grown under the tutelage of Langsdorf's replacement, John Garrett. "It has been good to get another perspective, another coach to learn from," Mannion said at Pac-12 Media Days. "It was tough to see [Langsdorf] go, but I think it'll end up being beneficial." Mannion is also the first Oregon State player to be selected team captain three times. Kiper ranked him as the
No. 2 senior NFL quarterback prospect in the country
.
Check out the rest of the rankings here:
Nos. 25-21
,
Nos. 20-16
,
Nos. 16-11
July, 30, 2014
Jul 30
4:55
PM ET
For all those people fretting that a playoff in college football would somehow water down the regular season, I offer up the blockbuster weekend of Sept. 3. 2016.
Yes, it's still a couple of years away and we're supposed to be focusing on what's right in front of us. But, geez, that Saturday to open the 2016 season could very well provide the most attractive lineup of nonconference games on one day that we've ever seen.
For that, at least in large part, we all have the College Football Playoff to thank.
Some of the matchups were already set or in the process of being set. But the real impetus in beefing up all these nonconference schedules was that a playoff was coming.
And, now, with a selection committee holding the keys to those coveted four playoff spots, we're going to be in store for some terrific nonconference showdowns in the regular season for years to come. Simply, teams that don't play and win those types of games are going to be on the outside looking in, which makes the regular season as important as ever.
My only knock on that weekend to kick off the 2016 season is that there are too many good games. I want to watch them all.
We've all been clamoring for an
Alabama
-
USC
matchup. Well, we're finally going to get it in Arlington, Texas to open that season.
And if you like your football Southern style,
Clemson
at
Auburn
has a nice ring to it. Lewis Grizzard, the late Southern humorist, once said that Clemson was Auburn with a lake. In a lot of ways, they're virtual clones of each other right down to their break-neck style of offense. Even more enticing, this is a home-and-home series with Auburn traveling to Clemson the next year.
There won't be a more unique game that weekend than
LSU
facing
Wisconsin
in historic Lambeau Field. Perhaps we'll get to see Les Miles perform the "Lambeau Leap" if the Tigers win.
Have the remote control ready because we also get
UCLA
at Texas A&M,
Notre Dame
at
Texas
and BYU Cougars at
Arizona
(in Glendale, Ariz.).
That's just the first weekend, too.
A week later,
Tennessee
and
Virginia Tech
will "trade paint" at Bristol Motor Speedway. And two weeks later,
Ohio State
travels to Oklahoma and
Oregon
visits Nebraska.
So much for opening the college football season with a tune-up … or two.
July, 30, 2014
Jul 30
2:40
PM ET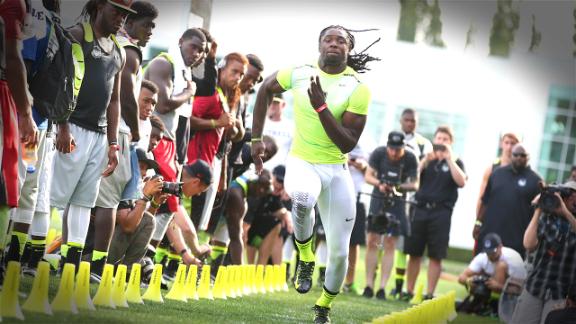 Josh Sweat
, the nation's No. 1 prospect, has lined up all five of his official visits. Sweat said he turned down more than 50 scholarship offers to focus on Florida State, Georgia, Ohio State, Oregon and Virginia Tech. He also said Texas A&M and Auburn are also still under consideration.
July, 30, 2014
Jul 30
2:30
PM ET
There's a place up ahead and I'm goin'. Just as fast as my feet can fly. Come away, come away if you're goin'. Leave the sinkin' ship behind.
July, 30, 2014
Jul 30
9:30
AM ET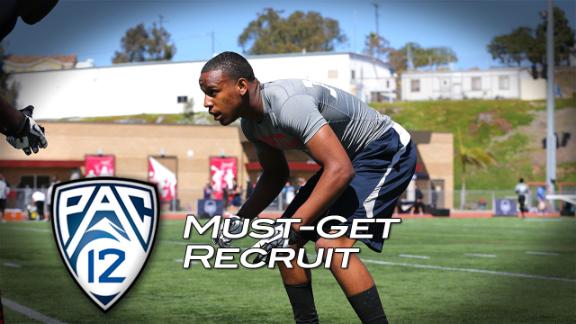 While one recruit will never truly make or break a recruiting class, some come closer than others. Every Pac-12 program has a must-get recruit in mind, whether it's a national standout whose commitment would rock the recruiting landscape, a star at a position where that program simply cannot miss, or a local prospect who can't be allowed to leave the area.
To continue reading this article you must be an Insider
July, 29, 2014
Jul 29
7:00
PM ET
In advance of media day last week, we told you
what questions Pac-12 coaches would be asked and what they should be asked
. Well, that sort of tied us in to asking those "should" questions.
So we did, at least some variety of the suggested inquiries, And here's what we got, finishing with the North Division.
California
Are there things you view as mistakes, things that you would do differently in retrospect from last year?
Sonny Dykes
: Oh, sure. There are always things you'd do differently. When we were on that winning streak at Louisiana Tech, there were things I would have done differently. That's part of coaching. You are always self-evaluating. When you don't have success, you tend to listen to that self-evaluation more than you would if you were winning. The biggest mistake I made as a coach was probably my last year at Louisiana Tech. We were 9-1 and I think we were 16th in the country and we were really tired. We were worn out. I probably should have given our guys a day off just to get away for a day. But we had won 16 out of 17 and you talk yourself out of it because what we had been doing had been successful. So if I had to do that over again I'd do it differently. A lot of stuff last year.
Can you give me an example?
Dykes
: I don't want to say. I have a bunch of notebooks I'll give you one of these days.
Oregon
What's the biggest lesson you learned about being a head coach last year?
Mark Helfrich
: I don't know if there was any one in particular, but there were thousands. It's something like, as a player, you don't think you've ever made it, thinking I don't have to improve anymore. Certainly as a coach it's the same way. There are so many things that go into it that you deal with that you couldn't have prepared for. Not even if you talked about it. From that standpoint, I know what we stand for. I know what our program stands for. Working for that and toward that every day, good things will happen.
Chip Kelly told me the advice he gave you and the best advice any coach could give is to be yourself. Do you think you'll be able to be more yourself this year compared to last year?
Helfrich
: 17 percent more (laughs). I think the product of being around each other, the players, the coaches, the culture, things like that, certainly. The comfort of doing it the second time. Hopefully, if it's more comfortable, it's better. That's certainly the angle I'm going for.
Oregon State
Your fans really want to keep up with Oregon. How difficult is it for Oregon State to keep up when Oregon has a booster [Nike founder Phil Knight] who pays $68 million dollars for a new football building. How can Oregon State keep up when it doesn't have a similar situation?
Mike Riley
: I think we just have to keep fighting like crazy to improve what we do. [Oregon] is the team that's been the best team in the league over the last five years. That's a general statement that's probably right. They just happen to be in our state, which is obviously difficult. But we've still got to fight every way we can to beat them on the field. That's our job. The other part, to give them credit, is this league has taken jumps because of things Oregon has done. It started back when Pete Carroll was at USC. They started their run of national-caliber play and everybody had to step it up or you would get left in the dust. They set the standard. Everybody had to rise up. Oregon has done that. They've done that football-wise. They've done it facility-wise. Everybody has to push to do that. We take care of the football part of it. We have to do everything we can to beat them. One of your goals is always to beat your rival and win the championship and we haven't done that in a while.
How much does money play a role? What could you guys do if someone said, "Mike, here's $68 million. Do what you need to do."
Riley
: (laughs) I don't know. It's hard for me to say. There's no doubt it's helpful in a university setting to have money to build facilities. There's no doubt that is helpful from a marketing standpoint nationally. No doubt about that. But the other part is we can continue to try to do what we can to match some of that. But, to me, once that is said and done, we've got to get to the football. We've got to do a great job with evaluating players and making sure we do a great job at Oregon State. We've got to win games. We've got to be on top of recruiting, right on top of football and on top of any other way we can grow our university, grow our football program. We have to continue to fight. We can't sit and worry about what other people have.
Stanford
You've won the Pac-12 two years in a row and beaten Oregon two years in a row: How do you feel about not being picked No. 1?
David Shaw: I don't think we've ever been picked No. 1. It's par for the course. I don't really look at those things at all. They don't affect me one way or the other. I don't get motivated by them. You could pick us last and I still wouldn't be upset by it. What matters is what happens when you start playing games. Hopefully we will win more than we lose and hopefully we will find a way to be towards the top of the conference.
Do you even shake your head and say, "Really? What does it take?"
Shaw: I would be shocked if someone picked us over Oregon, to be honest. I don't mind it one bit. They've got a lot of guys coming back as we do. My assertion, which I said last year, which I hold to this year, is they have the best quarterback in the nation in Marcus Mariota. I think he was the best quarterback in the nation last year also. There is nothing like him in college football. I don't mind that at all. The bottom line is you've got to play the games. We're going to have to go up to Autzen Stadium in a tough environment and they'll be gunning for us. That's going to be a tough game to win. But we'll give it a shot.
Washington
What did QB Cyler Miles tell you about the incident [his altercation after the Super Bowl]? Was there anything that was presented incorrectly in the media?
Chris Petersen
: I don't know what was presented in the media. I just know he made a mistake. He owned up to it. He did everything right as we've moved forward. He's going to get a second chance.
Did he have to sell you a little bit? When you heard about it, it was pretty odd. Were you angry about it?
Petersen
: I would say the fact that he didn't have one day in spring football or one meeting probably sent a pretty strong message to him. But throughout that process, moving forward, he'll get everything corrected. So we're just hoping ... and I think he will. I think he will be a better person, a better teammate, a better everything for going through it. Guys make mistakes. Most important thing is to do right moving forward.
Washington State
Does Washington hiring Chris Petersen change the dynamic of the rivalry with Washington and Washington State?
Mike Leach
: I don't think so. No disrespect to him, but that thing has been amped up for a long time. It would be hard to ramp it up any more. I don't think I had anything to do with amping it up either. I think it's been at a high level and it's been a meaningful game to both schools for a long time. Both schools have quality players and quality staffs. I think it will be an exciting one this year. The last two games have been real exciting.
July, 29, 2014
Jul 29
2:30
PM ET
He had not been unhappy all day. This was different though. Now things were done. There had been this to do. Now it was done. It had been a hard trip. He had been very tired. That was done. He had made his camp. He was settled. Nothing could touch him.
July, 29, 2014
Jul 29
11:00
AM ET
Gas up the family station wagon and hit the
Holiday Road
. The Ultimate Road Trip is back! Over the next couple of weeks we're going to look at each week during the 2014 season and pick the can't-miss game (and maybe for Thursday/Friday games, we'll work in two).
Start planning accordingly. The Ultimate Pac-12 Road Trip continues.
Welcome to Week 10.
Saturday, Nov. 1
Arizona at UCLA
Utah at Arizona State
USC at Washington State
Washington at Colorado
Stanford at Oregon
California at Oregon State
Byes: None
My choice:
Stanford at Oregon
Why
: Yes, Arizona at UCLA might be compelling. Yes, USC at Washington State is a rematch of last year's shocking Coug win. No, neither are even close to the national attention Stanford's trip to Autzen Stadium will receive.
This has blossomed into the game of the year in the Pac-12 the past three seasons and the results have justified the hype.
Then again, the curtain has already fallen on the Cardinal. Why bother showing up, Stanford? The Ducks, led by
Marcus Mariota
,
have all but been anointed Pac-12 champs
.
Ah, but isn't this when Stanford is at its best? David Shaw works the us-versus-the-world angle better than any coach in the conference. He loves nothing more than to be told his team can't do something. That's what has made this rivalry so great. And I'm sure it's what has made Stanford's back-to-back conference titles that much more rewarding.
The 2012 showdown in Autzen is when this series took a decidedly different turn. Consider that the previous three games had been high-scoring affairs, with the winner scoring at least 50 points and the loser scoring at least 30. But 2012, and Stanford's 17-14 win, changed all of that. And then a year later, the Cardinal nearly duplicated the defensive effort with a 26-20 victory in Palo Alto.
Stanford changed the tempo and the personality of this rivalry the past two years – in effect – changing the rules and thus the dynamic. It's up to the Ducks to change them back if they hope to rid themselves of their Stanford problem.
Is the winner guaranteed the conference title? Of course not. We saw what happened last year when Stanford had the edge after beating Oregon, only to lose to USC, only to watch Oregon lose to Arizona. And then there is still the conference championship game to worry about.
Nothing is promised in this league.
But the winner certainly has a leg up in the quest for a conference crown and will surely receive a nice little bump in the national rankings. There is a strong possibility both teams could be ranked in the top 10 when this game rolls around, so the College Football Playoff selection committee will be very interested in this outcome.
So hunker down for this one. Because if recent history is any indication, this will/should be one of the best games in the all of college football in 2014.
You can see the rest of the road trip
here
.
July, 29, 2014
Jul 29
9:30
AM ET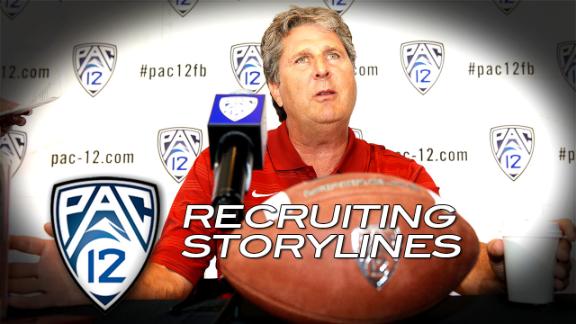 While things can and will change between now and signing day, the
updated ESPN 300 rankings
at the close of the summer period show 24 Pac-12 commitments and provide a number of discussion topics relating to the present and future of Pac-12 recruiting for the 2015 class.
Here are five things to know in the Pac-12:
To continue reading this article you must be an Insider
July, 28, 2014
Jul 28
3:55
PM ET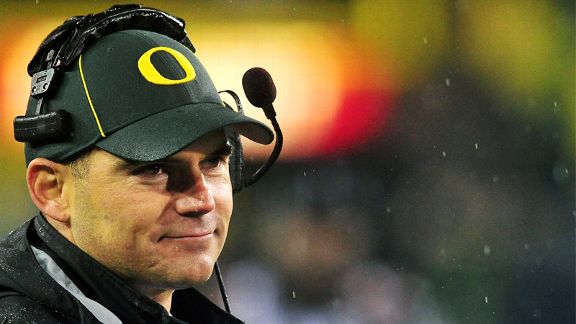 Steve Dykes/Getty ImagesMark Helfrich and the Oregon Ducks could be in danger of falling back to the pack in the Pac-12.
BRISTOL, Conn. -- When we compiled our
Future Power Rankings
earlier in July, the
Oregon Ducks
-- a very popular playoff pick in 2014 -- came in at just 13th.
Seem low for such a big college football brand? A lot of the skepticism surrounding the Ducks' near-term prospects can be traced back to the uncertainty in the transition from Chip Kelly to second-year head coach Mark Helfrich.
"I don't think there's a close No. 2 when it comes to the pressure to win right now," FPR panelist Brock Huard said. "That's not a hot-seat conversation. It's a reality of where their program is, to the heights that Chip Kelly took it. You kind of have to win now. Or else."
The Ducks should win now. A quick survey of the depth chart shows it's a veteran roster. In addition to Heisman contender
Marcus Mariota
at QB, both lines have experienced starters.
Ifo Ekpre-Olomu
is an All-American returning at CB.
Oregon's push to remain sustainable leads my takeaways from last week's Pac-12 and Big 12 car wash stops at ESPN HQ.
I asked Helfrich on Friday about the idea of win-or-else.
To continue reading this article you must be an Insider
July, 28, 2014
Jul 28
3:50
PM ET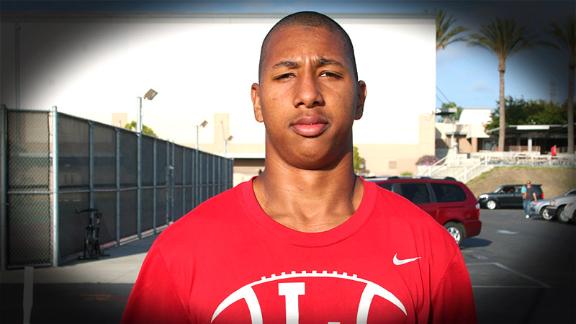 Defensive end
Keisean Lucier-South
planned to trim his considerable list of scholarship offers to a final five schools in early August, but just like he is on the field, the nation's No. 28 prospect was quick off the line, announcing his top five on Monday.
To continue reading this article you must be an Insider
July, 28, 2014
Jul 28
2:30
PM ET
When we were kids. We used to race our bikes down Cherry Hill every day after school. We raced every day and he always beat me, but one time, one time I beat him.
July, 28, 2014
Jul 28
11:00
AM ET
Gas up the family station wagon and hit the
Holiday Road
. The Ultimate Road Trip is back! Over the next couple of weeks we're going to look at each week during the 2014 season and pick the can't-miss game (and maybe for Thursday/Friday games, we'll work in two).
Start planning accordingly. The Ultimate Pac-12 Road Trip continues.
Welcome to Week 9.
Friday, Oct. 24
Saturday, Oct. 25
Arizona at Washington State
Arizona State at Washington
USC at Utah
UCLA at Colorado
Oregon State at Stanford
Byes: None
My choice
: Arizona at Washington State
Why
: It's Pullman in late October, the jewel of Eastern Washington. Duh, why wouldn't you want to be there?
We've seen some pretty good defensive battles so far during the first eight weeks of the road trip. But now it's time to let loose and watch a little offense. And what better matchup than seeing two of the most innovative offensive minds in the country squaring off.
This will be the second time these two coaches have met -- and Round 1 went to
Mike Leach
and Co. with a surprisingly low scoring 24-17 win last year in Tucson. Connor Halliday threw for 319 yards and a pair of scores as the Cougs erased a 14-10 halftime deficit and
made chumps out of the Pac-12 blog
.
What's going to happen this time around? Both squads boast a thrilling cast of wide receivers. But the quarterback edge, at least for now, goes to Halliday and the Cougars for the simple reason that we still don't know who Arizona's quarterback is going to be. Of course, by Week 9, Rich Rodriguez's guy might be putting up monster numbers, given the talent he'll be throwing to and the style of offense. But for now, we just don't know.
And if there were ever a pair of coaches who were simpatico in their thinking -- especially in their responses to proposed "slow down" measures -- it's Leach and Rodriguez.
Arizona State at Washington is intriguing, because it was, by far, the Huskies' worst game of the season last year. Oregon State and Stanford were tight the last time the two met on the Farm. And there's nothing wrong with doing a Bay Area two-fer by hitting Oregon-Cal the night before at the new Levi Stadium. That in itself is a compelling draw.
But for actual game value, this one might turn out to be the most thrilling, high scoring game of the week with plenty of fireworks. Or the Pac-12 blog could look like chumps again when the Utes shock the Trojans at Rice-Eccles. We're big enough to admit when we've been wrong before.
One Thing To Know: Pac-12 Recruiting
PAC-12 SCOREBOARD
Thursday, 8/28
Friday, 8/29
Saturday, 8/30