October, 25, 2014
Oct 25
2:24
AM ET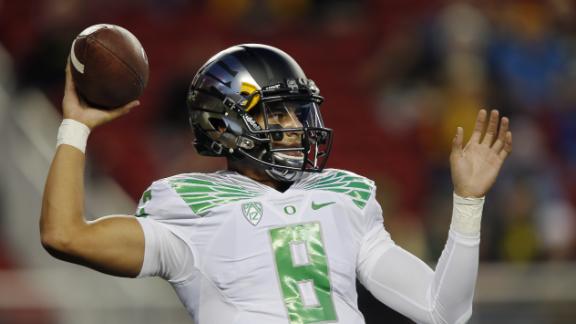 SANTA CLARA, Calif. --
Marcus Mariota
threw for 326 yards and five touchdowns as No. 6 Oregon rang in the first college football game at Levi's Stadium
with a 59-41 win.
Cal kept it interesting for a while -- it trailed 31-28 late in the first half -- but the Bears aren't quite ready to seriously compete with a team of Oregon's caliber. Here's what happened.
How the game was won:
Oregon scored and scored and scored. Then it kept scoring. For Cal to have had a chance to pull out a miracle, it would have needed a big edge in the turnover battle, but despite Mariota's first interception of the season -- which needed two Cal players to tip it first -- that didn't happen.
Game ball goes to:
Oregon WR
Byron Marshall
. Playing 15 miles north of his high school, Marshall contributed as a receiver (4 catches, 133 yards, 1 touchdown) and carrying the ball (7 carries, 57 yards).
What it means:
They are who we thought they were. Both teams. Oregon piled up 592 yards of offense and cruised in the second half, while Cal continued to show progress. It was the fourth game this year that Cal and its opponent both accumulated at least 560 yards of offense. Only one other team in the country (Bowling Green) has been involved in two such games.
Playoff implication:
No change here. Oregon remains the Pac-12's best bet at a playoff berth and is in good position as the top-ranked one-loss team outside the SEC. However, the Ducks' performance on defense will undoubtedly raise some red flags for the College Football Playoff selection committee.
What's next:
Oregon (7-1, 4-1 Pac-12) hosts Stanford at Autzen Stadium next week, where it will try to end a two-year skid against the Cardinal. With two wins needed for bowl eligibility, Cal (4-4, 2-4) has an important game at Oregon State. The Bears have No. 20 USC, Stanford and BYU after that to try to get to six.
October, 25, 2014
Oct 25
2:15
AM ET
Associated Press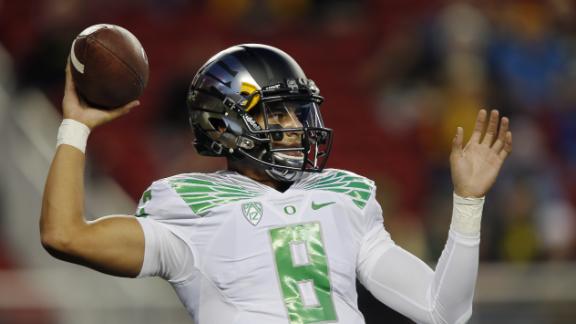 SANTA CLARA, Calif. -- Marcus Mariota matched his season high with five touchdown passes and broke the Oregon record for career passing yards in the No. 6 Ducks' 59-41 victory over California on Friday night in the first college game at Levi's Stadium.
Mariota completed 18 of 30 passes for 326 yards. He also threw his first interception of the season, ending his streak of 253 passes without an interception at 253.
Royce Freeman ran for 112 yards and two touchdowns to overcome a critical early turnover, and Charles Nelson scored on a 58-yard punt return to help Oregon (7-1, 4-1 Pac-12) win its sixth straight against Cal.
Jared Goff passed for 360 yards and two touchdowns for Cal (4-4, 2-4), but the Bears couldn't overcome multiple breakdowns and lost their third straight.
October, 24, 2014
Oct 24
6:30
PM ET
Greetings. Welcome to the Mailbag.
If you are pursuing enlightenment,
then go here
.
To the notes.
Bryce from San Francisco writes:
It's already been established that many SEC teams are a bunch of cowards, afraid to visit another conference powerhouse (no, LSU fans, Cowboys Stadium doesn't count as a road game). My question is if the playoff committee will see all these SEC teams backing out of tough games to schedule patsies and reward the Pac-12 while punishing the SEC for their scheduling. The SEC deserves to be docked for softening their schedule. And the Pac-12 should be rewarded for trying to play the best, even when other conferences are too scared to.
Ted Miller:
Well, hold on now. LSU has done home-and-homes with Arizona, Arizona State and Washington in the not too distant past, and let's just say that Tigers fans have room to crow about the results, particularly those who continue to smart about finishing ranked second in 2003 behind consensus national champion USC.
In general, the SEC has significantly upgraded its nonconference schedules over the past several years and there's been a concerted effort to continue that trend going forward. LSU has led the way, but Alabama also deserves credit, while Auburn earns kudos for its series with Kansas State. Though Georgia chickened out of a series with Oregon knowing it would go 0-2, the Bulldogs did do a home-and-home with Arizona State and have scheduled one with Notre Dame while continuing their rivalry series with Georgia Tech. In 2017, Florida plays Florida State and Michigan, and Texas A&M, after dropping Oregon and USC, has added Arizona State and UCLA.
[+] Enlarge
Kevin C. Cox/Getty ImagesDak Prescott's Mississippi State team is No. 1 right now, but its nonconference schedule (Southern Miss, UAB, South Alabama, Tennessee-Martin) is notably weak compared to other playoff contenders.
The big issue for the SEC as we move into the College Football Playoff Era is not so much the nonconference slate. It's the SEC's eight-game conference schedule. That provides a institutionalized shortcut with the singular intention of avoiding competition that should operate as an automatic demerit for a contending SEC team during committee deliberations, particularly when the nonconference schedule is lacking.
I believe it will, perhaps as soon as this season, and when the selection committee confirms my belief and enrages an SEC fan base, the next SEC commissioner will push his conference to make the change.
Ah, but nonconference scheduling will be an issue this year, and I believe the committee will make it clear that cowardly scheduling has its own risks.
That brings us to the Mississippi schools as well as Baylor. While Ole Miss did take a minor step forward with a game with Boise State, even that doesn't hold the credibility it did a few years ago. Meanwhile, Mississippi State's and Baylor's nonconference schedules are a joke. They are offensive to the ideas of courage, honor, masculinity and all that is right and good. Hemingway and Maximus Decimus Meridius and Dirty Harry have personally communicated outrage to the Pac-12 blog. I may overstate things but only by a little.
What that means is pretty simple. Ole Miss, Mississippi State and/or Baylor should be significantly burdened when it comes to eclipsing a team from, say, the Pac-12 with the same record, particularly if they don't win their conference title.
So my answer is I expect the committee to provide the Pac-12 champion a positive click automatically, one that won't be available to any other conference, based on the tough nonconference schedules, nine-game conference schedules and conference title game.
---
Jeff from Corvallis, Oregon, writes:
More an observation. Other Pac-12 schools seem to be getting better in a positive way, Utah, Cal, UCLA, both Arizona schools, even WSU is competitive! Oregon State seems to be flat-lining while other schools are trending up. Riley the most underrated coach, yeah, OK, but 6-6 or 7-4 in a season, appears OSU will be left our of a bowl this season
and
losing to the Ducks every season is getting old. Every season clock-management is horrible, the red zone is like our kryptonite (except for last year) and play calling is head-scratching most of the time. Getting tired of hearing that every loss is a learning experience ... shouldn't we be undefeated by now then, with all of our losses and experiences gained? I think a change is needed. I feel better now, Pac-12 Blog, that is now off my chest. ... Thanks for listening to a disgruntled Beaver fan.
Ted Miller:
You are welcome.
I understand your frustration. It's not illegitimate. It's difficult to see your team struggle while your rival thrives. And I know that many who have long supported Mike Riley are starting to wonder about the direction of the program.
I have two initial thoughts. First, let's see how things play out. Plenty of season left. Second, man, I'd be more optimistic about the rest of the season if I didn't just peruse
your injury list
, which features a few substantial hits to the offensive (
Isaac Seumalo
,
Gavin Andrews
) and defensive lines (
Jalen Grimble
), not to mention a big hit at receiver (
Richard Mullaney
).
Hey, injuries are part of the game. Get it. Still, ask Oregon fans what might have been if it had both starting offensive tackles all season. Of course, just about every Pac-12 team has an injury sob story.
My simple suggestion is not unlike what I once told California fans about Jeff Tedford and Utah fans about Kyle Whittingham: Tread lightly. Don't be emotional. Consider the big picture. I think things had run their course with Tedford at Cal, and I think the Bears decision to cut ties after the 2012 season was entirely justifiable. I also think Utes fans might be seeing the benefits of staying the course with Whittingham this season.
You will be hard-pressed to find too many football folks who don't believe Riley is a good coach. While the Beavers were unquestionably down in 2010 and 2011, they've still posted winning records in four of the past six seasons, twice winning nine games. On the other hand, if Oregon State finishes with a losing record, the Riley critics out there can say the Beavers have posted losing records in three of their last five seasons. They will insist that the program shouldn't settle for mediocrity and that the right coach can win in Corvallis.
(I'd recommend then asking who that coach would be.)
If the Beavers do finish with a losing record, it would be justifiable to consider a change. That wouldn't be my recommendation, but it would not be unjustifiable.
---
Rosie from Seattle writes:
Is there a problem with UW's QB situation?
Cyler Miles
doesn't look confident and is concussed. Lindquist seems to have fallen behind
Troy Williams
. I'm just curious if we see
Jake Browning
come in next January and finally lead the Dawgs to a victory at Oregon and a 10-win season.
Ted Miller:
The Huskies rank last in the Pac-12 in passing and 10th in pass efficiency. So, yeah, the QB play hasn't been great and that is a problem for a team trying to move up in the conference and North Division pecking order. That stands out even more when you see so many young QBs over the past few years, including Arizona redshirt freshman
Anu Solomon
this year, doing well.
If things continue to muddle around with the offense -- it's also last in the conference in total yards and yards per play -- I'd rate the touted Browning's chances to start next year pretty good, though I'm typically skeptical of incoming players until they prove what they can do against college competition.
I'd also rate the middling play of the offensive line as an equal disappointment as the production behind center, though obviously the two are tightly knotted together.
---
Doug from Portland writes:
Whenever I read up on who the experts have picked for the Heisman, I get a little annoyed. Mariota is a generational talent (I'm only slightly biased as a Ducks fan) and is putting up exceptional numbers in several statistical categories. But he can't seem to get past the "flavor of the week." (No offense to Dak this week and to Everett in the next.) Has the race always been this historically fickle or is this a relatively new development? Furthermore, it seems the Pac-12, which regularly produces the best professional quarterbacks ... you know, the position that has won the award a bazillion times, can't seem to score a Heisman winner these days outside of USC. Do you have to be a Trojan to win the Heisman out West?
Ted Miller:
It's easy to be disgruntled when we speak in non-specific generalities, but which season bothers your most?
The only recent Heisman winner I'd rate as controversial would be Alabama RB Mark Ingram over Stanford RB Toby Gerhart in 2009, though plenty of folks wanted to invoke a character clause with Cam Newton vs. Andrew Luck in 2010. Otherwise, the winners put up such great numbers, often for teams that significantly exceeded expectations, I have no problem with how the voting went.
If Mariota maintains his present numbers and the Ducks win the Pac-12, he's going to win the Heisman Trophy.
October, 24, 2014
Oct 24
2:30
PM ET
1. How much will Oregon get some targets to its less experienced receivers?
The Ducks spent the early part of the season relying heavily on
Devon Allen
and
Keanon Lowe
, though of late we've seen players like
Darren Carrington
and
Dwayne Stanford
have the opportunity to make big plays. Having that kind of a receiver arsenal is only going to improve Oregon's chances for the playoff, and the more chemistry quarterback
Marcus Mariota
can build with those receivers now -- in games in which the passing defense isn't quite as strong -- the more it will pay off down the road when the passing defenses are a bit more intense.
2. How will the Ducks' secondary hold up?
Cal
has the No. 3 pass offense in the nation, averaging 372 yards per game, and Oregon's secondary has been less than stellar. Opposing quarterbacks average a 63.4 percent completion rate against the Ducks' defense (103
rd
nationally). And on third-down passing plays, opponents have converted 44.9 percent of the time. So, Oregon's defense hasn't been stout and it really hasn't been stout in crucial situations.
Jared Goff
is a much improved quarterback. Given the opportunity, he's going to air it out against Oregon and the Ducks are going to need to respond.
3. What kind of numbers will Royce Freeman put up?
Oregon's freshman running back is on quite the kick. He came in with a lot of hype and he has more than backed that up. In the past two games he has tallied six rushing touchdowns and 290 yards at 6.2 yards per carry. Those aren't freshman statistics. And those numbers were put up against two pretty good rushing defenses in Washington and UCLA.
Now enters: Cal. The Bears have a good rushing defense, giving up just 133.4 rushing yards per game at 3.8 yards per rush. But those numbers are a bit skewed considering how much more teams pass against the Bears than run (teams are averaging 53 pass attempts per game as opposed to just 35 rushing attempts per game). Could Freeman have a third consecutive 100-yard game? It seems silly to bet against him at this point.
4. How long will Cal keep pace?
When things are clicking, Cal's offense can be nearly as dangerous a unit as any in the country. The Bears rank No. 10 in the country in scoring (41.6 points per game) and are built to play in shootouts, but with minimal depth on defense, those types of games also are tougher on Cal than other teams the later they go. For Cal to make a game of it, its rotational guys on defense have to give them a chance.
5. How will Levi's Stadium fare as a college venue?
Fans at Cal had mixed reactions to moving a home game to the South Bay, to the new home of the
San Francisco 49ers
. On one hand, it's an impressive stadium that has all the amenities a fan could want. On the other, it's not Memorial Stadium, and playing a game off-campus changes both during and leading up to the game. There's also those pesky
San Francisco Giants
, who are playing in the World Series on Friday night, which will undoubtedly hurt the game's attendance.
October, 24, 2014
Oct 24
8:00
AM ET
Happy Friday!
Leading off
We've got football tonight! And in true Pac-12 fashion, it features the top two scoring offenses in the conference and the league's most efficient passers. Oregon ranks No. 1 in the Pac-12, scoring an average of 43.6 points per game. Cal is No. 2, averaging 41.6 points per game. Oregon quarterback Marcus Mariota ranks first in the league in quarterback efficiency, and Cal's Jared Goff is No. 2. The weather in Santa Clara tonight calls for 75 degrees and partly cloudy, so don't expect an monsoons like last season in Eugene.
Here's what some folks are saying about tonight's showdown:
As noted, the quarterbacks will take center stage in the showdown. Here's a statistical breakdown of Mariota and Goff.
Looking forward to #CalvsOregon Friday at @LevisStadium featuring #2ofTheBest #GoBears #BeatOregon #foxsports1 pic.twitter.com/lGZ0Q4QSgK

— Cal Football (@CalFootball) October 24, 2014
Pick 'em
As always, the Pac-12 blog
presents its picks on Thursday morning
. And each Friday we bring some picks from national writers and folks who cover the conference. Perhaps the most interesting aspect is that all the Pac-12 blog writers picked Utah to beat USC. And we all know what happens when the Pac-12 blog agrees (gulp).
But we're not the only ones. Stewart Mandel from Fox Sports
is also a Utah believer
:
The Trojans are the more talented team, but this is not the most favorable matchup for them. RB Buck Allen has sprung for at least 115 yards in all but one game but the Utes boast the nation's sixth-best rushing defense. And Utah star Devontae Booker is fully capable of exploiting an average USC rushing defense. The Trojans admittedly have a huge edge at quarterback with Cody Kessler, but if Utah prevents too many long throws downfield, it should survive.
News/notes/team reports
Just for fun
What does Super Mariota
really look like?
This doesn't qualify as "fun," but more of a tip of the cap to Colorado, UCLA, Navy and San Jose State, who will honor Houston offensive lineman David Quessenberry,
who is battling cancer
.
Yesterday was media day for Pac-12 basketball. Here's
an interesting comparison
between Pac-12 hoops and football. Unlike football, basketball has a little bit of
DIS
parity.
Good to see this guy up and moving.
Cal WR Trevor Davis on giving the crowd a thumbs up after his injury last week https://t.co/Y4PDis6uVE

— Mike Vernon (@M_Vernon) October 23, 2014
October, 23, 2014
Oct 23
11:00
PM ET
Duke now has the ability to sell a winning program and new facilities to recruits, and prospects like what they're seeing. Plus, the nation's top 2016 quarterback was slated to be at Florida State for the Notre Dame game, but he wasn't able to make it and now is looking for a return date.
October, 23, 2014
Oct 23
8:56
PM ET
Texas A&M has replaced Oregon with Clemson as a high-profile home-and-home opponent for the 2018 and 2019 seasons, the schools announced Thursday night.
The Aggies will host the Tigers on Sept. 8, 2018, before traveling to Death Valley on Sept. 7, 2019.
"We are excited to play the Clemson Tigers, who have been on Texas A&M's non-conference schedule previously," Texas A&M athletic director Eric Hyman said in a statement. "As a fellow land-grant institution, Clemson is very similar to Texas A&M with a great football tradition and passionate fans. This will be a great non-conference series for both schools."
The Aggies hold the all-time series lead 3-1, with the Tigers winning the most recent meeting 25-24 in 2005.
"We are looking forward to playing Texas A&M as the two schools share a rich military heritage and of course passionate fan bases," Clemson athletic director Dan Radakovich said in a statement. "We know our fans make Clemson a great game day experience and the Aggie fans make Kyle Field also one of the great venues in all of college football."
Clemson had already announced earlier this year that it would face Auburn in 2016 and 2017. Clemson also faces in-state rival South Carolina annually, and the ACC announced this week that the Tigers would face Notre Dame in 2020, 2022 and 2023. (The two already had been scheduled to meet in 2015 as well.)
Fox Sports reported earlier Thursday that Texas A&M had opted out of a home-and-home with Oregon that was scheduled for 2018 and 2019, with Hyman exercising a clause from the series' 2009 contract that said the Aggies could get out of the deal if they changed conferences. Texas A&M left the Big 12 for the SEC in 2012.
October, 23, 2014
Oct 23
6:19
PM ET
October, 23, 2014
Oct 23
6:18
PM ET
October, 23, 2014
Oct 23
6:00
PM ET
1. The popular knock on Utah stems from the fact that they only had 62 passing yards last week, but they keep finding other ways to win. Will the Utes' formula be enough in a big showdown against USC this Saturday?
Jennings/@ChantelJennings: I say yes. Utah's defense is going to be stout and Nate Orchard is going to have a monster game, getting after Cody Kessler. The Utes have the highest sack percentage (12.1 percent) of any team in the nation, and if we're doing over/under for 3.5 sacks from the Utes in this game, I'm going with the over. And with Kessler struggling, the Trojans will try to lean more on Buck Allen, but bad news for Buck. The Utes have the best run defense in the conference, allowing just 2.85 yards per rush (Stanford is in second with 2.89). They've given up just three rushing touchdowns (tied for fifth in the country). On top of that, Utah's special teams are going to ball out. USC has given up 13.3 yards per punt return (112th nationally) and have allowed almost one-fifth of kickoffs to be returned at least 30 yards. Kaelin Clay? Go for it … just leave out the Heisman pose this time. As long as Utah's offense is good enough (and with Devontae Booker coming off that Oregon State performance, I'm not super worried), the Utes take care of business.

Lombardi/@LombardiESPN: This will be a very close game, and although this whole Travis Wilson/Kendal Thompson quarterback shuffle isn't ideal (Wilson will start this week), Utah can succeed even with an anemic passing attack. That's because a strong rushing attack and a powerful defense form a potent combination. Booker has eclipsed the 150-yard mark in three consecutive weeks (he hit 229 yards his last time out), and that forms an intriguing matchup with a USC defense that has actually been good against the run since its debacle at Boston College. No discussion of Utah's chances is complete without an acknowledgement of #SackLackCity, the location of Saturday's game. Chantel mentioned Orchard; his 10.5-sack effort this season trails only Washington's Hau'oli Kikaha nationally. On a team-wide level, no one in the nation is even close to matching Utah's sack production, which stands at 5.5 per game. Second place is 4.0 sacks per game, and the Utes are on pace to post a staggering 71.5 sacks this season. The Trojans do have the athleticism to potentially burn Utah's ferocious pass rush, but it's really tough to bet against Kyle Whittingham's unit in its raucous home environment.
2. Rich Rodriguez vs. Mike Leach: How great offensive minds square off in the Palouse. How many points will we in Arizona-Washington State?
Jennings/@ChantelJennings: I don't think it'll be quite as crazy as Cal-Wazzu, but, I think we'll see at least 49 points combined.

Lombardi/@LombardiESPN: Well, Cal-Wazzu is an insane standard to live up to (119 combined points), but I think we're going to see some offensive madness in the Palouse. Both the Arizona defense (allowing 5.9 yards per play) and the Washington State defense (allowing 6.0 yards per play) rank near the bottom of the Pac-12 in that statistic, so that'll leave Leach and Rodriguez room to score. I have a feeling both teams will hit the 40s in this one.
3. Conversely, how few points will we see at Stanford-Oregon State? The Cardinal's defense had great success against Oregon State last year, but Stanford's offense is the Pac-12's worst in terms of scoring now, and the Beavers are playing solid defense.
Jennings/@ChantelJennings: Twenty-eight or fewer. I bet we'll see three touchdowns and maybe a field goal.

Lombardi/@LombardiESPN: Stanford is favored by 13 points here, and some jokesters on Twitter have asked if the number 13 is the spread or the over/under for this one. I think we'll see more points than people expect: The Cardinal will have receiver Devon Cajuste back, and they'll be missing key defensive linemen David Parry and Aziz Shittu. That should count for at least a few Oregon State points.
[+] Enlarge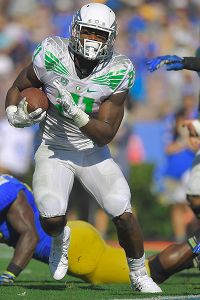 Mark J. Terrill/Associated PressRoyce Freeman has a bright future at Oregon.
4. Which freshman or sophomore in the conference will be an All-American by the time he graduates?
Jennings/@ChantelJennings: Oregon running back Royce Freeman. He's an absolute man-child. I saw him wearing a backpack one day and I thought it was a mini backpack because it looked so small on him. But then when I looked more closely I realized it was a normal backpack, it just looked mini-sized on him. But it's not just his physical size that makes him great. He's elusive. He's fast. His vision is improving. And if you look at the progress he has made from Game 1 to Game 7 of the Ducks' season, imagine what he'll do in the next two or three years.

Lombardi/@LombardiESPN: I like Chantel's pick. I also think that Arizona running back Nick Wilson is doing a heck of job carrying the freshman torch. His 6.4 yards per carry leads the the top Pac-12 running backs. And even though he's not as big as Freeman, Wilson still packs a physical punch -- just ask Ifo Ekpre-Olomu.
5. Statistically, Cal has the worst defense in the conference. If you could take any defensive player in the Pac-12 and put him on the Bears, who would you pick and why?
Jennings/@ChantelJennings: Initially I considered Washington's Hau'oli Kikaha, because any team would be better with him in its front seven. But I've decided to go with Washington linebacker Shaq Thompson. He doesn't lead the conference in tackles (that's Scooby Wright III), but he makes things happen on defense. And what I think Cal needs more than a stout pass rusher is a straight playmaker on the defensive side of the ball. The Bears have forced just nine fumbles and of those nine they've only recovered three. Thompson has forced and recovered three fumbles alone. I think he could make things happen for the Bears.

Lombardi/@LombardiESPN: The most valuable asset for a defense is a dangerous body that can attract and swallow multiple blocks, and no Pac-12 player provides more value in this regard than an athletic fire hydrant Danny Shelton: 339 pounds, 7.5 sacks, 12.5 tackles for loss. I'll let David Shaw's father Willie defend my position: "If you give me a choice between a great cornerback and a great defensive lineman, I'll take the great defensive lineman. Because a great defensive lineman can make an average corner look great."
6. Word/phrase association.
Jennings/@ChantelJennings:
a. Pac-12 South: Ultimate chaos
b. December 6: Anyone's guess
c. Wazzu: So close yet so far
d.
Andy Phillips
: Money
e. Hau'oli Kikaha: I'm glad I don't play quarterback in the Pac-12
f. Buck Allen: Tank
Lombardi/@LombardiESPN:
a. Pac-12 South: Minefield
b. December 6: Talking scoreboard (Bay Area radio listeners understand)
c. Wazzu: Poor
Connor Halliday
d. Andy Phillips: Automatic
e. Hau'oli Kikaha: A name fit for a sack master
f. Buck Allen: So why didn't Lane Kiffin play him?
October, 23, 2014
Oct 23
11:00
AM ET
Like most people in Imperial, California, varsity football coach Kerry Legarra heard stories about a uniquely talented youngster named
Royce Freeman
before having even set eyes on him.
He heard people around town describe Freeman as a man-child or a physical specimen. He heard the stories about the shortstop who would get to a baseball in right field before any other players and still get the out at first. He heard about the eighth-grader who could dunk a basketball.
But in Imperial, a city of about 15,000 residents, it always seemed as though people were looking for something to talk about. Maybe this kid was just getting his 15 minutes of fame a little early.
Then came the day when Legarra was sitting in the stands at a high school girls' basketball tournament and a player began shooting baskets at halftime.
[+] Enlarge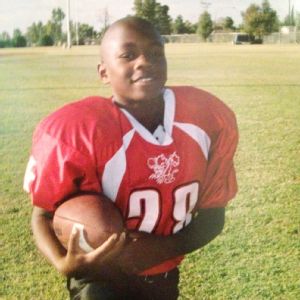 Courtesy Freeman familyOregon freshman RB Royce Freeman's athletic talent was evident at an early age.
"Some of the people up in the stands asked me, 'Do you know who that is?' I said, 'I suppose he goes to school at the junior college out here,' " Legarra said. "They said, 'No, that's Freeman.' "
That was Freeman, the 5-foot-9, 175-pound 13-year-old.
"He was that mature at that age," Legarra said. "Just looking at him, his physical features, I couldn't believe that was him. I honest to God thought it was one of the players for our junior college that we have here in Imperial Valley."
But it wasn't just in eighth grade that Freeman -- now the starting running back at Oregon -- looked like an athlete beyond his years.
"He was just born that way," his mom, Sheila, said.
He was 8 pounds, 1 ounce, at birth, but he grew quickly.
His parents never really put him in zero- to 3-month-old baby clothes. They nicknamed him "Tank" even before he could walk -- which was, of course, earlier than most other babies. He required a bottle every hour and a half for the first months and that didn't stop until they began crushing up cereal to put in with the milk. (Their doctor said this might upset Royce's stomach. Of course, it didn't.)
He kept growing and naturally leaned toward sports. T-ball was his first, but Pop Warner football wasn't far behind.
By elementary school, he struggled to make the weight restrictions for his teams -- he was too heavy to play with the kids his own age -- so he had to play up an age group or two.
By fifth grade, Freeman's parents decided they didn't want to restrict Royce's eating habits, nor did they want to put him with kids so much older in football, so he stopped playing.
"We just made a decision that he would wait," Sheila said. "And then he could continue playing if he wished to continue playing."
He focused on baseball for the next few years, but Sheila saw how the sport didn't really hold his attention. When high school football tryouts rolled around, Royce decided he would go out for the team, despite his five-year hiatus from the sport.
He made the junior varsity team. But Legarra and Imperial had to get permission from the state to allow Royce, who wouldn't turn 15 until February, to play on the varsity team (the California Interscholastic Federation did not allow 14-year-olds to play varsity football).
Freeman had been moved up by the time league play rolled around. And though Legarra doesn't remember Freeman's first varsity carry, his second -- a 63-yard touchdown run -- sticks out.
"And then the story was written," Legarra said.
It also was then that Legarra realized that maybe the hype was actually not big enough for a kid who would end up putting Imperial on the map.
Freeman rushed for 111 touchdowns and 7,601 yards in high school. He had a strategy with coaches and his parents to sneak out of the football stadium after games.
By his junior year, people would park their cars outside of the stadium at 6 a.m. on a Friday to make sure they could have the best tailgating spots for Royce's games at 7 p.m.
"It was unbelievable," Legarra said. "It was like he was a movie star or something."
When Freeman left for Eugene this summer, Legarra told his son: "Within four games he'll be the starting running back there."
[+] Enlarge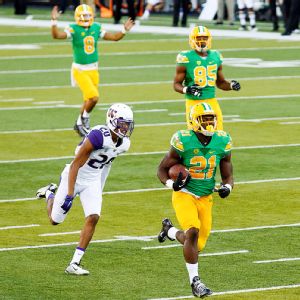 AP Photo/Ryan KangFreeman has rushed for 290 yards and six touchdowns in his past two games.
Legarra was only one game off. By the Ducks' fifth game, Freeman was announced as the starting running back.
He's only 18 years old, 6-1 and 229 pounds, but leads the conference with 11 rushing touchdowns (tied for fifth nationally) and is sixth in the Pac-12 in rushing yards per game (90.9).
It shouldn't surprise anyone that Freeman is making his mark as a true freshman. He never really played against boys his own age, so stepping into the starting role at Oregon isn't that much of a departure.
"The way my body turned out," Freeman said, "I learned how to use it."
Now opposing coaches in the Pac-12 are trying to figure out how to defend against that body. No one has had much success. Against conference opponents, Freeman has rushed for 450 yards and six touchdowns, and more than 40 percent of his yards (188) have come after contact.
"He's a big, powerful running back," said Cal coach Sonny Dykes, whose Bears will face Freeman on Friday. "He's a load to tackle and he moves around pretty good for a guy that's got his size."
"He's big and he's fast," said Washington coach Chris Petersen, the previous coach to scheme against Freeman. "He certainly doesn't play like a freshman."
No, he doesn't.
But he didn't eat like a baby when he was a baby, he didn't grow like an infant when he was an infant, and he didn't carry the ball in high school like a high schooler.
So why at Oregon would he play like a freshman when he's a freshman?
He's used to exceeding his hype.
October, 23, 2014
Oct 23
9:00
AM ET
By
ESPN.com staff
| ESPN.com
Why Washington State will win
: Washington State has been so, so close in so many games. The Cougars' record doesn't really speak to what kind of a team they are, and if the defensive line can get some pressure on
Anu Solomon
and limit
Nick Wilson
, then I think
Connor Halliday
is going to be able to put up enough yards to have the Cougars come away with this win. Halliday has been so sharp recently. In the last four games he has completed 173 of 263 passes (66 percent) and thrown for 1,879 yards, 16 touchdowns and just three interceptions. That's 7.1 yards per attempt for Halliday. He's going to be able to get one of these wins if he does enough and the ball bounces their way just one or two times more. My bet is that day comes Saturday. -- Chantel Jennings
Why Arizona will win
: Mike Leach and Rich Rodriguez know how to engineer an efficient offense, so I think this game will be a close shootout. That's why Arizona has the edge here. Aside from one missed field goal attempt to end their game against USC, the Wildcats have been absolute nails in the fourth quarter, while the Cougars have been the exact opposite. Since Washington State is desperate, this game will come down to its final few possessions, but Solomon is developing a reputation as a quarterback who comes through in those spots. -- David Lombardi
Why Washington will win
: After losing their eleventh straight to the Ducks, the Huskies are certainly thrilled to be playing anyone but Oregon this weekend. Chris Petersen's squad preys on turnovers; they can get back to forcing them in the electricity of their home environment. And although Washington's offense ranks near the bottom of the Pac-12, I'm not yet sold on ASU's defense. We need to see more than one solid performance against a struggling Stanford offense to believe the Sun Devils have turned the corner. Washington will move the ball enough to win. -- David Lombardi
Why Arizona State will win
: Arizona State is going to go with the Oregon blueprint to beat the Huskies.
Taylor Kelly
or
Mike Bercovici
is going to be accurate and efficient in the air, and
D.J. Foster
is going to get work done on the ground. Defensively, the Sun Devils will frustrate
Cyler Miles
and force him into a turnover or two. Another road win is coming for ASU, and with it, look for the Sun Devils to sneak into the top 15 come Sunday. -- Chantel Jennings
Unanimous Pac-12 picks
Why Oregon wins
: While I think Cal has the offense and receivers to tax the Oregon secondary a bit, the defense isn't there (especially sans
Brennan Scarlett
) to slow the Ducks down. Oregon is getting healthier, while Cal is starting to lose some key players. Really like the improvement we've seen from the Bears. But I don't see them at Oregon's level yet. -- Kevin Gemmell
Why Utah wins
: At some point, home field has to count for something, right? Rice-Eccles is a hostile environment and the MUSS will be out in force. If the Utes can get even marginal quarterback play -- enough to give
Devontae Booker
more six-man boxes than seven -- then they'll have the offense and defense to control the tempo and dictate the game. -- Kevin Gemmell
Why Stanford wins
: This is going to be a low-scoring affair, but expect Oregon State's score to be lower than Stanford's, because the Cardinal defense is going to be swarming. With three losses already, the Cardinal are going to want to show the conference what's up and that even though they might not be perfect, they're still competitive and know how to win games. They'll get the job done at home. -- Chantel Jennings
Why UCLA wins
: UCLA turnovers are the only way this game stays remotely close. The Bruins just have too much explosive firepower on both sides of the ball, so this will be a struggle for the Buffs. Of course, UCLA kept Cal in the game with three costly turnovers last week. But they still won because of
Brett Hundley
's explosiveness, and that'll again be a nice safety cushion in Boulder. -- David Lombardi
October, 23, 2014
Oct 23
8:00
AM ET
Jim never has a second cup of coffee at home.
Leading off
If you believe what Todd Graham has been saying all along -- that
Taylor Kelly
is his starting quarterback
once he's back to 100 percent
-- then you can expect to see Kelly at the helm for the No. 14 Sun Devils when they travel to Washington this weekend.
Speaking with the media on Wednesday after practice, Kelly said he feels 100 percent and is ready to go.
Here's an excerpt from Zach Buchanan's piece in
The Arizona Republic
:
Kelly insists he's capable of making all the movements required of playing quarterback, which in ASU's system also means a lot of running the ball on read options. If he's worried about anything, it's a bit of mental rust.

Kelly has been throwing in some capacity for a few weeks, but nothing prepares you for game action.

"The main thing I was worried about was my eyes, trusting my eyes and the game speed and stuff," Kelly said. "It's been a really great experience this week, and things are going to work great."
During Kelly's absence,
Mike Bercovici
led the Sun Devils to a 2-1 record with wins over USC and Stanford.
The flip side
ASU's opponent, may or may not have its starter back for Saturday's matchup.
Cyler Miles
is still day-to-day after suffering a concussion in the loss last week to Oregon. Redshirt freshman
Troy Williams
has been taking first-team reps. Here's what Washington offensive coordinator
Jonathan Smith
told reporters after practice Wednesday
:
I think he's understanding and throwing the ball really accurately. That was the slight edge we thought Jeff (Lindquist)brought in the first game. And then we were really pleased at how Troy created some offense with his arm (against Oregon). He really has some arm talent, and that showed in the last month.
Williams was 5-of 10-for 37 yards against the Ducks. He rushed five times for 28 yards and a touchdown.
News/notes/team reports
Just for fun
Andre Yruretagoyena
talks about getting his ears pierced, running without pants and his kitten.
Seriously
.
You just knew it was going to make an appearance ...
Wave the flag at the World Series. #GoCougs @WSUCougars pic.twitter.com/XPTfmdtFKT

— Brett Ward (@bward09wsu) October 21, 2014
Oregon Improves To 7-1
PAC-12 SCOREBOARD
Saturday, 10/25
Friday, 10/24