September, 23, 2014
Sep 23
1:00
PM ET
Todd Gurley
needed just six carries on Saturday.
Georgia's game with Troy was over before Gurley suited up, but the coaching staff wanted him to at least sweat in his uniform, so he touched the ball six times and ended up with 73 yards, including a pretty 48-yard run, on just two drives.
With that, your Heisman Trophy favorite from the SEC has 402 rushing yards with four touchdowns in three games and is averaging 9.8 yards per carry.
[+] Enlarge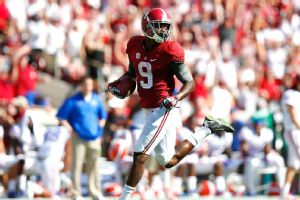 AP Photo/Brynn AndersonAmari Cooper put on quite a show against Florida.
We know what Gurley can do, so today we'll focus on someone whom I had on my ESPN.com Heisman ballot after Week 2: Alabama wide receiver
Amari Cooper
.
All he's doing is leading the nation with 43 receptions and 655 yards. He's tied for first in the SEC with five receiving touchdowns.
Stats are great to look at, but you know what's even prettier? That grown-man performance in Tuscaloosa against Florida's defense. Now, let's not kid ourselves and think this is the same ol' elite Florida defense the league has grown accustomed to, but this defense has arguably the nation's best cornerback in
Vernon Hargreaves
. Cooper faced his toughest test yet and might have had his best performance of the season.
What exactly did this magnificent football specimen do in front of the entire country? Well, how about 10 catches for 201 yards and three touchdowns, including a 79-yarder in which Florida's defense somehow
lost him
. Florida tried different ways to contain Cooper and failed more often than not. Hargreaves did what he could, and it wasn't enough. Just check out that fade to the end zone where Cooper mossed Hargreaves, who couldn't have been in better position, for a touchdown.
At this rate, there's no way Cooper won't be traveling to New York for the Heisman ceremony in December. The kid is too good, too talented and is on pace to get far too many catches (129), yards (1,965) and touchdowns (15) not to party in the city that never sleeps in early December.
Cooper has yet to be held under 130 yards receiving this season and has just started his run of embarrassing defenses.
Godspeed, SEC West secondaries. Godspeed.
Here are four other SEC players to keep an eye on in our Heisman watch:
September, 23, 2014
Sep 23
11:00
AM ET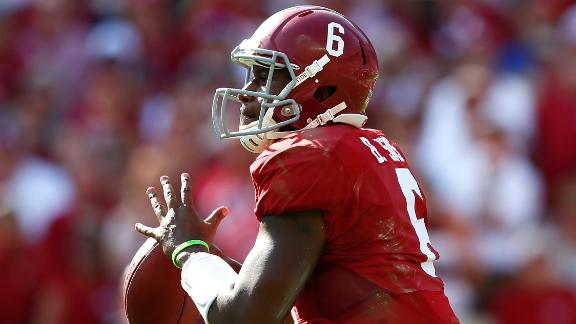 If you tilt your head ever so slightly toward the city of Birmingham, Alabama, you might be able to hear the light, yet almost sinister, cackle of Mike Slive, his fingertips rippling toward one another as the word "excellent" slithers through his teeth.
What has the SEC commissioner so happy? Well, just take a look at the most recent top 25 and all the chaos erupting around him in college football. The SEC leads all conferences with eight representatives in the top 25. Four of those teams are ranked inside the top 10: Alabama (three), Auburn (five), Texas A&M (six) and Ole Miss (10).
So can the SEC realistically get two teams into the College Football Playoff?
For now, that answer has to be yes. While the rest of the Power 5 conferences -- ACC, Big 12, Big Ten and Pac-12 -- have lost steam or suffered losses to start the year, the SEC is sitting very pretty in the national rankings. It also helps that five of the SEC's eight ranked teams are unbeaten.
That's not going to last, as all five of those teams, which are in the SEC Western Division, will face each other in a bloody round-robin in the coming weeks.
Hello, strength of schedule!
Oh, what's that? The SEC faced soft nonconference opponents to start the season? Well, not so fast, my SEC-hating friend. The league has a 5-2 record against nonconference Power 5 opponents and is 3-1 vs. the top 25.
Alabama beat West Virginia, which held tight with No. 4 Oklahoma on Saturday.

LSU roared back from a 24-7 deficit to beat Wisconsin.

Auburn went on the road to Kansas State and won with its passing game ... and maybe some knowledge of the Wildcats' signals.

Georgia thumped a Clemson team that took No. 1 Florida State -- sans Jameis Winston -- to overtime, thanks to Clemsoning to the max!*

Arkansas is still running over and through Texas Tech after a 49-28 drubbing of the Red Raiders in Lubbock, Texas.
*Only true home win.
To put that in comparison with, oh, let's just say the Big Ten, the SEC is light years ahead. Through the first three weeks, the Big Ten went 23-13, including 1-10 against the Power 5 and 0-8 against the
FPI Top 50
.
[+] Enlarge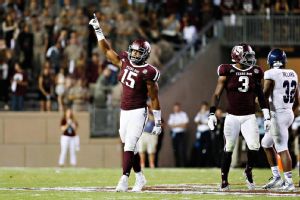 Soobum Im/USA TODAY SportsMyles Garrett (15) and the Aggies are just one of four SEC West teams in the AP Top 10.
The FPI (Football Power Index) measures team strength that is meant to be the best predictor of a team's performance going forward for the rest of the season. Its top four teams are in the SEC: Alabama, Texas A&M, Auburn and Georgia.
With the exception of the Big 12, the other Power 5 conferences really haven't done themselves any favors. Florida State has survived two games it could have
easily
lost, while suspected darling Virginia Tech went from beating Ohio State in Week 2 to promptly losing to ECU and Georgia Tech. USC upset Stanford on the road then lost 37-31 to -- wait for it -- Boston College.
The SEC has received plenty of help from the other conferences, and I think it's very safe to assume the SEC champion is getting into the playoff, regardless, but here are some scenarios that could put two SEC teams in the playoff:
The wild, wild West
Before we go on, check out these notes provided by ESPN Stats & Information about the SEC West:
The SEC West is 22-0 outside the West, winning by an average of 34 points.

All seven West teams rank in the top 20 of the FPI, which is more teams than the Big 12, Big Ten and ACC combined.

Six West teams are ranked in the top 20 of the AP Poll. Arkansas isn't, but has won its last three games by 41.7 points per game.
Strength of schedule isn't going to be a problem for the West champ. For as tough as the West is, don't rule out an undefeated run or a one-loss run. We've seen it before ...
Let's just say an undefeated Alabama beats an undefeated Texas A&M close at home on Oct. 18. Alabama runs the table and wins the SEC. A&M runs the table afterward and sits in the top 10. Chances are that if A&M has just one loss, it has won some pretty good games, so you're looking at a potential top-five finish.
Alabama is in and with the other conferences in such disarray, it'd be tough to keep an A&M team out that would have (according to current rankings) five wins over ranked opponents.
Swap these two out for any West teams and it works, even Arkansas.
The LEast
The East isn't close to what its Western counterpart is this season, but that doesn't mean that an Eastern representative can't make it in. The easiest way is for the champ to win in Atlanta.
But look at Georgia for a possible two-team appearance. Let's say that South Carolina and Georgia run the table and South Carolina loses in Atlanta. Georgia, which lost only to South Carolina
and
is ahead of the Gamecocks in the polls, has a good shot at making it in with the West champ.
If both of these teams win out and South Carolina wins the SEC, I dare you to keep Georgia out.
Atlanta upset
You have an undefeated West champ upset by the East champ. The East champ is in, and after everything that West team did to make it through the gantlet, how do you keep that team out? Even if the East champ has two losses, I don't see how the committee could keep the West champ out based on body of work alone.
Hey, these are all hypotheticals, but they aren't impossible. The SEC got two teams into the BCS national title game in 2011 and almost got two in 2012.
Based on past BCS standings to determine a four-team playoff, the SEC would have gotten two teams in five times since 2005.
Don't count out the SEC.
September, 23, 2014
Sep 23
8:00
AM ET
1. The SEC is all over
the Top 25 this week
, but let's just come right out and say it -- there's no dominant team. Oh, a few of the West's best will have their chances to make a case, but right now there isn't a team without
some
warts. Take Texas A&M for instance. The Aggie offense with Kenny Trill pulling the trigger is a nightmare to game plan against. But A&M's defense is scary, too, and not in a good way. This unit was the worst in the SEC last season in
total defense
and
run defense
. Sure, the Aggies have improved since then. Maybe a lot. But who have they played for us to be sure? Aside from the season-opening ambush of South Carolina (a game in which the Gamecocks
piled up 433 yards
), A&M has played Lamar, Rice and SMU. Kevin Sumlin and Co. would be
wise to not overlook the Razorbacks
. Since their loss to Auburn in Week 1, the Hogs have averaged 58 points of offense in winning their last three. Their
SEC-best rushing attack
has the potential to give Texas A&M some nightmares as well.
2. Despite the roller coaster the Gamecocks have already been on in the season's first month of games (you can just
see it on Steve Spurrier's face
), it should be noted that South Carolina
leads the SEC East
. Does anybody want to win this division? Maybe we'll get an answer on Saturday when Missouri visits USC.
Spurrier isn't sounding too confident
after the way his team looked against what had been a dreadful Vanderbilt team. On the other hand, Mizzou is banged up. Starting left guard and fifth-year senior Anthony Gatti
tore his ACL and MCL
in the Tigers' loss to Indiana. And second-leading receiver Darius White
will be out with a strained groin
. This one isn't exactly shaping up to be the epic battle for East supremacy that some thought it could be a month ago.
3. ESPN's "College GameDay" is headed to Columbia, South Carolina. Not to be outdone, the other big game in the SEC East -- Tennessee at Georgia -- will be
the site of the SEC Network's pregame show "SEC Nation"
. The Vols have something to prove and will hit the road with
a much-improved defense
. UT is sixth in the SEC in total defense, giving up 343 yards a game. That should give Tennessee some hope in preparing to face Georgia's star running back Todd Gurley and his
SEC freshman of the week
understudy, Sony Michel. The Bulldogs are also short-handed with Keith Marshall, Malcolm Mitchell and Justin Scott-Wesley
among the injured
. The biggest challenge for Tennessee, however, is likely to come on the other side of the ball. Georgia has an intimidating pass rush, and the Vols O-line has
given up an SEC-worst nine sacks
already this seasons. Buckle up.
Around the SEC
Tweet of the day
This Nick Saban - Regions Bank ad is pretty great: https://t.co/7VZ06EXePH

— Chuck Dunlap (@SEC_Chuck) September 22, 2014
September, 22, 2014
Sep 22
11:00
PM ET
Missouri and Indiana often tangle on the recruiting trail, but now Hoosiers coach
Kevin Wilson
has a big victory to recruit against the Tigers with. Plus, UCLA and Notre Dame are locked in a battle for the nation's top tight end prospect.
[+] Enlarge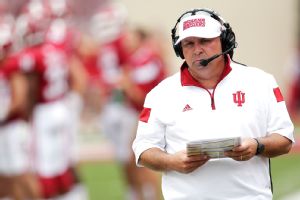 AJ Mast/Icon SportswireKevin Wilson and Indiana hope to get a recruiting boost from Saturday's 31-27 win against Missouri.
1. Indiana's 31-27 victory against No. 18 Missouri this past Saturday is the type of win that can go a long way on the recruiting trail. Because of its location, Missouri is one of the few SEC schools that actively targets players in the Midwest, and it is quite common for the Hoosiers and Tigers to tangle over players in Illinois, Indiana, Ohio and even in St. Louis. For the most part, Mizzou has had its way with IU, but now Hoosier coach Kevin Wilson has a breakthrough win to recruit with. As one Big Ten recruiter told me on Monday, "that's the type of win that can change recruits' minds."
2. On Monday RecruitingNation released the
latest edition of the Recruiter Power rankings
and UCLA's Adrian Klemm came in at No. 2 on the list. A big reason why Klemm is ranked so high is because he was able to land ESPN 300 tight end
Alize Jones
, the No. 1 tight end in the country. However, there's some legitimate concern in Westwood that Jones could end up at Notre Dame. A source indicated the Bruins are doing everything they can to "fight off Notre Dame's advances." Jones continues to say he's still with the Bruins and is only looking around at the Irish as a security blanket, but insiders believe the interest is much more than just that.
3. What an interesting few days it's been for Draper (Utah) Corner Canyon offensive tackle
Branden Bowen
. On Saturday, Bowen, the No. 5 player in Utah, committed to the Utes to give Kyle Whittingham a nice in-state recruiting victory. Then hours later on Sunday, he tweeted he had picked up an offer from Ohio State, a school he admitted he was hoping to receive an offer from earlier in the process. It will be interesting to see if the Utes can keep Bowen on board, or if the Buckeyes' offer is too tempting to pass up.
Just received my 11th offer from The Ohio State University! pic.twitter.com/TfffhAWmK5

— Branden Bowen (@BrandenBowen) September 22, 2014
.
Social Studies
Often players link their highlight videos on their social media accounts, but you almost never see them posting their grades or test scores. So give Alabama commit
Christian Bell
a whole lot of credit for posting his ACT score for everybody to see. It's the type of highlight that also should be cheered.
September, 22, 2014
Sep 22
8:45
PM ET
Sometimes there is more to sports than who wins or loses, and sometimes even the most heated rivalry in college football can be put aside for the greater good.
Saturday was one of those times.
When Alabama quarterback
Blake Sims
took the field against Florida, he wore a new accessory on his right wrist, a purple bracelet that simply read "Kayla." It was a tribute to Kayla Perry, a 19-year-old college student who was diagnosed with neuroblastoma, a type of pediatric cancer that typically presents itself in very young children and infants, 18 months ago.
[+] Enlarge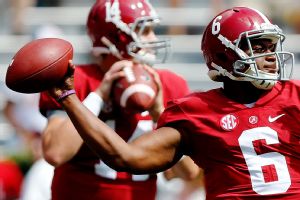 AP Photo/Brynn AndersonAlabama quarterback Blake Sims wears a purple bracelet with the name "Kayla" on it -- a tribute to Kayla Perry, a 19-year-old Auburn student diagnosed with neuroblastoma -- during the Florida game.
Perry is currently a freshman at Auburn University.
"Hey guys, you know I'm an Auburn Tiger, but even college rivalries can come together when it matters," Perry posted Saturday on Facebook with
a picture of Sims
. "Many thanks to University of Alabama QB Blake Sims for seeing my story, and asking to wear my bracelet this week, and today, especially!"
With the bracelet on, Sims played the best game of his college career. The senior threw for 445 yards and four touchdowns in the Crimson Tide's 42-21 win over Florida.
Perry, who grew up in a household divided by the rivalry, put her fandom aside Saturday and admitted that she was rooting for the Alabama quarterback.
"People always say the players aren't the ones that are so into the rivalry, it's the fans," Perry told ESPN.com. "And I think that's really true. Sometimes as fans, we get caught up in what team we pull for the games themselves, but the players, they know what's important and they know when to be rivals and when to be friends."
On Saturday, Sims was simply a friend.
The two haven't met yet, but Perry has a mutual acquaintance who is trying to set up a meeting. In the meantime, she's just happy that by wearing the bracelet, Sims was able to raise awareness to childhood cancer research and the lack of funding that is going into it.
"We really want people to see this and see this as a problem and take a stand and step up and do something," Perry said. "When people like Blake step up and they show their support for a cause, it makes other people want to get involved, too. So we're really glad that he did that and thankful."
Sims isn't the only player to show support. Auburn wide receiver
Sammie Coates
wore the same bracelet last Thursday when the Tigers played Kansas State, and his head coach Gus Malzahn has asked to meet with Perry on Tuesday.
Perry, who launched a website to raise funds for pediatric cancer research on Sept. 1, has already raised over $50,000, her mother said.
September, 22, 2014
Sep 22
2:35
PM ET
September, 22, 2014
Sep 22
11:26
AM ET
September, 22, 2014
Sep 22
9:00
AM ET
TUSCALOOSA, Ala. -- Before Saturday's Alabama-Florida game,
Amari Cooper
and Vernon Hargreaves III acted no different. Both players kept to themselves, showing no emotion despite the magnitude of the game. There was no trash talking when they lined up across from each other on that first play. There was a sense of respect.
[+] Enlarge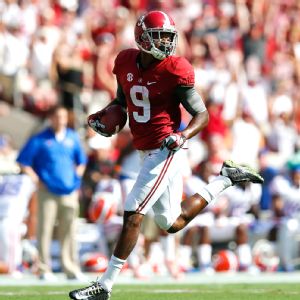 AP Photo/Brynn AndersonAlabama's Amari Cooper got the best of the personal matchup with Florida's Vernon Hargreaves III, but both played well.
It was no different after the game. Cooper finished with 10 catches for 201 yards and three touchdowns, clearly winning the individual matchup, but there to congratulate him afterward was Hargreaves. It didn't matter that Hargreaves was banged up and missed the final eight minutes. He knew he was facing one of the nation's best.
"He just said, 'Good game. You played great," Cooper told reporters after the game. "He's a very humble player. You can tell he comes from a good family."
Looking back, both played well. Cooper is obviously on another level and showed why he's the better of the two, but Hargreaves didn't have a bad game despite what the stats might indicate.
Alabama found ways to move its top receiver around before the snap and match him up against somebody other than Hargreaves. On two separate plays in the first half, Cooper lined up in the slot with Hargreaves playing outside. The first play went for 37 yards, the second for 79 yards and a touchdown.
When the two were matched up in clear one-on-one situations, Cooper had five catches for 51 yards and one of his three touchdowns. His last score came with Florida's top cornerback on the sideline.
After the game, Alabama coach Nick Saban was complimentary of both.
"Coop did a great job in the game," Saban said. "We have a lot of respect for their No. 1 guy [Hargreaves]. He is a very good player. But when you have matchups like that with two good players and you analyze the whole thing, both guys will end up making some plays."
VH3 draws first blood:
On its first play from scrimmage, Alabama used Cooper as a decoy and threw a long touchdown to
Kenyan Drake
on the other side. The next time the Tide got the ball, they ran to Hargreaves' side, and he was ready. Both he and safety
Marcus Maye
helped strip the ball from Drake, and Hargreaves was the one to recover it before going out of bounds. For the most part, Hargreaves played well against the run and finished with six tackles including one for a loss.
Cooper gets behind defense:
How do you leave the SEC's best wide receiver wide open for a 79-yard touchdown pass? It came down to simple miscommunication. Cooper lined up in the slot with Hargreaves on the outside and Florida running zone coverage. The Alabama wide receiver took off on a go route, and because of a mix-up between defensive backs
Brian Poole
and
Keanu Neal
, the entire Gators defense had to watch as Cooper caught what might have been the easiest touchdown of his college career. It was simple pitch and catch.
The touchdown that wasn't:
Cooper might have had four touchdowns Saturday if not for an offensive pass interference called against him in the third quarter. It was Cooper against Hargreaves, one-on-one, and the Alabama wide receiver gave a little shove before turning around and catching the ball. Once he caught it, he showed off his moves and maneuvered his way through traffic to find the end zone, but it all went for naught. Cooper caught another long pass with Hargreaves draped on him that was called back due to illegal formation.
Cooper shows why he's elite:
If there was one play the NFL scouts will turn to when evaluating Cooper, it was his touchdown grab late in the third quarter. Backup quarterback
Jake Coker
had checked into the game, and it was once again one-on-one with Hargreaves, the matchup everybody wanted to see. Cooper ran a fade to the back of the end zone, and with the ball at its highest point, he went up and simply took it away from Hargreaves, who had good position on the play. It didn't matter who was throwing it. It didn't matter who was covering him. Cooper was catching that ball.
Advantage:
Cooper
CFL Extra: Gurley Or Cooper?