November, 28, 2014
Nov 28
12:30
PM ET
Throw out the records when
Alabama
and
Auburn
meet this Saturday in Tuscaloosa. It doesn't matter that the Crimson Tide are ranked No. 1 and playing for a spot in the SEC championship. This is the Iron Bowl. If we learned anything from last year's game, it's to expect the unexpected when these two in-state rivals clash.
Auburn has been trending in the wrong direction the past month, but the Tigers, though out of the playoff hunt, still have a chance to post back-to-back 10-win seasons for the first time since 1988-89 and only the second time in school history.
Both teams have plenty to play for Saturday. Here is a breakdown of the game:
[+] Enlarge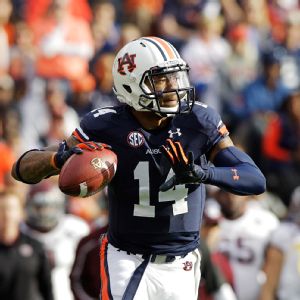 John Reed/USA TODAY SportsAlabama's key against Auburn is to keep Nick Marshall from turning the game into a shootout.
Alabama's key to victory:
Blake Sims shouldn't have trouble moving the ball seeing as how Auburn ranks ninth in the SEC in yards per game (375.0). So the real concern is avoiding a shootout, and that means the front seven stuffing Auburn's vaunted rushing game. With Nick Marshall running point and Cameron Artis-Payne,
Corey Grant
and Roc Thomas to hand the ball off to, defending the zone-read won't be easy. It will mean the linemen minding their gaps and middle linebackers Reggie Ragland and Trey DePriest reading their keys precisely. If outside linebackers Denzel Devall and Xzavier Dickson lose containment, it could mean big gains.
Auburn's key to victory:
Obviously, it's important for Auburn to establish the run and pick up yards outside the tackles. That's an area where the Tigers struggled in their loss to Georgia two weeks ago. But if Auburn wants to win Saturday, it's up to the defense. This is a unit that has regressed all season, but if there was ever a time to step up, this is it. Don't expect the Tigers to shut down Alabama. However, if they can get turnovers, stops in the red zone and get off the field on third down, they will have a chance. Linebackers Cassanova McKinzy and Kris Frost have been solid all season. Auburn needs them to be great Saturday.
Alabama X-factor:
T.J. Yeldon needs to be close to 100 percent against Auburn. The difference he makes is too important to sum up in things like yards and touchdowns. Though he may not be Alabama's flashiest tailback, he is, as Nick Saban said earlier this week, its "most effective guy all the way around." That means running, blocking and receiving. Sims said Yeldon even helps him with calling out the protections before the snap. With the pressure of the Iron Bowl and a potential spot in the playoff weighing heavily, having Yeldon's experience and ability on the field will be invaluable.
Auburn's X-factor:
Similar to Yeldon, Auburn wide receiver D'haquille Williams isn't quite at 100 percent. But he's planning to play this Saturday regardless. Williams, who leads the team in receptions (38), yards (609) and touchdowns (five), missed the last two games after straining his MCL against Texas A&M earlier this month. The offense struggled as a result. Now he's back in what could be his one and only Iron Bowl. Alabama has done OK against similar wide receivers this season -- players like Laquon Treadwell, Marquez North and De'Runnya Wilson -- but when healthy, Williams is on a different level.
Playoff impact:
Win and you're in. That's the situation facing Alabama, even if the Crimson Tide are ranked No. 1. With one loss already, another would simply be too much to overcome. Mississippi State, if it beats Ole Miss, would jump into first place in the West and play for the SEC title. Meanwhile, Baylor, TCU and Ohio State would get their wish and bicker over the remaining fourth playoff spot.
November, 26, 2014
Nov 26
3:00
PM ET
TUSCALOOSA, Ala. -- There were plenty of times when
Blake Sims
could have packed it in, said enough was enough and resigned himself to not playing quarterback for the University of Alabama.
Way back in the spring, he could have thrown in the towel. He'd just tossed two interceptions during the final practice of camp, and
Jake Coker
, the strong-armed transfer from Florida State, was expected to waltz into Tuscaloosa and take over.
But Sims surged ahead of Coker during fall camp, won the job and started the season off on a tear, throwing eight touchdowns and two interceptions during the first four games.
It was great. Until it wasn't.
Alabama, ranked No. 1 in the coaches' poll, then lost on the road at Ole Miss. Sims was ineffective, completing 19 of 31 passes with no touchdowns and one interception. He looked ordinary again. He looked uncomfortable, like someone who was still learning to play quarterback, not someone who could lead an offense to a national championship.
For three quarters of the following game, those suspicions were on the verge of being confirmed. Sims couldn't get anything going and Alabama fell behind on the road against an unranked Arkansas team that hadn't won a conference game in two years. The only thing at stake was everything, the entire season. Back-to-back losses would have meant the end of Alabama's playoff hopes.
[+] Enlarge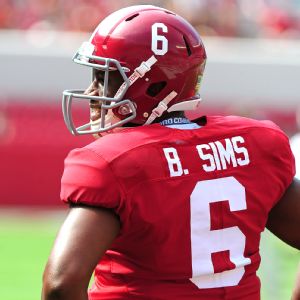 Scott Cunningham/Getty ImagesBlake Sims waited a long time for his turn, and he's made the most of it. He has 12 touchdowns and one interception since an Oct. 4 loss at Ole Miss.
It was then that Sims came into his own. With the season hanging in the balance, he proved to be the quarterback Alabama needed.
Whatever happens on Saturday against No. 15 Auburn, Sims' comeback is complete. Whether you take the long view of the spring until now or dive deeper into three game-clinching drives, you'll see a quarterback who matured into the leader of a team fighting for playoff contention.
Oct. 11: Fayetteville, Arkansas
It would prove to be his first comeback.
Down 13-7 on the road, Sims got the ball with 36 seconds left in the third quarter.
Seven plays and 50 yards later, Sims faced a pivotal third-and-3 inside the red zone.
Sims took the snap, scrambled to his right and slung his arm across his body.
DeAndrew White
, in the middle of the end zone, came down with the pass.
"When we had to score, he became a real vocal guy," said running back
T.J. Yeldon
. "He was firing us up and getting us motivated to go and score a touchdown."
Nov. 8: Baton Rouge, Louisiana
Every Alabama quarterback has to survive Death Valley.
AJ McCarron did it two years ago when he orchestrated a game-winning drive late in the fourth quarter. His TD pass to Yeldon saved the season and sent Alabama to the national championship.
Sims, who is close friends with McCarron, got the same opportunity.
Down 13-10 with less than a minute left in regulation, Sims had to act. On third-and-4, he scrambled for the first down. After an uncharacteristic drop by
Amari Cooper
, Sims took the next snap, darted to his right and found
Christion Jones
for 16 yards.
Sims killed the clock with 12 seconds left, went to the sideline and watched the game-tying field goal split the uprights.
"Blake kind of said, 'This is where we have to do it right here,'" said offensive tackle
Austin Shepherd
. "We all kind of said, 'Let's go.' Kind of a surreal experience. We knew we could do it."
In overtime, Sims screamed out an audible on second-and-goal. He took the shotgun snap, shuffled his feet and threw a perfect fade to the corner of the end zone for a game-winning touchdown to White.
Nov. 15: Tuscaloosa, Alabama
Nick Saban called it, "Probably one of the greatest drives in Alabama history."
Keep in mind that the longtime head coach is not one for hyperbole.
But the 15-play, 76-yard drive Sims led against then-No. 1 Mississippi State was one for the ages. Sims, who couldn't seem to make a play in the second half, suddenly clicked into gear after Mississippi State made it a six-point game.
Sims was so calm, so effective. On a pair of third-and-longs, he went through his progressions, saw nothing and scrambled for first downs.
On second-and-goal, he handed the ball off to Yeldon for a touchdown. Alabama went ahead by two scores and ate six minutes off the clock.
"I'm just happy that he's doing other teams like that, because he does that to us every day at practice during two-minute drill," said safety
Nick Perry
. "He's always with a black jersey, so when we're going up to try to tackle him, we have to tag him. He'll always get back in the locker room, 'Oh, you didn't touch me. You couldn't tackle me in a game.' So when I see him make a play like that [against Mississippi State], I'm like, 'Oh, well, maybe I wouldn't tackle him.'"
Saturday: The Iron Bowl
Sims now understands what to expect of these types of games.
"It's that one play, those 2-3 plays, that determines how the game plays out," he said.
With Sims' hands on the ball, Alabama fans should be confident. After leading three pivotal drives already this season, he feels like he's done it before.
"It gives me a lot of confidence," Sims said. "It lets my team know that I'm ready to play."
As a senior, this will be Sims' only shot starting against Auburn. So what's at stake isn't just the season. In many ways, it's his legacy.
"It's a great feeling," Sims said, forever downplaying his emotions. "I'm glad that I got the opportunity to play here at the University of Alabama and I'm trying not to pressure myself too much and think of it like that.
"I'm just trying to go out and have fun with my teammates, and pretty much be in the backyard and have fun and play catch with my wide receivers."
In other words, Sims is determined to play his game.
"I make my body language look confident so they can go out and play with ease knowing that I'm ready to play," he said, giving away one of his secrets: deception. Like everyone else, he's eager to play Auburn. "I know the team is ready to play by how we're walking around the locker room right now. Everybody is excited and ready to play on Saturday."
November, 26, 2014
Nov 26
10:30
AM ET
By
ESPN.com staff
| ESPN.com
After a quiet Week 13, the SEC closes out the 2014 regular season with a flourish. It starts with LSU vs. Texas A&M tomorrow and is followed by at least two rivalry games -- the Iron Bowl and Egg Bowl -- with playoff implications. Meanwhile, can Florida send Will Muschamp off with a huge upset of Florida State? Can Missouri win another East division crown? And will Arkansas ever lose again? Let's get on with the picks:
Why LSU wins:
The game coming in College Station, Texas, worries me. So does that shutout at Arkansas two weeks ago. But in the end, I believe in John Chavis and the LSU defense. I think he's got Texas A&M's number. Without a strong inside running game, I expect the burden to fall on
Kyle Allen
's shoulders, and that's good news for an opportunistic LSU secondary.
LSU 24, Texas A&M 20
-- Alex Scarborough
Why Texas A&M wins:
Did you know Les Miles has never lost three straight games in his nine seasons at LSU? Crazy, right? Knowing that, the safe pick is the Tigers. But I simply don't trust this LSU offense. I haven't all season and I'm not about to now. Meanwhile, I think Texas A&M has too much firepower on offense, especially when you give Kevin Sumlin an extra couple of days to prepare.
Texas A&M 27, LSU 24
-- Greg Ostendorf
Why Alabama wins big:
Maybe if Auburn receiver
Duke Williams
plays -- and it sounds like he will -- Auburn can keep this thing competitive. But it's difficult to imagine this struggling team going into Tuscaloosa and finding a way to win. Not with a defense that seems to have regressed over the course of the season. With Auburn's offense slowing down a bit, too, it seems like Alabama will win comfortably.
Alabama 38, Auburn 17
-- David Ching
Why Auburn keeps it close:
It's the Iron Bowl. Just because Auburn hasn't played so hot recently doesn't mean we should expect the Tigers to roll over and play dead. Expect Auburn to put up a strong fight in hopes of spoiling the Tide's season.
Alabama 28, Auburn 24
-- Sam Khan Jr.
Why Mississippi State wins big:
One team won 51-0, the other lost 30-0. So it seems fairly obvious which is headed in the right direction. Ole Miss still seems to be reeling from the Auburn loss and the
Laquon Treadwell
injury, while Mississippi State has bounced back and has the look of a team still playing for a future.
Mississippi State 35, Ole Miss 17
-- Alex Scarborough
Why Ole Miss keeps it close:
This is the Egg Bowl. For as beaten down as Ole Miss is -- physically and mentally -- the Rebels will be fired up to ruin the Bulldogs' season.
Bo Wallace
is ready to erase the images of #Wallacing, and Hugh Freeze wants the Egg back in Oxford. Both quarterbacks will turn it over, but Mississippi State's power run game will be the difference.
Mississippi State 27, Ole Miss 24
-- Edward Aschoff
Why Florida State wins big:
Florida should have the emotional edge entering the game, wanting to send its coach out on the right note. But that's a short-term proposition. On the road in Tallahassee, Florida State might have to weather an early storm, but I expect the Noles to take control of the game late and run away for a double-digit lead before the fourth quarter ever begins.
Florida State 40, Florida 14
-- Alex Scarborough
Why Florida keeps it close:
Florida has nothing to lose in this one. This is Muschamp's last game with the Gators, and those players want to send him out on their shoulders, a la Ron Zook in 2004. Florida's running game will keep FSU's defense in check, but
Jameis Winston
will prove to be the difference late, yet again.
Florida State 24, Florida 21
-- Edward Aschoff
Why Arkansas wins:
While watching Missouri's last couple of games, it became apparent that running east and west against the Tigers is not a recipe for success. But north and south? Ask Georgia how that works. If Missouri can stop
Alex Collins
,
Jonathan Williams
and Arkansas' downhill running game, it will win -- especially if Razorbacks quarterback
Brandon Allen
is unable to play. Gary Pinkel deserves a ton of credit for dragging a mediocre team to another SEC East title if the Tigers win.
Arkansas 30, Missouri 27
-- David Ching
Why Missouri wins:
This was easily the toughest game to pick. Arkansas is another team with nothing to lose and no pressure, while EVERYTHING is on the line and there's a mountain of pressure for Mizzou. Arkansas is hot and Mizzou has forgotten how to lose. It doesn't matter who I picked in this one, I'll probably be wrong, but I'm going to assume Mizzou takes advantage of being at home this time.
Missouri 20, Arkansas 17
-- Edward Aschoff
Why Georgia wins big:
No offense to Georgia Tech, but if nobody in the SEC has been able to slow down Georgia this season, I don't see an ACC team doing it. The Bulldogs lead the conference, averaging 43.3 points per game, and they've done it primarily without star running back
Todd Gurley
. I expect another big day from his replacement
Nick Chubb
and this offense against the Yellow Jackets.
Georgia 42, Georgia Tech 28
-- Greg Ostendorf
Why Georgia Tech keeps it close:
The frustration of having beaten Georgia just once over the past 13 seasons is without question a motivator for Georgia Tech, but the Yellow Jackets are also playing their best football of the season -- and they can run the ball. Did you see Georgia's run defense against Florida? Georgia has too much firepower on offense to drop this one at home and has played better on defense the past few weeks, but Georgia Tech will keep it close with its option attack that gives everybody fits.
Georgia 31, Georgia Tech 27
-- Chris Low
Why South Carolina wins:
To be clear, I think Clemson has the better team here. I've thought that other times in the past five years, too, and South Carolina still won by double digits every time. Even home-field advantage hasn't helped the Tigers, as Steve Spurrier is 3-1 in Death Valley since taking over as the Gamecocks' coach in 2005. Until Dabo Swinney shakes his Spurrier curse, I'm riding with the HBC.
South Carolina 31, Clemson 20
-- David Ching
Why Clemson wins:
If the Tigers are going to end their losing streak to South Carolina, this is the team to do it against. South Carolina's defense has been its Achilles' heel all season and though it has had two good performances of late, they came against Florida and South Alabama. The health of Clemson QB
Deshaun Watson
is key here for the Tigers.
Clemson 34, South Carolina 31
-- Sam Khan Jr.
More unanimous picks:
Louisville over Kentucky:
This year's Governor's Cup features two teams trending in opposite directions. The Wildcats have lost five straight while their in-state rival has won three of its last four.
Louisville 31, Kentucky 14
Tennessee over Vanderbilt:
Tennessee's motto the "Power of One" has become the "Power of Six'" as in six wins and bowl eligibility. That's the goal now for the Volunteers. A win and they play in a bowl game. That's motivation enough.
Tennessee 31, Vanderbilt 10
Standings
Greg Ostendorf 84-18
Edward Aschoff 81-21
David Ching 80-22
Chris Low 80-22
Sam Khan Jr. 76-26
Alex Scarborough 76-26
November, 26, 2014
Nov 26
10:00
AM ET
Compared to two weekends ago, when the SEC's true freshmen collectively had their best Saturday of the season, last weekend was relatively quiet for the group. Still, several of the rookies had big games on Saturday.
Here are five who stood out and six more notables:
DE Derek Barnett, Tennessee
What he did:
In the Volunteers' loss to Missouri, Barnett finished second on the team with eight tackles, plus he posted half a tackle for loss and two quarterback hurries.
What it means:
The freshman continues to be one of the SEC's most consistent pass-rushers, increasing his total of tackles for loss to 18.5 against Mizzou. He is second in the SEC in TFLs and his nine sacks are tied for third with teammate
Curt Maggitt
.
KOR Evan Berry, Tennessee
What he did:
The little brother of Volunteers legend Eric Berry, Evan returned four kickoffs for 121 yards (30.3 yards per return) against Missouri, including a 58-yard runback in the second quarter that set up a field goal.
What it means:
The freshman speedster took over the kickoff return duties around midseason and has handled the job extremely well. In 13 returns, Berry is averaging 30.9 yards per return with a long of 68 yards against Chattanooga. He has a return of at least 33 yards in each of the six games where he has returned a kick.
RB Nick Chubb, Georgia
What he did:
Chubb's string of games with at least 140 rushing yards ended at five, but only because the Bulldogs didn't need to use Chubb after the earlygoing against Charleston Southern. He accumulated 113 rushing yards on just nine carries and scored on touchdown runs of 83 and 8 yards.
What it means:
He piled up all of that yardage in the first half alone, so it's not like Chubb's production dropped off at all in the blowout win. In fact, the 83-yard touchdown run in the first quarter was Georgia's longest since 1985 and the eighth-longest in school history. Entering this weekend's game against Georgia Tech, Chubb has 1,152 rushing yards and 11 touchdowns and is a full-fledged star who no longer sits in
Todd Gurley
's shadow.
QB Treon Harris, Florida
What he did:
Harris suffered a knee injury in the second quarter of Florida's blowout win against Eastern Kentucky and sat out most of the second half of the 52-3 victory. To that point, he was 4-for-12 passing for 162 yards and two touchdowns, plus he had run five times for 8 yards.
What it means:
The good news is that Harris' knee contusion will not keep him out of this week's game against Florida State. Harris has helped the Gators' offense become more effective since he entered the starting lineup four games ago -- a stretch where Florida is 3-1.
DL Gerald Willis, Florida
What he did:
Willis recovered a fumble that set up a touchdown and also recorded five tackles and a quarterback hurry in Florida's blowout win against Eastern Kentucky.
What it means:
Willis was a huge recruit for the Gators, but has had a quiet first season for the most part. He has just 10 tackles in six games this fall. Willis and several youngsters on the defensive line had good games on Saturday, showing that the future should be bright along the line of scrimmage in 2015 and beyond.
Other notables:
DB Todd Kelly Jr., Tennessee:
Recorded a career-high six tackles against Missouri.
PK Aaron Medley, Tennessee:
Made field goals of 38 and 39 yards and hit his only PAT try against Missouri.
DB Malkom Parrish, Georgia:
Recorded four tackles and a tackle for loss against Charleston Southern.
PK Gunnar Raborn, Alabama:
Made field goals of 20 and 28 yards and went 6-for-6 on PATs in a 48-14 win against Western Carolina.
WR Cam Sims, Alabama:
Caught a 4-yard touchdown pass for Alabama's first score and finished with three receptions for 33 yards against Western Carolina.
RB Roc Thomas, Auburn:
Ran five times for 26 yards against Samford and scored on a 1-yard run, plus he made two receptions for 2 yards.
November, 26, 2014
Nov 26
9:00
AM ET
By
ESPN.com staff
| ESPN.com
For the first time all season, there was no movement among the top four teams in this week's College Football Playoff rankings. In fact, the only movement in the top 10 was Ole Miss plummeting from No. 8 to No. 19 after its loss to Arkansas last Saturday. It's no surprise the Rebels also dropped out of this week's playoff tracker.
Here's a look at where the three remaining SEC playoff contenders stand heading into the final week of the regular season:
Alabama
Record:
10-1 (6-1 SEC)
Rank:
No. 1
Next big obstacle:
Saturday versus No. 15 Auburn
Reason for optimism:
It all comes down to this. Beat Auburn this weekend and Alabama wins the West, has a shot at the conference title and a trip to the College Football Playoff. The Crimson Tide should be heavy favorites, too, seeing as Auburn has hit the skids ever since beating Ole Miss in dramatic fashion.
Cause for concern:
Could last weekend's game against Western Carolina have gone any worse? Alabama started sluggish and saw a number of starters sidelined with injuries, the most alarming of which were
Amari Cooper
and
Cam Robinson
. Both should be fine for Auburn, but it would have been better to escape Western Carolina without the bruises.
Who they'll be rooting for:
Missouri over Arkansas. It's hard to believe Alabama would rather see Georgia than Missouri in the SEC championship game.
-- Alex Scarborough
Mississippi State
Record:
10-1 (6-1 SEC)
Rank:
No. 4
Next big obstacle:
Saturday at No. 19 Ole Miss
Reason for optimism:
Saturday's Egg Bowl looked like a much tougher challenge for Mississippi State before Ole Miss absorbed a 30-0 beating from Arkansas last weekend. This probably won't be a cakewalk, but Ole Miss has to be demoralized because of the way things have gone downhill over the past month.
Cause for concern:
The home team typically dominates in the Egg Bowl. And even if State wins, numerous teams can claim conference titles and possibly jump the Bulldogs in the playoff rankings. Remember, though, that State can still play for an SEC title if it wins Saturday and Alabama loses to Auburn. An unlikely outcome, but still a possibility.
Who they'll be rooting for this week:
Auburn over Alabama, Texas over TCU, Michigan over Ohio State, Texas Tech over Baylor
-- David Ching
Georgia
Record:
9-2 (6-2 SEC)
Rank:
No. 9
Next big obstacle:
Saturday versus No. 16 Georgia Tech
Reason for optimism:
Georgia is a double-digit favorite over Georgia Tech on Saturday, but a win over the rival Yellow Jackets will still impress the committee. It would be the Bulldogs' fourth win over a Top 25 opponent, and right now they need all the help they can get. A win Saturday and a win in the SEC title game should give them a shot.
Cause for concern:
There's no guarantee Georgia will even play for the SEC championship. The Bulldogs need Missouri to lose to Arkansas first before they can book their trip to Atlanta next weekend. And even if everything falls in place, they're still not a lock for the playoff. They probably need at least one of the one-loss teams in front of them to go down.
Who they'll be rooting for this week:
Arkansas over Missouri. The SEC East is on the line. Georgia has done its part. Now it's up to the Razorbacks to provide an assist.
-- Greg Ostendorf
November, 26, 2014
Nov 26
8:30
AM ET
OK, so who's it gonna be -- Mississippi State or Ohio State?

Honestly, the suspense is killing me, and we haven't even gotten to the games this weekend. See, here's the issue that these teams are facing: Who will have the best résumé after championship Saturday?

Mississippi State might not go to Atlanta for the SEC championship game, but if the Bulldogs beat Ole Miss on Saturday, they'll be in position for that fourth spot (assuming the top three win out). But if No. 6 Ohio State wins out, the Buckeyes will be Big Ten champions. Say what you will about the strength of the Big Ten, the Buckeyes would have a conference championship and the fourth-ranked Bulldogs would not. Both would only have one loss.
November, 26, 2014
Nov 26
8:00
AM ET
1. The new
College Football Playoff rankings
were released Tuesday, and there were very few changes at the top. Alabama remained No. 1; Mississippi State held strong at No. 4 (but for how long?); and Georgia is still clinging to hope, up one spot to No. 9. ESPN's Heather Dinich broke down
every playoff scenario
for all nine remaining contenders. She says that Mississippi State has the "most precarious" position of the top four teams as the Bulldogs need the Big Ten and/or the Big 12 to stumble if they hope to stay in the playoff. I tend to agree. When the committee chairman talks about
the importance of conference championships
and how they will be weighed heavily on selection weekend, that doesn't bode well for MSU.
2. Tired of the "kick-six" yet? I promise this will be the last link. But if you haven't already, I suggest you go and read
Jon Solomon's piece
on how the effects of one of the wildest finishes in college football history are still being felt. It will be worth your time. The Iron Bowl rivalry itself is known for the passion and animosity felt between the two fan bases, but it's not always that way. Earlier this season, I wrote a story on Alabama quarterback
Blake Sims
and how
he wore a bracelet
in support of Kayla Perry, an Auburn student with a rare form of pediatric cancer. Well now, Perry and an Alabama student who has a similar condition will attend Saturday's game thanks to Kristi Malzahn, wife of Auburn coach Gus Malzahn. Kristi surprised the two girls by inviting them to attend the game with her.
Watch their story here
.
3. Arkansas and Missouri might be cross-division foes that will meet every season unless the SEC changes its schedule. They might have a huge game this Friday with SEC title hopes on the line. But they're not rivals,
not yet at least
. The two sides haven't played in the regular season since 1963, and they have only met five times ever. Give it time, though. It's already catching on with some of the players. "Arkansas, they have the word Kansas in it, so it's got to be a rival," said Missouri center
Evan Boehm
. One team who will be directed by Friday's game is Georgia. If Missouri loses, the Bulldogs are headed to Atlanta for the SEC championship. However, Mark Richt is
not planning any Arkansas-Missouri viewing parties
for his team.
Around the SEC
Tweet of the day
Congrats to @15_DakP on being named a finalist for the Maxwell and Davey O'Brien awards. Couldn't have happened to a better young man!

— Brian Johnson (@BDJohnson3) November 26, 2014
Dr. Lou's Picks
SEC SCOREBOARD
Friday, 11/28
Thursday, 11/27
Saturday, 11/29