Cass Tech coach talks Dawson's decision
October, 14, 2012
10/14/12
3:12
PM ET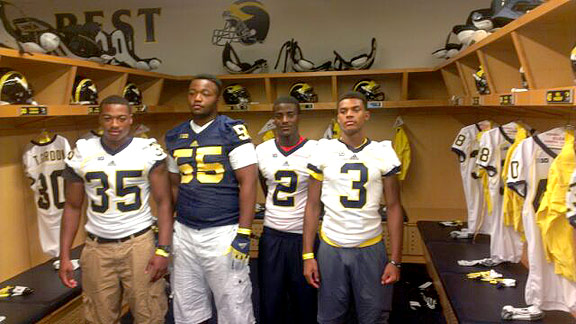 Courtesy of Damon Webb Sr.Cass Tech's Deon Drake, David Dawson, Jourdan Lewis and Damon Webb at the BBQ at the Big House.
Detroit Cass Tech has long been a Michigan football pipeline.
From senior defensive lineman Will Campbell to freshman linebacker
Royce Jenkins-Stone
to a good portion of the Wolverines secondary (junior
Thomas Gordon
, sophomore
Delonte Hollowell
and freshman
Terry Richardson
), Technicians dot the Wolverines roster.
But with 2013 offensive guard
David Dawson
parting ways with Michigan early on Sunday, one bond was dropped between the programs.
To continue reading this article you must be an Insider
Insider
Michigan State Handles Michigan
Connor Cook threw for 227 yards and one TD in No. 8 Michigan State's 35-11 win over Michigan.
Michigan State Handles Michigan
VIDEO PLAYLIST
MICHIGAN FB RECRUITING SCORECARD
DesmondHoward

Desmond Howard


Bo Wallace is going up against the best secondary he's faced this season. He's giving them a chance to be heroes. They wont accept it
2 minutes ago

ESPN_BigTen

ESPN BigTen


End of the first quarter, and it's OSU 7-0. Looming issue for PSU: Despite having No. 1-ranked run D, OSU has 12 rushes and 84 yards.
6 minutes ago

DesmondHoward

Desmond Howard


I'm really surprised at the amount of success the Buckeyes are having running right between the tackles against PSU.
9 minutes ago

DesmondHoward

Desmond Howard


The Buckeyes turn a Hackenberg "interception" into 7pts.
22 minutes ago

ESPN_BigTen

ESPN BigTen


And OSU capitalizes off the INT that wasn't -- scoring a TD on an nice Elliott run on the outside -- as PSU fans are none too pleased.
28 minutes ago

BTN_Michigan

Big Ten Network


#Michigan news: Michigan, Michigan State marching bands form #chadtough http://t.co/HUIH2k8TBk
30 minutes ago

DesmondHoward

Desmond Howard


RT @Ivan_Maisel 6-4 QB Bo Wallace has had 3 passes batted down at line in 1st 18 minutes vs. @LSUfball #MISSvsLSU
32 minutes ago

DesmondHoward

Desmond Howard


Talk about keeping it real, @CheezIt! #ShowYourHeismanSweeps 4Chance2Win Rules http://t.co/ilth2WCija http://t.co/9LI67Ggy5v
48 minutes ago

ESPN_BigTen

ESPN BigTen


Video: Michigan State coach Mark Dantonio http://t.co/3uEsZla438
about an hour ago

BTNBrentYarina

Brent Yarina


So cool: Michigan, MSU bands form #chadtough on field after game - http://t.co/VPzDmzu72w (Photo: @BSB_Wolverine) http://t.co/o6F2FixAHn
about an hour ago

BTN_Michigan

Big Ten Network


#UMich video: De'Veon Smith 1-Yard Touchdown http://t.co/LYuAP0jDLr
about an hour ago

ESPNJoshMoyer

Josh Moyer


I'll be chatting live here from 8-8:45 p.m. and again from 9:30 to 10:15 during the #OSUvsPSU game. Join us: http://t.co/dYMQl4ctm7
about an hour ago

ESPN_BigTen

ESPN BigTen


Michigan student paper throws in the towel http://t.co/1y6JXq7saT
about an hour ago

jayfeely

Jay Feely


watching the LSU kicker prior to that miss he was yelling about something. Out of his normal routine which normally doesn't end well
about an hour ago

ESPN_BigTen

ESPN BigTen


Instant Analysis: Michigan State 35, Michigan 11 http://t.co/co5bRQ9G7c
about an hour ago

BTN_Michigan

Big Ten Network


ICYMI: @umichfootball De'veon Smith leaps up the middle for a 1-yard TD against Michigan State. #DQFanFavorite http://t.co/jgVPwbwglB
about an hour ago

Hail_Blue

Ken Lyons


I'm convinced Jabrill Peppers is a myth and doesn't actually exist.
about an hour ago

umichfootball

Michigan Football


Final: Michigan State 35 - Michigan 11
about an hour ago

BTN_Michigan

Big Ten Network


TD MSU: 5-yd run by J Langford. Langford 3 rush TDs. Q4: MSU 35, MICH 11 LIVE SCORES: http://t.co/wmMlXKwpdR
about 2 hours ago

umichfootball

Michigan Football


Michigan State 28 - Michigan 11
about 2 hours ago

BTN_Michigan

Big Ten Network


TD MICH: 1-yd run by D Smith, and 2-pt conv. is good on catch by J Butt. Q4: MSU 28, MICH 11 LIVE SCORES: http://t.co/wmMlXKwpdR
about 2 hours ago

umichfootball

Michigan Football


Touchdown, Michigan.
about 2 hours ago

UMGoBlog

Michigan Football


I miss @Nike #thegoodoledays #adidasjinx
about 2 hours ago

BTN_Michigan

Big Ten Network


F Clark falls on #Spartans fumble, #Wolverines possession at MSU's 33-yd line. Q4: MSU 28, MICH 3 LIVE SCORES: http://t.co/wmMlXKwpdR
about 2 hours ago

ChantelJennings

Chantel Jennings


This sums up the Michigan-MSU game: #88favorites http://t.co/VH05RwkJbT
about 2 hours ago

smileychrisdds

Christopher Smiley


@OfficialBraylon @UMGoBlog if only Tom Harmon could tweet!
about 2 hours ago

ShuckItTrebek

Not Sean Connery


Make that 29. @UMGoBlog
about 2 hours ago

ESPN_BigTen

ESPN BigTen


Gardner's second interception today might be his ugliest of the season. Spartans take over with a 28-3 lead and 12 minutes remaining.
about 2 hours ago

BTN_Michigan

Big Ten Network


T Jones picks off D Gardner, #Spartans take possession at own 25-yd line. Q4: MSU 28, MICH 3 LIVE SCORES: http://t.co/wmMlXKwpdR
about 2 hours ago

UMGoBlog

Michigan Football


Devin Gardner what the $%#
about 2 hours ago

theMBofSports

Matt Browning


Michigan has an amazing balanced attack on offense... Unfortunately for them it's still no good 48 yds rushing, 48 yds passing.
about 2 hours ago

umichfootball

Michigan Football


End of the 3rd: Michigan State 28 - Michigan 3
about 2 hours ago

UMGoBlog

Michigan Football


Braylon knows RT @OfficialBraylon: Funchess has to make that catch wearing that number.
about 2 hours ago

UMGoBlog

Michigan Football


The worst part of all this is that State isn't even that good... We're just that bad 😒
about 2 hours ago

UMGoBlog

Michigan Football


Devin Gardner runs for it....come up 1 yd short
about 2 hours ago

UMGoBlog

Michigan Football


4th and 5 at the 10 GOING
about 2 hours ago

UMGoBlog

Michigan Football


Funchess needs to catch that...
about 2 hours ago

UMGoBlog

Michigan Football


msu DT Joel Heath down, jogs off the field
about 2 hours ago

ChantelJennings

Chantel Jennings


Colorado comes away with another almost win. What if we start using "win-loss-so close" for the Pac-12 teams. Would be more accurate...
about 2 hours ago

UMGoBlog

Michigan Football


1st and 10 Michigan at the 15
about 2 hours ago

UMGoBlog

Michigan Football


Been to almost every B1G stadium and Spartan fans most closely resemble little league parents #StillWhoopingUs #NoIdeaWhatsHappeningOnField
about 2 hours ago

UMGoBlog

Michigan Football


Pass interference msu 1st and 10 Michigan
about 2 hours ago

UMGoBlog

Michigan Football


After review, no targeting just roughing. Michigan needs a penalty that includes 2 TDs at this point
about 2 hours ago

UMGoBlog

Michigan Football


More shenanigans from msu, roughing the passer targeting msu. Michigan swirling down the drain in East Lansing
about 3 hours ago

UMGoBlog

Michigan Football


Sitting @ Spartan Stadium surrounded by Sparties and It's Still Great to be a Michigan Wolverine #GoBlue
about 3 hours ago

UMGoBlog

Michigan Football


Maybe Norfleet can just dance for three downs and then punt?
about 3 hours ago

ESPN_BigTen

ESPN BigTen


Tony Lippett scores on a 70-yard reception. That's 14 points in a hurry for Sparty, which now leads 28-3 in the third quarter.
about 3 hours ago

umichfootball

Michigan Football


Michigan State 28 - Michigan 3
about 3 hours ago

BTN_Michigan

Big Ten Network


TD MSU: C Cook hooks up with T Lippett on 70-yd pass. Q3: MSU 28, MICH 3 LIVE SCORES: http://t.co/wmMlXKwpdR
about 3 hours ago

UMGoBlog

Michigan Football


msu 28 Michigan 3 Q3 6:17
about 3 hours ago

UMGoBlog

Michigan Football


rout /on
about 3 hours ago

ShuckItTrebek

Not Sean Connery


Gardner has 28 turnovers in last 2 seasons. Pathetic. @UMGoBlog
about 3 hours ago

UMGoBlog

Michigan Football


TD msu
about 3 hours ago

UMGoBlog

Michigan Football


Apparently I did something really bad in a former life to be punished like this...$%# I hate msu
about 3 hours ago

UMGoBlog

Michigan Football


Hell of a play by our DB there...... oh wait, he's a WR #goblue
about 3 hours ago

ESPN_BigTen

ESPN BigTen


That's 18 turnovers in less than eight games for the Wolverines. Not a good formula for success.
about 3 hours ago

colinkriegel

Colin Kriegel


gardner is a 5th year senior who consistently makes true freshman mistakes.
about 3 hours ago

ESPN_BigTen

ESPN BigTen


R.J. Williamson's returns an interception 29 yard for a Spartan touchdown. Michigan State leads Michigan 21-3 midway through the third.
about 3 hours ago

BTN_Michigan

Big Ten Network


TD MSU: R Williamson takes D Gardner interception to the house for 21-yd TD. Q3: MSU 21, MICH 3 LIVE SCORES: http://t.co/wmMlXKwpdR
about 3 hours ago

UMGoBlog

Michigan Football


msu 21 Michigan 3 Q3 8:33
about 3 hours ago

umichfootball

Michigan Football


Pick six, Michigan State.
about 3 hours ago

UMGoBlog

Michigan Football


Butt was wiiiide open 🙈 #goblue
about 3 hours ago

UMGoBlog

Michigan Football


Devin Gardner INT Pick 6
about 3 hours ago

umichfootball

Michigan Football


1st & 10 from our own 22-yard line with 10:05 in the 3rd quarter.
about 3 hours ago

UMGoBlog

Michigan Football


No spark on offense, no spark on special teams, defense just holding on....
about 3 hours ago

umichfootball

Michigan Football


Michigan State to punt.
about 3 hours ago

ChantelJennings

Chantel Jennings


UCLA-Colorado going into overtime because … Pac-12.
about 3 hours ago

UMGoBlog

Michigan Football


Watching Michigan this season has been like an 8 week long car wreck that stops after each game and picks up where it left off the next week
about 3 hours ago

BTNSean

Sean Merriman


Wow. Check out this incredible photo from the first half of today's #MSUvsUM game. Credit: @USATODAYsports. http://t.co/uG0v8kGdQl
about 3 hours ago

UMGoBlog

Michigan Football


Spartans run up the middle, 1st down
about 3 hours ago

UMGoBlog

Michigan Football


Spartans run up the middle, 7 yd gain
about 3 hours ago

UMGoBlog

Michigan Football


Does anyone think Michigan can score more than 11 points this half?? #dudewherestheoffense
about 3 hours ago

umichfootball

Michigan Football


Michigan can't convert on 3rd & 4, after the punt, Michigan State will have the ball at their own 28-yard line.
about 3 hours ago

UMGoBlog

Michigan Football


1st and 10 msu at their 28
about 3 hours ago

UMGoBlog

Michigan Football


Devin Gardner to Devin Funchess inc, Funchess needs to hold that, still no offense #beatstate
about 3 hours ago

UMGoBlog

Michigan Football


Devin Gardner to Devin Funchess for 6 #beatstate
about 3 hours ago

UMGoBlog

Michigan Football


Devin Gardner to Butt 1st and 10 at the 37 #beatstate
about 3 hours ago

UMGoBlog

Michigan Football


msu attendance 76K, I think more people showed up on UM President's lawn to protest AD David Brandon
about 3 hours ago

umichfootball

Michigan Football


3rd quarter starts with Michigan at their own 25-yard line, 1st & 10.
about 3 hours ago

UMGoBlog

Michigan Football


1st and 10 Michigan at the 20 #beatstate
about 3 hours ago

UMGoBlog

Michigan Football


Second half game on #beatstate
about 3 hours ago

UMGoBlog

Michigan Football


Not his best game, yet RT @TerryFoster971: Be honest. How is my boy Connor Cook looking in the first half?
about 3 hours ago

UMGoBlog

Michigan Football


Brutal RT @MaizeBlueNation: In 14 quarters against Michigan State under Hoke, Michigan has 2 touchdowns.
about 3 hours ago

DesmondHoward

Desmond Howard


Better be! RT @leefitting @KirkHerbstreit is dinner on him next week?
about 3 hours ago

UMGoBlog

Michigan Football


37 net yards of offense at halftime isn't going to cut it
about 3 hours ago

umichfootball

Michigan Football


Halftime: Michigan State 14 - Michigan 3
about 3 hours ago

UMGoBlog

Michigan Football


msu 14 Michigan 3 halftime
about 3 hours ago

UMGoBlog

Michigan Football


Devin Gardner no pick 6, no pick 6, no pick 6 #beatstate
about 4 hours ago

ESPN_BigTen

ESPN BigTen


Michigan State takes a 14-3 lead on Jeremy Langford's 1-yard touchdown plunge. Langford had 48 yards of offense on the drive.
about 4 hours ago

BTN_Michigan

Big Ten Network


TD MSU: 1-yd run by J Langford. Langford 2 rush TDs. Q2: MSU 14, MICH 3 LIVE SCORES: http://t.co/wmMlXKwpdR
about 4 hours ago

UMGoBlog

Michigan Football


msu 14 Michigan 3 Q2 0:21
about 4 hours ago

UMGoBlog

Michigan Football


TD msu no review needed
about 4 hours ago

DesmondHoward

Desmond Howard


Burn! RT @bourbonandblues @jayleeson @DesmondHoward @BruceFeldmanCFB hard to bag on someone when "pro" and "career" are in the same sentence
about 4 hours ago

UMGoBlog

Michigan Football


Spartan 3rd and goal at the 1 #beatstate
about 4 hours ago

UMGoBlog

Michigan Football


msu TD reviewed, no TD - yet #beatstate
about 4 hours ago

UMGoBlog

Michigan Football


TD msu
about 4 hours ago

ESPN_BigTen

ESPN BigTen


Video: Illinois 28, Minnesota 24 http://t.co/3zruyTBAdj
about 4 hours ago

UMGoBlog

Michigan Football


Apparently there is cheering in the msu press box 1st and 10 msu #beatstate
about 4 hours ago

umichfootball

Michigan Football


Michigan State, 1st & 10, from their own 28.
about 4 hours ago

UMGoBlog

Michigan Football


Michigan 35 yards of offense -2 rushing #beatstate
about 4 hours ago
BLOG ARCHIVE:
CATEGORIES: