Washington Huskies:

Tyrone Willingham
November, 28, 2012
11/28/12
10:00
AM PT
Colorado was one of the all-time bad teams in Pac-12/10/8 history this season, but were the Buffaloes the worst? Hard to say, as different decades bring different levels of awful.

The case for Colorado is this: The Buffs this season went 1-11 overall and 1-8 in Pac-12 play. They were outscored 552 to 214. They ranked last in the conference in scoring offense and scoring defense. They were 116th in the nation in scoring offense and 120th (last) in scoring defense.
That's pretty darn bad.
But there's some pretty darn good/bad competition.
Oregon State put together an epic level of awfulness in the 1980s. The Beavers didn't win a conference game in 1980, 1981 and 1982.

While the Beavers were winless in 1980, the best worst team of that three-year run was probably 1981. That team opened with a win over Fresno State and then nearly beat LSU in Baton Rouge. Then everything went bad.
The Beavers were outscored 330 to 75 in conference play and 469 to 145 overall. They scored fewer than 10 points in five games. They lost the Civil War to 2-9 Oregon 47-17.
My personal favorite, however, is a Pac-10 rivalry pair -- A Dismal Duo! -- mostly because I witnessed it: The Year of the Crapple Cup.
That was 2008. Washington went 0-12, and Washington State went 2-11.

In terms of statistical awfulness, the Cougars were worse. They were outscored 570 to 165 overall and 453 to 77 in conference play. They were shut out three times and scored a single field goal twice.
One of their wins was over a Football Championship Subdivision team. The other ... was over Washington in the Crapple Cup, 16-13 in double overtime.
Not unlike this season's Apple Cup, the Huskies lost after a massive fourth-quarter choke, not to mention superior field goal kicking from the Cougars.
The Huskies, who were outscored 463 to 159 overall and 347 to 111 in conference play, were the nation's only winless team that season, and coach Tyrone Willingham was given the boot at season's end.

The Cougars finished that season ranked 118th in the nation -- second to last -- in both scoring offense and scoring defense. The Huskies were 117th in scoring offense and 116th in scoring defense.
But the Cougs did have the Crapple Cup victory to salve the wounds suffered during a rotten season.
So, to steal an old term from former Washington State coach Mike Price, they became the kings of Poop Island, while the Huskies were merely Poop Island citizens.
August, 6, 2012
8/06/12
6:00
PM PT
Washington was ranked 26th in the preseason coaches poll. Now there really isn't a "26th" in the coaches poll, a 25-team list. The Huskies are merely first among the "others receiving votes." But 26th does fairly represent where the program stands in year four under coach Steve Sarkisian.
The Huskies are close to returning to the national picture. Folks know about them, respect them even. But the breakthrough from respectable to good has yet to happen.
[+] Enlarge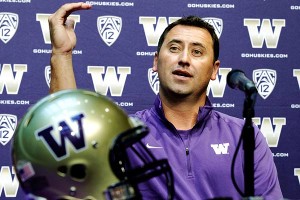 Ted S. Warren/AP PhotoCoach Steve Sarkisian enters his fourth season, and the pressure is on for the Huskies to win.
"We're not flying under the radar anymore," Sarkisian said during a news conference Monday as the Huskies begin preseason camp. "Teams have circled us on their schedules."
Sarkisian made some bold --
and well-publicized
-- offseason moves to bolster his coaching staff, particularly on defense. That one of them required firing longtime colleague and friend
Nick Holt
as defensive coordinator clearly demonstrated that Sark was willing to make tough business decisions to advance the Huskies up the next rung of the college football ladder. And, yes, that includes playing defense that isn't embarrassingly horrible.
What's clear is this is now Sarkisian's team, even if five fifth-year players remain from the Tyrone Willingham era. It features
just 12 seniors
, so it's still a young team. But there's plenty of experience coming back, certainly more than the official number of returning starters -- 13 -- suggests.
"We're becoming a more mature football team," Sarkisian said.
Still, the Huskies enter the 2012 season with quarterback
Keith Price
and lots of "maybe." The top three receivers from 2011 are gone, but sophomore
Kasen Williams
leads a promising crew coming back. Tight end
Austin Seferian-Jenkins
appears to be a budding All-American, and the interior offensive line looks solid. But it's unclear who the tackles will be -- Sarkisian said
Drew Schaefer
, a two-year starter at center, will get a look at tackle. And the pecking order at running back is unclear after the departure of the highly productive
Chris Polk
.
The defense? The big surprise is how many potentially good players it could feature -- OLB
Josh Shirley
, end
Hau'oli Jamora
, DT
Danny Shelton
, safety
Sean Parker
, cornerback
Desmond Trufant
, etc. The turnaround under new coordinator Justin Wilcox could be dramatic, but let's recall more than a few folks (cough, cough) thought the Huskies' defense looked pretty salty in advance of the 2011 season.
In 2009, Sarkisian's first season, he played 16 true freshmen. Last year, he played four. It will be interesting to see how many break through this fall. Safety Shaq Thompson, one of several players likely to see action on both sides of the ball, seems like the only sure thing.
"I won't ever not play a kid because he's a freshman," Sarkisian said. "The best guys on the field are going to play for us. But I know it's harder for a freshman to get on the field now."
Another area of concern: Specialists. The Huskies are replacing two good ones.
The maturation of the program under Sarkisian, coaching upgrades and intriguing talent on both sides of the ball suggest a team ready to step forward. But when you pair the uncertainties with a brutal early schedule -- at LSU, Stanford, at Oregon and USC in the first seven weeks -- then it's not also difficult to identify some "maybe not."
That's not what Sarkisian sees, though. He sees another step in the rebuilding process. He sees a team built the way he wants to build it. He, not surprisingly, sees the hopeful side of "maybe."
"When your guys are speaking your language, your lingo, it's not coach-talk it's locker room talk, that's when I think you can really make strides," he said.