Washington Huskies:

Ka'Deem Carey
April, 12, 2013
Apr 12
12:00
PM PT
We've been talking a lot about running backs this week. There was the
feature
on Washington running back
Bishop Sankey
. Some
chatter about Arizona
and looking ahead to
Ka'Deem Carey
in 2013 and the ESPN conference-call video segment featuring a dapper Pac-12 blogger talking about
the running back race at UCLA
.
But with some of the league's top backs from 2012 moving on, who is going to be the rushing king of 2013?
Ted Miller
: Why do I think Washington's Sankey will lead the Pac-12 in rushing in 2013? First of all, because I think Huskies quarterback
Keith Price
will play more like Arizona's
Matt Scott
in 2012 than Keith Price in 2012.
No, I don't think Price will put up spinning slot machine numbers, as Scott did. But I think the Huskies' improved passing game and more experienced offensive line will mean a more efficient Price. That will mean bigger holes for Sankey, who averaged 154.6 yards per game over the last five games of 2012, a per-game total that would have led the nation if extended over the entire season.
[+] Enlarge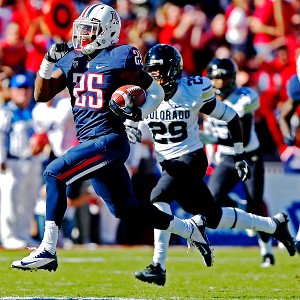 Rick Scuteri/US PresswireArizona's Ka'Deem Carey will be trying to put up big rushing numbers with a new QB under center.
Don't buy it? Well, consider what Sankey did last year with Price in the dumps and the Huskies' offensive line shuffling injured players in and out. He rushed for 1,436 yards and 16 touchdowns, and his 110.7 yards per game ranked fourth in the Pac-12 and 21st in the nation.
The three backs in front of Sankey -- Arizona's Carey, Oregon's
Kenjon Barner
and UCLA's
Johnathan Franklin
-- each played for an offense that ranked in the nation's top 25. The Huskies' offense ranked 97th in the nation.
Further, Carey, the only other returning Pac-12 back with more than 1,000 yards in 2012, won't have Scott. We don't know who he will have playing quarterback, but there's been little to suggest this spring that the Wildcats will approach Scott's production at the position in the fall.
So I expect Sankey's numbers to go up and Carey's to go down. When the smoke clears, they both likely will be first-team All-Pac-12. But this go-around, Sankey will be 1A and Carey 1B.
Kevin Gemmell
: Ted stole my choice! But only because as the guy going first this week, I just assumed he'd go with Carey and I'd slide right in and make all the same arguments in favor of Sankey that he just made. Sneaky, Ted. Very sneaky.
Oh well, I guess that leaves me talking about the guy who actually led all of FBS football last season -- the aforementioned Carey, who totaled 1,929 yards on the ground and a robust 6.4 yards per carry.
I don't think the offensive drop-off at Arizona is going to be as significant as Ted does. Carey certainly benefited from Scott -- but Scott also benefited from Carey. It works both ways.
Whoever wins the quarterback job at Arizona has a deep and talented wide receiver corps to throw to -- including Biletnikoff semifinalist
Austin Hill
and returners
Johnny Jackson
,
Terrence Miller
and
Tyler Slavin
, among others. This isn't an offense that is suddenly going to flatline because Scott is gone. In fact, by the very nature of the offense Arizona runs, it's likely that Sankey is going to see far more eight-man boxes than Carey. You don't sell out against the run with Hill running sluggos all day.
It's also worth noting that Sankey has to face Stanford, which had the nation's No. 5 rush defense last season, in Palo Alto. The Wildcats miss the Cardinal this season. Sankey had a big game against Stanford last season -- but when we're talking about rushing titles, one game could be the difference, and that's certainly worth considering.
Plus, Washington is hoping to have
Jesse Callier
back from the knee injury that initially thrust Sankey into the starting role. I'm not saying they'll be by-committee -- but a healthy Callier will certainly cut into Sankey's carries. Great for Washington. But when you're talking rushing titles, that could have a big impact.
I think the Arizona offense takes a natural step back with a new quarterback at the helm. But it's not going to be a giant leap. Carey will get his 300-plus carries again, and the Wildcats should continue to move up and down the field. And if you've got your calendars handy, the two square off Sept. 28 in Seattle. You might want to tune in for that one.
April, 10, 2013
Apr 10
9:00
AM PT
There are 11 conferences in FBS football.
Bishop Sankey
would have been the leading rusher in five of them last year -- including the ACC, Big 12, Big East and SEC. (Plus the independents, for those keeping track at home).
But the Washington running back plays in the Pac-12, where 1,439 yards, 16 touchdowns and 110.7 yards per game gets you a fist bump and an honorable mention.
With two of the three 2012 Doak Walker finalists in the league --
Kenjon Barner
and
Johnathan Franklin
-- along with the nation's leading rusher,
Ka'Deem Carey
-- it was easy for Sankey's impressive exploits to be overshadowed.
"That's why I wanted to come to the Pac-12. I feel like it's the best conference in the nation," Sankey said." You have tons of talented athletes out here on the West Coast. That's motivation for me to keep working hard and to keep improving."
[+] Enlarge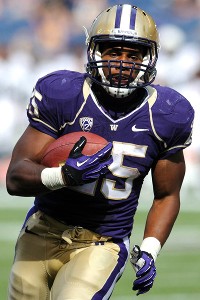 Steven Bisig/US PresswireWashington's Bishop Sankey said he's focusing this spring on becoming a more complete running back.
Anyone who saw Sankey shred the Boise State defense for 205 yards in the MAACO Bowl Las Vegas knows how special of a player Sankey can be. He also caught six balls for 74 yards and was named the game's MVP in a losing effort. It was the first time in the 21-year history of the bowl a player from the losing team had won the MVP. He was that good. And people noticed.
Finally.
Anyone who watched him average 154.6 yards and score seven touchdowns over the last five games of 2012 knows how vital he is to Washington and its offense. Anyone who doesn't think Sankey is one of the premier running backs in the Pac-12 -- arguably the country -- just doesn't know football.
Boise State better have noticed. The Broncos are coming to Washington on Aug. 31 in a rematch of the bowl game.
"I feel like [the bowl game] is in the back of some of our minds as motivation," Sankey said. "But at the same time, we've also taken steps to move forward from last season and create a new identity for who we want to be for the upcoming season."
Sankey's rise came about under unfortunate circumstances. When
Jesse Callier
was lost for the year with a knee injury in the season opener against San Diego State, Sankey went from by-committee complement to every-down back.
At the time,
Washington coach Steve Sarkisian said,
"We're going to find out more about Bishop Sankey in a hurry." What he found was a powerful, yet speedy back who could not only shoulder the load -- but emerge as one of the most durable backs in the league. Sankey's responsibilities increased throughout the season and by the second half he was averaging more than 25 carries per game. Only Carey and Stanford's
Stepfan Taylor
had more rushing attempts in 2012. And when the last down had been played, Sankey had gone for more than 100 yards in seven games and scored at least one touchdown in 10 of them.
He points to last year's victory over No. 8 Stanford as the "ah-ha" moment of his career. The Cardinal -- who finished fifth in the nation against the run -- only allowed three players to go for more than 100 yards against them last season. Franklin had 194 in the Pac-12 championship game, Sankey had 144 in the win and Carey went for 132. Sankey's 61-yard touchdown run against the Cardinal, coming on fourth-and-1, brought the Huskies back to life and swung the momentum back their way.
This year, he's looking to improve on, as he says, everything. His performance in the bowl game showed he can also be an effective receiver out of the backfield. But he wants to get better at pass- blocking, reading defenses and being even more explosive.
This spring he's also adjusted to the fact that there isn't a running back competition to replace Chris Polk. Sankey is the unquestioned starter. Though he's not taking that for granted.
"We have a very competitive running back group and I know everyone is capable of doing this job," he said. "I'm just trying to get better at everything and improve my game and help out the young guys.
"We have great athletes here. We have a great scheme and we have the potential to be very explosive. I can't wait for that first game. It's pretty exciting."
November, 15, 2012
11/15/12
12:00
PM PT
A few storylines to keep an eye on this week:
And the winner in the North is ...? Could be Oregon. If the Ducks can get past visiting Stanford this week, they'll lock up the division and earn a spot in the Pac-12 championship game. They still have to go through Oregon State next week -- but wins over both of those clubs should help them in the BCS standings. Well, at least on the computer side. The Ducks hold the No. 1 spot in both human polls. So if they win out, they will be in the national championship game. The North Division winner could be Stanford, too. If the Cardinal win this weekend and close out with a victory at UCLA next week, Stanford and Oregon will each have one conference loss, with the Cardinal holding the tiebreaker.
And the winner in the South is ...? We'll see Saturday, but we know it will be from Los Angeles. The USC-UCLA rivalry hasn't been one of late. UCLA's last victory over the Trojans came in 2006 -- a 13-9 win that snapped USC's NCAA record of 63 consecutive games scoring at least 20 points and also cost the Trojans a spot in the BCS title game. The scenario is winner-take-all -- regardless of what happens next week.
On the bubble: Arizona State and Utah are both trying to make the postseason. ASU has the easier road, needing just one win to lock up bowl eligibility. And it hosts a Washington State team that is winless in conference play. Utah has to first beat Arizona at home this week, then win at Colorado next. The Utes are yet to win a road game this year.
QB carousel: Seems like it wouldn't be a normal week in the Pac-12 if there weren't quarterback issues. Almost half of the league has uncertainty at the position heading into this weekend. Arizona's Matt Scott might not be able to go again this week; same for Cal's Zach Maynard. Nick Hirschman suffered a concussion last week for Colorado, Jeff Tuel was injured for Washington State, opening the door for Connor Halliday's five touchdowns. And the Sean Mannion-Cody Vaz back-and-forth continues at Oregon State, pending Vaz's health.

[+] Enlarge


Rick Scuteri/US PresswireUtah's chances at the postseason hinge on doing a better job stopping Ka'Deem Carey than Colorado.

Quality matchups: If the Utes do want to get into the postseason, they'll have to find a way to slow down Arizona running back Ka'Deem Carey, who rushed for a Pac-12 record 366 yards and five touchdowns in last week's victory over Colorado. It's Utah's strength as a defense versus Arizona's strength as an offense. You can say the same for the Oregon-Stanford matchup, which pits Oregon's league-best rushing attack against Stanford's conference-leading rush defense.
Gone in 60 seconds: Per the folks at ESPN Stats & Information, Stanford is the only FBS team that hasn't allowed a touchdown drive of three plays or fewer; it is also one of only five teams that has not allowed a touchdown in less than a minute. Oregon, of course, leads the FBS in touchdown drives that last one minute or less. Stopwatches at the ready.
The SoCal tight-end factor: More super-cool stuff from the Stats & Info group: Matt Barkley and Brett Hundley have combined to throw 17 touchdowns and zero interceptions when targeting their tight ends. Hundley completes 75.6 percent of his passes when targeting a tight end; Barkley is at 67.2 percent. Could make for an interesting sidebar to Saturday's matchup.
Off and running: Washington's Bishop Sankey heads to Colorado as one of the hottest running backs in the conference right now. He ha rushed for 351 yards and four touchdowns in his past two games and last week became the 11th player in UW history to reach the 1K milestone. Expect him to add to that total. Colorado ranks last in the conference against the run, yielding 227.6 yards per game on the ground to go with a conference-worst 25 rushing touchdowns allowed.
Decisions, decisions: When California coach Jeff Tedford gets back to the Bay Area following the Bears' trip to Oregon State, he'll have sit down with athletic director Sandy Barbour to discuss the future of Cal football and what role -- if any -- he plays in it. Walking into that meeting with a victory over the No. 16 Beavers would probably go over better than closing out the year on a five-game losing streak.
November, 11, 2012
11/11/12
7:00
AM PT
What did we learn in Week 11? Read on.
Hogan was the right choice for Stanford:
It seemed like odd timing that Stanford coach David Shaw switched starting quarterbacks as his team headed into its biggest game of the year, but freshman
Kevin Hogan
made his coach look smart, though it wasn't always pretty. Hogan completed 22 of 29 passes for 254 yards with three touchdowns and two interceptions in a 27-23 victory over Oregon State. He also rushed for 49 yards on 11 carries. His biggest pass was a 13-yard strike to tight end
Zach Ertz
for the winning points. Hogan was effective with his feet and his arm, and he didn't wilt when things didn't go his way through most of the second and third quarters. Now he faces a bigger test: Oregon at Autzen Stadium.
[+] Enlarge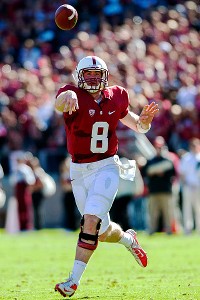 Ed Szczepanski/US PresswireKevin Hogan kept an even keel in Stanford's comeback victory over Oregon State.
USC shows some grit:
USC held Arizona State to only 250 yards and three second-half points in a 38-17 win. The Trojans trailed 17-14 early in the third, and it looked as though they might pack it in for the season. But with senior center
Khaled Holmes
exhorting his teammates on the sidelines, USC showed some grit, particularly on defense. The same defense that got ripped by Arizona and Oregon's spread offenses shut down the Sun Devils, recording six sacks and forcing four turnovers. It was far from perfect. On the day quarterback
Matt Barkley
set the Pac-12 career passing yardage record (12,026 yards), surpassing the previous mark held by Carson Palmer, he threw three interceptions. Still, the Trojans play archrival UCLA next weekend for the Pac-12 South Division title.
Ducks are banged up with Stanford coming to town, but will that matter?
Oregon arrived at California with
major injury issues
, particularly with its defensive front, and things only got worse as the game went on. The Ducks, however, pulled themselves together and dominated the Bears in the second half, winning 59-17. Still, Stanford, which visits Autzen Stadium on Saturday, is a much better team that Cal, particularly on the offensive line. Will the Ducks get some guys back, such as defensive linemen
Ricky Heimuli
,
Dion Jordan
and
Isaac Remington
? The Ducks don't talk about injuries, but injuries will be something lots of folks are talking about this week. Or speculating on.
UCLA gets its big shot at vulnerable USC:
While UCLA let up in the second half at Washington State -- the Bruins were outscored 29-7 and won only 44-36 -- that doesn't change the big possibilities that lie ahead. Now 8-2, the Bruins can win the Pac-12 South Division if they beat archrival USC in the Rose Bowl on Saturday. That would mean stomping on the Trojans' once-hyped season, which would inspire plenty of consternation in Heritage Hall. UCLA fans would love to do that. And it would mean the Bruins could end up in the Rose Bowl, either as the Pac-12 champions or as an at-large selection. So big stakes are at hand.
Huskies step up, Utes step back:
Utah and Washington squared off as teams that weathered midseason adversity and had won two in a row. But only one could maintain positive momentum. The Huskies' decisive 35-14 victory boosted their record to 6-4, earning them bowl eligibility. They can continue to climb the pecking order if they can beat Colorado and Washington State over the next two weekends, though both games are on the road. The Utes' offensive surge came to an end, with only 55 yards passing. They need to win their next two games, at home to Arizona and at Colorado.
Picking two first-team All-Pac-12 running backs won't be easy
: Arizona running back
Ka'Deem Carey
rushed for 366 yards -- a new Pac-12 single-game record -- and five touchdowns in Arizona's 56-31 win over Colorado. He will take over the Pac-12 rushing lead, as Oregon's
Kenjon Barner
(65 yards) and UCLA's
Johnathan Franklin
(66 yards) had subpar games. The final two weeks probably will decide the two guys who end up first-team All-Pac-12.
October, 20, 2012
10/20/12
11:21
PM PT
In a game between 3-3 teams looking to turn a positive corner at midseason, Arizona took a right turn. And Washington crashed.


It wasn't surprising that the Wildcats offense poured it on in a
52-17 victory
, but it was a bit of a surprise that the defense pitched a second-half shutout.
The Huskies trailed 31-17 at halftime and got a turnover to start the third quarter, but quarterback
Keith Price
immediately fumbled the ball back to the Wildcats.
Arizona, now 4-3 overall and 1-3 in the Pac-12, piled up 533 yards against 380 from the Huskies. Arizona, the conference's top passing team, leaned on the running game against the Huskies, rushing for 277 yards, including 172 from
Ka'Deem Carey
. Quarterback
Matt Scott
did pass for 256 yards and four touchdowns.
The Wildcats play host to USC next Saturday, which could be an intriguing game, particularly with USC perhaps thinking about their Nov. 3 game with Oregon.
Washington falls to 3-4 and 1-3. It plays host to Oregon State on Saturday.
October, 7, 2012
10/07/12
6:00
AM PT
So much offense! So much defense! So hard to choose ...