Washington Huskies:

Cooper Pelluer
August, 27, 2012
8/27/12
4:39
PM PT
SEATTLE -- After an eventful three weeks of fall camp, Washington coach Steve Sarkisian said the "volume gets turned up" this week as the Huskies prepare for the season opener against San Diego State.
"I thought the guys brought a real sense of energy and enthusiasm, a little bit of an edge to practice today," Sarkisian said Monday during his weekly news conference.
Whether it was injuries or position changes, Sarkisian said the adversity has shaped the team that will take the field at 7:30 p.m. Saturday at CenturyLink Field.
"We got dealt our fair share of things early on, obviously, from some injuries to guys moving around to some different positions, but the end result, I believe we're better for it and excited to go play," Sarkisian said.
[+] Enlarge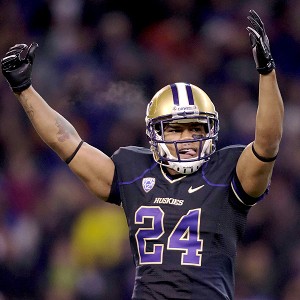 Steven Bisig/US PresswireHuskies junior Jesse Callier will be the starter at running back.
Callier, Sankey to split reps:
Jesse Callier
said his father always told him it's best to "come from the bottom."
With Chris Polk in the NFL, Callier gets his chance to force his way into the spotlight as a junior.
"Come from the bottom and no one is expecting you and, next thing you know, you're on them," Callier said.
Callier is listed at the top of the depth chart with sophomore
Bishop Sankey
. Both backs will get carries. Both backs will get a chance to prove they can play.
"I think we've got a good plan in place for both those kids to, hopefully, put them in position to do what they do to be successful," Sarkisian said. "We'll get a better feel for them as the game goes on."
Sophomore captain John Timu:
Only a sophomore, linebacker
John Timu
was named one of the Huskies' three defensive captains over the weekend.
When asked about the decision, Sarkisian praised Timu's maturity.
"He's a really mature guy," Sarkisian said. "Sometimes he doesn't show as much emotion as maybe we would all like, but that calming effect that he has, I think, is why he has been able to persevere so much in his own personal life with some of the injuries and things.
"There's some natural leadership that comes out of him that guys really recognize. I think it speaks volumes to the maturity that he possesses."
Injury report:
No new injuries were reported Monday.
Steve Sarkisian listed
Hau'oli Jamora
,
Deontae Cooper
,
Nate Fellner
,
James Johnson
,
Jamaal Kearse
and
Cooper Pelluer
as the six players out for Saturday's season opener.
Pelluer and Cooper are already dealing with season-ending injuries. Cooper (knee) and Jamora (knee) will have surgery on their respective injuries Thursday.
Quotable:
When asked about his goals for the Huskies in 2012, quarterback
Keith Price
said, "We're trying to win the Pac-12; that's our goal. Obviously we've got to earn respect and we have to win games."
Other notes
August, 22, 2012
8/22/12
6:00
AM PT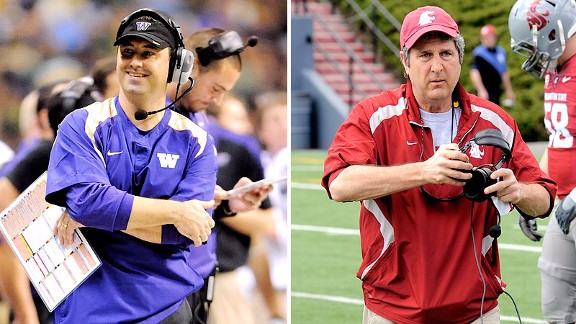 Icon SMI
Steve Sarkisian and Mike Leach figure to have some heated battles along the recruiting trail.
Scott Pelluer remembers sitting in a room, watching film of Jason Gesser.
It was 1997, and Pelluer -- a Washington State graduate -- was an assistant coach at Washington. Gesser was a quarterback recruit at Honolulu Saint Louis High School.
"We had him in for a visit," Pelluer said. "I don't remember who we picked, but we picked somebody else. Jason Gesser goes to WSU and tears it up."
Gesser went on to lead the Cougars to consecutive 10-win seasons, finishing seventh in the 2002 Heisman Trophy voting.
When it comes to recruiting high school athletes to Pullman, Wash., the Cougars have always had to dig a little deeper. No matter the wins and losses, Washington has always gone after bigger names, while Washington State has mined hidden gems.
August, 6, 2012
8/06/12
3:10
PM PT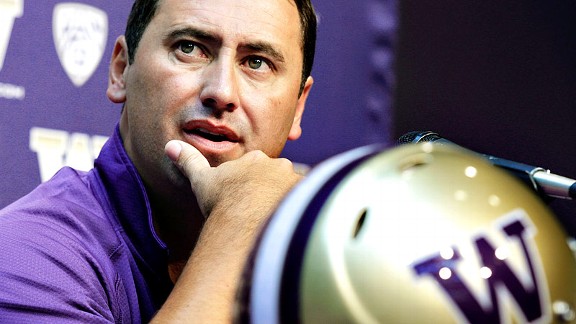 AP Photo/Ted S. WarrenWashington head coach Steve Sarkisian likes what he has seen from Keith Price during the offseason.
When Steve Sarkisian sat down for his preseason press conference Monday, he talked about the growth of his program. He talked about elevated expectations. He talked about how far Washington has come and where it is headed.
"I feel like we're becoming a more mature football team," said Sarkisian, who is in his fourth year as the Huskies' head coach. "I know sometimes age is the issue and we don't have many seniors and all of those things, but I think we have experience.
"I really feel like this is a tight-knit group, probably our closest, tightest team that we've had where the last four classes have come in together with the sole purpose of winning a championship and have been recruited by myself and the coaches on this staff."
Heading into the first fall practice, Sarkisian talked about the continuity that comes when players have matured under a consistent message and philosophy. He talked about the sense of urgency that comes with a young, but experienced roster he referred to as "a focused group with a purpose and maybe a little bit of a chip on their shoulders."
He covered everything from digital playbooks to backup quarterbacks. Here is look at some of the highlights from Sarkisian's meeting with the media:
QB Keith Price takes next step as a leader
As good as Keith Price was in his first season as Washington's starter, Sarkisian was curious to see how his quarterback would continue to develop.
"You can go out and have a great year, but how are you going to get better?" Sarkisian said. "What are you going to do to take the next step to get better?"
After watching Price build his body – he weighs more than 200 pounds – and continue to grow as a leader, Sarkisian continues to be impressed with the passer who threw for 3,063 yards and 33 touchdowns in 2011.
"Keith has a great deal of confidence," Sarkisian said. "He's a tremendous leader. We've all seen his ability, what he brings to practice, the way he practices. Keith has put in the time and I think his teammates recognize that. He just continues to get stronger and look better and better."
When it comes to freshmen, Washington will wait and see
When asked about his expectations for highly-touted freshman safety
Shaq Thompson
, Sarkisian said, "He's here. He looks in shape. He cleared his physical."
But, as far as the impact he will have in his first year, well, that remains to be seen.
"You've got to give me a couple days. I don't know exactly what we're getting. We're going to put him out there in different scenarios and different situations just like all of our freshmen will."
Freshmen defensive backs
Brandon Beaver
, Cleveland Wallace and
Darien Washington
will all get opportunities but, as Washington builds depth, there isn't as much of a need to push players onto the field before they prove they are ready.
"I think it's getting harder for them to get on the field, but that doesn't mean that we're not going to give them the opportunity to show what they can do and if they're the best player for the spot to make us the most successful team, then they'll earn that job," Sarkisian said.
Battle at backup quarterback
Keith Price is the unquestioned starting quarterback at Washington, but who will emerge as the backup?
Derrick Brown
, who redshirted as a freshman, will get a "pretty extensive" look, along with true freshmen
Jeff Lindquist
and
Cyler Miles
.
"We're going to give Cyler and Jeff as much as we can, especially early, to get a gauge for where they are," Sarkisian said. "We're going to give them as much as we can."
Playbook goes digital
The days of the paper playbook are a thing of the past for Washington, as Sarkisian revealed the Huskies have transferred everything over to the iPad.
"We've gone totally digital from a playbook standpoint," Sarkisian said. "Everything is on the iPad now, which I know the players embrace. We're cutting down on the big notebook, but also I think it's something they relate to."
In addition to being able to access the playbook, players can now access film and receive messages from the coaching staff.
"This is a digital world that we're living in and I think the players probably understand the iPads better than we do," Sarkisian said.
Expectations elevated on offense
Whether it's sophomores
Kasen Williams
and
Austin Seferian-Jenkins
or running backs
Jesse Callier
and
Bishop Sankey
, Sarkisian said the expectations have been elevated for some of his younger skill-position players.
"We have some players on our roster whose expectations have risen, just as our program has," Sarkisian said. "I know the bar that we're setting for them is higher and it's higher from within."
Notes:
• Running back Ryan McDaniel has yet to be completely cleared as he continues to recover from an ACL injury.
Cooper Pelluer
also continues recover from shoulder surgery.
• Matt Lyons, a redshirt freshman linebacker, has decided to transfer.
•
Dwayne Washington
, a freshman receiver, is yet to be cleared by the NCAA. His case is still being reviewed by the NCAA.
•
Cory Littleton
, a freshman linebacker, has been cleared by the NCAA.