Washington Huskies:

Cody Bruns
December, 11, 2012
12/11/12
8:00
AM PT
Editor's note:
Throughout the week, HuskyNation will look back at the top 5 moments of the 2012 season. Here is No. 4:
SEATTLE --
Keith Price
has weathered his share of criticism throughout the year after turnovers and inconsistency at times derailed lofty preseason expectations.
Coming off a breakout season as a sophomore, Washington's quarterback set a high bar for himself and at times he struggled.
To continue reading this article you must be an Insider
November, 26, 2012
11/26/12
8:00
AM PT
Whenever a team squanders an 18-point lead in the fourth quarter before going on to lose in overtime, the defeat hurts. When that loss comes against the program's cross-state rival, the sting lingers.
After falling to Washington State, 31-28, in the Apple Cup, Washington is left with questions it thought it had answered. The Huskies' four-game winning streak was snapped and they fell out of the top 25, putting more importance on ending the season with a bowl win.
As the Huskies continue to digest what happened against the Cougars, here is a look at who played well in Saturday's loss in Pullman, Wash.
To continue reading this article you must be an Insider
November, 19, 2012
11/19/12
9:00
AM PT
SEATTLE -- Steve Sarkisian's speech got through to his players. Washington's coach described his halftime talk as "tough love." Whatever he said, it worked.
After being held to a touchdown over the first two quarters, the Huskies erupted for 31 second-half points to pull away from Colorado, 38-3, on the road Saturday.
Washington now has an opportunity to build on its four-game winning streak with a victory Friday at Washington State in the Apple Cup.
To continue reading this article you must be an Insider
November, 18, 2012
11/18/12
8:00
AM PT
A look at positives and negatives from Washington's 38-3 win at Colorado.
THREE UP
1. Keith Price:
The offense struggled at the start against Colorado, but the Huskies figured things out in the third quarter, erupting for 17 points. The quarterback led the way and finished the day completing 22 of 29 passes for 248 yards and five touchdowns -- he tied a school record -- spread around to five receivers.
To continue reading this article you must be an Insider
August, 22, 2012
8/22/12
11:51
AM PT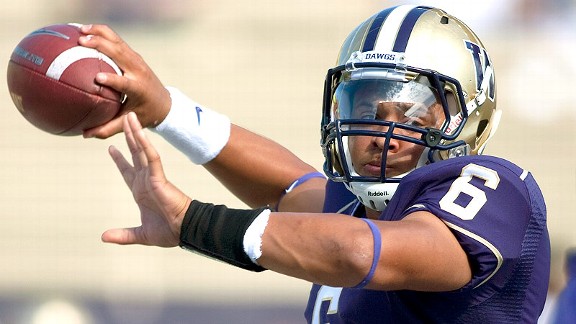 Jesse Beals/Icon SMIRedshirt freshman signal-caller Derrick Brown is more 'seasoned' in his second year at Washington.
SEATTLE -- There were moments last season when
Derrick Brown
felt like he was deciphering a lost language.
"I was like, man, I'm never going to get this," the quarterback said.
While watching film, Washington coach Steve Sarkisian would ask the freshman to identify a defensive coverage. He was forced to admit, "I don't know."
An all-around talent coming out of Murrieta (Calif.) Vista Murrieta, Brown felt like an athlete trying to play quarterback. Now, after a redshirt year spent buried in the Huskies' playbook, Brown feels comfortable. When Sarkisian asks him to dissect a defense, he has an answer.
"This year, I'm more seasoned," he said. "I feel like a real quarterback now."
More than two weeks into fall camp, comfort has produced confidence. That belief in his ability has produced productive performances.
"Derrick, progressively, has gotten better and better and better," Sarkisian said. "He's throwing the ball with more conviction. The belief in what he's seeing, what he's reading is there and [he's] trusting it. In turn, he's playing more confidently."
The 6-foot-2, 245-pound redshirt freshman fired a pass Monday that traveled about 60 yards in the air before landing in the cradled arms of receiver
Cody Bruns
. One day later he found freshman
Kendyl Taylor
on a deep route.
He has shown how far he's come by making plays in practice.
"Things are getting better," Brown said. "I'm feeling better. I'm feeling more comfortable with the guys. I'm feeling more comfortable with the offense. I know my stuff now."
Brown has been getting a bulk of the snaps with the second-team offense recently, but he knows he needs to continue earning opportunities if he wants to be
Keith Price
's backup.
"Nothing is really set in stone," Brown said. "I'm not the No. 2 guy for sure. I'm just trying to come out here and work hard every day and earn that spot."
As the Huskies prepare for their season opener against San Diego State on Sept. 1 at CenturyLink Field, Brown said consistency is key for him to take the next step in his development.
"Some days, I come out here and have a great day," he said. "Some days, I'll come out here and have not so good of a day. I've just got to be consistent each and every day. And not just each and every day, but each and every period -- whatever I'm doing, just be consistent."
At the start of fall camp, a lot of the conversation surrounded highly-touted freshmen
Cyler Miles
(Denver, Colo./Mullen) and
Jeff Lindquist
(Mercer Island, Wash./Mercer Island). That didn't bother Brown.
"I knew they were coming in highly touted guys," he said. "I didn't really pay too much attention to that. I just try to do me, get better each and every day."
While Washington wants to keep Price on the field for the full season, Brown is prepared to play if needed.
"If something were to happen, I just want to go in there, not lose a step and help my team win any way possible," Brown said.
Until his name is called, "I'm just looking up, not looking down," Brown said.
August, 20, 2012
8/20/12
6:42
PM PT
SEATTLE -- Here is a quick-hitting look at Washington's 13th day of fall camp:

Best practice of fall camp

After a Saturday scrimmage Washington coach Steve Sarkisian said "lacked a little bit of energy" the Huskies returned to the field Monday and put together one of their best performances of fall camp.

"I thought this was, arguably, our best practice of training camp up to this point," Sarkisian said. "Our guys really responded to the challenge. It was great."


August, 11, 2012
8/11/12
11:07
AM PT
SEATTLE –
Kasen Williams
needed a place to stay.
[+] Enlarge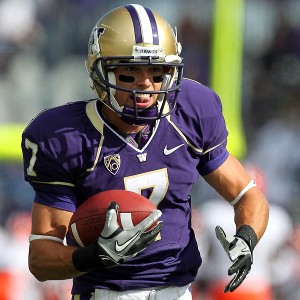 Otto Greule Jr/Getty ImagesYounger teammates say Huskies WR Cody Bruns helps them see their early struggles aren't unique.
Washington's talented young receiver wanted to spend the summer training with teammates. All he needed was a couch to crash on. He found a futon in
Cody Bruns
' living room.
Whether it was history lessons or training sessions, Williams learned a lot from the 5-foot-11, 183-pound receiver.
"It was cool, because Cody is an older guy on the team and he's been through so much," said Williams, a sophomore. "He came here and his first year they went 0-12. He kind of gave me a lot of history on how it was. He's a Washington guy, too, so we get along really well."
Bruns taught Williams about work ethic. He shared tips about taking the next step as a Division I receiver. He shared the leadership skills acquired over a college career.
"He's been in that situation before and he knows what it takes," Williams said.
Because of the lessons learned this summer, Williams had no problem sleeping on that futon.
For Bruns, helping out younger players is just part of being "the old guy in the room."
August, 8, 2012
8/08/12
8:01
PM PT
SEATTLE -- Here is a quick-hitting look at Washington's third day of fall camp.
Recruiting update

Junior college offensive lineman Nic Purcell, who is set to begin his second season at Golden West Community College in Huntington Beach, Calif., spent a second day watching Washington's practice, getting to see the Huskies put on shoulder pads for this first time this season.
A 'teachable moment'

Quarterback
Keith Price
dropped back to pass. With the pocket collapsing, he tried to make a play. He held onto the ball too long.
When the play was over, he heard about his mistake from Washington coach Steve Sarkisian. It was a "teachable moment," a chance in camp to emphasize a point that the Huskies want to minimize sacks and reduce unnecessary hits.
Sarkisian knows that, when games start, instincts take over. It's better to press the point early in camp.
"Keith has a unique ability to extend plays," Sarkisian said. "We all know that. We saw it for a season last year. But he also had some plays where he tried to extend too long and put us in some tough situations."
While he learns lessons in camp, Price joked that he endured a few hard hits that helped hammer the point home last season.
"When you get hit a couple of times, get nicked up a couple times, you start to understand that," Price said.
"A lot of quarterbacks have that issue, just trying to make a play. Sometimes you just have to be able to burn the ball and just live to see another play."
Managing intensity

Sarkisian said he doesn't want to take away linebacker
Nate Fellner
's "stinger."
At the same time, though, he won't tolerate late hits and avoidable penalties. After a late hit on Day 3, Feller heard about the mistake.
"He's a physical player," Sarkisian said. "We love that about him. That's why we moved him to linebacker. But dumb penalties are dumb penalties. We have to eliminate them."
Freshman QB Cyler Miles shows impressive poise

The third day of fall camp is always one of the most difficult for young quarterbacks.
In addition to learning the offense at an accelerated pace, they put their pads on for the first time. The intensity elevates. When the team works on its red zone offense, the field shrinks. Open passing windows close quickly. The pressure mounts.
Faced with that situation Wednesday, freshman Cyler Miles handled it well. He connected with
Cody Bruns
and
Josh Perkins
for touchdowns, making an early impression on Sarkisian.
"Cyler did some things today that were pretty impressive," Sarkisian said. "I think he shows a great deal of composure for a young guy."
WR Cody Bruns does it all

One of the most consistent players throughout the first three days of camp has been receiver Cody Bruns.
In addition to catching passes, he threw for a touchdown. Sarkisian joked that he could probably put the 5-foot-11, 183-pound senior on the offensive line and he would still make plays. He even went so far to compare Bruns to former Major League baseball player Steve Lyons.
"You'd look up, he's at first," Sarkisian said. "He's in right field. He'd get on the mound and pitch. And that's how Cody feels to me. He just kind of does cool stuff that, for us, is fun because we can put him in spots and trust him."
Kicker Travis Coons shows off big leg

One of the bigger questions facing Washington coming into fall was who would step into the void filled by the graduation of kicker Erik Folk.
Junior college transfer Travis Coons made a case for the job after drilling a 53-yard field goal Wednesday.
"Travis had a great day today," Sarkisian said.
August, 7, 2012
8/07/12
7:22
PM PT
SEATTLE -- Here is a quick-hitting look at Washington's second day of fall camp.
Recruiting update
At 6-foot-6, 295 pounds, Nic Purcell stands out in a crowd. The offensive tackle at Golden West Community College in Huntington Beach, Calif., watched Washington's practice Tuesday, checking out the offensive line drills.
To continue reading this article you must be an Insider