Washington Huskies:

Brandon Beaver
May, 15, 2013
May 15
5:30
PM PT
Unlike last year, there aren't nearly as many questions surrounding the Washington defense as the Huskies head into the final stretch before fall camp.
Last year a new scheme and new coaches were being installed, headlined by new defensive coordinator Justin Wilcox. The Huskies' defense was abysmal in 2011 -- so head coach Steve Sarkisian blew it up and started from scratch.
Now the Huskies are looking to build off of the momentum they gained in 2012 when they made huge strides in one year under Wilcox & Co.
"The numbers don't lie," Sarkisian said.
They certainly don't.
The biggest advances were in the secondary, where the Huskies jumped from 87th to 27th in pass efficiency defense, 106th to 31st in total defense, 108th to 39th in scoring defense and 116th to 23rd in pass defense. They had 17 interceptions last year compared to 10 the year before.
"Our secondary really had a very good season for us last year," Sarkisian said. "I thought Justin Wilcox, Keith Heyward, our secondary coach, really came in and did a great job. ... You look at the increase in play we had in the secondary -- our pass defense numbers, our ability to create turnovers -- I think really speaks volumes to their coaching and their ability to develop our players."
That's what Sarkisian is banking on in 2013 -- player development. More specifically, at the cornerback spot where they have to replace first-round draft pick Desmond Trufant. Sarkisian called the competition "healthy" this spring, but isn't anywhere closer to declaring anyone as the leader in the clubhouse for that starting spot. And it might end up being by-committee or which player has the hot hand that week. A few defensive backs have switched positions or spent time at safety and corner in an effort to make the defensive backfield deeper and more versatile.
With
Marcus Peters
, who started the final eight games opposite Trufant last season, back on one side, the competition heated up over spring between
Travell Dixon
and
Greg Ducre
. Sarkisian said that redshirt freshman
Cleveland Wallace
has
also made a big push
. Dixon is a JC transfer (once committed to Alabama) and Ducre had 15 tackles while appearing in 13 games last season.
"Desmond Trufant was a great player for us," Sarkisian said. "Anytime you have a first-round draft pick at corner it tells you the quality of player you have. But I think we've got some really capable guys that are stepping in."
If the Huskies can shore up that spot, expect the secondary to make even bigger strides in 2013.
Sean Parker
, who started all 13 games at safety, returns as the unquestioned leader of the secondary.
Will Shamburger
, who started two games last year, will see a larger role. But there's some good competition there as well.
Tre Watson
(who can pitch in either at corner or safety) is in the mix, and early enrollee
Trevor Walker
had a strong first spring.
Brandon Beaver
, who converted from corner to safety late last season but was limited in the spring, is also going to press for playing time.
Lots of names. But that also means lots of depth.
"We've got a good amount of talent back there," Sarkisian said. "It's about finding the right combination of those guys. For some of those guys who were redshirt players for us last year, Travell, Brandon, Cleveland, fall camp is going to be big for them. This spring was good to get the terminology and fundamentals and techniques after spending all year on the service team last year. There is a healthy competition going on back there and the end result is we're fortunate to have good depth and good coaches and we feel good about our pass defense when the fall rolls around."
March, 12, 2013
Mar 12
7:30
AM PT
SEATTLE -- As Washington continues to develop its program under coach Steve Sarkisian, expect the Huskies to make the cornerback position a priority.
They did exactly that in the 2013 class, landing
Kevin King
(Oakland, Calif./Bishop O'Dowd),
Jermaine Kelly
(Los Angeles/Salesian) and
Patrick Enewally
(Cerritos, Calif./Gahr).
When Washington recruits corners, they want tall, physical prospects capable of locking up big receivers in man-to-man coverage. The Huskies want players with frames that fit a very specific mold.
To continue reading this article you must be an Insider
January, 7, 2013
Jan 7
3:48
PM PT
Back in September, when
Jermaine Kelly
(Los Angeles/Salesian) was in Seattle for an official visit to Washington, the cornerback said the Huskies "ooh'd and ahh'd" him.
At the time, the 6-foot-1, 171-pound senior was a UCLA commit. He was exploring his options. He was trying to find the best fit for his future.
Now, about a month before signing day, Kelly has decided to commit to Washington, the program he watched knock off Stanford, 17-13, on Sept. 27 while wearing a purple-and-white scarf.
To continue reading this article you must be an Insider
August, 31, 2012
8/31/12
9:34
AM PT
The rash of injuries Washington endured at the linebacker position throughout fall camp further proved that depth is essential when building a successful program.
The Huskies had so much depth at safety, they were able to shuffle players to plug holes.
For some players, such as redshirt freshman
Travis Feeney
, the move from safety to linebacker resulted in a better fit. For freshman
Shaq Thompson
, it provided a chance to prove he could play right away.
To continue reading this article you must be an Insider
August, 14, 2012
8/14/12
7:36
PM PT
SEATTLE -- Washington gave its young players an extended chance to prove they can play in a simulated Saturday setting during the Huskies' eighth day of fall camp Tuesday afternoon.
The offense lined up on one side of the field, with the defense on the other. The coaching staff sent the players out on the field and let them make decisions.
The Huskies scrimmaged for a majority of practice, providing a chance for the coaching staff to assess where the team is and where it is headed.
"This was the first time we let them go out on the field and have to play, without a coach in their ear telling them what to do, without being able to look at a script to see what might be coming," Washington coach Steve Sarkisian said.
Sarkisian said the end result was "pretty good."
The offense spent too much time in the huddle and some of the young players on defense struggled with communication, but Sarkisian was encouraged. Any issue can be addressed and fixed.
"I didn't see something glaring where, jeez, we're playing the wrong guy at the wrong spot," Sarkisian said. "It's about being confident. It's about doing what you've been prepared to do throughout camp. We've got to go look at this thing and then point out those errors, those mistakes that are definitely correctable."
The practice was an opportunity to put freshmen like cornerback
Brandon Beaver
and receivers
Jaydon Mickens
and
Kendyl Taylor
in similar situations to the ones they will see on Saturdays.
Sometimes they succeeded -- Taylor caught a 35-yard touchdown from quarterback
Keith Price
. Sometimes they didn't -- receiver
Marvin Hall
beat Beaver deep, catching a 45-yard touchdown pass from freshman quarterback
Cyler Miles
.
Sarkisian said he sees progress from the offense and defense, a significant improvement since spring practice. But there is still plenty to improve on.
"I thought there was plenty of good things out there, but I know we can be better," Sarkisian said.
Price provided the play of the day, hitting
on a 47-yard scoring strike. Safety
Sean Parker
picked off Price and linebacker
John Timu
provided a welcome-to-college hit on running back
Erich Wilson II
.
But both Sarkisian and defensive coordinator Justin Wilcox see room for improvement.
"We've got a long way to go," Wilcox said. "There were way too many mistakes today. We showed some good things. There were obviously some bad things."
Quotable
When asked about Taylor and Mickens, Sarkisian said, "They've both had great camps. I feel like I talk about them every day. Again, they are going to have probably a handful of plays they want back from today as well, but that's all part of putting them in the same situation and letting them play."
Notes
• Safeties
Justin Glenn
and
Shaq Thompson
missed a second day with mild concussions, but there were no new significant injuries.
• Miles continues to make a case for securing the backup quarterback spot as a freshman, tossing a pair of touchdowns.
August, 6, 2012
8/06/12
3:10
PM PT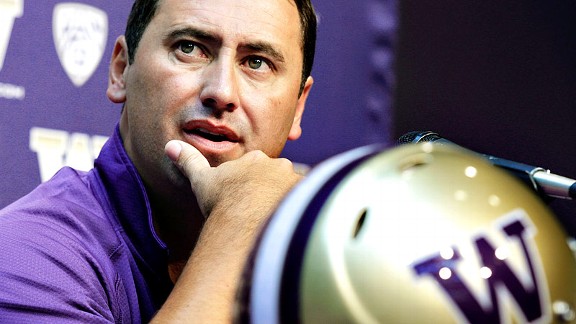 AP Photo/Ted S. WarrenWashington head coach Steve Sarkisian likes what he has seen from Keith Price during the offseason.
When Steve Sarkisian sat down for his preseason press conference Monday, he talked about the growth of his program. He talked about elevated expectations. He talked about how far Washington has come and where it is headed.
"I feel like we're becoming a more mature football team," said Sarkisian, who is in his fourth year as the Huskies' head coach. "I know sometimes age is the issue and we don't have many seniors and all of those things, but I think we have experience.
"I really feel like this is a tight-knit group, probably our closest, tightest team that we've had where the last four classes have come in together with the sole purpose of winning a championship and have been recruited by myself and the coaches on this staff."
Heading into the first fall practice, Sarkisian talked about the continuity that comes when players have matured under a consistent message and philosophy. He talked about the sense of urgency that comes with a young, but experienced roster he referred to as "a focused group with a purpose and maybe a little bit of a chip on their shoulders."
He covered everything from digital playbooks to backup quarterbacks. Here is look at some of the highlights from Sarkisian's meeting with the media:
QB Keith Price takes next step as a leader
As good as Keith Price was in his first season as Washington's starter, Sarkisian was curious to see how his quarterback would continue to develop.
"You can go out and have a great year, but how are you going to get better?" Sarkisian said. "What are you going to do to take the next step to get better?"
After watching Price build his body – he weighs more than 200 pounds – and continue to grow as a leader, Sarkisian continues to be impressed with the passer who threw for 3,063 yards and 33 touchdowns in 2011.
"Keith has a great deal of confidence," Sarkisian said. "He's a tremendous leader. We've all seen his ability, what he brings to practice, the way he practices. Keith has put in the time and I think his teammates recognize that. He just continues to get stronger and look better and better."
When it comes to freshmen, Washington will wait and see
When asked about his expectations for highly-touted freshman safety
Shaq Thompson
, Sarkisian said, "He's here. He looks in shape. He cleared his physical."
But, as far as the impact he will have in his first year, well, that remains to be seen.
"You've got to give me a couple days. I don't know exactly what we're getting. We're going to put him out there in different scenarios and different situations just like all of our freshmen will."
Freshmen defensive backs
Brandon Beaver
, Cleveland Wallace and
Darien Washington
will all get opportunities but, as Washington builds depth, there isn't as much of a need to push players onto the field before they prove they are ready.
"I think it's getting harder for them to get on the field, but that doesn't mean that we're not going to give them the opportunity to show what they can do and if they're the best player for the spot to make us the most successful team, then they'll earn that job," Sarkisian said.
Battle at backup quarterback
Keith Price is the unquestioned starting quarterback at Washington, but who will emerge as the backup?
Derrick Brown
, who redshirted as a freshman, will get a "pretty extensive" look, along with true freshmen
Jeff Lindquist
and
Cyler Miles
.
"We're going to give Cyler and Jeff as much as we can, especially early, to get a gauge for where they are," Sarkisian said. "We're going to give them as much as we can."
Playbook goes digital
The days of the paper playbook are a thing of the past for Washington, as Sarkisian revealed the Huskies have transferred everything over to the iPad.
"We've gone totally digital from a playbook standpoint," Sarkisian said. "Everything is on the iPad now, which I know the players embrace. We're cutting down on the big notebook, but also I think it's something they relate to."
In addition to being able to access the playbook, players can now access film and receive messages from the coaching staff.
"This is a digital world that we're living in and I think the players probably understand the iPads better than we do," Sarkisian said.
Expectations elevated on offense
Whether it's sophomores
Kasen Williams
and
Austin Seferian-Jenkins
or running backs
Jesse Callier
and
Bishop Sankey
, Sarkisian said the expectations have been elevated for some of his younger skill-position players.
"We have some players on our roster whose expectations have risen, just as our program has," Sarkisian said. "I know the bar that we're setting for them is higher and it's higher from within."
Notes:
• Running back Ryan McDaniel has yet to be completely cleared as he continues to recover from an ACL injury.
Cooper Pelluer
also continues recover from shoulder surgery.
• Matt Lyons, a redshirt freshman linebacker, has decided to transfer.
•
Dwayne Washington
, a freshman receiver, is yet to be cleared by the NCAA. His case is still being reviewed by the NCAA.
•
Cory Littleton
, a freshman linebacker, has been cleared by the NCAA.