Washington Huskies:

Thomas Tutogi
October, 18, 2012
10/18/12
7:00
AM PT
SEATTLE -- Here are five storylines as Washington prepares to play at Arizona this weekend:
1. Offensive opportunity:
Through six games this season, Arizona has allowed an average of 32.7 points per game. The Wildcats have given up an average of 297 passing yards and 181.8 rushing yards.
With Washington's offense working to get untracked, the Huskies have an opportunity exploit Arizona's defense. Washington has yet to score more than 21 points against an FBS program this season. Facing a Wildcats team that scores 37 points per game, the Huskies need to get their offense going if they are going to pick up a win on the road in Tucson, Ariz.
To continue reading this article you must be an Insider
September, 28, 2012
9/28/12
9:00
AM PT
SEATTLE -- A look at positives and negatives from Washington's 17-13 win over No. 8 Stanford at CenturyLink Field.
THREE UP
No. 1 Bishop Sankey.
The sophomore running back eclipsed the 100-yard mark for the second consecutive game, finishing with 144 yards and a touchdown. Sure, 61 yards came on one play, but remember, the Cardinal had allowed 124 yards on the ground over three games heading into Thursday night's matchup.
To continue reading this article you must be an Insider
September, 27, 2012
9/27/12
7:38
PM PT
SEATTLE -- Washington went into Thursday's game against No. 8 Stanford wanting to disrupt the Cardinal's rhythm on offense. And, with Stanford clinging to a 6-3 lead after two quarters, the Huskies have done just that at CenturyLink Field, slowing down the Cardinal's ground game while generating enough offense to maintain some momentum.


Stat of the half:
After allowing Stanford to rush for a school-record 446 yards during a loss in Palo Alto, Calif. last season, Washington dialed up its run defense in the first half Saturday. The Huskies held the Cardinal to 27 rushing yards in the first quarter and allowed a total of 47 yards on the ground in the first half.
In fact, The Huskies actually outgained Stanford on the ground in the first half, rushing for 62 yards.
Player of the half:
Kasen Williams
. With Washington needing to make a play to generate some early momentum, Williams split double coverage down the sideline, hauling in a 35-yard pass from
Keith Price
on third-and-10 that helped set up
Travis Coons
' 43-yard first-quarter field goal.
With defenders draped all over him, Williams was able to get his right foot down inbounds, making up for a drop on previous possession. The sophomore receiver caught five passes for 61 yards in the first half.
Linebacker
Thomas Tutogi
(six total tackles and a sack) and running back
Bishop Sankey
(10 carries for 63 yards) also played well in the first half.
What's working for Washington:
Offensive tempo. There were moments in the first quarter when Price was wildly waving his arms at teammates, trying to get them to the line quickly with the Huskies running a no-huddle offense. Huskies coach Steve Sarkisian has talked about his program playing fast and it did that early Thursday, helping the Huskies move the ball against the Cardinal.
What's working for Washington, part II:
Stanford stuck to its gameplan in the first half and tried to run right at Washington. The Huskies were determined to keep the Cardinal from pushing them around though, and played the physical, attacking brand of football defensive coordinator Justin Wilcox had been looking for.
Play that sparked a big play:
Leading by a field goal in the first quarter, Stanford faced a third-and-5 in its own territory. Quarterback
Josh Nunes
lofted a well-thrown pass down the sideline to
Ty Montgomery
. However, before Montgomery could pull in the pass, Washington cornerback
Desmond Trufant
was able to knock the ball out of Montgomery's hands.
That play forced the punt that led to Williams' diving third-down catch, which resulted in Coons' field goal.
September, 10, 2012
9/10/12
10:01
AM PT
Two weeks into the 2012 season, Washington is still looking to find its flow on offense.
After scoring 14 points in the first quarter of a 21-12 win over San Diego State in Week 1, the offense has been kept out of the end zone for seven straight quarters.
With Portland State coming to CenturyLink Field this week, the Huskies have an opportunity to figure a few things out before No. 21 Stanford comes to town in three weeks.
To continue reading this article you must be an Insider
September, 8, 2012
9/08/12
5:53
PM PT
Washington traveled to SEC country Saturday, looking to upset third-ranked LSU at Tiger Stadium. But, despite forcing a turnover on the opening kickoff, the Huskies haven't generated much momentum against a program looking to extend an 18-game home winning streak.


Stat of the half:
The Huskies were out-gained by 161 yards in the first half, after being held to 70 yards on offense, while surrendering 231 yards to LSU.
Player of the half:
Tre Watson
. The former walk-on continues to be a valuable asset on the Huskies' defense. He broke up a pair of first-half passes and totaled three tackles.
What's working for Washington:
Little has gone right for the Huskies so far, but kicker
Travis Coons
seems to be healthy -- he had been dealing with a leg issue -- booting both kickoffs into the end zone and hitting a 34-yard field goal.
What's not working for Washington:
The offense. Dealing with drops and a non-existent ground game, the Huskies were unable to get much going early. Washington was limited to five first downs and negative-11 rushing yards.
Turning point:
Taz Stevenson
forced a fumble on the opening kickoff that was recovered by
Thomas Tutogi
to give Washington some early momentum. However, LSU forced the Huskies to settle for a field goal, so that momentum was short-lived.
August, 21, 2012
8/21/12
10:01
PM PT
SEATTLE -- It has taken the better part of four years, but Washington coach Steve Sarkisian feels like his program finally has flexibility on the offensive line.
With offensive lineman
Erik Kohler
working his way back into the lineup after suffering a knee injury on the first day of fall camp, Sarkisian has the interchangeable parts he has been looking for since he became the Huskies' head coach.
"This is where you're supposed to be and it just took us a little while to get here," Sarkisian said.
After returning to practice Monday, Kohler went through both practices Tuesday, spending some time at center.
While Kohler recovered from the injury,
Micah Hatchie
and
Ben Riva
worked as the starting tackles, while
Colin Tanigawa
and
James Atoe
were the guards.
Drew Schaefer
is the starting center.
Kohler, who was recruited to Washington as a tackle and has spent time at guard, can play any spot along the line, giving the Huskies options. Sarkisian said he would have up to an eight-man rotation on the offensive line early in the season.
"I feel like our offensive line has had a nice training camp up to this point and, now with more healthy bodies, the expectations should only become greater," Sarkisian said. "I think we'll perform even greater with the lack of fatigue."
With redshirt freshman
Dexter Charles
also having a strong camp, the Huskies the kind of depth that allows them to look at redshirting more freshmen.
Injury report
The Huskies continue to get good news with linebacker
Travis Feeney
returning to practice Tuesday, although he is still limited to the non-contact yellow jersey.
Linebacker
Thomas Tutogi
is also back practicing, adding more depth to a position that had been hit hard by injuries.
"It feels like another day we're getting another guy back," Sarkisian said. "As bad as it was early in camp, we're doing pretty good right now."
• Sarkisian said defensive end
Hau'oli Jamora
and running back
Deontae Cooper
should both undergo surgery on their knee injuries this week.
• Washington will play Montana at Husky Stadium in 2017, the university confirmed Tuesday.
August, 13, 2012
8/13/12
10:50
PM PT
SEATTLE -- Washington wrapped up its seventh day of fall camp Monday and, once again, a lot of attention was paid to injuries.
The Huskies did get some good news with offensive lineman
Colin Tanigawa
seeing extensive time at left guard. The redshirt sophomore continues to work his way back after suffering a season-ending knee injury in the Oregon State game last season.
Linebacker
Jamaal Kearse
missed practice with a thigh bruise, while safeties
Shaq Thompson
and
Justin Glenn
were both out with mild concussions. After suffering a sprained knee Saturday, linebacker
Thomas Tutogi
is recovering faster than originally expected.
Washington coach Steve Sarkisian said receiver
Kevin Smith
, who is recovering from an ACL injury, saw significant action during the team's morning practice, but he didn't practice in the later session.
Notes:
• Defensive end
Pio Vatuvei
spent some time at fullback, and Sarkisian said the freshman will see time at the position specific offensive packages.
• Redshirt freshman
Travis Feeney
has moved from safety to linebacker. With the rash of injuries at the linebacker position, Feeney provides depth. If there is one position where the program has an abundance of athletes, it's at safety, making for an easy move.
• Kicker
Travis Coons
made his first five field goals during Washington's evening practice, making two from 38 yards out and one each from 35, 38 and 47. He missed back-to-back attempts from 59 yards out.
August, 12, 2012
8/12/12
10:12
AM PT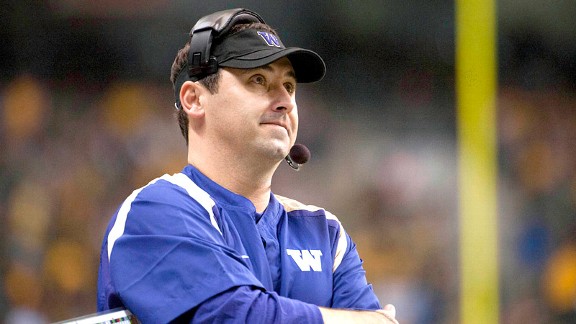 Brendan Maloney/US PresswireSteve Sarkisian is seeing the kind of chemistry developing that can propel the Huskies to great heights.
SEATTLE -- Here is a quick-hitting look at Washington's sixth day of fall camp.
Recruiting update
It was a busy day at Washington camp, with three high school athletes stopping by the Huskies' final practice of the first week.
Bellevue (Wash.) Bellevue teammates Sean Constantine and Myles Jack stopped by together. The linebackers are verbally committed to Washington and UCLA, respectively.
Also taking the time to observe practice was 2014 tight end prospect Chase Blakley (Coeur d'Alene, Idaho/Coeur d'Alene), who has a Washington offer and is high on the Huskies.
Camaraderie, competition and fun
James Johnson talked about how much fun the Huskies are having in camp. Sean Parker mentioned the team chemistry. Steve Sarkisian said this is the closest group he has coached during his tenure as Washington's head coach.
When asked to explain the camaraderie, Johnson and Parker couldn't quite pinpoint an answer. Sarkisian, though, said it stems from players and coaches treating each other like family.
"The one thing about families, that's the time when all of us are, really, the most open," Sarkisian said. "The ability to laugh, have fun and joke, but also be serious and maybe even cry. Those two extremes, and everything in between, sometimes you don't see in locker rooms. We definitely see it.
"I think it's pretty cool that our kids are opening themselves up to one another and to us and, as coaches, we're doing it with them. In the end, that should bring us closer."
First two-a-day of fall camp
Washington went through its first two-a-day of fall camp. The Huskies worked out in helmets during the morning session with a big emphasis on the two-minute drill.
In the afternoon session, the team went through a physical, full-pads practice with a lot of work on short yardage and goal-line situations.
"It was a really good situational practice, very competitive and, I thought, physical," Sarkisian said.
Coons drills long field goal
Leg strength hasn't been an issue for junior college transfer Travis Coons. The kicker made 3 of 5 field-goal attempts in the afternoon session with a long of 55 yards.
"He just keeps getting better to me, a little more consistent each day," Sarkisian said. "He appears to be more comfortable each day just with his approach, his body language."
Injury report
Linebacker Thomas Tutogi suffered a sprained knee during the afternoon practice. Sarkisian said it doesn't appear to be serious.
The Huskies have been hit hard by injuries at the linebacker position throughout fall camp.
Receiver Kendyl Taylor and safety James Sample sat out the afternoon practice with groin injuries.
Team bonding trip
Washington took a team trip to CenturyLink Field Saturday night to watch a preseason NFL game between the Seattle Seahawks and Tennessee Titans.
"It's a great kind of team-bonding activity that we like to do every year," Sarkisian said. "Last year we went to the Mariners game, so this year we get to go to the Seahawks game."
Former Huskies Jake Locker and Devin Aguilar play for the Titans, while Jermaine Kearse is in camp with the Seahawks.
August, 10, 2012
8/10/12
7:30
PM PT
SEATTLE -- Here is a quick-hitting look at Washington's fifth day of fall camp.
Young linebackers get opportunity
With injuries mounting over the first week of fall camp at the linebacker position, young players are getting an opportunity to show what they can do.
Washington coach Steve Sarkisian mentioned
Jamaal Kearse
,
Scott Lawyer
,
Cory Littleton
and
Evan Zeger
as players who saw more snaps Friday.
"I think they embrace it," Sarkisian said. "We talked about it last night as a team that, as one guys goes down, the reason we recruited those guys is to come here and play. I think they're working at it. Just like a lot of young guys, you make some plays and you have some plays you'd like to have back."
Injury report
After leaving practice on a cart Thursday, his foot wrapped in ice, linebacker
Nate Fellner
learned later he had broken the fifth metatarsal in his foot.
Sarkisian said there is no ligament damage, but the senior is expected to miss about four weeks.
Receiver
James Johnson
is day-to-day with a sprained foot and linebacker
Princeton Fuimaono
is dealing with a hamstring injury the Huskies are going to "monitor very closely."
"We don't want that thing to linger all year long," Sarkisian said said. "We're going to get him healthy."
Young receivers making an impression
Freshmen receivers
Jaydon Mickens
(Los Angeles, Calif./Dorsey) and
Kendyl Taylor
(Chandler, Ariz./Hamilton) have taken turns making plays all week.
Like all freshmen, there have been struggles, but Sarkisian singled them out as players who have performed well so far.
"They've been impressive," he said.
Freshmen link up for touchdown
Jeff Lindquist
(Mercer Island, Wash./Mercer Island) rolled to his right and fired a 40-yard pass toward the end zone. The ball was underthrown, but receiver
Marvin Hall
(Los Angeles, Calif./Dorsey) made a nice adjustment.
He fought through a defensive back and hauled in the touchdown pass.
Linebacker gives up the game
Junior
Garret Gilliland
has decided to retire from football, Sarkisian announced.
Because it was the linebacker's decision to leave the program, he will not retain his scholarship.
"If he retires, he retires," Sarkisian said. "That's his choice. We want him to play football and he doesn't want to. It's unfortunate."
Quotable
When asked about the energy building throughout practice, Sarkisian said, "Our guys understand the competition as it builds and they look forward to the competition. That's what makes our guys special to me, because they embrace those opportunities to battle and compete with one another, but do it with respect. They did that today."
-- Offensive line coach Dan Cozzetto missed Friday's practice. Sarkisian described it as a "personal issue."