Washington Huskies:

Mike Leach
January, 8, 2013
Jan 8
7:12
AM PT
These are the final 2012 power rankings.
If you don't like where you finished in the power rankings, you should have played better.
See the pre-bowl-season power rankings here
.
1. Stanford
: Oregon received a higher final national ranking, and you could make a decent challenge in favor of the Ducks. They didn't get upset by Washington, didn't play a lot of close games and beat a top-five team in the Fiesta Bowl. But, on Nov. 17, the Cardinal went to Eugene and took care of business. Stanford is the Pac-12 champion, and Oregon is not. Ergo, Stanford sits atop the power rankings. And 2013 looks pretty darn good, too.
2. Oregon
: The cherry on the top of another special season for Oregon is the return of coach Chip Kelly. And we're of the mind that, if not for the slip against Stanford, Oregon would be sitting atop college football this morning after a fine evening of frolic in South Florida. The Ducks and Stanford will be national title contenders again in 2013. And guess which two teams are going to top the first 2013 power rankings?
3. Oregon State
: The loss to Texas in the Valero Alamo Bowl was baffling. The Beavers were a superior team that seemed to be looking for ways to lose in the fourth quarter. The quarterback carousel needs to be resolved. But the Beavers still won nine games, and their 6-3 conference record overcomes UCLA because of a head-to-head win on the road. Nice bounce back after consecutive losing seasons.
4. UCLA
: Yes, the Bruins flopped in the Bridgepoint Education Holiday Bowl against Baylor, but it's impossible not to see Year 1 under Jim Mora as a success, made even more notable by USC's flop. Like last season, the Bruins won the South Division, but this time they earned it.
5. Arizona State
: The Sun Devils won their final three games for the first time since 1978. That's how you go into an offseason with optimism. We hear a lot about "culture change" from programs with new coaches. The Sun Devils' culture change under Todd Graham was made manifest by what happened on the field.
6. Arizona
: The Wildcats did better than expected in Year 1 under Rich Rodriguez, and the season would have been a complete success if not for what happened against that team from up north. That loss hurts, but quality wins over Oklahoma State, USC and Washington, as well as an overtime game with Stanford, show this team competed better than in recent years.
7. Washington
: The Huskies finishing 7-6 against a brutal schedule probably was close to preseason expectations. But the two-game losing streak to end the season, which included a dreadful meltdown in the Apple Cup to Washington State, quashed the momentum a four-game winning steak from Oct. 27 to Nov. 17 had built. Perhaps that will make the Huskies hungrier in 2013, when they have a nice array of talent returning.
8. USC
: The Trojans' season was a complete disaster. USC started out at No. 1 but turned in a white flag performance while losing a sixth game in the Hyundai Sun Bowl to a middling Georgia Tech team. The Trojans were eclipsed by rivals UCLA and Notre Dame while wasting the much-ballyhooed return of QB
Matt Barkley
. Coach Lane Kiffin will be sitting on one of the nation's hottest seats in 2013.
We've been over this a few times
.
9. Utah
: The Utes' move up in class from the Mountain West Conference is proving tougher than some imagined. Utah missed out on playing in a bowl game for the first time since 2002, and there were issues on both sides of the ball. The Utes need an upgrade in talent and overall depth, sure, but consistent quarterback play would be a good place to start. Therein lies hope with promising freshman
Travis Wilson
.
10. California
: A dreadful 3-9 finish ended Jeff Tedford's tenure in Berkeley after 11 seasons. In early October, after consecutive wins over UCLA and Washington State, it seemed as though the Bears might be poised for a rally. Alas, they lost their final five games, including a horrid performance in a 62-14 drubbing at Oregon State. Sonny Dykes has enough returning talent to produce significant improvement in the fall.
11. Washington State
: New coach Mike Leach's season was bad on the field and off, but it ended on a notable uptick with an Apple Cup win over Washington that included a comeback from an 18-point fourth-quarter deficit. Still, 3-9 took a bite out of the enthusiasm Leach's hiring initially generated.
12. Colorado
: A horrid 1-11 finish that was capped by a controversial firing of Jon Embree after just two seasons. The Buffaloes are probably the worst AQ conference team over the past two seasons, and that is the considerable mess new coach Mike MacIntyre was hired to clean up. Of course, MacIntyre put together an impressive turnaround at San Jose State, so he looks like a good choice to bring the Buffs back to respectability.
December, 21, 2012
12/21/12
11:10
AM PT
On Aug. 31, 2013, Washington will play a hugely important game.
After a lengthy and sometimes contentious bureaucratic process, it finally will open a renovated Husky Stadium, as one of the most spectacular settings in college football finally gets a stadium worthy of sitting on the banks of Lake Washington in the shadow of Mount Rainier.
It likely will own its first preseason ranking since 2002.
And it will face Boise State, one of the nation's top programs.
On Saturday, Washington will play a hugely important game. It will try to shake off the frustration of a horrible collapse in the Apple Cup against rival Washington State and end its season on the uptick in the MAACO Las Vegas Bowl.
[+] Enlarge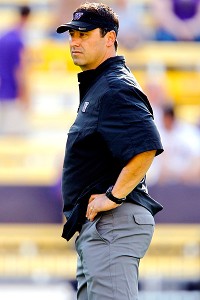 Derick E. Hingle/US PRESSWIRESteve Sarkisian's focus is on Saturday's game with Boise State, not the one next August.
And it will face Boise State, the nation's 19th-ranked team.
Yes, Washington and Boise State are set to play back-to-back games connecting this season to the next. Yes, it's strange.
But Huskies coach Steve Sarkisian isn't obsessing about it. The preparation for the Las Vegas Bowl is no different than any other game, no matter that it amounts to Game 1 of a two-game series.
"We've got basically nine months to worry about the next game," he said.
Sarkisian acknowledges that there are certain to be plenty of moments he will file away -- matchups, tendencies, formations -- that he will grind over the next few months. Both teams surely will.
"There's going to be plenty of stuff we take from this game, good and bad, that we will be able to apply in the preparation for the second one," Sarkisian said. "That goes without saying. It's hard to prepare that way now for what is down the road, but I do think, whether it's during the game or looking at the film of returning personnel, we'll be thinking of things we can take from the game."
The reality is the Huskies are just glad to have a next game on their schedule. The stink of their last game has surely been hard to shake.
Washington arrived in Pullman riding a four-game winning streak. It seemed on its way to its first postseason national ranking since 2001, which would have further boosted the perception of promise for 2013.
Washington State, meanwhile, was in seeming disarray, coach Mike Leach's first season turning from hopeful to massively disappointing. The Cougars were 2-9, had lost eight in a row and were coming off a 46-7 shellacking at Arizona State. Their best defensive player, outside linebacker
Travis Long
, wasn't going to play.
While it was a sloppy game throughout, things seemed to be going according to the Huskies' plan. They led by 18 heading into the fourth quarter, and there was little to suggest the Cougars could overcome a 28-10 deficit. It seemed more likely they would mail it in and hustle into the offseason.
Then things went completely haywire for the Huskies. In one of the worst fourth quarters a team has posted in Apple Cup history -- a fumble, six penalties and a missed 35-yard field goal for the win -- the Huskies allowed the Cougars to tie the game and force overtime.
In overtime, QB
Keith Price
's first pass was intercepted.
Yeah, it was really bad. Sarkisian even laughs when a reporter awkwardly tries to accurately describe its badness without giving offense. Sark has no illusions about what happened in Pullman, but his message to his team is the big picture, which it still has significant control over.
"We told them one quarter of football wasn't going to define our season," Sarkisian said. "We've come a long way as a football team. We've matured greatly the second half of the season. I couldn't have been more proud of what our defense was able to get accomplished. I'm really proud of some of our younger offensive players, as they matured as the season went on. But unfortunately we played a bad 15 minutes. We gave up an 18-point lead, and we really didn't execute in any of the three phases to win the game."
Boise State offers an opportunity to make at least some of that bad taste go away. It would provide momentum heading into the offseason. And it would quiet some of the grumbling about Sarkisian, as some fans forget he inherited a team that went 0-12 in 2008.
So the Las Vegas Bowl is a big, meaningful game -- but not as meaningful as Aug. 31.
Further, Sarkisian points out that the second game won't be a complete redo.
"One of the differences is I think Boise State is starting 13 seniors and we're starting about three," Sarkisian said. "A lot of new faces will be playing for them significantly next fall."
New faces in a new stadium for a hugely important game.
November, 26, 2012
11/26/12
9:00
AM PT
If you don't like where you are in the power rankings, play better.
And, again, keep in mind the power rankings lean heavily on the week that was, not as much on the totality of the season.
See
last week's power rankings here
.
1.
Stanford
: I've started to think Stanford has become one of those "No one in the entire nation is playing better at this point of the season" teams. Certainly no team has better back-to-back wins over the past two weeks.
2.
Oregon
: The Ducks looked like their old selves against rival Oregon State. Best bet is they are headed to the Fiesta Bowl, where they will almost certainly play a Big 12 team that is ranked higher than the Big Ten's Rose Bowl representative. Maybe even good ole Kansas State.
3.
UCLA
: Were the Bruins -- consciously or unconsciously -- holding something back against Stanford on Saturday, knowing they'd already secured a berth in the Pac-12 title game? Maybe. We'll see in Friday's rematch.
4.
Oregon State
: Early in the third quarter, it looked like the Beavers might challenge the Ducks. Then -- poof -- Oregon went all Oregon and it was another blowout. Guessing the Beavers end up in the Holiday Bowl with the Pac-12 title game loser going to the Alamo Bowl.
5.
Arizona State
: It's official: Year 1 under new coach Todd Graham is an unquestioned success. Going 7-5 is one thing, but 7-5 with win No. 7 coming in Tucson is entirely different.
6.
Arizona
: While the reverse on the Arizona State verdict isn't true -- it's impossible to say the Wildcats didn't greatly exceed expectations in Rich Rodriguez's first season -- losing state bragging rights is an itch that will demand scratching for an entire year.
7.
Utah
: The Utes end the season with a close win at Colorado. That's not much -- at all -- but the teams below rate lower based on their recently elevated program misery index.
8.
USC
: Last year, the Trojans upset Oregon and beat their top rivals, Notre Dame and UCLA. This year, preluded by national championship expectations, they lost to all three. USC went from top-ranked to unranked, from expectations of 12-0 to 7-5. There are no grins inside Heritage Hall. Lane Kiffin will be near the top of every 2013 preseason coaching hot seat list.
9.
Washington State
: It was an awful season, full of losing and controversy. Ah, but when a Washington fan walks into the local watering hole, he will avert his eyes in shame from the Cougar contingent. When the folks in purple start to talk about all the great things going on at Washington, they will be silenced by a simple: "31-28. Stick it."
10.
Washington
: That was a dreadful choke in the Apple Cup, Huskies. You rightly should expect much grief from your Coug friends. Of course, you still have a bowl game ahead in which to secure an eighth win, which the Huskies haven't collected since 2001. Do that, and you not only will perk up several spots in the power rankings, you can enter the offseason with a smile.
11.
California
: Teams that fire their coach tend to tumble in the power rankings. But take heart, Golden Bears fans. See how quickly three of the four Pac-12 teams that hired new coaches a year ago climbed out of the doldrums.
12.
Colorado
: Worst season in Colorado history? Probably. Now there's just one question, Buffs: What are you going to do about it?
November, 23, 2012
11/23/12
4:42
PM PT
There is a term Washington State fans often use on their own team. "We Coug'ed it," they will say with considerable bitterness after a bad loss. Of course, other Pac-12 teams say it with a smirk.
Yet in the
105th Apple Cup
, it was Washington that "Coug'ed it." Or "Husky'ed it," if you prefer.


Or just call it what it was: A massive choke.
Washington State overcame an 18-point fourth quarter deficit to force overtime against the Huskies, then used a bumbling
Keith Price
interception on the first play of overtime to set themselves up for
Andrew Furney
's game-winning 27 yard field goal.
So that's 21 unanswered points in the fourth and overtime for a team that entered the game averaging 19.5 points per game, one that was playing without its two best players: wide receiver
Marquess Wilson
, who quit the team, and outside linebacker
Travis Long
, who was injured.
Perhaps it shouldn't be looked on as a Washington choke. Perhaps it should be about the Cougars showing some grit against the rivals. Probably it's a little of both. In fact, Washington State fans might enjoy thinking of it both ways.
The win ended the Cougars' (3-9, 1-8) three-game losing streak in the rivalry series and an eight-game overall losing streak. The Huskies (7-5, 5-4) saw a four-game winning streak end.
It was a horribly sloppy game. The Cougars had four turnovers, the Huskies two. The Huskies also were flagged 17 times for 127 yards.
The Huskies, who didn't have a first down in the fourth quarter until their final possession, had a 35-yard field goal to win the game in regulation, but
Travis Coons
pushed the kick wide right.
In overtime, the Huskies got the ball first, but Price was intercepted on the first play by defensive tackle
Kalafitoni Pole
, who nearly rumbled the other way for a score before being tackled inside the 10-yard line.
The Cougars then calmly set themselves up for the winning kick, knowing Furney, who had tied the game at 28-28 with a 45-yard field goal with two minutes left, is the best clutch kicker in the conference.
Cougars quarterback
Jeff Tuel
completed 33 of 53 passes for 350 yards.
The Huskies, who had won 11 consecutive games decided by 10 points or fewer, were outgained 366 yards to 269. They trailed 10-7 at halftime but seemed to take control of the game with 21 unanswered third quarter points.
They didn't.
This means state bragging rights belong to the Cougars, even though they suffered through a miserable first year under new coach Mike Leach.
The Huskies get a bowl game -- though likely a lesser one -- in which to try to put a positive cap on their season.
But this one figures to hurt the men in purple for a bit.
November, 22, 2012
11/22/12
8:00
AM PT
SEATTLE -- Here are five storylines as No. 25 Washington prepares to wrap up Pac-12 play with its annual Apple Cup matchup against Washington State:
1. Proof of progress:
With a win Friday, the Huskies will secure their first eight-win season under coach Steve Sarkisian. In fact, it will be the first time Washington has hit eight wins since 2001.
A victory this week and a bowl win to wrap up the season would be the best finish for the program since 2000, when the Huskies went 11-1 and beat Purdue in the Rose Bowl.
To continue reading this article you must be an Insider
November, 5, 2012
11/05/12
9:00
AM PT
If you don't like where you are in the power rankings, play better.
See
last week's power rankings here
.
1. Oregon
: It wasn't perfect, at least on defense, but that was a resounding statement at USC. There are some injury issues, particularly on defense, but this team is coming together as perhaps the best of the Chip Kelly era. Wondering what type of opponent the Ducks will face at California: A motivated one or one that will serve as a doormat?
2. Oregon State
: A nice bounce-back win over Arizona State. The Beavers have overcome a quarterback change and injuries. This team just keeps finding ways to get it done. The winner at Stanford on Saturday becomes a legitimate threat to Oregon in the North Division.
3. Stanford
: So does
Kevin Hogan
step in at QB and make the Stanford offense formidable again? Maybe. But it's not wise to take too much away from stomping Colorado. Oregon State will offer a true defensive challenge.
4. UCLA
:
Just like Kevin and I predicted
: The Bruins dominated Arizona. The offensive effort was outstanding but unsurprising. The defense shutting down the potent Wildcats' offense was most notable. But the Bruins can't overlook a visit to Washington State. That's what the "old" Bruins might have done.
5. USC
: The Trojans' resilience is going to be tested, starting with a visit from Arizona State. USC could win out, go to the Pac-12 title game and still earn a shot at the Rose Bowl. Or they could fold and finish a season that began with national title hopes with five consecutive defeats.
6. Arizona
: Wow ... the Wildcats took a horrible beating at UCLA. Some of that was a USC hangover. But a lot of that was the Bruins asserting themselves in the South Division pecking order. A visit from Colorado should supply that sixth victory and bowl eligibility.
7. Washington
: The Huskies were sloppy at Cal, but sloppy with a W is OK. If they can handle a visit from Utah on Saturday, they will get a sixth victory and bowl eligibility.
8. Arizona State
: The Sun Devils have lost three in a row after the schedule toughened up. The good news is they showed some fight at Oregon State. It's a battle of two wounded teams at USC on Saturday.
9. Utah
: The Utes are making another late charge. At 4-5, they need to win two of three to earn bowl eligibility. They still play Colorado, so that means they need to win at Washington on Saturday or beat Arizona when it visits on Nov. 17.
10. California
: Cal and Jeff Tedford are beaten up. And here comes Oregon. Maybe the Ducks will be flat after the big win over USC?
11. Washington State
: A run of 10 bowl games in 10 seasons as a head coach ends for Mike Leach, and things don't seem to be going well in the Cougars' locker room. A hot UCLA team is coming to town. How about a good snow storm for the visitors from sunny SoCal?
12. Colorado
: The Buffs just need the season to end. A visit to Arizona doesn't figure to go well for perhaps the nation's worst defense.
October, 17, 2012
10/17/12
9:00
AM PT
The major preseason stories in the Pac-12 were four new coaches, the return of
Matt Barkley
, the nation's leading Heisman Trophy candidate, and USC and Oregon apparently headed for a showdown with national-championship implications on Nov. 3.
The major midseason stories are a little different.
USC and Oregon could still be an epic clash, just not as epic because USC already has lost. Also, Barkley's middling numbers for an offense that hasn't been consistently in sync have diminished the national perception of the Trojans. The Ducks are now the Pac-12 team at the center of the national discussion.
As for the four new coaches, three have gotten off to great-to-solid starts in year one. But how will they finish? And will Mike Leach get Washington State on track?
Will Arizona State maintain its fast start, or are the Sun Devils headed for a tough dose of reality as the schedule firms up, starting with Oregon on Thursday?
Speaking of fast starts: Oregon State. The Beavers have surged, and coach Mike Riley has moved from the hot seat to the throne of a national-coach-of-the-year candidate. Oregon and Oregon State are the only two unbeaten teams in the conference, so it's not inconceivable that the Civil War could be for the North Division crown, a spot in the Pac-12 title game and, perhaps, a chance to play for the national title.
It could become the season's true epic clash.
As for hot-seat talk, as distasteful as it is, nearly all of such focus will be on California coach Jeff Tedford. The Bears have won two in a row after a 1-4 start, but it remains in the air whether this team can be consistent enough to earn a bowl berth. A losing record wouldn't be good for Tedford.
[+] Enlarge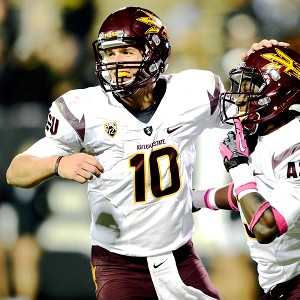 Ron Chenoy/US PresswireTaylor Kelly (10) and Arizona State could make a loud statement with Oregon coming to town.
Finally, in terms of individual awards, it will be interesting to see if any Pac-12 player emerges as a true Heisman Trophy contender. Might Barkley turn it up during the second half? Will Oregon's
De'Anthony Thomas
start to fill up "SportsCenter" with highlights? Is there a potential dark-horse candidate?
Ultimately, midseason reviews don't mean much. Teams and players can reverse course -- positively or negatively -- at any moment.
But what it is fair to say is there are plenty of rich plot lines heading into the season's second half, even if those were not the stories that advanced the season.
Bold prediction
: The conference will fill all seven of its bowl obligations, plus one. Oregon is already in; Oregon State, Arizona State, USC and UCLA are all one win from being bowl-eligible. If you follow the Sunday zaniness that is
our weekly bowl projections
, you know your bloggers project Oregon to the national championship, which opens up one more spot. We see Stanford and Washington bowling. That's seven right there. The eighth spot is up for grabs, with Arizona and Cal the likely candidates. Cal could get to .500 this week, then would need two more wins with Utah, Washington, Oregon and Oregon State remaining. If Arizona takes care of Colorado and Utah in the second half, that leaves it looking for one more win over from among Washington, USC, UCLA and Arizona State.
Looking forward to
: The race in the Pac-12 South. Once thought to be gift-wrapped for the Trojans, the recent inconsistent play of USC opens up the possibility of someone else as the South's representative in the title game. The Trojans are still the favorite, but Arizona State and UCLA aren't going to make it easy. Both of UCLA's losses have come to North Division teams, USC's loss was to Stanford and ASU's was out of conference. It's more wide-open than we ever could have imagined in August.
Top five games (by date, not importance):
Oct. 18, Oregon at Arizona State
: Time to find out if the Sun Devils are for real. They have the conference's No. 1 scoring defense facing Oregon's top-ranked scoring offense. The Sun Devils rank second in scoring. Both teams are getting phenomenal quarterback play and both like to work fast.
Oct. 27, UCLA at Arizona State
: This is a pivotal game in the aforementioned race for the South Division title. It features two explosive offenses and two of the league's brightest young quarterbacks. Some pretty good players from both defenses as well.
Nov. 3, Oregon at USC
: This is still the big one. An Oregon win gives the Ducks some much-needed national credibility, while a USC victory puts the Trojans back in the BCS championship hunt. Might be a last-gasp Heisman run for Thomas and/or Barkley.
Nov. 17, USC at UCLA
: A new chapter in this historic rivalry begins with Jim Mora at the helm for the Bruins. He has made them a player in the Pac-12 South, and lest we forget, coordinator Noel Mazzone's offense put up 43 points on USC last year when he was with ASU. This one could decide the South champion.
Nov. 24, Oregon at Oregon State
: The stakes could be stratospheric -- as in national championship implications for both schools. If the Ducks take care of business Nov. 3 and Oregon State can navigate a second-half schedule that includes Stanford and ASU, then all of Oregon will show up for what could conceivably be the Pac-12 game of the year.
October, 8, 2012
10/08/12
10:00
AM PT
Taking stock of the sixth week of games in the Pac-12.
Team of the week
: Just as the hot seat talk for California coach Jeff Tedford was starting to crescendo, the Bears pulled out an impressive 43-17 win over No. 25 UCLA. The Bears played tough on both sides of the ball, and QB
Zach Maynard
overcame an early interception to post perhaps his best career game, accounting for five TDs -- four throwing, one running. The defense forced six turnovers and pressured UCLA QB
Brett Hundley
most of the evening. Cal needed a win, and it got it.
Best game
: There were nine lead changes in the first three quarters of Arizona's visit to Stanford, as neither defense could get a stop. But when the Wildcats jumped up 48-34 with nine minutes left in the game, it didn't appear we'd get an 11th change. But Stanford rallied around QB
Josh Nunes
and forced overtime. At that point, the Cardinal defense stepped up, forcing a turnover, and RB
Stepfan Taylor
's 21-yard TD run provided the winning points at 54-48.
[+] Enlarge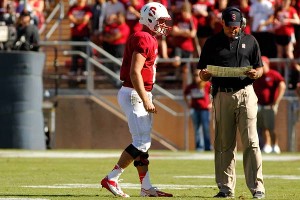 Cary Edmondson/US PresswireStanford QB Josh Nunes talks with coach David Shaw during a timeout against Arizona on Saturday.
Biggest play
: Down seven with 1:21 left and facing a fourth-and-9 at the Arizona 20-yard line, Nunes found
Zach Ertz
over the middle for 17 yards to the 3-yard line. Nunes went the final 3 yards for the tying touchdown that got Stanford to OT.
Offensive standout
: Nine days after a loss at Washington had some fans calling for him to be benched, Nunes' clutch performance against Arizona might end up being more resonant than his struggles versus the Huskies. He overcame a slow start and accounted for five Stanford touchdowns, completing 21 of 34 passes for 360 yards and two scores while also rushing for 33 yards on seven carries and three touchdowns.
Defensive standout
: What's it with all these three-interception games? Oregon State CB
Jordan Poyer
grabbed three picks against Washington State, while Cal's
Kameron Jackson
did the same against UCLA. Both also had four tackles. Earlier in the year, UCLA CB
Sheldon Price
had three picks against Houston.
Special teams standout
: Stanford's
Daniel Zychlinski
averaged 54.3 yards on four punts in the Cardinal's overtime win over Arizona with a long of 59 yards.
Smiley face
: The Pac-12's top four teams: Oregon, USC, Oregon State and Stanford each found different ways to win. Oregon rolled over rival Washington 52-21, looking like a dominant, national title contender along the way. USC overcame a horrible start that left it in a 14-0 hole two minutes into its visit to Utah. Oregon State was sloppy and inefficient on offense but was bailed out by its defense against Washington State. And Stanford, as already mentioned, overcame a 14-point fourth-quarter deficit to beat Arizona in overtime. One of the signs of a good conference is when its ranked teams just get it done, even if they aren't clicking.
Frowny face
: Mike Leach was supposed to bring a high-powered passing offense to Washington State, and the Cougars were supposed to have the QB-WR combinations to make it potent. But it hasn't played out that way. The Cougars were held to two field goals in a 19-6 loss to Oregon State. They finished with a measly 227 total yards with five turnovers, including four interceptions. Neither
Connor Halliday
nor
Jeff Tuel
is playing well, and the receivers have been making too many drops. The Cougs are 98th in the nation in scoring with 21.8 points per game.
Thought of the week
: Notre Dame, which Stanford visits on Saturday, is 5-0 and ranked seventh. The Fighting Irish appear to be finally emerging from a long period of malaise, and that's good for the Pac-12. The past few years, Stanford's and USC's annual whipping of the Irish meant little to the national audience. But a ranked Notre Dame team provides an opportunity for Stanford and USC to post wins that do raise eyebrows nationally, as well as raise the perception of the conference. Of course, Stanford and USC have to win those games for Notre Dame's return to relevance to be a positive one.
Questions for the week
: The Pac-12 features four teams ranked from Nos. 2 through 17: No. 2 Oregon, No. 10 Oregon State, No. 11 USC and No. 17 Stanford. While any of those four teams could fall apart and out of the rankings, they do appear to comprise a top third of the conference so far. But who might rise from the Pac-12 and become a fifth ranked team, or at least the fifth team in the Pac-12 pecking order? The conference isn't lacking candidates. You'd have to rank Arizona State and Washington as the top two. The Sun Devils are playing well, while the Huskies already have a win over Stanford. Then there's UCLA, Arizona and Utah. And, perhaps, a resurgent California, which just beat UCLA. Will a nine-win team emerge from that group? Or will we end up with a lot of 7-5, 6-6 and 5-7?
August, 22, 2012
8/22/12
9:00
AM PT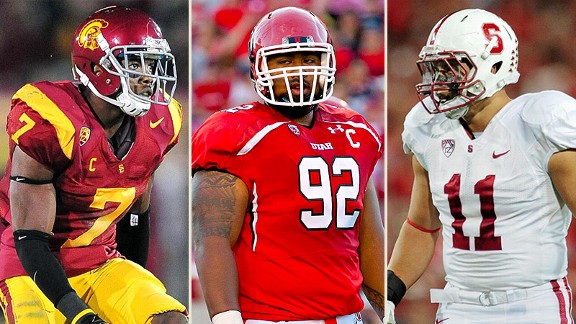 US PresswireThe Pac-12 boasts some of the best defensive talent in the country: USC safety T.J. McDonald, Utah defensive tackle Star Lotulelei and Stanford linebacker Shayne Skov.
In the depths of their offices, some of the best offensive minds in college football are grinding.
Chip Kelly is pondering how to get 10 more plays per game out of his offense.
Rich Rodriguez and Mike Leach are re-re-revolutionizing their attacks.
David Shaw is trying to figure out how to get nine offensive linemen, five tight ends and three fullbacks on the field at once.
Lane Kiffin has more offensive toys than an FAO Schwarz display.
"Option, option spread, I, heavy-I, pistol, triple-backs, full house, triple tights; it's something new every week," said Oregon linebacker
Michael Clay
. "It makes every week pretty interesting."
The Pac-12 is widely regarded as the conference of offenses. And they are only getting better. Prior to 1990, only twice has a team led the conference with a scoring average of more than 40 points. Since 1990, it's happened nine times -- including USC's conference best of 49.1 points per game in 2005.
That means being a defensive player in the Pac-12 is awfully difficult.
[+] Enlarge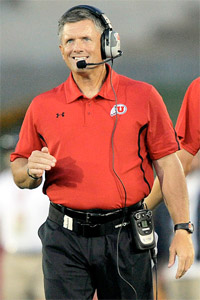 AP Photo/Mark J. TerrillKyle Whittingham says his defense must be able to adapt to the different offenses in the Pac-12.
"You get Andrew Luck one week and then
Matt Barkley
the next," said USC safety
T.J. McDonald
. "The preparation is on a whole other level compared to other conferences. There are great quarterbacks and great receivers and running backs. But the culture of this conference has changed. They've forced defenses to get better."
As the spread offense became chic and more teams were stretching defenses, they were forced to respond in kind. Gone are the days of everyone lining up in a base 4-3 and slugging it out. Now defenses are evolving into multiple fronts, exotic and disguised coverages and zone blitzes.
Utah coach Kyle Whittingham should know. He and UCLA coach Jim Mora are the only head coaches in the conference with a defensive background.
"We're definitely the minority," Whittingham said with a laugh. "It's a broad spectrum. Defensively, in this day and age, you have to be able to defend it all anyways. When the spread became en vogue 10-12 years ago it caught on like wildfire. Now almost everyone has a version of it. You have to be equipped to deal with whatever you come across week in and week out and have a scheme that is flexible enough and adaptable enough that you can cover all of your bases.
"Things go in cycles. The spread becomes en vogue and takes a while for the defense to catch up. Then the zone blitz was giving offenses fits and the offenses had to catch up to that. I think everything in football is cyclical and if offense has the upper hand right now, it won't be too further down the road where that role is reversed."
And that time might be coming sooner than later. Utah, California, USC, Oregon and Stanford all have defenses that are very good and bordering on elite. But the numbers don't always add up because in this conference, you are going to give up yards and you are going to give up points.
"Part of it is innovation," Shaw said. "Part of it is Chip Kelly and Mike Leach and Rich Rodriguez. The thing is, you can use the word 'spread' offense for half the teams in our conference, but they are all different. You can say 'pro-style' offense, which is what you would say about us and USC, but they are so different. The hard part of playing defense in our conference is every single week, you are playing against something you didn't see the week before.
"Cal has a pro-style offense. But their passing is different than our pass game and their running is different than our running game. And theirs is different from USC's. You are going to play a nine-game conference schedule and every single offense you play is going to be completely different. Defensive coordinators -- and we've got a really good group in this conference -- defensive coordinators and players have to flush a lot of what you watched the week before and study film hard the next week because you're going to see a different animal."
The conference also has the players to back up the defensive hype. Stanford linebackers
Chase Thomas
and
Shayne Skov
are projected as two of the best at their positions. Utah defensive tackle
Star Lotulelei
is regarded as the best defensive tackle in the nation and McDonald is a returning All-American.
And while perception might never really change nationally since the conference keeps chugging out A-list offensive players, Washington quarterback
Keith Price
says he's seen the difference.
"The difference between us and some of those other conferences is the defensive linemen," Price said. "We've always had good skill players. They say the trenches is what separates the SEC from the other conferences. But you can see now that our conference is starting to get there. When you look at teams like Cal and Utah, their defensive lines are really tough."
August, 22, 2012
8/22/12
6:00
AM PT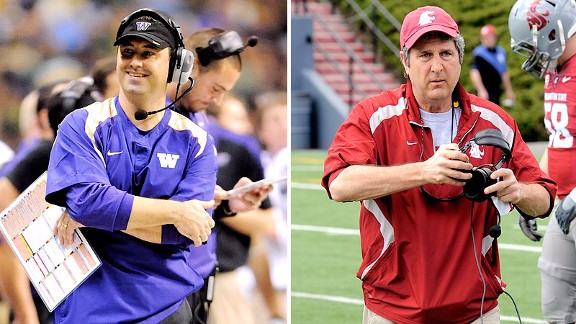 Icon SMI
Steve Sarkisian and Mike Leach figure to have some heated battles along the recruiting trail.
Scott Pelluer remembers sitting in a room, watching film of Jason Gesser.
It was 1997, and Pelluer -- a Washington State graduate -- was an assistant coach at Washington. Gesser was a quarterback recruit at Honolulu Saint Louis High School.
"We had him in for a visit," Pelluer said. "I don't remember who we picked, but we picked somebody else. Jason Gesser goes to WSU and tears it up."
Gesser went on to lead the Cougars to consecutive 10-win seasons, finishing seventh in the 2002 Heisman Trophy voting.
When it comes to recruiting high school athletes to Pullman, Wash., the Cougars have always had to dig a little deeper. No matter the wins and losses, Washington has always gone after bigger names, while Washington State has mined hidden gems.