Washington Huskies:

Marcus Mariota
December, 5, 2012
12/05/12
9:00
AM PT
The Pac-12 -- again -- produced national title contenders but not a team playing for the crystal football when the final bell rang. Further, for the first time since 2008, the conference didn't provide a Heisman Trophy finalist.
A short summary of the regular season: It was pretty good but could have been better. But it was definitely surprising.
Better? If things had fallen the right way, seven Pac-12 teams could have been ranked in the final regular-season poll. USC began the season as a national title contender only to yield that spot to Oregon. Then Stanford ended the Ducks' hopes on Nov. 17 with a 17-14 overtime win in Autzen Stadium.

So the conference streak without a football national championship extends to eight seasons.
Surprising? UCLA won the South Division over rival USC, and Stanford beat out Oregon in the North by virtue of the aforementioned win in Eugene. Neither was tapped in the preseason as the conference champion by any of the 123 media members who voted.
Surprising? USC quarterback
Matt Barkley
topped just about every preseason Heisman Trophy list. He didn't even make first- or second-team All-Pac-12.
Surprising? Three of the four new coaches turned in strong seasons. Start with Jim Mora, who led the Bruins to the Pac-12 championship game and a national ranking. And, a year after USC beat UCLA 50-0, the Bruins prevailed, 38-28.
Sorry for bringing that up, USC.
Both Arizona's Rich Rodriguez and Arizona State's Todd Graham finished 7-5, though Graham handed Rodriguez his fifth defeat in the Territorial Cup.
Sorry for bringing that up, Wildcats.
The new coach who was expected to make the most noise -- with both his mouth and his team -- was only 1-for-2, and it wasn't Mike Leach's team doing the talking. His Cougars finished 3-9 and recorded just one conference victory. Of course, that lone Pac-12 win was over Washington.
Sorry for bringing that up, Huskies.
The good news is a record eight bowl teams, including a third consecutive season with two BCS bowl berths, which means an extra $6.1 million for the conference to split up.
The bad news is two more coach firings: Jeff Tedford at California after 11 seasons and Jon Embree at Colorado after just two. That means half the teams in the Pac-12 will have changed coaches over the past two years.
Further, USC's disappointing season lands Lane Kiffin on the 2013 hot seat, the only Pac-12 coach who will be stuck with that designation heading into 2013.
What about some highlights? Well, here you go.
[+] Enlarge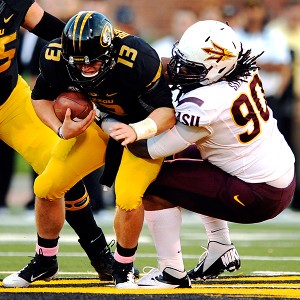 AP Photo/L.G. PattersonArizona State's Will Sutton averaged almost a sack per game this season, including one at Missouri.
Offensive MVP, Marqise Lee, WR, USC
: Not only is he the most dominant wide receiver in the country, he might also be the most dominant player. Heisman voters say otherwise, but we in the Pac-12 know just how dominant he can be. His record-setting season should be more than enough to earn him the Biletnikoff Award for the nation's top receiver. And if he has matching numbers on a nine-win USC team, he's in New York this week.
Defensive MVP, Will Sutton, Arizona State
: The numbers alone paint a pretty good picture of just how dominant the speed-rushing defensive tackle was. He led the conference in tackles for a loss per game and averaged almost a sack per game. He was a wrecking ball -- the kind of player offensive coordinators design their game plan around.
Newcomer of the year, Marcus Mariota, Oregon
: In a year in which redshirt freshmen quarterbacks became all the rage, Mariota stood out with his efficiency as a passer, his athleticism as a runner and the speed with which he commanded Oregon's offense. His presence assures Oregon will continue to be one of the best offensive teams in the country in the coming years.
Biggest surprise
: A school not named USC or Oregon is going to the Rose Bowl. In fact, neither team played in the Pac-12 championship game -- which many thought was as foregone conclusion before a single ball had been hiked. Stanford and UCLA were surprises -- but they also earned it.
Biggest disappointment
: USC's once-promising season first got hijacked at Stanford. And from then on the Trojans were swimming in concrete shoes. After starting the season No. 1 in the AP poll, the Trojans became the first such team since 1964 to end the year out of the Top 25. The
contrarian opinion
Kevin Gemmell offered up back in March came to fruition. And it was a complete disaster. And, yes, even worse than Ted Miller's "
Worst Case
." And that's pretty bad.
Best game
: Depends on where your tastes lie. If you like defense, then it was Stanford's performance at Oregon, where they held the Ducks to fewer than 200 yards rushing and won in overtime.
Jordan Williamson
's 37-yard kick sent shock waves throughout college football. If you like offense, you have to look to the Nov. 3 shootout between Oregon and USC. The stakes weren't as high as we all thought a few months ago, but some of the league's premier offensive players showed up as the teams combined for 113 points, 68 first downs and 1,145 yards of total offense.
October, 7, 2012
10/07/12
6:00
AM PT
So much offense! So much defense! So hard to choose ...

October, 7, 2012
10/07/12
1:13
AM PT
EUGENE, Ore. -- There was just a smidgeon of tension late in Chip Kelly's post-game news conference after Oregon whipped Washington
52-21
. Reporters tried to draw out an iota of special emotion from Kelly in reaction to a ninth consecutive victory -- each by at least 17 points -- over the Ducks' archrival, but Kelly wasn't biting.
Kelly has repeatedly told reporters that every game is the same, meriting the same complete commitment to preparation and focus. This has devolved into the "every game is a rivalry game" quip from him to all questions on the Ducks' heated and historical rivalries.
"You can shrug your shoulders but, I'll tell you what, our formula for success has worked every single time," Kelly said. "Every single game is the most important game we play."
Kelly did admit such an approach wasn't good for reporters' copy. And you could, perhaps, quibble with his refusal to at least humor on occasion the feelings his fan base hold for the Huskies, such as not announcing that Washington coach "Steve Sarkisian is a good friend of mine," the very idea of which will make some Oregon fans cringe.
But you can't argue with the results. On a day when No. 3 Florida State, No. 4 LSU and No. 5 Georgia crashed and burned, the Ducks made another ranked foe look like a Pinto trying to keep up with a Lamborghini. They further solidified their standing as the nation's No. 2 team, which puts them in position to play for the national title for a second time in three seasons.
[+] Enlarge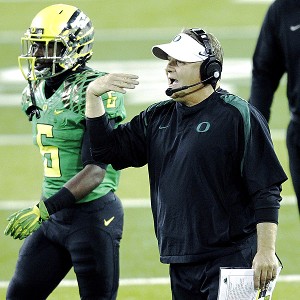 AP Photo/Don RyanOregon coach Chip Kelly reached 40 wins faster than the likes of Bear Bryant and Bobby Bowden.
The simple fact is this: Though we've only reached midseason, Oregon already has distinguished itself among its Pac-12 brethren. Only the Ducks and Oregon State remain unbeaten. Oregon dispatched Arizona 49-0, a team that pushed the Beavers and Stanford to the limit in thrilling games. And Oregon now has whipped Washington, which beat Stanford. And Stanford beat USC.
Yes, the Pac-12 blog is on record -- repeatedly -- as being against the transitive property of college football, of comparing various results of games and reaching grand conclusions. But it's hard to ignore what Oregon has done so far compared to its rivals. Er, other Pac-12 teams.
The Ducks' average margin of victory is 32.3 points. Their closest decisions was in Week 2 against Fresno State, a 42-25 decision. They are playing well on both sides of the ball. They've reacted to injuries to major players with little more than a shrug: "Next guy in," they all say.
That preseason concern that perhaps redshirt freshman quarterback
Marcus Mariota
wouldn't be up to the pressure and week-to-week demands of being a Pac-12 quarterback? He bounced back from a middling showing in the victory over Washington State by throwing four touchdown passes and showing excellent running skills and pocket presence against Washington.
"He's showed improvement," Kelly said. "That's something awesome about Marcus. Very rarely does he make the same mistake twice."
Oregon led the No. 23 Huskies 21-0 after a quarter following a pick-six from safety
Avery Patterson
. It was his second in two weeks, and the Ducks now have returned four interceptions for touchdowns, tying a school record.
The 35-7 margin at halftime made it clear that there would be no intrigue. Washington moved the ball well at times, but the Huskies were done in by five turnovers -- two interceptions, three fumbles. They produced one play over 16 yards -- a 28-yard pass. The Ducks, meanwhile, had six plays of 20 or more yards.
If you need further validations of Kelly's concepts, consider this. He is now 40-6 as the Ducks' head coach. He won his 40th game sooner than Bobby Bowden (49), Pop Warner (59), Bear Bryant (57) and Joe Paterno (51).
So, you know, he's ahead of pretty good rivals. Er, company.
Oregon is off this week, but don't say that to Kelly, for this is an "improvement week." After all that improving, the Ducks will turn their focus to a visit to Arizona State on Thursday, Oct. 18. The Sun Devils are playing really well under new coach Todd Graham.
Of course, you know what's coming, don't you?
Said Kelly, "Arizona State is the next rivalry we have."
October, 6, 2012
10/06/12
11:29
PM PT
Make it nine in a row for the
Oregon Ducks
over the
Washington Huskies
. The Ducks jumped out to a 21-0 lead before pulling away for
a 52-21 win
. The Ducks have won all nine games by at least 17 points. Here's how it all went down at Autzen.


It was over when
: In the first quarter, the Huskies had just made their second-consecutive stop on defense. But the Huskies muffed the ensuing punt and on the next play,
De'Anthony Thomas
darted for a 16-yard score. It seemed like all the life just got sucked out of Washington as the Ducks put up 21 in the first quarter.
Game ball goes to
: Oregon quarterback
Marcus Mariota
. When he wasn't jumping out of sacks (that was sick athleticism), he was tossing four touchdowns on 15-of-24 passing. He did have one interception early, but bounced back to hit
Colt Lyerla
twice,
Josh Huff
and
Keanon Lowe
for scores.
Second game ball
: Nick Aliotti. Oregon's defensive coordinator has this defense playing awfully good ball. The Ducks forced five turnovers and twice stopped the Huskies on fourth down. Most of Washington's 353 yards came in the second half when the game was out of reach.
Stat of the game
: 3.
Avery Patterson
picked off
Keith Price
in the first quarter and returned it 43 yards for a touchdown. The Ducks have now had a pick-six in three straight games.
What it means for Oregon
: For the Ducks, they hold serve -- and get some style points along the way -- as other top 10 teams behind them collapse. The number of undefeated teams is dwindling and Oregon is right where it needs to be. If anyone was still awake on the East Coast, they saw a dominating performance on both sides of the ball.
What it means for Washington
: Much like their debacle at LSU, the Huskies will have to regroup with No. 13 USC coming to town next week. For as high as they were flying after last week's win over Stanford, this was another throttling by a top-5 team. Head coach Steve Sarkisian has to get the troops to shake this one off.
October, 6, 2012
10/06/12
11:28
PM PT
EUGENE, Ore. -- It appears that Oregon's streak of blowout wins over Washington is going to reach nine.


The Ducks jumped all over Huskies mistakes and own a
35-7 lead
at the break.
The Huskies moved the ball fairly well -- Oregon outgained the Huskies 319 to 206 -- but couldn't finish drives, and the Ducks pounced on three turnovers.
Oregon quarterback
Marcus Mariota
recovered from an early interception to complete 10 of 18 passes for 160 yards and three touchdowns. Washington quarterback
Keith Price
is 13-of-22 for 115 yards with a pick.
Hard to imagine the Huskies have the weapons to get back into this one. The question might be how ugly things might get.
October, 6, 2012
10/06/12
6:21
PM PT
EUGENE, Ore. -- At some point, Washington is going to beat its arch-rival Oregon again, but the odds seem stacked against the Huskies tonight.


For one, the Ducks are playing in Autzen Stadium. They are 34-4 at home since Chip Kelly first arrived in 2007 as their offensive coordinator.
Second, the Ducks are again strong on both sides of the ball. Their offense is among the nation's leaders in rushing, scoring and total offense. The defense is better than its numbers suggest, considering its starters have played little in the fourth quarter this year. The Ducks' 4.55 yards per play ranks third in the Pac-12.
The Huskies? They are much better on defense, giving up just under 19.8 points per game -- virtually the same as the Ducks. But they are struggling offensively due to a injury ravaged offensive line that is down three starters from what it thought it would be. The Huskies are scoring 23.3 points per game, which ranks 10th in the conference.
Oregon averages 52.4, tops in the Pac-12 by a wide margin.
So the Ducks are going to need to be much below their average tonight, while the Huskies need much better, for Washington to have a chance.
The key will be big plays that go against Oregon, which is not typically how things go here. The Huskies need to slow the Ducks running game and force redshirt freshman quarterback
Marcus Mariota
to make mistakes passing. And they need to take advantage of those miscues.
The Huskies offense, meanwhile, needs to create some sort of running threat that keeps the Ducks honest, while quarterback
Keith Price
needs to time to hook up with tight end
Austin Seferian-Jenkins
and receiver
Kasen Williams
.
It will help the Huskies that the Ducks, already young at safety due to the season-ending knee injury to
John Boyett
, might be without weakside linebacker
Michael Clay
, who was hurt last week against Washington State.
Oregon has been a second-half team under Kelly. It tends to make good adjustments to other teams' schemes and it also wears down opposing defenses with its tempo. That said, if the Huskies can keep things close into the fourth quarter, it's possible that Mariota will feel some pressure, and press as a result.
Perhaps a few Oregon miscues would open a door for the Huskies to end an eight-game losing streak in the series?
September, 12, 2012
9/12/12
10:00
AM PT
One of the more underappreciated and heated rivalries in the country lies in the Pacific Northwest. For decades it was all Washington. Since 1994 the Ducks are 13-4, including eight straight wins in the series.
Things are starting to turn around in Seattle, as their new staff has them on the right track on the field and more specifically, recruiting.
Anyone up for a little border war Q & A?
To continue reading this article you must be an Insider
August, 31, 2012
8/31/12
12:00
PM PT
There are five new quarterbacks in the Pac-12 this season:
Taylor Kelly
at Arizona State,
Jordan Webb
at Colorado,
Marcus Mariota
at Oregon,
Josh Nunes
at Stanford and
Brett Hundley
at UCLA.
Our question this week: Which of them will have the most success this season?
[+] Enlarge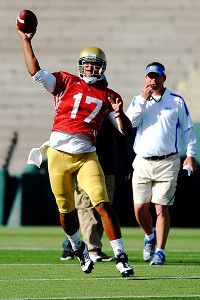 Chris Williams/Icon SMIUCLA quarterback Brett Hundley will be tested often this season.
Kevin Gemmell:
Poor, poor Ted. I know your brain is mush right now. You've been grinding away so hard on the best-worst scenarios that you've got nothing left for a Take 2. Obviously, the easy choice here is Oregon quarterback Marcus Mariota.
I'll tell you what, buddy, since I'm going first this week, I'm going to leave the softball for you and take a different approach. No, no. You don't need to thank me now. Just buy me a Cuban sandwich when we're in Miami for the USC-Oregon national championship game and we'll call it even.
When you're measuring the success of a new quarterback, you have to first look at what's the definition of success. Because I think the measuring stick is going to be a lot different for Mariota than, let's say, UCLA quarterback Brett Hundley.
If Hundley wins eight games and takes his team to a mid-level bowl game, I'd call that a pretty successful debut season. If Mariota wins eight games and takes his team to a mid-level bowl game, Oregon would probably call 2012 a massive failure of a season. Teams that start the year ranked in the top five don't want to end up in San Diego in December -- no disrespect to this beautiful city I'm blessed to call home.
The Bruins, however, I think would be awfully pleased with an appearance in the Holiday Bowl.
Consider what Hundley is up against: a new head coach, who by the way has never coached in college (that's not a knock on Jim Mora, just a fact), a new offensive coordinator with an offense that is a complete 180 from what the Bruins were running previously, and while I think UCLA has some playmakers, Hundley doesn't have the weapons around him that Mariota does. Also, most would agree at this point that Oregon has the superior offensive line.
But I think Hundley overcomes all of that to lead his team to seven or eight wins and a pretty decent bowl game. The reason I think that -- aside from the fact that Hundley is a very talented player -- is because of UCLA offensive coordinator Noel Mazzone and the way he transforms quarterbacks. His system is proven, even if Hundley is not, and it's going to allow Hundley to do what he does best: sling the ball around to a lot of different receivers and make plays with his feet when it's needed.
This was the same offense that produced 33 points per game last year when Mazzone was with Arizona State and dropped 43 on the
USC Trojans
; the same offense that averaged 32 points per game in 2010 that went for more than 40 points four times. Some might remember the 55 they scored on the Bruins that year.
Because of all the immediate factors working against Hundley, people are going to allow him a little more wiggle room to develop than they would Mariota.
And I think you can say the same thing for Josh Nunes at Stanford, Taylor Kelly at ASU or even an experienced newcomer like Jordan Webb at Colorado. They have the luxury of working their way into success, rather than instant success being demanded.
Huh, maybe Mariota isn't such a slam dunk after all. I guess the Cuban sandwiches are on me.
Ted Miller:
Thanks for making things easy on me, Kevin.
[+] Enlarge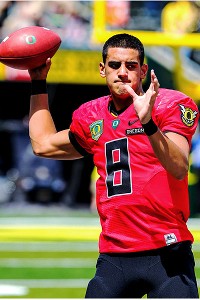 Steve Conner/Icon SMIBetween a stellar supporting cast and a proven coach, the stage is set for Marcus Mariota at Oregon.
I've been reading the tea leaves, and Marcus Mariota is going to be a revelation.
Now it's perfectly fair for someone to point out that I've only see Mariota in action once -- his much-ballyhooed performance in the 2012 spring game. So my -- and anyone else's -- sample size for extrapolating success is extremely limited.
Still, there are three things that make him the pick for immediate success.
First, he beat out
Bryan Bennett
, a guy who has long been touted and who played very well in relief of an injured Darron Thomas last year. If Mariota is better than Bennett, then he's got to be pretty darn good.
Second, his supporting cast will make him look good. He's got plenty of offensive weapons surrounding him as well as a top-notch offensive line. He doesn't have to throw it 40 yards to get a 40 yard completion. He merely needs to dump it to
Kenjon Barner
,
De'Anthony Thomas
or
Josh Huff
and let them do the legwork. The stat sheet doesn't make a distinction.
Third, who's the coach of this team? That's right, Chip Kelly. What's his track record with quarterbacks at Oregon? Let's review.
Oregon fans hated Dennis Dixon -- oh, yes you did! -- until Kelly arrived in 2007. Dixon went from being an infuriating underachiever who threw a lot of interceptions to the nation's top Heisman Trophy candidate until he blew out his knee.
Then, after Nate Costa blew out his knee before the 2008 season, Kelly was left with, well, just about nobody. Recall that Jeremiah Masoli was a summer addition to the roster whom no one had heard of. He led the Ducks to a Holiday Bowl victory and then to the first of three conference titles in 2009.
And when Masoli got the boot, Kelly surprised many when he tapped Thomas over Costa. Thomas then led the Ducks to the national title game and a Rose Bowl victory.
Think how good the Ducks' QB play has been since Kelly arrived in Eugene. Now, how many of these former Ducks quarterbacks had NFL success? It's obvious that Kelly finds ways to make his QB successful.
And guess what: Mariota is the most physically talented signal-caller Kelly has coached. He could become the first Kelly QB to become a high NFL draft pick and then a starter.
Sure, the bar has been set high. Anything less than another BCS bowl appearance would disappoint most Oregon fans. But, as things look at present, the odds are fairly good the Ducks will receive a fourth consecutive BCS bowl berth.
Finally, there is always this: Mariota is a redshirt freshman. He's, inevitably, going to have some boneheaded moments. But his youth also means the Ducks -- and Kelly -- will have him for at least three more seasons. (If he opted to leave for the NFL draft after his redshirt sophomore year, well, he'd probably be pretty darn good).
That's the consolation if he's merely pretty good this year: He's got plenty of time to become outstanding.
But the guess here is Mariota puts up plenty of numbers as a dual-threat this season. And leaves us with plenty of "Wow!" moments.