Washington Huskies:

Jon Embree
January, 8, 2013
Jan 8
7:12
AM PT
These are the final 2012 power rankings.
If you don't like where you finished in the power rankings, you should have played better.
See the pre-bowl-season power rankings here
.
1. Stanford
: Oregon received a higher final national ranking, and you could make a decent challenge in favor of the Ducks. They didn't get upset by Washington, didn't play a lot of close games and beat a top-five team in the Fiesta Bowl. But, on Nov. 17, the Cardinal went to Eugene and took care of business. Stanford is the Pac-12 champion, and Oregon is not. Ergo, Stanford sits atop the power rankings. And 2013 looks pretty darn good, too.
2. Oregon
: The cherry on the top of another special season for Oregon is the return of coach Chip Kelly. And we're of the mind that, if not for the slip against Stanford, Oregon would be sitting atop college football this morning after a fine evening of frolic in South Florida. The Ducks and Stanford will be national title contenders again in 2013. And guess which two teams are going to top the first 2013 power rankings?
3. Oregon State
: The loss to Texas in the Valero Alamo Bowl was baffling. The Beavers were a superior team that seemed to be looking for ways to lose in the fourth quarter. The quarterback carousel needs to be resolved. But the Beavers still won nine games, and their 6-3 conference record overcomes UCLA because of a head-to-head win on the road. Nice bounce back after consecutive losing seasons.
4. UCLA
: Yes, the Bruins flopped in the Bridgepoint Education Holiday Bowl against Baylor, but it's impossible not to see Year 1 under Jim Mora as a success, made even more notable by USC's flop. Like last season, the Bruins won the South Division, but this time they earned it.
5. Arizona State
: The Sun Devils won their final three games for the first time since 1978. That's how you go into an offseason with optimism. We hear a lot about "culture change" from programs with new coaches. The Sun Devils' culture change under Todd Graham was made manifest by what happened on the field.
6. Arizona
: The Wildcats did better than expected in Year 1 under Rich Rodriguez, and the season would have been a complete success if not for what happened against that team from up north. That loss hurts, but quality wins over Oklahoma State, USC and Washington, as well as an overtime game with Stanford, show this team competed better than in recent years.
7. Washington
: The Huskies finishing 7-6 against a brutal schedule probably was close to preseason expectations. But the two-game losing streak to end the season, which included a dreadful meltdown in the Apple Cup to Washington State, quashed the momentum a four-game winning steak from Oct. 27 to Nov. 17 had built. Perhaps that will make the Huskies hungrier in 2013, when they have a nice array of talent returning.
8. USC
: The Trojans' season was a complete disaster. USC started out at No. 1 but turned in a white flag performance while losing a sixth game in the Hyundai Sun Bowl to a middling Georgia Tech team. The Trojans were eclipsed by rivals UCLA and Notre Dame while wasting the much-ballyhooed return of QB
Matt Barkley
. Coach Lane Kiffin will be sitting on one of the nation's hottest seats in 2013.
We've been over this a few times
.
9. Utah
: The Utes' move up in class from the Mountain West Conference is proving tougher than some imagined. Utah missed out on playing in a bowl game for the first time since 2002, and there were issues on both sides of the ball. The Utes need an upgrade in talent and overall depth, sure, but consistent quarterback play would be a good place to start. Therein lies hope with promising freshman
Travis Wilson
.
10. California
: A dreadful 3-9 finish ended Jeff Tedford's tenure in Berkeley after 11 seasons. In early October, after consecutive wins over UCLA and Washington State, it seemed as though the Bears might be poised for a rally. Alas, they lost their final five games, including a horrid performance in a 62-14 drubbing at Oregon State. Sonny Dykes has enough returning talent to produce significant improvement in the fall.
11. Washington State
: New coach Mike Leach's season was bad on the field and off, but it ended on a notable uptick with an Apple Cup win over Washington that included a comeback from an 18-point fourth-quarter deficit. Still, 3-9 took a bite out of the enthusiasm Leach's hiring initially generated.
12. Colorado
: A horrid 1-11 finish that was capped by a controversial firing of Jon Embree after just two seasons. The Buffaloes are probably the worst AQ conference team over the past two seasons, and that is the considerable mess new coach Mike MacIntyre was hired to clean up. Of course, MacIntyre put together an impressive turnaround at San Jose State, so he looks like a good choice to bring the Buffs back to respectability.
December, 5, 2012
12/05/12
9:00
AM PT
The Pac-12 -- again -- produced national title contenders but not a team playing for the crystal football when the final bell rang. Further, for the first time since 2008, the conference didn't provide a Heisman Trophy finalist.
A short summary of the regular season: It was pretty good but could have been better. But it was definitely surprising.
Better? If things had fallen the right way, seven Pac-12 teams could have been ranked in the final regular-season poll. USC began the season as a national title contender only to yield that spot to Oregon. Then Stanford ended the Ducks' hopes on Nov. 17 with a 17-14 overtime win in Autzen Stadium.

So the conference streak without a football national championship extends to eight seasons.
Surprising? UCLA won the South Division over rival USC, and Stanford beat out Oregon in the North by virtue of the aforementioned win in Eugene. Neither was tapped in the preseason as the conference champion by any of the 123 media members who voted.
Surprising? USC quarterback
Matt Barkley
topped just about every preseason Heisman Trophy list. He didn't even make first- or second-team All-Pac-12.
Surprising? Three of the four new coaches turned in strong seasons. Start with Jim Mora, who led the Bruins to the Pac-12 championship game and a national ranking. And, a year after USC beat UCLA 50-0, the Bruins prevailed, 38-28.
Sorry for bringing that up, USC.
Both Arizona's Rich Rodriguez and Arizona State's Todd Graham finished 7-5, though Graham handed Rodriguez his fifth defeat in the Territorial Cup.
Sorry for bringing that up, Wildcats.
The new coach who was expected to make the most noise -- with both his mouth and his team -- was only 1-for-2, and it wasn't Mike Leach's team doing the talking. His Cougars finished 3-9 and recorded just one conference victory. Of course, that lone Pac-12 win was over Washington.
Sorry for bringing that up, Huskies.
The good news is a record eight bowl teams, including a third consecutive season with two BCS bowl berths, which means an extra $6.1 million for the conference to split up.
The bad news is two more coach firings: Jeff Tedford at California after 11 seasons and Jon Embree at Colorado after just two. That means half the teams in the Pac-12 will have changed coaches over the past two years.
Further, USC's disappointing season lands Lane Kiffin on the 2013 hot seat, the only Pac-12 coach who will be stuck with that designation heading into 2013.
What about some highlights? Well, here you go.
[+] Enlarge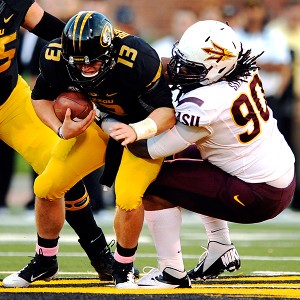 AP Photo/L.G. PattersonArizona State's Will Sutton averaged almost a sack per game this season, including one at Missouri.
Offensive MVP, Marqise Lee, WR, USC
: Not only is he the most dominant wide receiver in the country, he might also be the most dominant player. Heisman voters say otherwise, but we in the Pac-12 know just how dominant he can be. His record-setting season should be more than enough to earn him the Biletnikoff Award for the nation's top receiver. And if he has matching numbers on a nine-win USC team, he's in New York this week.
Defensive MVP, Will Sutton, Arizona State
: The numbers alone paint a pretty good picture of just how dominant the speed-rushing defensive tackle was. He led the conference in tackles for a loss per game and averaged almost a sack per game. He was a wrecking ball -- the kind of player offensive coordinators design their game plan around.
Newcomer of the year, Marcus Mariota, Oregon
: In a year in which redshirt freshmen quarterbacks became all the rage, Mariota stood out with his efficiency as a passer, his athleticism as a runner and the speed with which he commanded Oregon's offense. His presence assures Oregon will continue to be one of the best offensive teams in the country in the coming years.
Biggest surprise
: A school not named USC or Oregon is going to the Rose Bowl. In fact, neither team played in the Pac-12 championship game -- which many thought was as foregone conclusion before a single ball had been hiked. Stanford and UCLA were surprises -- but they also earned it.
Biggest disappointment
: USC's once-promising season first got hijacked at Stanford. And from then on the Trojans were swimming in concrete shoes. After starting the season No. 1 in the AP poll, the Trojans became the first such team since 1964 to end the year out of the Top 25. The
contrarian opinion
Kevin Gemmell offered up back in March came to fruition. And it was a complete disaster. And, yes, even worse than Ted Miller's "
Worst Case
." And that's pretty bad.
Best game
: Depends on where your tastes lie. If you like defense, then it was Stanford's performance at Oregon, where they held the Ducks to fewer than 200 yards rushing and won in overtime.
Jordan Williamson
's 37-yard kick sent shock waves throughout college football. If you like offense, you have to look to the Nov. 3 shootout between Oregon and USC. The stakes weren't as high as we all thought a few months ago, but some of the league's premier offensive players showed up as the teams combined for 113 points, 68 first downs and 1,145 yards of total offense.