Washington Huskies:

Jeff Lindquist
May, 8, 2013
May 8
10:57
AM PT
WASHINGTON HUSKIES
2012 record
: 7-6
2012 conference record
: 5-4 (Fourth in North Division)
Returning starters
: Offense 10; Defense 8; Kicker/punter: 2

Top returners
: QB
Keith Price
, RB
Bishop Sankey
, WR
Kasen Williams
, TE
Austin Seferian-Jenkins
, DB
Sean Parker
, LB
John Timu
, DE
Josh Shirley
, LB
Shaq Thompson
.
Key losses
: CB Desmond Trufant, DB
Justin Glenn
, C
Drew Schaefer
, FB
Jonathan Amosa
.
2012 statistical leaders (*returners)
Rushing
: Bishop Sankey* (1,439)
Passing
: Keith Price* (2,726)
Receiving
: Kasen Williams* (878)
Tackles
: John Timu* (91)
Sacks
: Josh Shirley*;
Andrew Hudson
* (6.5)
Interceptions
: Justin Glenn, Shaq Thompson*,
Marcus Peters
* (3)
Spring answers
Picking up the pace: We know the Huskies spent the spring installing a new up-tempo offense. How much of it was installed and how comfortable the players are running it remains to be seen. But Steve Sarkisian has made a point that his team needs to 1) do a better job keeping up with the up-tempo offenses in the league and 2) do a better job keeping teams on their heels. This philosophical switch seems to address both since the defense has been practicing against an up-tempo offense.
Starting five: Many believe this is the best team Sarkisian has had since coming to Washington. And part of that might be that he finally has a healthy offensive line with quality depth behind the starters. The group of Micah Hatchie (LT), Dexter Charles (LG), Mike Criste (C), James Atoe (RG) and Ben Riva (RT) worked as the first-team starting five all spring. And former starters Erik Kohler and Colin Tanigawa, along with experienced backup Shane Brostek, give the Huskies quantity and quality up front.
Progress of Price: The breakout player of 2011 and embattled starter of 2012, Keith Price, quickly shook off whispers of a quarterback competition with a strong spring that left Sarkisian feeling good about his third-year starter. He distanced himself from would-be challengers and, if he can return to that 2011 form, could have Washington in the top 25.
Fall questions
After Price: It looks like Cyler Miles has established himself as No. 2 in the quarterback hierarchy, but the battle to be Price's understudy will continue into the fall with Derrick Brown and Jeff Lindquist still in the mix. The Huskies were one of only four teams in the conference last year to have the same quarterback start every game. So Price has proven his durability. But having a clear pecking order behind the starter can be equally important.
Replacing Trufant: No easy task to replace Desmond Trufant, a staple in the Washington defensive backfield who at one point started 45 straight games. Marcus Peters is all but locked in on one side, leaving Greg Ducre and Travell Dixon battling it out on the other side. Tre Watson will also be in the mix.
ASJ MIA: How long will Austin Seferian-Jenkins, the Pac-12's top tight end, be out? Will he miss any games? He's been suspended indefinitely stemming from his DUI arrest and many are wondering if he'll miss at least the season opener against Boise State. Sarkisian pointed to the silver lining of the situation -- noting that his absence has allowed others at the position to get extensive work this spring. He also said Seferian-Jenkins is taking all of the proper steps to rejoin the team. There is little doubt he'll be the most dominant tight end in the league in 2013, and probably the country. The timetable for his return will be of great interest in the coming months.
March, 27, 2013
Mar 27
8:00
AM PT
SEATTLE -- This is the year. Washington coach Steve Sarkisian is preparing for his fifth season with the Huskies and, after three straight bowl appearances, 2013 seems to be the season where the program is expected to take the next step.
After signing four straight top 25 recruiting classes, Washington is now expected to put a top 25 team on the field.
To continue reading this article you must be an Insider
March, 6, 2013
Mar 6
7:14
AM PT
Call them seeming contradictions if you will, but Washington begins spring practices Tuesday with two mixed messages.
Senior Keith Price is the Huskies' starting quarterback. Unless he isn't.
There is a lot of enthusiasm surrounding the Huskies' potential in 2013. And general frustration with the program.
[+] Enlarge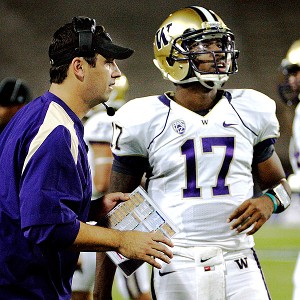 AP Photo/Wily LowCoach Steve Sarkisian says Keith Price is the Huskies' starting quarterback in 2013 -- unless he loses it to four players trying to oust him.
With 20 starters back, including a handful of seeming budding stars, the Huskies have the look of a top-25 team that could make some noise in the rugged Pac-12 North Division after three consecutive 7-win seasons, campaigns that have progressively soured fans pining for the proverbial "next step."
This, coach Steve Sarkisian acknowledges.
"I don't see why we wouldn't be in a position to compete for a division championship," he said.
Sarkisian also acknowledged the Huskies' offensive struggles in 2012. While an equal share of the blame should go to poor offensive line play, which was aggravated by injury issues, the easy guy to point the finger at is Price, whose play decidedly regressed after a strong debut season in 2011.
Price went from a darkhorse Heisman Trophy contender to eighth in the Pac-12 in passing efficiency, trailing three first-year starters and California's oft-criticized
Zach Maynard
. The Huskies averaged just 24 points per game, down nine from the 2011 season.
"We need to get our offensive numbers back to where they were two years ago," Sarkisian said.
And that starts with Price. Unless it doesn't.
"Keith Price is our starting quarterback -- the goal is to get Keith Price back to playing the way he was two years ago," Sarkisian said. "But there are four guys behind him who are going to be chomping at the bit to get an opportunity to make this thing into a competition that either is going to push Keith to be better than he's been or, ultimately, try to surpass him."
So this is Price's job. Unless... "As I've said to Keith," Sarkisian said, "we're not going to be stubborn enough that if we think another guy is playing better that guy won't get that opportunity to beat him out."
Those four guys trying to raise an eyebrow at Price's expense: Redshirt freshmen
Cyler Miles
,
Jeff Lindquist
, sophomore
Derrick Brown
and true freshman Troy Williams.
The bottom line meaning behind Sarkisian's statements is fairly straightforward: 1. He wants Price to win the job; 2. But he wants the Huskies to win as many games as possible in a critical season for him and the program; 3. He's going to play the guy who gives him the best chance for No. 2.
The quarterbacks will be working with a new position coach, Marques Tuiasosopo, whose name immediately evokes pleasant memories for Huskies fans. He quarterbacked the program to a No. 3 final ranking after the 2000 season, the Huskies' last Rose Bowl victory. A former dual-threat player, he's got an NFL pedigree, an easy-going style and a natural follow-me-to-the-gold! ability to lead. He also will allow Sarkisian to be more big-picture with the offense.
If the Huskies get the Price of 2011 -- or someone else who can produce a top-10 in the nation passing efficiency rating -- there are a lot of toys to play with, starting with RB
Bishop Sankey
, WR
Kasen Williams
and TE
Austin Seferian-Jenkins
. A young offensive line that got pushed around in 2012 should be much better, and the (eventual) return of former starters
Colin Tanigawa
and
Erik Kohler
will provide another boost.
The dramatic improvement of the defense in Year 1 under coordinator Justin Wilcox also suggests strong reasons for optimism.
Of course, the program has been glutted with optimism the past few seasons. Seven wins were a revelation in 2010. Not so much in 2012, particularly when the Huskies blew their final two games, most notably a shocking fourth-quarter collapse against Washington State, something that Cougars fans never, ever, ever bring up these days.
Sarkisian, as is his wont, can find a silver lining even there.
"I don't think that taste is going to go anywhere for awhile, which is OK," he said. "We lost two games that we should have won. The end result is we are sitting here talking about a 7-6 football team when we could have been here talking about a 9-4 football team. But I don't know if that's all bad. If we would have finished 9-4 and found a way to finish those last two games, I don't know what January or February would have been like for us as a football team. We may have still been hungry and I would like to think so and striving for more. We might have grown a bit complacent. What I do know is there is zero complacency in our locker room right now."
That lack of complacency must start with Price. He needs to regain his mojo. The same could be said for Sarkisian.
Washington will open a remodeled Husky Stadium this fall, a facility that will immediately rank among the nation's best. That will add to the anticipation of a special season, one that Huskies fans have turned purple -- appropriately -- holding their collective breath anticipating.
Said Sarkisian of Price, "We've been through a lot together and we've got one chapter left that we want to make a great ending."
March, 4, 2013
Mar 4
5:45
PM PT
SEATTLE -- When Steve Sarkisian met with the media Monday, Washington's coach talked about a team that is "poised for a great run" in 2013.
That journey begins Tuesday when the Huskies take the field for their first spring practice.
"We're champing at the bit to get on the field and get going," Sarkisian said.
Sarkisian believes the pieces are in place for the program to compete for a Pac-12 title. To do that, Washington needs to find success and build confidence this spring.
Here are five storylines to follow as the Huskies set out to reach the lofty expectations that have been set in front of the program:
[+] Enlarge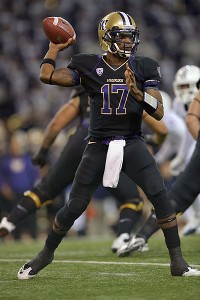 Steven Bisig/US PresswireThe Huskies are looking forward to seeing Keith Price regain his sophomore-year form in 2013.
1: Can Keith Price regain the form he showed as a sophomore?
Heading into the spring, Price is Washington's quarterback. Sarkisian made that clear when asked about the senior quarterback.
However, Sarkisian also made it clear that the Huskies' passing attack needs to take a step forward, and Price needs to regain the confidence he had as a sophomore.
"The goal is to get Keith Price back to playing the way he was two years ago," Sarkisian said.
With the way Price, and the team, struggled at times last season, both the quarterback and coaching staff tried to manufacture the energy Price produced so naturally as a sophomore.
It didn't work.
"It's developed through confidence, through belief to where it exudes out of him and it's not trying to be created superficially," Sarkisian said.
Through Price's offseason training, Sarkisian believes the quarterback will regain his swagger in time for theseason. But the other quarterbacks in the program --
Cyler Miles
,
Jeff Lindquist
,
Troy Williams
and
Derrick Brown
-- will get their opportunities.
"We're not going to be stubborn enough to think, if another guy is playing better that guy won't get that opportunity to beat him out," Sarkisian said. "[Price] understands the focus of this spring and what he needs to do for himself so that he can perform to the highest level of his capabilities."
February, 15, 2013
Feb 15
11:35
AM PT
SEATTLE -- Washington held its first big post-signing day recruiting event last week, bringing in some of the program's top 2014 and '15 prospects for junior day.
The recruits were treated to a campus tour, a facilities tour and a chance to get better acquainted with their potential position coaches.
The event left a positive impressive with recruits, everyone from safety
Bishard "Budda" Baker
(Bellevue, Wash./Bellevue) to running back
Devante Downs
(Mountlake Terrace, Wash./Mountlake Terrace).
To continue reading this article you must be an Insider
January, 8, 2013
Jan 8
12:32
PM PT
SEATTLE -- When it comes to quarterbacks, Washington's stable is stocked with blue-chip prospects.
Two-year starter
Keith Price
is returning for his senior season, and the Huskies added a pair of top prospects to its 2012 class in
Jeff Lindquist
and
Cyler Miles
.
To continue reading this article you must be an Insider
December, 21, 2012
12/21/12
12:59
PM PT
At each stop during the final day of this week's Northern California road trip, I took a minute to check Twitter.
I wanted to see if
Lavon Hooks
had announced his decision. The defensive tackle out of Northeast Mississippi Community College, rated the No. 15 prospect in the ESPN Junior College 100, had Washington among his finalists.
Each time I checked for an update, his announcement had been delayed. On Thursday, news finally broke the Hooks had picked Ole Miss over his other finalists.
To continue reading this article you must be an Insider
August, 22, 2012
8/22/12
11:51
AM PT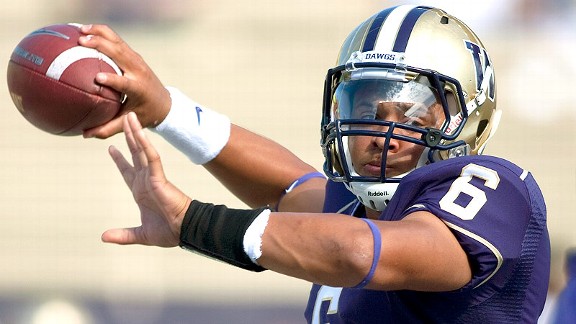 Jesse Beals/Icon SMIRedshirt freshman signal-caller Derrick Brown is more 'seasoned' in his second year at Washington.
SEATTLE -- There were moments last season when
Derrick Brown
felt like he was deciphering a lost language.
"I was like, man, I'm never going to get this," the quarterback said.
While watching film, Washington coach Steve Sarkisian would ask the freshman to identify a defensive coverage. He was forced to admit, "I don't know."
An all-around talent coming out of Murrieta (Calif.) Vista Murrieta, Brown felt like an athlete trying to play quarterback. Now, after a redshirt year spent buried in the Huskies' playbook, Brown feels comfortable. When Sarkisian asks him to dissect a defense, he has an answer.
"This year, I'm more seasoned," he said. "I feel like a real quarterback now."
More than two weeks into fall camp, comfort has produced confidence. That belief in his ability has produced productive performances.
"Derrick, progressively, has gotten better and better and better," Sarkisian said. "He's throwing the ball with more conviction. The belief in what he's seeing, what he's reading is there and [he's] trusting it. In turn, he's playing more confidently."
The 6-foot-2, 245-pound redshirt freshman fired a pass Monday that traveled about 60 yards in the air before landing in the cradled arms of receiver
Cody Bruns
. One day later he found freshman
Kendyl Taylor
on a deep route.
He has shown how far he's come by making plays in practice.
"Things are getting better," Brown said. "I'm feeling better. I'm feeling more comfortable with the guys. I'm feeling more comfortable with the offense. I know my stuff now."
Brown has been getting a bulk of the snaps with the second-team offense recently, but he knows he needs to continue earning opportunities if he wants to be
Keith Price
's backup.
"Nothing is really set in stone," Brown said. "I'm not the No. 2 guy for sure. I'm just trying to come out here and work hard every day and earn that spot."
As the Huskies prepare for their season opener against San Diego State on Sept. 1 at CenturyLink Field, Brown said consistency is key for him to take the next step in his development.
"Some days, I come out here and have a great day," he said. "Some days, I'll come out here and have not so good of a day. I've just got to be consistent each and every day. And not just each and every day, but each and every period -- whatever I'm doing, just be consistent."
At the start of fall camp, a lot of the conversation surrounded highly-touted freshmen
Cyler Miles
(Denver, Colo./Mullen) and
Jeff Lindquist
(Mercer Island, Wash./Mercer Island). That didn't bother Brown.
"I knew they were coming in highly touted guys," he said. "I didn't really pay too much attention to that. I just try to do me, get better each and every day."
While Washington wants to keep Price on the field for the full season, Brown is prepared to play if needed.
"If something were to happen, I just want to go in there, not lose a step and help my team win any way possible," Brown said.
Until his name is called, "I'm just looking up, not looking down," Brown said.
August, 18, 2012
8/18/12
7:36
PM PT
SEATTLE -- Before
Keith Price
left the field, Washington's quarterback summed up Saturday's scrimmage with a simple sentence: "I've got to get my juice going."
The Huskies wrapped up their second week of fall camp with a full-contact scrimmage that produced highlights -- a 51-yard completion from Price to freshman
Jaydon Mickens
-- while showing there is still plenty of room for improvement.
"We're not ready yet," said Price, who was 14 of 18 for 176 yards and two touchdowns. "We've still got a long way to go, obviously, getting lined up and getting set."
With young players like Mickens and fellow freshman receiver
Kendyl Taylor
and freshman safety
Shaq Thompson
getting a long look, Washington is working on creating consistency.
August, 10, 2012
8/10/12
7:30
PM PT
SEATTLE -- Here is a quick-hitting look at Washington's fifth day of fall camp.
Young linebackers get opportunity
With injuries mounting over the first week of fall camp at the linebacker position, young players are getting an opportunity to show what they can do.
Washington coach Steve Sarkisian mentioned
Jamaal Kearse
,
Scott Lawyer
,
Cory Littleton
and
Evan Zeger
as players who saw more snaps Friday.
"I think they embrace it," Sarkisian said. "We talked about it last night as a team that, as one guys goes down, the reason we recruited those guys is to come here and play. I think they're working at it. Just like a lot of young guys, you make some plays and you have some plays you'd like to have back."
Injury report
After leaving practice on a cart Thursday, his foot wrapped in ice, linebacker
Nate Fellner
learned later he had broken the fifth metatarsal in his foot.
Sarkisian said there is no ligament damage, but the senior is expected to miss about four weeks.
Receiver
James Johnson
is day-to-day with a sprained foot and linebacker
Princeton Fuimaono
is dealing with a hamstring injury the Huskies are going to "monitor very closely."
"We don't want that thing to linger all year long," Sarkisian said said. "We're going to get him healthy."
Young receivers making an impression
Freshmen receivers
Jaydon Mickens
(Los Angeles, Calif./Dorsey) and
Kendyl Taylor
(Chandler, Ariz./Hamilton) have taken turns making plays all week.
Like all freshmen, there have been struggles, but Sarkisian singled them out as players who have performed well so far.
"They've been impressive," he said.
Freshmen link up for touchdown
Jeff Lindquist
(Mercer Island, Wash./Mercer Island) rolled to his right and fired a 40-yard pass toward the end zone. The ball was underthrown, but receiver
Marvin Hall
(Los Angeles, Calif./Dorsey) made a nice adjustment.
He fought through a defensive back and hauled in the touchdown pass.
Linebacker gives up the game
Junior
Garret Gilliland
has decided to retire from football, Sarkisian announced.
Because it was the linebacker's decision to leave the program, he will not retain his scholarship.
"If he retires, he retires," Sarkisian said. "That's his choice. We want him to play football and he doesn't want to. It's unfortunate."
Quotable
When asked about the energy building throughout practice, Sarkisian said, "Our guys understand the competition as it builds and they look forward to the competition. That's what makes our guys special to me, because they embrace those opportunities to battle and compete with one another, but do it with respect. They did that today."
-- Offensive line coach Dan Cozzetto missed Friday's practice. Sarkisian described it as a "personal issue."
August, 6, 2012
8/06/12
3:10
PM PT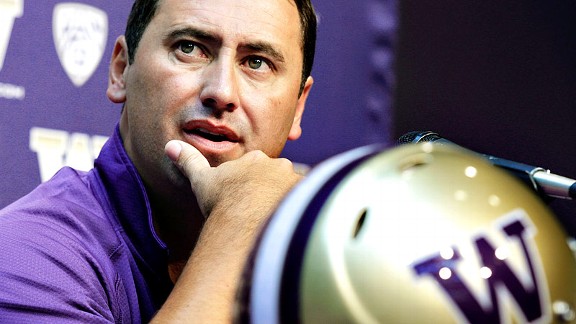 AP Photo/Ted S. WarrenWashington head coach Steve Sarkisian likes what he has seen from Keith Price during the offseason.
When Steve Sarkisian sat down for his preseason press conference Monday, he talked about the growth of his program. He talked about elevated expectations. He talked about how far Washington has come and where it is headed.
"I feel like we're becoming a more mature football team," said Sarkisian, who is in his fourth year as the Huskies' head coach. "I know sometimes age is the issue and we don't have many seniors and all of those things, but I think we have experience.
"I really feel like this is a tight-knit group, probably our closest, tightest team that we've had where the last four classes have come in together with the sole purpose of winning a championship and have been recruited by myself and the coaches on this staff."
Heading into the first fall practice, Sarkisian talked about the continuity that comes when players have matured under a consistent message and philosophy. He talked about the sense of urgency that comes with a young, but experienced roster he referred to as "a focused group with a purpose and maybe a little bit of a chip on their shoulders."
He covered everything from digital playbooks to backup quarterbacks. Here is look at some of the highlights from Sarkisian's meeting with the media:
QB Keith Price takes next step as a leader
As good as Keith Price was in his first season as Washington's starter, Sarkisian was curious to see how his quarterback would continue to develop.
"You can go out and have a great year, but how are you going to get better?" Sarkisian said. "What are you going to do to take the next step to get better?"
After watching Price build his body – he weighs more than 200 pounds – and continue to grow as a leader, Sarkisian continues to be impressed with the passer who threw for 3,063 yards and 33 touchdowns in 2011.
"Keith has a great deal of confidence," Sarkisian said. "He's a tremendous leader. We've all seen his ability, what he brings to practice, the way he practices. Keith has put in the time and I think his teammates recognize that. He just continues to get stronger and look better and better."
When it comes to freshmen, Washington will wait and see
When asked about his expectations for highly-touted freshman safety
Shaq Thompson
, Sarkisian said, "He's here. He looks in shape. He cleared his physical."
But, as far as the impact he will have in his first year, well, that remains to be seen.
"You've got to give me a couple days. I don't know exactly what we're getting. We're going to put him out there in different scenarios and different situations just like all of our freshmen will."
Freshmen defensive backs
Brandon Beaver
, Cleveland Wallace and
Darien Washington
will all get opportunities but, as Washington builds depth, there isn't as much of a need to push players onto the field before they prove they are ready.
"I think it's getting harder for them to get on the field, but that doesn't mean that we're not going to give them the opportunity to show what they can do and if they're the best player for the spot to make us the most successful team, then they'll earn that job," Sarkisian said.
Battle at backup quarterback
Keith Price is the unquestioned starting quarterback at Washington, but who will emerge as the backup?
Derrick Brown
, who redshirted as a freshman, will get a "pretty extensive" look, along with true freshmen
Jeff Lindquist
and
Cyler Miles
.
"We're going to give Cyler and Jeff as much as we can, especially early, to get a gauge for where they are," Sarkisian said. "We're going to give them as much as we can."
Playbook goes digital
The days of the paper playbook are a thing of the past for Washington, as Sarkisian revealed the Huskies have transferred everything over to the iPad.
"We've gone totally digital from a playbook standpoint," Sarkisian said. "Everything is on the iPad now, which I know the players embrace. We're cutting down on the big notebook, but also I think it's something they relate to."
In addition to being able to access the playbook, players can now access film and receive messages from the coaching staff.
"This is a digital world that we're living in and I think the players probably understand the iPads better than we do," Sarkisian said.
Expectations elevated on offense
Whether it's sophomores
Kasen Williams
and
Austin Seferian-Jenkins
or running backs
Jesse Callier
and
Bishop Sankey
, Sarkisian said the expectations have been elevated for some of his younger skill-position players.
"We have some players on our roster whose expectations have risen, just as our program has," Sarkisian said. "I know the bar that we're setting for them is higher and it's higher from within."
Notes:
• Running back Ryan McDaniel has yet to be completely cleared as he continues to recover from an ACL injury.
Cooper Pelluer
also continues recover from shoulder surgery.
• Matt Lyons, a redshirt freshman linebacker, has decided to transfer.
•
Dwayne Washington
, a freshman receiver, is yet to be cleared by the NCAA. His case is still being reviewed by the NCAA.
•
Cory Littleton
, a freshman linebacker, has been cleared by the NCAA.