Washington Huskies:

James Johnson
March, 27, 2013
Mar 27
8:00
AM PT
SEATTLE -- This is the year. Washington coach Steve Sarkisian is preparing for his fifth season with the Huskies and, after three straight bowl appearances, 2013 seems to be the season where the program is expected to take the next step.
After signing four straight top 25 recruiting classes, Washington is now expected to put a top 25 team on the field.
To continue reading this article you must be an Insider
March, 11, 2013
Mar 11
10:15
AM PT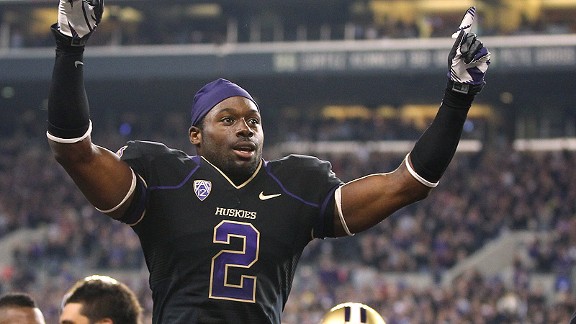 Otto Greule Jr/Getty ImagesKasen Williams and the Huskies are a veteran group poised to make a breakthrough in 2013.
SEATTLE -- On the day before Washington opened spring practice, Steve Sarkisian sat down at a table and asked the assembled media members if they would be willing to take the news conference outside.
It was sunny afternoon in Seattle and the Huskies' coach took the weather as a positive sign of what his program has to look forward to in 2013.
"It's always good to wake up with the sun shining to start football again," Sarkisian said.
As Sarkisian embarks on his fifth season with the program, the coach has reason to see a sunnier side of things to come for his football team.
Washington has put together four consecutive top-25 recruiting classes, earning trips to bowl games in each of the last three seasons. The assembled talent has reached a point in which young players have been in the system long enough to be considered veterans.
"This is a football team that we've talked for the last few years about youth," Sarkisian said. "Well, now all of a sudden, that youth has become veteran leadership."
As the Huskies work through spring football, this is the year the program needs to take a significant step forward.
"We're excited about this team that we have in place," Sarkisian said. "We're poised for a great run. We have a lot of work to do, obviously, but we're poised for a great run."
The pieces are in place for Washington to make a move in the Pac-12 North. Quarterback
Keith Price
is a senior. Receiver
Kasen Williams
and running back
Bishop Sankey
are juniors. The offensive line has played in meaningful games and the defense is pointed in the right direction under defensive coordinator Justin Wilcox.
"This is a hungry football team," Sarkisian said. "One that, like I said, is champing at the bit to get back on the field, compete and play football and, ultimately, get back on the field for the fall season in 2013."
Sarkisian isn't making any bold claims about where the program is headed. He isn't guaranteeing a trip to the Pac-12 title game and a spot in the Rose Bowl. But he knows the talent is in the program to make a move. He considers a division title a realistic goal for the Huskies.
Safety
Sean Parker
is developing into a senior leader.
James Johnson
is healthy and, as a senior, provides a veteran presence at receiver. Safety
Shaq Thompson
has a year of experience behind him and defensive tackle
Danny Shelton
will be counted on to have a big season.
All of the pieces are in place.
"I think we have the roster in place to take that step and to do it consistently," Sarkisian said.
After ending the 2012 season with back-to-back losses, the Huskies are determined to show something this season. Washington wants to take a significant step forward.
That journey starts this spring.
"What I do know is there is zero complacency in our locker room right now," Sarkisian said. "This is a hungry group that wants to redeem themselves for the opportunities that we let get away from us."
March, 5, 2013
Mar 5
11:00
AM PT
SEATTLE -- When asked to list a few players he is looking forward to watching this spring, Steve Sarkisian added one word for almost every person he talked about.
When it comes to potential breakout performances, Washington's coach is "excited" about the potential for several players in his program to put together breakout seasons.
With the Huskies opening spring practice Tuesday night, here is a look at players to pay attention to:
[+] Enlarge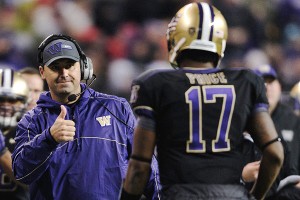 Steven Bisig/US PresswireSteve Sarkisian is looking forward to a final season with quarterback Keith Price.
1. Quarterback Keith Price:
It is hard for Sarkisian to believe his quarterback is already a senior.
The coach and quarterback have been linked throughout Sarkisian's tenure at Washington.
"We've been through a lot together and we've got one chapter left that we want to make this thing a great ending," Sarkisian said.
After a breakout season as a sophomore, Price struggled as a junior. Sarkisian wants his quarterback to regain the "smile," "flair" and "competitive nature" that seems to come naturally when Price is playing well.
Can he come through with a second breakout season? Sarkisian thinks so.
2. Cornerback Marcus Peters:
As a redshirt freshman, Peters produced flashes. He showed, at times, he could become an all-conference corner.
Now it is time for Peters to build on those moments.
"I would like to see Marcus Peters play with the consistency that he's capable of playing with," Sarkisian said. "He's flashed it several times for us and now to be able to put that thing together and do if for an 80-play sequence on game day, I think, would be amazing."
January, 24, 2013
Jan 24
8:00
AM PT
When Steve Sarkisian was brought in as Washington's head coach, he had less than two months to put together the Huskies' 2009 recruiting class.
Hired on Dec. 8, Sarkisian went to work piling up prospects. Considering the limited time he had to assemble the group, he did well.
To continue reading this article you must be an Insider
August, 27, 2012
8/27/12
4:39
PM PT
SEATTLE -- After an eventful three weeks of fall camp, Washington coach Steve Sarkisian said the "volume gets turned up" this week as the Huskies prepare for the season opener against San Diego State.
"I thought the guys brought a real sense of energy and enthusiasm, a little bit of an edge to practice today," Sarkisian said Monday during his weekly news conference.
Whether it was injuries or position changes, Sarkisian said the adversity has shaped the team that will take the field at 7:30 p.m. Saturday at CenturyLink Field.
"We got dealt our fair share of things early on, obviously, from some injuries to guys moving around to some different positions, but the end result, I believe we're better for it and excited to go play," Sarkisian said.
[+] Enlarge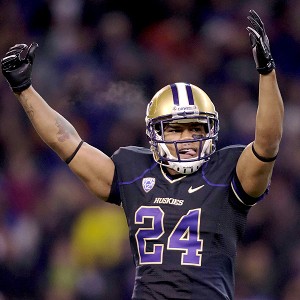 Steven Bisig/US PresswireHuskies junior Jesse Callier will be the starter at running back.
Callier, Sankey to split reps:
Jesse Callier
said his father always told him it's best to "come from the bottom."
With Chris Polk in the NFL, Callier gets his chance to force his way into the spotlight as a junior.
"Come from the bottom and no one is expecting you and, next thing you know, you're on them," Callier said.
Callier is listed at the top of the depth chart with sophomore
Bishop Sankey
. Both backs will get carries. Both backs will get a chance to prove they can play.
"I think we've got a good plan in place for both those kids to, hopefully, put them in position to do what they do to be successful," Sarkisian said. "We'll get a better feel for them as the game goes on."
Sophomore captain John Timu:
Only a sophomore, linebacker
John Timu
was named one of the Huskies' three defensive captains over the weekend.
When asked about the decision, Sarkisian praised Timu's maturity.
"He's a really mature guy," Sarkisian said. "Sometimes he doesn't show as much emotion as maybe we would all like, but that calming effect that he has, I think, is why he has been able to persevere so much in his own personal life with some of the injuries and things.
"There's some natural leadership that comes out of him that guys really recognize. I think it speaks volumes to the maturity that he possesses."
Injury report:
No new injuries were reported Monday.
Steve Sarkisian listed
Hau'oli Jamora
,
Deontae Cooper
,
Nate Fellner
,
James Johnson
,
Jamaal Kearse
and
Cooper Pelluer
as the six players out for Saturday's season opener.
Pelluer and Cooper are already dealing with season-ending injuries. Cooper (knee) and Jamora (knee) will have surgery on their respective injuries Thursday.
Quotable:
When asked about his goals for the Huskies in 2012, quarterback
Keith Price
said, "We're trying to win the Pac-12; that's our goal. Obviously we've got to earn respect and we have to win games."
Other notes
August, 19, 2012
8/19/12
12:00
PM PT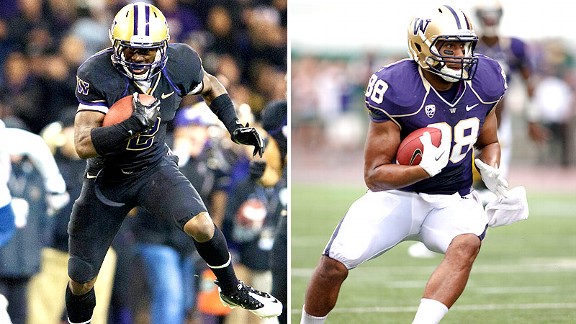 US Presswire, Icon SMIAll eyes are on sophomore wide receiver Kasen Williams and sophomore tight end Austin Sefarian-Jenkins, both of whom will be featured heavily in Washington's passing attack.
SEATTLE -- Midway through spring football, something clicked for
Kasen Williams
.
Washington coach Steve Sarkisian saw a change in practice. The coaching staff saw a change on film. The receiver saw a change within himself.
"I want to be the best," said Williams, a sophomore. "That's what we're all out here for, to be the best. If I'm not getting better every day, there's no way I can accomplish that."
Prior to Williams' senior high school season in 2010, he joined tight end
Austin Seferian-Jenkins
as the two top prospects coming out of Washington. They both held highly publicized press conferences to announce their decisions. They were two hometown heroes headed to Husky Stadium to lead the Huskies' rebuilding effort.
"Coach Sark (Steve Sarkisian), and the players there, it's going to be a national championship soon," Seferian-Jenkins said the day he committed. "I want to be a part of that, that hometown guy, that local guy to help bring them back up. I think I can do that. I know I can do it. We're going to do it."
They arrived on campus as tremendous talents who were expected to exceed expectations.
As freshmen, they both had their moments.
Williams caught 36 passes for 427 yards and six touchdowns and will be remembered for hurdling Washington State cornerback
Nolan Washington
in the Apple Cup.
Seferian-Jenkins finished the year with 41 catches for 538 yards and six touchdowns.
But as productive as they were as freshmen -- Seferian-Jenkins' receiving yardage ranked No. 2 all-time for a freshman at Washington -- the Huskies need the proven playmakers to take the next step as sophomores. They need to fill the void left by the graduation of Jermaine Kearse and Devin Aguilar and the absence of senior
James Johnson
, who is recovering from a wrist injury.
"I feel like it's definitely necessary to take this team where we want to go," Williams said. "We have a lot of offensive weapons. I want to be the main offensive weapon. If we want to keep going as a team, we're going to need all 11 of us. If I'm at the top of my game, they're all going to follow in my footsteps."
Seferian-Jenkins added, "This year I'm taking the next step by working hard, harder than I've ever worked before. Being smart, taking care of my body when I feel that needs to be taken care of, just getting better chemistry with Keith, understanding the playbook."
After working through seasons that were as productive as they were humbling, Williams and Seferian-Jenkins have made plays throughout the first two weeks of practice.
Before fall camp started, Sarkisian called the 2012 season a "unique time" for the receiver and tight end. He wanted to see if they would embrace the challenge of being the primary targets for quarterback
Keith Price
.
So far, Sarkisian likes what he has seen.
"He's been really strong," he said when asked about Williams. "He's been physical. He's been confident. He really knows what he's doing, so he's doing it confidently."
When asked about Seferian-Jenkins, Sarkisian added, "Austin, he's committed himself to it. He's matured since last season and, obviously, spring. The work ethic, the willingness to block, the playing with better effort when the ball is not coming his way, all of that has improved. And he's still making plays on the ball when we're throwing it to him."
Seferian-Jenkins considers his success so far a first step. He sees what he has accomplished. He knows what he wants to achieve in the future. He understands what it takes to reach that point.
Now, like Williams, it is time to take the next step.
"I've taken baby steps and I feel like I'm just starting to crawl," Seferian-Jenkins said. "I'm excited to start running."
August, 17, 2012
8/17/12
9:45
PM PT
SEATTLE -- Here is a quick-hitting look at Washington's 11th day of fall camp:
Johnson, Kearse have surgery
Receiver
James Johnson
had surgery on the dislocated wrist he suffered in Wednesday's practice. In addition to the dislocation, doctors found torn ligaments. The senior is expected to miss four to six weeks.
Linebacker
Jamaal Kearse
, who has a stress fracture in his tibia, also had surgery Friday and is expected to miss four to six weeks.
"Anytime you're dealing with bones, it is what it is," Washington coach Steve Sarkisian said.
WR Smith works his way back
Sarkisian could sense the excitement when receiver
Kevin Smith
got the opportunity to participate in team drills.
"Kevin is such a great spirit," Sarkisian said. "He's got such a great energy. He loves being out here. When we gave him the opportunity to get in there on some team stuff he was just excited to be out there."
The junior continues to work his way back from the ACL injury he suffered right before the Alamo Bowl last season and his progress is a positive sign with Johnson expected to miss more than a month.
But, moving forward, the Huskies will continue to be cautious.
"He's definitely on a one-a-day schedule," Sarkisian said. "He will never go on a two-a-day. We've been very encouraged by his progress to this point."
Thompson back to full strength
Freshman safety
Shaq Thompson
shed the yellow non-contact jersey and was back to full strength. He also made another promising play, making a one-handed interception on a tipped pass.
The Huskies will scrimmage Saturday.
Sarkisian said he expects senior safety Justin Glenn, who has been recovering from a mild concussion, to be back Monday.
Sarkisian said one of the surprises through fall camp so far has been the play of safety Will Shamburger.
Washington offensive line commit Andrew Kirkland (Portland, Ore./Jesuit) attended Friday's practice.
August, 16, 2012
8/16/12
9:31
PM PT
SEATTLE -- Here is a quick-hitting look at Washington's 10th day of fall camp.
Injury report
James Johnson
missed practice with a dislocated left wrist. Washington coach Steve Sarkisian said the receiver suffered the injury during Wednesday's practice.
To continue reading this article you must be an Insider
August, 12, 2012
8/12/12
10:12
AM PT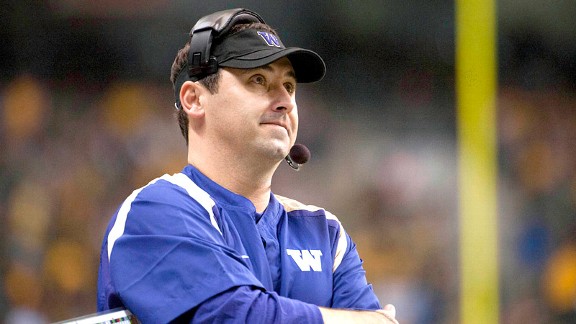 Brendan Maloney/US PresswireSteve Sarkisian is seeing the kind of chemistry developing that can propel the Huskies to great heights.
SEATTLE -- Here is a quick-hitting look at Washington's sixth day of fall camp.
Recruiting update
It was a busy day at Washington camp, with three high school athletes stopping by the Huskies' final practice of the first week.
Bellevue (Wash.) Bellevue teammates Sean Constantine and Myles Jack stopped by together. The linebackers are verbally committed to Washington and UCLA, respectively.
Also taking the time to observe practice was 2014 tight end prospect Chase Blakley (Coeur d'Alene, Idaho/Coeur d'Alene), who has a Washington offer and is high on the Huskies.
Camaraderie, competition and fun
James Johnson talked about how much fun the Huskies are having in camp. Sean Parker mentioned the team chemistry. Steve Sarkisian said this is the closest group he has coached during his tenure as Washington's head coach.
When asked to explain the camaraderie, Johnson and Parker couldn't quite pinpoint an answer. Sarkisian, though, said it stems from players and coaches treating each other like family.
"The one thing about families, that's the time when all of us are, really, the most open," Sarkisian said. "The ability to laugh, have fun and joke, but also be serious and maybe even cry. Those two extremes, and everything in between, sometimes you don't see in locker rooms. We definitely see it.
"I think it's pretty cool that our kids are opening themselves up to one another and to us and, as coaches, we're doing it with them. In the end, that should bring us closer."
First two-a-day of fall camp
Washington went through its first two-a-day of fall camp. The Huskies worked out in helmets during the morning session with a big emphasis on the two-minute drill.
In the afternoon session, the team went through a physical, full-pads practice with a lot of work on short yardage and goal-line situations.
"It was a really good situational practice, very competitive and, I thought, physical," Sarkisian said.
Coons drills long field goal
Leg strength hasn't been an issue for junior college transfer Travis Coons. The kicker made 3 of 5 field-goal attempts in the afternoon session with a long of 55 yards.
"He just keeps getting better to me, a little more consistent each day," Sarkisian said. "He appears to be more comfortable each day just with his approach, his body language."
Injury report
Linebacker Thomas Tutogi suffered a sprained knee during the afternoon practice. Sarkisian said it doesn't appear to be serious.
The Huskies have been hit hard by injuries at the linebacker position throughout fall camp.
Receiver Kendyl Taylor and safety James Sample sat out the afternoon practice with groin injuries.
Team bonding trip
Washington took a team trip to CenturyLink Field Saturday night to watch a preseason NFL game between the Seattle Seahawks and Tennessee Titans.
"It's a great kind of team-bonding activity that we like to do every year," Sarkisian said. "Last year we went to the Mariners game, so this year we get to go to the Seahawks game."
Former Huskies Jake Locker and Devin Aguilar play for the Titans, while Jermaine Kearse is in camp with the Seahawks.
August, 10, 2012
8/10/12
7:30
PM PT
SEATTLE -- Here is a quick-hitting look at Washington's fifth day of fall camp.
Young linebackers get opportunity
With injuries mounting over the first week of fall camp at the linebacker position, young players are getting an opportunity to show what they can do.
Washington coach Steve Sarkisian mentioned
Jamaal Kearse
,
Scott Lawyer
,
Cory Littleton
and
Evan Zeger
as players who saw more snaps Friday.
"I think they embrace it," Sarkisian said. "We talked about it last night as a team that, as one guys goes down, the reason we recruited those guys is to come here and play. I think they're working at it. Just like a lot of young guys, you make some plays and you have some plays you'd like to have back."
Injury report
After leaving practice on a cart Thursday, his foot wrapped in ice, linebacker
Nate Fellner
learned later he had broken the fifth metatarsal in his foot.
Sarkisian said there is no ligament damage, but the senior is expected to miss about four weeks.
Receiver
James Johnson
is day-to-day with a sprained foot and linebacker
Princeton Fuimaono
is dealing with a hamstring injury the Huskies are going to "monitor very closely."
"We don't want that thing to linger all year long," Sarkisian said said. "We're going to get him healthy."
Young receivers making an impression
Freshmen receivers
Jaydon Mickens
(Los Angeles, Calif./Dorsey) and
Kendyl Taylor
(Chandler, Ariz./Hamilton) have taken turns making plays all week.
Like all freshmen, there have been struggles, but Sarkisian singled them out as players who have performed well so far.
"They've been impressive," he said.
Freshmen link up for touchdown
Jeff Lindquist
(Mercer Island, Wash./Mercer Island) rolled to his right and fired a 40-yard pass toward the end zone. The ball was underthrown, but receiver
Marvin Hall
(Los Angeles, Calif./Dorsey) made a nice adjustment.
He fought through a defensive back and hauled in the touchdown pass.
Linebacker gives up the game
Junior
Garret Gilliland
has decided to retire from football, Sarkisian announced.
Because it was the linebacker's decision to leave the program, he will not retain his scholarship.
"If he retires, he retires," Sarkisian said. "That's his choice. We want him to play football and he doesn't want to. It's unfortunate."
Quotable
When asked about the energy building throughout practice, Sarkisian said, "Our guys understand the competition as it builds and they look forward to the competition. That's what makes our guys special to me, because they embrace those opportunities to battle and compete with one another, but do it with respect. They did that today."
-- Offensive line coach Dan Cozzetto missed Friday's practice. Sarkisian described it as a "personal issue."
August, 9, 2012
8/09/12
7:48
PM PT
SEATTLE -- Here is a quick-hitting look at Washington's fourth day of fall camp.
Cooper still smiling
One day after learning he had
suffered a third season-ending ACL injury
, running back
Deontae Cooper
was back on the field with his teammates.
His season was over before it had a chance to get started for the third year in a row – but he was still smiling.
"He's just an absolute stud," Sarkisian said. "He was, obviously, shook up, like anyone would be, but you just see that guy's will inside, why he's so unique and special and why people love him so much – he's back out here today with a smile on his face."
When Cooper saw Sarkisian, he had a simple message.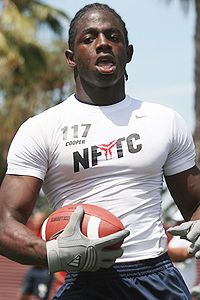 Tom HauckDeontae Cooper was on the practice field a day after tearing his ACL.
"Coach, I'll be back," he said.
When Sarkisian first heard the news, his reaction was, "How could it happen again?" He broke the news to his team after Wednesday's practice, setting a somber tone to the Huskies' post-practice meeting.
"It was hard as a team, because you get attached to people as a program and as a family," said Sarkisian, who added this is the first time he's seen three ACL injuries to one player. "You see a guy with Deontae, the work ethic that he has, his ability to persevere, not only through one ACL, but he comes all the way back and then another. He had himself in great shape, ready to go. It's extremely difficult."
If there is a player capable of returning from a third ACL injury, Sarkisian is confident it is Cooper.
"I don't know if there's anybody that will handle it better than Deontae will," Sarkisian said.
With Cooper looking on, the Huskies went back to work Thursday.
"We're here to work," running backs coach Joel Thomas said. "There's no doubt about it. The thing that we do all realize is that injuries are part of the game. It's a brotherhood that we have through the group. We talk about taking care of him and making sure we're there for him, but they're here to work. They got better today."
Recruiting update
Washington commit
Daeshon Hall
spent the afternoon at practice. The 6-foot-6, 230-pound defensive end was one of seven players to give Washington verbal commitments on June 29.
He spent his first two seasons at Seattle (Wash.) Garfield before transferring to Lancaster (Texas) as a junior.
Injury issues
Sarkisian called them "fluke" injuries.
Through four days of practice the Huskies have suffered several injuries during drills with very little contact.
Receiver
James Johnson
sprained his foot. Defensive end
Hau'oli Jamora
sprained his knee. Linebacker
Nate Fellner
suffered a foot injury.
"Some stuff is obvious, when you see the big collision or a guy getting pulled down in an awkward way," Sarkisian said. "We've just had some bad luck. The good thing is, I think we've finally got a roster with the depth where we can withstand some of these injuries."
Jamora will have an arthroscopic procedure as a precaution. He is expected to miss about two weeks.
"I would rather him miss two weeks now than down the road it affect him for the season," Sarkisian said.
Walk-on cornerback making plays
Tre Watson
keeps making plays.
The 5-foot-9, 183-pound walk-on junior corner back has been impressive throughout the first week of fall camp.
"He's a scrappy guy," Sarkisian said. "He's got a very high football IQ. He has a knack for understanding where the ball is going to go. Even when a guy is catching the ball, he has a unique understanding of where the ball is going to go to the tuck and he gets in there and finds a way to punch it out."
No more "dumb penalties"
For the second day in a row, Sarkisian was forced to send a message about "dumb penalties."
After some extra pushing and shoving between running back
Willis Wilson
and corner back
Desmond Trufant
at the end of a play, safety
Sean Parker
knocked Wilson down.
It happened out of bounds, well after the play was over.
"What bothered me about Sean's deal today, that was a huge point of emphasis after yesterday's practice and last night's meeting," Sarkisian said. "To come out today, his emotions got the better of him. That's not OK. That's a selfish move."