Washington Huskies:

James Atoe
May, 8, 2013
May 8
10:57
AM PT
WASHINGTON HUSKIES
2012 record
: 7-6
2012 conference record
: 5-4 (Fourth in North Division)
Returning starters
: Offense 10; Defense 8; Kicker/punter: 2

Top returners
: QB
Keith Price
, RB
Bishop Sankey
, WR
Kasen Williams
, TE
Austin Seferian-Jenkins
, DB
Sean Parker
, LB
John Timu
, DE
Josh Shirley
, LB
Shaq Thompson
.
Key losses
: CB Desmond Trufant, DB
Justin Glenn
, C
Drew Schaefer
, FB
Jonathan Amosa
.
2012 statistical leaders (*returners)
Rushing
: Bishop Sankey* (1,439)
Passing
: Keith Price* (2,726)
Receiving
: Kasen Williams* (878)
Tackles
: John Timu* (91)
Sacks
: Josh Shirley*;
Andrew Hudson
* (6.5)
Interceptions
: Justin Glenn, Shaq Thompson*,
Marcus Peters
* (3)
Spring answers
Picking up the pace: We know the Huskies spent the spring installing a new up-tempo offense. How much of it was installed and how comfortable the players are running it remains to be seen. But Steve Sarkisian has made a point that his team needs to 1) do a better job keeping up with the up-tempo offenses in the league and 2) do a better job keeping teams on their heels. This philosophical switch seems to address both since the defense has been practicing against an up-tempo offense.
Starting five: Many believe this is the best team Sarkisian has had since coming to Washington. And part of that might be that he finally has a healthy offensive line with quality depth behind the starters. The group of Micah Hatchie (LT), Dexter Charles (LG), Mike Criste (C), James Atoe (RG) and Ben Riva (RT) worked as the first-team starting five all spring. And former starters Erik Kohler and Colin Tanigawa, along with experienced backup Shane Brostek, give the Huskies quantity and quality up front.
Progress of Price: The breakout player of 2011 and embattled starter of 2012, Keith Price, quickly shook off whispers of a quarterback competition with a strong spring that left Sarkisian feeling good about his third-year starter. He distanced himself from would-be challengers and, if he can return to that 2011 form, could have Washington in the top 25.
Fall questions
After Price: It looks like Cyler Miles has established himself as No. 2 in the quarterback hierarchy, but the battle to be Price's understudy will continue into the fall with Derrick Brown and Jeff Lindquist still in the mix. The Huskies were one of only four teams in the conference last year to have the same quarterback start every game. So Price has proven his durability. But having a clear pecking order behind the starter can be equally important.
Replacing Trufant: No easy task to replace Desmond Trufant, a staple in the Washington defensive backfield who at one point started 45 straight games. Marcus Peters is all but locked in on one side, leaving Greg Ducre and Travell Dixon battling it out on the other side. Tre Watson will also be in the mix.
ASJ MIA: How long will Austin Seferian-Jenkins, the Pac-12's top tight end, be out? Will he miss any games? He's been suspended indefinitely stemming from his DUI arrest and many are wondering if he'll miss at least the season opener against Boise State. Sarkisian pointed to the silver lining of the situation -- noting that his absence has allowed others at the position to get extensive work this spring. He also said Seferian-Jenkins is taking all of the proper steps to rejoin the team. There is little doubt he'll be the most dominant tight end in the league in 2013, and probably the country. The timetable for his return will be of great interest in the coming months.
September, 20, 2012
9/20/12
10:00
AM PT
SEATTLE -- Here are five storylines facing Washington as the Huskies work through their bye week:
1. Preparing for potent part of the schedule:
The Huskies certainly faced a daunting challenge traveling to LSU in Week 2. But at least Washington was favored in games before and after its matchup with the Tigers. Over the next four weeks, the Huskies face ranked opponents in No. 9 Stanford, No. 3 Oregon, No. 13 USC and No. 22 Arizona.
2. Implementing game plan for Stanford:
With its matchup against the Cardinal looming on Sept. 27, Washington doesn't get the luxury of a true bye week. The Huskies will begin game-week preparations Saturday for a nationally televised contest Thursday night.
To continue reading this article you must be an Insider
September, 6, 2012
9/06/12
8:14
AM PT
SEATTLE -- Here are the five storylines facing Washington as the Huskies prepare for their trip to play No. 3 LSU in Baton Rouge, La.:
1. Protecting Price pivotal:
With right tackle
Ben Riva
sidelined with a fractured arm, Washington's versatility is being tested at the position. Expect
Erik Kohler
to slide out to right tackle, while
James Atoe
steps in at right guard.
The Huskies could also use
Mike Criste
at right tackle, while keeping Kohler at guard like they did against San Diego State after Riva's injury.
To continue reading this article you must be an Insider
September, 5, 2012
9/05/12
2:03
PM PT
SEATTLE -- When
Erik Kohler
walked into practice Tuesday he was greeted by Sheena, a 300-pound Bengal tiger.
When he takes the Tiger Stadium turf Saturday in Baton Rouge, La., the 6-foot-4, 299-pound offensive lineman will be greeted by two more Tigers -- dynamic defensive ends
Sam Montgomery
and
Barkevious Mingo
.
[+] Enlarge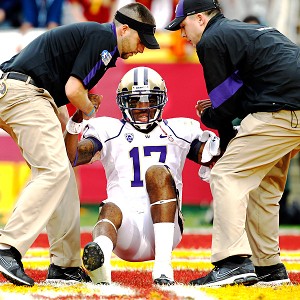 AP Photo/Christine CotterWashington's offensive linemen realize the enormity of their task in preventing LSU's menacing defensive ends from getting to QB Keith Price (center).
"It's definitely kind of shock and awe when you first see it," Kohler said.
The junior was talking about the caged tiger that spent the afternoon chewing on its black plastic water bowl, but he just as easily could have been talking about the Tigers he will be trying to keep away from quarterback
Keith Price
this weekend.
"They're athletic," senior center
Drew Schaefer
said. "They're big. They're fast. Those guys are some of the best recruits in the country coming out of high school. They've got a lot of speed out there and we've just got to communicate, hold onto our blocks and keep Keith healthy."
The Huskies went into their season opener feeling good about the line. Things went well early against San Diego State, until right tackle
Ben Riva
suffered a forearm fracture that will sideline him for some time.
Washington's ability to shuffle its linemen and hopefully keep Mingo and Montgomery away from Price will go a long way toward determining how well the Huskies hang with the nation's third-ranked program.
"What we've seen is that they're an amazing team," Kohler said. "They're a really good team. We have a lot of respect for them. It's going to be an exciting challenge to go to Baton Rouge and play them."
When Riva left last week's game, sophomore
Mike Criste
stepped in at right tackle. This week, though, the Huskies have options, moving Kohler out to tackle, while inserting
James Atoe
at right guard.
"At tackle, you're on an island more than anything," Kohler said. "You're out there by yourself. You don't have a whole lot of help. When you're down at guard, there's a lot more stuff going on, you have the center with you, sometimes you have the tackle helping with you, so it's more of a physical difference and a little bit of a mental difference than being down inside."
Kohler started all 13 games at tackle as a junior, so this isn't a sudden shift. In fact, throughout the fall Washington coach Steve Sarkisian praised the line's versatility, which will be tested against the Tigers.
"That's good for us, because we're going to need those guys during the season and we need depth," Schaefer said. "As the season goes on, you never know what you can predict or what injuries do come up. The fact that guys can step in and pick up where other guys left off is really good for us.
"I don't think there's a sense of panic at all for us right now."
Kohler agreed with the line's senior leader. When asked if there was any reason for Washington's fan base to be worried about the line, Kohler laughed.
"A lot of us are very versatile," Kohler said. "A lot of us know multiple positions and all of us can excel at those positions. We're college football players."
Whether it's Sheena, Mingo or Montgomery, Kohler isn't concerned about "shock and awe."
August, 21, 2012
8/21/12
10:01
PM PT
SEATTLE -- It has taken the better part of four years, but Washington coach Steve Sarkisian feels like his program finally has flexibility on the offensive line.
With offensive lineman
Erik Kohler
working his way back into the lineup after suffering a knee injury on the first day of fall camp, Sarkisian has the interchangeable parts he has been looking for since he became the Huskies' head coach.
"This is where you're supposed to be and it just took us a little while to get here," Sarkisian said.
After returning to practice Monday, Kohler went through both practices Tuesday, spending some time at center.
While Kohler recovered from the injury,
Micah Hatchie
and
Ben Riva
worked as the starting tackles, while
Colin Tanigawa
and
James Atoe
were the guards.
Drew Schaefer
is the starting center.
Kohler, who was recruited to Washington as a tackle and has spent time at guard, can play any spot along the line, giving the Huskies options. Sarkisian said he would have up to an eight-man rotation on the offensive line early in the season.
"I feel like our offensive line has had a nice training camp up to this point and, now with more healthy bodies, the expectations should only become greater," Sarkisian said. "I think we'll perform even greater with the lack of fatigue."
With redshirt freshman
Dexter Charles
also having a strong camp, the Huskies the kind of depth that allows them to look at redshirting more freshmen.
Injury report
The Huskies continue to get good news with linebacker
Travis Feeney
returning to practice Tuesday, although he is still limited to the non-contact yellow jersey.
Linebacker
Thomas Tutogi
is also back practicing, adding more depth to a position that had been hit hard by injuries.
"It feels like another day we're getting another guy back," Sarkisian said. "As bad as it was early in camp, we're doing pretty good right now."
• Sarkisian said defensive end
Hau'oli Jamora
and running back
Deontae Cooper
should both undergo surgery on their knee injuries this week.
• Washington will play Montana at Husky Stadium in 2017, the university confirmed Tuesday.
August, 12, 2012
8/12/12
3:20
PM PT
SEATTLE – As soon as Washington's freshmen arrived on campus,
Drew Schaefer
organized tutoring sessions for the linemen.
The 6-foot-4, 294-pound senior center gathered the group two or three times each week for an hour or two. They broke down the playbook. They talked about technique. They discussed scenarios that would give the young players a head start at the beginning of fall camp.
"We went through the whole playbook," Schaefer said. "That's why some of those freshmen have a good understanding of the playbook this first week, because all summer we've already been working on it."
The only senior on the Huskies' offensive line, Schaefer has embraced his role at the line's leader. But, as important as those sessions were for the young players, Schaefer said the time spent teaching the playbook also helped his understanding of the offense.
"You always learn, especially from teaching it, compared to just sitting there and listening to it from coach [Dan] Cozzetto," Schaefer said. "It's a different perspective and you kind of pick up on stuff."
With junior
Erik Kohler
working his way back from a knee injury on the first day of camp, Schaefer is the only upperclassmen working with Washington's starting offensive line.
Redshirt sophomores
Micah Hatchie
(left tackle),
Colin Tanigawa
(left guard) -- he is working his way back slowly as he also recovers from a knee injury ­--
James Atoe
(right guard) and
Ben Riva
(right tackle) make up the rest of the first-string line with redshirt freshman
Dexter Charles
also seeing time with the first unit.
So far, Schaefer likes what he is seeing out of the group.
"From the point where we ended spring to this first week of camp, I think we've made a lot of strides," Schaefer said. "There is obviously stuff we can still work on, but as far as our communication and in terms of playing together, I think I'm really happy with where we're at."
Freshman
Shane Brostek
, who has a cast on his right hand, has also drawn praise from both Schaefer and Washington coach Steve Sarkisian. Schaefer also made a point to praise tackles Hatchie and Riva.
"They're doing a lot better job with their sets," Schaefer said. "They're giving [quarterback] Keith [Price] a lot more time in the pocket."
Washington's line is young. But Schaefer sees progress.
"Through Week 1 I'm really proud of where we're at," he said.
August, 5, 2012
8/05/12
2:00
PM PT
As he prepares for his fourth fall camp, Washington coach Steve Sarkisian is confident his program is "knocking on the door of something special."
With the way his roster is currently constructed, Sarkisian believes he has a top-25 program primed to take the next step. However, even when a program is heading in the right direction, there are questions. And, when the Huskies take the field for their first practice Monday, Sarkisian and his staff will begin trying to find the answers.
Sarkisian sat down earlier this week to delve into five key questions facing his program as Washington prepares for the 2012 season.
1. With the graduation and injuries causing concern about depth along the offensive line, what are your expectations for that group?
"I love the fact that we have great senior leadership in
Drew Schaefer
. I'm really excited to get
Colin Tanigawa
back healthy, cleared for training camp and
Erik Kohler
, now heading into year three after starting for two years as a true freshman, true sophomore, now healthy, having his best offseason, I think gives us a really solid foundation of three experienced players. Now, what happens with the other two spots and where do they fall?
"Is it going to be
James Atoe
, who is starting to come into his own at guard? Is it
Micah Hatchie
at a tackle spot? Is it
Ben Riva
at a tackle spot? Is it one of our true freshmen coming in now with the potential of a
Shane Brostek
, a
Jake Eldrenkamp
, these types of guys, that's the stuff we have to get answered in training camp.
"You're going to see some guys moving around in training camp. You're going to see Schaefer at center, but you're going to see him some at left tackle. You'll see Tanigawa at guard, but you'll see him some at center, because those are our two most important positions. Left tackle and center in our system are vitally important. We just want to make sure that we have our bases covered at those two spots and then let the chips fall where they may and make sure that we get an offensive line in there that plays the brand of football that makes us proud, with great continuity and tough, physical, smart football. We need to get those questions answered, and answered quickly, so that continuity can get formed heading into the season."
[+] Enlarge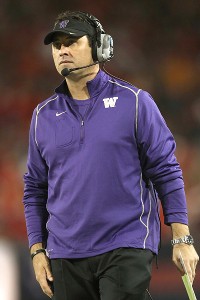 Christian Petersen/Getty ImagesSteve Sarkisian believes his team is on the verge of a breakthrough season.
2. How much improvement will be seen from the defense in Justin Wilcox's first year as defensive coordinator?
"I think there are great expectations there. They had a tremendous spring and that's a real credit to
Justin Wilcox
, our defensive coordinator, and the staff on that side of the ball. There is still a lot of nuance within the defense that we're working through to get to a point where we feel really good about it, but I would say that we're probably more talented defensively than we get credit for which, sometimes, isn't a bad thing.
"I think that our players have really responded to the new coaches and their style of coaching and the scheme that we've implemented, but it's a very aggressive style. It's one where we're attacking the quarterback. We do a tremendous job in the back end, which is Justin's expertise of matching routes, being aggressive on receivers, getting hands on balls much more than we did before and I think we have the pieces in place within the scheme to really defend the run the way that you need to defend it.
"I'm excited to watch our guys continue to grow on the defensive side of the ball, not only within the scheme, but from a maturity standpoint. We had a lot of young players the last two years playing on that side of the ball, starting as true freshmen, that gained valuable experiences on the field. Now bring that together with the new scheme, the new coaches, their maturity level, it should be time for us to really start moving in the right direction on that side of the ball.
"A couple of names that I'm looking forward to really watching this year,
John Timu
is one of them at linebacker, a guy who started last year for us as a true freshman and has really matured into one of our leaders.
Sean Parker
is another one who has been playing for two years and is now a third-year guy showing so much maturity. I can't wait to watch
Desmond Trufant
go this fall. It's great to have
Hau'oli Jamora
back, a guy who was an impact player for us. The continued emergence of
Josh Shirley
on the other side and then some young guys to watch that were fantastic redshirt players for us last year that I think could have a big impact for us this year.
Travis Feeney
at safety,
Marcus Peters
at corner and
Jarett Finau
on the defensive line, those are three guys I'm looking forward to watch go this training camp."
No. 3 With Chris Polk moving on to the NFL, who are you leaning on to run the ball?
"We had the luxury of Chris Polk for three years, but there were these other two guys who, every time we seemed to put them in, would make things happen. Obviously,
Jesse Callier
, what he's done for two years with us, and then
Bishop (Sankey)
last year as a true freshman. It seemed like we'd put him in and it was a gain of 8. But it was hard to take No. 1 out of the game to give those guys more carries.
"I know they were both champing at the bit to try to earn that starting spot. It remains to be seen if we'll be kind of a lead-dog running back team or if we do it by committee. I know that everybody in our organization is excited to watch
Deontae Cooper
(who has missed back-to-back seasons with knee injuries) get his opportunity to get back in the fold and what he can do there.
"It's going to be a fun battle to watch these guys compete, not only with one another, but against our defense. There are some cool storylines for people to look to and to watch, but also, for us, some question marks that we need to get answered as we head to that season opener against San Diego State."
No. 4 Austin Seferian-Jenkins and Kasen Williams entered the program with great expectations. What do you expect to see in their sophomore seasons?
"This is a unique time for those guys. They came in with so much expectation as true freshmen and I thought they both had solid years. What I've seen out of them is they've realized this might have been a little more difficult than what I thought it could be and they've had awesome offseasons. They've both worked extremely hard. They are two of the more competitive guys I've been around and I'm excited to watch these guys go and to really battle, to really be the guys on this offense that can become the go-to guys for us."
No. 5 How have the additions to the coaching staff assimilated to the program?
"They've been great. To their credit, they came in very willing to be
Washington Huskies
and, sometimes, that can be hard to do. When you come into a new job, and you're recruiting and you're trying to get the scheme together, it's been cool to see these guys wearing UW gear every day to work and being proud of where they're at and the opportunity that we have here.
"I've leaned on them for some new ideas, so I think that has helped bridge the gap to get to some things they feel comfortable with from what they've done in their past, whether it's from a functionality standpoint, a scheduling standpoint, even scheme standpoints but, at the end of the day, I think they realize this is a great opportunity, we've got a pretty dang good football team and they're proud to be part of it."