Washington Huskies:

Heisman Trophy
March, 27, 2013
Mar 27
9:00
AM PT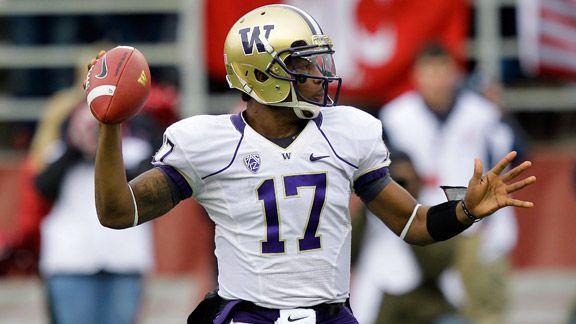 Washington's dramatic improvement and blossoming promise since going winless in 2008 yielded to a frustrated "what if?" and "not yet" in 2012 under fourth-year coach Steve Sarkisian.
Yet when you roll together the mixed bag of red-letter wins and bad losses and the lessons both entail, and then toss in impressive returning talent, there's reason to believe the program might turn the reopening of renovated Husky Stadium into a welcome-back party for a program that's been off the college football map for more than a decade.
Washington features 20 returning starters with A-list talent on both sides of the ball. After three consecutive seven-win seasons, which have grown progressively less satisfying for fans, the Huskies seem poised to take the proverbial next step.
"I'd say so, without a doubt," said Sarkisian when asked if this was his most talented team. But then he added, "If we'd finished the last two games, we'd have finished last season as a 9-4 team. But we didn't get it done."
Not getting it done -- at least not yet -- is why some seem intent on putting Sarkisian on the hot seat.
Washington, despite playing one of the nation's toughest schedules in 2012 -- six top-20 and four top-10 teams -- seemed on the cusp of a nine-win season in November. All the Huskies had to do was hold on to an 18-point fourth-quarter lead against Washington State and then win a bowl game.
Neither happened, and the Huskies'
worst fourth quarter in Apple Cup history
left an ugly smudge on Sarkisian's generally strong résumé.
Further, the 2012 season played out in surprising ways, positively and negatively.
The Huskies' biggest questions before the season were defense and running back. But the defense was vastly improved under first-year coordinator Justin Wilcox, and
Bishop Sankey
rushed for 1,439 yards. Meanwhile, the biggest certainty was QB
Keith Price
, who'd ranked seventh in the nation in passing efficiency in 2011, with 33 touchdowns, 11 interceptions and a 67 percent completion rate.
Price was touted as a dark horse Heisman Trophy candidate. But he started slowly and never found his rhythm. He finished eighth in the Pac-12 in passing efficiency with 19 TDs and 13 picks.
That had many folks wondering if he'd keep his job in 2013. Before spring practices began, Sarkisian essentially said it was Price's job to lose, but he certainly could lose it if he got outplayed.
After six practices -- Washington returns to the field on April 2 after spring break -- Sarkisian said Price looks more like his 2011 self, particularly after the Huskies concluded their first session with a scrimmage.
"That was probably the best practice he's had in over a year," Sarkisian said. "He played really well."
A lot of Price playing well has to do with his health. His legs seemed shot much of last season. Not only was he not running well, he wasn't moving in the pocket and his throws lacked velocity and accuracy, two qualities that are often connected. The offseason priority has been getting Price's leg strength back.
"Not that Keith is ever going to be a runner, but he's at his best when he can avoid the initial pass rush and is able to buy time and keep his eyes downfield and create plays," Sarkisian said. "We've definitely seen that this spring."
It's not all on Price, though. The Huskies were beaten up on the offensive line last fall, and the lack of depth showed -- see 38 sacks surrendered. Further, there were times when the Huskies didn't seem mentally tough. They seemed intimidated at LSU, which fell into a pattern of woeful performances on the road -- see Oregon, Arizona and Washington State.
The difference between teams that win six or seven games and those that win nine or 10 or more is often consistency of performance.
"There are a couple of key things for taking a next step, for this to be our best team," Sarkisian said. "Yeah, I know it's our most talented team. But are we really going to be a team that goes on the road and it doesn't matter what time, or what the weather is, or who the opponent is, or what their record is? That stuff can't matter to us anymore. We've got to play our game."
When asked if he feels like he's on the hot seat, Sarkisian said, "Not at all."
On paper, hot-seat talk should give way to high hopes. The grounds for optimism are solid. The Huskies have the talent and experience to end up in the top 25.
But Washington needs to eclipse being a team of "not yet" and "what if?"
March, 6, 2013
Mar 6
7:14
AM PT
Call them seeming contradictions if you will, but Washington begins spring practices Tuesday with two mixed messages.
Senior Keith Price is the Huskies' starting quarterback. Unless he isn't.
There is a lot of enthusiasm surrounding the Huskies' potential in 2013. And general frustration with the program.
[+] Enlarge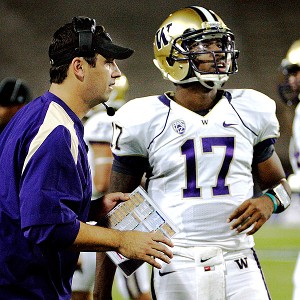 AP Photo/Wily LowCoach Steve Sarkisian says Keith Price is the Huskies' starting quarterback in 2013 -- unless he loses it to four players trying to oust him.
With 20 starters back, including a handful of seeming budding stars, the Huskies have the look of a top-25 team that could make some noise in the rugged Pac-12 North Division after three consecutive 7-win seasons, campaigns that have progressively soured fans pining for the proverbial "next step."
This, coach Steve Sarkisian acknowledges.
"I don't see why we wouldn't be in a position to compete for a division championship," he said.
Sarkisian also acknowledged the Huskies' offensive struggles in 2012. While an equal share of the blame should go to poor offensive line play, which was aggravated by injury issues, the easy guy to point the finger at is Price, whose play decidedly regressed after a strong debut season in 2011.
Price went from a darkhorse Heisman Trophy contender to eighth in the Pac-12 in passing efficiency, trailing three first-year starters and California's oft-criticized
Zach Maynard
. The Huskies averaged just 24 points per game, down nine from the 2011 season.
"We need to get our offensive numbers back to where they were two years ago," Sarkisian said.
And that starts with Price. Unless it doesn't.
"Keith Price is our starting quarterback -- the goal is to get Keith Price back to playing the way he was two years ago," Sarkisian said. "But there are four guys behind him who are going to be chomping at the bit to get an opportunity to make this thing into a competition that either is going to push Keith to be better than he's been or, ultimately, try to surpass him."
So this is Price's job. Unless... "As I've said to Keith," Sarkisian said, "we're not going to be stubborn enough that if we think another guy is playing better that guy won't get that opportunity to beat him out."
Those four guys trying to raise an eyebrow at Price's expense: Redshirt freshmen
Cyler Miles
,
Jeff Lindquist
, sophomore
Derrick Brown
and true freshman Troy Williams.
The bottom line meaning behind Sarkisian's statements is fairly straightforward: 1. He wants Price to win the job; 2. But he wants the Huskies to win as many games as possible in a critical season for him and the program; 3. He's going to play the guy who gives him the best chance for No. 2.
The quarterbacks will be working with a new position coach, Marques Tuiasosopo, whose name immediately evokes pleasant memories for Huskies fans. He quarterbacked the program to a No. 3 final ranking after the 2000 season, the Huskies' last Rose Bowl victory. A former dual-threat player, he's got an NFL pedigree, an easy-going style and a natural follow-me-to-the-gold! ability to lead. He also will allow Sarkisian to be more big-picture with the offense.
If the Huskies get the Price of 2011 -- or someone else who can produce a top-10 in the nation passing efficiency rating -- there are a lot of toys to play with, starting with RB
Bishop Sankey
, WR
Kasen Williams
and TE
Austin Seferian-Jenkins
. A young offensive line that got pushed around in 2012 should be much better, and the (eventual) return of former starters
Colin Tanigawa
and
Erik Kohler
will provide another boost.
The dramatic improvement of the defense in Year 1 under coordinator Justin Wilcox also suggests strong reasons for optimism.
Of course, the program has been glutted with optimism the past few seasons. Seven wins were a revelation in 2010. Not so much in 2012, particularly when the Huskies blew their final two games, most notably a shocking fourth-quarter collapse against Washington State, something that Cougars fans never, ever, ever bring up these days.
Sarkisian, as is his wont, can find a silver lining even there.
"I don't think that taste is going to go anywhere for awhile, which is OK," he said. "We lost two games that we should have won. The end result is we are sitting here talking about a 7-6 football team when we could have been here talking about a 9-4 football team. But I don't know if that's all bad. If we would have finished 9-4 and found a way to finish those last two games, I don't know what January or February would have been like for us as a football team. We may have still been hungry and I would like to think so and striving for more. We might have grown a bit complacent. What I do know is there is zero complacency in our locker room right now."
That lack of complacency must start with Price. He needs to regain his mojo. The same could be said for Sarkisian.
Washington will open a remodeled Husky Stadium this fall, a facility that will immediately rank among the nation's best. That will add to the anticipation of a special season, one that Huskies fans have turned purple -- appropriately -- holding their collective breath anticipating.
Said Sarkisian of Price, "We've been through a lot together and we've got one chapter left that we want to make a great ending."
December, 5, 2012
12/05/12
9:00
AM PT
The Pac-12 -- again -- produced national title contenders but not a team playing for the crystal football when the final bell rang. Further, for the first time since 2008, the conference didn't provide a Heisman Trophy finalist.
A short summary of the regular season: It was pretty good but could have been better. But it was definitely surprising.
Better? If things had fallen the right way, seven Pac-12 teams could have been ranked in the final regular-season poll. USC began the season as a national title contender only to yield that spot to Oregon. Then Stanford ended the Ducks' hopes on Nov. 17 with a 17-14 overtime win in Autzen Stadium.

So the conference streak without a football national championship extends to eight seasons.
Surprising? UCLA won the South Division over rival USC, and Stanford beat out Oregon in the North by virtue of the aforementioned win in Eugene. Neither was tapped in the preseason as the conference champion by any of the 123 media members who voted.
Surprising? USC quarterback
Matt Barkley
topped just about every preseason Heisman Trophy list. He didn't even make first- or second-team All-Pac-12.
Surprising? Three of the four new coaches turned in strong seasons. Start with Jim Mora, who led the Bruins to the Pac-12 championship game and a national ranking. And, a year after USC beat UCLA 50-0, the Bruins prevailed, 38-28.
Sorry for bringing that up, USC.
Both Arizona's Rich Rodriguez and Arizona State's Todd Graham finished 7-5, though Graham handed Rodriguez his fifth defeat in the Territorial Cup.
Sorry for bringing that up, Wildcats.
The new coach who was expected to make the most noise -- with both his mouth and his team -- was only 1-for-2, and it wasn't Mike Leach's team doing the talking. His Cougars finished 3-9 and recorded just one conference victory. Of course, that lone Pac-12 win was over Washington.
Sorry for bringing that up, Huskies.
The good news is a record eight bowl teams, including a third consecutive season with two BCS bowl berths, which means an extra $6.1 million for the conference to split up.
The bad news is two more coach firings: Jeff Tedford at California after 11 seasons and Jon Embree at Colorado after just two. That means half the teams in the Pac-12 will have changed coaches over the past two years.
Further, USC's disappointing season lands Lane Kiffin on the 2013 hot seat, the only Pac-12 coach who will be stuck with that designation heading into 2013.
What about some highlights? Well, here you go.
[+] Enlarge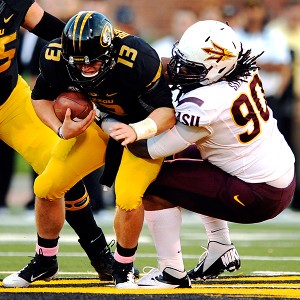 AP Photo/L.G. PattersonArizona State's Will Sutton averaged almost a sack per game this season, including one at Missouri.
Offensive MVP, Marqise Lee, WR, USC
: Not only is he the most dominant wide receiver in the country, he might also be the most dominant player. Heisman voters say otherwise, but we in the Pac-12 know just how dominant he can be. His record-setting season should be more than enough to earn him the Biletnikoff Award for the nation's top receiver. And if he has matching numbers on a nine-win USC team, he's in New York this week.
Defensive MVP, Will Sutton, Arizona State
: The numbers alone paint a pretty good picture of just how dominant the speed-rushing defensive tackle was. He led the conference in tackles for a loss per game and averaged almost a sack per game. He was a wrecking ball -- the kind of player offensive coordinators design their game plan around.
Newcomer of the year, Marcus Mariota, Oregon
: In a year in which redshirt freshmen quarterbacks became all the rage, Mariota stood out with his efficiency as a passer, his athleticism as a runner and the speed with which he commanded Oregon's offense. His presence assures Oregon will continue to be one of the best offensive teams in the country in the coming years.
Biggest surprise
: A school not named USC or Oregon is going to the Rose Bowl. In fact, neither team played in the Pac-12 championship game -- which many thought was as foregone conclusion before a single ball had been hiked. Stanford and UCLA were surprises -- but they also earned it.
Biggest disappointment
: USC's once-promising season first got hijacked at Stanford. And from then on the Trojans were swimming in concrete shoes. After starting the season No. 1 in the AP poll, the Trojans became the first such team since 1964 to end the year out of the Top 25. The
contrarian opinion
Kevin Gemmell offered up back in March came to fruition. And it was a complete disaster. And, yes, even worse than Ted Miller's "
Worst Case
." And that's pretty bad.
Best game
: Depends on where your tastes lie. If you like defense, then it was Stanford's performance at Oregon, where they held the Ducks to fewer than 200 yards rushing and won in overtime.
Jordan Williamson
's 37-yard kick sent shock waves throughout college football. If you like offense, you have to look to the Nov. 3 shootout between Oregon and USC. The stakes weren't as high as we all thought a few months ago, but some of the league's premier offensive players showed up as the teams combined for 113 points, 68 first downs and 1,145 yards of total offense.
October, 22, 2012
10/22/12
10:00
AM PT
Taking stock of the eighth week of games in the Pac-12.
Team of the week
: Oregon fumbled on its first possession at Arizona State and immediately yielded a touchdown. Ah, here's that road test we were talking about! Then the Ducks opened up a can of whup-butt and throttled the Sun Devils in one of the most dominating halves of football this season. Sure, the final was only 43-21. But it was 43-7 at the break, which allowed the Ducks to rest many of their starters much of the second half. Some test.
Best game
: There were no close games this week, but Oregon State's 21-7 win over Utah certainly provided some tension for Beavers fans. With the Oregon State offense muted in Week 2 with backup QB
Cody Vaz
, the defense won the day, forcing four turnovers. Yes, it was a two-touchdown win, but things were in doubt well into the fourth quarter.
[+] Enlarge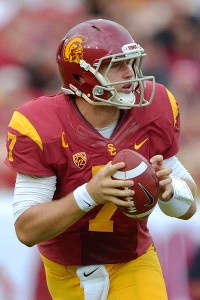 Kirby Lee/US PresswireFollowing a big win over Colorado, USC QB Matt Barkley is still in the running for the Heisman Trophy.
Biggest play
: On Utah's first possession of the second half, with Oregon State up 14-7, it drove to the Beavers' 3-yard line. On third-and-goal, the Utes tried an inside reverse to
DeVonte Christopher
, but the ball got loose on the exchange and DE
Scott Crichton
recovered. The Utes had several blown opportunities, but this was the most glaring.
Offensive standout
:
Matt Barkley
threw six touchdown passes against Colorado, and he now has 102 for his career, best in Pac-12 history. You know, there have been some really good QBs to come through this conference. And by the way, Barkley was nearly perfect against the woeful Buffaloes, completing 19 of 20 passes -- the only incompletion was a drop -- for 298 yards with no interceptions. Barkley has some tough games ahead in which a similar performance could re-establish his Heisman Trophy candidacy.
Defensive standout
: Stanford outside linebacker
Chase Thomas
brutalized California with a team-high seven tackles, with four coming for a loss in a 21-3 Cardinal Big Game victory. He has a sack, a forced fumble, a fumble recovery and a pass breakup.
Special teams standout
: Oregon State punter
Keith Kostol
made sure the Beavers dominated field position against Utah. He punted eight times and averaged only 38.1 yards per boot, but five of his punts were downed inside the Utes' 20-yard line -- four inside the 15.
Smiley face
: Arizona opted not to go quietly into the night by whipping Washington 52-17. The Wildcats rolled up 533 total yards but the best news was a second-half shutout. While the team upstate received a lot of attention for its fast start, the Wildcats also look like a crew that could make some noise in the Pac-12 South. QB
Matt Scott
continues his strong play, but the running game was king against the Huskies. USC comes to town on Saturday. Could be interesting.
Frowny face
: As American poet and philosopher Ric Flair often noted, "To be the man, you've got to beat the man." California and Arizona State had shots at ranked foes that could have transformed their seasons, but both were overmatched. For the Sun Devils, no worries -- theirs was a long-shot bid for a special season in Year 1 under coach Todd Graham. For the Bears, things are more serious for coach Jeff Tedford, who could have cooled his seat substantially with a Big Game victory.
Thought of the week
: We now know Oregon State is for real. You can't fake 6-0. But the schedule starts to ramp up considerably for the Beavers over the next month: at Washington on Saturday, Arizona State, at Stanford, California and Oregon. So can they maintain a high level of play and keep winning? Is it realistic to speculate about a Civil War game between unbeaten teams on Nov. 24? Not yet, probably, but it's like someone saying, "Don't think about a purple elephant." You, of course, immediately do.
Questions for the week
: Where and when will we get a big upset? The schedule lays out several potential red-letter games among its highest-ranked teams: Oregon at USC, Oregon State at Stanford, Stanford at Oregon, Oregon at Oregon State and Notre Dame at USC. But where might be the pratfalls? You know: The games we don't see coming that inevitably come every year -- like Stanford over USC and Washington over Stanford. Is it USC at Arizona on Saturday? Is Oregon State at risk at Washington this weekend? Arizona State and UCLA continue to be teams that could give some of the front-runners some trouble. You can count on at least one major stumble. The question is where?
September, 17, 2012
9/17/12
10:00
AM PT
Taking stock of the third week of games in the Pac-12.
Team of the week:
Stanford didn't just beat No. 2 USC, it physically dominated the Trojans in a 21-14 victory, the Cardinal's record fourth consecutive win in the series. First, there was the post-Toby Gerhart Era. Then there was the post-Jim Harbaugh Era. Then there was the post-Andrew Luck Era. Maybe it's just the Stanford Era? The Cardinal is now squarely in the Rose Bowl race. And maybe the national title hunt.
[+] Enlarge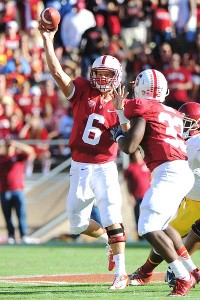 Kyle Terada/US PresswireCardinal quarterback Josh Nunes had one of the biggest plays of the week in the Pac-12.
Best game
: Utah's 24-21 win over BYU wasn't pretty. It wasn't, really, even deserving of a "best" tag. But it was really weird,
particularly the ending
, and weird is often noteworthy. On a weekend when four games came down to the fourth quarter, the Holy War had the most breathless finish because it had two breathless finishes.
Biggest play
: On third-and-10 from the 50 in the fourth quarter, Stanford QB
Josh Nunes
was under pressure. He scrambled and found himself bottled up and cut off. Yet a player not exactly known for his athleticism juked the USC defense and cut for a 13-yard gain and a first down. Two plays later, he hit TE
Zach Ertz
for a 37-yard TD and a 21-14 lead, the final margin of Cardinal victory.
Biggest play II
: California had No. 12 Ohio State on the ropes. The score was tied with just under four minutes left in the game, and the Buckeyes faced a third-and-7 from their 28-yard line. QB
Braxton Miller
was forced from the pocket, but the Bears secondary gagged and let
Devin Smith
get free behind the coverage. The ensuing 72-yard TD pass provided Ohio State its 35-28 margin of victory.
Biggest play III
: BYU had a first-and-10 on the Utah 25-yard line, down 10-7 in the third quarter. Lined up in a shotgun formation, QB
Riley Nelson
wanted to change the play. While he was barking signals, his center delivered the snap, which rolled past an unaware Nelson. Utah's
Mo Lee
scooped up the loose ball and rambled 47 yards for a TD. The Utes would need those points in a 24-21 win.
Offensive standout
: Stanford RB
Stepfan Taylor
was the best player on the field against USC. He rushed 27 times for 153 yards and a 59-yard TD and caught five passes for 60 yards and a 23-yard score in No. 21 Stanford's upset win over No. 2 Trojans.
Defensive standout
: UCLA CB
Sheldon Price
matched a school record with three interceptions in the Bruins' 37-6 win over Houston.
Special teams standout
: Not a lot to choose from. Oregon's
De'Anthony Thomas
returned four punts for 87 yards against Tennessee Tech, though he did fumble one.
Smiley face
: Cal RB
Brendan Bigelow
brought life to the Bears by doing his best De'Anthony Thomas at Ohio State, rushing for 160 yards on just four carries -- yes, an average of 40 yards per carry! He had touchdown runs of 81 and 59 yards, and both were spectacular. Might he give the Bears offense a weapon that turns around their season?
Frowny face
: Can anyone kick a freaking field goal? USC has no kicker, and Arizona, California, Oregon, Stanford and Utah were a combined 1-for-10, with the Bay Area schools going 0-for-6.
Thought of the week
: Two of the Pac-12's five unbeaten teams will go down this weekend because of head-to-head matchups. Arizona travels to Oregon, while UCLA plays host to Oregon State. We'll get a better measure of contenders and pretenders this weekend.
Questions for the week
: Is Oregon's Thomas ready to make a Heisman Trophy statement against Arizona? The set-up seems perfect: an ESPN game against a questionable defense. With USC and QB
Matt Barkley
going down, the Heisman race has opened up. Can Thomas be his fancy self and win the affection of the pundits?
September, 16, 2012
9/16/12
7:00
AM PT
What did we learn in Week 3? Read on.
Barkley's, USC's coronation was premature:
There is no certainty in college football, particularly when you're questionable on the line of scrimmage. That's what USC quarterback
Matt Barkley
found out. His offensive line couldn't block Stanford's defensive front seven, which sacked him four times and harassed him constantly. Barkley, even with elite receivers
Robert Woods
and
Marqise Lee
, completed only 20 of 41 passes with two interceptions in a
21-14 loss
. Sure, losing center
Khaled Holmes
to an ankle injury was a major blow -- the Cardinal exploited his replacement,
Cyrus Hobbi
-- but the Cardinal's domination up front wasn't about one spot. And that domination was on both sides of the line. The Cardinal, with a first-year starting quarterback, outgained the Trojans 417 yards to 280. Barkley's Heisman Trophy hopes took a major blow, as did the Trojans' hopes for a national title, that bit of unfinished business that brought Barkley back for his senior year.
Luck had nothing to do with it:
That was a sign in the crowd at Stanford, duly noted by ESPN analyst Robert Smith. Stanford has billed itself as a physical, run-first team, even when it had Luck. So, without him, it figures the Cardinal would remain themselves. Still, many of us doubted whether the Cardinal would be
as physical
without now-NFL offensive linemen Jonathan Martin and David DeCastro. They were. Stanford figured out a way to neutralize the Trojans' flash, and then the Cardinal exploited their superiority on both lines of scrimmage. The most telling number? The Cardinal outrushed USC 202 yards to 26. The Pac-12 game of the year still might be Nov. 3 when Oregon visits USC. But if Stanford takes care of business, it might end up being the Cardinal's visit to Oregon on Nov. 17.
[+] Enlarge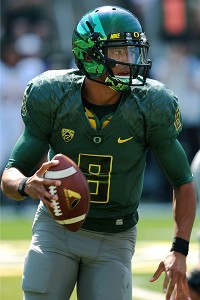 Scott Olmos/US PresswireMarcus Mariota and Oregon have feasted on overmatched foes; perhaps stiffer tests await?
Oregon returns to the top:
Oregon's
63-14 blowout
of Tennessee Tech wasn't terribly relevant. But USC's loss and sudden vulnerability topples it from atop the Pac-12 perception pecking order. Stanford moves up. But the Cardinal can't eclipse the Ducks because Oregon has blown them out in consecutive seasons. USC no longer can be considered a favorite on Nov. 3 when the Ducks visit. But the wiser way to view things is to see a lot of football ahead. The Ducks have yet to play a team with a pulse. It's possible we'll see a few more plot twists before we get to November.
Arizona, UCLA avoid letdown:
Arizona and UCLA posted big upset wins over ranked teams last weekend and became ranked teams themselves. Sometimes teams that do that fall flat the next week while still drunk on the past instead of focusing on the present. The Wildcats and Bruins did not.
They both
rolled big
and improved to 3-0. Sure, both played overmatched foes, a convenient bit of scheduling. Particularly the Wildcats against South Carolina State. But both now head into interesting matchups -- UCLA hosts Oregon State and Arizona visits Oregon -- riding plenty of positive momentum, sitting prettier than most had imagined in the preseason.
Arizona State's reinvention remains a work in progress:
Arizona State had three turnovers in its first two games. It had four in its
24-20 loss
at Missouri. QB
Taylor Kelly
had zero interceptions in the first two games. He had two against the Tigers. The Sun Devils had five penalties for 35 yards in the first two games combined. They had seven for 54 yards at Missouri. The point: As cleanly as the Sun Devils played in the first two games, their becoming a disciplined team on a consistent basis is still a work in progress. That probably shouldn't be surprising. It's hard to completely reinvent a team culture in just two games. And the Sun Devils' fourth-quarter surge, coming back from a 24-7 deficit, showed backbone. That's a positive.
California and Utah can't be overlooked:
Cal lost its opener to Nevada, spoiling the debut of remodeled Memorial Stadium. Utah lost at Utah State in Week 2, ending a 12-game winning streak in the series. Both losses were greeted with gnashing teeth by the respective fan bases. Their performances on Saturday, however, showed that both are certainly not easy outs and could become factors in their Pac-12 divisions.
Utah beat a 25th-ranked BYU team
that waxed Washington State. The Utes' defense remains formidable, no matter the issues on offense. And the Bears were just a couple of plays away from pulling the upset at No. 12 Ohio State before
succumbing 35-28
.