Washington Huskies:

Hau'oli Jamora
August, 27, 2012
8/27/12
4:39
PM PT
SEATTLE -- After an eventful three weeks of fall camp, Washington coach Steve Sarkisian said the "volume gets turned up" this week as the Huskies prepare for the season opener against San Diego State.
"I thought the guys brought a real sense of energy and enthusiasm, a little bit of an edge to practice today," Sarkisian said Monday during his weekly news conference.
Whether it was injuries or position changes, Sarkisian said the adversity has shaped the team that will take the field at 7:30 p.m. Saturday at CenturyLink Field.
"We got dealt our fair share of things early on, obviously, from some injuries to guys moving around to some different positions, but the end result, I believe we're better for it and excited to go play," Sarkisian said.
[+] Enlarge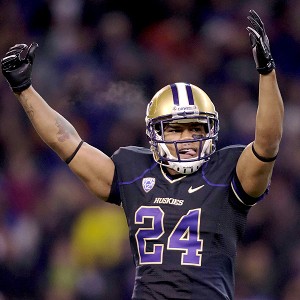 Steven Bisig/US PresswireHuskies junior Jesse Callier will be the starter at running back.
Callier, Sankey to split reps:
Jesse Callier
said his father always told him it's best to "come from the bottom."
With Chris Polk in the NFL, Callier gets his chance to force his way into the spotlight as a junior.
"Come from the bottom and no one is expecting you and, next thing you know, you're on them," Callier said.
Callier is listed at the top of the depth chart with sophomore
Bishop Sankey
. Both backs will get carries. Both backs will get a chance to prove they can play.
"I think we've got a good plan in place for both those kids to, hopefully, put them in position to do what they do to be successful," Sarkisian said. "We'll get a better feel for them as the game goes on."
Sophomore captain John Timu:
Only a sophomore, linebacker
John Timu
was named one of the Huskies' three defensive captains over the weekend.
When asked about the decision, Sarkisian praised Timu's maturity.
"He's a really mature guy," Sarkisian said. "Sometimes he doesn't show as much emotion as maybe we would all like, but that calming effect that he has, I think, is why he has been able to persevere so much in his own personal life with some of the injuries and things.
"There's some natural leadership that comes out of him that guys really recognize. I think it speaks volumes to the maturity that he possesses."
Injury report:
No new injuries were reported Monday.
Steve Sarkisian listed
Hau'oli Jamora
,
Deontae Cooper
,
Nate Fellner
,
James Johnson
,
Jamaal Kearse
and
Cooper Pelluer
as the six players out for Saturday's season opener.
Pelluer and Cooper are already dealing with season-ending injuries. Cooper (knee) and Jamora (knee) will have surgery on their respective injuries Thursday.
Quotable:
When asked about his goals for the Huskies in 2012, quarterback
Keith Price
said, "We're trying to win the Pac-12; that's our goal. Obviously we've got to earn respect and we have to win games."
Other notes
August, 21, 2012
8/21/12
10:01
PM PT
SEATTLE -- It has taken the better part of four years, but Washington coach Steve Sarkisian feels like his program finally has flexibility on the offensive line.
With offensive lineman
Erik Kohler
working his way back into the lineup after suffering a knee injury on the first day of fall camp, Sarkisian has the interchangeable parts he has been looking for since he became the Huskies' head coach.
"This is where you're supposed to be and it just took us a little while to get here," Sarkisian said.
After returning to practice Monday, Kohler went through both practices Tuesday, spending some time at center.
While Kohler recovered from the injury,
Micah Hatchie
and
Ben Riva
worked as the starting tackles, while
Colin Tanigawa
and
James Atoe
were the guards.
Drew Schaefer
is the starting center.
Kohler, who was recruited to Washington as a tackle and has spent time at guard, can play any spot along the line, giving the Huskies options. Sarkisian said he would have up to an eight-man rotation on the offensive line early in the season.
"I feel like our offensive line has had a nice training camp up to this point and, now with more healthy bodies, the expectations should only become greater," Sarkisian said. "I think we'll perform even greater with the lack of fatigue."
With redshirt freshman
Dexter Charles
also having a strong camp, the Huskies the kind of depth that allows them to look at redshirting more freshmen.
Injury report
The Huskies continue to get good news with linebacker
Travis Feeney
returning to practice Tuesday, although he is still limited to the non-contact yellow jersey.
Linebacker
Thomas Tutogi
is also back practicing, adding more depth to a position that had been hit hard by injuries.
"It feels like another day we're getting another guy back," Sarkisian said. "As bad as it was early in camp, we're doing pretty good right now."
• Sarkisian said defensive end
Hau'oli Jamora
and running back
Deontae Cooper
should both undergo surgery on their knee injuries this week.
• Washington will play Montana at Husky Stadium in 2017, the university confirmed Tuesday.
August, 9, 2012
8/09/12
7:48
PM PT
SEATTLE -- Here is a quick-hitting look at Washington's fourth day of fall camp.
Cooper still smiling
One day after learning he had
suffered a third season-ending ACL injury
, running back
Deontae Cooper
was back on the field with his teammates.
His season was over before it had a chance to get started for the third year in a row – but he was still smiling.
"He's just an absolute stud," Sarkisian said. "He was, obviously, shook up, like anyone would be, but you just see that guy's will inside, why he's so unique and special and why people love him so much – he's back out here today with a smile on his face."
When Cooper saw Sarkisian, he had a simple message.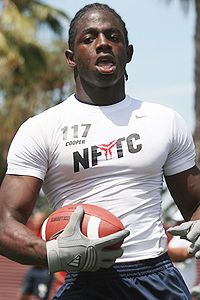 Tom HauckDeontae Cooper was on the practice field a day after tearing his ACL.
"Coach, I'll be back," he said.
When Sarkisian first heard the news, his reaction was, "How could it happen again?" He broke the news to his team after Wednesday's practice, setting a somber tone to the Huskies' post-practice meeting.
"It was hard as a team, because you get attached to people as a program and as a family," said Sarkisian, who added this is the first time he's seen three ACL injuries to one player. "You see a guy with Deontae, the work ethic that he has, his ability to persevere, not only through one ACL, but he comes all the way back and then another. He had himself in great shape, ready to go. It's extremely difficult."
If there is a player capable of returning from a third ACL injury, Sarkisian is confident it is Cooper.
"I don't know if there's anybody that will handle it better than Deontae will," Sarkisian said.
With Cooper looking on, the Huskies went back to work Thursday.
"We're here to work," running backs coach Joel Thomas said. "There's no doubt about it. The thing that we do all realize is that injuries are part of the game. It's a brotherhood that we have through the group. We talk about taking care of him and making sure we're there for him, but they're here to work. They got better today."
Recruiting update
Washington commit
Daeshon Hall
spent the afternoon at practice. The 6-foot-6, 230-pound defensive end was one of seven players to give Washington verbal commitments on June 29.
He spent his first two seasons at Seattle (Wash.) Garfield before transferring to Lancaster (Texas) as a junior.
Injury issues
Sarkisian called them "fluke" injuries.
Through four days of practice the Huskies have suffered several injuries during drills with very little contact.
Receiver
James Johnson
sprained his foot. Defensive end
Hau'oli Jamora
sprained his knee. Linebacker
Nate Fellner
suffered a foot injury.
"Some stuff is obvious, when you see the big collision or a guy getting pulled down in an awkward way," Sarkisian said. "We've just had some bad luck. The good thing is, I think we've finally got a roster with the depth where we can withstand some of these injuries."
Jamora will have an arthroscopic procedure as a precaution. He is expected to miss about two weeks.
"I would rather him miss two weeks now than down the road it affect him for the season," Sarkisian said.
Walk-on cornerback making plays
Tre Watson
keeps making plays.
The 5-foot-9, 183-pound walk-on junior corner back has been impressive throughout the first week of fall camp.
"He's a scrappy guy," Sarkisian said. "He's got a very high football IQ. He has a knack for understanding where the ball is going to go. Even when a guy is catching the ball, he has a unique understanding of where the ball is going to go to the tuck and he gets in there and finds a way to punch it out."
No more "dumb penalties"
For the second day in a row, Sarkisian was forced to send a message about "dumb penalties."
After some extra pushing and shoving between running back
Willis Wilson
and corner back
Desmond Trufant
at the end of a play, safety
Sean Parker
knocked Wilson down.
It happened out of bounds, well after the play was over.
"What bothered me about Sean's deal today, that was a huge point of emphasis after yesterday's practice and last night's meeting," Sarkisian said. "To come out today, his emotions got the better of him. That's not OK. That's a selfish move."
August, 5, 2012
8/05/12
2:00
PM PT
As he prepares for his fourth fall camp, Washington coach Steve Sarkisian is confident his program is "knocking on the door of something special."
With the way his roster is currently constructed, Sarkisian believes he has a top-25 program primed to take the next step. However, even when a program is heading in the right direction, there are questions. And, when the Huskies take the field for their first practice Monday, Sarkisian and his staff will begin trying to find the answers.
Sarkisian sat down earlier this week to delve into five key questions facing his program as Washington prepares for the 2012 season.
1. With the graduation and injuries causing concern about depth along the offensive line, what are your expectations for that group?
"I love the fact that we have great senior leadership in
Drew Schaefer
. I'm really excited to get
Colin Tanigawa
back healthy, cleared for training camp and
Erik Kohler
, now heading into year three after starting for two years as a true freshman, true sophomore, now healthy, having his best offseason, I think gives us a really solid foundation of three experienced players. Now, what happens with the other two spots and where do they fall?
"Is it going to be
James Atoe
, who is starting to come into his own at guard? Is it
Micah Hatchie
at a tackle spot? Is it
Ben Riva
at a tackle spot? Is it one of our true freshmen coming in now with the potential of a
Shane Brostek
, a
Jake Eldrenkamp
, these types of guys, that's the stuff we have to get answered in training camp.
"You're going to see some guys moving around in training camp. You're going to see Schaefer at center, but you're going to see him some at left tackle. You'll see Tanigawa at guard, but you'll see him some at center, because those are our two most important positions. Left tackle and center in our system are vitally important. We just want to make sure that we have our bases covered at those two spots and then let the chips fall where they may and make sure that we get an offensive line in there that plays the brand of football that makes us proud, with great continuity and tough, physical, smart football. We need to get those questions answered, and answered quickly, so that continuity can get formed heading into the season."
[+] Enlarge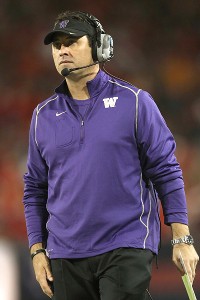 Christian Petersen/Getty ImagesSteve Sarkisian believes his team is on the verge of a breakthrough season.
2. How much improvement will be seen from the defense in Justin Wilcox's first year as defensive coordinator?
"I think there are great expectations there. They had a tremendous spring and that's a real credit to
Justin Wilcox
, our defensive coordinator, and the staff on that side of the ball. There is still a lot of nuance within the defense that we're working through to get to a point where we feel really good about it, but I would say that we're probably more talented defensively than we get credit for which, sometimes, isn't a bad thing.
"I think that our players have really responded to the new coaches and their style of coaching and the scheme that we've implemented, but it's a very aggressive style. It's one where we're attacking the quarterback. We do a tremendous job in the back end, which is Justin's expertise of matching routes, being aggressive on receivers, getting hands on balls much more than we did before and I think we have the pieces in place within the scheme to really defend the run the way that you need to defend it.
"I'm excited to watch our guys continue to grow on the defensive side of the ball, not only within the scheme, but from a maturity standpoint. We had a lot of young players the last two years playing on that side of the ball, starting as true freshmen, that gained valuable experiences on the field. Now bring that together with the new scheme, the new coaches, their maturity level, it should be time for us to really start moving in the right direction on that side of the ball.
"A couple of names that I'm looking forward to really watching this year,
John Timu
is one of them at linebacker, a guy who started last year for us as a true freshman and has really matured into one of our leaders.
Sean Parker
is another one who has been playing for two years and is now a third-year guy showing so much maturity. I can't wait to watch
Desmond Trufant
go this fall. It's great to have
Hau'oli Jamora
back, a guy who was an impact player for us. The continued emergence of
Josh Shirley
on the other side and then some young guys to watch that were fantastic redshirt players for us last year that I think could have a big impact for us this year.
Travis Feeney
at safety,
Marcus Peters
at corner and
Jarett Finau
on the defensive line, those are three guys I'm looking forward to watch go this training camp."
No. 3 With Chris Polk moving on to the NFL, who are you leaning on to run the ball?
"We had the luxury of Chris Polk for three years, but there were these other two guys who, every time we seemed to put them in, would make things happen. Obviously,
Jesse Callier
, what he's done for two years with us, and then
Bishop (Sankey)
last year as a true freshman. It seemed like we'd put him in and it was a gain of 8. But it was hard to take No. 1 out of the game to give those guys more carries.
"I know they were both champing at the bit to try to earn that starting spot. It remains to be seen if we'll be kind of a lead-dog running back team or if we do it by committee. I know that everybody in our organization is excited to watch
Deontae Cooper
(who has missed back-to-back seasons with knee injuries) get his opportunity to get back in the fold and what he can do there.
"It's going to be a fun battle to watch these guys compete, not only with one another, but against our defense. There are some cool storylines for people to look to and to watch, but also, for us, some question marks that we need to get answered as we head to that season opener against San Diego State."
No. 4 Austin Seferian-Jenkins and Kasen Williams entered the program with great expectations. What do you expect to see in their sophomore seasons?
"This is a unique time for those guys. They came in with so much expectation as true freshmen and I thought they both had solid years. What I've seen out of them is they've realized this might have been a little more difficult than what I thought it could be and they've had awesome offseasons. They've both worked extremely hard. They are two of the more competitive guys I've been around and I'm excited to watch these guys go and to really battle, to really be the guys on this offense that can become the go-to guys for us."
No. 5 How have the additions to the coaching staff assimilated to the program?
"They've been great. To their credit, they came in very willing to be
Washington Huskies
and, sometimes, that can be hard to do. When you come into a new job, and you're recruiting and you're trying to get the scheme together, it's been cool to see these guys wearing UW gear every day to work and being proud of where they're at and the opportunity that we have here.
"I've leaned on them for some new ideas, so I think that has helped bridge the gap to get to some things they feel comfortable with from what they've done in their past, whether it's from a functionality standpoint, a scheduling standpoint, even scheme standpoints but, at the end of the day, I think they realize this is a great opportunity, we've got a pretty dang good football team and they're proud to be part of it."