Washington Huskies:

Greg Ducre
May, 15, 2013
May 15
5:30
PM PT
Unlike last year, there aren't nearly as many questions surrounding the Washington defense as the Huskies head into the final stretch before fall camp.
Last year a new scheme and new coaches were being installed, headlined by new defensive coordinator Justin Wilcox. The Huskies' defense was abysmal in 2011 -- so head coach Steve Sarkisian blew it up and started from scratch.
Now the Huskies are looking to build off of the momentum they gained in 2012 when they made huge strides in one year under Wilcox & Co.
"The numbers don't lie," Sarkisian said.
They certainly don't.
The biggest advances were in the secondary, where the Huskies jumped from 87th to 27th in pass efficiency defense, 106th to 31st in total defense, 108th to 39th in scoring defense and 116th to 23rd in pass defense. They had 17 interceptions last year compared to 10 the year before.
"Our secondary really had a very good season for us last year," Sarkisian said. "I thought Justin Wilcox, Keith Heyward, our secondary coach, really came in and did a great job. ... You look at the increase in play we had in the secondary -- our pass defense numbers, our ability to create turnovers -- I think really speaks volumes to their coaching and their ability to develop our players."
That's what Sarkisian is banking on in 2013 -- player development. More specifically, at the cornerback spot where they have to replace first-round draft pick Desmond Trufant. Sarkisian called the competition "healthy" this spring, but isn't anywhere closer to declaring anyone as the leader in the clubhouse for that starting spot. And it might end up being by-committee or which player has the hot hand that week. A few defensive backs have switched positions or spent time at safety and corner in an effort to make the defensive backfield deeper and more versatile.
With
Marcus Peters
, who started the final eight games opposite Trufant last season, back on one side, the competition heated up over spring between
Travell Dixon
and
Greg Ducre
. Sarkisian said that redshirt freshman
Cleveland Wallace
has
also made a big push
. Dixon is a JC transfer (once committed to Alabama) and Ducre had 15 tackles while appearing in 13 games last season.
"Desmond Trufant was a great player for us," Sarkisian said. "Anytime you have a first-round draft pick at corner it tells you the quality of player you have. But I think we've got some really capable guys that are stepping in."
If the Huskies can shore up that spot, expect the secondary to make even bigger strides in 2013.
Sean Parker
, who started all 13 games at safety, returns as the unquestioned leader of the secondary.
Will Shamburger
, who started two games last year, will see a larger role. But there's some good competition there as well.
Tre Watson
(who can pitch in either at corner or safety) is in the mix, and early enrollee
Trevor Walker
had a strong first spring.
Brandon Beaver
, who converted from corner to safety late last season but was limited in the spring, is also going to press for playing time.
Lots of names. But that also means lots of depth.
"We've got a good amount of talent back there," Sarkisian said. "It's about finding the right combination of those guys. For some of those guys who were redshirt players for us last year, Travell, Brandon, Cleveland, fall camp is going to be big for them. This spring was good to get the terminology and fundamentals and techniques after spending all year on the service team last year. There is a healthy competition going on back there and the end result is we're fortunate to have good depth and good coaches and we feel good about our pass defense when the fall rolls around."
May, 8, 2013
May 8
10:57
AM PT
WASHINGTON HUSKIES
2012 record
: 7-6
2012 conference record
: 5-4 (Fourth in North Division)
Returning starters
: Offense 10; Defense 8; Kicker/punter: 2

Top returners
: QB
Keith Price
, RB
Bishop Sankey
, WR
Kasen Williams
, TE
Austin Seferian-Jenkins
, DB
Sean Parker
, LB
John Timu
, DE
Josh Shirley
, LB
Shaq Thompson
.
Key losses
: CB Desmond Trufant, DB
Justin Glenn
, C
Drew Schaefer
, FB
Jonathan Amosa
.
2012 statistical leaders (*returners)
Rushing
: Bishop Sankey* (1,439)
Passing
: Keith Price* (2,726)
Receiving
: Kasen Williams* (878)
Tackles
: John Timu* (91)
Sacks
: Josh Shirley*;
Andrew Hudson
* (6.5)
Interceptions
: Justin Glenn, Shaq Thompson*,
Marcus Peters
* (3)
Spring answers
Picking up the pace: We know the Huskies spent the spring installing a new up-tempo offense. How much of it was installed and how comfortable the players are running it remains to be seen. But Steve Sarkisian has made a point that his team needs to 1) do a better job keeping up with the up-tempo offenses in the league and 2) do a better job keeping teams on their heels. This philosophical switch seems to address both since the defense has been practicing against an up-tempo offense.
Starting five: Many believe this is the best team Sarkisian has had since coming to Washington. And part of that might be that he finally has a healthy offensive line with quality depth behind the starters. The group of Micah Hatchie (LT), Dexter Charles (LG), Mike Criste (C), James Atoe (RG) and Ben Riva (RT) worked as the first-team starting five all spring. And former starters Erik Kohler and Colin Tanigawa, along with experienced backup Shane Brostek, give the Huskies quantity and quality up front.
Progress of Price: The breakout player of 2011 and embattled starter of 2012, Keith Price, quickly shook off whispers of a quarterback competition with a strong spring that left Sarkisian feeling good about his third-year starter. He distanced himself from would-be challengers and, if he can return to that 2011 form, could have Washington in the top 25.
Fall questions
After Price: It looks like Cyler Miles has established himself as No. 2 in the quarterback hierarchy, but the battle to be Price's understudy will continue into the fall with Derrick Brown and Jeff Lindquist still in the mix. The Huskies were one of only four teams in the conference last year to have the same quarterback start every game. So Price has proven his durability. But having a clear pecking order behind the starter can be equally important.
Replacing Trufant: No easy task to replace Desmond Trufant, a staple in the Washington defensive backfield who at one point started 45 straight games. Marcus Peters is all but locked in on one side, leaving Greg Ducre and Travell Dixon battling it out on the other side. Tre Watson will also be in the mix.
ASJ MIA: How long will Austin Seferian-Jenkins, the Pac-12's top tight end, be out? Will he miss any games? He's been suspended indefinitely stemming from his DUI arrest and many are wondering if he'll miss at least the season opener against Boise State. Sarkisian pointed to the silver lining of the situation -- noting that his absence has allowed others at the position to get extensive work this spring. He also said Seferian-Jenkins is taking all of the proper steps to rejoin the team. There is little doubt he'll be the most dominant tight end in the league in 2013, and probably the country. The timetable for his return will be of great interest in the coming months.
March, 28, 2013
Mar 28
8:00
AM PT
SEATTLE -- After everything
Marcus Peters
accomplished as a redshirt freshman -- 44 tackles, three interceptions and a fumble recovery -- it would be easy for the cornerback to set lofty goals for the 2013 season.
[+] Enlarge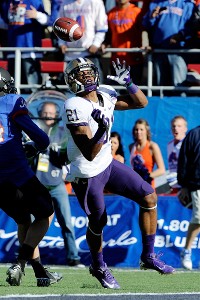 AP Photo/David BeckerMarcus Peters is looking forward to following up a banner redshirt freshman season.
With Desmond Trufant moving on to a career in the NFL, it would make sense for Peters to take the next step and evolve into the "all-conference performer" coach Steve Sarkisian thinks he is capable of becoming.
However, instead of making bold claims, the only thing Peters talks about is competing with his "brothers."
"Once we get in that defensive backfield and you come to the University of Washington, you lock yourself into a brotherhood," Peters said.
While Peters won't brag about his potential, Sarkisian expects the corner's consistency to improve next season.
"He's flashed it several times for us and now to be able to put that thing together and do if for an 80-play sequence on game day, I think, would be amazing," Sarkisian said.
Peters started his redshirt freshman season as a backup, but he returned an interception 21 yards for a touchdown in the Huskies' third game against Portland State.
He ended up starting eight games. In his first start, against USC, he piled up nine tackles and picked off a pass. Washington lost the game, but Peters showed the potential that has caused the coaching staff to elevate expectations.
When asked what he learned last year that will help him achieve the consistency Sarkisian is looking for, Peters said, "I've just got to limit my mistakes and play to what the call allows me to do, not so much try to make plays for myself. Make plays for the team, so the team can be successful.
"At times last year, I made bonehead plays and it cost the team. Since we came back from the loss in Las Vegas, I've just been focusing on being a lot more dialed in to details."
While he works on the details, he is allowing seniors
Tre Watson
,
Greg Ducre
and safety
Sean Parker
to be the vocal leaders. Peters plans to set an example through his hard work.
"I'm just trying my best to just keep things going in the right hands from last year," Peters said.
Based on his performance in 2012, Peters seems poised for a breakout season, but his goal is to help the Huskies take the next step as a program.
"I think the team is going to do something special," Peters said. "We just need to keep our heads focused on the right things, that's it."
March, 13, 2013
Mar 13
6:58
AM PT
Starters in, starters out. That's college football. Players' eligibility expires, and they leave for the rest of their lives, whether that includes the NFL or not.
And they leave behind shoes of various sizes that need to be filled.
Our concern with this series? The biggest shoes -- in some cases Shaq-like size 23s.
Biggest shoes
: Cornerback
Desmond Trufant

The First-Team All-Conference defensive back was a staple at the position for the Huskies, starting 45 straight games at one point in his career. He was honored with the team's Guy Flaherty award -- Washington's oldest and most prestigious team award. He was a captain and posted 36 tackles in 2012, including 27 solo. He also registered 4.5 tackles for a loss, a sack and one interception. He didn't have the big numbers like a lot of other defensive backs -- in terms of pass breakups and defended -- but that's because teams respected him enough to throw the other way. He was 12th in the league in passes defended. But he still finished the year with a team high nine breakups and 10 passes defended. He also forced a fumble, blocked a kick and recovered a fumble.
Stepping in
: It's almost a sure thing that
Marcus Peters
will continue to start on the opposite side. But who exactly steps in for Trufant remains to be seen. It could be
Tre Watson
or Greg Ducre. Transfer
Travell Dixon
could also be in the mix. Dixon is a JC transfer (who spent a spring at Alabama) and becomes eligible in the fall after joining the team in the middle of last season. Watson started the first five games last season and appeared in all 13. Ducre picked up a start when Trufant was injured against Colorado and also appeared in every game last season. Peters -- who started the final eight games last year -- shared the team high in interceptions with three and Watson also had a pick. No doubt Trufant -- who may end up being a first-round draft pick -- leaves a big hole. But there is good experience and depth so the Huskies don't have to reinvent the wheel at the position.
August, 28, 2012
8/28/12
2:48
PM PT
SEATTLE -- While Justin Wilcox would like another month to prepare his defense before Washington takes the field for its season opener, the Huskies' defensive coordinator doesn't have that luxury.
After spring practice and three weeks of fall camp to install his defense, Washington is down to a final few practices before Saturday's 7:30 p.m. PT season opener against San Diego State at CenturyLink Field.
After a little fine-tuning this week it will be time for the Huskies to "put our cards out there on the table," as Wilcox put it.
"I think they're excited for it," he said. "I know we are, too. We just need a couple more days of good work to make sure we can get as ready as we can possibly be."
With a new system, injuries and players switching positions, it has taken time to develop the defense, but Washington's players are ready to line up against some fresh faces.
"I think it's definitely time," Wilcox said. "They're tired of beating up on each other. It's time for them to go play somebody else. It's important for us to make sure we're getting the screws tightened this week and getting our alignments, all the things we've worked on all fall and now gearing toward another opponent."
Tight end ready to make plays
Michael Hartvigson
still remembers staying up late every night during his freshman season, memorizing the playbook.
The 6-foot-6, 255-pound tight end would sit down with receiver
Kevin Smith
, and they would quiz each other on routes and formations.
It took time, but now a redshirt sophomore, Hartvigson has settled into the system.
"Now I would say I have most of the playbook almost in the back of my head," Hartvigson said. "From my freshman year until now, I would say I've definitely come a long way."
While sophomore
Austin Seferian-Jenkins
receives the bulk of the headlines, Hartvigson will see plenty of playing time this season. He isn't worried about attention or accolades. He simply wants to find ways to contribute.
"Whether it's in the run game, in the pass game, whether it's blocking, receiving, I'm just going to do whatever coach Sark (Steve Sarkisian) wants me to do, whatever's best for the team," he said.
Walk-on cornerback earns starting spot
In a perfect world, Washington's cornerbacks would all be 6-1 -- and fast.
With that in mind, how did 5-9, 183-pound walk-on
Tre Watson
earn a starting job opposite senior
Desmond Trufant
?
"Tre makes up for it by playing a little bigger than he is, his instincts, finishing -- he never gives up on plays," Wilcox said. "He's earned it."
Watson edged
Greg Ducre
and
Marcus Peters
in a three-player, fall-camp battle for the starting spot.
"All three of those guys will play," Wilcox said. "Tre was a little more consistent throughout fall camp. The work he did in spring, we thought really started it and then he validated it this fall camp."
Note:
• Washington receiver
DiAndre Campbell
was in a yellow, non-contact jersey during Tuesday's practice.
August, 15, 2012
8/15/12
10:00
AM PT
By
masonkelley
| ESPN.com
SEATTLE -- When the ball was snapped,
Kasen Williams
sprinted down the field. The sophomore receiver tried to shake walk-on cornerback
Tre Watson
.
He couldn't.
When the pass sailed toward a receiver on the other side of the field, Watson made sure Williams understood what happened.
"You should know better than that," Watson said.
As Washington works through its second week of fall camp, Watson is doing everything he can to prove he belongs on the field. Through eight days of practice, he is one of three players --
Greg Ducre
and
Marcus Peters
are the other two -- fighting for a starting spot opposite senior corner
Desmond Trufant
.
The chance to earn an opportunity with the Huskies is something Watson has worked for since he graduated from Burien (Wash.) Kennedy Catholic. After stops at West Hills College in Coalinga, Calif. and Central Washington University, Watson is right where he always expected to be -- making plays as a Division-I cornerback.
"Every day he makes a play," Williams said.
After being limited by shoulder injuries during both his junior and senior seasons in high school, Watson didn't get recruited as heavily as he hoped.
"He didn't get recruited the way I thought he should have," said Kennedy Catholic coach Bob Bourgette. "He always thought he was a Division-I player and so did I."
Watson played in 10 games at West Hills College as a freshman before starting 10 of 11 games the next season for Central Washington.
Two years into his college career, Watson still wanted to prove he was a Division I-caliber corner. So he transferred to Washington as a walk-on.
"It was more me wanting to see my opportunity to play at the next level," Watson said. "I felt like I was in a situation where I had a good experience at Central, but I wanted to take that next step, so that's why I made the decision."
After sitting out the 2011 season due to NCAA transfer rules, Watson was impressive during spring practices. All that is left for him is to secure a starting spot.
"He fits in great," Washington coach Steve Sarkisian said. "He's just got such a knack for the football."
He also carries the confidence to compete against anyone at any time.
"You can't come out here and not have confidence," Williams said. "You're going to get abused if you don't. Every time he comes out here, he has the confidence that he's going to dominate."
But, while his expectation is to earn a starting spot in 2012, he points all praise toward other players.
When asked about making plays throughout fall camp, he said he was simply in the right place at the right time. He added that the pressure provided by the defensive line makes his job easy.
Ever since he stepped on campus, Watson said he has felt like part of the program.
"They've shown me the reins," he said. "They've told me, 'If you're going to be here, you're going to be able to contribute.' "
Watching from a distance, Watson's success is enough to bring tears to Bourgette's eyes. The longtime high school coach said Watson is "like a son" and uses him as an example for the players on the Lancers' roster.
The more plays Watson makes, the closer he gets to a starting spot -- the closer he gets to a scholarship.
Watson, though, isn't worried about the future. He is making sure highly-touted teammates like Williams know it's not going to be easy when they line up on Watson's side of the field.
"That's not something I'm really focusing on right now," Watson said. "I'm more focusing on the aspect of preparing for San Diego State. A scholarship will come when it's supposed to come."