Washington Huskies:

Danny Shelton
April, 11, 2013
Apr 11
7:00
PM PT
With recruiting behind us and spring well underway, the Pac-12 blog thought it would be fun to examine each team's chances of winning its respective division.
This is not whether the team of the day can win the Pac-12. And we're not predicting any winners. Rather, this is our take on the team's chances of winning the North or South.
Buy or sell Washington winning the North?
Ted Miller
[+] Enlarge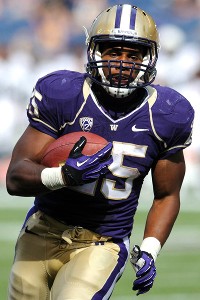 Steven Bisig/US PresswireBishop Sankey and the Huskies will have a tough time overtaking Oregon and Stanford in the North.
Sell
: I think Washington is going to take another step forward under coach Steve Sarkisian this season. I think this team wins nine or 10 games and ends up ranked in the nation's top-25 by season's end.
But I don't think the Huskies overtake the Oregon/Stanford tandem. If the Cardinal doesn't win the North Division, the Ducks will. And vice versa. That's my entirely predictable and justifiable position. I don't expect any so-called pundits to project it differently.
You know: Just like USC was a certainty in the South last season.
As we all know -- see those pesky 2012 Trojans -- there are no sure things. So if the Ducks and Cardinal were to
both
slip, I
do
see Washington as owning the best chance of clawing to the top.
Why? There are 20 returning starters from a 7-6 team that beat Stanford and Oregon State. There are intriguing guys coming off the injury list. I suspect quarterback
Keith Price
has a bounce back this fall, looking far closer to the guy he was in 2011 than he was in 2012. He certainly can expect better offensive line play (if everyone stays healthy).
Further, there's plenty of star power: tight end
Austin Seferian-Jenkins
, running back
Bishop Sankey
, receiver
Kasen Williams
, nose tackle
Danny Shelton
and linebacker
Shaq Thompson
. I like the idea of Year 2 with defensive coordinator Justin Wilcox.
Yet for all that, I don't see the Huskies winning the North.
We should have a good idea of things by mid-October. The Huskies should be 4-0 when they visit Stanford on Oct. 5. If they were somehow to win that game and improve to 5-0, Oregon's visit the next weekend to renovated Husky Stadium might be the biggest thing in Montlake since … 1991.
To be honest, I can't adequately describe how much Washington fans would salivate over that one. This is the nastiest rivalry in the Pac-12, and the Ducks have won nine consecutive games in that nasty rivalry by at least 17 points. That is the cruelest bane for all who wear purple. Not surprisingly, Oregon fans have not been shy about pointing that out to Huskies fans, who have had few counter-tweaks of late.
The Pac-12 blog might need to add bandwidth for that week. I get warm-fuzzies just thinking about stirring that pot… ah, bliss.
But, really, think about what that means: The Huskies beating top-5 teams back-to-back.
Just don't see it happening. Been wrong before. But probably not this time. Maybe.
Kevin Gemmell

Sell
: I like Washington this year -- and think the Huskies will finally get over that seven-win hump with nine or 10 wins. The defense made huge strides last season, and I've been a big Sankey fan --
even before
his breakout game against Boise State in the MAACO Bowl Las Vegas. I promise here and now that he will be on the preseason Top 25 list (unless Pitt somehow finds a way to block it).
But what scares me the most about Washington this season is the travel. When it was playing in CenturyLink last season -- there was something special about this team. Or maybe it was just the effect the NFL stadium had on opponents. Whatever it was, Washington was a top 15 team when playing at home -- going 5-1 with its only loss to USC.
There, the Huskies beat top 10 teams Stanford and Oregon State. Stanford coach David Shaw told me it was the third loudest game he'd ever experienced. The second was a trip to Autzen, and the first was an NFL playoff game.
The acoustics at the newly minted Husky Stadium might prove to be as tympanicly torturous as those at The CLink. Too bad some of Washington's biggest games aren't at home. Last season Washington was 2-5 away from Seattle, with its only victories coming at Cal and Colorado.
This season it is at Stanford (and I don't think there is any need to rehash what happened last time the Huskies traveled to The Farm). Then it's home to Oregon -- and I don't think there is any need to rehash the recent history of that rivalry. Oh wait, Ted already did. Then they are at Arizona State -- a team that will contend for the Pac-12 South and poses a defensive front that rivals Stanford's.
Then it's at UCLA and at Oregon State in back-to-back games before closing out the season with the Apple Cup at home. We're expecting UCLA and Oregon State to also be top 25 teams. That means four of Washington's five road games this season are against potentially ranked teams. For a team with a history of troubles away from home, this doesn't bode particularly well.
As Ted notes, and I concur, the Huskies should be a better team in 2013. But until they show they can notch quality road wins, a buy rating feels like a stretch.
March, 27, 2013
Mar 27
8:00
AM PT
SEATTLE -- This is the year. Washington coach Steve Sarkisian is preparing for his fifth season with the Huskies and, after three straight bowl appearances, 2013 seems to be the season where the program is expected to take the next step.
After signing four straight top 25 recruiting classes, Washington is now expected to put a top 25 team on the field.
To continue reading this article you must be an Insider
March, 11, 2013
Mar 11
10:15
AM PT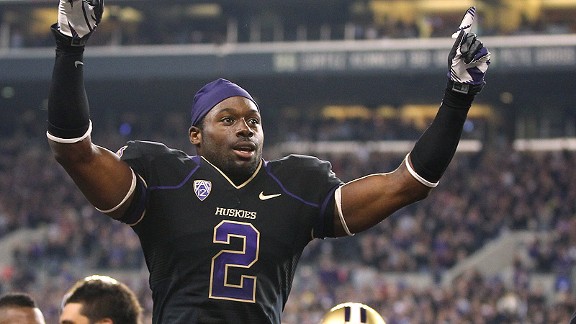 Otto Greule Jr/Getty ImagesKasen Williams and the Huskies are a veteran group poised to make a breakthrough in 2013.
SEATTLE -- On the day before Washington opened spring practice, Steve Sarkisian sat down at a table and asked the assembled media members if they would be willing to take the news conference outside.
It was sunny afternoon in Seattle and the Huskies' coach took the weather as a positive sign of what his program has to look forward to in 2013.
"It's always good to wake up with the sun shining to start football again," Sarkisian said.
As Sarkisian embarks on his fifth season with the program, the coach has reason to see a sunnier side of things to come for his football team.
Washington has put together four consecutive top-25 recruiting classes, earning trips to bowl games in each of the last three seasons. The assembled talent has reached a point in which young players have been in the system long enough to be considered veterans.
"This is a football team that we've talked for the last few years about youth," Sarkisian said. "Well, now all of a sudden, that youth has become veteran leadership."
As the Huskies work through spring football, this is the year the program needs to take a significant step forward.
"We're excited about this team that we have in place," Sarkisian said. "We're poised for a great run. We have a lot of work to do, obviously, but we're poised for a great run."
The pieces are in place for Washington to make a move in the Pac-12 North. Quarterback
Keith Price
is a senior. Receiver
Kasen Williams
and running back
Bishop Sankey
are juniors. The offensive line has played in meaningful games and the defense is pointed in the right direction under defensive coordinator Justin Wilcox.
"This is a hungry football team," Sarkisian said. "One that, like I said, is champing at the bit to get back on the field, compete and play football and, ultimately, get back on the field for the fall season in 2013."
Sarkisian isn't making any bold claims about where the program is headed. He isn't guaranteeing a trip to the Pac-12 title game and a spot in the Rose Bowl. But he knows the talent is in the program to make a move. He considers a division title a realistic goal for the Huskies.
Safety
Sean Parker
is developing into a senior leader.
James Johnson
is healthy and, as a senior, provides a veteran presence at receiver. Safety
Shaq Thompson
has a year of experience behind him and defensive tackle
Danny Shelton
will be counted on to have a big season.
All of the pieces are in place.
"I think we have the roster in place to take that step and to do it consistently," Sarkisian said.
After ending the 2012 season with back-to-back losses, the Huskies are determined to show something this season. Washington wants to take a significant step forward.
That journey starts this spring.
"What I do know is there is zero complacency in our locker room right now," Sarkisian said. "This is a hungry group that wants to redeem themselves for the opportunities that we let get away from us."
January, 23, 2013
Jan 23
7:30
AM PT
Team needs:
For the 2013 recruiting class, the Huskies tried to add talent throughout their roster. They had specific needs but wanted to bolster strengths as well.
Some of the key areas the Huskies identified as positions to pursue included receiver, running back, linebacker and defensive line. With six defensive linemen committed and three receivers heading to Seattle next season, Washington has stockpiled prospects at each position.
Help is on the way:
Washington is pursuing a pass rush. The Huskies have a star in
Danny Shelton
, but ace recruiter Tosh Lupoi made it a point to bring in top-tier talent along the program's defensive line.
To continue reading this article you must be an Insider
January, 15, 2013
Jan 15
2:17
PM PT
BOTHELL, Wash. -- Paul Finau (Kirkland, Wash./Juanita) showed up at as many Washington practices as he could last fall.
With his brother,
Jarett Finau
, trying to establish himself as a redshirt freshman defensive end, Paul would watch from the sideline as the Huskies worked their way through drills.
To continue reading this article you must be an Insider
November, 12, 2012
11/12/12
8:00
AM PT
SEATTLE -- With two games left, Washington has a chance to finish the year more or less where the Huskies expected heading into fall camp.
Sure, the program could have played better on the road at Arizona. And the USC game was there for the taking. But, the Huskies have won three in a row. They are bowl eligible for the third year in a row. They have a chance to be 8-4 heading into a bowl game if they win at Colorado and Washington State the next two weeks.
Quarterback
Keith Price
is playing his best football of the season,
Bishop Sankey
has cracked the 1,000-yard mark and
Austin Seferian-Jenkins
continues to play at a level that should eventually have him playing on Sundays.
To continue reading this article you must be an Insider
November, 10, 2012
11/10/12
11:20
PM PT
SEATTLE -- Washington quarterback
Keith Price
put together one of his best performances of the season, helping the Huskies' offense get untracked Saturday during a
34-15 victory
over Utah at CenturyLink Field.


It was over when:
Utah tried to convert a fourth-and-1 from its 43 on the Utes' first drive of the third quarter.
Danny Shelton
and
John Timu
stuffed running back
John White
. The Huskies quickly scored on a 9-yard touchdown pass from Price to
DiAndre Campbell
to take a 21-8 lead they wouldn't relinquish.
Game ball goes to:
Price. There has been talk all year about the quarterback's struggles in his junior season, but he put all of that behind him this week, completing 24 of 33 passes for 277 yards and two touchdowns. He didn't turn the ball over and scored a rushing touchdown from 4 yards out in the second quarter.
Stat of the game:
If there is one number that has followed Washington all season it has been the Huskies' inability to score more than 21 points against an FBS opponent. The program peaked above that plateau for the first time this season, as the Huskies' found their footing on offense.
What this means for Washington:
The Huskies improved to 5-1 at CenturyLink Field -- their temporary home -- and won their sixth game of the season to become bowl eligible for the third year in a row. Washington has won its last three games and has winnable games at Colorado and at Washington State remaining on its schedule.
What this means for Utah:
Heading into Saturday's matchup, the Utes were 11-0 when White gained at least 100 yards. That streak ended against Washington, with White finishing with 142 yards and two touchdowns in the loss. Utah now needs to win its last two games against Arizona and Colorado to become bowl eligible.
Two-way player:
In addition to his duties as Washington's sophomore tight end,
Austin Seferian-Jenkins
spent some time lined up at defensive end due to injuries along Washington's defensive front. The double duty didn't slow down Seferian-Jenkins on offense. He caught seven passes for 99 yards.
No returns for Dunn:
After
Reggie Dunn
returned three kickoffs for touchdowns in two games, the Huskies avoided kicking the ball to the senior, who didn't get an opportunity for another big return.
October, 28, 2012
10/28/12
10:55
AM PT
SEATTLE -- A look at positives and negatives from Washington's 20-17 win over No. 7 Oregon State at CenturyLink Field.
THREE UP


1. Bishop Sankey:
Washington coach Steve Sarkisian said his program needed to "instill our will" early in the game. To do that, the Huskies got the ball to Sankey early and often. The sophomore finished with 92 yards and two touchdowns on 25 carries.
To continue reading this article you must be an Insider
October, 15, 2012
10/15/12
11:28
AM PT
SEATTLE -- Six games into the 2012 season Washington has worked its way through a brutal schedule that featured four games against programs that have spent time ranked in the top 10 this season.
The Huskies pulled off one upset -- Stanford -- but have suffered back-to-back losses to Oregon and USC.
As the program prepares for the second half of its schedule, things don't get much easier, with the next two weeks featuring a trip to Arizona before a home matchup against No. 8 Oregon State.
To continue reading this article you must be an Insider
October, 10, 2012
10/10/12
9:00
AM PT
SEATTLE -- When
Devante Downs
landed a scholarship offer from Washington, the junior couldn't help but think about the future.
Even though he isn't ready to give a verbal commitment to the program, the 6-foot-2, 240-pound running back (Mountlake Terrace, Wash./Mountlake Terrace) is already talking about lining up in the Huskies' backfield.
He was asked what he thought about the potential of one day sharing the same backfield with 2015 running back recruit
Chico McClatcher
(Federal Way, Wash./Federal Way). He said he sees a duo that would create a "Smash and Dash" combination.
To continue reading this article you must be an Insider
September, 16, 2012
9/16/12
6:00
AM PT
SEATTLE -- A look at positives and negatives from Washington's 52-13 win over Portland State Saturday at CenturyLink Field.
THREE UP
1. Keith Price.
The junior quarterback needed a performance like this. He needed an opportunity to let the game come to him and make the plays that were presented. He looked comfortable and he was efficient, completing 14 of 19 passes for 181 yards and three touchdowns.
To continue reading this article you must be an Insider
September, 13, 2012
9/13/12
10:00
AM PT
Five storylines: Washington
SEATTLE -- Here are five storylines facing Washington as the Huskies prepare to play Portland State Saturday at CenturyLink Field:
1. Huskies addressing offensive issues:
Washington coach Steve Sarkisian said his team needs to "rectify some things schematically" to get the Huskies back on track offensively. Since scoring two touchdowns in the first quarter against San Diego State, Washington's offense has been held without a touchdown the last seven quarters.
To continue reading this article you must be an Insider
September, 10, 2012
9/10/12
10:01
AM PT
Two weeks into the 2012 season, Washington is still looking to find its flow on offense.
After scoring 14 points in the first quarter of a 21-12 win over San Diego State in Week 1, the offense has been kept out of the end zone for seven straight quarters.
With Portland State coming to CenturyLink Field this week, the Huskies have an opportunity to figure a few things out before No. 21 Stanford comes to town in three weeks.
To continue reading this article you must be an Insider
August, 17, 2012
8/17/12
1:20
PM PT
When looking at Washington's 2013 class, it is clear the Huskies have made a commitment to adding talent in the trenches.
"Sark [Steve Sarkisian] knows as well as anybody, especially through his days at [USC], that if you're going to win championships or compete for championships, you've got to build the team from the inside out and you've got to be strong in your trenches," said Tom Luginbill, Senior National Recruiting Analyst for ESPN.com.
With five defensive linemen currently committed, Washington has added speed and athleticism. And the Huskies are still in the mix for several potential playmakers.
To continue reading this article you must be an Insider